To the Editor: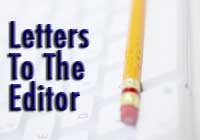 I would like to take this opportunity to thank all the voters of the Unionville-Chadds Ford School District who came out to vote in the recent election for the School Board of Directors.  As I said many times, this election has a greater impact on local families and community members than the Presidential election, and I appreciate all those who took the time to make their voices heard on the future of the district.
To those Pennsbury and Chadds Ford residents who supported my candidacy, I am humbled and grateful, and will work hard to serve the interests of the children, the parents, and the entire UCF community.
I congratulate Gregg Lindner, Frank Murphy, and Vic DuPuis on their victories and I look forward to working side by side with them, along with all of the members of the UCF School Board of Directors and the district Administration, on the important issues we will face in the coming months and years.
I thank Timotha Trigg for her years of service on the Board.  During the past few months, I heard stories from parents who said that Mrs. Trigg came to their assistance when their child had a problem.  Her passion for the welfare of individual children is inspiring and I hope to learn from her example.  I appreciate Sharon Jones' willingness to step up and run for the School Board.  She clearly cares about our community, and anyone willing to volunteer their time for the improvement of our schools is deserving of our respect and admiration.
I look forward to the challenges that lie ahead and hope members of the community will feel free to contact me to provide input on the decisions we will make.
Thank you.
Kathy Do
Pennsbury Township