By Denny Dyroff, Entertainment Editor, The Times
Massachusetts native Quinn Sullivan has found a home away from home at the Sellersville Theater (24 West Temple Avenue, Sellersville, 215-257-5808, www.st94.com). The young guitar ace will headline a show at the theatre on October 5.
"I've played the Sellersville Theater a lot over the last six years," said Sullivan, during a phone interview Wednesday afternoon from his home in the New England whaling town of New Bedford.
"The last time I played there was summer of 2022. I really like performing there. It had great people working there and really good fans."
Sullivan first performed there in July 2017 and played dates later that summer with blues legend Buddy Guy. Three weeks earlier, Sullivan was sitting in class as a student at New Bedford High School in Massachusetts.
Sullivan's history with Guy goes back almost 20 years – which is pretty impressive considering Sullivan just turned 24 in March.
"I first saw Buddy Guy play in a video of the Crossroads Festival in 2004," said Sullivan. "I was playing a guitar but wasn't into blues yet. Prior to that, I was playing rock. Blues came into the picture after I saw Buddy Guy.
"I started playing guitar when I was really young. My parents were music lovers, and my dad was a drummer. I dabbled with a lot of musical instruments but no guitars at first. Eventually, I just gravitated toward guitar. I loved the way it made me feel.
"When I was three, my parents got me a guitar as a Christmas present. A few years later, I started taking guitar lessons. It seems that playing guitar is something I've always been doing."
Sullivan first gained national media attention at age six when he appeared on The Ellen DeGeneres Show.
"Once I saw Buddy Guy and how he played his guitar, I said to my family – we have to go see this guy play," said Sullivan. "In 2007, he came to New Bedford to perform at the Zeiterion Theater.
"We made friends with the people at the theater and got to go backstage. I went to his dressing room, and he was very welcoming and signed my guitar. I was seven or eight at the time. He asked me if I could play. I played a few licks for him, and he looked at me and said – be ready when I call you."
"He called me out onstage to play with him that night at the Zeiterion Theater," said Sullivan. "That started the journey I've been on for the last 16 years. In July 2007, he came for a show in Lowell, Massachusetts and I got to jam with him for a second time. That was when it clicked for us.
"We kept going to see him every time he came to the area. Eventually, he asked me to open some shows for him. The first time I opened for him was in Arlington, Kentucky when I was 11. It got to a point where we were opening a lot of shows for him."
Sullivan has released four of his own albums – "Cyclone" in 2011, "Getting There" in 2013, "Midnight Highway" in 2017 and "Wide Awake" in 2017.
"I recorded the 'Cyclone' album in Nashville in 2010 and it came out in 2100," said Sullivan. "That was my first time in the studio, and it taught me so much.
"I was working with Buddy Guy's producer Tom Hambridge. He pushed me a lot – which was needed. I've worked with Tom on all four albums. We recorded at Blackbird Studio in Nashville which is a legendary studio."
Sullivan has been touring the world since he was 11 years old, playing storied venues such as Madison Square Garden, the Hollywood Bowl and RFK Stadium in Washington D.C., as well as India's Mahindra Blues Festival, Eric Clapton's Crossroads Guitar Festival, and three Montreux Jazz Festivals.
He has shared the stage with Carlos Santana on several occasions. Sullivan's performance experience includes appearances on leading national television programs such as The Ellen DeGeneres Show, Late Night with Jimmy Fallon, Conan, and The Oprah Winfrey Show.
"My music is a lot more than just the blues," said Sullivan. "I've definitely started to expand with other styles of writing. My writing hasn't changed but it has progressed. 'Wide Awake' was an opportunity to explore other styles. It's guitar-driven and bluesy but it's not just traditional blues. There are elements of rock-and-roll, indie and alternative. It's always been my goal to write songs I love and to bring more diversity to thtem. I was still in high school for my first three albums. 'Wide Awake' was an introduction to Quinn Sullivan. The album title was a metaphor. To get a younger generation into it, I needed to expand and have more variety."
Now, it's 2023 and time for new things for Sullivan. He has recorded a new album with a new producer in a new city.
"'Wide Awake' came out in June 2021 and now another one is in the can," said Sullivan. "It's coming out next year.
"I recorded it in Minneapolis with producer John Fields. We wrote and did the whole thing at his studio at Creation Audio. He came to mind when I was thinking about a producer to use. And my manager knew his manager. We set up a time to write together and it went well.
"We just finished it a few weeks ago. It's very expansive. It's another record with a variety of different styles – and some blues."
When Sullivan plays at 118 north tonight, he will be accompanied by his long-time band.
"They've been with me for five of six years," said Sullivan. "The band is drummer Bennett Vee, keyboard player Chris Boonearz and bassist Kyle Spark. They're exceptional musicians in my eyes – and fun guys to hang out with.
"In my shows now, I'm not playing any songs from my first three albums. The set is focused mostly on songs from 'Wide Awake' along with new material. I'm playing 11 of the 12 songs on the new album – and some covers."
Video link for Quinn Sullivan — https://youtu.be/nKFU6O3rTnQ.
Video link for Quinn Sullivan (age 8) — https://youtu.be/ix4TNJvVk8M.
The show at the Sellersville Theater which has Shane Guerrette as the opening act, will start at 8 p.m. Tickets are $29.50 and $45.
Other upcoming shows in Sellersville are Joe Louis Walker on October 6, Crack the Sky on October 7, Martin Barre on October 8 and Jake Shimabukuro on October 9.
Jamey's House of Music (32 South Lansdowne Avenue, Lansdowne, 215-477-9985, www.jameyshouseofmusic.com) continues its tradition of presenting top quality blues music this weekend.
Area music fans know that Jamey's House of Music is a prime destination to hear folk, jazz and blues music every Thursday through Sunday.
The "Thursday Night Jazz Jam" and the "Sunday Blues Brunch & Jam" are regular features on Jamey's calendar while Friday and Saturday night shows feature national and regional acts.
Headline acts are featured on Fridays and Saturdays.
The "Sunday Blues Brunch & Jam" is scheduled for every Sunday from noon-3 p.m. with the host band's set from noon-1 p.m. followed by an open mic from 1-3 p.m.
The first, third, fourth and fifth Sunday sessions are hosted by the Philly Blues Kings while the hosts for second Sunday sessions are the Girke-Davis Project.
On October 6, Jamey's will present the Blues Project with the Katie Henry Band as the opening act.
The 1960s was a magical time for music in Greenwich Village in New York.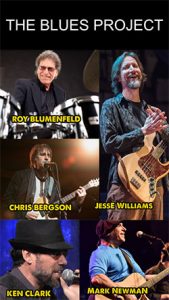 Many acts who went on to be classified as all-time greats were playing in small clubs in the Village – clubs such as Gerde's Folk City, The Bitter End, Cafe Au Go Go, Cafe Wha?, The Gaslight Cafe and The Bottom Line and acts such as Bob Dylan, Tim Buckley, Dave Van Ronk, Fred Neil, Lenny Bruce, Tim Hardin, Richie Havens, The Fugs, John Hammond and Linda Ronstadt.
One of the best bands from the Village in the mid-60s was the Blues Project – a band featuring Danny Kalb, Steve Katz, Andy Kulberg, Al Kooper and Roy Blumenfeld.
The band dissolved in the late 60s with Katz and Kooper moving on to form another great band – Blood, Sweat & Tears.
Fast forward to 2023 and you'll find the Blues Project back on the road. The current line-up still features one of the band's founding members –Roy Blumenfeld. The new members are Chris Bergson, Jesse Williams, Mark Newman and Kenny Clark.
Four of the five original members are still alive while Kulberg passed away 20 years ago. Kooper and Kalb are unable to play because of health issues.
The Blues Project first got together in 1965. Even though the members went separate ways back in the 60s, they've had reunions since 1980."
In the fall of 1965, The Blues Project played alongside the likes of Big Joe Williams, Son House, Bukka White, Skip James, John Lee Hooker, Muddy Waters and Otis Spann, to name a few.
It was these legendary sold-out performances at the famed Cafe Au Go Go in Greenwich Village that eventually led to the release of their phenomenal debut album, "Live at the Cafe Au Go Go."
The band began recording its first album, "Live at the Cafe Au Go Go" in late November 1965 and then the album was finished with another week of recordings in January 1966.
Straight out of New York, the Blues Project soon toured all over North America. Back then, California, was the place to be, with San Francisco and Los Angeles as the two epicenters of the new age of rock and roll. The five New Yorkers played there and conquered the West.
In San Francisco, the birthplace of the hippie counterculture movement and of the psychedelic rock, they achieved the admiration of their local peers. The not-yet famous Grace Slick, for example, dreamed to be the band's new female singer after sharing the bill with them at the Avalon Ballroom when she was still a member of the Great Society.
Ed Denson, manager of Country Joe and the Fish, who became an instant fan after seeing them at the Matrix, said, "Their stage presence and their performance have an authority which comes from the secure knowledge that they are one of the best groups going. For the three weeks that they were here they were indisputably the best band in the city."
Kalb, Katz, Blumenfeld, Kulberg and Kooper were all skillful musicians who mastered their instruments. They were so talented and versatile that they set a high standard for other performers of their generation.
Returning to New York, the band recorded their second album "Projections" in the fall of 1966 – a diverse set of songs that spanned genres, including blues, rock, R&B, psychedelia, jazz, folk-rock. Soon after "Projections" was completed, the band began to fall apart. Kooper left the band in the spring of 1967 and the band completed a third album, "Live At Town Hall," without him.
In 1967, at the peak of their success and after the release of their third album, "Live at Town Hall," the band appeared at one of their last gigs — the legendary Monterey International Pop Festival. Videos from their set at Monterey showed audience members listening with reverence – mesmerized by what they were hearing from the New York quintet.
Prior to touring Europe last fall, Katie Henry brought her blues music to the area in September for a return appearance at Jamey's House of Music and then did it again in March of this year.
Now, Henry, who is one of the bright new prospects in America's flourishing blues scene, is bringing her show back to Delaware County for another roof-raising show at Jamey's.
Henry is a talented and versatile blues guitar player. Ironically, neither blues nor guitar were her starting points.
"I grew up playing piano," said Henry, during a phone interview. "I also played clarinet in middle school."
Henry's musical journey began when she was six and started taking piano lessons. She quickly became the "house" piano player for all night family singalongs and very soon began crafting her own songs in the back of her school notebooks. Heavily involved in school band, her passion for music continued to grow in college, where she also picked up the guitar.
"I loved being in bands," said Henry, who grew up and attended high school in Vernon, New Jersey. "I also loved playing for family and other gatherings. It was the best way to bond with other people.
"I went to Manhattan College in the Bronx. I graduated in 2014 with a degree in education. I was a teacher for three years in Riverdale in the Bronx.
"I joined a jazz band in college playing piano and also went to open mics. It was just a way for me to continue playing.
"One night, I was at an open mic at the Bitter End and met Antar Goodwin. We had similar interests, so we started a blues band. I was playing piano at the time. He put a guitar in my hand, and I started playing chords. He opened the door, and I stepped through. That was six years ago.
"My first guitar was a Strat and then I got an SG. Now, the Atele Guitar is my favorite."
Henry's musical world had expanded.
"When I started playing guitar, I was listening with new ears," said Henry. "I had listened to the Allman Brothers Band. Now, I was tuning in to Dickie Betts. I like simple melody lines – like the playing of Robbie Robertson. I consider myself a melodic guitarist. Some of my biggest influences have been Freddie King and Susan Tedeschi."
Henry's debut album, "High Road," debuted at Number 12 on the Roots Music Reports Top 50 Contemporary Blues Albums chart in January 2019 and has continued to receive consistent airplay on radio stations throughout the country.
"I made 'High Road' in 2018 at Showplace Studio in Rockaway, New Jersey with a great engineer — Ben Elliott," said Henry. "He recently passed away and his studio closed.
"I was lucky to record there before it closed down. It had a lot of great gear including a lot of analog recording equipment. I was there for two sessions – about a week total – and did a lot of recording analog."
Henry recorded her recently released sophomore album, "On My Way," in May 2021 at Degraw Sound in Brooklyn. Ben Rice produced the album and played guitar on it.
According to Henry, "There's a great range of songs on this album. You get a sense of the things I've been going through, the fights I've won, the fights I've lost, and the determination needed to continue. All wrapped in a rock and roots package."
Video link for the Blues Project — https://youtu.be/jpmXpY9kk1I.
Video link for Katie Henry — https://youtu.be/Br9hoDnQrjY.
The show on October 6 will start at 8 p.m.
Tickets are $50 in advance and $55 at the door.
Dar Williams visited the area back in June for a show at the Colonial Theatre in Phoenixville and came back in August to perform at Bryn Mawr Twilight Concerts.
Now, she is heading to the Delaware Valley again for a show on October 6 at the Arden Gild Hall (2126 The Highway, Wilmington, Delaware, ardenclub.org) with special guest John Flynn.
The veteran singer/songwriter/author recently has been out on a support tour – but not a tour in support of a new album.
Williams has been touring in support of a newly released book, "How To Write A Song That Matters," which was released in September 2022 via Hachette Books.
But she also has been out on the road playing her music at venues around the East Coast.
"Mostly just touring," said Williams, during a recent phone interview from her home in New York's Hudson Valley.
"I've been home a lot. I've been involved in community issues because of a book I wrote – trying to harmonize things in the community.
"I had a really busy fall. I was all over the country. I put out my latest book in September and then did a book tour all fall. I did concerts because it's a book about songwriting. A big theme of the book is that we all have a song we could write. I did three-hour workshops in four or five cities."
Williams' normal schedule was thrown off by the pandemic.
"A lot of musicians had a very different time during COVID because we're travelers," said Williams. "I'm a traveler by trade.
"The last time I was in the studio was 2020 and I put the album out in 2021. I don't think I'll be going back in the studio for a while. I don't have an album yet. But I'm always courting inspiration."
Williams, who has recorded more than 20 albums, released her most recent album, "I'll Meet You Here," in October 2021 on BMG's recently launched Renew label. Her most recent album prior to this was "Emerald," which came out in 2015.
"There was a gap between albums because I did a book," said Williams, a well-respected speaker/author/singer-songwriter.
"After I released 'Emerald' in 2015, I stopped writing songs for a while. I didn't start writing songs again until 2017. Then, I recorded 'I'll Meet You Here' in 2019.
"I was going to release it in 2020. But because of the pandemic, I moved the entire release up a year. It was just a year off and now it's really full out.
"I recorded the album in North Jersey at a studio near Weehawken with producer Stewart Lerman. The core of the recording was done in a couple weeks in November 2019. Then, I did an intensive week in January 2020 with Stuart Smith, who plays with the Eagles.
"I sent a scratch track of the title song to Larry Campbell in Woodstock. I wanted to do it as a duet with bassist Gail Ann Dorsey and Larry Campbell."
Campbell produced the track and played guitars, pedal steel and twangy baritone guitar. Later, they had to postpone a mid-March mixing date because Campbell said he wasn't feeling well anyway which turned into a serious case of COVID-19.
"I had a schedule conflict, so we had to postpone the mixing date with Larry for day," said Williams. "He was getting really sick and then found out he had COVID. He got very sick with COVID. We were very lucky because if we had done the mixing session, a lot of people could have contracted the disease."
Despite encountering some speed bumps along the way, Williams was finally able to put the album out.
"The album officially came out on October 1," said Williams. "We had a few singles that came out prior to the album release and that helped."
The album has 10 songs including nine originals.
Even when Williams isn't focusing on music, she still stays very busy.
"I'm working on a novel," said Williams, who also handles the duty of being a mother to a young child. "I've also been writing songs. They're not all written. I try to be disciplined and not go into the studio until I reach 80 per cent.
"I just taught a college course at Wesleyan University. Teaching at a university was great. I've also done some songwriting retreats and that's been great too. I like to have different avenues rather than just recording and touring."
One of those avenues has been writing books. Williams published two young-adult novels with Scholastic in the mid-2000s, along with a green blog for Huffpost, before she tackled her urban-planning study, published in 2017 – "What I Found in a Thousand Towns: A Traveling Musician's Guide to Rebuilding America's Communities — One Coffee Shop, Dog Run & Open-Mike Night at a Time."
In that book, Williams muses on why some towns flourish while others fail, examining elements from the significance of history and nature to the uniting power of public spaces and food. Drawing on her own travels and the work of urban theorists, Williams offers real solutions to rebuild declining communities.
"What I Found in a Thousand Towns" is more than a love letter to America's small towns, it's a deeply personal and hopeful message about the potential of America's lively and resilient communities.
"It's not a memoir," said Williams. "It's what I had seen from tours in my travels at towns that had found a way to be resilient – hometown pride and a world welcome. I followed that thread and tried to figure out what it was.
"I call it 'positive proximity' – a state of being in a town where people know that living side-by-side is beneficial…that the more they follow that proximity, the better life can be.
"I wrote about how to build positive proximity, how to maintain the benefits of positive proximity and how to sustain positive proximity."
In her book, Williams looks at two area towns – Phoenixville and Wilmington.
"The Phoenixville chapter is about what happens when a town digs into its history and builds on that," said Williams. "It is a town that has become a vibrant place because of that. The Wilmington chapter is about waterfronts – about how towns can come back to life by developing their waterfront areas with parks, restaurants and public spaces."
Williams headed in an entirely different direction on her new book, "How To Write A Song That Matters."
"I wanted to write a book that was written by a performing songwriter," said Williams. "There is a broad and magical way that songs live in the world. Songs bring people back to times in their lives with new eyes."
Video link for Dar Williams – https://youtu.be/4-0tPKPbypk.
The show, which is produced by Rising Sun Presents in association with Lower Merion Township Parks & Recreation, has Crys Matthews as the opening act.
The concert will start at 8 p.m. Tickets are $45.23.
On October 7, Arden Gild Hall will present Suzanne Vega at 8 p.m. Tickets are $64.89.
This is a great time for area fans of live theater.
There will be several major touring Broadway shows presented by the Kimmel Cultural Campus – including "Mean Girls" at the Miller Theatre, "Wicked" at the Academy of Music and "Company" at the Forrest Theater. Cirque du Soliel "Bazzar" is having a run under its tent on Oaks. The Playhouse on Rodney Square in Wilmington has "Pretty Girl," "Menopause the Musical" and "Million Dollar Quartet" on its fall schedule.
This week, theater fans can enjoy two productions locally – "Bonez" at People's Light and "Into the Woods" at the Candlelight Dinner Theatre.
"Mean Girls," which is based on a book by Upper Darby's Tina Fey, is running now through October 8 at the Miller Theater on the Kimmel Cultural Campus (Broad and Spruce streets, Philadelphia, www.kimmelculturalcampus.org).
"Mean Girls" is a musical with music by Jeff Richmond, lyrics by Nell Benjamin, and a book by Tina Fey. It is based on the 2004 film of the same name written by Fey, which in turn is based on the 2002 book Queen Bees and Wannabes by Rosalind Wiseman. The musical premiered at the National Theatre, Washington, D.C., in October 2017 and opened on Broadway in April 2018 at the August Wilson Theatre. Due to the COVID-19 pandemic, the show played its final performance on Broadway on March 11, 2020.
Cady Heron may have grown up on an African savanna, but nothing prepared her for the vicious ways of her strange new home — suburban Illinois. Soon, this naïve newbie falls prey to a trio of lionized frenemies led by the charming but ruthless Regina George. But when Cady devises a plan to end Regina's reign, she learns the hard way that you can't cross a Queen Bee without getting stung.
"Mean Girls" has been described as, "An ode to self-respect and the benefits of a STEM-based education, the play is a lively, frequently hilarious adaptation of Tina Fey's 2004 high school comedy."
"Wicked" will run at the Academy of Music from November 1-26 followed by "Company" at the Forrest Theater from November 28-September 10.
Cirque du Solieil "Bazzar" is running now through October under its Big Top in the parking lot adjacent to the Greater Philadelphia Expo Center at Oaks.
"Bazzar" is a touring show by Cirque du Soleil that premiered in November 2018 in Mumbai, India. It is the company's 43rd production, and its first show to perform in India. From India, it moved to Riyadh in Saudi Arabia. It was relaunched in September 2022 in Brazil and has toured since then in Sao Paolo and Rio de Janeiro as well as Santiago de Chile, Colombia and Argentina.
This engagement in Oaks marks the show's North American Premiere. The show, which features an international cast of 35 performers and musicians, includes teeterboard, portage, acrobatic bike, contortion, duo rollerskates, duo trapeze, aerial rope, hair suspension, fire manipulation, slackline, and, for the first time in Cirque du Soleil history, a mesmerizing act of Mallakhamb, a traditional Indian sport in which a gymnast performs aerial yoga postures and wrestling grips in concert with a vertical stationary or hanging wooden pole, cane or hanging rope.
Cirque du Soleil "Bazzar" is an eclectic lab of endless invention where a joyous troupe of acrobats, dancers, and musicians create an awe-inspiring display. They work together to create a quirky one-of-a-kind world under the direction of their maestro.
The dynamic company reimagines, rebuilds, and reinvents vibrant scenarios in a setting where the unpredictable is anticipated in an artistic, athletic game of order and disorder.
This weekend, People's Light (39 Conestoga Road, Malvern, www.peopleslight.org) is celebrating the opening weekend of its 2023-2024 season.
From September 22-October 15, People's Light (39 Conestoga Road, Malvern, www.peopleslight.org) opens the new season with the world premiere of "Bonez" by acclaimed actor, director, and playwright Steve H. Broadnax III.
An Associate Artistic Director at People's Light, Broadnax brings the social horror genre to the stage in this chilling investigation of masculinity, intimacy, and childhood demons. "Bonez" is also directed by Broadnax and features stage and screen actors Elijah Jones ("The Crowded Room"), Eric Robinson Jr. ("They Cloned Tyrone," "New Amsterdam"), John Clarence Stewart ("Zoey's Extraodinary Playlist," "P-Valley), and Keith A. Wallace ("The First Deep Breath").
In "Bonez," "The Bruhs" Derek, Remello and PJ gather for an evening game of dominoes at their friend Trey's new "deluxe apartment in the sky."
Over beers and "bones," the players laugh, place bets, and swap stories. As drinks flow, dominoes are drawn, the bets escalate, and the game intensifies. At the same time, a mysterious banging from next door grows louder and louder.
Before long, childhood demons emerge, and the four men begin to question what they think they know about masculinity, intimacy, and what makes a man.
Broadnax's latest play was inspired by a series of gatherings that acted as a safe haven where Black men could peel away societal masks and share about everything from sexuality, intimacy and sports, to harrowing tales of police brutality. It was a space where the laughter of shared childhood memories coexisted with somber debates on masculinity, challenging stereotyped definitions of manhood.
According to Zak Berkman, Producing Artistic Director at People's Light, "From the moment Steve shared his idea for 'Bonez,' I was all in. "Lurking underneath a raucous domino party is an interrogation of longstanding myths of masculinity and power that not only possess these individual men, but also grips one generation after another in our society.
"What better way is there to open our 49th season and welcome the Halloween chill in the fall air than to conjure a new kind of theatre that delights and disturbs in equal measure?"
"Bonez" will run now through October 15 at People's Light.
Recommended for ages 16+ due to strong language and mature themes.
Tickets start at $42, including fees.
"Into the Woods" is a comedy-driven musical with a cast of crafty and funny characters. It is a little challenging for audiences – until they realize that trying to follow four fairy tales blended together is useless.
"Into the Woods," which is running now through October 29 at the Candlelight Dinner Theater (2208 Millers Road, Arden, Delaware, 302- 475-2313, www.candlelighttheatredelaware.org), is a comedy-driven musical with a cast of crafty and funny characters with music and lyrics by Stephen Sondheim and book by James Lapine.
The musical premiered on Broadway in 1987, winning three Tony Awards including Best Score and Best Book. It has since been produced throughout the world and was adapted into a major motion picture in 2014.
Following a sold-out New York City Center Encores! run in May 2022, the production transferred to Broadway as a limited engagement beginning July 2022, marking its first time on Broadway in 20 years. Following tremendous critical acclaim and audience demand, it was extended twice and concluded its Broadway run on January 8, 2023.
The musical intertwines the plots of several Brothers Grimm and Charles Perrault fairy tales, exploring the consequences of the characters' wishes and quests. The main characters are taken from "Little Red Riding Hood," "Jack and the Beanstalk," "Rapunzel," "Cinderella" and several others.
The musical "Into the Woods" debuted in San Diego at the Old Globe Theatre in 1986 and premiered on Broadway on November 5, 1987, where it won several Tony Awards, including Best Score, Best Book, and Best Actress in a Musical in a year dominated by "The Phantom of the Opera" (1988).
The musical has since been produced many times, with a 1988 US national tour, a 1990 West End production, a 1997 tenth anniversary concert, a 2002 Broadway revival, a 2010 London revival, and in 2012 as part of New York City's outdoor Shakespeare in the Park series.
James Lapine and Stephen Sondheim take everyone's favorite storybook characters and bring them together for a timeless, yet relevant, piece… and a rare modern classic. The Tony Award-winning book and score are both enchanting and touching.
The story of "Into the Woods" follows a Baker and his wife, who wish to have a child; Cinderella, who wishes to attend the King's Festival; and Jack, who wishes his cow would give milk. When the Baker and his wife learn that they cannot have a child because of a Witch's curse, the two set off on a journey to break the curse.
Everyone's wish is granted, but the consequences of their actions return to haunt them later with disastrous results. "Into the Woods" is a musically sophisticated show with the opportunity to feature actors who are adept at dark comedy.
"Into the Woods" is running now through October 29 at the Candlelight Theater with shows on Friday and Saturday evenings and Sunday matinees.
Tickets, which include a buffet meal, beverages, dessert, and free parking, are $71.50 for adults and $33 for children.
Uptown! Knauer Performing Arts Center (226 North High Street, West Chester, www.uptownwestchester.org) will host Morgan Myles on October 6 and Magical Mystery Doors on October 7.
Believing it's her mission to help people through the power of music, Myles is a full-time touring musician having opened for artists like Luke Bryan, Rick Springfield, Hank Williams Jr., Oldnion, Jake Owen, and Kane Brown. She also recently sang back up on Cody Johnson's radio single "Nothing on You."
In 2020, Myles won Artist and Record of the year for the Nashville Industry Music Awards for her debut album "Therapy," receiving praise from Rolling Stone, Billboard, and American Songwriter. Recently Myles got a cut on Ty Herndon's new record as a songwriter. Myles' songs are shaped from her many years as a nanny to a mother diagnosed with ALS. Recently, Myles lost her close cousin to brain cancer, not too long after their grandfather passed away from a brain tumor.
Myles recently competed on season 22 of 'The Voice' on NBC, where she received a four-chair turn in four seconds singing her rendition of "Hallelujah." Her views add to over 30 million for her performances on the show. Myles finished in the Top Three of the competition. After her performance of Lady Gaga's "Always Remember Us This Way" dedicated to her late cousin and grandfather, the Glioblastoma Foundation named her the National Ambassador of the Foundation in February of 2023.
Myles was invited to make her Grand Old Opry debut this past January, where she received a standing ovation from the audience after performing two original songs, "Sanctuary" and "Woman of My Word."
Magical Mystery Doors is a tribute act that blends and layers the music of three legendary bands to create something new and unique for music fans everywhere.
The Beatles, Led Zeppelin, and The Doors — these three iconic groups have changed the face of music. Their songs have become part of our history. Their melodies have moved people everywhere to "Come Together" in their love of music. Patrons attending a Magical Mystery Doors performance can expect to hear timeless tunes from each of these historic bands over the course of the night.
Throughout the show, Magical Mystery Doors combines some of these classic compositions in ways that surprise and delight audiences time and time again such as the melody from The Doors' "Hello, I Love You" laying atop Led Zeppelin's "Misty Mountain Hop" and the pounding beat of Zep's "When The Levee Breaks" coupled with the serene strumming of The Beatles' "Dear Prudence."
Magical Mystery Doors elevates the audience experience with a captivating visual presentation. Modern video screens and a stunning array of lighting combine to create an environment where the music comes to life. Fans young and old can "Break on Through" their daily distractions in this immersive and mesmerizing show.
Kennett Flash (102 Sycamore Alley, Kennett Square, 484-732-8295, http://www.kennettflash.org) is hosting Nathan Graham with special guest Sug Daniels on October 5 and Beatlemania Again! — The Early Years on October 6 and The Later Years on October 7.
Nathan Graham is a musician born and raised in Chicago. His music bridges the gap between South Side Soul and Nashville Americana, creating a new inclusive vision of singer/songwriter. He built his career over the last ten years as a guitar-for-hire, touring internationally with major label and indie acts, all while focused on songwriting and honing his skills as a solo performer.
Sug Daniels is a Delaware born, Philadelphia based singer-songwriter, storyteller, and producer who is using the tools around her to capture the emotions of an era. Daniels' work is as colorful, vulnerable, and charismatic as her personality. She thoughtfully combines elements of folk, R&B, and soul alternatives to create personal and tender music interlaced with messages of truth and positive change.
The Beatlemania Again stage show has performed to sold out venues throughout the United States and Canada for the past 20 years. The show continues to amaze audiences of all age groups. To add to the authenticity of the Beatlemania Again performance, the Beatlemania Again performers use authentic Beatles instrumentation such as Rickenbacker, Gretsch, Ephiphone, Fender and Hofner Guitars, along Black Oyster Pearl Drums, Vox Amplifiers.
The Living Room & Cricket Cafe (104 Cricket Avenue, Ardmore, www.livingroomardmore.com) will present Boris Garcia on October 6, Marc Cosgrove and Good Medicine on October 7 and Adrian Legg on October 8.