By Denny Dyroff, Entertainment Editor, The Times
This weekend, People's Light (39 Conestoga Road, Malvern, www.peopleslight.org) is celebrating the opening weekend of its 2023-2024 season.
From September 22-October 15, People's Light opens the new season with the world premiere of "Bonez" by acclaimed actor, director, and playwright Steve H. Broadnax III.
An Associate Artistic Director at People's Light, Broadnax brings the social horror genre to the stage in this chilling investigation of masculinity, intimacy, and childhood demons. "Bonez" is also directed by Broadnax and features stage and screen actors Elijah Jones ("The Crowded Room"), Eric Robinson Jr. ("They Cloned Tyrone," "New Amsterdam"), John Clarence Stewart ("Zoey's Extraodinary Playlist," "P-Valley), and Keith A. Wallace ("The First Deep Breath").
In "Bonez," "The Bruhs" Derek, Remello and PJ gather for an evening game of dominoes at their friend Trey's new "deluxe apartment in the sky."
Over beers and "bones," the players laugh, place bets, and swap stories. As drinks flow, dominoes are drawn, the bets escalate, and the game intensifies. At the same time, a mysterious banging from next door grows louder and louder.
Before long, childhood demons emerge, and the four men begin to question what they think they know about masculinity, intimacy, and what makes a man.
Broadnax's latest play was inspired by a series of gatherings that acted as a safe haven where Black men could peel away societal masks and share about everything from sexuality, intimacy and sports, to harrowing tales of police brutality. It was a space where the laughter of shared childhood memories coexisted with somber debates on masculinity, challenging stereotyped definitions of manhood.
According to Broadnax, "As a passionate horror aficionado, I couldn't help but recognize the uncanny parallels between the genre and the lived Black male experience.
"Horror is an exploration of our deepest fears that magnifies and distorts the facets of reality, repackaging them in ways that confront, and sometimes even liberate, the viewer or reader.
"The Black male journey, with its inherited traumas and societal pressures, naturally aligns with such a narrative. These real-life anxieties – the terror of being deemed 'less than', the pressure to don a façade of strength, the weight of generational trauma – become metaphorical demons in 'Bonez'."
Wallace performs as the host of the play's fateful domino gathering, Trey.
"I came to this project through Steve," said Wallace, during a recent phone interview from the theater.
"We worked together on a play in L.A. earlier this year. He told me about a play he was working on for later in the year – a play about black masculinity – what it means to be a man, especially a black man – what was taught to us in childhood and as a man.
"A cast of four black men are discussing topics that are usually a 'no fly zone.' It centers around a dominoes game – a very specific masculine game. There is a level of horror on the stage – especially black horror.
"So, when Steve approached me about it, I thought – I have to read this play and see what it's all about.
"It's a horror story and we don't usually get to see horror stories onstage. There's a lot of cool tricks. Horror is quite literally the heart of the play. We don't live in a post-racism society. It's a horror story to some of us and it doesn't even register with other parts of society."
The play is set in the current era.
"The play is set in Dallas," said Wallace. "The lead character lives in a nicer part of town. The four characters range from their 20s to their 40s. They meet mostly to play dominoes. It's a culture of dominoes.
"Our existence is a horror story. We are living in a horror story – in real time every day. There is a resurgence of black horror that speaks to a different audience. To put that on stage is a new frontier.
"My character is a queer man – but it's not the premise of the play. He just happened to be queer.
"During the game, the men are sharing their experiences. Some are new. They navigate their own problems – confronting their own inner demons and their own trauma.
"As men, we're taught to be stoic. Why do we become victim to toxic masculinity. We need freedom of choice – change or accept."
Wallace is an actor/writer/director and proud North Philly native "all day, every day."
"I went to high school in Philly at Carver Engineering and Science at 17th and Norris," said Wallace. "I didn't get into theater until I was an undergrad in college. I was on an engineering track at Morehouse College in Atlanta and then went over to the theater department. I took my first theater class in my sophomore year."
Wallace obviously chose the right path.
His acclaimed solo play, "The Bitter Game," directly confronts racialized police violence and has toured extensively throughout the U.S. and U.K., garnering the Princess Grace Theater Award, the United Solo Festival Avant Garde Award and a San Diego Critics Award nomination for Outstanding Solo Performance.
Select regional credits foir Wallace include La Jolla Playhouse (Junk world premiere, directed by Doug Hughes), The Public Theater, Wallis Annenberg Center for the Arts, The Kennedy Center, ART. He has been a commissioned playwright at the La Jolla Playhouse and The Old Globe as well as a finalist for the Sundance Theater Lab, the Eugene O'Neill Playwrights Conference and the New Dramatist Van Lier New Voices Fellowship.
Wallace was also the Associate Director of Model Land with The Tyra Banks Company. Keith has been a featured panelist at SXSW, TEDx, The Kennedy Center and the U.S. Embassy in Dublin for his work in police reform and social justice.
"Bonez" was right for him — and right for People's Light.
According to Zak Berkman, Producing Artistic Director at People's Light, "From the moment Steve shared his idea for 'Bonez,' I was all in. "Lurking underneath a raucous domino party is an interrogation of longstanding myths of masculinity and power that not only possess these individual men, but also grips one generation after another in our society.
"What better way is there to open our 49th season and welcome the Halloween chill in the fall air than to conjure a new kind of theatre that delights and disturbs in equal measure?"
"Bonez" will run now through October 15 at People's Light.
Recommended for ages 16+ due to strong language and mature themes.
Preview performances are September 22-26. The production opens with an invite-only performance on September 27 and runs through October 15. Tickets start at $42, including fees. People's Light also offers a range of ticket discounts, including youth tickets, 50% off Access Nights, 25% off for educators and military, and discounted student and industry rush tickets. The Access Night dates for "Bonez" are September 22 and October 10.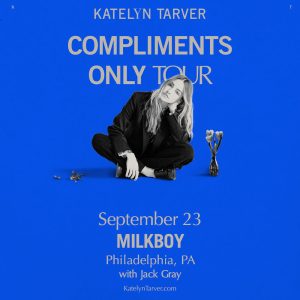 Katelyn Tarver, who is headlining a show at MilkBoy Philly (1100 Chestnut Street, Philadelphia, 215- 925-6455, www.milkboyphilly.com) on September 23, and Vonda Shepard, who was in town this week for a show at the City Winery, have parallels in their careers.
Both are accomplished actresses. Both are talented musicians. And both are focusing more on their careers in music.
Tarver is a singer-songwriter who has independently released four EPs since 2011, most notably "Tired Eyes" in 2017.She is also known for her recurring roles as Jo Taylor on the Nickelodeon series "Big Time Rush," Natalie on the ABC series "No Ordinary Family," Jesse in HBO series "Ballers" and Mercedes on ABC Family "The Secret Life of the American Teenager." She co-wrote "Crazy Stupid Love" for the British singer Cheryl and the song peaked at #1 on UK Singles Chart in 2014.
"I'm not doing any acting now because of the strike — and I need something to do," said Tarver, during a phone interview last week from her home in Los Angeles.
"Actually, this tour was booked before the strike. Music has been my main focus for a couple years."
Tarver released her first album, "Wonderful Crazy," in 2004. She put out her sophomore album, "Subject to Change," in 2019.
"I have a new album coming out in early 2024," said Tarver. "It's recorded already. I worked with producer Chad Copeland at his studio in Norman, Oklahoma.
"I wrote a lot of the songs in L.A. They were written after 'Subject to Change.' I wrote most of them last year when I was off tour and then some earlier this year.
"There's going to be 11 songs on the album. Right now, I have five singles out this year – all of which will be on the album.'
Tarver's recently released single is titled, "Starting to Scare Me."
According to Tarver, "This song is about indulging in self-destructive behavior because it's easier than doing the work of looking underneath it to try and figure out what's causing it in the first place. I've spent a lot of time running from my darker impulses, pushing them down, pretending they're not there… this song is about shining a spotlight on them and kind of liking the feeling even though it… well… uh… scares me."
The release of "Starting to Scare Me" coincides with Tarver's 21-date North American headlining tour announcement across various major cities. Australian singer-songwriter Jack Gray will support on select dates.
"Singles are a nice way to spread out the process," said Tarver. "I'm still building my name.
"Even though there are lot of singles from the album, it still is an album. I'm viewing it as an album. The songs all go together. Fans can attach themselves to it.
"There is definitely a theme – a lot of songs dealing with the meaning of life. I'm in my early thirties now. There are lot of different stages in this age group.
"I wanted to have a realization – why am I doing so much for everybody else – doing what my parents and other people want me to do."
Tarver grew up in Glennville, Georgia. By the time she was 20, she had migrated to Southern California.
"I got my start when I did a reality show called 'American Juniors' when I was 13," said Tarver. "I was on that show all season. I ended up making it to Hollywood. I arrived in Los Angeles with stars in my eyes and said — this is it for me."
Video link for Katelyn Tarver — https://youtu.be/zyQ_EKZiDfk.
The show at Milkboy on September 23 will start at 8:30 p.m.
Tickets are $18.
Kurt Elling, who is headlining a show on September 23 at the World Café Live (3025 Walnut Street, Philadelphia, www.worldcafelive.com), is one of the premier jazz vocalists in the world.
Elling is renowned worldwide for his unparalleled virtuosity and flair for trailblazing artistic exploration. From his stunning reinvention of timeless standards to his own captivating original songcraft, the Chicago-based musician has fused his dazzling talents across a panoply of musical approaches, emblazoning each with signature imagination, insight, and emotional intelligence.
Where many male jazz vocalists at this stage in a much-vaunted career have tended to stick to the tried and true, Elling seems to be growing more ambitious and experimental with the passing of time, a tendency evidenced by the stunning new LP, "SuperBlue: The Iridescent Spree."
The follow up to 2021's remarkable "SuperBlue," the album once again sees Elling joining forces with producer/guitarist Charlie Hunter and multi-instrumentalist duo drummer Corey Fonville and bassist-keyboardist DJ Harrison for a kaleidoscopic collection of new songs, surprising covers, and dynamic reinventions.
"SuperBlue came around because of COVID," said Elling, during a phone interview last week from his home in Chicago.
"He and I were signed to Blue Note Records at the same time. We've always liked each other's music. Charlie called and said – let's make music.
"Charlie used modern technology. He laid tracks down and sent them to me. They were just rhythm tracks. I added melodies and lyrics. It was a very 21st century project.
"I was really happy with the whole situation – to have something to put out that was innovative. I thought it was tremendous. It was a lifesaver. It allowed me to stick my neck out in a creative way."
"SuperBlue: The Iridescent Spree" is the fourth SuperBlue release. First was "SuperBlue" (Edition Records 2021) followed by "SuperBlue: The London Sessions (Live)" (EP) (Edition Records 2022) and "SuperBlue: Guilty Pleasures (feat. Nate Smith)" (Edition Records 2023). Like the other three, "SuperBlue: The Iridescent Sphere" was released on Edition Records.
Elling was destined to have a career in music.
"My dad was a church musician," said Elling. "Music was around all the time when I was growing up. When I was a teenager, I was listening to bands like Journey and Boston and other rock-and-roll groups."
Born in Chicago and raised in Rockford, Elling became interested in music through his father, who was Kapellmeister at a Lutheran church. He sang in choirs and played musical instruments. He encountered jazz while a student at Gustavus Adolphus College in Minnesota. After college, he enrolled in the University of Chicago Divinity School, but he left one credit short of a degree to pursue a career as a jazz vocalist.
"The musicians in the Chicago scene really pulled me in," said Elling. "I was singing with big bands in Chicago.
"Von Freeman, Eddie Johnson, Ed Petersen — they all encouraged me. I owe my career to them. When I was old enough to hang out, I realized these guys were still alive.
"I was never going to be a pop guy or a classical jazz guy. When I was in my early twenties, I got into their music and knew I wanted to sing jazz.
"I would go door-to-door and try to get it happening. After a couple years scuffling, it started to happen. I was never able to be a sideman as a singer, so I decided to be a bandleader.'
In 1995, Elling signed with Blue Note, and the songs on the demo became the Grammy nominated label debut, "Close Your Eyes'. The album featured Edward Petersen and Von Freeman on tenor saxophone, Dave Onderdonk on guitar, Laurence Hobgood on piano, Eric Hochberg and Rob Amster on double bass, and Paul Wertico on drums.
"I was fortunate to be signed to Blue Note during a renaissance for jazz," said Elling. "My debut album for Blue Note, 'Close Your Eyes,' started it all. I was a bandleader and vocalist parallel."
Video link for Kurt Elling and Charlie Hunter — https://youtu.be/3SRqN9SIoOQ.The show at World Café Live on September 23 will start at
Tickets are $30 and $45.
On September 23, it will be an evening of anniversary celebrations in Glenside.
The Royal Music and Arts Center (1 South Easton Road, Glenside, www.theroyalglenside.com) is having a Second Anniversary Festival featuring The Mommyheads as the headline attraction.
The Mommyheads, a pop/progressive or progressive/pop band from New York, are now in their 31st year of making music.
On September 19, The Mommyheads released the most ambitious album of their nearly four-decade career, "Coney Island Kid," via FANFAR! Records in Europe and Mommyhead Music for the rest of the world.
"Coney Island Kid" marks the venerable NYC-based band's 15th studio LP and first-ever foray into concept album terrain. Highlights include the idiosyncratic first single, "Why Aren't You Smiling."
Last year saw The Mommyheads reach new creative heights with their album, "Genius Killer." "Coney Island Kid" continues in that tradition, opening with an eclectic suite of technicolor prog-pop that uses archetypal Coney Island imagery to convey themes of desperation and soul-searching, complete with pier side ambience.
The 2023 edition of The Mommyheads features Adam Elk (Cohen) – guitar, vocal, plus occasional mandolin, melodica, autoharp, piano (1987–1998, 2008–current); Michael Holt – keyboards, vocals, occasional guitar (1990–1998, 2008–current); Dan Fisherman – drums, harmony vocals (1990–1998, 2008–current); Jason McNair – bass (2010–current); and Jackie Simons – guitar, keys (2021–current).
'We put out five records in the 90s," said Elk, during a phone interview this week. "We got a big break when we signed with Geffen."
Those five albums were "Acorn" in 1990 on Fang Records, "Coming Into Beauty" in 1991 on Simple Machines Records, "Flying Suit" in 1994 on Dromedary Records, "Bingham's Hole" in 1995 on Dot Dot Dash, and "The Mommyheads" in 1997 on DGC/Geffen.
What could have been a major steppingstone with an album release on a hot major label never happened. The Mommyheads were victims of frequently occurring major label politics.
Legendary producer Don Was produced "The Mommyheads" album, which was also their DGC Records debut. Fans (of the band, and of musical success stories) were excited and gratified that the Mommyheads' persistence and genuine talent were rewarded with a lucrative major label deal.
The band was dropped during a label shake-up before the album was even released, and the album was barely promoted. The Mommyheads broke up shortly thereafter, playing their final show in San Francisco in February 1998.
"We broke up in 1998," said Elk. "Somehow, some of our music found its way to Sweden and we became very popular there.
"So, we got back together in 2010 and started playing dates in Sweden. We realized by touring there, when they do pop, they do it really good – bands like the Cardigans and Eggstone."
Per Sunding from the band Eggstone is touring with The Mommyheads on this stateside tour as the opening act.
"With darkness for so much of the year in Sweden, they become good craftsmen," said Elk. "That's why they like us – our craftsmanship.
"When we toured Sweden in 2010, people were telling us not to break up again and that we were more a progressive band than a pop band.
"Our new album 'Coney Island Kid' is more progressive. I'm from Coney Island and that's my take on it. We can get back to our inner child.
"There is a dystopian vibe – especially the last track, 'Soul's Aquarium,' which is about facing what's in front of you. What can I do to help. Art is supposed to enlighten you.
"We recorded 'Coney Island Kid' over the winter. Recording was effortless. We've been together for over 30 years. For us, it's important to keep this flame alive –important for us to keep playing this music. I'm a fan of this music and I want to keep playing it."
Video link for The Mommyheads — https://youtu.be/EV4nxn9cQCo.
The festival at The Royal on September 23 also features Per Sunding, Dave Quicks, Sug Daniels, Donnie Coco and Kate Says. Doors open at 3 p.m. and music starts at 3:30 p.m.
Tickets are $30.
Jamey's House of Music (32 South Lansdowne Avenue, Lansdowne, 215-477-9985, www.jameyshouseofmusic.com) continues its tradition of presenting top quality blues music this weekend.
Area music fans know that Jamey's House of Music is a primo spot to hear folk, jazz and blues music every Thursday through Sunday.
A few weeks ago, Jamey's set up a Go Fund Me to raise money for emergency repairs due to severe water damage caused by negligent upstairs tenants. Already, the project has racked up the goal amount of $16,000.
LINK TO GO FUND ME FUNDRAISER PAGE — Fundraiser by James Reilly : Emergency Repairs for Jamey's House of Music! (gofundme.com).
On September 24, the venue will host "Big Blues Benefit for Jamey's House of Music" starting at 3 p.m. Tickets are $20 Advance Online / $25 at the Door.
Four of Philadelphia's creme-de-la-creme blues outfits will throw down for an afternoon of over the moon blues in support of the emergency repairs fundraiser for Jamey's House of Music. This blockbuster concert will follow the regularly scheduled free Sunday Blues Brunch and Jam featuring the Philly Blues Kings from noon-3 p.m.
The four acts are Deb Callahan Band, Roger Girke & Friends, Mikey Junior, and Slim & The Perkolators.
On September 22, the venue will host the James Pace Band and Saturday's show will feature The Two Johns – Johnny Never and John Colgan-Davis.
Kennett Flash (102 Sycamore Alley, Kennett Square, 484-732-8295, http://www.kennettflash.org) is hosting Clapton America: A Tribute to Eric Clapton on September 23 and Jazz Jamm featuring Dave Mattock on September 24.
The Xcite Center at Parx Casino (2999 Street Road, Bensalem, https://parxcasino.com) has two hot shows on its schedule for this weekend – shows that will appeal to two very diverse fanbases. On September 22, the comfortable theater in the casino will host The Australian Pink Floyd Show with its "Darkside 50 Tour."
Selling four million tickets worldwide and described by The Times as "The Gold Standard" and The Daily Mirror as "The Kings of the Genre", The Australian Pink Floyd Show gave its first ever concert in Adelaide, Australia in 1988. Since then, they have performed in more than 35 countries worldwide; played at David Gilmour's 50th birthday celebration and were even joined on stage by Rick Wright. TAPFS is the leading and biggest show of its kind in the world.
Performing the music of Pink Floyd with note for note perfection, this critically acclaimed tribute show has been astonishing audiences worldwide. Striving to reproduce the Pink Floyd experience and bring the music to new audiences, the show continues to include a stunning light and laser show, video animations, state of the art high resolution LED screen technology and other special effects. To accompany these visuals are several large inflatables including a giant pig and their own distinct Pink Kangaroo.
They have also worked with musicians like Guy Pratt, Durga McBroom and her sister Lorelei McBroom who have toured with Pink Floyd, as well as sound engineer Colin Norfield who worked with Pink Floyd during their 'Division Bell' tour and on David Gilmour's solo tours.
Often described as being more than a tribute band, The Australian Pink Floyd Show is the first Pink Floyd tribute show that took the concept out of the pubs and onto the worldwide arena circuit. The band has played to sell out audiences throughout Europe, UK, America, Canada, South America and Russia.
On September 23, the stage will belong to the Pointer Sisters.
The Pointer Sisters have enjoyed a long and successful career in the music industry. They began their formal vocal training in their father's church, The Church of God in West Oakland, California. They went on to achieve world-wide fame and have secured a place in pop music history. In 2017, Billboard listed them as one of the Top 5 female groups of all time.
Their 1973 debut album quickly earned them mainstream success and they landed all over radio, television and the Billboard charts. In 1975, the quartet won their first Grammy Award for a country-western tune, "Fairytale", written by Anita and Bonnie Pointer. As a result, the sisters became the first black female group to perform at the Grand Ole Opry. The "King", himself, Elvis Presley recorded their song on his last studio album. The group hit the big screen in 1976 in the film Car Wash, starring Richard Pryor. That same year, they recorded their fourth and final album as a quartet.
When the sisters became a trio, consisting of Anita, June and Ruth, they decided to record a rock n' roll album. The trio's debut single, Bruce Springsteen's "Fire", went to #2 on the pop charts and began a string of chart success. The song "He's So Shy" became an anthem for the women's movement and the single "Slow Hand" was a sultry, sexy song with some radio stations at the time refusing to play it. Nevertheless, the song reached #2 on the charts and remains a favorite.
The title of their 1983 album summed up exactly what the trio was about to do: Break Out. Upon its release, critics called the new album "The Pointer Sisters at their sassiest, brassiest, up-tempo best."  When Ruth took the lead for "Automatic", her deeper-than-deep vocals practically leapt off the vinyl, and helped the single go all the way to #5. With the advent of 24-hour-a-day music on television, The Pointer Sisters became one of the first black acts to have their videos played in heavy rotation on MTV. "Jump (for my love)" raced to #3 on the pop charts and "I'm So Excited" hit the Top 10. To date, the song has been streamed over 370 million times on Spotify.
"Neutron Dance" featuring gospel-spiked shouts rose to #6 on the charts and was included in the hit film, "Beverly Hills Cop". The success of the album earned the sisters two Grammy Awards and two American Music Awards. Break Out was certified triple-platinum, making it the biggest selling album of The Pointer Sisters' career. Their next album achieved platinum success and produced the hit single "Dare Me" and another American Music Award. Before the decade was over, the sisters starred in their own TV special on NBC.
Over the years, the group has received many awards and accolades, including a Star on the Hollywood Walk of Fame. They've recorded sixteen albums, plus a cast album to highlight their 46-week tour of the musical "Ain't Misbehavin'." In recent years, the group has performed with some of the greatest symphony orchestras in the world, including San Francisco, Jacksonville, Atlanta's Symphony Orchestra and the renowned Boston Pops.