By Denny Dyroff, Entertainment Editor, The Times
It's August and, as always, many special events in Philadelphia are filling this weekend's calendar. And this weekend's schedule of activities has a loaded list of things to do here in the Brandywine Valley. There are also plenty of interesting options if you head west out of Chester County.
On August 19, there will be a Butterfly Festival at Colonial Gardens (745 Schuylkill Rd, Phoenixville, 610-948-9755, www.colonialgardenspa.com).
The festive and colorful event, which will be held in the Garden, will feature a "Butterfly Release" of 500 butterflies with releases scheduled for 10 a.m., noon, 2 and 4 p.m.
Visitors to the annual event will be able to learn about the life cycle of Monarchs and how to create their own way station to protect the fragile insects. The festival will also feature three other educational seminars about Monarch butterflies.
The event also includes local artisans, vendors, and non-profits; lush, beautiful gardens to wander; native and pollinator-friendly plants for purchase; and hayrides through the site's woods for $5 per person.
Because this event is outdoors, there is a rain date of Sunday, August 20.
This month's edition of the 2023 Kennett Underground Railroad Bus Tours (www.kennettundergroundrr.org) is scheduled for August 20.
The popular, family-friendly bus tours are led by a knowledgeable local guide.
Riders will have the opportunity to visit documented Underground Railroad sites, historic homes and Quaker Meetinghouses while learning about local abolitionists and anti-slavery activity in the Kennett Square area.
The popular, family-friendly bus tours are led by a knowledgeable local guide.
The tour also presents the contributions of local African Americans and their faith communities in the quest for freedom from slavery houses while learning about local abolitionists and anti-slavery activity in the Kennett Square area.
The tour, which departs at 1 p.m., also presents the contributions of local African Americans and their faith communities in the quest for freedom from slavery.
Tours begin at the Brandywine Valley Tourist Information Center, which is located at 308 Greenwood Road in Kennett Square.
Tickets are $35.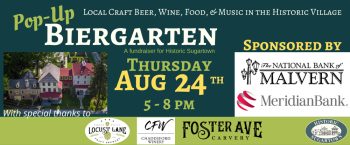 The Village of Sugartown (690 Sugartown Road, Malvern, 610-640-2667, http://www.historicsugartown.org), is hosting its final "Summer Biergarten" this year is on August 24.
The Village's biergartens will offer craft beer from Locust Lane Craft Brewery. As an added attraction, Chaddsford Winery will be onsite selling its top-rated wine. There will also be food trucks cooking delicious food for guests to purchase.
Music will be provided by Shake Down, a Biergarten favorite.
Visitors to the event will also have the opportunity to explore Sugartown's historic buildings with their friends and watch paper marbling demonstrations by the bookbinders of Sugartown's Bindery Shop.
Historic Sugartown, Inc. is dedicated to the preservation of 11 structures and 9.2 acres within the Sugartown National Historic Register District. Historic Sugartown has meticulously restored the village and connects the community to America's past through engaging programs, events, art shows and workshops that explore rural 19th-century village life.
In 1804, Eli Shugart opened a tavern to serve weary travelers. Though he only stayed two years, the village became known as "Shugart's Town."
Tickets are $10. Children (aged 18 under) will be admitted free.
Now through August 27, the Chaddsford Winery (632 Baltimore Pike, Chadds Ford, 610-388-6221, http://www.chaddsford.com) is presenting "Reserve Tastings — Something Sweet."
Guests can savor some sweetness in the Barrel Room. The winery's latest pairing experience highlights wines that are brimming with flavor and decadence.
Steuben. Concord. Niagara. These grapes are the building blocks of its popular sweet wine portfolio. Far too often, these wines, and the grapes that make them, are written off as inferior to their vitis vinifera counterparts.
Chaddsford Winery begs to differ and states that these wines are fun, distinctive, and very, very versatile. This month's reserve tasting is designed to celebrate the unique characteristics of the wide-ranging sweet wines with salty, floral, and decadent dessert pairings.
The trained staff will guide visitors through a pre-selected tasting of five widely diverse wines from across the winery's portfolio alongside artisan cheeses and other accoutrements. During this intimate and educational 60-minute experience, they will discuss topics such as grape growing conditions at partner vineyards and the onsite winemaking process from production to aging and bottling.
The "Pairing Line Up" is Greeting Wine: 2022 Sparkling White; Good Vibes Only with Manchego Wine Chips; Sunset Blush with Noblette and Strawberry Lavender Jam; Sangria with Cocina Dorada chips and salsa; and Niagara with Niagara-Pear infused gelato from Gemelli Gelato
Chaddsford Winery is also hosting "Wine Down" on Thursdays and Fridays now through September 2 from 5-8 p.m. each night. "Wine Down" will feature live music on Thursday evening and Quizzo trivia games on Fridays.
In addition to wine available by the glass, there will be food items provided by Common Good Pizza.
The schedule for live music is — August 24, Chris Peace; and August 31, Caroline Quinn.
Penns Woods Winery (124 Beaver Valley Road, Chadds Ford, http://www.pennswoodswinery.com) is presenting a summer music series.
The winery will open at 11 a.m. each day and have matinee performances of live music.
There will be music by Greg Jones from 2-5 p.m. on August 19 and Bill Hake from 1:30-4:30 p.m. on August 20.
The West Chester Railroad ( www.westchesterrr.net) is running its "Summer Picnic Specials" every Sunday now through September 18. There will be one excursion each day at noon.
Passengers can enjoy a 90-minute round trip train ride from West Chester to Glen Mills and return on a warm summer afternoon. Riders are invited to pack a lunch to have during excursion's stop at the Glen Mills train station picnic grove.
Tickets are $17 for adults, $15 for children (2-12) and free for children (under two).
There will be two very different but equally attractive ethnic festivals this weekend at Penn's Landing (Delaware Avenue, Philadelphia, www.delawareriverevents.com). Both of the free festivals deal with Indians — but not the Native American kind.
West Indian or East Indian — both will be featured this weekend.
Penn's Landing will host the annual Festival of India on August 19 and the annual Caribbean Festival on August 20.
The Festival of India, which is sponsored by the Council of Indian Organizations of Greater Philadelphia, is a festive event that features a day full of food, music, dancing and crafts.
Visitors can celebrate India's 76th Independence Day with various cultural organizations, as well as Northern and Southern-style Indian cuisine such as chicken tikka masala, lassi, vada pav, dosa, as well as classical and Bollywood performances, music, shopping, henna tattoos, and tons of fun. The festival is presented by Indian Organizations in Greater Philadelphia (CIO).
The event will host a variety of vendors who will be selling a wide array of traditional Indian arts and crafts including clothes, jewelry, music, and other cultural items. Traditional Mahandi work (artistic design) will be available to be done on both hands and feet. Mahandi or hands painting is an old Indian custom still have been practiced by most of the Indian women.
A wide selection of food items from both North and South India will be available for purchase, including such taste treats as tandoori chicken, tikka masala, kolkata rasgulla, gujarati dohkla, chennai idli, korma and an array of Indian breads including chapatti, poori and nan.
The free festival will run from noon-7 p.m.
Penn's Landing will host the 37th Annual Caribbean Festival (https://phillycaribbeanfestival.com) on August 20.
Sunday's festival, which is free and open to the public, is a celebration of the culture of 14 Caribbean Islands. The event, which runs from noon-8 p.m., features live island entertainment including drumming, dancing and music.
As always, the festival will have cultural booths where people can get information about the islands of the Caribbean. There will also be a marketplace with vendors selling Caribbean arts and crafts, fashion items and souvenirs.
Island cuisine will be well represented with a number of vendors offering Caribbean delicacies such as Jamaican jerk-chicken and hard-dough bread, escovitched fish and festival cakes, codfish fritters, Jamaican Patties, curried goat and rice & peas.
In addition to the events focusing on East Indians and West Indians, there is also a festival this weekend honoring the Indians of North America.
On August 19 and 20, the Museum of Indian Culture (2825 Fish Hatchery Road, Allentown, 610-797-2121, http://museumofindianculture.org) is hosting the 43rd Annual Roasting Ears of Corn Festival.
The 2023 event, which is Eastern Pennsylvania's oldest American Indian festival, is a showcase for American Indian drumming, singing, dancing and food.
Visitors can watch demonstrations of Native American cooking, flintknapping and arrow making, experience throwing a tomahawk or see what it's like using an atlatl (spear thrower). There will be a special crafts area for kids where they can make sand art pictures and weave dreamcatchers.
The festival features a wide array of Native American entertainment.
Arvel Bird, international, multi-award winning Native American (Paiute) and Celtic violinist/flutist/storyteller will return to the area to perform at this weekend's festival. Performance times are 11 a.m. and 4 p.m. daily.
This year's featured performer is Bill Miller.
Other live music and dance performances include American Indian singers, Aztec Fire Dancers, hoop dancers, and American Indian dancers, singers and performers from all over Canada and the U.S.
Festival attendees will be able to shop at the Marketplace for Native American jewelry, fine arts, and clothing. There will also be food vendors with Indian burgers, frybread, buffalo stew, Indian tacos and fire-roasted corn.
Tickets for the festival are $10 for adults, $7 for seniors (age 62 and older) and youth (age 12-17) and free for children (age 11 and under).
This weekend, the American Swedish Historical Museum (1900 Pattison Avenue, Philadelphia, 215-389-1776, www.americanswedish.org) is presenting a special event on August 18 – the museum's annual Crayfish Party.
The Crayfish Party, which is scheduled for 6:30 p.m., provides participants an opportunity to get a taste of Swedish summer.
Diners at the Crayfish Party will be able to enjoy a buffet of crayfish or Swedish meatballs, along with crisp bread, cheese, potatoes, cheese pie, and glass of akvavit all outside under the museum's beautiful lighted and decorated tent.
Tickets for the Crayfish Party are $60.
Now through September 3, "Please Touch Museum (4231 Avenue of the Republic, Philadelphia, www.pleasetouchmuseum.org) is hosting "Big League Fun."
"Big League Fun" allows visitors to explore the exciting world of Major League Baseball in a new traveling exhibit."
An event that appeals to all ages, "Big League Fun" focuses on the science and math involved in baseball, and includes training simulations, sports trivia, and more.
According to the museum's website, "In this exhibit, visitors can:
Create their own play-by-plays using real game clips and sound effects in the Announcer's Booth
Test their pitching, swinging, and catching skills and get tips
Review tips for proper pitching, take the mound, and pitch into the strike zone — or be the umpire and make the call!
Customize their own baseball cards with favorite team logo. Dress up as the team player and snap a pic!
Interview players, coaches and fans using a real camera and green screen technology
… and more!"
The popular downtown Philadelphia Museum is open every day except Tuesday.
General admission is $22.
The John Heinz National Wildlife Refuge at Tinicum (8601 Lindbergh Boulevard, Philadelphia, www.fws.gov/refuge/John_Heinz) has several attractive events scheduled for this week.
"Bird Walk with Chuck Root and Emily Dodge" will be held on August 19 at 8 a.m.
Visitors can take an educational walk with two of the site's knowledgeable volunteers and discover the 300+ species of birds that use the Refuge during their migration routes.
The walk will begin at the archway at the Visitor Center and will last approximately one hour on flat surfaces.
The "Bird and Butterfly Walk with Cliff and Nancy Hence" is scheduled for August 20 at 9 a.m. Later on Sunday, there will be a "Plant Walk with Dick Cloud" starting at 1 p.m.
The focus will be on something little at a special event this weekend at the Greater Philadelphia Expo Center (100 Station Avenue, Oaks, phillyexpocenter.com) – an event billed as "For Lovers of the Strange, Unusual & Bizarre — The Oddities & Curiosities Expo."
The Oddities & Curiosities Expo, which will run from 10 a.m.-6 p.m. on August 19, showcases hand selected vendors, dealers, artists and small businesses from all over the country with all things weird.
Show attendees will find items such as: taxidermy, preserved specimens, original artwork, horror/Halloween inspired pieces, antiques, handcrafted oddities, quack medical devices, creepy clothing, odd jewelry, animal skulls/bones, funeral collectibles and much more.
The show promoters claim, "We truly have something weird for everyone at our shows. All items you see at our shows are legal to own."
The O&C Expo provides a safe place for anyone to come and discover new artists, meet new friends and be surrounded by an amazing community of like-minded people.
Tickets are $12 in advance and $15 on the day of the show.
On August 19 and 20, the small town of Mount Gretna comes to life with the 49th Annual Mount Gretna Outdoor Art Show (Route 117 and Pennsylvania Avenue, Mount Gretna, www.mtgretnaarts.com).
The annual event features art, music, and food — all displayed on the historic grounds of the Pennsylvania Chautauqua.
Mt. Gretna is a small Victorian community founded in the late 1800s as a summer resort. Initially, the only way for residents to reach their cottages in the woods was to travel by train. The streets in Mt. Gretna were footpaths until automobiles became the regular mode of travel.
Many of the original cottages surround the Mt. Gretna Playhouse, an open-air theater where numerous cultural events are held. The quaint atmosphere attracts many visitors every summer for music, theater, miniature golf, a walk in the woods, a ride on the rail-trail, a hike to Governor Dick (an observation tower on top of the mountain), a visit to the Jigger Shop (a local ice cream parlor), and the Art Show.
Live entertainment will be provided by Ken Gehret and Friends, Paul Colombo Group, Andy Roberts with Fragile Fire and Third Stream.
Proceeds from the Art Show are used to support cultural programs of the Pennsylvania Chautauqua and to maintain the Chautauqua's historic buildings and grounds. Media is sponsored in part by a grant from the Lebanon County Commissioners. The show also contributes substantially to the Mt. Gretna Volunteer Fire Company and funds a variety of community projects throughout Mt. Gretna.
The Art Show has an admission charge of $15 for adults and is free for children under 12. The admission fee includes parking in designated parking locations. Please note that no pets are permitted on the Art Show grounds.
Another popular event just a few miles from Mount Gretna is the Pennsylvania Renaissance Faire (Mount Hope Estate and Winery grounds, Route 72, Cornwall, 717-665-7021, www.parenfaire.com).
This year's 44th annual staging of the event, which bills itself as "the most wondrous event in all the Knowne World", is running now through October 29. The festive annual event features authentic Elizabethan food and drink, traditional crafts from the guildsmen of yore and old-time games of skill — and a cast of hundreds of colorfully costumed re-enactors.
Every summer, the Faire, which takes place at Mount Hope Estate and Winery's authentic 35-acre recreation of a 16th-century village in Olde England, features a new story from a different year of England's past. This year's Faire will take you back in time to the year 1558.
More than 70 shows are scheduled throughout each day on the Faire's numerous stages.
Without a doubt, the most popular attraction is the Jousting Arena. Visitors to the Faire flock to Bosworth Field whenever it's time for the Ultimate Joust. Peasants lead cheers for their favorite knights while musicians pound out a heart-thumping beat. The Master of the List announces the combatants and soon an encounter of royal proportions ensues.
The Faire offers a wide variety of activities for visitors, including listening to bagpipe music, checking out handsome Lords in their colorful silks, watching a jester's acrobatics, learning how to juggle, being the recipient of a gypsy woman's flirtations and watching the march of Beefeater Guards.
Guildsmen's Way is the area that features a large variety of merchants and artisans, including jewelers, candle makers, potters, herbalists, leather smiths, clothiers, and pewter makers — all offering for sale and demonstrating their ancient wares.
And there are more than 20 Royal Kitchens located around the faire with menus featuring a wide variety of food and beverage.
Single-day tickets are available at the gate for $32.95. For children (age 5-11) single-day tickets are available at the gate and online for $16.95.
For an annual event with a completely different vibe, head west to Lancaster County this weekend.
This year's Thresherman's Reunion, which is being held now through August 19 at the Rough and Tumble site (4977 Lincoln Highway East, Kinzers, 717-442-4249, www.roughandtumble.org), is the 75th annual staging of the event.
The daily schedule starts with breakfast at 7 a.m. at the R&T Multi-Purpose. The day's activities include a saw mill in operation, a "Pageant of Threshing", a shingle mill in operation, a "Parade of Power" and threshing machine demonstrations.
There will also be displays featuring steam traction engines, antique tractors, threshing machines, Hit & Miss Gas engines, two steam railroads, shingle mill, large gas engines, model engines, sawmill, barker fan, stone crusher, antique cars, stationary bailers, antique wagons and the "Stationary Steam Engine Museum".
Daily tickets for the Diamond Anniversary Reunion are $10 for adults and $5 for children (ages 6-12).
A Montgomery County Park with a special event this weekend is Pottsgrove Manor (100 West King Street, Pottstown, 610-326-4014, http://montcopa.org/index.aspx?nid=930).
Every Saturday in August, Pottsgrove Manor is presenting "Open House Days."
Visitors can see something new every Saturday as Pottsgrove Manor highlights items from the collection and welcomes Living History activities throughout the day. They will be able to discover the ins-and-outs of 18th century items with the curator and learn about the trades and skills of the past with living history interpreters.
Visitors can also find historic summer delights being created in the reproduction kitchen from period receipts.
Pottsgrove Manor's staff and living history volunteers will demonstrate 18th-century trades, crafts, and pastimes. Many of the audience-friendly events are interactive. This event also features free admission.
Another venue where you can get close to nature is Tyler Arboretum (515 Painter Road, Media, 610-566-9134, www.tylerarboretum.org).
The arboretum's schedule for this weekend features the "Saturday Wildflower Walk," on August 19 from 3-5 p.m. and the "POP-UP: Tasting Station in Lucille's Garden" from 10 a.m.-1 p.m. on August 20.
At the "Saturday Wildflower Walk," wildflower expert Dick Cloud will lead an informative two-hour hike that will take visitors through meadows, woods, and occasionally streamside. These walks are for those who have a love of plants, their role in ecology, or for those who want to learn more.
At the "POP-UP: Tasting Station in Lucille's Garden," visitors will be able to sample the seasonal bounty from Tyler's edible garden. No registration is necessary and it's free with admission.
Admission to Tyler Arboretum is $18 for adults (ages 18-64) and $10 for children (ages 3-17) and Military with valid ID.
Hope Lodge (553 South Bethlehem Pike, Fort Washington, 215-343-0965, http://www.ushistory.org/hope/) will be presenting a "Guided Mansion Tours" on August 20.
Hope Lodge was built between 1743 and 1748 by Samuel Morris, a prosperous Quaker entrepreneur. Morris acted as a farmer, shipowner, miller, iron master, shop owner, and owner of the mill now known as Mather Mill. Hope Lodge is an excellent example of early Georgian architecture, and it is possible that Edmund Woolley, architect of Independence Hall, offered advice in building. Samuel Morris owned the estate until his death in 1770.
The site opens at 12:30 p.m. with self-guided tours starting at 1 and 2:30 p.m. The closes at 4 p.m.
Tour admission is $8 for adults, $5 for seniors (age 65+) and for youth ages 6-17, and fee for children under 5. Hope Lodge is a Blue Star Museum which means that active-duty military personnel, including National Guard and Reserve and their families, are admitted free for regular tours from Memorial Day through Labor Day.
Sesame Place (100 Sesame Road, Langhorne, www.sesameplace.com), a family-friendly amusement park in Langhorne, is hosting "Summer Fun Fest" now through September. Guests will be able to rock out with Elmo, Abby Cadabby, Cookie Monster and Count von Count.
There's nothing like summer at Sesame Place. It's a great time to cool off with refreshing (and splashy) water attractions for all ages, from Big Bird's Rambling River to The Count's Splash Castle. Find more fun in the sun with family rides like Captain Cookie's High C's Adventure and Oscar's Wacky Taxi Roller Coaster.
Summer is perfect for meeting your favorite furry friends and taking bright, beautiful pictures with them. There also are exciting shows, special events, parades, dance parties, character dining experiences, and other surprises lined up to give you even more ways to connect.
It's Sesame Place's birthday and the park is throwing a party full of furry fun now through August 6.
Visitors can celebrate with a special interactive Birthday Bash Dance Party, find all the party balloons in a fun, whimsical scavenger hunt, and take photos with their Sesame Street friends dressed in their birthday attire.
Special activities include "Birthday Character Meet & Greets," "Furry Friends Birthday Bash Dance Party" and "Elmo's Party Balloon Scavenger Hunt."
Ticket prices for Sesame Place start at $52.99.
Wonderspaces at the Fashion District (27 North 11th Street, Philadelphia, philadelphia.wonderspaces.com) is an experiential, interactive arts venue.
Building on the success of annual pop-up shows in San Diego, and its first permanent location in Scottsdale, Arizona, Wonderspaces opened a 24,000 square foot gallery space in Philly a year ago.
Wonderspaces features 14 art installations that all play with the idea of perspective.  The artwork ranges from award-winning virtual reality short film about a dinner party-turned-alien abduction, to a room where visitors digitally paint the walls with the movement of their bodies.
New artworks rotate in every few months, creating an ever-evolving, year-round show.
Tickets are for entry at a specific date and time. Visitors are welcome to stay as long as they please during operating hours. The average time spent experiencing the show is 90 minutes.
A few installations contain flashing lights, images, and patterns that may trigger seizures for people with photosensitive epilepsy. All visitors must sign a waiver prior to being admitted into the space. Adult supervision is required for visitors under 16.
Schuylkill Banks Riverboat Tour (www.schuylkillbanks.org/events/riverboat-tours-1) presents "Secrets of the Schuylkill" now through October.
The boat ride is a one-hour family-friendly tour of Philly's second biggest river featuring sights such as Bartram's Garden and Fairmount Water Works.
Riders can discover the Hidden River on a fun and educational riverboat tour while seeing spectacular views of Philadelphia.
They can also learn about the past, present, and future of the tidal Schuylkill River and its impact on Philadelphia on a one-hour Secrets of the Schuylkill tour which costs $25 for adults and $15 for children (age 12 and under).
Tours depart from the Walnut Street Dock, under the Walnut Street Bridge, east bank of the Schuylkill River.
Grim Philly's "Dark Philly History Tour" (www.grimphilly.com) will be held every evening throughout the summer.
Participants can walk with tour guides from the grounds of America's first White House, Congress, and Liberty Bell to homes and sites of Hamilton, Washington, Franklin, Adams, Jefferson, Madison, Monroe, and more than 10 other Founding-Fathers. The surprising dirt of espionage, murder, sexual license and blackmail highlight the secrets of 1776 with a ghost story or two along the way. This tour is highly researched. And your guide is a historian.
Tickets are $35.
Ghost Tour of Philadelphia (215-413-1997, www.ghosttour.com), Ghost Tour of Lancaster (717-687-6687, www.ghosttour.com) and Ghost Tour of Strasburg (717-687-6687, www.ghosttour.com) operate throughout the winter and offer an eerily entertaining evening of true ghost stories and real haunted houses.
The Ghost Tour of Philadelphia, which is based on the book, "Ghost Stories of Philadelphia, PA.," is a candlelight walking tour along the back streets and secret gardens of Independence Park, Society Hill, and Old City, where ghostly spirits, haunted houses, and eerie graveyards abound.
Participants can discover the ghost lore of America's most historic and most haunted city with stories from the founding of William Penn's colony to present-day hauntings.
The activity is open year-round – weekends, December-February; every night, March-November. Tickets are $24.
The Ghost Tour of Lancaster and the Ghost Tour of Strasburg are based on the book, "Ghost Stories of Lancaster, PA."
Participants in the Ghost Tour of Lancaster explore the long-forgotten mysteries of one of America's oldest cities, with haunting tales of otherworldly vigils, fatal curses, and star-crossed lovers. The tour provides the opportunity to experience 300 years of haunted history from the Red Rose City's thorny past. Tickets are $20.
The Ghost Tour of Strasburg is a candlelight walking tour of the quaint and historic town of Strasburg in the heart of Pennsylvania Dutch Country. Visitors will experience an entertaining evening with a costumed tour guide spinning tales of haunted mansions, eerie graveyards, and spirits that roam the night … in a town lost in time. Tickets are $20.
Several tourist rail lines will be running special excursions this weekend.
Peddler's Village (Routes 202 and 263, Lahaska, 215-794-4000, www.peddlersvillage.com) is celebrating "Peach Month" in August.
It's a paradise for those who love shopping and/or peaches with plenty of peachy treats, weekend entertainment, and scenic strolls through the Village's summer gardens.
Visitors will be able to savor the flavors of all things peach from savory to sweet at the Village's restaurants and weekend outdoor food tent all month long.
On August weekends, visitors can enjoy live music while they shop and enjoy peach-themed foods and beverages.
Fresh peaches, peach pies, and peach products will be available on Saturdays and Sundays.
The Elmwood Park Zoo (1661 Harding Boulevard, Norristown, www.elmwoodparkzoo.org) is hosting "Breakfast with the Giraffes" on August 19, 20, 26 and 27.
Guests can enjoy a delicious, socially distanced outdoor breakfast buffet, right next to the zoo's three towering giraffes. After participants have cleared their plates, they will be invited to an exclusive giraffe feeding.
The breakfast event will get underway at 8:30 a.m.
A "Zoo Snooze" overnight campout will start at 6 p.m. on August 18 and run until 9:30 a.m. on July 10.
The "Campout" includes — Dinner (includes pizza, salad, and potato chips), Breakfast (includes pastries and fresh fruit), Flashlight tour of the zoo, Campfire & activities, educational show the next morning and Zoo admission the next day.
Tickets are $54.95.
The Zoo is also hosting its "Dog Days" on August 18, 20, 23 and 25.
All guests visiting the zoo with a furry friend must complete an online waiver and submit required documents before visiting the zoo. You must upload a copy of your most recent veterinary visit, including proof of vaccine and heartworm test here. All items will be required for you to attend "Dog Days."
Pricing is $10.95 per dog with each additional dog at $9.95. Regular zoo admission is required for all humans.
"Night Adventures" is also scheduled for August 26.
Adventurous visitors can zip the zoo in the dark with Treetop Adventures' "Night Adventure." They will be able to experience all the thrills of the zip line and ropes courses with the added challenge of darkness.
Adventurers will navigate through the trees, equipped with a headlamp. Young adventurers can also experience the nighttime fun on the Zoo's Cub Climb course.
Treetop Quest Philly (51 Chamounix Drive, Philadelphia, www.treetopquest.com) is an aerial adventure park that will challenge you physically and mentally as you maneuver from tree to tree through obstacles and zip-lines. Once you're equipped, they will teach you how to operate your equipment and you'll be able to swing through each course as many times as you want for 2.5 hours.
Each participant is outfitted with a harness and gloves. Each course has a continuous belay system — a lifeline that is impossible to detach without a staff member. The activity is self-guided, and the staff is ready to assist when needed.
Gloves are required for our activity. During this time, we encourage participants to bring their own gloves to use while up in the trees, gardening gloves are perfect for this activity.
Ticket prices are $55, adults; $48, ages 12-17; $38, ages 7-11.
"TreeTrails Adventures Trevose" (301 West Bristol Pike, Trevose, treetrails.com/trevose-pa) is an adventure park full of fun challenges for outdoor adventurers of all ages that is open now and will run through November 26.
Participants can experience the rush of TreeTrails Adventures as they swing through the trees of the new adventure park. They will be able to discover the excitement of climbing and zip lining above the forest floor with r family, friends, co-workers, or teammates.
The park, which is based at Phoenix Sport Club in Bucks County, offers two ways to experience climbing – TreeTrails Adventure Park and KidTrails Park. Young explorers can enjoy miniaturized courses in the adjacent KidTrails Park.
General Park Admission prices are: Main Park Adult Tickets (Ages 12+), $59 and Main Park Youth Tickets (Ages 7–11), $51.
The Rough and Tumble Engineers Historical Association's annual Thresherman's Reunion, which is billed as "The Most Complete Steam & Gas Show in the East," has become a cherished tradition in Pennsylvania Dutch country. It is not only a "complete show," it is an old show — one of the oldest continually running events in the state.
Wilmington and Western Railroad (Greenbank Station, 2201 Newport-Gap Pike, Wilmington, Delaware, www.wwrr.com) is running its "Yorklyn Limited" on Saturdays in August with departures at 12:30 p.m.
Riders can take a leisurely 1.5-hour round-trip ride up the Red Clay Valley to the Mt. Cuba Picnic Grove, where they can de-train to enjoy a half-hour layover along the banks of the Red Clay Creek to have a picnic or simply admire the natural surroundings.
For those who don't want to get off the train at Mt. Cuba, they can remain onboard and travel further up the line through the communities of Ashland and Yorklyn. On the return trip, there will be a brief stop at Mt. Cuba to pick up the picnic passengers.
The "Yorklyn Limited" excursion is the re-branded name of the "Mt. Cuba Meteor" excursion.
These trips are powered by one of Wilmington and Western Railroad's historic first-generation diesel locomotives.
Tickets are $18 for adults, $17 for seniors and $16 for children (ages 2-12).
The New Hope Railroad (32 Bridge Street, New Hope, www.newhoperailroad.com) is running its "Grapevine Express," which features "Wine & Cheese Tasting" on Saturdays and Sundays in August at 5 p.m. each night.
Riders are invited to take part in a romantic "Wine and Cheese Excursion" and enjoy fine gourmet cheese, artisan crackers, meats, fruit, and our featured local wines. Additional Alcoholic and Non-Alcoholic beverages are also available onboard.
Wine and cheese will be served to passengers as they travel along the same railroad line passengers did when it was built in 1891 connecting New Hope with Philadelphia. The journey travels through the beautiful hills and valleys of Bucks County, along once vital waterways and streams and across numerous trestle bridges.
The excursions will take place aboard one of the railroads lavishly appointed early 1900's first-class parlor cars.
Tickets are $102.58 (Ages 21 and older only).
The Strasburg Railroad (Route 741, Strasburg, www.strasburgrailroad.com) is running its "Wine & Cheese Train" on Thursdays, Fridays and Saturdays in August at 5 p.m. on Thursdays and 7 p.m. on Fridays and Saturdays.
Passengers can enjoy the luxurious, climate-controlled first-class accommodations and a tasting of select wine, cheese, and crackers as they travel in style down the tracks from Strasburg to Paradise and back. The train departs at 7 p.m. and the total trip time is 45 minutes.
"Wine & Cheese Train" boarding is 30 minutes before the scheduled departure. Riders must be 21 or older and have their photo ID ready when they board.
Featured wines are carefully selected from Waltz Vineyards, and cheeses are paired accordingly. Beer and select non-alcoholic beverages are also available for purchase upon request. Riders can purchase a souvenir wine glass on board the train if desired. Glasses are $7 each.
In accordance with Pennsylvania law, alcohol is only served during the train ride. The rail line is not permitted to serve alcoholic beverages while the train is berthed in the station.
This popular train is available on select Friday and Saturday evenings throughout the season. Tickets are $50.
The Reading Blue Mountain and Northern Railroad (Reading Outer Station, Reading, www.rbmnrr-passenger.com) is running "All Day Train Excursions" every Saturday and Sunday in August and September.
Passengers can take a train excursion through Pennsylvania's beautiful landscape to Jim Thorpe, Pennsylvania. They can board the train at the Reading Outer Station, Port Clinton Station, or Tamaqua Station.
During the trip, riders will see rolling farmland, beautiful mountains, glistening lakes, and small towns along the railroad's main line. The train will also travel through tunnels and over bridges — a highlight being the Hometown High Bridge.
Once the excursion arrives in Jim Thorpe, riders have more than 3.5 hours to explore the many shops, restaurants, and attractions before boarding the train for your return trip.
While in Jim Thorpe, they can also ride one of the rail line's 70-minute Lehigh Gorge trains at a discounted rate.
Tickets for the all-day excursion are $39 from the Reading Outer Station and Port Clinton Station and $24 from the Tamaqua Station.