By Denny Dyroff, Entertainment Editor, The Times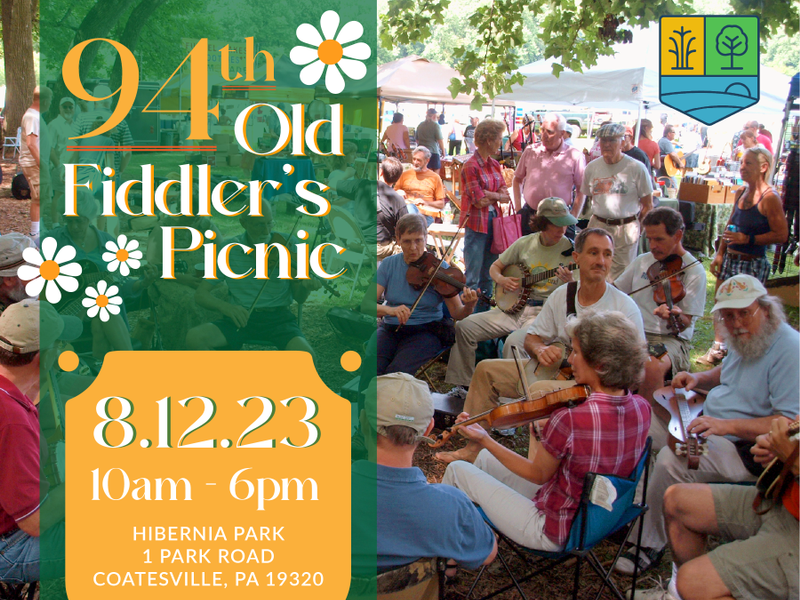 One of Chester County's most popular annual events is edging closer to the century mark.
The Chester County Old Fiddlers' Picnic (Hibernia County Park, off Route 340, Wagontown, 610-383-2812, www.chesco.org/parks), which is scheduled for August 12, is celebrating its 94th anniversary this year.
Known originally as the "Chester and Delaware Counties' Old Fiddlers' Picnic," the event began at Crystal Springs Park outside Parkesburg and later moved to Lenape Park, which is located just south of West Chester. When Lenape Park closed in 1980, Chester County Parks and Recreation offered to sponsor the Picnic at Hibernia County Park.
This year's edition of the festival will run from 10 a.m.-6 p.m. with Open Stage registration beginning at 9 a.m.Beginning at 10 a.m., a constantly changing lineup of individuals and groups will take the stage and perform for the audience. Solo acts are allotted 10 minutes on stage while groups get as much as 20 minutes to perform.
The primary source of live entertainment will be the sounds emanating from the stage but there will also be plenty of other musical offerings throughout the park — especially Fiddlers' Field.
In the wooded areas near the stage, there will be impromptu jams taking place throughout the day. Musicians of all ages are invited to stroll along the lane and join in with other musicians to make fresh, live music of their own.
At 2 p.m., a fiddle-off contest will take place on the stage, with prizes for the top three winners. The first 10 entrants that register for the contest will take part, and registration begins at 9 a.m.
Guided tours of Hibernia Mansion, the 19th century Ironmasters' home will be available at 1, 2, 3 and 4 p.m. A donation of $3 per person is requested for the tour.
There will also be a large number of vendors with crafts, beverages and food items such as BBQ, sandwiches, ice cream, fries, funnel cakes, smoothies and more. Lawn chairs and blankets are encouraged. Tents, canopies and alcohol are prohibited.
There will be free admission and free parking. The rain date for the event is Sunday, Aug. 13.
If you're a circus fan and you're longing for a visit to the circus to see wild animals, jugglers, clowns and all the things brought by the circus, you're in luck. One of the nation's top touring circuses is making a stop in the area now through August 13.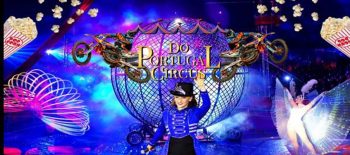 Now through Sunday, the circus will be entertaining families at the Concord Mall (4737 Concord Pike, Wilmington, Delaware, www.doportugalcircus.com).
The famous Do Portugal Circus has a reputation for entertaining audiences across the globe, including places like Panama, Costa Rica, Guatemala, Honduras, Nicaragua, El Salvador, and Mexico, and now their cast of talented performers will bring their acts to the people of the Brandywine Valley.
The circus has been entertaining audiences for over 30 years with its daring performances. Their shows feature a range of international performers, including clowns, jugglers, and magicians providing visitors with an enthralling experience.
The Portugal family have been entertaining the American Continent for 5 generations. The story begins as early as 1911 when Artists from the family began performing in Circus's throughout Mexico.
In 1950 the family started performing in their first tent and opened their own circus. This Circus was called Circus America and traveled along the Mexican Pacific Coast.
After Circus America the circus continued as Circus Dina in the 1980's and in 1993 the Circus became Do Portugal Circus.
Throughout the following decades Do Portugal Circus travelled the entire republic of Mexico and in December 2014 the circus crossed the border for the first time and debuted the show in El Salvador. In El Salvador they started a tour of Central America and in 2019 they began their tour of the USA.
In 2021 Do Portugal circus started performing in 2 different tents in the USA and in Mexico.
To this day all shows are run by the Portugal family and will continue to pass down the Circus tradition for many generations to come.
A combination of excellence and magic takes you on a journey of laughter and pure amazement. The talented and passionate artists will have you gasping in awe as they perform their death defying acts, and of course no circus is complete without our wonderful clown that will have you grinning from start to finish.
It truly is a show that every generation can enjoy. Some of their acts include motorcyclists in the globe of death, swinging trapeze, aerialists, jugglers, hand balancers, and a funny clown. The circus is only human acts and there are no animals in any of their performances.
There are all kinds of snacks available such as Hotdogs, Nachos, Popcorn, Pickles, Sweet Cotton Candy, and Snow Cones for families to have a good time while they watch the show. People can bring their cameras to take photos and videos so they can post them on social media.
Performances are scheduled for Friday at 7:30 p.m., Saturday at 2, 5 and 8 and Sunday at 2 and 5.
Tickets are $25 — $15 for children (ages 2-10).
As part of Historic Philadelphia's anniversary celebration at Franklin Square (200 Sixth Street, Philadelphia, www.historicphiladelphia.org), the organization is illuminating the park with its annual "Philadelphia Chinese Lantern Festival in Franklin Square."
If you want to see this year's edition, time is running out.
Now through August 13, Franklin Square will come alive every night with its Chinese Lantern Festival featuring more than two dozen illuminated lanterns – all constructed by lantern artisans from China.
Chinese-inspired performances will take place in Franklin Square twice nightly. Performances, which celebrate Chinese performance art and entertainment, are 30-minutes long and are scheduled for 7 and 9 p.m.
Festival hours are 6-11 p.m. Admission is $22 for adults ($25 on Saturday and Sunday), $20/$23 for youth, and $14 for children.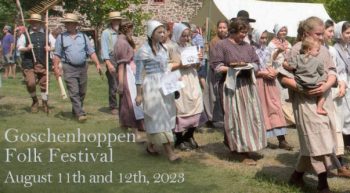 The Goschenhoppen Folk Festival (Henry Antes Plantation, Colonial Road, Upper Frederick Township, 215-234-8953, www.goschenhoppen.org) visits the past but also has a long history of its own. This year, the popular annual event celebrates its 55th anniversary.
Attending the Goschenhoppen Folk Festival is like taking a trip way back in time — back to the 18th and 19th centuries.
The Goschenhoppen Historians presented the inaugural Goschenhoppen Folk Festival in East Greenville 53 years ago and it has steadily evolved into a cherished summer tradition in eastern Pennsylvania.
The festival, which honors the oldest existing Pennsylvania German community in the United States, maintains a strictly traditional atmosphere. There are no amusement games or rides, no commemorative t-shirts or beer mugs, no modern snacks, no ATM machines and no Wi-Fi.
This year's festival, which is being held August 11 and 12, will feature several hundred craftsmen presenting live demonstrations of more than 150 skills of the 18th and 19th centuries.
Dressed in authentic costumes of the periods (many of which are loaned from the Historians' extensive wardrobe), the participating artisans use authentic tools in recreating traditional home skills, trades, pastimes, foods and folk music.
The Historians also display the area's largest collection of traditional foods, crafts, trades, music and folk itinerants.
There will be a variety of old-fashioned foods and Pennsylvania Dutch meals available for purchase at the festival — everything from full dinners to chow-chow and from red-beet eggs to faschnachts (doughnuts served with molasses). The list of tasty beverages for sale includes raspberry shrub, lemonade and birch beer.
The 2023 Goschenhoppen Folk Festival, which has been honored as one of the premier noncommercial folk festivals in the country, will be staged on Friday from noon-8 p.m. and Saturday from 10 a.m.-6 p.m. at the Henry Antes Plantation.
Admission is a $15 donation for adults ($22 for a two-day pass) and a $4 donation for children (ages 6-15).
You can also get a look back at another era by attending an event called "Mill Demonstration Day" which will take place on August 12 at Mill at Anselma (1730 Conestoga Road, Chester Springs, 610-827-1906, http://anselmamill.org).
Visitors to the Mill will be able to meet Anselma's miller and hear him talk about how the gears work and what they do. There will also be interesting technology tours that focus on how different parts of the mill work.
Additionally, there will be special interactive activities for the children — including learning how to sift flour. Kids will also have the opportunity to operate a pump on a smaller water wheel.
The event will run from 10 a.m.-4 p.m. Admission is $5 for adults, $4 for seniors (60 and older) and children (ages 4-14). Active Military and children (under 4) will be admitted free.
Historic Yellow Springs (1685 Art School Road, Chester Springs, yellowsprings.org) is hosting its 29th Town Tours & Village Walks on August 17.
Until the mid-20th century, the most important building on nearly every Chester County property was the barn. It was the engine driving the agrarian household.
As the county became more suburban and farms declined, barns were repurposed. The village of Yellow Springs is home to two such barns from the 18th and 19th centuries. Built to store grains and animals, they were adapted to become theaters, fine arts, and movie production studios.
Author and barn historian Gregory D. Huber will present a history of Chester County barns and how they evolved. Tours of the barns will follow.
The event will get underway at 5 p.m.
On August 12, it will be time for the Peach & Sunflower Harvest Festival at Highland Orchards Farm and Market (1000 Marshallton-Thorndale Road, West Chester, highlandorchards.net).
Some of the featured attractions at the event are: Bluesberry Hill Band from noon-4 p.m., Stoltzfus Family BBQ, Albie's Burgers Food Truck, Philly Hots Food Truck, Penns Wood Winery, PA Distilling, Local Craft Vendors and Levante Beer Garden.
Family fun activities include a playground and the orchard's live goats.
The free event will run from 11 a.m.-5 p.m.
Now through August 27, the Chaddsford Winery (632 Baltimore Pike, Chadds Ford, 610-388-6221, http://www.chaddsford.com) is presenting "Reserve Tastings — Something Sweet."
Guests can savor some sweetness in the Barrel Room. The winery's latest pairing experience highlights wines that are brimming with flavor and decadence.
Steuben. Concord. Niagara. These grapes are the building blocks of its popular sweet wine portfolio. Far too often, these wines, and the grapes that make them, are written off as inferior to their vitis vinifera counterparts.
Chaddsford Winery begs to differ and states that these wines are fun, distinctive, and very, very versatile. This month's reserve tasting is designed to celebrate the unique characteristics of the wide-ranging sweet wines with salty, floral, and decadent dessert pairings.
The trained staff will guide visitors through a pre-selected tasting of five widely diverse wines from across the winery's portfolio alongside artisan cheeses and other accoutrements. During this intimate and educational 60-minute experience, they will discuss topics such as grape growing conditions at partner vineyards and the onsite winemaking process from production to aging and bottling.
The "Pairing Line Up" is Greeting Wine: 2022 Sparkling White; Good Vibes Only with Manchego Wine Chips; Sunset Blush with Noblette and Strawberry Lavender Jam; Sangria with Cocina Dorada chips and salsa; and Niagara with Niagara-Pear infused gelato from Gemelli Gelato
Chaddsford Winery is also hosting "Wine Down" on Thursdays and Fridays now through September 2 from 5-8 p.m. each night.
"Wine Down" will feature live music on Thursday evening and Quizzo trivia games on Fridays.
In addition to wine available by the glass, there will be food items provided by Common Good Pizza.
The schedule for live music is — August 17, John Rossi; August 24, Chris Peace; and August 31, Caroline Quinn.
Penns Woods Winery (124 Beaver Valley Road, Chadds Ford, http://www.pennswoodswinery.com) is presenting a summer music series.
The winery will open at 11 a.m. each day and have matinee performances of live music.
There will be music by Allison Landon from 2-5 p.m. on August 12 and Rick Caldwell from 2-5 p.m. on August 13.
A Montgomery County Park with a special event this weekend is Pottsgrove Manor (100 West King Street, Pottstown, 610-326-4014, http://montcopa.org/index.aspx?nid=930).
Every Saturday in August, Pottsgrove Manor is presenting "Open House Days."
Visitors can see something new every Saturday as Pottsgrove Manor highlights items from the collection and welcomes Living History activities throughout the day. They will be able to discover the ins-and-outs of 18th century items with the curator and learn about the trades and skills of the past with living history interpreters.
Visitors can also find historic summer delights being created in the reproduction kitchen from period receipts.
Pottsgrove Manor's staff and living history volunteers will demonstrate 18th-century trades, crafts, and pastimes. Many of the audience-friendly events are interactive. This event also features free admission.
Guests are invited to visit the Shofuso Japanese House and Garden (Lansdowne Drive and Horticultural Drive, Philadelphia, www.japanesehouse.org) on August 12 for the 2023 Philadelphia Obon Festival. The day will include live music, food, Japanese arts and crafts, a flea market, and a traditional bon dance.
Observed every August, Obon is a Buddhist festival welcoming home one's ancestors. Centered on local dances, the Philadelphia edition includes taiko performances, tea demonstrations, yukata, and crafts.
Obon is a time in Japan where everyone returns home – even the spirits of ancestors. It's both a traditional celebration of one's ancestors and a contemporary summer festival with music, food, and dance.
There will also be taiko drumming performances.
Attendees can also enjoy arts and crafts, a yukata dressing station, as well as a vendor market.
The event will run from 11 a.m.-4 p.m. All Obon Festival events are free and open to the public.
There will also be an Obon Lantern Floating Ceremony from 7-9 p.m.
If you're a fan of classic cars, you might want to check out the annual New Hope Car Show (New Hope-Solebury High School, Bridge Street, New Hope, 215-862-5665, www.newhopeautoshow.com) on August 12 and 13.
Featured vehicles include Senior Cars, Vintage Antique, Cars of the 20s-30s, Cars of the 40s-50s, Cars of the 60s, Cars of the 70s, Cars of the 80s, Alfa Romeo, Antique Motorcycles, Antique Trucks, Austin Healey, BMW, Corvair, Auburn/Cord/Duesenberg/Pierce-Arrow/Packard, Corvette, Datsun/Nissan, DeLorean, Foreign Exotic, French Connection, High Performance Production, Historically Preserved Original, Jaguar, Lincoln Continental: Lincoln, Continental, Zephyr, and Lotus.
The huge lineup also includes Mercedes Benz, MG, Military Vehicles, Model   "A" Fords, Model "T" Fords, Morgan, Mustang, Porsche, Professional Specialty Cars, Racing Cars-Domestic, Racing Cars-Foreign, Rolls-Royce/Bentley, Shelby, Specialty Class Cars, Studebaker, Thunderbird, Triumph, TVR, Viper, Volkswagen, and Woodies.
Because the show is conducted on school grounds, consumption of alcoholic beverages and the use of tobacco products in any form are strictly prohibited at all times.
Admission to the show is $10. Children under 12 accompanied by an adult are free as are active duty military and their dependents. Parking is free.
Another attraction this weekend if you head north is Musikfest.
Bethlehem's Musikfest (downtown Bethlehem, 610-332-1300, www.musikfest.org) is a special event — an event that is more than just another popular summertime festival in the Lehigh Valley.
Over the years, Musikfest has established itself as one of America's top annual music festivals an event that offers big name headliners as well as a wide variety of folk, rock, pop and ethnic music acts.
It also sports some impressive numbers.
The festival, which is celebrating its 34th anniversary this year, features free music performances on most of its indoor and outdoor stages.
Musikfest, which is running now through August 13, presents more than 300 live musical performances and draws over one million people to the Lehigh Valley every August.
The main concert stage at Musikfest is the Sands Steel Stage which features national touring acts with tickets are required for all shows.
The following is this year's main stage schedule features El Gran Combo on August 11, Maren Morris on August 12 and Train on August 13. There will also be a variety of free concerts.
Musikfest is much more than just festival offering a wealth of music. It also features interactive arts and theater activities for children along with a large number of concessions offering a wide array of food and beverage treats.
Now through September 3, "Please Touch Museum (4231 Avenue of the Republic, Philadelphia, www.pleasetouchmuseum.org) is hosting "Big League Fun."
"Big League Fun" allows visitors to explore the exciting world of Major League Baseball in a new traveling exhibit."
An event that appeals to all ages, "Big League Fun" focuses on the science and math involved in baseball, and includes training simulations, sports trivia, and more.
According to the museum's website, "In this exhibit, visitors can:
Create their own play-by-plays using real game clips and sound effects in the Announcer's Booth
Test their pitching, swinging, and catching skills and get tips
Review tips for proper pitching, take the mound, and pitch into the strike zone — or be the umpire and make the call!
Customize their own baseball cards with favorite team logo. Dress up as the team player and snap a pic!
Interview players, coaches and fans using a real camera and green screen technology
… and more!"
The popular downtown Philadelphia Museum is open every day except Tuesday.
General admission is $22.
Stoneleigh: A Natural Garden (1829 East County Line Road, Villanova, stoneleighgarden.org/garden/home/) will present a "Home and Garden Tour" on August 12 from 10:30 a.m.-noon.
Formerly a Main Line country estate, Stoneleigh: A Natural Garden opened to the public in 2018.
Dazzling displays of native plants, ancient trees, landscape designs by the Olmsted Brothers, and myriad habitats are highlighted on this guided exploration of Stoneleigh. The spectacular Tudor Revival Main House—which is usually only open for special events—is also included in the tour.
This tour will highlight the transition from beloved family home to public garden through a guided exploration of breathtaking historical landscapes, majestic trees, and the more than 2,000 varieties of native plants.
Guests can learn how the staff created gardens that are beautiful, biodiverse, and beneficial to wildlife.
Tickets for the tour are $15.
The Kalmar Nyckel (Wilmington, Delaware, www.kalmarnyckel.org) is hosting its "Underground Railroad Superhero Day" on August 12.
The ship's second annual free family celebration of real-life heroes from Delaware's Underground Railroad history will run from noon-4 p.m. at Fort Christina Park.
Children can explore what it means to be a superhero through the stories of historic re-enactors, art, and activities plus free ice pops, prizes, face painting (for a fee), and more.
"The Rocks" at Fort Christina Park (where the original Kalmar Nyckel landed in 1638) is an official site on the National Underground Railroad Network to Freedom, where freedom seekers landed and boarded boats to the North.
For two decades, the Kalmar Nyckel, which has its home base in Wilmington, has been hosting riders all over the world – especially in Delaware.
A ride on the Kalmar Nyckel is totally different from most tourist water rides. The ship is a beautiful recreation of the original Kalmar Nyckel, which was built in Holland in the 1620s. Her mainmast is taller than a 10-story building and she carries 7,600 square feet of sail area and six miles of rigging.
The original Kalmar Nyckel was a Swedish-owned, three-masted armed pinnace that sailed from Goteborg, Sweden in November of 1637 and brought the first permanent European settlers to the Delaware Valley.
In 1986 a group of citizens established the Kalmar Nyckel Foundation to design, build and launch a replica of the Kalmar Nyckel at a shipyard adjacent to the original landing site.
The new Kalmar Nyckel was constructed there and was launched on September 28, 1997. She was commissioned on May 9, 1998, and now serves as Delaware's sea-going Ambassador of Good Will. She is a fully functional sail training vessel and has represented Delaware all over the country.
Auburn Heights Preserve (3000 Creek Road, Yorklyn, Delaware, 302-239-2385, http://auburnheights.org) will host "Auburn Heights After Hours" on August 17 from 5-8 p.m. each day.
Visitors can dine at the featured food truck – Army of 2 — and purchase wine and craft beer from Dew Point Brewing Co.
They can wander the grounds to view a selection of classic cars brought by local clubs and collectors, check out the newly renovated museum and try their hand at outdoor games.
There will be live performances by the Newark Ukesters, a local ukelele group.
Some seating will be available, but guests are invited to bring blankets and chairs. Friendly, leashed dogs are welcome at this event.
General admission is $6 (ages 13 and older), $3 (ages 6–12), and free for children (ages five and under).
The Philadelphia Zoo (3400 West Girard Avenue, Philadelphia, www.philadelphiazoo.org) is unveiling several new attractions this summer.
Following the big global news of the two sloth bear cubs, Philadelphia Zoo announces the debut of two Humboldt penguin chicks, a vulnerable species, the birth of two Arapawa goats, a rare breed with less than 500 individuals in the world – and the return of red-tailed monkeys, a species that last lived at the Zoo in 1928.
Philadelphia Zoo also invites the public to a brand-new experience that is back after many, many years with the debut of Lemur Island.
Visitors are invited to get up close and personal as they enter Lemur Island – with the family of ring-tailed and mongoose lemurs.
Ring-tailed lemurs are named for their long black and white ringed tail, which always ends in a black tip. They spend much of their time on the ground and this species is the only living semi-terrestrial lemur.
Mongoose lemurs love nectar, which makes them important pollinators in their native forest. Their fur is heavy and wooly and they are sexually dichromatic. Males have gray to brown backs, pale faces, red cheeks and beards.
This brand-new walk-through experience takes guests inside their exhibit located outside of PECO Primate Reserve — no fences, moats or barriers of any kind. This experience brings participants right next to these endangered species – allowing guests to grow a greater appreciation of what makes these animals so amazing, and why they need our protection. The lemurs can walk around you — and you can watch them up close with no barriers.
According to Andrew J. Baker Curator of Primates and Small Mammals Michael Stern, "Philadelphia Zoo has one of the most diverse collections of lemur species in North America. We love seeing the joy on guests' faces as they enter the experience and come within feet of these lemur families. We are thankful to all the Zoo teams who worked together to bring this experience to our guests for 2023."
Also, new for the summer, all aboard for SEPTA PZ Express Train in the brand-new Watering Hole, the Zoo's beer garden that has now greatly expanded in a much larger new location. The Train is offering daily rides in a brand-new exhibit and track – perfect for visiting families.
Admission to the Philadelphia Zoo is Adults (ages 12+), $25; Children (ages 2-11), $20; Children (under 2), Free.
The Elmwood Park Zoo (1661 Harding Boulevard, Norristown, www.elmwoodparkzoo.org) is hosting "Breakfast with the Giraffes" on August 12 and 13.
Guests can enjoy a delicious, socially distanced outdoor breakfast buffet, right next to the zoo's three towering giraffes. After participants have cleared their plates, they will be invited to an exclusive giraffe feeding.
The breakfast event will get underway at 8:30 a.m.
A "Zoo Snooze" overnight campout will start at 6 p.m. on August 11 and run until 9:30 a.m. on July 10.
The "Campout" includes — Dinner (includes pizza, salad, and potato chips), Breakfast (includes pastries and fresh fruit), Flashlight tour of the zoo, Campfire & activities, educational show the next morning and Zoo admission the next day.
Tickets are $54.95.
The Zoo is also hosting its "Dog Days" on August 11, 13 and 16.
All guests visiting the zoo with a furry friend must complete an online waiver and submit required documents before visiting the zoo. You must upload a copy of your most recent veterinary visit, including proof of vaccine and heartworm test here. All items will be required for you to attend "Dog Days."
Pricing is $10.95 per dog with each additional dog at $9.95. Regular zoo admission is required for all humans.
"Night Adventures" is also scheduled for August 11.
Adventurous visitors can zip the zoo in the dark with Treetop Adventures' "Night Adventure." They will be able to experience all the thrills of the zip line and ropes courses with the added challenge of darkness.
Adventurers will navigate through the trees, equipped with a headlamp. Young adventurers can also experience the nighttime fun on the Zoo's Cub Climb course.
Treetop Quest Philly (51 Chamounix Drive, Philadelphia, www.treetopquest.com) is an aerial adventure park that will challenge you physically and mentally as you maneuver from tree to tree through obstacles and zip-lines. Once you're equipped, they will teach you how to operate your equipment and you'll be able to swing through each course as many times as you want for 2.5 hours.
Each participant is outfitted with a harness and gloves. Each course has a continuous belay system — a lifeline that is impossible to detach without a staff member. The activity is self-guided, and the staff is ready to assist when needed.
Gloves are required for our activity. During this time, we encourage participants to bring their own gloves to use while up in the trees, gardening gloves are perfect for this activity.
Ticket prices are $55, adults; $48, ages 12-17; $38, ages 7-11.
"TreeTrails Adventures Trevose" (301 West Bristol Pike, Trevose, treetrails.com/trevose-pa) is an adventure park full of fun challenges for outdoor adventurers of all ages that is open now and will run through November 26.
Participants can experience the rush of TreeTrails Adventures as they swing through the trees of the new adventure park. They will be able to discover the excitement of climbing and zip lining above the forest floor with r family, friends, co-workers, or teammates.
The park, which is based at Phoenix Sport Club in Bucks County, offers two ways to experience climbing – TreeTrails Adventure Park and KidTrails Park. Young explorers can enjoy miniaturized courses in the adjacent KidTrails Park.
General Park Admission prices are: Main Park Adult Tickets (Ages 12+), $59 and Main Park Youth Tickets (Ages 7–11), $51.
The Rough and Tumble Engineers Historical Association's annual Thresherman's Reunion, which is billed as "The Most Complete Steam & Gas Show in the East," has become a cherished tradition in Pennsylvania Dutch country. It is not only a "complete show," it is an old show — one of the oldest continually running events in the state.
This year's Thresherman's Reunion, which is being held from August 16-19 at the Rough and Tumble site (4977 Lincoln Highway East, Kinzers, 717-442-4249, www.roughandtumble.org), is the 75th annual staging of the event.
The daily schedule starts with breakfast at 7 a.m. at the R&T Multi-Purpose. The day's activities include a saw mill in operation, a "Pageant of Threshing", a shingle mill in operation, a "Parade of Power" and threshing machine demonstrations.
There will also be displays featuring steam traction engines, antique tractors, threshing machines, Hit & Miss Gas engines, two steam railroads, shingle mill, large gas engines, model engines, sawmill, barker fan, stone crusher, antique cars, stationary bailers, antique wagons and the "Stationary Steam Engine Museum".
Daily tickets for the Reunion are $10 for adults and $5 for children (ages 6-12).
Hagley Museum and Library (Buck Road East entrance via Route 100, Wilmington, Delaware, 302-658-2400, www.hagley.org) is hosting "Science Saturday: Playing with Polymers" on August 12.
The activity, which runs from noon-4 p.m., takes a look at the world of polymers.
Visitors of all ages are invited to discover what polymers are and experiment with them by making slime and bouncy balls.
They can also watch a high-energy science show at noon and 2 p.m. with Dr. Thomas Twardowski (Dr. T), supported by the Society of Plastics Engineers. He'll demonstrate the science of sports.
Activities are included in admission and free to members.
Admission to Hagley is: $20, Adults; $16, Seniors (62+) and Students; and $10, Children (ages 6-14).
The Brandywine Valley has quite a few museums and tourist sites that provide residents and tourists ideal opportunities to spend leisure time — and you can maximize your effort if you take advantage of the 2023 Brandywine Treasure Trail Passport.
The cost is $49 for an individual pass and $99 for a family pass (for up to five family members).
The Brandywine Treasure Trail Passport is good for one-time admission to Wilmington and the Brandywine Valley's top attractions now through October 31.
A family pass, which includes one-day admission to each of 12 sites, can bring a savings of over $200 for the holders — especially since many of the participating institutions have regular admission fees in double figures.
The list of locations covered by the Brandywine Treasure Trail Passport includes Longwood Gardens, Delaware Museum of Nature and Science, Brandywine River Museum, Delaware Art Museum, Delaware History Museum, Hagley Museum and Library, Delaware Center for Contemporary Arts, Nemours Mansion & Gardens, Read House and Garden, Mt. Cuba Center, Rockwood Museum and Winterthur Museum, Garden & Library.
For more information, call (800) 489-6664 or visit www.visitwilmingtonde.com/bmga/.
Nemours Estate (1600 Rockland Road, Wilmington, Delaware, nemoursestate.org) has come alive with its magnificent gardens.
Originally constructed in 1910, Nemours Mansion is one of Delaware's grandest buildings and includes the largest formal French garden in North America.
Nemours Estate comprises an exquisite, 77-room Mansion, the largest formal French gardens in North America, a Chauffeur's Garage housing a collection of vintage automobiles, and 200 acres of scenic woodlands, meadows and lawns.
Nemours was the estate of Alfred I. duPont. Alfred Irénée du Pont was an American industrialist, financier, philanthropist and a member of the influential Du Pont family.
He named the estate Nemours, after the French town that his great-great-grandfather represented in the French Estates General. While looking to the past and his ancestors for inspiration, duPont also ensured that his new home was thoroughly modern by incorporating the latest technology and many of his own inventions.
The Gardens are one of the estate's prime attractions.
The two elk at the top of the Vista are the work of French sculptor Prosper Lecourtier (1855–1924), a specialist in animal figures. Lined with Japanese cryptomeria, pink flowering horse chestnuts and pin oaks, the Long Walk extends from the Mansion to the Reflecting Pool.
The 157 jets at the center of the one-acre pool shoot water 12 feet into the air; when they are turned off, the entire "Long Walk" is reflected in the pool. The pool, five and a half feet deep in its deepest section, holds 800,000 gallons of water and takes three days to fill. The Art Nouveau-style, classical mythology-based "Four Seasons" around the pool are by French-born American sculptor Henri Crenier (1873–1948).
The entrance is located on the campus of Nemours Children's Health, follow signs for Nemours Estate.
Admission to Nemours is $20 for adults, $18 for seniors and $10 for children.
Winterthur Museum, Garden & Library (5105 Kennett Pike, Wilmington, Delaware, 800-448-3883, www.winterthur.org) is hosting "Terrific Tuesdays" – a special activity that is running every Tuesday through the end of August.
Visitors will be able to meet the families who lived, worked, and played at Winterthur.
They can engage in crafts, games, and demonstrations inspired by families who called this place home.
There will also be sessions introducing history, art, conservation, and storytelling to kids ages 3–10 and the adults they bring along.
The event, which costs $5, runs from 10 a.m.-3 p.m.
Winterthur is always a special place to enjoy both history and nature.
There seems to be no end to what's in bloom — and in almost every corner of the garden.
The garden is a result of the artistic vision of its creator, Henry Francis du Pont (1880-1969) and is surrounded by nearly 1,000 acres of meadows, farmland, and waterways.
The views in every direction are important to the whole. The paths are an integral part of the overall design, curving rather than straight, following the contours of the land, passing around trees, and drawing walkers into the garden.
Visitors can explore the garden on foot, or on a narrated tram ride (March-December).
Admission to Winterthur is $22 for adults, $20 for seniors and students and $8 for children.
Historic Odessa (Main Street, Odessa, Delaware, 302-378-4119, www.historicodessa.org) is both a scenic and an historic site in Delaware.
Odessa is one of Delaware's most historic sites.
Known in the 18th-century as Cantwell's Bridge, Odessa played a vital role in commercial life along the Delaware River as a busy grain shipping port.
Today, visitors can stroll along tree-lined streets and admire examples of 18th- and 19th-century architecture in one of the best-preserved towns in Delaware. They can also tour a remarkable collection of antiques and Americana preserved in period room settings and quaint exhibits.
Historic Odessa is open to the public from March through December, Tuesday through Saturday from 10 a.m.4:30 p.m. and Sunday from 1-4 p.m.  The site is also open Monday by reservation. General Admission: Adults, $10; Groups, Seniors, Students, $8; and Children under six are free.
Longwood Gardens (Route 1, Kennett Square, www.longwoodgardens.org) is inviting visitors to enjoy the beauty of nature in summer – especially with the "Festival of Fountains," which will run until September 24.
As the season unfolds, flowering trees delightfully punctuate the landscape, radiant tulips stretch toward the sun, and the delicious fragrance of wisteria floats along the breeze.
Visitors can also enjoy special exhibits at the Orchid House.
Dancing fountains, performances under the stars, and beautiful gardens make the Festival of Fountains at Longwood Gardens magical. The spectacular celebration of music, light, water, and nature includes distinctive garden experiences indoors and out.
Iconic Illuminated Fountain Performances dance, soar, and delight in the Main Fountain Garden Thursday–Saturday evenings. New Illuminated Fountain Performances for 2023 include "Put Me In, Coach," featuring a variety of sports-related tunes; "Rachmaninov: Power and Passion"; "Shake It Off" by Taylor Swift; "Starman" by David Bowie; "To Infinity and Beyond" highlighting beloved songs from animated movie favorites; and "Where the Heart Is" a showcase of coming-home hits by the likes of Bon Jovi and Ed Sheeran. Illuminated Fountain Performances are free with Gardens admission.
Before the fountain performances, guests can sit under the stars and enjoy live music and refreshing brews and pub fare in Longwood's Beer Garden. Guests can enjoy a variety of selections from Victory Brewing Company, including the Longwood Seasons series brewed with ingredients grown at Longwood.
Regional artists perform live instrumental music, including Hawaiian-Inspired Steel Guitar from Slowey & The Boats, Jazz Age Blues from Drew Nugent & The Midnight Society, Traditional Cuban Son by Conjunto Philadelphia.
There will be two more "Festive Friday" events this year – "I'm a Believer" on September 15 and "Bailando" on October 13.
Admission to Longwood Gardens is $25 for adults, $22 for seniors and college students, $18 for active military and $13 for youth.
The John Heinz National Wildlife Refuge at Tinicum (8601 Lindbergh Boulevard, Philadelphia, www.fws.gov/refuge/John_Heinz) has several attractive events scheduled for this week.
"Bird Walk with Mary Ellen Krober" will be held on August 12 at 8 a.m.
Visitors can take an educational walk with one of the site's knowledgeable volunteers and discover the 300+ species of birds that use the Refuge during their migration routes.
The walk will begin at archway at the Visitor Center and will last approximately one hour on flat surfaces.
There will also be a "Bird Walk with Debbie Beer" on August 13 at 8 a.m.
Another venue where you can get close to nature is Tyler Arboretum (515 Painter Road, Media, 610-566-9134, www.tylerarboretum.org).
The arboretum's schedule for this weekend features the "Saturday Wildflower Walk," on August 5 from 3-5 p.m.
At the "Saturday Wildflower Walk," wildflower expert Dick Cloud will lead an informative two-hour hike that will take visitors through meadows, woods, and occasionally streamside. These walks are for those who have a love of plants, their role in ecology, or for those who want to learn more.
Admission to Tyler Arboretum is $18 for adults (ages 18-64), $15 for Seniors (65+) and $10 for children (ages 3-17) and Military with valid ID.
Morris Arboretum (100 Northwestern Avenue, Chestnut Hill, www.morrisarboretum.org) is opening a new season exhibit – "Bloomin' Bubbles."
Every Tuesday through August, Morris Arboretum is presenting "Bloomin' Bubbles" from 11 a.m.-noon starting at the Azalea Meadow – weather permitting.
There are more than flowers in bloom this spring and summer at the Morris Arboretum. Visitors are invited to join the arboretum staff for "Bloomin' Bubbles," when the Azalea Meadow is transformed into a magical flurry of bubbles for children to play with, play in and pop before lunch.
The Morris Arboretum also is offering its "Garden Highlights Tour" this month.
Experienced guides will share both the history and current highlights of the Arboretum during a one-hour walking tour.
Tours depart from the Visitor Center at 1 p.m. each Saturday and Sunday. These tours are small groups and space is very limited.
This reservation is good for admission to the Arboretum as well as for the tour itself. The tour is weather permitting. If the tour is cancelled, your ticket is still good for admission.
Another attraction at Morris Arboretum is the ultra-popular Garden Railway Display, which has become a major summer attraction at the site. The annual edition of the display will remain open until October 10.
The railway has a quarter mile of track featuring seven loops and tunnels with 15 different rail lines and two cable cars, nine bridges (including a trestle bridge you can walk under) and bustling model trains.
The buildings and the display are all made of natural materials – bark, leaves, twigs, hollow logs, mosses, acorns, dried flowers, seeds and stones – to form a perfectly proportioned miniature landscape complete with miniature rivers.
Philadelphia-area landmarks are all meticulously decorated for the holidays with lights that twinkle. There is even a masterpiece replica of Independence Hall made using pinecone seeds for shingles, acorns as finials and twigs as downspouts.
This year the tracks are surrounded by miniature replicas of "Wonders of the World." Visitors will be able to see the Eiffel Tower, Hagia Sophia, the Egyptian Pyramids, the Wall of China and more.
Admission is $20 for adults; $18 for seniors (65 and older); $10 for students (ages 13-17 or with ID), active military and retired military; and free for children (under 3).
Chanticleer (786 Church Street, Wayne, www.chanticleergarden.org), which just opened its 2023 season, is one of them.
The Chanticleer estate dates from the early 20th-century, when land along the Main Line of the Pennsylvania Railroad was developed for summer homes to escape the heat of Philadelphia. Adolph Rosengarten, Sr., and his wife Christine chose the Wayne-St. David's area to build their country retreat. The family's pharmaceutical firm eventually became part of Merck & Company in the 1920s.
The garden has evolved greatly since the death of the owner in 1990. As the home of the Rosengartens, Chanticleer was beautiful and green with impressive trees and lawns. Most of the floral and garden development you see today has occurred since 1990 — designed by Chanticleer staff and consultants.
There are seven horticulturists, each responsible for the design, planting, and maintenance of an area. The areas are continually evolving, each with its own feel, yet joined together as one complete unit.
The Teacup Garden and Chanticleer Terraces feature seasonal plants and bold-textured tropical and subtropical plants.
The Tennis Court, Ruin, Gravel Garden, and Pond Garden focus on hardy perennials, both woody and herbaceous.
Asian Woods and Bell's Woodland are shady areas. The Serpentine celebrates the beauty of agricultural crops.
Admission to Chanticleer is $12 for adults and free for pre-teen children (12 years and under).
Andalusia Historic House, Gardens and Arboretum (1237 State Road, Andalusia, www.andalusia house.org) opened its gates for the 2023 season at the beginning of April.
Located on a wooded promontory overlooking the Delaware River, Andalusia has been a stately presence on this stretch of water, just north of Philadelphia, for more than 200 years. The ancestral home of the Biddle family, Andalusia is also a natural paradise of native woodlands and spectacular gardens that have evolved over time.
Placed on the National Register of Historic Landmarks in 1966, the Big House is one of the finest examples of Greek Revival architecture in the United States.
Its surrounding gardens delight the senses all through the year, from the tumbling, brightly colored leaves of fall to the floral extravaganza of spring and the abundance and scent of summer.
Self-Guided Garden Tours will be available Mondays through Wednesdays from April 4-November 2 (excluding holidays) at 10 a.m. or 1 p.m. Picnics are allowed on the grounds (with have a "carry-in, carry-out" policy).
Access to the Big House is not included with this tour, which is $20 per person. There is no charge for children 12 and under.
Big House Tours with Garden Access will be available Mondays through Wednesdays from April 4-November 2 (excluding holidays) at 10 a.m. or 1 p.m. Tickets are $30 per person. There is no charge for children 12 and under.
Hope Lodge (553 South Bethlehem Pike, Fort Washington, 215-343-0965, http://www.ushistory.org/hope/) will be presenting a "Guided Mansion Tours" on August 6.
Hope Lodge was built between 1743 and 1748 by Samuel Morris, a prosperous Quaker entrepreneur. Morris acted as a farmer, shipowner, miller, iron master, shop owner, and owner of the mill now known as Mather Mill. Hope Lodge is an excellent example of early Georgian architecture, and it is possible that Edmund Woolley, architect of Independence Hall, offered advice in building. Samuel Morris owned the estate until his death in 1770.
The site opens at 12:30 p.m. with self-guided tours starting at 1 and 2:30 p.m. The closes at 4 p.m.
Tour admission is $8 for adults, $5 for seniors (age 65+) and for youth ages 6-17, and fee for children under 5. Hope Lodge is a Blue Star Museum which means that active-duty military personnel, including National Guard and Reserve and their families, are admitted free for regular tours from Memorial Day through Labor Day.
Sesame Place (100 Sesame Road, Langhorne, www.sesameplace.com), a family-friendly amusement park in Langhorne, is hosting "Summer Fun Fest" now through September. Guests will be able to rock out with Elmo, Abby Cadabby, Cookie Monster and Count von Count.
There's nothing like summer at Sesame Place. It's a great time to cool off with refreshing (and splashy) water attractions for all ages, from Big Bird's Rambling River to The Count's Splash Castle. Find more fun in the sun with family rides like Captain Cookie's High C's Adventure and Oscar's Wacky Taxi Roller Coaster.
Summer is perfect for meeting your favorite furry friends and taking bright, beautiful pictures with them. There also are exciting shows, special events, parades, dance parties, character dining experiences, and other surprises lined up to give you even more ways to connect.
It's Sesame Place's birthday and the park is throwing a party full of furry fun now through August 6.
Visitors can celebrate with a special interactive Birthday Bash Dance Party, find all the party balloons in a fun, whimsical scavenger hunt, and take photos with their Sesame Street friends dressed in their birthday attire.
Special activities include "Birthday Character Meet & Greets," "Furry Friends Birthday Bash Dance Party" and "Elmo's Party Balloon Scavenger Hunt."
Ticket prices for Sesame Place start at $52.99.
On August 12, Laurel Hill Cemetery (3822 Ridge Avenue, Philadelphia, 215-228-8200, www.thelaurelhillcemetery.org) will present "Hot Spots and Storied Plots" walking tour at 10 a.m.
In life and in death, we all have stories to tell, and what better place to hear tales of wonder than Philadelphia's most famous home of the dead?
This tour provides an informative overview of Laurel Hill's long history, which includes many of the marble masterpieces, stunning views, and legendary stories about Laurel Hill.
"Hot Spots and Storied Plots" is the perfect introduction for anyone who enjoys beautiful art, scenic nature, and fascinating history. An experienced graveyard guide will offer a unique perspective. No two "Hot Spots and Storied Plots" are alike.
The tour will take place on August 14 at 10 a.m. — departing from Laurel Hill Cemetery's Gatehouse entrance at 3822 Ridge Avenue, Philadelphia. The Tour Guide will be David Schwarzkopf.
Tickets, which must be purchased in advance, are: $12/General Admission, $10/Seniors (65 & Up), $10/Students with ID, $7/Members, $6/Youth (6-12), and $0/Child (5 & Under). Youth and children must be accompanied by an adult.
Grim Philly's "Dark Philly History Tour" (www.grimphilly.com) will be held every evening throughout the summer.
Participants can walk with tour guides from the grounds of America's first White House, Congress, and Liberty Bell to homes and sites of Hamilton, Washington, Franklin, Adams, Jefferson, Madison, Monroe, and more than 10 other Founding-Fathers. The surprising dirt of espionage, murder, sexual license and blackmail highlight the secrets of 1776 with a ghost story or two along the way. This tour is highly researched. And your guide is a historian.
Tickets are $35.
Ghost Tour of Philadelphia (215-413-1997, www.ghosttour.com), Ghost Tour of Lancaster (717-687-6687, www.ghosttour.com) and Ghost Tour of Strasburg (717-687-6687, www.ghosttour.com) operate throughout the winter and offer an eerily entertaining evening of true ghost stories and real haunted houses.
The Ghost Tour of Philadelphia, which is based on the book, "Ghost Stories of Philadelphia, PA.," is a candlelight walking tour along the back streets and secret gardens of Independence Park, Society Hill, and Old City, where ghostly spirits, haunted houses, and eerie graveyards abound.
Participants can discover the ghost lore of America's most historic and most haunted city with stories from the founding of William Penn's colony to present-day hauntings.
The activity is open year-round – weekends, December-February; every night, March-November. Tickets are $24.
The Ghost Tour of Lancaster and the Ghost Tour of Strasburg are based on the book, "Ghost Stories of Lancaster, PA."
Participants in the Ghost Tour of Lancaster explore the long-forgotten mysteries of one of America's oldest cities, with haunting tales of otherworldly vigils, fatal curses, and star-crossed lovers. The tour provides the opportunity to experience 300 years of haunted history from the Red Rose City's thorny past. Tickets are $20.
The Ghost Tour of Strasburg is a candlelight walking tour of the quaint and historic town of Strasburg in the heart of Pennsylvania Dutch Country. Visitors will experience an entertaining evening with a costumed tour guide spinning tales of haunted mansions, eerie graveyards, and spirits that roam the night … in a town lost in time. Tickets are $20.
Downtown Lititz Second Friday will be celebrated on August 11.
Downtown Lititz turns it up a notch on the second Friday of every month, all year long. The shops are open later, many with special offerings and entertainment.
Ample parking is available on the streets and in various lots.
The Lititz Rotary Craft Show, which is billed as one of the largest craft shows on the East Coast, will be held on August 12 from 8 a.m.-4 p.m.
Visitors will be able to explore a variety of products lining Main and Broad Streets in downtown Lititz.
Wonderspaces at the Fashion District (27 North 11th Street, Philadelphia, philadelphia.wonderspaces.com) is an experiential, interactive arts venue.
Building on the success of annual pop-up shows in San Diego, and its first permanent location in Scottsdale, Arizona, Wonderspaces opened a 24,000 square foot gallery space in Philly a year ago.
Wonderspaces features 14 art installations that all play with the idea of perspective.  The artwork ranges from an award-winning virtual reality short film about a dinner party-turned-alien abduction to a room where visitors digitally paint the walls with the movement of their bodies.
New artworks rotate every few months, creating an ever-evolving, year-round show.
Tickets are for entry at a specific date and time. Visitors are welcome to stay as long as they please during operating hours. The average time spent experiencing the show is 90 minutes.
A few installations contain flashing lights, images, and patterns that may trigger seizures for people with photosensitive epilepsy. All visitors must sign a waiver prior to being admitted into the space. Adult supervision is required for visitors under 16.
Several tourist rail lines will be running special excursions this weekend.
Wilmington and Western Railroad (Greenbank Station, 2201 Newport-Gap Pike, Wilmington, Delaware, www.wwrr.com) is running a special train on August 13 — the "Princess Express."
On the "Princess Express," five royal characters ride the train and join our guests for a regal experience through the Red Clay Valley.
On the August 13 excursions, Cinderella, Prince Charming and the Fairy Godmother, as well as Aurora and Rapunzel will ride the train.
Passengers can take a leisurely 1.5-hour round-trip ride up the Red Clay Valley to the Mt. Cuba Picnic Grove.
This departure is powered by one of the railroad's historic first-generation diesel locomotives.
Excursions depart at 12:30 and 3 p.m. on Sunday.
Tickets are $25 for adults, $24 for seniors and $23 for children.
The West Chester Railroad (610-430-2233, www.wcrailroad.com) is running its "Summer Picnic Specials" every Sunday now through September 17 at noon each day.
Passengers can enjoy a relaxing 90-minute train ride from West Chester to Glen Mills and return on a warm summer afternoon. They can also pack a lunch to have during the excursion's stop at the Glen Mills train station picnic grove.
Tickets are $22 for adults and $15 for children (ages 2-12).
The New Hope Railroad (32 Bridge Street, New Hope, www.newhoperailroad.com) is running its "Grapevine Express," which features "Wine & Cheese Tasting" on August 12 and 13 at 5 p.m. each night.
Riders are invited to take part in a romantic "Wine and Cheese Excursion" and enjoy fine gourmet cheese, artisan crackers, meats, fruit, and our featured local wines. Additional Alcoholic and Non-Alcoholic beverages are also available onboard.
Wine and cheese will be served to passengers as they travel along the same railroad line passengers did when it was built in 1891 connecting New Hope with Philadelphia. The journey travels through the beautiful hills and valleys of Bucks County, along once vital waterways and streams and across numerous trestle bridges.
The excursions will take place aboard one of the railroads lavishly appointed early 1900's first-class parlor cars.
Tickets are $106 (Ages 21 and older only).
This weekend, the Strasburg Railroad (Route 741, Strasburg, www.strasburgrailroad.com) is running its "Wine & Cheese Train" on August 11 and 12 at 5 and 7 p.m. each night and August 13 at 5 p.m.
Passengers can enjoy the luxurious, climate-controlled first-class accommodations and a tasting of select wine, cheese, and crackers as they travel in style down the tracks from Strasburg to Paradise and back. The train departs at 7 p.m. and the total trip time is 45 minutes.
"Wine & Cheese Train" boarding is 30 minutes before the scheduled departure. Riders must be 21 or older and have their photo ID ready when they board.
Featured wines are carefully selected from Waltz Vineyards, and cheeses are paired accordingly. Beer and select non-alcoholic beverages are also available for purchase upon request. Riders can purchase a souvenir wine glass on board the train if desired. Glasses are $7 each.
In accordance with Pennsylvania law, alcohol is only served during the train ride. The rail line is not permitted to serve alcoholic beverages while the train is berthed in the station.
Tickets are $65.
The Reading Blue Mountain and Northern Railroad (Reading Outer Station, Reading, www.rbmnrr-passenger.com) is running "All Day Train Excursions" every Saturday and Sunday in August and September.
Passengers can take a train excursion through Pennsylvania's beautiful landscape to Jim Thorpe, Pennsylvania. They can board the train at the Reading Outer Station, Port Clinton Station, or Tamaqua Station.
During the trip, riders will see rolling farmland, beautiful mountains, glistening lakes, and small towns along the railroad's main line. The train will also travel through tunnels and over bridges — a highlight being the Hometown High Bridge.
Once the excursion arrives in Jim Thorpe, riders have more than 3.5 hours to explore the many shops, restaurants, and attractions before boarding the train for your return trip.
While in Jim Thorpe, they can also ride one of the rail line's 70-minute Lehigh Gorge trains at a discounted rate.
Tickets for the all-day excursion are $39 from the Reading Outer Station and Port Clinton Station and $24 from the Tamaqua Station.
On August 13, the Colebrookdale Railroad (South Washington Street, Boyertown, www.colebrookdalerailroad.com) is running its "Mimosa Brunch Traian" at 10:30 a.m.
The tourist rail line's two-hour expedition into Berks County features rides on meticulously restored century-old rail cars and visits to one of the most scenic and historic regions in the northeast.
The Northern Central Railway (2 West Main Street, New Freedom, www.northerncentralrailway.com) is running its "Wild West Express" on August 12 at 11 a.m. and 1 p.m.
Visitors can witness the exploits of the infamous outlaws, Jesse James and the Younger Gang.
During the trip to Glen Rock and back, passengers will experience train travel as it was in the Wild West when this notorious group held up trains and passengers.
The modern-day reenactors are using their skills for good, robbing the train for donations.
The coaches are pushed and pulled by the rail line's vintage steam locomotive.