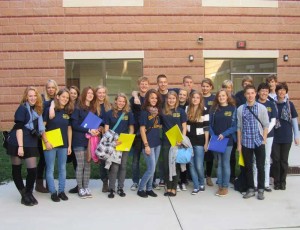 EAST MARLBOROUGH — Unionville High School students are participating in a student exchange partnership with students from the Otto-­‐Hahn-­‐Gymnasium, located in Gottingen, Germany. The 20 German students, all high school age, are staying with UHS students from Oct.  20 through Nov. 4. Traveling with the students are the Otto-­‐Hahn High School Principal and an English teacher from the school. They will chaperone their students throughout their stay in the United States.
Students were introduced to their American hosts at a breakfast on Thursday. Superintendent Dr. John Sanville and UHS Principal Paula Massanari, and UHS teacher Pam Graybeal were on hand to welcome the students, the German Principal and teacher. The visitors from Germany are spending time in UHS classes, visiting Washington, D.C. and Philadelphia while living with their UHS host students throughout their 16-­‐day stay.
UHS is participating in the GAPP (German American Partnership Program) exchange and will be sending UHS students to their partner school in Gottingen, Germany in June, 2012. The German American Partnership Program (GAPP) is a non-­‐profit high school exchange program between schools in Germany and the United States, sponsored by the German Foreign Office and by the US Department of State. The main objective of the Program is the integration of students into the everyday life of host families and into the classroom activities of host schools to provide them with a coherent intercultural experience.
Last year, both UHS and Charles F. Patton Middle School students participated in a Chinese student exchange program. As with that experience, American and German students, families, and teachers will to reap the rich rewards of this cultural exchange program.