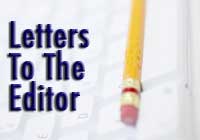 To the Editor:
I am a rank sentimentalist.  I'm not embarrassed to admit that my all time favorite movie is It's a Wonderful Life.  I'm sure I've seen it over 100 times and could quote most of the dialogue in my sleep.  My favorite scene is at the cemetery when George Bailey finally comes to the realization that he had made a real difference in the lives of many people. "Strange, isn't it?" the Angel Clarence tells him.  "Each man's life touches so many other lives. When he isn't around he leaves an awful hole, doesn't he?"
I found myself thinking of that line at this week's School Board meeting.  When all indications had been that the district would strongly reconsider the reconfiguration of our elementary schools and possibly abandon our wonderful neighborhood schools, Corrine Sweeney, stepping down from her 18-year service on the board, spoke out with passion and eloquence against the proposal.  She talked about putting the needs of our children ahead of the need to cut the budget.
And while Corrine's comments were echoed by many concerned parents, teachers, and community members, it was her comments that two of her fellow board members cited as a factor in their decision to vote against the study.
During her many years on the Board, Corrine's comments and even just her presence, served as a calm in the storm, a voice of reason when the discussion sometimes became unreasonable.  This month, she gave one final gift to the district, by helping to halt, at least for now, a proposal that many of us felt would have been destructive to our children's education.
I hope as Corinne embarks on her well-deserved retirement from the Board, she can take personal pride when she continues to see older siblings helping their little brothers and sisters on to the school bus.  And if this issue does resurface in the future, I hope board members will once again consider her comments and come to the conclusion that the welfare of our children must always receive the highest priority.
As for Corinne, right now, you're my George Bailey.  Have a wonderful retirement!
Kathy Do
Pennsbury