By Gail Supplee Tatum, Columnist, The Times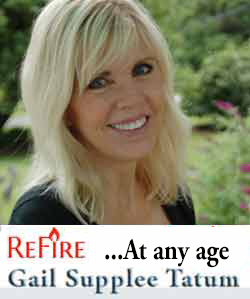 Are you making plans to welcome something new into your life this year? It might be an improvement or an adjustment to something you've already begun. The best way to start your new 2023 adventure is by painting a visual picture of what you want your year to look like and then pour it out on paper for you to read.
Excitement surrounds each New Year, don't you think? It's ceremonious, in the first couple weeks in January, to open our minds to welcome new possibilities! The turning of each year is an opportunity to start fresh, start over, recalibrate, or however you want to describe it.
Whatever your story is, put aside any fears you might have, and be courageous. Don't let the steepness and ruggedness of the climb discourage you. We don't know what glory awaits unless we set the fear aside and keep moving forward.
Never give up, for that is just the place and time that the tide will turn. — Harriet Beecher Stowe
With the world in so much turmoil, we must embrace going beyond ourselves to include our community. We can't reach everyone in the world but we can reach those who are fifteen feet around us; our family, our friends, our colleagues and the people whose paths we cross in the course of the day.
In reflection, during the holiday season, there's always focus on charity and serving our communities on whatever scale we can, which is just another example of going beyond ourselves. To serve others gives hope; it is also good for the soul.
Going deeper on this subject, there are two questions we should ask ourselves to make sure we're on the right track. The questions are: What does the world owe me? What do I owe the world?  The answer is; the world owes us nothing. We each were born with special gifts to share and help our world be a better place. We are the ones who owe the world.
Imagine if we each carry a light. Individually, one light doesn't illuminate a room as bright as several lights. Metaphorically, we are the light in a dark room if we shine brightly together.
I'm offering a few practices that I've adopted to extend what I do, for the betterment of the world. They are:
Ask questions in order to understand. Show interest in who's speaking and be present.
Raise your hand. Don't be afraid that what you're about to say is silly. I assure you, it's not.
Always be curious. Curiosity leads you to research, learning, gaining knowledge and coming to new theories about that particular subject.
Have faith, not only in yourself but in the you that is part of the bigger picture.
Practice gratitude, as it is proven, both biblically and scientifically, to completely fill your heart with joy and happiness.
To conclude this kickoff to 2023, the following beautiful quote by Maya Angelou is to serve as a daily, inspirational mantra:
My mission in life is not merely to survive, but to thrive; and to do so with some passion, some compassion, some humor and some style.
Her message is short, yet impactful. I love how she's not suggesting what might otherwise seem unattainable. She's suggesting "some" passion, compassion, humor and style. The word "some" suggests putting forth effort that is attainable. Let's all do, at least, that and together be a beacon of light throughout this year and every year thereafter.