By Denny Dyroff, Entertainment Editor, The Times
Quite a few events on this weekend's calendar are welcoming the fall season but one is closing out an annual spring and summer tradition in the Brandywine Valley.
Chester County's annual schedule of equestrian activities is getting near the end – but it's not quite there yet.
The annual Dressage at Devon (Devon Horse Show grounds, Lancaster Avenue, Devon, 484-358-5510, http://dressageatdevon.org), is running from September 27 through October 2.
The popular annual event combines world class dressage competition and the world's largest open breed show. The six-day event attracts hundreds of horses from around the world and thousands of spectators.
The event also includes the Fall Festival at Dressage at Devon, which features a large selection of vendors and an equally large number of specialty boutiques where visitors can shop for arts and crafts, clothing, horse-related items and gourmet food.
Tickets are $10 for adults and $5 for children (ages 3-12).

The Annual Downingtown FallFest (Green Street and East Pennsylvania Avenue, downingtownfallfest.com), which is presented by the Downingtown-Thorndale Regional Chamber of Commerce in partnership with Victory Brewing Company and the Borough of Downingtown, will be held September 25 from 11 a.m.- 4 p.m.
FallFest brings thousands of visitors to the borough in search of great food, crafts, music and the Victory Brewing beer garden.
Food vendors will include Downingtown's Victory Brewing along with 22 BBQ, Bojangles, Buddy's Burgers Food Truck, Chank's Grab-N-Go, Crossan Kettle Corn, Dia Doce Cupcakes, Thai Master Grill, and The Smokin' Duck
Also featured will be Foltz's, Gourmet Jerk Shack, Holy Smoked Meats, Kona Ice – King of Prussia, Mei Cha, Mid-Atlantic Food Service, Patty's Place Family Restaurant, Philly Hots!, and Race to Taste Curbside Grill.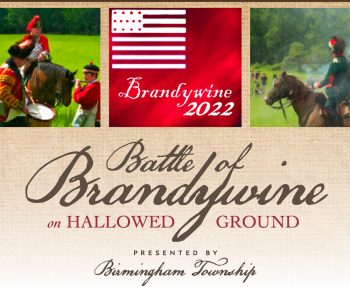 "Brandywine 2022" takes a look back at a very turbulent era in the Brandywine Valley.
On September 11, 1777, the peaceful tranquility of the Chester County countryside was shattered by the sounds of heavy musket and cannon fire at Sandy Hollow Park (now located at South New Street and Birmingham Roads in Birmingham Township). With an estimated 26,000 soldiers fighting that day, this was the largest land engagement of the Revolution.
"Brandywine 2022" commemorates 245 years since the Battle.
This weekend, there will be a two-day re-enactment on September 24 and 25 at Sandy Hollow Heritage Park, Birmingham Township.
The event will feature troops movements following the original path on Thornbury Farm in Thornbury Township.
"Brandywine 2022" will be a major historical event in this region featuring more than 1,000 re-enactor soldiers and camp followers.
Sandy Hollow Heritage Park and Thornbury Farm is an area within the large Brandywine Battlefield where significant combat took place. It is not often that a Revolutionary War re-enactment is held at the exact location where its battle occurred. this major Battle that occurred on Sept 11, 1777.
In addition to battle re-enactments, camps of both armies will be open for inspection by the public. Historical interpreters portraying George Washington, Marquis de Lafayette, and Alexander Hamilton will be conversing with visitors.
Sutlers will be selling time-appropriate goods and there will be colonial games available for children to play.
There will also be live entertainment provided by singers from area schools and organizations.
As an added attraction, artists and authors will also be taking part in the festivities — Adrian Martinez, who creates paintings with historical themes and has just completed a painting of Lafayette, and authors Bruce Mowday and Gene Pisasale.
Mowday wrote a book titled "The Battle of Brandywine" and recently released the book "Lafayette at Brandywine: The Making of an American Hero."
On September 24 and 25, "Derby at the Vineyard" will be hosted by Penns Woods Winery (124 Beaver Valley Rd, Chadds Ford, 610-459-0808, www.pennswoodswinery.com).
Visitors can experience a hunter derby horse show like no other — enjoying this spectacular horse jumping event in the vineyard with wine, local beer & cider, live music all day long, food trucks, artisan vendors.
Additionally, kids will have the opportunity to get up close to the stars of the show at the meet & greet station.
Participants can kick off the morning with brunchy bites from food trucks along with bottomless mimosas from 10 a.m.-noon. Attendees are encouraged to put on their best derby day attire — big hats and bright colors — for a chance to win prizes for "Best Dressed."
General admission is $15 per person with children (five and under) admitted free.
The West Chester Railroad (www.westchesterrr.net) is hosting its "Special 25th Anniversary Celebration" on September 25 from 9 a.m.-5 p.m.
Featured activities are "Round-Trip Scenic Train Rides" between West Chester and Glen Mills with WCRHA historian David Walter narrating the history of the railroad and points of interest along the Chester Creek; and "Locomotive Cab Tours," where visitors will be able to see the controls inside the cab and check out the powerful engine of one of the rail line's vintage diesel locomotives.
There will also be "Train Yard Tours" featuring exclusive behind-the-scenes look at our railyard, where our volunteers maintain our locomotives, passenger cars, and track equipment.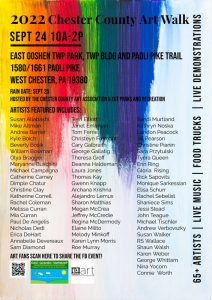 The Chester County Art Walk will celebrate its second anniversary on September 24 at East Goshen Township Park (15810 Paoli Pike, West Chester, chestercountyarts.org).
The popular attraction will kick off a season of events in East Goshen Township Park that includes Pumpkin FEST, Toddler Trick or Treat, and Food Truck Festival.
The Art Walk, which is scheduled to run from 10 a.m.-2 p.m., will showcase the work of 65 artists in a wide array of genres.
Artists will be staged throughout the East Goshen Township Park, tied together by the Paoli Pike Trail.
Some of the featured artists will be Dimple Chatur, Annabelle Devereaux, Andrew Verbovsky, Archana Krishna, Shaniece Sims, Terri Elliott, Laura Jones, Gloria Rising and Landon Peacock.
The event will feature food and drink options as well as musical entertainment.
Parking options are EGT Park, CCBI Chamber Building, East Goshen Elementary School, IMX Building, East Goshen Township Building, and the Courthouse behind the old TD Bank.
The annual "A Taste of Greece" festival will run now through September 25 at St. George Greek Orthodox Church (30 East Forge Road, Media, http://www.stgeorgegreekfestival.org).
The free festival focuses on food — tasty Greek main dishes such as moussaka (eggplant dish), shish kabob (meat and vegetables on skewers) and placki (fish) and Greek dessert treats including baklava (phyllo, nuts and honey) and kataifi (shredded wheat and nuts).
Other activities at the free popular annual event are midway rides, vendors with crafts and Greek items, live music by Greek American bands and folk dancing demonstrations. Hours are 11 a.m.-10 p.m. on Friday and Saturday and noon-8 p.m. on Sunday.
The Marshall Steam Museum at Auburn Heights Preserve (3000 Creek Road, Yorklyn, Delaware, 302-239-2385, http://auburnheights.org) will stage one of its major annual events on September 25 when it hosts Auburn Heights Invitational Historic Auto Display.
The annual Auburn Heights Invitational features an exceptional array of historic automobiles from the classic era. This year's fundraiser event includes a broad representation of high-end motor cars from the dawn of the automotive age through 1942.
Selection is based on significance of the marque, authenticity, presentation and the history of the vehicle. Limited to approximately 20-25 autos, the Auburn Heights Invitational offers a rare opportunity to compare and contrast early and later classic-era vehicles — all at the elegant Auburn Heights estate.
­More than just a car show at a classy venue, attendees enjoy delicious fare by the Country Butcher Fine Foods Inc., wine and beer tastings, ice cream from Woodside Farm Creamery, rides on the Auburn Valley Railroad and tours of the Auburn Heights Mansion, plus special exhibits and presentations, a silent auction, raffle and more.
The event will get underway at 12:30 p.m. Admission is $25.
The intriguing new production Paranormal Cirque (https://paranormalcirque.com), which is intended for a mature audience, is running now through October 2 at King of Prussia Mall (160 North Gulph Road, King of Prussia).
Paranormal Cirque will expose audiences to a unique creation of combined theatre, circus, and cabaret with a new European style flare.
This innovative horror story, which is presented in true circus style under a Big Top tent, features different shades of sexy and an incomparable storyline. Audiences likely will find it difficult to separate reality from illusion at this show as they fall into a parallel world and end up surrounded by monstrous creatures with hidden talents.
Currently, Paranormal Cirque has four tours running – Silver Tour, Gold Tour, Black Tour and Silver Tour. The tour visiting our area is the Black Tour.
Paranormal Cirque's "Clown Castle" (also known as the Big Top) presents a mesmerizing effect while hosting a two-hour hypnotizing and enchanted show.
A careful casting selection has united the best artists from all over the world.
Under this Clown Castle, the black and red big top tent, there are aerial acrobats, illusionists, freaks, mysterious creatures and all the elements that make one think of a "normal" circus – but this one is not "normal."
A new show with breathtaking implications always poised between fun and the most uninhibited fear that will transport you to a dark world inhabited by creatures with incredible circus art abilities.
A crazy yet fun fusion between circus, theatre, and cabaret in perfect harmony with the evolution of a show that brings you back to when we dream … and when we had nightmares and fantasies.
Scare, encompass, amuse and surprise are the ingredients for a mixture of emotions impossible to forget.
This is truly a Paranormal experience like no other.
Video link for Paranormal Cirque — https://youtu.be/locxFnh5UR8.
Ticket prices start at $10.
Each September, "Pumpkinland" returns to Linvilla Orchards (137 West Knowlton Road, Media, 610-876-7116, www.linvilla.com). "Pumpkinland," which runs through November 6, features fairy tale characters from nursery rhymes along with a huge scarecrow and a really tall storybook.
There will be a special event this weekend.
Linvilla Orchards' Apple Festival honors apples every autumn. One of the festival's highlights is the annual apple pie eating contest.
Other activities include train rides, a straw bale maze, hayrides, pick-your-own apples and pony rides.
There will also be "Harvest Hayrides" and "Autumn Moon Hayrides" starting later in September along with "Straw Bale Maze," "Train Rides," "Corn Maze" and "Pony Rides."
"Pumpkinland" is open from mid-September through early November and takes center stage at Linvilla Orchards. Larger than life figures and scarecrows illustrate the legends and lore of the harvest season, featuring local history and some of the many stories of pumpkins and apples.
Visitors will see Linvilla's piles of pumpkins in all colors, shapes and sizes – more than 100 tons on display.
The Greater Philadelphia Expo Center (100 Station Avenue, Oaks, 484-754-3976, http://phillynon-sportscardshow.com) is hosting the Philly Non-Sports Card Show on October 16 and 17.
The big event for specialized memorabilia collectors this weekend will be held on Friday from 1-8 p.m., Saturday from 11 a.m.-5 p.m. and Sunday from 9 a.m.-3 p.m. Tickets are $10 each day or $25 for a weekend pass.
There are two basic categories of trading cards — sports cards and non-sports cards. Sports cards depict athletes at all levels. Non-sport cards offer so much more. There are card sets dealing with music, movies, politics, nature, pop culture and history.
For more than a century, non-sport trading cards have documented trends in pop culture – providing people with history lessons provided by small, rectangular pieces of cardboard.
Three times each year, collectors from across the country come together in eastern Pennsylvania for this very special event.
Now in its 40th year, the event is the oldest show of its kind in the country.
Many of the hobby's top manufacturers will have exhibit booths at this weekend's show and will be distributing free promo cards. There will be a huge array of non-sport cards, sets, singles, wrappers, chase cards, promos, and related memorabilia.
Another event at the Expo Center this weekend will be the Retro Con: Retro Toy & Gaming Show on September 24 and 25.
"Retro Con: Retro Toy & Gaming Show" is a toy show that's dedicated to all things retro. The event's spotlight will shine on the toys from the 60's, 70's, 80's and 90's – and more.
Retro Con is pop culture and memorabilia show catering to anything considered "retro" — especially the 80's – things like Transformers, Star Wars, GI Joe, Ghostbusters, He-man, and classic video games.
There will be more than 200 tables of collectibles and art for sale, as well as special guests, video games, a costume contest, raffles, a trivia contest, panels, replica props, and much more.
The event will also have gaming systems set up – systems such as the classic NES & Saga — for fans to play.
The show will run from 10 a.m.-5:30 p.m. on Saturday and 9 a.m.-4 p.m. on Sunday. Tickets are $20 on Saturday and $15 on Sunday.
The latest edition of the "History at Work" series at Newlin Grist Mill (219 South Cheyney Road, Glen Mills, newlingristmill.org) is scheduled for September 25.
Visitors can get a closer look at trades of the 18th century in Newlin's "History at Work" series.
Members of Newlin Grist Mill's staff, volunteers, and outside artisans will demonstrate their crafts and talk with visitors about how different trades and skills were integral to life in colonial Pennsylvania and to the operation of Newlin Grist Mill.
In 2021, the program will take place on the last Saturday of the month now through October from 10 a.m.-3 p.m. each day. Planned demonstrations include blacksmithing in September and food preservation in October.
"History at Work" is free and open to the public of all ages.
The 15th Annual Boyertown Oktoberfest (Municipal Parking Lot, Reading Avenue, Boyertown. 610-369-3054, www.boyertownoktoberfest.com) is scheduled for September 23 and 24.
The event will kick off with a "Homecoming Celebration" on Friday evening with live music by Yodeling Dave Kline.
Activities on September 24 include the tapping of the ceremonial keg, German music and entertainment, food, and wine and beer. Live entertainment will be provided by 5th Street Remnants, Happy Dutchman German Band and the Auerhahn Schuplatter Verein German Dancers.
Hours are 6-10 p.m. on Friday, 11 a.m.-9 p.m. on Saturday. Wristbands are $5 per day.
The 11th Annual Upper Perkiomen Bird & Wildlife Festival is scheduled to run from 11 a.m.-3 p.m. on September 24 at Green Lane Park (2298 Green Lane Road, Green Lane, 215-234-4528).
Families are invited to enjoy a day of fun and learning at the park. The event will feature environmental exhibits, free hayrides, live animal presentations, live music, food and merchandise vendors, and kids' games and activities.
The 32nd Annual Harriton Farmstead Fair is scheduled for September 24 from 10 a.m.-4 p.m. (rain or shine) at the Harriton House (500 Harriton Road, Bryn Mawr, www.harritonhouse.org)
The popular annual event in Lower Merion Township features crafts, antiques, pony rides, historic house tours, children's games, muskets and soldiers, blacksmiths, stone carvers, cabinetmakers, spinners, skep weavers, bluegrass music, and falconry (and other birds of prey).
The Fair, which is free and open to the public, also features the Harriton Attic Treasures Booth, which is one of the best flea markets on the Main Line, and the Harriton Farm stand featuring flowers and organic produce (some of which is from the Harriton garden).
As an added attraction, the historic 1704 house will be open for tours during the day.
The Annual Fall for the Arts Festival (Germantown Avenue, Philadelphia, https://chestnuthillpa.com/events/fall-for-the-arts-festival) is coming to Chestnut Hill this weekend. The popular annual event will feature art, live demonstrations, children's activities, music and shopping.
The outdoor, arts-and-crafts marketplace will be held on September 25 from 11 a.m.-5 p.m. on Germantown Avenue between Willow Grove and Rex avenues.
Watercolors, sculptures, pottery, wood crafts, photographs and jewelry, produced by more than 100 artists from the Mid-Atlantic region, will be on display and for sale.
There will be a Makers Village set up from Abington Avenue to Hartwell Lane, featuring live demonstrations and a Children's Amusement Zone.
Dining options include Bahia Bowls, Bredenbeck's Bakery and Ice Cream Parlor, Campbell's Place, Chestnut Grill, Chestnut Hill Brewing Co., El Poquito, Iron Hill Brewery, Market at the Fareway, McNally's Tavern, Baker Street Bread, Breakfast Boutique, Cake, Chill On The Hill Frozen Yogurt, Cin Cin, Cosimo's Pizza Café, King's Garden and Tavern on the Hill.
Live music will be performed by the Dukes of Destiny, Jonathan Savage & the Classic Rockers, the City Rhythm and Tattar, Tucker, Moog & Martin.
There is a very good reason why collectors of antiques from all around the country will be heading to Pennsylvania's Amish region this weekend.
Renningers "Antiques & Collectors Extravaganza" (740 Noble Street, Kutztown, 570-385-0104,www.renningers.net) is slated for September 23 and 24 and "Special Sunday at Renninger's Adamstown" (Route 272, Adamstown) is scheduled for September 25.
The Extravaganza features hundreds of antiques dealers from up and down the East Coast. Since 1975, Renningers Antiques & Collectors Extravaganzas have been a meeting place for dealers and collectors from a variety of locales. The dealers buy and sell among themselves and offer vintage items for sale to the general public.
Many exhibitors set up shop outdoors — under tents and in the two large pavilions (each of which cover over 2,000 square feet). Also open is the Indoor Antiques Market and the Indoor Farmers Market.
Renninger's Antiques Market in Adamstown is the final shopping mecca for antiques during the Famous Extravaganza weekends. Many dealers save special merchandise which they display during these special weekends.
Also, many dealers make a special trip to set up in the special outdoor market only these three times a year. The outdoor market opens at 5 a.m. The indoor market opens at 7:30 a.m.
The Pennsylvania Renaissance Faire (Mount Hope Estate and Winery grounds, Route 72, Cornwall, 717-665-7021, www.parenfaire.com) is in full swing.
This year's 43rd annual staging of the event, which bills itself as "the most wondrous event in all the Knowne World", is running now through October 30. The festive annual event features authentic Elizabethan food and drink, traditional crafts from the guildsmen of yore and old-time games of skill — and a cast of hundreds of colorfully costumed re-enactors.
Every summer, the Faire, which takes place at Mount Hope Estate and Winery's authentic 35-acre recreation of a 16th-century village in Olde England, features a new story from a different year of England's past. This year's Faire will take you back in time to the year 1558.
More than 70 shows are scheduled throughout each day on the Faire's numerous stages.
Without a doubt, the most popular attraction is the Jousting Arena. Visitors to the Faire flock to Bosworth Field whenever it's time for the Ultimate Joust. Peasants lead cheers for their favorite knights while musicians pound out a heart-thumping beat. The Master of the List announces the combatants and soon an encounter of royal proportions ensues.
The Faire offers a wide variety of activities for visitors, including listening to bagpipe music, checking out handsome Lords in their colorful silks, watching a jester's acrobatics, learning how to juggle, being the recipient of a gypsy woman's flirtations and watching the march of Beefeater Guards.
Guildsmen's Way is the area that features a large variety of merchants and artisans, including jewelers, candle makers, potters, herbalists, leather smiths, clothiers, and pewter makers — all offering for sale and demonstrating their ancient wares.
And there are more than 20 Royal Kitchens located around the faire with menus featuring a wide variety of food and beverage.
Single-day tickets are available at the gate for $31.95. For children (age 5-11) single-day tickets are available at the gate and online for $16.95.
The Philadelphia Zoo (3400 West Girard Avenue, Philadelphia, www.philadelphiazoo.org) is featuring a "Giraffe Feeding Encounter."
Now guests can get up close to the zoo's giraffe trio in this all-new feeding experience. "Giraffe Encounter" is scheduled from 10:00 a.m. to noon and 1-4 p.m. daily.
General admission for the Giraffe Encounter is $6; Individual, Dual, Family, and Family Plus members is $5; and Family Deluxe and above is $4. Each guest gets one piece of browse to feed. Browse is vegetation, such as twigs and young shoots, eaten by animals. Depending on the day, guests can feed our giraffes acacia browse (which is what giraffes eat in the wild) or another variety like mulberry or honeysuckle.
Considered the tallest land animals in the world, male giraffes can reach up to 18 feet tall and weigh close to 3,000 lbs. Listed as "vulnerable" by the International Union for Conservation of Nature (IUCN), with scientists estimating there are fewer than 100,000 surviving in the wild, giraffe are affected by poaching and habitat destruction, with populations decreasing more than 40 per cent over the last three decades.
"Elmwood Park Zoo" (1661 Harding Boulevard, Norristown, www.elmwoodparkzoo.org) is presenting several of its ultra-popular "Dog Days" over the next week.
The Zoo's "Dog Days" event will be held on September 23, 25 and 28 from noon-4 p.m. each day.
All guests visiting the zoo with a furry friend must complete an online waiver and submit required documents before visiting the zoo. You must upload a copy of your most recent veterinary visit, including proof of vaccine and heartworm test here. All items will be required for you to attend "Dog Days."
Pricing is $10.95 per dog with each additional dog at $9.95. Regular zoo admission is required for all humans.
Chaddsford Winery (Route 1, Chadds Ford, 610-388-6221, www.chaddsford.com) is celebrating four decades of Pennsylvania wine. Since its founding in 1982, the winery's portfolio has evolved through integral winemakers and key personnel with a mission to produce top-quality, locally rooted wines.
On Saturdays and Sundays in September, the first 100 guests on the property will receive a free Birthday Cake cookie from OsoSweet Bakery and a complimentary 2 oz. pour of '19 Sparkling White.
Guests with an appetite can enjoy food truck fare from Common Good Pizza.
There will be a special event this weekend – "Dog Days."
On September 24 and 25, the winery will host "Dog Days."
Participating Pet Vendors will be Black Sheep Dog Treats, All 4 Paws Rescue and Veterinary Dentists Specialists of Chadds Ford (Saturday only).
On September 23, Laurel Hill Cemetery (3822 Ridge Avenue, Philadelphia, 215-228-8200, www.thelaurelhillcemetery.org) will present "Hot Spots and Storied Plots" walking tour at 10 a.m.
In life and in death, we all have stories to tell, and what better place to hear tales of wonder than Philadelphia's most famous home of the dead?
This tour provides an informative overview of Laurel Hill's long history, which includes many of the marble masterpieces, stunning views, and legendary stories about Laurel Hill.
"Hot Spots and Storied Plots" is the perfect introduction for anyone who enjoys beautiful art, scenic nature, and fascinating history. An experienced graveyard guide will offer a unique perspective. No two "Hot Spots and Storied Plots" are alike.
The tour will take place on August 26 at 10 a.m. — departing from Laurel Hill Cemetery's Gatehouse entrance at 3822 Ridge Avenue, Philadelphia.
The Tour Guide will be Steve Chawaga.
Laurel Hill Cemetery will also present "Sacred Spaces & Storied Places" on August 27 at 10 a.m.
The expansion of Fairmount Park in the 1860s prevented further growth of Laurel Hill East, and in 1869 Laurel Hill West Cemetery was established just across the river in Bala Cynwyd. This walking tour provides a wonderful overview of Laurel Hill West's long and colorful history, including its architectural artistry, stunning trees and horticulture, and the stories of residents that encompass diverse and fascinating Philadelphia history.
"Sacred Spaces and Storied Places" is the perfect introductory tour for anyone who wants to learn all that Laurel Hill West has to offer. Experienced tour guides offer visitors a unique perspective and every Sacred Spaces tour is different. This weekend's tour guide is Pamela McMahon.
Tickets, which must be purchased in advance, are: $12/General Admission, $10/Seniors (65 & Up), $10/Students with ID, $7/Members, $6/Youth (6-12), and $0/Child (5 & Under). Youth and children must be accompanied by an adult.
Longwood Gardens (Route 1, Kennett Square, www.longwoodgardens.org) is always a special place to visit – especially during the run of its annual "Festival of Fountains."
The 2022 "Festival of Fountains" opened in May and is running through September 26.
This summer is even more special because of light. More specifically because of "Light: Installations by Bruce Munro," which is artist Bruce Munro's illuminating new installation at Longwood Gardens.
The exhibit had its debut two weeks ago and will be on view Thursday through Sunday evenings until October 30.
"Light" is an extravagant exhibit that includes eight installations comprising more than 18,000 glowing lightbulbs across Longwood's outdoor areas and indoor conservatory.
From the luminous "Field of Light" stretching across the Large and Small Lake landscape … to a flamboyance of 1,000 flamingoes wading near the Chimes Tower … to an immersive sensory environment inspired by the Waterlily Display in the Exhibition Hall, the exhibit showcases eight installations spanning Longwood Gardens' indoor spaces and outdoor vistas.
Daily performances in the Main Fountain Garden will feature more than 1,700 spinning jets that spin dance to various music programs. These are no little jets as some shoot up as high as 175 feet in the air.
The 30-minute show is slated for Thursdays, Fridays and Saturdays at 9:15 p.m.
The Main Fountain Garden Show fountain performance that begins with a touch of narrated history and concludes with dynamic choreography marrying music and the site's newest fountain features.
These displays will be presented daily at 1:15 a.m., 1:15, 3:15 p.m. and 5:15. There will also be performances on Thursdays, Fridays and Saturdays at 6:15, 7:15 and 8:15 p.m.
The "Illuminated Fountain Performance" will be staged Thursdays through Sundays at 9:15 p.m.
Live music can be heard in the Beer Garden, where live instrumental music from traditional Celtic tunes to Caribbean steel pan grooves sets the tone Thursday through Saturday evenings.
Beer Garden performances are scheduled in September from 5-8 p.m. on Thursdays, Fridays, and Saturdays.
As always, admission by "Timed Ticket" — tickets issued for specific dates and times. Timed ticketing limits the number of people in the Gardens at any given time and allows guests to enjoy minimal lines and a better viewing experience.
You may enter the Gardens up to 30 minutes prior and 30 minutes after your designated time. Make every effort to arrive at your designated reservation time. Earlier or later arrivals may not be accommodated.
Video link for "Festival of Fountains" — https://youtu.be/AHsC2YuFerY.
Admission to Longwood Gardens is $35 for adults, $32 for seniors (ages 62 and older) and college students, $27 for active military and veterans and $19 for youth (ages 5-18).
The Brandywine Valley has quite a few museums and tourist sites that provide residents and tourists ideal opportunities to spend leisure time — and you can maximize your effort if you take advantage of the 2022 Brandywine Treasure Trail Passport.
The cost is $49 for an individual pass and $99 for a family pass (for up to five family members).
The Brandywine Treasure Trail Passport is good for one-time admission to Wilmington and the Brandywine Valley's top attractions now through October 31.
A family pass, which includes one-day admission to each of 12 sites, can bring a savings of more than $200 for the holders — especially since many of the participating institutions have regular admission fees in double figures.
The list of locations covered by the Brandywine Treasure Trail Passport includes Longwood Gardens, Delaware Museum of Nature and Science, Brandywine River Museum, Delaware Art Museum, Delaware History Museum, Hagley Museum and Library, Delaware Center for Contemporary Arts, Nemours Mansion & Gardens, Read House and Garden, Mt. Cuba Center, Rockwood Museum and Winterthur Museum, Garden & Library.
For more information, call (800) 489-6664 or visit www.visitwilmingtonde.com/bmga/.
Winterthur Museum, Garden & Library (5105 Kennett Pike, Wilmington, Delaware, 800-448-3883, www.winterthur.org) is featuring a Guided Exhibition Tour – "Jacqueline Kennedy and Henry Francis du Pont: From Winterthur to the White House" – now through January 8, 2023.
Visitors can explore the friendship between the First Lady and H. F. du Pont and their work to restore the White House in this guided tour of the special exhibition.
In 1961, an unusual partnership was formed when the youngest First Lady in American history, Jacqueline Kennedy, appointed a reserved octogenarian collector from Delaware, Henry Francis du Pont, to lead her project to restore the White House interiors. Du Pont brought credibility to Kennedy's efforts and vision, and her enormous popularity lifted him onto the national stage and validated his life's work.
Together, they transformed the White House from a mere public residence into a museum, and along the way, they engaged with some of the most celebrated interior designers of the 20th century.
For the first time, the story of this historic partnership will be told at Winterthur, the inspiration for Mrs. Kennedy's project. Through artifacts, archives, and images, this exhibition will invite visitors to experience the behind-the-scenes collaboration between the two during this captivating period in American history.
Their partnership culminated in a televised tour of the White House, led by Jacqueline Kennedy, which became the most watched program in American history. The former First Lady will forever be remembered as the person who restored history and beauty to the White House.
Their "restoration" of America's most famous house became a history lesson for the country and awakened an interest in preservation and interior design that is still felt today.
Admission to Winterthur is $22 for adults, $20 for seniors and students and $8 for children.
Hagley Museum and Library (Buck Road East entrance via Route 100, Wilmington, Delaware, 302-658-2400, www.hagley.org) is hosting "Science Saturday: Tune into Science" on September 24.
The activity, which runs from noon-4 p.m., takes a look at sounds and vibrations.
Sound is produced by vibrations and participants will be able to create musical instruments that will vibrate to make sound.
Guests can also learn how animals communicate through sound with the Delaware Museum of Nature & Science. They can explore echolocation with a fun activity and meet some of our Ambassador Animals with exceptional hearing.
OnSeptember 25, Hagley will present this month's installment of "Cannon Firings."
Guests can have a blast during their visit to Hagley by watching a demonstration of the museum's signal cannon.
Demonstrations take place at 1, 2, and 3 p.m.
Please note that cannon firings are weather-dependent.
The "Cannon Firings" are included with admission and free for Hagley members
Activities are included in admission and free to members. Admission to Hagley is: $15, Adults; $12, Seniors (62+) and Students; and $8, Children 6-14.
Nemours Estate (850 Alapocas Drive, Wilmington, Delaware, www.nemoursestate.org) is open Tuesday to Sunday from 10 a.m.-5 p.m. Reservations are not required and there is no timed entry.
Nemours Estate comprises an exquisite, 77-room Mansion, the largest formal French gardens in North America, a Chauffeur's Garage housing a collection of vintage automobiles, and 200 acres of scenic woodlands, meadows and lawns.
Nemours was the estate of Alfred I. duPont.
Alfred named the estate Nemours, after the French town that his great-great-grandfather represented in the French Estates General. While looking to the past and his ancestors for inspiration, Alfred also ensured that his new home was thoroughly modern by incorporating the latest technology and many of his own inventions.
The Gardens is one of the estate's prime attractions.
The two elk at the top of the Vista are the work of French sculptor Prosper Lecourtier (1855–1924), a specialist in animal figures. Lined with Japanese cryptomeria, pink flowering horse chestnuts and pin oaks, the Long Walk extends from the Mansion to the Reflecting Pool.
The 157 jets at the center of the one-acre pool shoot water 12 feet into the air; when they are turned off, the entire 'Long Walk" is reflected in the pool. The pool, five and a half feet deep in its deepest section, holds 800,000 gallons of water and takes three days to fill. The Art Nouveau-style, classical mythology-based "Four Seasons" around the pool are by French-born American sculptor Henri Crenier (1873–1948).
Admission to Nemours is $20 for adults, $18 for seniors and $10 for children.
It's time to welcome autumn and one of the best ways to do this is by checking out the corn mazes at Ramsey's Farm (Ramsey Road, Wilmington, Delaware, 302-477-1499,www.ramseysfarm.com). The farm's event season lists September 25 as 2022's "Opening Day."
Corn mazes, along with hayrides, a pumpkin patch and scarecrows, will be featured at Ramsey's Farm, which is located in northern Delaware on Route 92 just south of the Pennsylvania-Delaware state line. The new season runs on weekends now through October.
Ramsey's "Pumpkin Patch" has been in operation since 1995 and the farm's varied mazes have been delighting and baffling visitors who return each year for the popular annual event. The owners of Ramsey's Farm raise pumpkins, gourds, ornamental corn, popcorn, feed corn and hay.
The farm's pumpkin field stretches over 12 acres and yields approximately 20,000 pumpkins each season. Hayrides around the farm will be offered from 11 a.m.-5 p.m. each day. Visitors will be able to shop for pumpkins and other items at the farm store. There will also be hot food and beverages available for purchase.
Tickets are $8 for the corn maze, $5 for the sorghum maze, $3 for the hay maze, $3 for pumpkin painting and $3 for a hayride.
This is the time of the year when farms in the area become a bustle activity — a time for harvest. But it is not harvest matters that are causing a bustle of activity at Cherry Crest Adventure Farm in Ronks (150 Cherry Hill Road, Ronks, 717-687-6843, www.cherrycrestfarm.com).
The farm's popular annual "Flashlight Maze" is now underway and will continue every Friday and Saturday night through November 4. Cherry Crest Adventure Farm has reserved several weekends during the autumn months for Flashlight Maze.
This special activity allows visitors to experience the Amazing Maize Maze in total darkness. All you need are flashlights and a few friends.
The Flashlight Maze is a nice, non-scary, Halloween alternative that has appeal for people of all ages. The Flashlight Maze, which has a $12 admission fee, is open from 6:30-10 p.m. with the last entrance into the Maze at 9 p.m.
The main attraction is Cherry Crest's "Amazing Maize Maze," which is billed as "the world's most dynamic and interactive corn maze." It is a five-acre corn maze with over two-and-one-half miles of paths, scenic bridges, and clues.
Participants can walk at their own pace as they encounter the "Kernels of Knowledge" along with a variety of clues, tunnel slides, and watering stations. They can also check out a bird's eye view from the two bridges and watch everyone's flags waving high above the corn.
The average time to complete the "Amazing Maize Maze" course is one hour. Ticket prices start at $19.
On weekends now through October 22, the Kalmar Nyckel will be offering public sails from the Kalmar Nyckel Shipyard (Copeland Maritime Center, 1124 E. 7th St. Wilmington, Delaware, http://kalmarnyckel.org).
For two decades, the Kalmar Nyckel, which has its home base in Wilmington, has been hosting riders all over the world – especially in Delaware.
A ride on the Kalmar Nyckel is a totally different from most tourist water rides.
The ship is a beautiful recreation of the original Kalmar Nyckel, which was built in Holland in the 1620s. Her mainmast is taller than a 10-story building and she carries 7,600 square feet of sail area and six miles of rigging.
The original Kalmar Nyckel was a Swedish-owned, three-masted armed pinnace that sailed from Goteborg, Sweden in November of 1637 and brought the first permanent European settlers to the Delaware Valley.
Carrying 24 settlers from four countries (Sweden, Finland, Holland, and Germany), she landed on the banks of the Christina River. The site, which became known as "The Rocks", can be visited at Fort Christina Park off Wilmington's East Seventh Street.
The Kalmar Nyckel made four documented round-trip crossings of the Atlantic, more than any other "settlers' ship" of the era. The original ship was lost in the late 1600s.
In 1986 a group of citizens established the Kalmar Nyckel Foundation to design, build and launch a replica of the Kalmar Nyckel at a shipyard adjacent to the original landing site.
The new Kalmar Nyckel was constructed there and was launched on September 28, 1997. She was commissioned on May 9, 1998, and now serves as Delaware's sea-going Ambassador of Good Will. She is a fully functional sail training vessel and has represented Delaware all over the country.
Tickets are $40 for adults and $25 for youth (ages 17 and under).
For the next few months, the American Swedish Historical Museum (1900 Pattison Avenue, Philadelphia, 215-389-1776, www.americanswedish.org) is presenting an exhibit "Art for All: The Swedish Experience in Mid-America," which just opened and will run through February 19, 2023.
"Art for All: The Swedish Experience in Mid-America" is an exhibition of paintings and sculptures by Swedish-American artists in the late-19th and early-20th centuries.
This colorful and emotive impressionist art reflects its own time, interprets nature and landscape, and is independent of artificial conventions while keeping Swedish folk traditions alive.
The American Swedish Historical Museum is proud to present Art for All: The Swedish Experience in Mid-America, an exhibition of paintings and sculptures by Swedish American artists in the late-19th and early-20th centuries. This colorful and emotive impressionist art reflects its own time, interprets nature and landscape, and is independent of artificial conventions while keeping Swedish folk traditions alive.
This exhibition features many Swedish artists who studied and absorbed the democratic philosophies of "art for all," espoused by Anders Zorn and the Artist's League. These young artists immigrated to America to forge new career paths. "Art for all" became a catchphrase in Kansas by the 1930s, stemming from efforts of local artists to offer affordable paintings and prints so that every citizen could have original art in their own homes for a richly cultured way of life.
"Art for All: The Swedish Experience in Mid-America" was conceived and developed by the Birger Sandzén Memorial Gallery and the Hillstrom Museum of Art.
Historic Rock Ford (Rockford Road, Lancaster, www.discoverlancaster.com) is presenting a new exhibit "Long Rifles of the American Revolution: How Lancaster Craftsmen Helped Win the War." The exhibit will remain open until October 30.
Historic Rock Ford is collaborating with guest curator John Kolar on the exhibit which will showcase approximately 30 rifles.
The rifles featured in the exhibit are being loaned by museums and private collectors from across the nation and will be used to describe the pivotal role played by the long rifle in winning American independence.
Visitors will be able to examine different rifles while also engaging in the story of the war by highlighting their use in several key battles including the siege of Boston, the battle of New York, Trenton, Saratoga, Kings Mountain and the Miller Block House as well as on the Frontier.
Admission to Rock Ford is $12 for adults, $11 for seniors and youth (ages 6-17).
Hope Lodge (553 South Bethlehem Pike, Fort Washington, 215-343-0965, http://www.ushistory.org/hope/) will be presenting a "Guided Mansion Tours" on September 18.
Hope Lodge was built between 1743 and 1748 by Samuel Morris, a prosperous Quaker entrepreneur. Morris acted as a farmer, shipowner, miller, iron master, shop owner, and owner of the mill now known as Mather Mill. Hope Lodge is an excellent example of early Georgian architecture, and it is possible that Edmund Woolley, architect of Independence Hall, offered advice in building. Samuel Morris owned the estate until his death in 1770.
The site opens at 12:30 p.m. with self-guided tours starting at 1 and 2:30 p.m. The closes at 4 p.m.
Tour admission is $8 for adults, $5 for seniors (age 65+) and for youth ages 6-17, and fee for children under 5.
Schuylkill Banks Riverboat Tour (www.schuylkillbanks.org/events/riverboat-tours-1) presents "Secrets of the Schuylkill" now through October.
The boat ride is a one-hour family-friendly tour of Philly's second biggest river featuring sights such as Bartram's Garden and Fairmount Water Works.
Riders can discover the Hidden River on a fun and educational riverboat tour while seeing spectacular views of Philadelphia.
They can also learn about the past, present, and future of the tidal Schuylkill River and its impact on Philadelphia on a one-hour Secrets of the Schuylkill tour which costs $25 for adults and $15 for children (age 12 and under).
Tours depart from the Walnut Street Dock, under the Walnut Street Bridge, east bank of the Schuylkill River.
Wonderspaces at the Fashion District (27 North 11th Street, Philadelphia, philadelphia.wonderspaces.com) is an experiential, interactive arts venue.
Building on the success of annual pop-up shows in San Diego, and its first permanent location in Scottsdale, Arizona, Wonderspaces opened a 24,000 square foot gallery space in Philly a year ago.
Wonderspaces features 14 art installations that all play with the idea of perspective.  The artwork ranges from award-winning virtual reality short film about a dinner party-turned-alien abduction, to a room where visitors digitally paint the walls with the movement of their bodies.
New artworks rotate in every few months, creating an ever-evolving, year-round show.
Tickets are for entry at a specific date and time. Visitors are welcome to stay as long as they please during operating hours. The average time spent experiencing the show is 90 minutes.
A few installations contain flashing lights, images, and patterns that may trigger seizures for people with photosensitive epilepsy. All visitors must sign a waiver prior to being admitted into the space. Adult supervision is required for visitors under 16.
Grim Philly's "Dark Philly History Tour" (www.grimphilly.com) will be held every evening throughout the summer.
Participants can walk with tour guides from the grounds of America's first White House, Congress, and Liberty Bell to homes and sites of Hamilton, Washington, Franklin, Adams, Jefferson, Madison, Monroe, and more than 10 other Founding-Fathers. The surprising dirt of espionage, murder, sexual license and blackmail highlight the secrets of 1776 with a ghost story or two along the way. This tour is highly researched. And your guide is a historian.
Tickets are $35.
Ghost Tour of Philadelphia (215-413-1997, www.ghosttour.com), Ghost Tour of Lancaster (717-687-6687, www.ghosttour.com) and Ghost Tour of Strasburg (717-687-6687, www.ghosttour.com) operate throughout the winter and offer an eerily entertaining evening of true ghost stories and real haunted houses.
The Ghost Tour of Philadelphia, which is based on the book, "Ghost Stories of Philadelphia, PA.," is a candlelight walking tour along the back streets and secret gardens of Independence Park, Society Hill, and Old City, where ghostly spirits, haunted houses, and eerie graveyards abound.
Participants can discover the ghost lore of America's most historic and most haunted city with stories from the founding of William Penn's colony to present-day hauntings.
The activity is open year-round – weekends, December-February; every night, March-November. Tickets are $24.
The Ghost Tour of Lancaster and the Ghost Tour of Strasburg are based on the book, "Ghost Stories of Lancaster, PA."
Participants in the Ghost Tour of Lancaster explore the long-forgotten mysteries of one of America's oldest cities, with haunting tales of otherworldly vigils, fatal curses, and star-crossed lovers. The tour provides the opportunity to experience 300 years of haunted history from the Red Rose City's thorny past. Tickets are $20.
The Ghost Tour of Strasburg is a candlelight walking tour of the quaint and historic town of Strasburg in the heart of Pennsylvania Dutch Country. Visitors will experience an entertaining evening with a costumed tour guide spinning tales of haunted mansions, eerie graveyards, and spirits that roam the night … in a town lost in time. Tickets are $20.
This summer, giraffes at area zoos will have a variety of dining partners joining them for meals.
For "Count's Halloween Spooktacular at Sesame Place" (100 Sesame Place, Langhorne, 215-752-7070, www.sesameplace.com), which runs from September 17-November 6, the popular amusement park has been converted into a Halloween-themed safe venue for kids with trick or treating, pumpkin decorating, hayrides and a hay maze.
Guests will enjoy trick-or-treating around the park, Halloween-themed shows, participating in our interactive Scarecrow Scavenger Hunt, and unique photo opportunities with everyone's favorite furry friends dressed up in costume on their Halloween-themed floats!
Featured attractions, which will continue until November 6, are "Neighborhood Street Party Halloween Parade," "Halloween Light Show," and "The Not-Too-Spooky Howl-O-ween Radio Show."
Admission to the park starts at $42.99.
This weekend, it's time once again for the Annual Scarecrow Festival at Peddler's Village (Routes 202 and 263, Lahaska, 215-794-4000, www.peddlersvillage.com). The festival, which is celebrating its 43rd anniversary this year, will run now through October 31.
It is the perfect time to visit and take in the bright, brilliant hues of fall and admire the more than 100 spectacular scarecrows on display. These larger-than-life, colorful, creative scarecrows will line the red brick paths throughout the village's 42 picturesque acres.
Visitors can vote for their favorites in seven categories: Traditional 1960s Style, Quite the Character, Once Upon a Time, Fright Night, Funny Bones and Kids Only! Ballots can be cast through the Peddler's Village Mobile app.
Peddler's Village's Scarecrow Making Workshops on the Street Road Green have been a family favorite for decades. The workshop fee of $35 (maximum group of 4 people) includes step-by-step instructions and building materials.
This year's remaining date is September 25.
Participants can choose from a variety of clothing decorations and use plenty of straw to construct their very own life-size scarecrow to take home.
Treetop Quest Philly (51 Chamounix Drive, Philadelphia, www.treetopquest.com) is an aerial adventure park that will challenge you physically and mentally as you maneuver from tree to tree through obstacles and zip-lines. Once you're equipped, they will teach you how to operate your equipment and you'll be able to swing through each course as many times as you want for 2.5 hours.
Each participant is outfitted with a harness and gloves. Each course has a continuous belay system — a lifeline that is impossible to detach without a staff member. The activity is self-guided, and the staff is ready to assist when needed.
Gloves are required for our activity. During this time, we encourage participants to bring their own gloves to use while up in the trees, gardening gloves are perfect for this activity.
Ticket prices are $55, adults; $48, ages 12-17; $38, ages 7-11.
"TreeTrails Adventures Trevose" (301 West Bristol Pike, Trevose, treetrails.com/trevose-pa) is an adventure park full of fun challenges for outdoor adventurers of all ages.
Participants can experience the rush of TreeTrails Adventures as they swing through the trees of the new adventure park. They will be able to discover the excitement of climbing and zip lining above the forest floor with family, friends, co-workers, or teammates.
The park, which is based at Phoenix Sport Club in Bucks County, offers two ways to experience climbing – TreeTrails Adventure Park and KidTrails Park. Young explorers can enjoy miniaturized courses in the adjacent KidTrails Park.
General Park Admission prices are: Main Park Adult Tickets (Ages 12+), $59; Main Park Youth Tickets (Ages 7–11), $51; KidTrails Tickets (Ages 4–7), $12.
Wilmington and Western Railroad (Greenbank Station, 2201 Newport-Gap Pike, Wilmington, Delaware, www.wwrr.com) is running its "Yorklyn Limited" on October 1 at 12:30 and 2:30 p.m.
Riders can take a leisurely 1.5-hour round-trip ride up the Red Clay Valley to the Mt. Cuba Picnic Grove, where they can de-train to enjoy a half-hour layover along the banks of the Red Clay Creek to have a picnic or simply admire the natural surroundings.
For those who don't want to get off the train at Mt. Cuba, they can remain onboard and travel further up the line through the communities of Ashland and Yorklyn. On the return trip, there will be a brief stop at Mt. Cuba to pick up the picnic passengers.
The "Yorklyn Limited" excursion is the re-branded name of the "Mt. Cuba Meteor" excursion.
These trips are powered by one of Wilmington and Western Railroad's historic first-generation diesel locomotives.
Tickets are $18 for adults, $17 for seniors and $16 for children (ages 2-12).
The Reading Blue Mountain and Northern Railroad (Reading Outer Station, Reading, www.rbmnrr-passenger.com) is running "All Day Train Excursions" every Saturday and Sunday in September.
Passengers can take a train excursion through Pennsylvania's beautiful landscape to Jim Thorpe, Pennsylvania. They can board the train at the Reading Outer Station, Port Clinton Station, or Tamaqua Station.
During the trip, riders will see rolling farmland, beautiful mountains, glistening lakes, and small towns along the railroad's mainline. The train will also travel through tunnels and over bridges — a highlight being the Hometown High Bridge.
Once the excursion arrives in Jim Thorpe, riders have more than 3.5 hours to explore the many shops, restaurants, and attractions before boarding the train for your return trip.
While in Jim Thorpe, they can also ride one of the rail line's 70-minute Lehigh Gorge trains at a discounted rate.
Tickets for the all-day excursion are $39 from the Reading Outer Station and Port Clinton Station and $24 from the Tamaqua Station.
The New Hope Railroad (32 Bridge Street, New Hope, www.newhoperailroad.com) is running its "Grapevine Express," which features "Wine & Cheese Tasting" on September 17 and 18 at 5 p.m. each night.
Riders are invited to take part in a romantic "Wine and Cheese Excursion" and enjoy fine gourmet cheese, artisan crackers, meats, fruit, and our featured local wines. Additional Alcoholic and Non-Alcoholic beverages are also available onboard.
Wine and cheese will be served to passengers as they travel along the same railroad line passengers did when it was built in 1891 connecting New Hope with Philadelphia. The journey travels through the beautiful hills and valleys of Bucks County, along once vital waterways and streams and across numerous trestle bridges.
The excursions will take place aboard one of the railroads lavishly appointed early 1900's first-class parlor cars.
Tickets are $102.58 (ages 21 and older only).
The Strasburg Railroad (Route 741, Strasburg, www.strasburgrailroad.com) is running its "Wine & Cheese Train" on September 23 and 24 at 7 p.m.
Passengers can enjoy the luxurious, climate-controlled first-class accommodations and a tasting of select wine, cheese, and crackers as they travel in style down the tracks from Strasburg to Paradise and back. The train departs at 7 p.m. and the total trip time is 45 minutes.
"Wine & Cheese Train" boarding is 30 minutes before the scheduled departure. Riders must be 21 or older and have their photo ID ready when they board.
Featured wines are carefully selected from Waltz Vineyards, and cheeses are paired accordingly. Beer and select non-alcoholic beverages are also available for purchase upon request. Riders can purchase a souvenir wine glass on board the train if desired. Glasses are $7 each.
In accordance with Pennsylvania law, alcohol is only served during the train ride. The rail line is not permitted to serve alcoholic beverages while the train is berthed in the station.
This popular train is available on select Friday and Saturday evenings throughout the season. Tickets are $50.