By Denny Dyroff, Entertainment Editor, The Times
There are plenty of professional wrestling events on the calendar every year. And this is the season when there are many travelling circuses bringing their Big Tops to the region.
This weekend's calendar features a wrestling event that definitely is not normal and a circus that is not normal by any stretch of the imagination.
Cirque Italia is known for its trademark water circuses. A few years ago, Cirque Italia added a new circus adventure — Paranormal Cirque (https://paranormalcirque.com).
The intriguing new production, which is intended for a mature audience, is running now through August 21 at Philadelphia Mills (1455 Franklin Mills Circle, Philadelphia) and from October 6-9 at the Oxford Valley Mall (2300 Lincoln Highway, Langhorne).
Paranormal Cirque will expose audiences to a unique creation of combined theatre, circus, and cabaret with a new European style flare.
This innovative horror story, which is presented in true circus style under a Big Top tent, features different shades of sexy and an incomparable storyline. Audiences likely will find it difficult to separate reality from illusion at this show as they fall into a parallel world and end up surrounded by monstrous creatures with hidden talents.
Currently, Paranormal Cirque has four tours running – Silver Tour, Gold Tour, Black Tour and Silver Tour. The tour visiting our area is the Black Tour.
Paranormal Cirque's "Clown Castle" (also known as the Big Top) presents a mesmerizing effect while hosting a two-hour hypnotizing and enchanted show.
A careful casting selection has united the best artists from all over the world.
Under this Clown Castle, the black and red big top tent, Acrobats of the Air, Illusionists, freaks, mysterious creatures and all the elements that make one think of a "normal" Circus – but this one is not "normal."
A new show with breathtaking implications always poised between fun and the most uninhibited fear that will transport you to a dark world inhabited by creatures with incredible circus art abilities.
A crazy yet fun fusion between Circus, theatre, and cabaret in perfect harmony with the evolution of a show that brings you back to when we dream … and when we had nightmares and fantasies.
Scare, encompass, amuse and surprise are the ingredients for a mixture of emotions impossible to forget.
This is truly a Paranormal experience like no other.
Video link for Paranormal Cirque — https://youtu.be/locxFnh5UR8.
Ticket prices start at $20.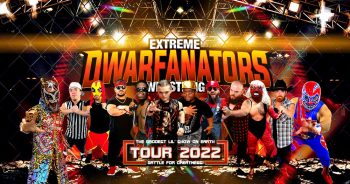 The focus will be on something little at a special event this weekend at the Greater Philadelphia Expo Center (100 Station Avenue, Oaks, phillyexpocenter.com).
On August 19, the expo center will host "Extreme Dwarfanators Wrestling." This is a body slamming activity… midget style.
EDW is celebrating the timeless culture of Mexican "Lucha Libre" with matches featuring Los Mini Enmascarados Wrestlers.
For the ancient Aztecs – referring to themselves as the Mexica – there was nothing more sacred than the mask. These masks were seen as magical relics, made from the best materials, and worn for all types of occasions.
Rulers wore them to conduct sacred rituals. Priests used masks to speak to the gods or draw attention to special sacrifices. Elite Aztecs wore ornamental death masks in tribute upon death.
But it was common people that wore these masks with the utmost pride. Brave Aztec warriors defending their homeland wore the faces of their enemies as masks, bathed in blood, and stood proud.
The spirit of these Aztec warriors lives on in modern times via Mexican Lucha Libre.
For nearly 150 years, these new warriors embrace the call of the ancient Aztecs from the afterlife, dedicating their lives to training in the professional wrestling and cultural art of Lucha Libre, donning a mask, and flying through the air like superheroes in tribute to the fallen.
Every Lucha Libre wrestler that straps on the mask, laces the gear, and struts to the ring honors and mimics the spirit of the ancient Mexica warrior with every flying aerial and acrobatic stunt performed.
The event will start at 7 p.m. Tickets are $25.
There will be two very different but equally attractive ethnic festivals this weekend at Penn's Landing (Delaware Avenue, Philadelphia, www.delawareriverevents.com). Both of the free festivals deal with Indians — but not the Native American kind.
West Indian or East Indian — both will be featured this weekend
Penn's Landing will host the annual Festival of India on August 20 and the annual Caribbean Festival on August 21.
The Festival of India, which is sponsored by the Council of Indian Organizations of Greater Philadelphia, is a festive event that features a day full of food, music, dancing and crafts.
The event, which runs from 1-6 p.m., will host a variety of vendors who will be selling a wide array of traditional Indian arts and crafts including clothes, jewelry, music, and other cultural items. Traditional Mahandi work (artistic design) will be available to be done on both hands and feet. Mahandi or hands painting is an old Indian custom still have been practiced by most of the Indian women.
A wide selection of food items from both North and South India will be available for purchase, including such taste treats as tandoori chicken, tikka masala, kolkata rasgulla, gujarati dohkla, chennai idli, korma and an array of Indian breads including chapatti, poori and nan. The festival will run from noon-7 p.m.
Penn's Landing will host the annual Caribbean Festival (https://phillycaribbeanfestival.com) on August 21.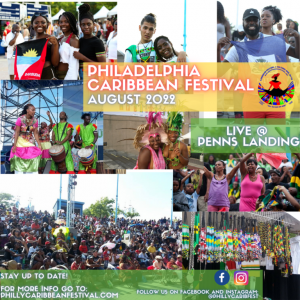 Sunday's festival, which is free and open to the public, is a celebration of the culture of 14 Caribbean Islands. The event, which runs from noon-8 p.m., features live island entertainment including drumming, dancing and music.
As always, the festival will have cultural booths where people can get information about the islands of the Caribbean. There will also be a marketplace with vendors selling Caribbean arts and crafts, fashion items and souvenirs.
Island cuisine will be well represented with a number of vendors offering Caribbean delicacies such as Jamaican jerk-chicken and hard-dough bread, escovitched fish and festival cakes, codfish fritters, Jamaican Patties, curried goat and rice & peas.
In addition to the events focusing on East Indians West Indians, there is also a festival this weekend honoring the Indians of North America.
On August 20 and 21, the Museum of Indian Culture (2825 Fish Hatchery Road, Allentown, 610-797-2121, http://museumofindianculture.org) is hosting the 42nd Annual Roasting Ears of Corn Festival.
The 2022 event, which is Eastern Pennsylvania's oldest American Indian festival, is a showcase for American Indian drumming, singing, dancing and food.
Visitors can watch demonstrations of Native American cooking, flintknapping and arrow making, experience throwing a tomahawk or see what it's like using an atlatl (spear thrower). There will be a special crafts area for kids where they can make sand art pictures and weave dreamcatchers.
The festival features a wide array of Native American entertainment. This year's featured performer is Bill Miller.
Other live music and dance performances include American Indian singers, Aztec Fire Dancers, hoop dancers, and American Indian dancers, singers and performers from all over Canada and the U.S.
Festival attendees will be able to shop at the Marketplace for Native American jewelry, fine arts, and clothing. There will also be food vendors with Indian burgers, frybread, buffalo stew, Indian tacos and fire-roasted corn.
Tickets for the festival are $10 for adults, $5 for seniors (age 62 and older) and youth (age 8-17) and free for children (age seven and under).
On August 20 and 21, the small town of Mount Gretna comes to life with the 48th Annual Mount Gretna Outdoor Art Show (Route 117 and Pennsylvania Avenue, Mount Gretna, www.mtgretnaarts.com).
The annual event features art, music, and food — all displayed on the historic grounds of the Pennsylvania Chautauqua.
Mt. Gretna is a small Victorian community founded in the late 1800s as a summer resort. Initially, the only way for residents to reach their cottages in the woods was to travel by train. The streets in Mt. Gretna were footpaths until automobiles became the regular mode of travel.
Many of the original cottages surround the Mt. Gretna Playhouse, an open-air theater where numerous cultural events are held. The quaint atmosphere attracts many visitors every summer for music, theater, miniature golf, a walk in the woods, a ride on the rail-trail, a hike to Governor Dick (an observation tower on top of the mountain), a visit to the Jigger Shop (a local ice cream parlor), and the Art Show.
Live entertainment will be provided by Ken Gehret and Friends, Paul Colombo Group, New World Parade and Third Stream.
Proceeds from the Art Show are used to support cultural programs of the Pennsylvania Chautauqua and to maintain the Chautauqua's historic buildings and grounds. Media is sponsored in part by a grant from the Lebanon County Commissioners. The show also contributes substantially to the Mt. Gretna Volunteer Fire Company and funds a variety of community projects throughout Mt. Gretna.
The Art Show has an admission charge of $12 for adults and is free for children under 12. The admission fee includes parking in designated parking locations. Please note that no pets are permitted on the Art Show grounds
Another popular event just a few miles from Mount Gretna is the Pennsylvania Renaissance Faire (Mount Hope Estate and Winery grounds, Route 72, Cornwall, 717-665-7021,www.parenfaire.com).
This year's 43rd annual staging of the event, which bills itself as "the most wondrous event in all the Knowne World", is running now through October 30. The festive annual event features authentic Elizabethan food and drink, traditional crafts from the guildsmen of yore and old-time games of skill — and a cast of hundreds of colorfully costumed re-enactors.
Every summer, the Faire, which takes place at Mount Hope Estate and Winery's authentic 35-acre recreation of a 16th-century village in Olde England, features a new story from a different year of England's past. This year's Faire will take you back in time to the year 1558.
More than 70 shows are scheduled throughout each day on the Faire's numerous stages.
Without a doubt, the most popular attraction is the Jousting Arena. Visitors to the Faire flock to Bosworth Field whenever it's time for the Ultimate Joust. Peasants lead cheers for their favorite knights while musicians pound out a heart-thumping beat. The Master of the List announces the combatants and soon an encounter of royal proportions ensues.
The Faire offers a wide variety of activities for visitors, including listening to bagpipe music, checking out handsome Lords in their colorful silks, watching a jester's acrobatics, learning how to juggle, being the recipient of a gypsy woman's flirtations and watching the march of Beefeater Guards.
Guildsmen's Way is the area that features a large variety of merchants and artisans, including jewelers, candle makers, potters, herbalists, leather smiths, clothiers, and pewter makers — all offering for sale and demonstrating their ancient wares.
And there are more than 20 Royal Kitchens located around the faire with menus featuring a wide variety of food and beverage.
Single-day tickets are available at the gate for $31.95. For children (age 5-11) single-day tickets are available at the gate and online for $16.95.
For an annual event with a completely different vibe, head west to Lancaster County this weekend.
The Rough and Tumble Engineers Historical Association's annual Thresherman's Reunion, which is billed as "The Most Complete Steam & Gas Show in the East," has become a cherished tradition in Pennsylvania Dutch country. It is not only a "complete show," it is an old show — one of the oldest continually running events in the state.
This year's Thresherman's Reunion, which is being held August 19 and 20 at the Rough and Tumble site (4977 Lincoln Highway East, Kinzers, 717-442-4249, www.roughandtumble.org), is the 74th annual staging of the event.
The daily schedule starts with breakfast at 7 a.m. at the R&T Multi-Purpose. The day's activities include a sawmill in operation, a "Pageant of Threshing", a shingle mill in operation, a "Parade of Power" and threshing machine demonstrations.
There will also be displays featuring steam traction engines, antique tractors, threshing machines, Hit & Miss Gas engines, two steam railroads, shingle mill, large gas engines, model engines, sawmill, barker fan, stone crusher, antique cars, stationary bailers, antique wagons and the "Stationary Steam Engine Museum".
Daily tickets for the Reunion are $10 for adults and $5 for children (ages 6-12).
On August 20, Cherry Crest Adventure Farm (150 Cherry Hill Road, Ronks, www.cherrycrestfarm.com) will host its "Sunflower Festival" — a festival dedicated to celebrating the county's colorful annual flower.
Visitors to the farm during the annual Sunflower Festival will see the site's beautiful sunflower and zinnia fields in full bloom.
There will be a winery and a brewery proving alcoholic refreshments, a live band, local craft vendors, mini photo sessions and much more for the entire family to enjoy.
​The event will take place on Saturday from 10 a.m. to 7 p.m. and again on August 27 and September 3.
This weekend, the American Swedish Historical Museum (1900 Pattison Avenue, Philadelphia, 215-389-1776, www.americanswedish.org) is presenting a special event on August 19 – the museum's annual Crayfish Party.
The Crayfish Party, which is scheduled for 6:30 p.m., provides participants an opportunity to get a taste of Swedish summer.
Diners at the Crayfish Party will be able to enjoy a buffet of crayfish or Swedish meatballs, along with crisp bread, cheese, potatoes, cheese pie, and glass of akvavit all outside under the museum's beautiful lighted and decorated tent.
Tickets for the Crayfish Party are $65.
The American Swedish Historical Museum is also presenting an exhibit "Art for All: The Swedish Experience in Mid-America," which just opened and will run through February 19, 2023.
"Art for All: The Swedish Experience in Mid-America" is an exhibition of paintings and sculptures by Swedish-American artists in the late-19th and early-20th centuries.
This colorful and emotive impressionist art reflects its own time, interprets nature and landscape, and is independent of artificial conventions while keeping Swedish folk traditions alive.
The American Swedish Historical Museum is proud to present Art for All: The Swedish Experience in Mid-America, an exhibition of paintings and sculptures by Swedish-American artists in the late-19th and early-20th centuries. This colorful and emotive impressionist art reflects its own time, interprets nature and landscape, and is independent of artificial conventions while keeping Swedish folk traditions alive.
This exhibition features many Swedish artists who studied and absorbed the democratic philosophies of "art for all," espoused by Anders Zorn and the Artist's League. These young artists immigrated to America to forge new career paths. "Art for all" became a catchphrase in Kansas by the 1930s, stemming from efforts of local artists to offer affordable paintings and prints so that every citizen could have original art in their own homes for a richly cultured way of life.
"Art for All: The Swedish Experience in Mid-America" was conceived and developed by the Birger Sandzén Memorial Gallery and the Hillstrom Museum of Art.
On August 20, Laurel Hill Cemetery (3822 Ridge Avenue, Philadelphia, 215-228-8200, www.thelaurelhillcemetery.org) will present
Call in the Cavalry: 1st City Troop Tour.
The First Troop Philadelphia City Cavalry, founded in 1774, is one of the oldest and most decorated military units still in active service in the U. S. Army Reserves. During the Revolution, the troop fought in the battles of Trenton, Princeton, Brandywine, and Germantown.
During the Civil War, they were called into active duty several times, beginning with the 1861 Campaign that led to the First Battle of Bull Run. The Company notably performed scouting duties leading into the Battle of Gettysburg.
The tour will start with a very special visit to the 23rd Street Troop Armory with a private tour of the newly restored 2nd Floor Museum led by knowledgeable curator Jack Tomarchio. It houses significant personal and company artifacts from throughout the Troop's distinguished history. We'll then tour Laurel Hill East and visit with First City Troop Revolutionary founders and Civil War members who permanently reside here.
Tour Guides are Jack Tomarchio and Peter Howell. Admission to the tour is $20.
On August 20, Fort Mifflin (Fort Mifflin and Hog Island roads, Philadelphia, 215-685-4167, www.fortmifflin.us) is hosting an event called "Hands On Brewing with a Regimental Brewmeister."
Perhaps you are an accomplished homebrewer, and you want to appreciate the challenges faced by brewers in the 18th century who brewed good beer without all of today's instrumentation and modern equipment – or perhaps you are a history buff and want to know just what beer tasted like in 1770 — or perhaps you just enjoy a good story and some fine beer.
If any of these apply to you, then you should join the Regimental Brewmeister for this immersion class and learn to brew like our forefathers.
Rather than a demonstration where you can just watch and maybe smell the process, this is a full immersion experience.
Step back in time and join the team as it brews the wort for Spruce Beer to be drunk by the Continental Army. Beer was so critical to the health of the army that George Washington ordered his quartermasters in 1775 to provide each man "One quart of Spruce Beer per man, pr diem" in order to keep them fit for service during the siege of Boston.
In this class you will learn:
The general history of beer and brewing in America and how the practice rose from a basic task performed in nearly every household to a profession which fed the various Taverns and Alehouses of our new nation.
The roles of the Colonial Tavern in the social, political, and civic life of early America.
Why everyone drank beer all day in order to stay healthy.
The difference between the parti-gyyle, the hoffbrau, and the small beer.  Who drank what and why so many styles from a single batch of malt?
Why beer was so critical to early life in America and how it fueled the debates that led to revolution
How the Royal Navy's failure to protect Pennsylvania from pirates launched the industry that would create our nation's oldest professional breweries.
How to make beer with only your five senses and some basic field kitchen equipment
Beer Styles of the 18th Century and how to adapt historical recipes to work with modern supplies.
How beer in the 18th Century was very different than what we call beer today.
That's not all.
During necessary breaks in the process participants will enjoy sampling historic beers, a guided tour and musket and cannon demonstrations (or fire a demonstrating weapon after a black powder safety lesson – additional fee applies.)
There will be another event featuring beer this weekend – a totally different kind of event.
The John Heinz National Wildlife Refuge at Tinicum (8601 Lindbergh Boulevard, Philadelphia, www.fws.gov/refuge/John_Heinz) has several attractive events scheduled for this week.
"Bird Walk with Debbie Beer" will be held on August 21 at 8 a.m.
Visitors can take an educational walk with two of the site's knowledgeable volunteers and discover the 300+ species of birds that use the Refuge during their migration routes.
Walk will begin at archway at the Visitor Center and will last approximately one hour on flat surfaces.
A Montgomery County Park with a special event this weekend is Pottsgrove Manor (100 West King Street, Pottstown, 610-326-4014, http://montcopa.org/index.aspx?nid=930).
Every Saturday in August, Pottsgrove Manor is presenting "Open House Days."
Visitors can see something new every Saturday as Pottsgrove Manor highlights items from the collection and welcomes Living History activities throughout the day. They will be able to discover the ins-and-outs of 18th century items with the curator and learn about the trades and skills of the past with living history interpreters.
The weekly themes are August 20, Collections Curiosity, Philadelphia Desk with secret compartments; and August 27, Living History – Herbalist and Mantua-making (women's clothing).
Pottsgrove Manor's staff and living history volunteers will demonstrate 18th-century trades, crafts, and pastimes. Many of the audience-friendly events are interactive. This event also features free admission.
The event will run from 10 a.m.-4 p.m. on Saturday. Admission is $10 for adults, $8 for seniors and $6 for veterans with ID and students.
This summer, giraffes at area zoos will have a variety of dining partners joining them for meals.
The Philadelphia Zoo (3400 West Girard Avenue, Philadelphia, www.philadelphiazoo.org) has opened a new "Giraffe Feeding Encounter."
Now guests can get up close to the zoo's giraffe trio in this all-new feeding experience. "Giraffe Encounter" is scheduled from 10:00 a.m. to noon and 1-4 p.m. daily.
General admission for the Giraffe Encounter is $6; Individual, Dual, Family, and Family Plus members is $5; and Family Deluxe and above is $4. Each guest gets one piece of browse to feed. Browse is vegetation, such as twigs and young shoots, eaten by animals. Depending on the day, guests can feed our giraffes acacia browse (which is what giraffes eat in the wild) or another variety like mulberry or honeysuckle.
Considered the tallest land animals in the world, male giraffes can reach up to 18 feet tall and weigh close to 3,000 lbs. Listed as "vulnerable" by the International Union for Conservation of Nature (IUCN), with scientists estimating there are fewer than 100,000 surviving in the wild, giraffe are affected by poaching and habitat destruction, with populations decreasing more than 40% over the last three decades.
The Elmwood Park Zoo (1661 Harding Boulevard, Norristown, www.elmwoodparkzoo.org) is hosting "Breakfast with the Giraffes" on August 20 and 27.
Guests can enjoy a delicious, socially distanced outdoor breakfast buffet, right next to the zoo's three towering giraffes. After participants have cleared their plates, they will be invited to an exclusive giraffe feeding.
The breakfast will get underway at 8:30 a.m.
A "Zoo Snooze" overnight campout will start at 6 p.m. on August 27 and run until 9:30 a.m. on July 10.
The "Campout" includes — Dinner (includes pizza, salad, and potato chips), Breakfast (includes pastries and fresh fruit), Flashlight tour of the zoo, Campfire & activities, educational show the next morning and Zoo admission the next day.
Tickets are $54.95.
"Night Adventures" is scheduled for August 22.
Adventurous visitors can zip the zoo in the dark with Treetop Adventures' "Night Adventure." They will be able to experience all the thrills of the zip line and ropes courses with the added challenge of darkness.
Adventurers will navigate through the trees, equipped with a headlamp. Young adventures can also experience the nighttime fun on the Zoo's Cub Climb course.
Treetop Quest Philly (51 Chamounix Drive, Philadelphia, www.treetopquest.com) is an aerial adventure park that will challenge you physically and mentally as you maneuver from tree to tree through obstacles and zip-lines. Once you're equipped, they will teach you how to operate your equipment and you'll be able to swing through each course as many times as you want for 2.5 hours.
Each participant is outfitted with a harness and gloves. Each course has a continuous belay system — a lifeline that is impossible to detach without a staff member. The activity is self-guided, and the staff is ready to assist when needed.
Gloves are required for our activity. During this time, we encourage participants to bring their own gloves to use while up in the trees, gardening gloves are perfect for this activity.
Ticket prices are $55, adults; $48, ages 12-17; $38, ages 7-11.
"TreeTrails Adventures Trevose" (301 West Bristol Pike, Trevose, treetrails.com/trevose-pa) is an adventure park full of fun challenges for outdoor adventurers of all ages.
Participants can experience the rush of TreeTrails Adventures as they swing through the trees of the new adventure park. They will be able to discover the excitement of climbing and zip lining above the forest floor with r family, friends, co-workers, or teammates.
The park, which is based at Phoenix Sport Club in Bucks County, offers two ways to experience climbing – TreeTrails Adventure Park and KidTrails Park. Young explorers can enjoy miniaturized courses in the adjacent KidTrails Park.
General Park Admission prices are: Main Park Adult Tickets (Ages 12+), $59; Main Park Youth Tickets (Ages 7–11), $51; KidTrails Tickets (Ages 4–7), $12.
Longwood Gardens (Route 1, Kennett Square, www.longwoodgardens.org) is always a special place to visit – especially during the run of its annual "Festival of Fountains."
The 2022 "Festival of Fountains" opened in May and is running through September 26.
This summer is even more special because of light. More specifically because of "Light: Installations by Bruce Munro," which is artist Bruce Munro's illuminating new installation at Longwood Gardens.
The exhibit had its debut two weeks ago and will be on view Thursday through Sunday evenings until October 30.
"Light" is an extravagant exhibit that includes eight installations comprising more than 18,000 glowing lightbulbs across Longwood's outdoor areas and indoor conservatory.
From the luminous "Field of Light" stretching across the Large and Small Lake landscape … to a flamboyance of 1,000 flamingoes wading near the Chimes Tower … to an immersive sensory environment inspired by the Waterlily Display in the Exhibition Hall, the exhibit showcases eight installations spanning Longwood Gardens' indoor spaces and outdoor vistas.
Daily performances in the Main Fountain Garden will feature more than 1,700 spinning jets that spin dance to various music programs. These are no little jets as some shoot up as high as 175 feet in the air.
The 30-minute show is slated for Thursdays, Fridays and Saturdays at 9:15 p.m.
The Main Fountain Garden Show fountain performance that begins with a touch of narrated history and concludes with dynamic choreography marrying music and the site's newest fountain features.
These displays will be presented daily at 1:15 a.m., 1:15, 3:15 p.m. and 5:15. There will also be performances on Thursdays, Fridays and Saturdays at 6:15, 7:15 and 8:15 p.m.
The "Illuminated Fountain Performance" will be staged Thursdays through Sundays at 9:15 p.m.
Live music can be heard in the Beer Garden, where live instrumental music from traditional Celtic tunes to Caribbean steel pan grooves sets the tone Thursday through Saturday evenings.
Beer Garden performances are scheduled through August 28 from 5:30-8:30 p.m. They will also be held in September from 5-8 p.m. on Thursdays, Fridays, and Saturdays.
As always, admission by "Timed Ticket" — tickets issued for specific dates and times. Timed ticketing limits the number of people in the Gardens at any given time and allows guests to enjoy minimal lines and a better viewing experience.
You may enter the Gardens up to 30 minutes prior and 30 minutes after your designated time. Make every effort to arrive at your designated reservation time. Earlier or later arrivals may not be accommodated.
Video link for "Festival of Fountains" — https://youtu.be/AHsC2YuFerY.
Admission to Longwood Gardens is $35 for adults, $32 for seniors (ages 62 and older) and college students, $27 for active military and veterans and $19 for youth (ages 5-18).
This a great time of year to experience the classic tourist attractions of the Brandywine Valley and surrounding areas.
In addition to Longwood Gardens, there are many great sites that combine nature and history – many of which offer both indoor and outdoor attractions.
One of the best ways – and most economically feasible — to explore them is to purchase a Brandywine Treasure Trail Passport.
The Brandywine Valley has quite a few museums and tourist sites that provide residents and tourists ideal opportunities to spend leisure time — and you can maximize your effort if you take advantage of the 2022 Brandywine Treasure Trail Passport.
The cost is $49 for an individual pass and $99 for a family pass (for up to five family members).
The Brandywine Treasure Trail Passport is good for one-time admission to Wilmington and the Brandywine Valley's top attractions now through October 31.
A family pass, which includes one-day admission to each of 12 sites, can bring a savings of more than $200 for the holders — especially since many of the participating institutions have regular admission fees in double figures.
The list of locations covered by the Brandywine Treasure Trail Passport includes Longwood Gardens, Delaware Museum of Nature and Science, Brandywine River Museum, Delaware Art Museum, Delaware History Museum, Hagley Museum and Library, Delaware Center for Contemporary Arts, Nemours Mansion & Gardens, Read House and Garden, Mt. Cuba Center, Rockwood Museum and Winterthur Museum, Garden & Library.
For more information, call (800) 489-6664 or visit www.visitwilmingtonde.com/bmga/.
The Brandywine River Museum (Route 1, Chadds Ford, 610-388-2700, http://www.brandywinemuseum.org) will be open from 9:30 a.m.-4:30 p.m. with admission to the galleries including two featured exhibitions, "Gatecrashers: The Rise of the Self-Taught Artist in America" and "Dawoud Bey: Night Coming Tenderly, Black."
"Gatecrashers: The Rise of the Self-Taught Artist in America," which is running now through September 5, examines how, after World War I, artists without formal training "crashed the gates" of major museums in the United States, diversifying the art world across lines of race, ethnicity, class, ability, and gender.
Included are over 50 works by celebrated painters such as Horace Pippin, Anna Mary Robertson "Grandma" Moses and John Kane, as well as by fifteen artists who are lesser known now but were recognized in their day, including Josephine Joy, Morris Hirshfield, Lawrence Lebduska, Patrick Sullivan, and others.
"Dawoud Bey: Night Coming Tenderly, Black," which is running through August 31, is a selection of photographs from Bey's critically acclaimed series from 2017.
Regarded as one of the most important photographers working today, Dawoud Bey (b. 1953) is recognized for his compelling, large-scale portraits and street photographs of marginalized people and communities that he began in the 1970s. Inspired by artist Roy DeCarava (1919—2009), Bey has been photographing the Black community in Harlem where he was born, and Queens where he grew up, for over four decades.
Hagley Museum and Library (Buck Road East entrance via Route 100, Wilmington, Delaware, 302-658-2400, www.hagley.org) is hosting "Bike & Hike & Brews" on August 24 from 5-8 p.m. – and every Wednesday evening through August 31.
Visitors to Hagley can enjoy an after-work hike or a picnic along the Brandywine's most beautiful mile on summer Wednesday evenings from June through August.
It isa a family event featuring summer fun in a beautiful outdoor setting. Guests can bring a picnic to enjoy at Hagley's picnic pavilion on Workers' Hill or at a picnic table along the Brandywine.
Dogfish Head craft beer and Woodside Farm Creamery ice cream are also available for purchase. You are welcome to bring your own food to "Bike & Hike & Brews," but outside alcohol is strictly prohibited.
Admission is $5 per person and free for Hagley members and children five and under. Please note that this event is weather-dependent.
The "Food Trucks" schedule is:August 24: Zaikka on Wheels; and August 31: Army of 2.
Winterthur Museum, Garden & Library (5105 Kennett Pike, Wilmington, Delaware, 800-448-3883, www.winterthur.org) is featuring a Guided Exhibition Tour – "Jacqueline Kennedy and Henry Francis du Pont: From Winterthur to the White House" – now through January 8, 2023.
Visitors can explore the friendship between the First Lady and H. F. du Pont and their work to restore the White House in this guided tour of the special exhibition.
In 1961, an unusual partnership was formed when the youngest First Lady in American history, Jacqueline Kennedy, appointed a reserved octogenarian collector from Delaware, Henry Francis du Pont, to lead her project to restore the White House interiors. Du Pont brought credibility to Kennedy's efforts and vision, and her enormous popularity lifted him onto the national stage and validated his life's work.
Together, they transformed the White House from a mere public residence into a museum, and along the way, they engaged with some of the most celebrated interior designers of the 20th century.
For the first time, the story of this historic partnership will be told at Winterthur, the inspiration for Mrs. Kennedy's project. Through artifacts, archives, and images, this exhibition will invite visitors to experience the behind-the-scenes collaboration between the two during this captivating period in American history.
Their partnership culminated in a televised tour of the White House, led by Jacqueline Kennedy, which became the most watched program in American history. The former First Lady will forever be remembered as the person who restored history and beauty to the White House.
Their "restoration" of America's most famous house became a history lesson for the country and awakened an interest in preservation and interior design that is still felt today.
A related event will be "Terrific Tuesdays" – a special activity that is running every Tuesday through the end of August.
Visitors are invited to drop in for crafts, games, and demonstrations inspired by Jacqueline Kennedy's White House restoration in the 1960s. Activities will introduce design, history, art, cultural conservation, and architectural preservation to kids ages 3–10 and the adults they bring with them.
The schedule for "Terrific Tuesdays" is August 23, East Room: Entertainment Extravaganza; and August 30, Diplomatic Reception Room: Parley and Printmaking.
Admission to Winterthur is $22 for adults, $20 for seniors and students and $8 for children.
Another site with impressive gardens can be found just across the Pennsylvania-Delaware state line.
Nemours Estate (850 Alapocas Drive, Wilmington, Delaware, www.nemoursestate.org) is open Tuesday to Sunday from 10 a.m.-5 p.m. Reservations are not required and there is no timed entry.
Nemours Estate comprises an exquisite, 77-room Mansion, the largest formal French gardens in North America, a Chauffeur's Garage housing a collection of vintage automobiles, and 200 acres of scenic woodlands, meadows and lawns.
Nemours was the estate of Alfred I. duPont.
Alfred named the estate Nemours, after the French town that his great-great-grandfather represented in the French Estates General. While looking to the past and his ancestors for inspiration, Alfred also ensured that his new home was thoroughly modern by incorporating the latest technology and many of his own inventions.
The Gardens is one of the estate's prime attractions.
The two elk at the top of the Vista are the work of French sculptor Prosper Lecourtier (1855–1924), a specialist in animal figures. Lined with Japanese cryptomeria, pink flowering horse chestnuts and pin oaks, the Long Walk extends from the Mansion to the Reflecting Pool.
The 157 jets at the center of the one-acre pool shoot water 12 feet into the air; when they are turned off, the entire "Long Walk" is reflected in the pool. The pool, five and a half feet deep in its deepest section, holds 800,000 gallons of water and takes three days to fill. The Art Nouveau-style, classical mythology-based "Four Seasons" around the pool are by French-born American sculptor Henri Crenier (1873–1948).
Admission to Nemours is $20 for adults, $18 for seniors and $10 for children.
The Delaware Art Museum (2301 Kentmere Parkway, Wilmington, Delaware, www.delart.org) is presenting "Indigenous Faces of Wilmington."
Indigenous People have built vibrant and diverse cultures — safeguarding land, language, spirit, knowledge, and tradition across generations. This exhibit opens a dialogue to re-introduce, re-discover, and re-educate individuals about the vibrant and intersecting cultures of indigenous people in northern Delaware.
Exhibition photographer Andre' L. Wright. Jr., who identifies his ancestry as Nanticoke, shares his vision for the exhibit. "Identity is how you and the world see you, and beauty is a combination of qualities that provide a perceptual experience. My heritage and lineage have given me the opportunity to share the story of authentic consciousness, narrative, and beauty of Indigenous People through the art of photography."
Additionally, the Delaware Art Museum has a new exhibit that will run through September 11 – "Stan Smokler: Steel in Flux."
The Delaware Art Museum celebrates the career of Stan Smokler with this Distinguished Artist exhibition. His celebrated found object, steel sculptures continue the trajectory of modernist abstraction.
Smokler completed his Master of Fine Arts degree at Pratt Institute in 1975, and he continued to work in New York on his own sculpture as well as in art conservation and interior design before relocating to the Brandywine Valley in 1999.
In addition to participating in numerous solo and group exhibitions throughout the Mid-Atlantic and Northeast United States, Smokler established his Marshall Bridge Workshop in 2004. The Workshop is an immersive training opportunity for artists of all levels interested in working with welded steel, and Smokler has been praised for his supportive approach to teaching.
"Stan Smokler: Steel in Flux" includes work from the late 1970s through 2020 along with several of the artist's charcoal and pastel drawings of his completed sculptures. Examples of Smokler's largescale work will be on view in the Museum's Copeland Sculpture Garden with an extended showing through October 30, 2022.
With his commitment to exploring the possibilities of steel and mentoring students through his numerous Marshall Bridge workshops and years at the Delaware College of Art and Design, Smokler has guided the trajectory of contemporary abstract sculpture.
Admission to the Delaware Art Museum is $14 for adults, $7 for students, and $6 for youth (ages 7-18).
More art in Delaware can be found in the quaint town of Odessa.
The Historic Odessa Foundation (Main Street, Odessa, Delaware, www.historicodessa.org)  is now presenting its newest exhibition of acrylic paintings — "Color Secrets: Paintings by Jan Crooker."
The exhibit of colorful acrylics by the talented Kutztown artist is on display now through August 28 in the Historic Odessa Visitor Center Gallery.
For Crooker, who is well-known for her vibrant images of still life, flowers and local scenes and landscapes, color has always been a focus of her artistic expression.
According to Crooker, "I think my love of color harkens back to my early exposure to art at the children's classes at the Toledo Museum of Art in Ohio. While some kids had favorite stars or athletes, I had favorite artists. My first favorite artist was Vincent Van Gogh."
Crooker researched the master colorist's use of color and read his thoughts on the subject. Although she admires other colorist artists, Van Gogh has been the greatest influence on her color use.
Crooker earned a bachelor's degree in art education from Toledo University, and a Master of Fine Arts from Penn State University.
Historic Rock Ford (Rockford Road, Lancaster, www.discoverlancaster.com) is presenting a new exhibit "Long Rifles of the American Revolution: How Lancaster Craftsmen Helped Win the War." The exhibit will remain open until October 30.
Historic Rock Ford is collaborating with guest curator John Kolar on the exhibit which will showcase approximately 30 rifles.
The rifles featured in the exhibit are being loaned by museums and private collectors from across the nation and will be used to describe the pivotal role played by the long rifle in winning American independence.
Visitors will be able to examine different rifles while also engaging in the story of the war by highlighting their use in several key battles including the siege of Boston, the battle of New York, Trenton, Saratoga, Kings Mountain and the Miller Block House as well as on the Frontier.
Admission to Rock Ford is $12 for adults, $11 for seniors and youth (ages 6-17).
Another venue where you can get close to nature is Tyler Arboretum (515 Painter Road, Media, 610-566-9134, www.tylerarboretum.org).
The arboretum's schedule for this weekend features the "Saturday Evening Wildflower Walk," on August 20 from 5-7 p.m. and the "POP-UP: Tasting Station in Lucille's Garden" from 10 a.m.-1 p.m. on August 21.
At the "Saturday Evening Wildflower Walk," wildflower expert Dick Cloud will lead an informative two-hour hike that will take visitors through meadows, woods, and occasionally streamside. These walks are for those who have a love of plants, their role in ecology, or for those who want to learn more.
At the "POP-UP: Tasting Station in Lucille's Garden," visitors will be able to sample the seasonal bounty from Tyler's edible garden. No registration is necessary and it's free with admission.
Admission to Tyler Arboretum is $15 for adults (ages 18-64), $13 for Seniors (65+) and $9 for children (ages 3-17) and Military with valid ID.
Morris Arboretum (100 Northwestern Avenue, Chestnut Hill, www.morrisarboretum.org) is opening a new season exhibit – "Bloomin' Bubbles."
Every Tuesday through August, Morris Arboretum is presenting "Bloomin' Bubbles" from 11 a.m.-noon starting at the Azalea Meadow – weather permitting.
There are more than flowers in bloom this spring and summer at the Morris Arboretum. Visitors are invited to join the arboretum staff for "Bloomin' Bubbles," when the Azalea Meadow is transformed into a magical flurry of bubbles for children to play with, play in and pop before lunch.
Guests can celebrate opening day of "Bloomin' Bubbles" with a "Fairy Parade on the Meadow."
The parade will begin at the Visitor Center and work its way down to the Azalea Meadow where, if everyone sings loud enough, they might encounter a new Arboretum phenomenon — a flurry of bubbles coming seemingly out of nowhere. This year, the Arboretum has a new bubble-machine.
Participants are encouraged to come dressed as an enchanted woodland creature to dance and play, and then join Melissa in crafting their very own magical wand. They are reminded to not forget their fairy wings, gnome hats, dragon scales, and whatever else they might need to be their most magical selves.
The Morris Arboretum also is offering its "Garden Highlights Tour" this month.
Experienced guides will share both the history and current highlights of the Arboretum during a one-hour walking tour.
Tours depart from the Visitor Center at 1 p.m. each Saturday and Sunday. These tours are small groups and space is very limited.
This reservation is good for admission to the Arboretum as well as for the tour itself. The tour is weather permitting. If the tour is cancelled, your ticket is still good for admission.
Another attraction at Morris Arboretum is the ultra-popular Garden Railway Display, which has become a major summer attraction at the site. The annual edition of the display will remain open until October 10.
The railway has a quarter mile of track featuring seven loops and tunnels with 15 different rail lines and two cable cars, nine bridges (including a trestle bridge you can walk under) and bustling model trains.
The buildings and the display are all made of natural materials – bark, leaves, twigs, hollow logs, mosses, acorns, dried flowers, seeds and stones – to form a perfectly proportioned miniature landscape complete with miniature rivers.
Philadelphia-area landmarks are all meticulously decorated for the holidays with lights that twinkle. There is even a masterpiece replica of Independence Hall are made using pinecone seeds for shingles, acorns as finials and twigs as downspouts.
This year the tracks are surrounded by miniature replicas of "Wonders of the World." Visitors will be able to see the Eiffel Tower, Hagia Sophia, the Egyptian Pyramids, the Wall of China and more.
Admission is $20 for adults; $18 for seniors (65 and older); $10 for students (ages 13-17 or with ID), active military and retired military; and free for children (under 3).
Hope Lodge (553 South Bethlehem Pike, Fort Washington, 215-343-0965, http://www.ushistory.org/hope/) will be presenting a "Guided Mansion Tours" on August 21.
Hope Lodge was built between 1743 and 1748 by Samuel Morris, a prosperous Quaker entrepreneur. Morris acted as a farmer, shipowner, miller, iron master, shop owner, and owner of the mill now known as Mather Mill. Hope Lodge is an excellent example of early Georgian architecture, and it is possible that Edmund Woolley, architect of Independence Hall, offered advice in building. Samuel Morris owned the estate until his death in 1770.
The site opens at 12:30 p.m. with self-guided tours starting at 1 and 2:30 p.m. The closes at 4 p.m.
Tour admission is $8 for adults, $5 for seniors (age 65+) and for youth ages 6-17, and fee for children under 5. Hope Lodge is a Blue Star Museum which means that active-duty military personnel, including National Guard and Reserve and their families, are admitted free for regular tours from Memorial Day through Labor Day.
Wonderspaces at the Fashion District (27 North 11th Street, Philadelphia, philadelphia.wonderspaces.com) is an experiential, interactive arts venue.
Building on the success of annual pop-up shows in San Diego, and its first permanent location in Scottsdale, Arizona, Wonderspaces opened a 24,000 square foot gallery space in Philly a year ago.
Wonderspaces features 14 art installations that all play with the idea of perspective.  The artwork ranges from award-winning virtual reality short film about a dinner party-turned-alien abduction, to a room where visitors digitally paint the walls with the movement of their bodies.
New artworks rotate in every few months, creating an ever-evolving, year-round show.
Tickets are for entry at a specific date and time. Visitors are welcome to stay as long as they please during operating hours. The average time spent experiencing the show is 90 minutes.
A few installations contain flashing lights, images, and patterns that may trigger seizures for people with photosensitive epilepsy. All visitors must sign a waiver prior to being admitted into the space. Adult supervision is required for visitors under 16.
Sesame Place (100 Sesame Road, Langhorne, www.sesameplace.com), a family-friendly amusement park in Langhorne, is hosting "Summer Fun Fest" now through September 4. Guests will be able to rock out with Elmo, Abby Cadabby, Cookie Monster and Count von Count.
There's nothing like summer at Sesame Place. It's a great time to cool off with refreshing (and splashy) water attractions for all ages, from Big Bird's Rambling River to The Count's Splash Castle. Find more fun in the sun with family rides like Captain Cookie's High C's Adventure and Oscar's Wacky Taxi Roller Coaster.
Summer is perfect for meeting your favorite furry friends and taking bright, beautiful pictures with them. There also are exciting shows, special events, parades, dance parties, character dining experiences, and other surprises lined up to give you even more ways to connect.
Ticket prices for Sesame Place start at $49.99.
Peddler's Village (Routes 202 and 263, Lahaska, 215-794-4000, www.peddlersvillage.com) is celebrating "Peach Month" in August.
It's a peach and shopping lover's paradise with plenty of peachy treats, weekend entertainment, and scenic strolls through the Village's summer gardens.
Visitors will be able to savor the flavors of all things peach from savory to sweet at the Village's restaurants and weekend outdoor food tent all month long.
On August weekends, visitors can enjoy live music while they shop and enjoy peach-themed foods and beverages.
Fresh peaches, peach pies, and peach products will be available on Saturdays and Sundays.
Schuylkill Banks Riverboat Tour (www.schuylkillbanks.org/events/riverboat-tours-1) presents "Secrets of the Schuylkill" now through October.
The boat ride is a one-hour family-friendly tour of Philly's second biggest river featuring sights such as Bartram's Garden and Fairmount Water Works.
Riders can discover the Hidden River on a fun and educational riverboat tour while seeing spectacular views of Philadelphia.
They can also learn about the past, present, and future of the tidal Schuylkill River and its impact on Philadelphia on a one-hour Secrets of the Schuylkill tour which costs $25 for adults and $15 for children (age 12 and under).
Tours depart from the Walnut Street Dock, under the Walnut Street Bridge, east bank of the Schuylkill River.
Grim Philly's "Dark Philly History Tour" (www.grimphilly.com) will be held every evening throughout the summer.
Participants can walk with tour guides from the grounds of America's first White House, Congress, and Liberty Bell to homes and sites of Hamilton, Washington, Franklin, Adams, Jefferson, Madison, Monroe, and more than 10 other Founding-Fathers. The surprising dirt of espionage, murder, sexual license and blackmail highlight the secrets of 1776 with a ghost story or two along the way. This tour is highly researched. And your guide is a historian.
Tickets are $35.
Ghost Tour of Philadelphia (215-413-1997, www.ghosttour.com), Ghost Tour of Lancaster (717-687-6687, www.ghosttour.com) and Ghost Tour of Strasburg (717-687-6687, www.ghosttour.com) operate throughout the winter and offer an eerily entertaining evening of true ghost stories and real haunted houses.
The Ghost Tour of Philadelphia, which is based on the book, "Ghost Stories of Philadelphia, PA.," is a candlelight walking tour along the back streets and secret gardens of Independence Park, Society Hill, and Old City, where ghostly spirits, haunted houses, and eerie graveyards abound.
Participants can discover the ghost lore of America's most historic and most haunted city with stories from the founding of William Penn's colony to present-day hauntings.
The activity is open year-round – weekends, December-February; every night, March-November. Tickets are $24.
The Ghost Tour of Lancaster and the Ghost Tour of Strasburg are based on the book, "Ghost Stories of Lancaster, PA."
Participants in the Ghost Tour of Lancaster explore the long-forgotten mysteries of one of America's oldest cities, with haunting tales of otherworldly vigils, fatal curses, and star-crossed lovers. The tour provides the opportunity to experience 300 years of haunted history from the Red Rose City's thorny past. Tickets are $20.
The Ghost Tour of Strasburg is a candlelight walking tour of the quaint and historic town of Strasburg in the heart of Pennsylvania Dutch Country. Visitors will experience an entertaining evening with a costumed tour guide spinning tales of haunted mansions, eerie graveyards, and spirits that roam the night … in a town lost in time. Tickets are $20.
Several tourist rail lines will be running special excursions this weekend.
The West Chester Railroad ( www.westchesterrr.net) is running its "Summer Picnic Specials" every Sunday now through September 18. There will be one excursion each day at noon.
Passengers can enjoy a 90-minute round trip train ride from West Chester to Glen Mills and return on a warm summer afternoon. Riders are invited to pack a lunch to have during excursion's stop at the Glen Mills train station picnic grove.
Tickets are $17 for adults, $15 for children (2-12) and free for children (under two).
The Reading Blue Mountain and Northern Railroad (Reading Outer Station, Reading, www.rbmnrr-passenger.com) is running "All Day Train Excursions" every Saturday and Sunday in August and September.
Passengers can take a train excursion through Pennsylvania's beautiful landscape to Jim Thorpe, Pennsylvania. They can board the train at the Reading Outer Station, Port Clinton Station, or Tamaqua Station.
During the trip, riders will see rolling farmland, beautiful mountains, glistening lakes, and small towns along the railroad's mainline. The train will also travel through tunnels and over bridges — a highlight being the Hometown High Bridge.
Once the excursion arrives in Jim Thorpe, riders have more than 3.5 hours to explore the many shops, restaurants, and attractions before boarding the train for your return trip.
While in Jim Thorpe, they can also ride one of the rail line's 70-minute Lehigh Gorge trains at a discounted rate.
Tickets for the all-day excursion are $39 from the Reading Outer Station and Port Clinton Station and $24 from the Tamaqua Station.
Wilmington and Western Railroad (Greenbank Station, 2201 Newport-Gap Pike, Wilmington, Delaware, www.wwrr.com) is running its "Yorklyn Limited" on Saturdays in August with departures at 12:30 and 2:30 p.m.
Riders can take a leisurely 1.5-hour round-trip ride up the Red Clay Valley to the Mt. Cuba Picnic Grove, where they can de-train to enjoy a half-hour layover along the banks of the Red Clay Creek to have a picnic or simply admire the natural surroundings.
For those who don't want to get off the train at Mt. Cuba, they can remain onboard and travel further up the line through the communities of Ashland and Yorklyn. On the return trip, there will be a brief stop at Mt. Cuba to pick up the picnic passengers.
The "Yorklyn Limited" excursion is the re-branded name of the "Mt. Cuba Meteor" excursion.
These trips are powered by one of Wilmington and Western Railroad's historic first-generation diesel locomotives.
Tickets are $18 for adults, $17 for seniors and $16 for children (ages 2-12).
On August 20 and 21, the Colebrookdale Railroad (South Washington Street, Boyertown, www.colebrookdalerailroad.com) is running its "Secret Valley Expedition" – 2 and 6 p.m. on Saturday and 11 a.m. on Sunday.
The tourist rail line's two-hour expedition into the Secret Valley features rides on meticulously restored century-old rail cars and visits one of the most scenic and historic regions in the northeast.
The railroad will be offering a lunch and dinner aboard the Secret Valley Expedition to all dining class passengers.
Additionally, and a la carte menu is available in all cars and all passengers have access to the open car for near 360-degree views of the Secret Valley.
The New Hope Railroad (32 Bridge Street, New Hope, www.newhoperailroad.com) is running its "Grapevine Express," which features "Wine & Cheese Tasting" on Saturdays and Sundays in August at 5 p.m. each night.
Riders are invited to take part in a romantic "Wine and Cheese Excursion" and enjoy fine gourmet cheese, artisan crackers, meats, fruit, and our featured local wines. Additional Alcoholic and Non-Alcoholic beverages are also available onboard.
Wine and cheese will be served to passengers as they travel along the same railroad line passengers did when it was built in 1891 connecting New Hope with Philadelphia. The journey travels through the beautiful hills and valleys of Bucks County, along once vital waterways and streams and across numerous trestle bridges.
The excursions will take place aboard one of the railroads lavishly appointed early 1900's first-class parlor cars.
Tickets are $102.58 (Ages 21 and older only).
The Strasburg Railroad (Route 741, Strasburg, www.strasburgrailroad.com) is running its "Wine & Cheese Train" on Thursdays, Fridays and Saturdays in August at 5 p.m. on Thursdays and 7 p.m. on Fridays and Saturdays.
Passengers can enjoy the luxurious, climate-controlled first-class accommodations and a tasting of select wine, cheese, and crackers as they travel in style down the tracks from Strasburg to Paradise and back. The train departs at 7 p.m. and the total trip time is 45 minutes.
"Wine & Cheese Train" boarding is 30 minutes before the scheduled departure. Riders must be 21 or older and have their photo ID ready when they board.
Featured wines are carefully selected from Waltz Vineyards, and cheeses are paired accordingly. Beer and select non-alcoholic beverages are also available for purchase upon request. Riders can purchase a souvenir wine glass on board the train if desired. Glasses are $7 each.
In accordance with Pennsylvania law, alcohol is only served during the train ride. The rail line is not permitted to serve alcoholic beverages while the train is berthed in the station.
This popular train is available on select Friday and Saturday evenings throughout the season. Tickets are $50.