By Denny Dyroff, Entertainment Editor, The Times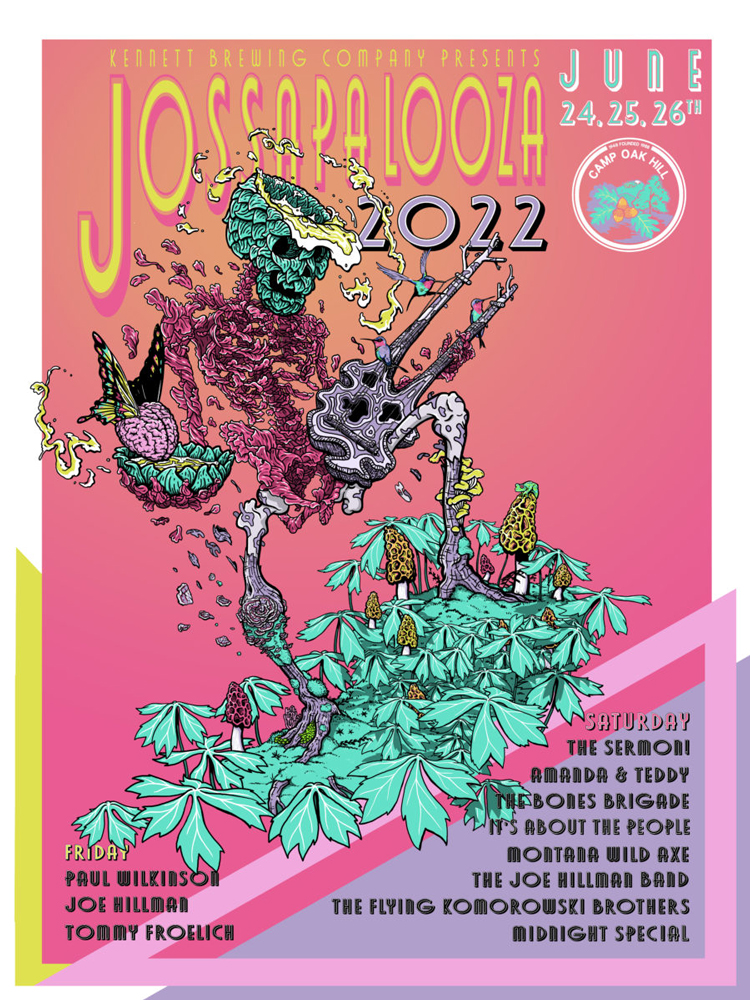 Enjoying a drink in an outdoor setting is always a well-liked activity. This weekend, there are several events around the area that feature that kind of scenario.
From June 24-26, the Kennett Brewing Company (http://kennettbrewingcompany.com) will present its Seventh Annual Anniversary Party.
While in previous years, the event was a one-day affair, the 2022 Party will be a three-day event featuring music, dancing, camping, swimming, volleyball, and beer.
The Seventh Annual KBC Anniversary Party will be held at Camp Oak Hill (53 Camp Road, Nottingham).
Friday music schedule features Tommy Froelich Band, Paul Wilkinson, and Joe Hillman. The musical roster for Saturday is The Sermon, Amanda & Teddy, The Bones Brigade, Montana Wild Axe, The Joe Hillman Band, It's About the People, The Flying Komorowski Brothers, and Midnight Special.
Tickets are $100 per person and include tent camping. Children under 12 are free. There are no refunds, and the event will be held rain or shine. Dogs are allowed but must be leashed at all times.
There will be food trucks on site.
The following items are prohibited: drones or any other remote flying devices, illegal and illicit substances of any kind, outside alcohol of any kind, weapons or explosives of any kind, fireworks.
Chaddsford Winery (Route 1, Chadds Ford, 610-388-6221, www.chaddsford.com) will be presenting "Taste of Summer – Reserve Tastings" on select Saturdays and Sundays through August 28.
Guests are invited to participate in an intimate and educational 60-minute experience in the Barrel Room.
The Winery's trained staff will guide participants through a pre-selected tasting of five widely diverse and award-winning wines from across its portfolio. The selections will be paired alongside seasonal local cheeses and other accoutrements to enhance the tasting experience.
They will also discuss topics such as grape growing conditions at partner vineyards and the onsite winemaking process from production to aging and bottling.
Reserve Tastings are $35 per person and offered only on select Saturdays and Sundays. There will be three seatings per day at noon, 2 and 4 p.m. Advanced reservations are required and are non-refundable.
The "Pairing Line Up" features Greeting Wine: 2019 Sparkling White; 2021 Vidal Blanc with Yellow Springs Farm's Lil Chardy; 2020 Harbinger with Smoked Gouda Chip; 2021 Vignoles with Covina Dorada chili lime tortilla chips and fresh guacamole; and Sunset Blush with Gemelli Gelato's rosé infused sorbetto.
Penns Wood Winery (124 Beaver Valley Road, Chadds Ford, http://www.pennswoodsevents.com) will present "Live Music on the Lawn" every weekend in June.
The schedule for June 25 at Penns Wood Winery features from Jerry Lee Watkins from 2-5 p.m.
The schedule for June 26 features Paul Wilkinson from 2-5 p.m.
Now through June 25, the sights, sounds and smells of a summertime fair will be filling the air in Downingtown when Saint Joseph Church (338 Manor Avenue, Downingtown, 610-269-8294, www.stjoesfestival.com) hosts its annual "Community Festival."
The event will feature all the traditional things associated with a summer festival — including exciting rides and amusement games. There will also be food concessions with all the standard festival fare — cotton candy, ice cream, hot dogs, hamburgers, popcorn, corn dogs, soft pretzels and cheese fries along with mozzarella sticks, tomato pie and hot roast beef sandwiches.
The roster of music acts includes DeLaSalle String Band, Downingtown School of Rock, Fuse Box, Deck 5, and the Bryan Tuk Complex.
If there is a hot air balloon, a blimp, a helicopter or a giant condor in the sky above you, it's almost a certainty that you're going to look up.
If it's a helicopter, the audio part emphasizes the visual part as it attracts your attention. When there is a chopper flying overhead, it is virtually impossible to resist a skyward gaze.
If you want to see helicopters flying above, just head to the American Helicopter Museum & Education Center (1220 American Blvd., Brandywine Airport, West Chester, 610-436-9600,www.helicoptermuseum.org) when it celebrates its annual event "Family Fest" on June 25.
The American Helicopter Museum's annual "Family Fest" will get underway at 10 a.m. and continue until 5 p.m. Visitors can check out static displays, take a tour of the museum, and ride in a helicopter (at an additional cost).
A wide array of aircraft will be featured at the event. There will also be a classic car and motorcycle show that offers a Fan Favorite competition featuring first, second and third place prizes.
Also participating will be PAWS for People, Chester County Seeing Eye Puppies, Chester County Beekeepers Association, Locust Lane Brewery, Harvest Ridge Winery, Operation Homefront, Out of the Box Robotics, Drone Legends, The Traveling Women's History Museum, Atlantic City Coast Guard Auxiliary, and Goshen Fire Company.
Admission to the event is $15 for adults and $10 for children (12 and under). Helicopter rides, which will be available from 12:30-3:30 p.m., will cost $75 per person.
On June 25, Philadelphia-based nonprofit Cool Cars for Kids (CCfK), Inc. will bring together families of children with rare birth diagnoses and classic car enthusiasts who share a common passion and appreciation for the one-of-a-kind.
The annual Philadelphia Concours d'Elegance (http://www.coolcarsforkids.com/concours.html) will take place at the Simeone Foundation Automotive Museum (6825 Norwitch Drive, Philadelphia) from 10 a.m.-4 p.m.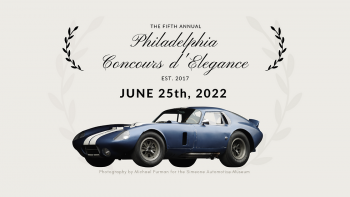 The Philadelphia Concours d'Elegance will include an invitation-only assembly of classic automobiles and race cars; professional judging and awards presented for historical accuracy, technical merit, and style.
The event will showcase more than 30 American and European classic and historic automobiles and race cars including vintage European models rarely seen on American highways.
Retired NFL Super Bowl-winning coach Dick Vermeil, who'll be inducted into the NFL Hall of Fame this August, will take part in the "Celebration of the Snakes," the theme for the fifth annual Philadelphia Concours d'Elegance.
A panel discussion with Brock, Vermeil, Chuck Cantwell and Roy Sjoberg will be held on Saturday during the Concours.
Vermeil will join two of Carroll Shelby's early "employees", Peter Brock, who was inducted into the Motorsports Hall of Fame this past March, and Chuck Cantwell who helped establish the Shelby brand worldwide, along with Roy Sjoberg, known as "Father of the Viper." The interviews and panel discussion will be emceed by famed motorsports photographer/historian Harry Hurst, who helped establish the Simeone Foundation Automotive Museum in 2008.
This year marks the fifth annual presentation of the Philadelphia Concours d'Elegance, the premier concours event in the City of Brotherly Love to be held over two days, beginning on Friday, June 24, with a Preview Gala, and the Concours event on Saturday, June 25. The events will be held at the world famous Simeone Foundation Automotive Museum, and this year celebrate the "Snakes" – the iconic Ford Shelby Cobra and Dodge Viper – each brand with its own unique provenance and cachet in the collector car world.
The Concours will showcase an invitation-only assembly of Cobras and Vipers and other American and European classic and historic automobiles and race cars. The fundraising event includes professional judging and awards presented for historical accuracy, technical merit, and style. The popular Hagerty Youth Judging program will also be implemented. This year's classes are: Pre-War, Post-War, Open, Closed, Sports, Muscle and Kids Choice.
The family-friendly activities feature celebrity guests, a Car Corral behind the Museum for local car enthusiasts, food and specialty vendors and access to the Simeone Museum's permanent collection of classic automobiles and race cars. The Simeone Museum was named Number Two of the top 100 classic car collections in the world by The Classic Car Trust.
Cool Cars for Kids, Inc. is a nonprofit organization based in Philadelphia, Pa. that brings together families of children with birth defects and classic car enthusiasts who share a common passion and appreciation for the one-of-a-kind. Funds raised from this unique partnership will directly forward its mission by supporting local and national charities – including The Children's Hospital of Philadelphia – to deliver care and support to children and families who struggle with the medical complexities associated with rare diagnoses.
General Admission is $25. Students and children under 18 will be admitted free.

The John Heinz National Wildlife Refuge at Tinicum (8601 Lindbergh Boulevard, Philadelphia, www.fws.gov/refuge/John_Heinz) is hosting its 50th Anniversary Celebration on June 30 from 2-8 p.m..
Visitors can celebrate with free archery, paddling, guided nature and history walks, guided trolley tour, food, and more.
The Celebration's matinee schedule is: 2 p.m., LL Bean Paddle Tour for walk-ins (*14 participant limit!! First come, first served. Ages 8+), 2:30 p.m., Family Nature Walk, 3 p.m., Guided Trolley Tour of the Refuge, 3:30 p.m., Guided Plants and Wildlife Walk with Cliff and Nancy Hence, 4 p.m., Guided Trolley Tour of the Refuge, and 4:30 p.m., Guided Wildlife Walk with Debbie Beer and Lynn Roman.
The evening schedule is: 5:30-8 p.m., Tabling Exhibitors, 5:30-6 p.m., Formal Remarks & Cake Cutting, 6-8 p.m., "Try Archery" (age 8+), 6 p.m., Guided Eastwick Environmental History Walk, 6:30 p.m., History of the Refuge Walk, 7 p.m., Guided Bird Walk with In Color Birding Club, 7 p.m., Guided Trolley Tour, and 7-8 p.m., Friends of Heinz Refuge 25th Anniversary Campfire.
Another prime location to check out flowers in bloom is Tyler Arboretum (515 Painter Road, Media, 610-566-9134, www.tylerarboretum.org).
The arboretum's schedule for June 25 features "Painter History Tour," "Saturday Evening Wildflower Walk," and "Leaping into Summer!"
"The Painter History Tour," which will run from 10-11 a.m. on Saturday, will offer a glimpse into the past as the arboretum staff shares the stories of the Minshall, Painter, and Tyler families.
Guests will be able to learn how they used the land and the buildings, including Lachford Hall, Painter Library, the Springhouse, Fruit Vault, and Greenhouse. The legacy of trees left by the Painter brothers is included as guides follow this Quaker family through the last 262 years on this land.
"Saturday Evening Wildflower Walk, which runs from 5-7 p.m., features wildflower expert Dick Cloud on an informative two-hour hike that will take guests through meadows, woods, and occasionally streamside. These walks are for those who have a love of plants, their role in ecology, or for those who want to learn more.
Although the focus is on plants, Cloud will also talk about whatever else is seen on the tour. Walkers should wear comfortable hiking shoes and bring a camera and/or a wildflower guide, for this botanical-filled walk.
"Leaping into Summer!" will also be held on June 25 at 10 a.m.
Both the Native Woodland Walk and the Rhododendron Garden remain colorful and provide a cool oasis of dappled shade.
Participants will encounter new plants, insects, and water life as the warming weather brings a change to Tyler as we move from spring into early summer.
Admission to Tyler Arboretum is $15 for adults (ages 18-64), $13 for Seniors (65+) and $9 for children (ages 3-17) and Military with valid ID.
On June 25, Berks Nature (The Nature Place, 575 Saint Bernardine Street, Reading, 610-372-4992, https://www.berksnature.org) is hosting a "Family Creek Walk."
Participating nature lovers can get their feet wet as they explore Angelica Creek and learn about the plants and animals that call this watery world home.
The event will get underway at 10 a.m.
Morris Arboretum (100 Northwestern Avenue, Chestnut Hill, www.morrisarboretum.org) is opening a new season exhibit this weekend – "Summer of Swings."
Visitors of all ages can experience the Arboretum in a totally new way — while perched on one of 10 swings placed strategically across 92 acres. Guests can play on the swings, try some cool physics experiments, and just have fun.
Morris Arboretum will also present its annual "Historic Springfield Mill Days" on June 26 from 1-4 p.m.
Morris Arboretum's oldest architectural feature is the historic grist mill, dating back to 1761 and situated along the picturesque Wissahickon Creek.
On a guided interactive tour, visitors will be able to watch one-ton millstones grind corn kernels, observe 160-year-old machinery transport and sift ground corn to produce meal, and even grind their own flour on a pedal powered mill.
This weekend, the Mount Hope Estate & Winery (Route 72, Cornwall, 717-665-7021, www.PaRenFaire.com) will host its Annual International Celtic Fling and Highland Games at the winery's fairgrounds in Cornwall. The event will be held June 25 and 26.
The Celtic Fling will also feature a variety of Celtic music acts including Burly Celts, Flanigan's Right Hook, Rogue Diplomats, Quittapahilla Highlanders, Enter the Haggis, Barleyjuice, Screaming Orphans, Syr, Rover's Way, Seasons, Rogue Diplomats, House of Hamill, The Fitzgeralds and Albannach.
The festival, which celebrates traditional and contemporary Celtic heritage, features the music, food and culture of all the Celtic nations — Welsh, Cornish, Manx, Bretons, Galecians/Asturians and, of course, Irish and Scottish.
Attractions this year include more than 50 musical performances, competitions and demonstrations, a full slate of live entertainment and the Ceilidh (grand finale of music and dance).
The competitive Highland Games focus on traditional competition events such as "Tossing the Caber", "Weight for Distance", "Hammer Throw" and "Putting the Stone". There will also Irish dance competitions.
For the thirsty and the hungry, there will be more than 20 feast kitchens featuring a culinary tour of the Celtic Nations with traditional items. Some of the Celtic delicacies available for purchase at this weekend's festival will be Highland Honey Mead, Scotch Eggs, Tiger Pie, Shepherd's Pie, Haggis, Cottage Pie, Irish Potato & Leek Soup, Boxty and Corned Beef and Smoked Cabbage.
In addition to the 100-plus resident Renaissance Faire shops, there will be booths presented by more than 50 guest artisans and merchants with a wide array of unique items from imported Irish wools and Scottish tartans to Celtic souvenirs.
The event runs from 11 a.m.-10 p.m. on Saturday and Sunday with tickets priced at $31.95 for adults and $13.95 for children (ages 5-11).
It seems there are always good events and attractions worth checking out in Delaware.
Winterthur Museum, Garden & Library (5105 Kennett Pike, Wilmington, Delaware, 800-448-3883, www.winterthur.org) will host
"Shop & Savor: The Farm at Doe Run" on June 26 from 11 a.m.-4 p.m.
Visitors will be able to taste the creative, award-winning cheeses from The Farm at Doe Run, a renowned Chester County farm. The cheese artisans of The Farm at Doe Run dedicate their lives and lands to the art and science of making premier cheese from the milk of cows, goats, and sheep raised on-site, naturally and humanely, on the Brandywine Valley region's grassy pastures.
Participants will join the Winterthur staff in the Museum Store to taste and learn. This is a drop-in event; no reservations or admission fee required. The Museum Store is open from 10 a.m.-5 p.m.
Winterthur is also featuring a Guided Exhibition Tour – "Jacqueline Kennedy and Henry Francis du Pont: From Winterthur to the White House" – now through January 8, 2023.
Visitors can explore the friendship between the First Lady and H. F. du Pont and their work to restore the White House in this guided tour of the special exhibition.
In 1961, an unusual partnership was formed when the youngest First Lady in American history, Jacqueline Kennedy, appointed a reserved octogenarian collector from Delaware, Henry Francis du Pont, to lead her project to restore the White House interiors. Du Pont brought credibility to Kennedy's efforts and vision, and her enormous popularity lifted him onto the national stage and validated his life's work.
Together, they transformed the White House from a mere public residence into a museum, and along the way, they engaged with some of the most celebrated interior designers of the 20th century.
For the first time, the story of this historic partnership will be told at Winterthur, the inspiration for Mrs. Kennedy's project. Through artifacts, archives, and images, this exhibition will invite visitors to experience the behind-the-scenes collaboration between the two during this captivating period in American history.
Their partnership culminated in a televised tour of the White House, led by Jacqueline Kennedy, which became the most watched program in American history. The former First Lady will forever be remembered as the person who restored history and beauty to the White House.
Their "restoration" of America's most famous house became a history lesson for the country and awakened an interest in preservation and interior design that is still felt today.
Admission to Winterthur is $22 for adults, $20 for seniors and students and $8 for children.
Hagley Museum and Library (Buck Road East entrance via Route 100, Wilmington, Delaware, 302-658-2400, www.hagley.org) is presenting an educational event geared for children this weekend.
The special event this Saturday at Hagley is "Science Saturday: Chemistry for the Curious."
At the family event, which runs from 1-4 p.m. on June 25 at the Visitor Center, participants can learn how chemistry is used in our everyday lives and marvel in its magic.
Visitors of all ages are invited to discover solutions to science and engineering challenges. This is a drop-in activity, feel free to join the fun at any time. Activities are included in admission and free to members.
This weekend's "Special Guest" is Chemours.
Activities are included in admission and free to members. This is a drop-in activity and guests can join the fun at any time.
Hagley will also present "Cannon Firings" on June 26. Demonstrations take place at 1, 2, and 3 p.m.
Admission to Hagley is: $15, Adults; $12, Seniors (62+) and Students; and $8, Children 6-14.
On June 25, one of the first celebrations of summer will be the Ice Cream Festival at Rockwood Park (4651 Washington Street Extension, Wilmington, Delaware, rockwood@nccde.org).
Unlike the Rockwood Ice Cream festivals in pre-pandemic days, this pared-down version of the Ice Cream Festival is a low-key one-day event. Guests are invited to bring picnic lunch, chairs and blankets to relax outdoors at beautiful Rockwood Park.
The festival will feature the shops of First State Flea Market, live music by local acts, the Wilmington Brew Works Beer Garden and, of course, a lot of ice cream.
The festival, which runs from 1-9:30 p.m., has a huge selection of treats – Woodside Farm Creamery, Cinnamon Bun Exchange, Dino's Ice Cream Truck, Kona Ice, UDairy Creamery, Madi LLC, The Ice Cream Shoppe, Paleteria Y Neveria Tocumbo, Cup'r Cone, Marvelicious Water Ice, Auntie Anne's Pretzels, Crossan Kettle Corn, Bristow Live Fire Pizza and Ole Tapas.
Live music will be performed by Hot Breakfast, Nic Snow, Frantastic Noise, Bickel Brothers and Universal Funk Order followed by a fireworks finale.
Tickets are $5.
The Delaware Art Museum (2301 Kentmere Parkway, Wilmington, Delaware, www.delart.org) has a new exhibit that will open on June 25 and run through September 11 – "Stan Smokler: Steel in Flux."
The Delaware Art Museum celebrates the career of Stan Smokler with this Distinguished Artist exhibition. His celebrated found object, steel sculptures continue the trajectory of modernist abstraction.
Smokler completed his master of fine arts degree at Pratt Institute in 1975, and he continued to work in New York on his own sculpture as well as in art conservation and interior design before relocating to the Brandywine Valley in 1999. Smokler taught at the Delaware College of Art and Design from 1998 until his retirement in 2016, served on the Board of the Delaware Contemporary, and participated in Delaware Division of the Arts' Artist in Residence program from 1996–1999.
In addition to participating in numerous solo and group exhibitions throughout the Mid-Atlantic and Northeast United States, Smokler established his Marshall Bridge Workshop in 2004. The Workshop is an immersive training opportunity for artists of all levels interested in working with welded steel, and Smokler has been praised for his supportive approach to teaching.
"Stan Smokler: Steel in Flux" includes work from the late 1970s through 2020 along with several of the artist's charcoal and pastel drawings of his completed sculptures. Examples of Smokler's largescale work will be on view in the Museum's Copeland Sculpture Garden with an extended showing through October 30, 2022.
The Distinguished Artist Series is a celebration of those artists who have impacted contemporary art in the greater Brandywine Valley through their artistic practices, teaching, and support of the community and its various institutions. Through unique exhibitions, this series surveys artists' legacies as they relate to local, national, and international trends. With his commitment to exploring the possibilities of steel and mentoring students through his numerous Marshall Bridge workshops and years at the Delaware College of Art and Design, Smokler has guided the trajectory of contemporary abstract sculpture.
Admission to the Delaware Art Museum is $14 for adults, $7 for students, and $6 for youth (ages 7-18).
The Historic Odessa Foundation (Main Street, Odessa, Delaware, www.historicodessa.org)  is now presenting its first spring art exhibition — "Seasons: Pastels by Katie Cassidy."
The exhibit of colorful pastel drawings by the talented Easton, Maryland artist is on display now through June 26, in the Historic Odessa Visitor Center Gallery.
Cassidy is well known for her light filled impressions of flowers and landscapes. Cassidy's passion for both pastels and oils is rivaled only by the dedication to her students at the Academy Art Museum in Easton, on Maryland's Eastern Shore, where she has taught for 18 years and been Director of the Adult Education program for 12.
Cassidy graduated with a BFA in Studio Art from the University of Maryland at College Park and has travelled extensively to Ireland, Italy and France, as well as the American Southwest, where the land and people bring constant freshness to her art.
An award-winning artist, she is well known for her comprehensive knowledge of the basics and techniques of many mediums, especially charcoal, oil and pastel.
The Old Swedes Historic Site (606 North Church Street, Wilmington, Delaware, oldswedes.org/events) is staging its inaugural Midsommar Festival on June 25.
The holiday was originally a pagan festival celebrated in Sweden and other Scandinavian countries. According to Encyclopedia Britannica, Midsommar was "likely related to ancient fertility practices and ceremonies performed to ensure a successful harvest".
When Christianity arrived in the region, Midsommar had to adopt a new meaning and one within the context of the new religion. It was then attached to the birthdate of John the Baptist.
The Midsommar Festival in Delaware, which takes its name from annual summer solstice events in Sweden, will include food trucks, a beer garden, live music, cornhole, flower crown crafting and the Xperience Drum Corps from River of Love Christian Center.
The list of activities for visitors to enjoy includes: Dance around the Maypole; craft a traditional flower wreath, witness the Swedish Meatball Cook-off, meet the celebrity judges, watch 18th century Exhibitors & Demonstrations, meet a flock of sheep from Greenbank Mills and Philips Farm, shop at booths by artisan vendors, have a brew at an outdoor beer garden, and feats on delicious fresh strawberries.
The festival, which will run from noon-4 p.m., is free and open to the public.
The American Swedish Historical Museum (1900 Pattison Avenue, Philadelphia, 215-389-1776,www.americanswedish.org) is also celebrating Midsommarfest on June 25.
In Sweden, Christmas is the most important holiday. Midsommar is the second most important holiday in the Swedish calendar.
The midsummer party in Sweden involves flowers in your hair, dancing around a pole, singing songs while drinking unsweetened, flavored schnapps and eating a lot of pickled herring.
The American Swedish Historical Museum's Midsommarfest, which starts at 4 p.m. on Saturday, features live traditional folk music by the Last Chance duo and maypole dancing. There will also be crafts and games for the kids.
Visitors can purchase flower crowns, Swedish foods, and refreshments – and check out the Museum's Swedish used book sale and Mormor's Attic Shop, filled with second-hand treasures.
Midsommarfest runs rain or shine and includes general admission to the museum.  Tickets for Midsommarfest, which are available at the door, are $5 for adults. Children (12 and under) are admitted free.
The 2022 Manayunk Arts Festival (Main Street, Manayunk, http://manayunk.com/) will take place on June 25 and 26 in the heart of Manayunk along Main Street.
The Manayunk Arts Festival draws upwards of 200,000 attendees every year and is one of the largest outdoor arts festivals in the region.
The art show part of the event will showcase top-flight artists from around the country. Hundreds of respected local artists join with the national artists to sell handmade items of all sorts.
The two-day event will also feature crafts, food and music.
As an added attraction, there will be a wide variety of vendors specializing in fiber, glass, metal, wood, photography and other media.
The festival's hours are Saturday from 11:30 a.m.-7 p.m. and Sunday from 11:30 a.m.-6 p.m.
Daily tickets are $4 for adults and $2 for children. Masks will be required for all guests and vendors.
On June 25 at 7 p.m., Fort Mifflin (Fort Mifflin and Hog Island roads, Philadelphia, 215-685-4167, www.fortmifflin.us) will host a special event called "Open Investigation Evening—A Haunted Fort Mifflin Event."
Haunted Fort Mifflin invites guests to get into the "spirit" at the Haunted Open Investigation Evening.
Participants can join the Fort's friends from EVPNJ to explore the history and hauntings of the site.  They can spend the evening enjoying investigating the deep dark corners of the Fort.
The event is appropriate for both experienced and novice paranormal investigators with special access to areas not open to the general public.
Guests can bring their own equipment or just use a cell phone and flashlight. Experienced investigators will be on hand to assist them and review evidence. Advance purchase is required.
Admission is $8 for adults, $6 for seniors and veterans and $4 for children (ages 6-12).
Laurel Hill Cemetery (3822 Ridge Avenue, Philadelphia, 215-228-8200, www.thelaurelhillcemetery.org) will present another "Hot Spots and Storied Plots" tour on June 24.
This tour provides an informative overview of Laurel Hill's long history, which includes many of the marble masterpieces, stunning views, and legendary stories about Laurel Hill.
"Hot Spots and Storied Plots" is the perfect introduction for anyone who enjoys beautiful art, scenic nature, and fascinating history. An experienced graveyard guide will offer a unique perspective.
The expansion of Fairmount Park in the 1860s prevented further growth of Laurel Hill, and in 1869 West Laurel Hill was established just across the river in Bala Cynwyd. This walking tour provides a wonderful overview of West Laurel Hill's long and colorful history, including its architectural artistry, stunning trees and horticulture, and the stories of residents that encompass diverse and fascinating Philadelphia history.
Tickets, which must be purchased in advance, are: $12/General Admission, $10/Seniors (65 & up) and Students with ID, $6/Youth (6-12), and $0/Child (5 & Under). Youth and children must be accompanied by an adult.
On June 25, the site will present "Sacred Spaces and Storied Places" at 10 a.m.
The expansion of Fairmount Park in the 1860s prevented further growth of Laurel Hill, and in 1869 West Laurel Hill was established just across the river in Bala Cynwyd. This walking tour provides a wonderful overview of West Laurel Hill's long and colorful history, including its architectural artistry, stunning trees and horticulture, and the stories of residents that encompass diverse and fascinating Philadelphia history.
"Sacred Spaces and Storied Places" is the perfect introductory tour for anyone who wants to learn all that West Laurel Hill Cemetery has to offer. Experienced tour guides offer visitors a unique perspective and every Sacred Spaces tour is different.
Grim Philly's "Dark Philly History Tour" (www.grimphilly.com) will be held every evening throughout the summer.
Participants can walk with tour guides from the grounds of America's first White House, Congress, and Liberty Bell to homes and sites of Hamilton, Washington, Franklin, Adams, Jefferson, Madison, Monroe, and more than 10 other Founding-Fathers. The surprising dirt of espionage, murder, sexual license and blackmail highlight the secrets of 1776 with a ghost story or two along the way. This tour is highly researched. And your guide is a historian.
Grim Philly will also be presenting "Serial Killers & Cemetery Tour" every Saturday at 2 p.m.
Participants will have the opportunity to experience unconventional sightseeing off the beaten path. They can enjoy Betsy Ross House, Christ Church, Elfreth's Alley, and Benjamin Franklin's Grave, together with tales of serial slayings and psychopathic killers like the Corpse Collector, Frankfort Slasher, and H.H. Holmes.
Ghost Tour of Philadelphia (215-413-1997, www.ghosttour.com), Ghost Tour of Lancaster (717-687-6687, www.ghosttour.com) and Ghost Tour of Strasburg (717-687-6687, www.ghosttour.com) operate throughout the winter and offer an eerily entertaining evening of true ghost stories and real haunted houses.
The Ghost Tour of Philadelphia, which is based on the book, "Ghost Stories of Philadelphia, PA.," is a candlelight walking tour along the back streets and secret gardens of Independence Park, Society Hill, and Old City, where ghostly spirits, haunted houses, and eerie graveyards abound.
Participants can discover the ghost lore of America's most historic and most haunted city with stories from the founding of William Penn's colony to present-day hauntings.
The activity is open year-round – weekends, December-February; every night, March-November. Tickets are $24.
The Ghost Tour of Lancaster and the Ghost Tour of Strasburg are based on the book, "Ghost Stories of Lancaster, PA."
Participants in the Ghost Tour of Lancaster explore the long-forgotten mysteries of one of America's oldest cities, with haunting tales of otherworldly vigils, fatal curses, and star-crossed lovers. The tour provides the opportunity to experience 300 years of haunted history from the Red Rose City's thorny past. Tickets are $18.
The Ghost Tour of Strasburg is a candlelight walking tour of the quaint and historic town of Strasburg in the heart of Pennsylvania Dutch Country. Visitors will experience an entertaining evening with a costumed tour guide spinning tales of haunted mansions, eerie graveyards, and spirits that roam the night … in a town lost in time. Tickets are $18.
The Brandywine Valley has quite a few museums and tourist sites that provide residents and tourists ideal opportunities to spend leisure time — and you can maximize your effort if you take advantage of the 2022 Brandywine Treasure Trail Passport.
The cost is $49 for an individual pass and $99 for a family pass (for up to five family members).
The Brandywine Treasure Trail Passport is good for one-time admission to Wilmington and the Brandywine Valley's top attractions now through October 31.
A family pass, which includes one-day admission to each of 12 sites, can bring a savings of over $200 for the holders — especially since many of the participating institutions have regular admission fees in double figures.
The list of locations covered by the Brandywine Treasure Trail Passport includes Longwood Gardens, Delaware Museum of Nature and Science, Brandywine River Museum, Delaware Art Museum, Delaware History Museum, Hagley Museum and Library, Delaware Center for Contemporary Arts, Nemours Mansion & Gardens, Read House and Garden, Mt. Cuba Center, Rockwood Museum and Winterthur Museum, Garden & Library.
For more information, call (800) 489-6664 or visit www.visitwilmingtonde.com/bmga/.
Longwood Gardens (Route 1, Kennett Square, www.longwoodgardens.org) is inviting visitors to enjoy the beauty of late spring.
The biggest attraction at Longwood right now is the "Festival of Fountains," which is running through September 29.
With fountains that jet as high as 175 feet, gardens filled with colorful summer blooms, shade-friendly trees, exotic day- and night-blooming waterlilies, and live music outdoors, Longwood Gardens has something for everyone.
The "Festival of Fountains" began in May and all the popular attractions are going full swing – include in Longwood Gardens' Open Air Theatre, Italian Water Garden Square Fountain, Round Fountain (Flower Garden Walk), Sylvan Fountain (Peirce's Park), and Children's Corner fountains.
The season of renewal and growth has started.
As the season unfolds, flowering trees delightfully punctuate the landscape, radiant tulips stretch toward the sun, and the delicious fragrance of wisteria floats along the breeze.
Visitors can also enjoy special exhibits at the Orchid House.
Admission to Longwood Gardens is $25 for adults, $22 for seniors and college students, $18 for active military and $13 for youth.
For a fun and educational day for you and your children, consider a visit to the Brandywine River Museum (Route 1, Chadds Ford, 610-388-2700, http://www.brandywinemuseum.org).
The Museum will be open from 9:30 a.m.-4:30 p.m. with admission to the galleries including two featured exhibitions, "Gatecrashers: The Rise of the Self-Taught Artist in America" and "Dawoud Bey: Night Coming Tenderly, Black."
"Gatecrashers: The Rise of the Self-Taught Artist in America," which is running now through September 5, examines how, after World War I, artists without formal training "crashed the gates" of major museums in the United States, diversifying the art world across lines of race, ethnicity, class, ability, and gender.
Included are over 50 works by celebrated painters such as Horace Pippin, Anna Mary Robertson "Grandma" Moses and John Kane, as well as by fifteen artists who are lesser known now but were recognized in their day, including Josephine Joy, Morris Hirshfield, Lawrence Lebduska, Patrick Sullivan, and others.
"Dawoud Bey: Night Coming Tenderly, Black," which is running through August 31, is a selection of photographs from Bey's critically acclaimed series from 2017.
Regarded as one of the most important photographers working today, Dawoud Bey (b. 1953) is recognized for his compelling, large-scale portraits and street photographs of marginalized people and communities that he began in the 1970s. Inspired by artist Roy DeCarava (1919—2009), Bey has been photographing the Black community in Harlem where he was born, and Queens where he grew up, for over four decades.
The annual Wayne Art Center Plein Air Festival will be held now through June 25 at the Wayne Art Center (413 Maplewood Avenue, Wayne, www.wayneart.org).
"En plein air" is the act of painting outdoors. This method contrasts with studio painting or academic rules that might create a predetermined look. The practice goes back for centuries but was truly made into an art form by the French Impressionists.
Fresh off the easel, more than 250 works adorn Wayne Art Center's walls showcasing the artists' individual interpretations of life and landscapes.
As part of Historic Philadelphia's anniversary celebration at Franklin Square (200 Sixth Street, Philadelphia, www.historicphiladelphia.org), the organization is illuminating the park with its annual Chinese Lantern Festival.
Now through August 7, Franklin Square (http://historicphiladelphia.org/chineselanternfestival/) will come alive every night with its Chinese Lantern Festival featuring more than two dozen illuminated lanterns – all constructed by lantern artisans from China.
Chinese-inspired performances will take place in Franklin Square twice nightly. Performances, which celebrate Chinese performance art and entertainment, are 30-minutes long and are scheduled for 7 and 9 p.m.
Festival hours are 6-10 p.m. Sunday through Thursday and 6-11 p.m. on Friday and Saturday. Admission is $20 for adults, $18 for youth, seniors and military, and $12 for children (ages 3-12).
Several tourist rail lines offering special excursions this weekend.
The West Chester Railroad (610-430-2233, www.westchesterrr.net) is running its "Summer Picnic Specials" every Sunday now through Sept 18. There will be one excursion each day at noon.
Passengers can enjoy a 90-minute round trip train ride from West Chester to Glen Mills and return on a warm summer afternoon. Riders are invited to pack a lunch to have during excursion's stop at the Glen Mills train station picnic grove.
Tickets are $17 for adults, $15 for children (2-12) and free for children (under two).
On June 25, the Colebrookdale Railroad (South Washington Street, Boyertown, www.colebrookdalerailroad.com) is running its "Secret Valley Expedition" at 6 p.m.
The tourist rail line's two-hour expedition into the Secret Valley features rides on meticulously restored century-old rail cars and visits one of the most scenic and historic regions in the northeast.
The railroad will be offering a lunch aboard the Secret Valley Expedition to all dining class passengers. Riders can enjoy a choice of Chicken Parmigiana or lasagna while journeying through the verdant land lost in time. Children on board will be served chicken fingers with macaroni-and-cheese.
First Class Parlor and Lounge Car fares include one complementary beverage served in a commemorative glass, an hors d'oeuvre plate that includes a fine selection of cheeses, meats, cranberries, and mixed nuts, and a cheesecake dessert as part of the ticket price.
Additionally, and a la carte menu is available in all cars and all passengers have access to our open car for near 360-degree views of the Secret Valley.
The New Hope Railroad (32 Bridge Street, New Hope, 215-862-2332, www.newhoperailroad.com) is running its "Grapevine Express," which features "Wine & Cheese Tasting" on June 25 and 26.
Riders are invited to take part in a romantic "Wine and Cheese Excursion" and enjoy fine gourmet cheese, artisan crackers, meats, fruit, and our featured local wines. Additional Alcoholic and Non-Alcoholic beverages are also available onboard.
Wine and cheese will be served to passengers as they travel along the same railroad line passengers did when it was built in 1891 connecting New Hope with Philadelphia. The journey travels through the beautiful hills and valleys of Bucks County, along once vital waterways and streams and across numerous trestle bridges.
The excursions will take place aboard one of the railroads lavishly appointed early 1900's first-class parlor cars.
Tickets are $102.58 (Ages 21 and older only).
This weekend, the Strasburg Railroad (Route 741, Strasburg, 717-687-7522, www.strasburgrailroad.com) is running its "Escape-Room-on-the-Train" from June 24-26.
According to the railroad's website – "Time is running out! Harry Houdini, the renowned magician, and escape artist is trapped in a safe onboard a moving train, and only you and your party can free him before he runs out of air!"
This interactive escape room — onboard the opulent (and moving!) President's Car — is unlike anything passengers have experienced before. While on board, riders can enjoy one complimentary adult beverage and snack.
The rail line is also running a "Winer & Cheese Train" on June 24 and 25 and a "Murder Mystery Performance Train" on June 24. 25 and 26.
The Northern Central Railway (2 West Main Street, New Freedom, www.northerncentralrailway.com) is running two special excursions this weekend – "Princess Express" and "Hanover Junction Flyer."
The "Princess Express" will depart at 10 and 11:30 a.m. on June 25.
Riders can mingle with their favorite princesses and meet Snowflake the Unicorn while riding on the scenic Northern Central Railway to Glen Rock and back.
After the ride, all royals are invited to meet Snowflake and enjoy princess activities, like decorating a crown and having a princess drink and snack on the Freedom Green.
Participants are invited to dress as their favorite princess.
Tickets are: $29, Adult (13+); $20, Child (age 2 – 12); Free, Toddler (in lap)
The "Hanover Junction Flyer" will depart at 2 p.m. on June 25.
The train travels through the beautiful Heritage Rail Trail County Park and southern York County countryside on this trip to Hanover Junction.
The rail line's historic PRR GP9 Diesel Locomotive built in 1959 will take riders back in time to the 1860s when President Abraham Lincoln rode these tracks on his way to Gettysburg to deliver the Gettysburg Address.
The excursion includes a 20-minute stopover at the Hanover Junction Museum.
Tickets are: $36, Adult (Ages 13+); and $23, Child (age 2-12).
Hope Lodge (553 South Bethlehem Pike, Fort Washington, 215-343-0965, http://www.ushistory.org/hope/) will be presenting "Guided Mansion Tours" on June 26.
Hope Lodge was built between 1743 and 1748 by Samuel Morris, a prosperous Quaker entrepreneur. Morris acted as a farmer, shipowner, miller, iron master, shop owner, and owner of the mill now known as Mather Mill. Hope Lodge is an excellent example of early Georgian architecture, and it is possible that Edmund Woolley, architect of Independence Hall, offered advice in building. Samuel Morris owned the estate until his death in 1770.
Visitors can participate by watching a short film and then taking a tour. Guided tours of the mansion will depart at 1 and 2:30 p.m. all three days.
Tour admission is $8 for adults, $5 for seniors (age 65+) and for youth age 6-17, and fee for children under 5. Hope Lodge is a Blue Star Museum which means that active-duty military personnel, including National Guard and Reserve and their families, are admitted free for regular tours from Memorial Day through Labor Day.
Wonderspaces at the Fashion District (27 North 11th Street, Philadelphia, philadelphia.wonderspaces.com) is an experiential, interactive arts venue.
Building on the success of annual pop-up shows in San Diego, and its first permanent location in Scottsdale, Arizona, Wonderspaces opened a 24,000 square foot gallery space in Philly a year ago.
Wonderspaces features 14 art installations that all play with the idea of perspective.  The artwork ranges from award-winning virtual reality short film about a dinner party-turned-alien abduction, to a room where visitors digitally paint the walls with the movement of their bodies.
New artworks rotate in every few months, creating an ever-evolving, year-round show.
Tickets are for entry at a specific date and time. Visitors are welcome to stay as long as they please during operating hours. The average time spent experiencing the show is 90 minutes.
A few installations contain flashing lights, images, and patterns that may trigger seizures for people with photosensitive epilepsy. All visitors must sign a waiver prior to being admitted into the space. Adult supervision is required for visitors under 16.
This weekend, the Greater Philadelphia Expo Center (100 Station Avenue, Oaks, 484-754-3976, http://toomanygames.com) will present the "Too Many Games Expo."
The festival, which runs now through June 26, is targeted for anyone interested gaming — from Magic the Gathering and Pokemon card competitions to the vast world of video game consoles.
There will be all types of video gaming tournaments including Mario Kart 8, Mortal Kombat X, Super Smash Bros, Warlords and Pokémon Oras.
There will also be live music all three days. Some of the featured acts will be Rex Viper, Tiko, Super Monster Party, and Psychostick.
Visitors to the event are encouraged to dress up as their favorite characters for a chance to win prizes and to get their outfit on a Cartoon Network commercial.
Ticket prices start at $35.
The Elmwood Park Zoo (1661 Harding Boulevard, Norristown, www.elmwoodparkzoo.org) has several upcoming special events.
On June 25 and 26, the Zoo is hosting "Breakfast with the Giraffes."
Guests can enjoy a delicious, socially distanced outdoor breakfast buffet, right next to the zoo's three towering giraffes. After participants have cleared their plates, they will be invited to an exclusive giraffe feeding.
The breakfast will get underway at 8:30 a.m.
The Zoo will have another animal-themed special activity on June 24, 26 and 29 30 called "Dog Days."
All guests visiting the zoo with a furry friend must complete an online waiver and submit required documents before visiting the zoo. You must upload a copy of your most recent veterinary visit, including proof of vaccine and heartworm test here. All items will be required for you to attend "Dog Days."
The "Dog Days" event is slated to run from 1-5 p.m. It will also be held on selected dates throughout June.
Pricing is $10.95 per dog with each additional dog at $9.95. Regular zoo admission is required for all humans.
Sesame Place (100 Sesame Road, Langhorne, www.sesameplace.com) is presenting its "Summer Fun Fest" now through September 4.
There's something special about summer at Sesame Place. It's a great time to cool off with refreshing water attractions for all ages — from Big Bird's Rambling River to The Count's Splash Castle. Fun for everyone can also be found with family rides like Captain Cookie's High C's Adventure and Oscar's Wacky Taxi Roller Coaster.
Summer is perfect for meeting your favorite furry friends and taking bright, beautiful pictures with them. The park also has exciting shows, special events, parades, dance parties, character dining experiences, and other surprises lined up to give visitors even more ways to connect.
June 25 and 26 is "Mecha Builders Giant Weekend" with a "Giant Inflatable Mecha Cookie Monster" towering 30 feet tall on display near Oscar's Wacky Taxi from 10 a.m.-7 p.m.
Visitors can view episodes of "Mecha Builders" on the big screen near the "Giant Inflatable Mecha Cookie Monster" between the hours of 10 a.m.-2 p.m. and 4-6 p.m.
There will also be fun activity sheets and episodes of "Mecha Builders" at Sesame Studio Theater from 10 a.m.-5 p.m.
Ticket prices for Sesame Place start at $49.99.
Peddler's Village (Routes 202 and 263, Lahaska, 215-794-4000, www.peddlersvillage.com) is celebrating the final weekend of its "Peddler's Village Summer Block Party!" on June 25 and 26.
Every weekend through the month of June, visitors can enjoy live entertainment, plenty of delicious food and drink specials, family-friendly activities and more across all five Village neighborhoods.
They can enjoy lunch or dinner in one of the many Village restaurants and eateries, cool off in chic boutiques and specialty shops, and play arcade games or ride the antique carousel at Giggleberry Fair.
Peddler's Village shops will be open until 8 p.m. on Saturday. Admission and parking are free. Event is rain or shine.
Every Sunday, the Village will host string bands — famous Mummers string bands including Jersey, Aqua, Ferko, and Uptown.
Each weekend, Peddler's Village will host talented musicians, entertainers, and fantastic food trucks, plus kids crafts, family-friendly activities, and more.
The entertainment schedule for June 25 features Borderline, Ridiculous Nicholas, Cheddar Boys and DJ Dwayne Dunleavy.
The entertainment schedule for June 26 features Dirk Quinn Band, Galena Brass Band, Cheddar Boys, Big Chill and DJ Dwayne Dunleavy.