By Denny Dyroff, Entertainment Editor, The Times
Father's Day is a holiday of honoring fatherhood and paternal bonds, as well as the influence of fathers in society. In Catholic countries of Europe, it has been celebrated on March 19 as Saint Joseph's Day since the Middle Ages.
In the United States, Father's Day was founded by Sonora Smart Dodd and celebrated on the third Sunday of June for the first time in 1910. Sonora Smart Dodd (February 18, 1882 – March 22, 1978) was the daughter of American Civil War veteran William Jackson Smart,
Father's Day is held on various dates across the world, and different regions maintain their own traditions of honoring fatherhood.
This year, Father's Day falls on June 19 and there are plenty of special activities celebrating dear old dad.
The West Chester Railroad (Market Street, West Chester, 610-430-2233, www.westchesterrr.net) is running its special "Father's Day Express" on June 19 at noon and 2 p.m.
The ride treats dad to a 90-minute round trip train ride from West Chester to Glen Mills and return on his special day. During the brief layover in Glen Mills, passengers will be able to explore the historic Glen Mills train station as well as the railroad's picnic grove along the Chester Creek.
All dads ride for a special reduced fare. Tickets are $20 for adults, $15 for children (ages 2-12) — and $5 for fathers.
The Wilmington & Western Railroad (2201 Newport Gap Pike, Wilmington, Delaware, 302-998-193, www.wwrr.com) will run its "Father's Day Express" on June 19 at 12:30 and 2:30 p.m.
This event, which is powered by one of the rail line's historic steam locomotives, is a leisurely 1.5-hour round-trip train ride to the Mt. Cuba Picnic Grove, which includes a half-hour layover at the picnic grove
Tickets are $18 for adults, $17 for seniors and $16 for children (ages 2-12). On this special day, dads ride for half-fare.
Chaddsford Winery (Route 1, Chadds Ford, 610-388-6221, www.chaddsford.com) will also be celebrating Father's Day with "Father's Day Weekend" on June 18 and 19 – 11 a.m.-7 p.m. on Saturday and 11 a.m.-6 p.m. on Sunday.
Dads can treat their taste buds with wine tastings, wine cocktails and wine slushies from the Chaddsford Slushie Shack.
Weekend features include special prices on Chaddsford's The Red Standard, Harbinger, and Sunset Blush in a Backyard BBQ Flight/Pack ($15/$55) available for one weekend only.
Featured menu offerings are Grape Crush Slushie, Good Vibes Only Spritzer and Backyard BBQ Flight.
Guests can aloe enjoy food truck fare from Common Good Pizza.
Winterthur Museum, Garden & Library (Route 52, Wilmington, Delaware, 800-448-3883, www.winterthur.org) has attractions both indoors and outdoors going on right now.
This weekend, there is a special event not specifically a "Father's Day Event" but is an event for fathers and their kids to bond.
On June 18 from 11 a.m. – 3 p.m., the historic site, which is located on Route 52 in northern Delaware just south of the Pennsylvania state line, hosts its annual Enchanted Summer Day — the day when Winterthur's Enchanted Woods celebrates its anniversary.
Enchanted Summer Day features crafts displays, live entertainers and food concessions. There will be an array of family activities, including storytelling, face painting, kids' games and strolling entertainment.
Hoop chasing, ring toss, and the Game of Graces will be played on the lawn north of Enchanted Woods.
Crafts include making tiny turtle puppets, bug-eyed visors, and fluttering friends. Children can make their own flying Bee Buzzer, Colorful Critter necklace, Silly Spider ring, or decorate a Fluttering Frisbee.
Enchanted Woods is a unique children's garden at Winterthur — a three-acre area where the "fairy folk" have created a magical garden for children of all ages. The site, which is situated under a canopy of majestic oak trees, features attractions such as the Tulip Tree House, Green Man's Lair, the Troll Bridge and the Faerie Cottage.
Enchanted Woods is located within the larger 60-acre garden at Winterthur, the former country estate of Henry Francis du Pont. Winterthur is famous for its world-class collection of over 85,000 American antiques.
Food and beverages available for purchase, including ice cream from Woodside Farm Creamery.
There are also many other family friendly activities at Winterthur.
There seems to be no end to what's in bloom — and in almost every corner of the garden. Azalea Woods is at its breathtaking peak with its paths lined with azaleas in shades of red, pink, salmon, and white.
You can follow the white arrows through the garden or choose your own path. Visitors can discover the beauty and fragrance of the masses of lilac bushes and enjoy the showy display in Enchanted Woods and by the Reflecting Pool.
Winterthur is also featuring a Guided Exhibition Tour – "Jacqueline Kennedy and Henry Francis du Pont: From Winterthur to the White House" – now through January 8, 2023.
Visitors can explore the friendship between the First Lady and H. F. du Pont and their work to restore the White House in this guided tour of the special exhibition.
In 1961, an unusual partnership was formed when the youngest First Lady in American history, Jacqueline Kennedy, appointed a reserved octogenarian collector from Delaware, Henry Francis du Pont, to lead her project to restore the White House interiors. Du Pont brought credibility to Kennedy's efforts and vision, and her enormous popularity lifted him onto the national stage and validated his life's work.
Together, they transformed the White House from a mere public residence into a museum, and along the way, they engaged with some of the most celebrated interior designers of the 20th century.
For the first time, the story of this historic partnership will be told at Winterthur, the inspiration for Mrs. Kennedy's project. Through artifacts, archives, and images, this exhibition will invite visitors to experience the behind-the-scenes collaboration between the two during this captivating period in American history.
Their partnership culminated in a televised tour of the White House, led by Jacqueline Kennedy, which became the most watched program in American history. The former First Lady will forever be remembered as the person who restored history and beauty to the White House.
Their "restoration" of America's most famous house became a history lesson for the country and awakened an interest in preservation and interior design that is still felt today.
Admission to Winterthur is $22 for adults, $20 for seniors and students and $8 for children.
On June 19, "Elmwood Park Zoo" (1661 Harding Boulevard, Norristown, www.elmwoodparkzoo.org) is extending an invitation – "Celebrate Father's Day with the entire family, including your furry family members, during our special Yappy Hour event! Enjoy live music, beer sampling, snacks, and a corn hole tournament at our Zoo Brew Beer Garden. Guests are welcome to walk the zoo's outdoor paths with their dog."
All guests visiting the zoo with a furry friend must complete an online application and submit required documents before visiting the zoo. You must upload a copy of your most recent veterinary visit, including proof of vaccine and heartworm test here. All items will be required in order for you to attend Dog Days or Yappy Hours.
Pricing for Yappy Hour, which runs from 5:30-8:30 p.m., is $15 per dog (includes admission for two humans) and $5 for each additional human guest.
The Zoo is also presenting "Breakfast with Giraffes" on June 18 and 19 at 8:30 a.m. each day.
Participants can enjoy a delicious, socially distanced outdoor breakfast buffet, right next to the zoo's three towering giraffes. After plates are cleared, guest can enjoy an exclusive giraffe feeding.
The Zoo is also presenting several of its ultra-popular "Dog Days" over the next week.
The Zoo's "Dog Days" event will be held on June 17, 19 and 22 from noon-4 p.m. each day.
All guests visiting the zoo with a furry friend must complete an online waiver and submit required documents before visiting the zoo. You must upload a copy of your most recent veterinary visit, including proof of vaccine and heartworm test here. All items will be required for you to attend "Dog Days."
Pricing is $10.95 per dog with each additional dog at $9.95. Regular zoo admission is required for all humans.
This will be the final weekend that Sesame Place (100 Sesame Road, Langhorne, www.sesameplace.com) will be presenting "Elmo's Springtacular." The event draws to a close on June 19.
"Elmo's Springtacular" at Sesame Place is filled with furry fun and exciting events – including an exciting line up of meet & greets, music, magic, pirate adventures, and fireworks.
This weekend, it's time for Sesame Place's special event – "Father's Day Fan Fest."
Visitors to Sesame Place this weekend can celebrate their dads with a sports fan fest at Sesame Place.
Father's Day Fan Zone Festivities include special meet & greets, photo opportunities, games and more.
As an added attraction, dads get a free gift at the Dine with Elmo & Friends character buffet.
There will also be "Mascot Meet & Greets' with Rocky Bluewinkle (Wilmington Blue Rocks), Phang (Philadelphia Union) and Phillie Phanatic (Philadelphia Phillies).
Guests can also take a spin on the rides, catch their favorite Sesame Street shows and be entertained by the Sesame Street Party Parade.
On June 19, the Colebrookdale Railroad (South Washington Street, Boyertown, www.colebrookdalerailroad.com) is running its "Father's Day Beef and Beer" excursion.
Dining and Garden Cafe cars will feature a Handcrafted Roast Beef Sandwich with Horseradish, Creamy Coleslaw, Potato Wedges and one complimentary Beer of your choice (21 and older.)
Children on board will enjoy Chicken Fingers w. Macaroni & Cheese.
First Class Parlor Car tickets include one complimentary beverage an hors d'oeuvre plate, and dessert. No Meals are served in First Class.
À la carte beverage service and light fare will be available for purchase throughout the train.
This will be a special weekend in Lancaster County for youngsters wishing to see one of their favorite television characters in person.
The Strasburg Railroad (Route 741, Strasburg, 717-687-7522, www.strasburgrailroad.com) is always one of the most popular spots around when it hosts "Day Out With Thomas."
There is a mutual love affair between kids and Thomas the Tank Engine and it's especially evident when Thomas gets up-close and personal with his fans during his visits to the Strasburg Railroad.
Every year, the steam locomotive named Thomas makes several visits to Lancaster County where he entertains enthusiastic children and their parents. The locomotive, which has its own PBS television series, will return to Strasburg for "Day Out With Thomas – Dream Big" now through June 20.
For more than 50 years, Thomas the Tank Engine and his Island of Sodor friends have been favorites of preschoolers and their parents. Based on "The Railway Series" (classic stories authored by a father who loved trains and wanted a shared experience with his son), "Thomas & Friends" has evolved into a rite of passage that inspires imagination.
Fans will be able to get personal with Thomas the Tank Engine, a full-sized operating steam locomotive who will be talking for the first time ever. And they will also be able to ride a train pulled by Thomas and meet the locomotive's buddy Percy.
Tickets for "Day Out With Thomas," which are $25, include the train ride with Thomas the Tank Engine, as well as a variety of Thomas & Friends themed entertainment such as storytelling, video viewing, temporary tattoos of Island of Sodor friends and an Imagination Station.
The Northern Central Railway (2 West Main Street, New Freedom, www.northerncentralrailway.com) is running its "Wild West Express" on June 18 at 11 a.m. and 1 p.m.
Passengers will witness the exploits of the infamous outlaws, Jesse James and Younger Gang.
During their trip to Glen Rock and back, they will experience train travel as it was in the Wild West when this notorious group held up trains and passengers.
The modern-day reenactors are using their skills for good, robbing the train for donations to Animal Rescue, Inc. Come out for a good time, and bring your donations for a great cause.
Tickets are $30 (13 and older) and $20 for children (ages 2-12).
If you enjoy walking around garden displays or if you like to look at model railroad layouts, then you should definitely check out the Garden Railway Display at the Morris Arboretum (100 Northwestern Avenue, Chestnut Hill, www.morrisarboretum.org).
The ultra-popular Garden Railway Display has become a major summer attraction at The Gardens at Morris Arboretum. The 23rd annual edition of the display has its official season opened in May and will continue until October 10.
The railway has a quarter mile of track featuring seven loops and tunnels with 15 different rail lines and two cable cars, nine bridges (including a trestle bridge you can walk under) and bustling model trains.
The buildings and the display are all made of natural materials – bark, leaves, twigs, hollow logs, mosses, acorns, dried flowers, seeds and stones – to form a perfectly proportioned miniature landscape complete with miniature rivers.
Philadelphia-area landmarks are all meticulously decorated for the holidays with lights that twinkle. There is even a masterpiece replica of Independence Hall are made using pinecone seeds for shingles, acorns as finials and twigs as downspouts.
The Garden Railway opens for the summer season Saturday, May 27, Memorial Day weekend. This year's theme — "America's Roadside Attractions," features miniature replicas of some of this country's most iconic roadside attractions including Randy's Donuts, the Jolly Green Giant, and the World's Oldest Largest Pecan.
Admission is $20 for adults; $18 for seniors (65 and older); $10 for students (ages 13-17 or with ID), active military and retired military; and free for children (under 3).
This is also the weekend for Juneteenth celebrations.
Juneteenth is the oldest nationally celebrated commemoration of the ending of slavery in the United States. On June 19, 1865, Major General Gordon Granger arrived in Galveston, Texas and announced the end of both the Civil War and slavery.
General Granger's announcement put into effect the Emancipation Proclamation, issued by President Abraham Lincoln, which had legally freed slaves on January 1, 1863, almost 2½ years earlier. Many slaves, particularly in Texas and other southwestern states were not informed of the Emancipation Proclamation until General Granger's announcement.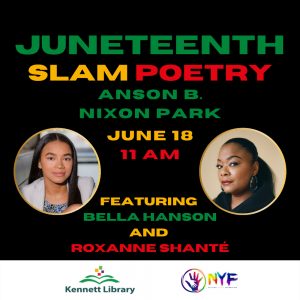 Kennett Library and National Youth Foundation are pleased to announce their partnership to bring slam poetry to Kennett Square to celebrate Juneteenth.
Kennett Square's Juneteenth Slam Poetry (historickennettsquare.com) will be held June 18 staring at 11 a.m. at Anson B. Nixon Park.
The Juneteenth celebration in Kennett Borough will focus attention on the important role that this small town and surrounding area played in the quest for freedom with a focus on the underground railroad and the role abolitionists, black and white, played in assisting freedom seekers to escape from slavery.
Guests will enjoy inspirational poetry, music, family fun, and more. The event will feature hip hop icon Roxanne Shante and local student Isabella Hanson, Founder of the international "I Matter" poetry contest and winner of the 2022 Princeton Prize.
This event is free and open to the public.
Juneteenth in Phoenixville (www.eventbrite.com/o/juneteenth-phoenixville) will be held on June 19 from 2-6 p.m.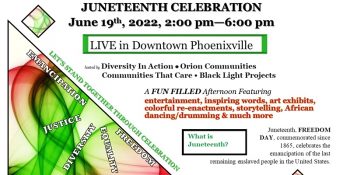 Phoenixville's Juneteenth celebration features historical reenactors, music, dancing, drumming, street theater, soul food and storytelling along the 200 block of Bridge Street.
Juneteenth National Freedom Day illuminates the fact that slaves celebrated the abolishment of slavery with excitement and great joy. It is a reminder to all Americans of the status and importance of Americans of African descent as American citizens. For more than 140 years, Juneteenth National Freedom Day has been the oldest African American holiday observed in the United States.
Juneteenth has been commemorated in Phoenixville in the past and returned to our community in 2021 with a week-long series of virtual events that were educational, entertaining, and inspirational.
This year, Diversity In Action along with Black Light Projects, Communities That Care, and Orion Communities have organized a special collection of activities to engage the community and shed light on the importance of African American history in the United States and our community.
Delaware County (www.delcopa.gov) will hold a Juneteenth Celebration from 1-5 p.m. on June 19 at Rose Tree Park (1671 N. Providence Road, Media.
The celebration, hosted by Delaware County Council, the Delaware County Veterans Memorial Association, and Taylor Made Vets, will feature live music, artistic performances from local schools, vendors, food, and more.
Delaware County's Juneteenth Celebration will feature headline performances by Dell-P and the Children of Adam Band, as well as artistic performances from local students.
The celebration will also showcase some of Delaware County's local business owners selling artwork, jewelry, crafts and more, various food trucks, and resources from local organizations across the county. The event is free for residents of all ages and will be held rain or shine.
Prior to the celebration in Rose Tree Park, The Delaware County Veterans Memorial Association and Taylor Made Vets will hold a Juneteenth Ceremony at 9 a.m. at The Delaware County Veterans Memorial located at 4599 West Chester Pike, Newtown Square.
On June 18, the 2022 Juneteenth Festival in Germantown (www.freedomsbackyard.com) will be held along the 6300 Block of Germantown Avenue.
Midway through June each year, Historic Germantown honors the end of slavery in the U.S. during its annual Juneteenth Festival at The Johnson House.
The community festival begins with the Freedom Walk on Germantown Avenue leading up to a day of performances, family-friendly events and educational activities teaching visitors about the history of anti-slavery and abolitionist movements.
The event begins at 11 a.m. on Germantown Avenue.
The list of attractions includes historical re-enactments, food, live music, a cultural marketplace, a Beer Garden, t and guided tours of the Concord School House and Upper Burying Ground.
Concord School House and Upper Burying Ground was established in 1693 and is one of the two oldest cemeteries in Germantown and one of the oldest in the Philadelphia region. The Concord School House, built in 1775 and expanded in 1818, is an intact nineteenth-century schoolroom which occupies a corner of the Burying Ground.
Laurel Hill Cemetery (3822 Ridge Avenue, Philadelphia, 215-228-8200, www.thelaurelhillcemetery.org) will present a Juneteenth themed tour – "To Set Them Free: An Abolitionism Walking Tour of Laurel Hill" – on June 19 from 1-3 p.m.
This event is part of the site's 2022 Juneteenth programming, which is free to the public. The Juneteenth programming also includes a showing of "Glory" (1989) and a virtual panel presentation titled "Glory, the United States Colored Troops, and Laurel Hill: Remembering the Past" on June 21.
Philadelphia played a central and indelible part in the struggle to end the evil that was slavery, even as the city itself was sharply and fiercely divided on the issue.
Many Philadelphians who made it their purpose to crusade against the institutionalized bondage of African Americans did so against great opposition and often, great personal danger. Yet, they fought unflinchingly, eventually leading to the Emancipation Proclamation issued on January 1,1863.
On this tour, hear the tales of their struggles and courage as we remember those who fought the good fight against that terrible scourge.
The tour guide will be Russ Dodge.
Admission is free but RSVP Required.
Summertime means festivals and country fairs. The attraction of a summer fair is timeless.
From June 21-25, the sights, sounds and smells of a summertime fair will be filling the air in Downingtown when Saint Joseph Church (338 Manor Avenue, Downingtown, 610-269-8294, www.stjoesfestival.com) hosts its annual "Community Festival."
The event will feature all the traditional things associated with a summer festival — including exciting rides and amusement games. There will also be food concessions with all the standard festival fare — cotton candy, ice cream, hot dogs, hamburgers, popcorn, corn dogs, soft pretzels and cheese fries along with mozzarella sticks, tomato pie and hot roast beef sandwiches.
The roster of music acts includes DeLaSalle String Band, Downingtown School of Rock, Fuse Box, Deck 5, and the Bryan Tuk Complex.
The St. Anthony's Italian Festival (St. Anthony of Padua Church, 901 North DuPont Street, Wilmington, Delaware, 302-421-2790, www.stanthonysfestival.com), which is running through June 19, features cafes, carnival rides, live Italian music and amusement games.
This festival is more than just a carnival with rides and food. It also is an educational experience with a focus each year on a different cultural region in Italy. In 2019, the festival theme will be "Best of Italy."
Over the past several years, the festival has focused on the art, architecture, food, and traditions of various regions — one region per year. For 2019, it will celebrate all that makes Italy and the Italian lifestyle the envy of much of the world.  There will be culinary highlights from various regions at the cafes and vendor locations, handcrafted Italian home decor items at Il Mercato, and Italian classical and contemporary music at concerts in the church and on the festival's entertainment stages.
The St. Anthony's Festival has become famous for its array of tasty Italian food.
Visitors will be able to enjoy such taste treats as spezzato, pizza, sausage and peppers, panzarotti, porkette, clams and spaghetti, pasta fagioli, pizza frita, meatball sandwiches, mozzarella sticks, calamari rings, spaghetti dinners and fresh espresso and cappuccino.
There is a $5 admission fee for all visitors ages 14-61. Seniors (age 61 and older) and children (age 13 and under who are accompanied by parent or guardian 18 or older) will be admitted free.
Now through June 18, the 31st Annual Clifford Brown Jazz Festival will be held in Rodney Square (11th and Market streets, Wilmington, 302-576-3095, www.cliffordbrownjazzfest.com).
The free festival started on June 15 with internationally acclaimed bassist, Stanley Clarke with Rayford Griffin and Joe Chambers as the opening acts and close on June 18 with Regina Carter as the day's headliner.
The 2022 Mainstage Lineup in Rodney Square features top-flight acts such as Chucho Valdés & Paquito D'Rivera, Stokley, Rebirth Brass Band, David Sanchez, Cintron, Maysa, Ernest Stuart & Thr3zus, Immanuel Wilkins, Lynn Riley & The World Mix, Spartan Alumni Jazz Band and Tony "Big Cat" Smith.
The 18th Annual Sugar Cane Festival (apmphila.org) is scheduled for June 18 from noon-4 p.m. at Sixth Street and Germantown Avenue.
The Festival, which is sponsored by APM (Asociación Puertorriqueños en Marcha), has grown this year and now will fill three blocks.
Attendees will be able to enjoy tasty food and great music performed by Tito Puente Jr.
There will also be a children's area with face painting, balloon animals, and DIY carnival games.
The Festival honors the historic significance of the sugarcane crop for generations of Puerto Ricans and recognizes the sugarcane workers who migrated from the island nation to Philadelphia to work in the refinery.
The sponsors will again have pavas and sugarcane to hand out to Festival attendees.
The Festival is free and open to the public.
March-Out of the Continental Army at Valley Forge National Historical Park (www.nps.gov/planyourvisit) will be held on June 19 to commemorate the day that the Continental Army marched out of Valley Forge after their six-month winter encampment, on June 19, 1778.
Special activities and programs will take place throughout the park from 9 a.m-5 p.m.
Featured events will be: "What's in a Day" activity (Visitors Center); Special Exhibit Display — "A Global Conflict: How Colonialism made the American Revolution a World War (Visitors Center); "Any Day Now" (Muhlenberg's Brigade); "Civilian Life After the Encampment" (Washington's Headquarters); "Ned Hector and the History of Black Soldiers in the Revolutionary War" (Artillery Park); and "In Their Own Words" (von Steuben Statue).
The PHS Philadelphia Flower Show (phsonline.org) has been a staple in Philadelphia since 1829. The massive annual show, which is the nation's longest-running horticultural event, typically draws more than 250,000 people to Philadelphia every year.
The show, which is presented every year by the Pennsylvania Horticultural Society and celebrated its 190th anniversary in 2019, treats visitors to a spectacle of floral displays in every size, style and shape imaginable.
Each year, the show seems to get bigger and better. Each year's event has the vibe of being special – different from its predecessors.
Last year, the PHS Philadelphia Flower Show was totally different from all previous editions.
Like many other iconic events, the Flower Show made pandemic-influenced changes for 2021. The spectacular display took place entirely outdoors for the first time ever.
This year, the show is back and will run now through June 11 in South Philadelphia's FDR Park, which is located at South Broad Street and Pattison Avenue.
The 2022 show uses South Philadelphia's expansive and lush FDR Park as the setting for its breathtaking displays by the world's premier floral and landscape designers. As always, the annual gardening celebration features top-of-the-line horticulture and landscape design, demonstrations, entertainment, themed nights and a marketplace.
Visitors will be able to see exceptional beauty, learn from a diverse line-up of designers and leading horticulturalists, and enter a new gardener-centric experience that invites everyone at all skill levels to nurture a lifelong connection to plants and gardening.
There are several interesting "Major Exhibits" including "The Garden for the Greater Good" as well as displays by Ann-Marie Powell, FÊTE URBANE, Martha Schwartz Partners, Refugia Design, and Wambui Ippolito
Each day, gardening experts will be on hand to provide visitors with a personalized experience, sharing ideas, solutions, and inspiration specific to unique tastes, growing conditions, and amount of gardening space.
Timed tickets are required and include admission to the American Swedish Historical Museum, also located in FDR Park. Admission prices for the 2022 PHS Philadelphia Flower Show are Adult, $45; Young Friend (18-29), $30; and Child (ages 5-17), $20.
The Brandywine Valley has quite a few museums and tourist sites that provide residents and tourists ideal opportunities to spend leisure time — and you can maximize your effort if you take advantage of the 2022 Brandywine Treasure Trail Passport.
The cost is $49 for an individual pass and $99 for a family pass (for up to five family members).
The Brandywine Treasure Trail Passport is good for one-time admission to Wilmington and the Brandywine Valley's top attractions now through October 31.
A family pass, which includes one-day admission to each of 12 sites, can bring a savings of over $200 for the holders — especially since many of the participating institutions have regular admission fees in double figures.
The list of locations covered by the Brandywine Treasure Trail Passport includes Longwood Gardens, Delaware Museum of Nature and Science, Brandywine River Museum, Delaware Art Museum, Delaware History Museum, Hagley Museum and Library, Delaware Center for Contemporary Arts, Nemours Mansion & Gardens, Read House and Garden, Mt. Cuba Center, Rockwood Museum and Winterthur Museum, Garden & Library.
For more information, call (800) 489-6664 or visit www.visitwilmingtonde.com/bmga/.
Longwood Gardens (Route 1, Kennett Square, www.longwoodgardens.org) is inviting visitors to enjoy the beauty of late spring.
The biggest attraction at Longwood right now is the "Festival of Fountains," which is running through September 29.
With fountains that jet as high as 175 feet, gardens filled with colorful summer blooms, shade-friendly trees, exotic day- and night-blooming waterlilies, and live music outdoors, Longwood Gardens has something for everyone.
The "Festival of Fountains" began in May and all the popular attractions are going full swing – include in Longwood Gardens' Open Air Theatre, Italian Water Garden Square Fountain, Round Fountain (Flower Garden Walk), Sylvan Fountain (Peirce's Park), and Children's Corner fountains.
The season of renewal and growth has started.
As the season unfolds, flowering trees delightfully punctuate the landscape, radiant tulips stretch toward the sun, and the delicious fragrance of wisteria floats along the breeze.
Visitors can also enjoy special exhibits at the Orchid House.
Admission to Longwood Gardens is $25 for adults, $22 for seniors and college students, $18 for active military and $13 for youth.
For a fun and educational day for you and your children, consider a visit to the Brandywine River Museum (Route 1, Chadds Ford, 610-388-2700, http://www.brandywinemuseum.org).
The Museum will be open from 9:30 a.m.-4:30 p.m. with admission to the galleries including two featured exhibitions, "Gatecrashers: The Rise of the Self-Taught Artist in America" and "Dawoud Bey: Night Coming Tenderly, Black."
A delightful destination to enjoy flowers in bloom is Tyler Arboretum (515 Painter Road, Media, 610-566-9134, www.tylerarboretum.org).
On June 18, Tyler is hosting "Saturday Wildflower Walk – Summer Explorations" from 5-7 p.m.
Participants can join wildflower expert Dick Cloud on an informative two-hour hike that will take them through Tyler's spring scenes of meadows, woods, and occasionally streamside. Some of the destinations are Indian Rock on the Blue Trail, Dismal Valley on the Orange Trail, Dogwood Circle on the Red Trail, and the Shade Tree Nursery, which is on the White Trail.
Other activities this weekend are the "American Chestnut Tour" June 18 at 10:30 a.m. and the "Bluebird Nesting Box Tour" on June 19 at 1 p.m.
Additionally, "Weekday Bird Walks: Limited Edition" are scheduled for every Wednesday in May from 8-10 a.m.
Walks are rain or shine. Tickets are $15 and include admission to Tyler for the day.
Penns Wood Winery (124 Beaver Valley Road, Chadds Ford, http://www.pennswoodsevents.com) will present "Live Music on the Lawn" every weekend in June.
The schedule for June 18 at Penns Wood Winery features from Dan Kaufman from 2-5 p.m.
The schedule for June 19 features Jeff Kessler from 2-5 p.m.
The annual Wayne Art Center Plein Air Festival will be held now through June 25 at the Wayne Art Center (413 Maplewood Avenue, Wayne, www.wayneart.org).
"En plein air" is the act of painting outdoors. This method contrasts with studio painting or academic rules that might create a predetermined look. The practice goes back for centuries but was truly made into an art form by the French Impressionists.
Fresh off the easel, more than 250 works adorn Wayne Art Center's walls showcasing the artists' individual interpretations of life and landscapes.
The Historic Odessa Foundation (Main Street, Odessa, Delaware, www.historicodessa.org)  is now presenting its first spring art exhibition — "Seasons: Pastels by Katie Cassidy."
The exhibit of colorful pastel drawings by the talented Easton, Maryland artist is on display now through June 26, in the Historic Odessa Visitor Center Gallery.
Cassidy is well known for her light filled impressions of flowers and landscapes. Cassidy's passion for both pastels and oils is rivaled only by the dedication to her students at the Academy Art Museum in Easton, on Maryland's Eastern Shore, where she has taught for 18 years and been Director of the Adult Education program for 12.
Cassidy graduated with a BFA in Studio Art from the University of Maryland at College Park and has travelled extensively to Ireland, Italy and France, as well as the American Southwest, where the land and people bring constant freshness to her art.
An award-winning artist, she is well known for her comprehensive knowledge of the basics and techniques of many mediums, especially charcoal, oil and pastel.
Fort Mifflin (Fort Mifflin and Hog Island roads, Philadelphia, 215-685-4167, www.fortmifflin.us) is hosting an event called "Mud Island Hot Jazz Lawn Party" on June 18.
Visitors can step back in time for a day full of Jazz-Age fun at the Mud Island Hot Jazz Lawn Party.  This expansive indoor/outdoor fundraising event, held on the beautiful and historic grounds of Fort Mifflin, supports operations and educational programming at the most unique historic site in Philadelphia.
Instructions to guest are — Dust off your dancing shoes and press your party clothes, then join us for a lovely 1920s-style afternoon. You'll swing, swig, and swoon at the music, the dancers, and the vintage offerings on display.
The Mud Island Lawn Party features: Live music by Drew Nugent and the Midnight Society, Domingo Mancuello, and The Keating Jazz Orchestra; Performances by the Old City Sweethearts; Complimentary non-alcoholic beverages (including water and juice to keep you hydrated); Full service bar provided by Warehouse on Watts (pay as you go); Delicious snack and dining options; The Casemate Cinema featuring silent movies of the era, and exhibits by the Museum of Interesting Things; Access to a variety of vendors, including delicious food and drink, vintage clothing, accessories, vintage-themed photo booth, tarot readings, and more; Silent Auction with lots including a private Candlelight Ghost Tour for you and 20 friends; and Best Dressed contests.
General admission is $45 in advance or $60 at the gate.
As part of Historic Philadelphia's anniversary celebration at Franklin Square (200 Sixth Street, Philadelphia, www.historicphiladelphia.org), the organization is illuminating the park with its annual Chinese Lantern Festival.
From June 21 through August 7, Franklin Square (http://historicphiladelphia.org/chineselanternfestival/) will come alive every night with its Chinese Lantern Festival featuring more than two dozen illuminated lanterns – all constructed by lantern artisans from China.
Chinese-inspired performances will take place in Franklin Square twice nightly. Performances, which celebrate Chinese performance art and entertainment, are 30-minutes long and are scheduled for 7 and 9 p.m.
Festival hours are 6-10 p.m. Sunday through Thursday and 6-11 p.m. on Friday and Saturday. Admission is $20 for adults, $18 for youth, seniors and military, and $12 for children (ages 3-12).
Hope Lodge (553 South Bethlehem Pike, Fort Washington, 215-343-0965, http://www.ushistory.org/hope/) will be presenting "Guided Mansion Tours" on Jun 19.
Hope Lodge was built between 1743 and 1748 by Samuel Morris, a prosperous Quaker entrepreneur. Morris acted as a farmer, shipowner, miller, iron master, shop owner, and owner of the mill now known as Mather Mill. Hope Lodge is an excellent example of early Georgian architecture, and it is possible that Edmund Woolley, architect of Independence Hall, offered advice in building. Samuel Morris owned the estate until his death in 1770.
Visitors can participate by watching a short film and then taking a tour. Guided tours of the mansion will depart at 1 and 2:30 p.m. all three days.
Tour admission is $8 for adults, $5 for seniors (age 65+) and for youth age 6-17, and fee for children under 5. Hope Lodge is a Blue Star Museum which means that active-duty military personnel, including National Guard and Reserve and their families, are admitted free for regular tours from Memorial Day through Labor Day.
Wonderspaces at the Fashion District (27 North 11th Street, Philadelphia, philadelphia.wonderspaces.com) is an experiential, interactive arts venue.
Building on the success of annual pop-up shows in San Diego, and its first permanent location in Scottsdale, Arizona, Wonderspaces opened a 24,000 square foot gallery space in Philly a year ago.
Wonderspaces features 14 art installations that all play with the idea of perspective.  The artwork ranges from award-winning virtual reality short film about a dinner party-turned-alien abduction, to a room where visitors digitally paint the walls with the movement of their bodies.
New artworks rotate in every few months, creating an ever-evolving, year-round show.
Tickets are for entry at a specific date and time. Visitors are welcome to stay as long as they please during operating hours. The average time spent experiencing the show is 90 minutes.
A few installations contain flashing lights, images, and patterns that may trigger seizures for people with photosensitive epilepsy. All visitors must sign a waiver prior to being admitted into the space. Adult supervision is required for visitors under 16.
On June 17 and 18, Intercourse Community Park (3730 Old Philadelphia Pike, Gordonville, 717- 768-8585, http://www.intercourseheritagedays.com) will host "Intercourse Heritage Days."
Activities will include "A Taste of Intercourse," a pedal tractor pull, a spelling bee, a volleyball tournament, a baking contest, music by the Summit Hill Bluegrass Band, and the "Heritage Display of History of Intercourse."
Also featured will be the "Pancake and Sausage Breakfast in the Park," and juggler Chris Ivey. Saturday's schedule also features balloon twisting and face painting, "A Taste of Intercourse," a "Kids Variety Show," an antique tractor show and a fireworks display at dusk (Saturday only).
"Heritage Events," which will be presented throughout the day, include demonstrations of horseshoeing, butchering, sling shooting, and wood carving.
Grim Philly's "Dark Philly History Tour" (www.grimphilly.com) will be held every evening throughout the summer.
Participants can walk with tour guides from the grounds of America's first White House, Congress, and Liberty Bell to homes and sites of Hamilton, Washington, Franklin, Adams, Jefferson, Madison, Monroe, and more than 10 other Founding-Fathers. The surprising dirt of espionage, murder, sexual license and blackmail highlight the secrets of 1776 with a ghost story or two along the way. This tour is highly researched. And your guide is a historian.
Grim Philly will also be presenting "Serial Killers & Cemetery Tour" every Saturday at 2 p.m.
Participants will have the opportunity to experience unconventional sightseeing off the beaten path. They can enjoy Betsy Ross House, Christ Church, Elfreth's Alley, and Benjamin Franklin's Grave, together with tales of serial slayings and psychopathic killers like the Corpse Collector, Frankfort Slasher, and H.H. Holmes.
Ghost Tour of Philadelphia (215-413-1997, www.ghosttour.com), Ghost Tour of Lancaster (717-687-6687, www.ghosttour.com) and Ghost Tour of Strasburg (717-687-6687, www.ghosttour.com) operate throughout the winter and offer an eerily entertaining evening of true ghost stories and real haunted houses.
The Ghost Tour of Philadelphia, which is based on the book, "Ghost Stories of Philadelphia, PA.," is a candlelight walking tour along the back streets and secret gardens of Independence Park, Society Hill, and Old City, where ghostly spirits, haunted houses, and eerie graveyards abound.
Participants can discover the ghost lore of America's most historic and most haunted city with stories from the founding of William Penn's colony to present-day hauntings.
The activity is open year-round – weekends, December-February; every night, March-November. Tickets are $24.
The Ghost Tour of Lancaster and the Ghost Tour of Strasburg are based on the book, "Ghost Stories of Lancaster, PA."
Participants in the Ghost Tour of Lancaster explore the long-forgotten mysteries of one of America's oldest cities, with haunting tales of otherworldly vigils, fatal curses, and star-crossed lovers. The tour provides the opportunity to experience 300 years of haunted history from the Red Rose City's thorny past. Tickets are $18.
The Ghost Tour of Strasburg is a candlelight walking tour of the quaint and historic town of Strasburg in the heart of Pennsylvania Dutch Country. Visitors will experience an entertaining evening with a costumed tour guide spinning tales of haunted mansions, eerie graveyards, and spirits that roam the night … in a town lost in time. Tickets are $18.