By Denny Dyroff, Entertainment Editor, The Times
Summer has arrived – unofficially last weekend and officially three weeks from now. The weather is warm, school is almost done for the year and municipal and private pools are open.
Another sure sign is the arrival of the annual Rotary Club of Coatesville's Strawberry Festival.
This weekend, the 48th Annual Strawberry Festival will take place on the former grounds of the Brandywine Hospital (201 Reeceville Road, Coatesville, 610-380-9080,www.brandywinestrawberryfestival.com).
The free event, which is running now through June 5, features a variety of food vendors, a run and a family fun walk, amusement rides, live entertainment, an arts-and-crafts show, children's games and, of course, strawberry shortcake.
The list of attractions also includes "Strawberryland," an international food fair, a "Craft, Artist and Business Vendor Fair," the "Strawberriest Kid Contest" and raffle drawings.
"Strawberryland" features a wide array of activities for young kids, including a Moon Bounce, an inflatable obstacle course, inflatable slides, carnival games and the "Strawberry Train."
The roster of live entertainment includes All for One, Anker, Cosposapian Jazz Collection, Disruption, Dog's Dinner Band, Exit Strategy,  Four Way Street Band, Innovative Performing Arts Center, Kindred Cross, Love Runs Rampant, Lukens Band, School of Rock, Parting Sevens, Rick's Office Band, Russells Dance & Baton, Shannon Cooper's Academy of Dance and Steel City Dance & Gymnastics.
There will also be performances by Cirque Adventure on June 4 at 2. 4:30 and 7 p.m. and June 5 at 2:30, 4:30 and 6 p.m.
The festival also features a spectacular fireworks display on May 31 at 9:45 p.m.
This weekend, it's also time for the annual Strawberry Festival at Linvilla Orchards (137 West Knowlton Road, Media, 610-876-7116, www.linvilla.com). The free festival will be held Saturday June 4 from 9 a.m.-5 p.m. on Linvilla's grounds in Media.
The festive event will feature children's entertainment, hayrides, pony rides, face painting, costumed characters, children's games and contests, live music, ice cream sundaes, giant strawberry shortcake and strawberry treats.
Linvilla Grill will be serving hamburgers, pizza, fries, Ship Bottom Beer Garden, and corn roasting favorites, Roasty Toasty.
Other special attractions will be the Delaware Valley's largest Strawberry Shortcake, special appearances by Silly Joe, the Ridiculous Nicholas Comedy Variety Show and the Ultimates.
You still have a few days left to catch one of the area's top festival events — the Devon Horse Show (Lancaster Avenue, Devon, 610-688-2554, www.devonhorseshow.org).
This year's 126th Annual Devon Horse Show and Country Fair is running now through June 5.
The Devon show is more than just another annual equestrian event. It is a family event that spans generations and traditionally marks the start of summer.
More than 3,000 horses are entered in the Devon Horse Show in over 30 divisions and more than 200 classes with prize money totaling over a quarter of a million dollars. The equestrian competition reaches its peak the final few days with the Devon Grand Prix and the Idle Dice Open Jumper Stake.
The Country Fair has food concessions, a garden café, sales booths featuring antiques, toys, hand-crafted items, Devon Horse Show souvenirs and over 30 other shops with jewelry, art, clothes and equestrian-related items. And there is the Midway with its huge ferris wheel, old-time carousel and wide array of amusement rides and games.
Admission is $20 for adults and $8 for children (under 12) and seniors (over 65).
The 2022 Chester County Blues Barbecue will be held on June 4 at Wyndsor Farm (2550 Ridge Road, Elverson, http://www.chestercountyblues.com).
The 11th annual staging of the event, which is sponsored by the Coventry Lions Club, is slated to run from 2-7 p.m.
The festival is featuring four headline blues acts –Voodoo DeVille, Slidewinders, Nate Myers and the Aces and Rick Estrin & the Nightcaps.
Award-winning San Francisco Bay-area blues band Rick Estrin & The Nightcats, two-time winners of the prestigious Blues Music Award for Band of The Year, will headline the Chester County Blues Barbecue on June 4. Their latest Alligator Records release is 2019's "Contemporary."
Tickets are $15. Food, refreshments and beer will be available for purchase from vendors on site. Admission ticket does not include food and beverage.
The Blues Barbecue will be held June 4 — rain or shine. There is a large tent for shelter and attendees are welcome to bring their own canopies.
On June 5, the Upper Main Line Memorial Association will sponsor the 153rd Annual Memorial Parade in the Borough of Malvern. The parade, which is held every year on the Sunday after Memorial Day, will start at 1:30 p.m.
Founded in June 1869, the parade is recognized as the oldest continuously held Memorial Parade in America. The parade is expected to include at least eight bands including military color guards, military and antique vehicles, floats, fire trucks and a few special surprises.
After the Parade, there will be the 206th Memorial Commemoration in Monument Park.
The Brandywine Valley has quite a few museums and tourist sites that provide residents and tourists ideal opportunities to spend leisure time — and you can maximize your effort if you take advantage of the 2022 Brandywine Treasure Trail Passport.
The cost is $49 for an individual pass and $99 for a family pass (for up to five family members).
The Brandywine Treasure Trail Passport is good for one-time admission to Wilmington and the Brandywine Valley's top attractions now through October 31.
A family pass, which includes one-day admission to each of 12 sites, can bring a savings of over $200 for the holders — especially since many of the participating institutions have regular admission fees in double figures.
The list of locations covered by the Brandywine Treasure Trail Passport includes Longwood Gardens, Delaware Museum of Nature and Science, Brandywine River Museum, Delaware Art Museum, Delaware History Museum, Hagley Museum and Library, Delaware Center for Contemporary Arts, Nemours Mansion & Gardens, Read House and Garden, Mt. Cuba Center, Rockwood Museum and Winterthur Museum, Garden & Library.
For more information, call (800) 489-6664 or visit www.visitwilmingtonde.com/bmga/.
For a fun and educational day for you and your children, consider a visit to the Brandywine River Museum (Route 1, Chadds Ford, 610-388-2700, http://www.brandywinemuseum.org) on June 2 from 11 a.m.-2 p.m.
On the first Sunday of each month, the museum presents a special free event for children called "First Sundays for Families."
In addition to a variety of activities geared for kids, the event will also feature Brandywine River crossing on a tightwire by the Funicular Circus. Teaching artists will lead art-making activities for all ages.
The Museum will be open from 9:30 a.m.-4:30 p.m. with free admission to the galleries including two featured exhibitions, "Gatecrashers: The Rise of the Self-Taught Artist in America" and "Dawoud Bey: Night Coming Tenderly, Black."
Hagley Museum and Library (200 Hagley Creek Road, Wilmington, Delaware, 302-658-2400, www.hagley.org), the site of the former DuPont Powder Mill, offers a wide array of special events for visitors every summer.
On June 8, Hagley Museum will present "Bike & Hike & Brews at Hagley" from 5-8 p.m.
Dogfish Head beer will be available for purchase every Wednesday evening this summer.
At Bike & Hike & Brews, visitors can stroll, jog, or bike through areas of Hagley's property normally closed to foot traffic. Visitors can bring a picnic or dine at the Belin House Organic Cafe.
Woodside Farm Creamery ice cream will be available for purchase every Wednesday night.
Admission is $5 per person, and free for members and children five and under.   The food truck this week will be Uncle John's BBQ.
Time is running out to see a highly educational and entertaining exhibit in Wilmington.
"Louis Comfort Tiffany: Treasures from the Driehaus Collection" will be on exhibition at the Delaware Art Museum (2301 Kentmere Parkway, Wilmington, Delaware, www.delart.org) now through June 5.
A celebration of beauty, "Louis Comfort Tiffany: Treasures from the Driehaus Collection" features more than 60 objects, spanning over 30 years of Tiffany's prolific career. The exhibition showcases Tiffany's innovative work in leaded and blown glass, including stellar examples of his famous windows, lamps, and vases.
His work was enthusiastically collected by art museums and private collectors throughout his lifetime and continues to be highly sought after today. This exhibition revels in the artistry and craftsmanship of the Tiffany artworks from Chicago's distinguished Richard H. Driehaus Collection, highlighting masterworks in a comprehensive exhibition.
One of America's most renowned artists, Louis Comfort Tiffany worked in nearly all of the media available to artists and designers in the late 19th and early 20th centuries — glass, ceramic, metalwork, jewelry, and painting. His love of the natural world inspired floral-themed vases and lamps, delicate vegetal candlesticks, and dramatic landscape windows.
Tiffany earned international acclaim, receiving prestigious awards in exhibitions across Europe and the United States, and his busy studios produced a range of objects, from common household items to one-of-a-kind masterpieces. His work was enthusiastically collected by art museums and private collectors throughout his lifetime and continues to be highly sought after today.
Almost any day of the year is a good day to visit Longwood Gardens (Route 1, Kennett Square, 610-388-1000, www.longwoodgardens.org).
This year, June 3 is an especially good day to visit Longwood. It's the day for the site's Wine & Jazz All Stars concert.
Visitors can enjoy the sights and sounds of live music while savoring wines from around the world. Guests will be able to sip along to exceptional jazz from Grammy Award-winning musicians, and, after the sun goes down, catch a jazz-inspired evening fountain show.
Attendee at this year's "Wine & Jazz" event will hear Delfeayo Marsalis (trombone), Elizabeth Bougerol (vocals), Evan Palazzo (piano), Marcus Strickland, Chris Brubeck and Dan Brubeck as they join together for the first time in this special concert.
Tickets are $49 for the show which will start at 7:30 p.m.
The biggest attraction at Longwood right now is the Festival of Fountains, which is running through September 29.
With fountains that jet as high as 175 feet, gardens filled with colorful summer blooms, shade-friendly trees, exotic day- and night-blooming waterlilies, and live music outdoors, Longwood gardens has something for everyone.
The fountain project took two years and $90 million in renovations. The fountain features more than 1,300 jets and streams, a similar amount of LEDs, a variety of flame features and a wide array of plants from around the world.
In addition to the "Festival of Fountains" other attractions at Longwood are the Open Air Theatre, the Italian Water Garden fountains, the Square Fountain, Round Fountain (Flower Garden Walk), Sylvan Fountain (Peirce's Park), and Children's Corner fountains.
The season of renewal and growth has started. Millions of tiny geophytes begin the season, blanketing Longwood's vistas with sweeps of spring-has-sprung color.
As the season unfolds, flowering trees delightfully punctuate the landscape, radiant tulips stretch toward the sun, and the delicious fragrance of wisteria floats along the breeze.
Visitors can also enjoy special exhibits at the Orchid House.
Admission to Longwood Gardens is $25 for adults, $22 for seniors and college students, $18 for active military and $13 for youth.
A sweet place to enjoy flowers in bloom is Tyler Arboretum (515 Painter Road, Media, 610-566-9134, www.tylerarboretum.org).
On June 3, Tyler is hosting a "Weekend Warm-up Hike: South Farm Loop" starting at 8:10 a.m.
It is a brisk, one-hour hike through Tyler's gardens and out onto the trails and will explore a different part of the Arboretum each week.
The Weekend Warm-up Hike is intended as an introduction to Tyler's hiking trails and will cover a mix of asphalt, gravel and natural surfaces. Hikes are not suitable for those with limited mobility.
"Saturday Wildflower Walk – Summer Explorations" will be held on June 4 from 5-7 p.m.
Participants can join wildflower expert Dick Cloud on an informative two-hour hike that will take them through Tyler's spring scenes of meadows, woods, and occasionally streamside. Some of the destinations are Indian Rock on the Blue Trail, Dismal Valley on the Orange Trail, Dogwood Circle on the Red Trail, and the Shade Tree Nursery, which is on the White Trail.
Additionally, "Weekday Bird Walks: Limited Edition" are scheduled for every Wednesday in May from 8-10 a.m.
Walks are rain or shine. Tickets are $15 and include admission to Tyler for the day.
The Morris Arboretum (100 East Northwestern Avenue, Philadelphia, 215-247-5777, www.morrisarboretum.org)is hosting "Moonlight & Roses."
"Moonlight & Roses," which will run from 5:30-10:30 on June 3, is the Morris Arboretum's annual fundraising gala to support all aspects of the Arboretum's mission. The evening begins with cocktails in our stunning Rose Garden at the peak of its bloom. Dinner follows underneath of a clear-top tent with a live band, dancing and open bar.
Regular Admission to Morris Arboretum is $20 for adults, $18 for seniors and $10 for youth (3-17 years). Children under 3 are admitted free.
On June 5, the Marshall Steam Museum at Auburn Heights Preserve (3000 Creek Road, Yorklyn, Delaware, 302-239-2385, http://auburnheights.org) is presenting "Steamin' Day at Auburn Heights."
The site, which features the Marshall Steam Museum and the Auburn Heights Mansion, focuses on steam power when it presents "Steamin' Days," which run from 12:30-4:30 p.m.
General admission tickets are $12 (13 and older) and $8 (age 12 and under). "Mansion Add On" tickets are $8 and $4.
Special attractions include a "Firing Up" demonstration using a Stanley steam car, tours of the antique-furnished Auburn Heights Mansion (which was built in 1897), rides on the Auburn Valley Railroad and in select antique automobiles from the Marshall Collection.
Also included is entry to the Marshall Steam Museum, which features the world's largest operating collection of Stanley steam cars along with a 1930s working Lionel electric train display, a hands-on engine display, kids' activities and exhibits.
Lancaster has a lively First Friday celebration every month. This month's edition of First Friday Lancaster (http://www.firstfridaylancaster.com) will run from 5-9 p.m. on June 3 in downtown Lancaster.
The event will feature attractive exhibitions at art galleries, artisan studios and museums. There will also be live performances presented in a variety of genres — professional theater, symphony orchestra and performing groups.
Another special event in Lancaster this weekend will be the "African-American Heritage Walking Tours" on June 1.
Tours, which depart from the Lancaster City Visitor Center (38 Penn Square, Lancaster), are available at 11 a.m. and 2 p.m. The tour is a safe and easy walk that takes between 60 and 90 minutes. Comfortable walking shoes recommended.
The guided walking tours of these heritage sites in downtown Lancaster are conducted by volunteers. Conductors lead guests to twelve historic sites, including four with authentic connections to the Underground Railroad. Tour participants move along an outstanding tour route, across bustling roads, down narrow alleys; through cemeteries and churches, learning stories seldom heard beyond the intimacy of local families and read in only a few history books.
Tickets are $15, $10 for seniors and $5 for children (12 and under).
On June 4, Hope Lodge (553 South Bethlehem Pike, Fort Washington, 215-343-0965, http://www.ushistory.org/hope/) will be hosting "Ales & Petals/Cars & Motorcycles of England Car Show."
The "Fifth Annual Ales & Petals event and the British Car Show" will open at 10 a.m. and run until 4 p.m. at the historic site in Montgomery County.
Hope Lodge was built between 1743 and 1748 by Samuel Morris, a prosperous Quaker entrepreneur. Morris acted as a farmer, shipowner, miller, iron master, shop owner, and owner of the mill now known as Mather Mill. Hope Lodge is an excellent example of early Georgian architecture, and it is possible that Edmund Woolley, architect of Independence Hall, offered advice in building. Samuel Morris owned the estate until his death in 1770.
Visitors are invited to set up lawn chairs and picnic blankets in the site's splendid gardens to enjoy food, live music and tastings of craft beers, wines and ciders. This event will also feature tours of the mansion.
Tour admission is $10 for adults and free for children (12 and under). Hope Lodge is a Blue Star Museum which means that active duty military personnel, including National Guard and Reserve and their families, are admitted free for regular tours from Memorial Day through Labor Day.
The annual Wayne Art Center Plein Air Festival will be held now through May 16-June 25 at the Wayne Art Center (413 Maplewood Avenue, Wayne, www.wayneart.org).
"En plein air" is the act of painting outdoors. This method contrasts with studio painting or academic rules that might create a predetermined look. The practice goes back for centuries but was truly made into an art form by the French Impressionists.
Fresh off the easel, more than 250 works adorn Wayne Art Center's walls showcasing the artists' individual interpretations of life and landscapes.
Much of the world's tastiest cuisine comes from Mediterranean countries such as Italy, Turkey and especially Greece. Two of the area's top Greek festivals are on the schedule for the next week.
*The Grecian Food Festival at St. Sophia Church Grecian Festival (900 South Trooper Road, Jeffersonville, 610-650-8960, www.stsophiachurch.org) is running now through June 5. Then, the 46th Annual Greek Festival at the Holy Trinity Greek Orthodox Church (808 North Broom Street, Wilmington, 302-654-4446, www.holytrinitywilmington.org) opens on June 3 and runs through June 8.
The free, family-oriented festivals both feature amusement rides and games but they are side attractions. Without question, the main attraction is the food.
The list of main dish items at St. Sofia's festival has a wide variety of meat and vegetable items. Chicken Oreganato is Grecian-style chicken roasted with a mixture of lemon, oil and oregano, while souvlaki is grilled pork tenderloin marinated with special herbs.
Gyros are pita sandwiches featuring a spice-infused ground beef-and-lamb mixture that is grilled, sliced fresh and served with tzatziki (cucumber and yogurt sauce), tomatoes, onions and olives.
Pastitsio is a macaroni dish with braised ground lamb and beef that is topped with béchamel sauce and baked. A similar entrée is mousaka, which features layers of eggplant, potato, ground lamb and beef, which is then baked and topped with a light béchamel sauce.
Saganaki is a dish with seared vlahotiri cheese that is flamed with brandy and lemon and served fresh. Greek Salad, which is always a favorite, includes lettuce, feta cheese, tomatoes, Greek olives, oregano, salt, onion, cucumbers tossed in a light olive oil dressing.
Other selections that can either be a main meal or a side dish are tyropita, which is a Greek-style cheese pie in a crispy phyllo crust; spanakopita, which is a tyropita that has spinach added; and Dolmades, which are rice and meat wrapped in grape leaves.
The menu at St. Sophia's also includes a fried calamari dish with fresh lemon, and patates tiganitres, which are deep-fried potatoes that have been lightly seasoned with Greek herbs and spices and topped with feta cheese.
For dessert, it's impossible to go wrong with any of the traditional Greek pastries. The most well-known Greek dessert is baklava, which is made with multiple layers of thin buttered phyllo dough cooked with walnuts, spices and honey syrup. Kataifi features shredded wheat with chopped nuts and honey syrup.
Loukoumades, the Greek version of doughnuts, are deep-fried and dipped in honey with a dash of cinnamon. Floyeres is a baked dessert prepared with thin layers of buttered pastry sheets, almonds, spices, and honey syrup. Galaktoboureko is a custard dessert baked between carefully placed pastry sheets and covered in syrup.
Karidopita is a moist walnut cake with spices and syrup. Kok, which is the Greek version of Boston cream pie, is a chocolate-covered cake that is filled with custard. Diples are crunchy treats featuring crisp folds of thin rolled pastry dough that are deep fried and topped with syrup, cinnamon and nuts.
Greek cuisine also includes a variety of mouth-watering cookies including melomakarona (oval cookie dipped in honey and rolled in nuts), kourabiedes (butter cookie served with confectioner's sugar), paximadia (zwieback-type cookie that is baked then sliced and toasted in the oven), koulourakia (butter cookie that is twisted, basted with egg yolk and baked.)
The menu for the festival in Wilmington also features mousaka, pastitsio, tyropita, gyros, Greek salad, souvlaki, spanakopita and dolmades along with arni (baked lamb), chicken and orzo, keftedes (meatballs in tomato sauce), Greek-style string beans, plaki (baked fish) and Greek rice pudding.
Greek Festivals also feature a lot of live music.
Greek-American groups from the Delaware Valley will play popular Greek songs and standards at both festivals. There also will be performances of traditional Greek folk dances. The festivals will also offer tavernas, which are bistro-style sites for dancing and drinking.
Other attractions at the free festivals are Greek grocery stores and sales booths with items such as Greek music, icons, custom-made jewelry, leather goods and fabric. There will also be a variety of children's activities.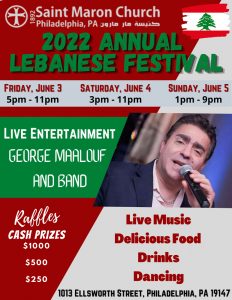 This is the time of the year when there are ethnic food festivals almost every weekend. This weekend's schedule has another interesting option — St. Maron's Lebanese and Middle East Cultural Festival (10th and Ellsworth streets, Philadelphia, 215-389-1000, http://www.saintmaron.org).
St. Maron's Lebanese Festival, which runs from June 3-5, offers a wide array of tantalizing Middle Eastern dishes such as kibbe (bulghur, minced onions and finely ground lean beef or lamb), baba ghanoush (eggplant mixed with onions, tomatoes, olive oil and various seasonings) and tabbouleh (vegetarian dish with bulgur, tomatoes, finely chopped parsley, mint, and onion).
There will also be hummus (food dip made from cooked, mashed chickpeas blended with tahini, olive oil, lemon juice and garlic) and freshly-cooked shish kabobs and chicken kabobs. A kabob is a Middle Eastern dish featuring pieces of meat, fish, onions and peppers grilled on a skewer).
Other attractions at St. Maron's free festival will be folkloric exhibits, arts and crafts booths, hookahs, children's games, a performance by St. Maron's Dabke Troop, cash prize raffles and live music by George Maalouf & Band.
On June 4, the Great Plaza at Penn's Landing (201 South Columbus Boulevard, Philadelphia, www.delawareriverwaterfront.com) will be the site of the Irish American Festival.
The event, which is part of PECO's annual multicultural series at Penn's Landing, will feature all things Irish — tasty traditional Irish food offerings such as Shepherd's Pie, bangers and mash, and scones.
The festival will present an array of Irish entertainment including pipers, Celtic bands and traditional step dancers. There will also be a variety of outdoor shops featuring authentic and traditional Irish goods.
The Irish American Festival, which runs from noon-7 p.m., is free and open to the public.
On May 29, Laurel Hill Cemetery (3822 Ridge Avenue, Philadelphia, 215-228-8200, www.thelaurelhillcemetery.org) will have three special events this weekend.
On June 3, the site will host "Romeo & Juliet: Presented by Shakespeare in the Cemetery Program Teens."
The outdoor theatrical performance on Friday will start at 6 p.m.
"Surprise Endings: They Never Saw It Coming (Part 2) Walking Tour" is a themed walking Tour on June 4 from 1-3 p.m.
Also on June 4, the Cemetery will host Concert Amongst the Crypts" with The Divine Hand Ensemble.
The "Open Air Concert Performance" is scheduled for Saturday from 6-9 p.m.
On June 4, Fort Mifflin (Fort Mifflin and Hog Island roads, Philadelphia, 215-685-4167, www.fortmifflin.us) is hosting an event called
"Fun and Wargames."
This event will focus on games and amusements from the 18th century to the modern day.
Participants will be able to Play Dungeons & Dragons in a real dungeon, learn how to play 18th-century board games, and even try out some modern day video games at the old Fort.
Admission is $10 for adults, $8 for seniors and $6 for veterans with ID and students.
An interesting and educational look at America's past with a special focus can be found in downtown Philadelphia his weekend.
Visitors to the old, historical district in Philadelphia on June 4 will be able to enjoy Fete Day 2022 at Elfreth's Alley, which is located off Second Street (215-574-0560,http://www.elfrethsalley.org).
From 1-5 p.m., the oldest residential street in America will be hosting a traditional festival with colonial flavor.
The popular annual festival will feature Colonial crafts, music, storytelling, refreshments, scavenger hunts and a wide array of hands-on games.
Historic Tours of the 32 historic residences on Elfreth's Alley will be offered between noon and 5 p.m. Tickets are $25 for adults, $10 for students and $60 for families.
The Philadelphia Dyke March (www.facebook.com/philadelphiadykemarch)will be held on June 5 starting at 11 a.m. at Fifth and Arch streets
Louis I. Kahn Park (328 South 11th Street, Philadelphia, https://www.facebook.com/events/1795478350754427/).
The Philadelphia Dyke March draws hundreds for a proud march through Center City that spotlights Philly's lesbian community and their allies.
According to the event's Facebook page, "The Philly Dyke March is not a parade. It's a march, a protest, a movement" and the invitation to participate is extended to "femmes, butches, andros, queers, studs, AGs, lesbians, tops, bottoms, tomboys, womxn of color, asexual dykes, bidykes, boidykes, pandykes, UHaulers, QPOC, and transgender, intersex, gender nonconforming, gender non-binary, and genderqueer dykes of all flavors, and all of those who love and support us."
Afterward in Kahn Park, participants can enjoy free water ice and watch as Philly's Dyke performers rock the mic for the rest of the day.
*Grim Philly's "Dark Philly History Tour" (www.grimphilly.com) will be held every evening throughout the summer.
Participants can walk with tour guides from the grounds of America's first White House, Congress, and Liberty Bell to homes and sites of Hamilton, Washington, Franklin, Adams, Jefferson, Madison, Monroe, and more than 10 other Founding-Fathers. The surprising dirt of espionage, murder, sexual license and blackmail highlight the secrets of 1776 with a ghost story or two along the way. This tour is highly researched. And your guide is a historian.
Grim Philly will also be presenting "Serial Killers & Cemetery Tour" every Saturday at 2 p.m.
Participants will have the opportunity to experience unconventional sightseeing off the beaten path. They can enjoy Betsy Ross House, Christ Church, Elfreth's Alley, and Benjamin Franklin's Grave, together with tales of serial slayings and psychopathic killers like the Corpse Collector, Frankfort Slasher, and H.H. Holmes.
Ghost Tour of Philadelphia (215-413-1997, www.ghosttour.com), Ghost Tour of Lancaster (717-687-6687, www.ghosttour.com) and Ghost Tour of Strasburg (717-687-6687, www.ghosttour.com) operate throughout the winter and offer an eerily entertaining evening of true ghost stories and real haunted houses.
The Ghost Tour of Philadelphia, which is based on the book, "Ghost Stories of Philadelphia, PA.," is a candlelight walking tour along the back streets and secret gardens of Independence Park, Society Hill, and Old City, where ghostly spirits, haunted houses, and eerie graveyards abound.
Participants can discover the ghost lore of America's most historic and most haunted city with stories from the founding of William Penn's colony to present-day hauntings.
The activity is open year-round – weekends, December-February; every night, March-November. Tickets are $24.
The Ghost Tour of Lancaster and the Ghost Tour of Strasburg are based on the book, "Ghost Stories of Lancaster, PA."
Participants in the Ghost Tour of Lancaster explore the long-forgotten mysteries of one of America's oldest cities, with haunting tales of otherworldly vigils, fatal curses, and star-crossed lovers. The tour provides the opportunity to experience 300 years of haunted history from the Red Rose City's thorny past. Tickets are $18.
The Ghost Tour of Strasburg is a candlelight walking tour of the quaint and historic town of Strasburg in the heart of Pennsylvania Dutch Country. Visitors will experience an entertaining evening with a costumed tour guide spinning tales of haunted mansions, eerie graveyards, and spirits that roam the night … in a town lost in time. Tickets are $18.