By Denny Dyroff, Entertainment Editor, The Times 
It's hard to imagine music fans heading to a concert by a member of the NASA Exploration Systems Advisory Committee.
It's hard to imagine a guitarist who has consulting contracts with the Pentagon's Missile Defense Agency.
However, if it's Jeff "Skunk" Baxter, it makes sense.
Baxter, who will headline a show at City Winery (990 Filbert Street, Philadelphia, citywinery.com/philadelphia) on May 5, became self-taught in missile defense systems in the 1990s, and, at one point, wrote a five-page paper that proposed converting the ship-based anti-aircraft Aegis missile into a rudimentary missile defense system. He gave the paper to California Republican Congressman Dana Rohrabacher, and his career as a defense consultant began.
Baxter's main career began in the late 1960s – a career as one of the premier guitarists in the world of rock music and one of the most sought-after session players.
Casual music fans might not recognize Baxter's name, but they almost certainly have heard his guitar work.
In 1972 he became a founding member of Steely Dan, a band that produced such hits as "Reelin' In the Years," "My Old School," "Do It Again," and "Rikki Don't Lose That Number."
In 1974, Baxter left Steely Dan to join the Doobie Brothers, a band that produced such hits as "Listen to the Music," "China Grove," "Jesus Is Just Alright," "Black Water" and "Long Train Runnin'."
Baxter's love of performing goes back to when he was young – very young.
"I asked my mom for piano lessons when I was five and she said — yes," said Baxter, during a phone interview Wednesday morning.
"I was listening to and learning to play music before I was in school.
"When I was 10, we were living in Mexico City, and I wanted a guitar for my birthday. They got me a bicycle instead. I was pissed.
"A little while later, I got a guitar and a friend introduced me to three or four chords. In the late 50s and early 60s, if you knew three or four chords, you could play in a band."
Baxter joined his first band at age 11 – the Tarantulas. While still a high school student, he worked at Manny's Music Shop in Manhattan in 1966. At Manny's, Baxter met guitarist Jimi Hendrix, who was just beginning his career as a front man. For a single show, when Hendrix's bass player couldn't make the show, Baxter was the bassist in a Hendrix-led band called Jimmy James and the Blue Flames, along with fellow Manny's employee – Randy California, the late great guitarist from Spirit.
Moving to Boston to attend college, Baxter worked as a guitar technician and amplifier repairman at Jack's Drum Shop on Boylston Street. Baxter first reached a wide rock audience in 1968 as a member of the psychedelic rock band Ultimate Spinach. He also played with the Holy Modal Rounders  and backed singer Buzzy Linhart.
Baxter, a Grammy winning guitarist, has an amazing resume of music acts he has worked with in the studio and/or on the road.
"Some of the acts I've worked as a studio musician for are Rod Stewart, Linda Ronstadt, Joni Mitchell, Cher, Barbra Streisand and Dolly Parton," said Baxter.
The list also includes Al Kooper, Julian Lennon, Ringo Starr, Bryan Adams, Freddie Hubbard, John Cougar Mellencamp, Julio Iglesias, Gene Simmons, Carly Simon, Donna Summer, The Beach Boys, Willy DeVille, Eric Clapton, Gene Clark, Sheryl Crow, Ricky Nelson, Burton Cummings, Elton John, Bob Weir, Billy Cobham, James Brown, Maceo Parker, John Entwistle, Joe Walsh, Keith Emerson, Livingston Taylor, The Ventures, Nils Lofgren, Bob Welch, and Brian Auger.
Baxter and longtime associate CJ Vanston are touring in support of their new album, "Speed of Heat," which will be released worldwide via BMG/Renew Records on June 17, 2022.
The album features a dozen sparkling originals co-written by the guitarist and his producing/music partner, CJ Vanston. The project also features guest vocalists and songwriters such as Michael McDonald, Clint Black, Jonny Lang and Rick Livingstone.
"I first met CJ when I was in Chicago doing jingles," said Baxter. "He's a good friend and a great keyboard player.
"He's in the band for this tour. We also have bassist Hank Horton and drummer Mark Damian. Hank and Mark are friends of CJ.
"We were looking at a lot of different folks for the band when CJ said – these guys are good. I said – let's give it a shot. We had 10 days of rehearsal scheduled. After four days, they were ready."
Baxter's other "career" as a missile defense systems consultant is far removed from music – sort of.
"Radar is an electric guitar on steroids," said Baxter.
Video link for Skunk Baxter – https://youtu.be/NRXfBiQJpPQ.
The show on May 5 will start at 8 p.m. Ticket prices range from $28-$35.
On May 6, City Winery will present one of the top young trumpeters in the jazz scene – Matt Cappy.
Cappy has toured and/or performed with a wide array of top-flight musicians including Jill Scott, Maxwell, The Roots, Kirk Franklin, Tony Bennett, Aretha Franklin, Bilal, Mos Def, Common, Talib Kweli, Erykah Badu, Leela James, Jeff Bradshaw, Gerald Levert, Fred Hammond, Mary Mary, Yolanda Adams, The O'Jays, The Moody Blues, Gerald Veasley, Marah, Slo-Mo and John Train.
His first real breakthrough came when performing with Jill Scott's band but there was a lot of music in his life long before that happened.
"My mom was musical," said Cappy, during a phone interview Tuesday afternoon from his home in Collingswood, New Jersey. "She played the clarinet. My grandfather was a Methodist minister, and my grandmother played the piano in church."
When he was young, his parents moved from New York to Berlin, New Jersey. In high school, Cappy played in the highly regarded Overbrook High music program in Pine Hill, New Jersey.
"Overbrook was a great music school," said Cappy. "They had state competitions in New Jersey for music bands – sort of like they do for marching bands. We placed first in the state twice when I was in school."
In his senior year, Cappy received the New Jersey Governor's Award for the Arts. Next on tap was studies at the University of the Arts in Philadelphia.
"I majored in trumpet performance at the University of the Arts and then got a master's degree in education there in 1997," said Cappy.
He began playing clubs around the Philly area and that set the stage for the jump to the next level.
"Back in 1999, I was sitting in at a club in Philly – Wilhelmina's on South 11th Street," said Cappy. "Some of the guys from Jill Scott's band were in the club. When they heard me play, they asked me to join the band."
Scott is a singer, songwriter, model, poet and actress who is a native of North Philadelphia and a graduate of Girls' High and Temple University. Her 2000 debut album, "Who Is Jill Scott?: Words and Sounds Vol. 1," went platinum, and the follow-ups – "Beautifully Human: Words and Sounds Vol. 2" (2004) and "The Real Thing: Words and Sounds Vol. 3" (2007) — both achieved gold status.
"When Jill Scott hit, 'Neo Soul' didn't exist," said Cappy. "Then, 'A Long Walk' took off in America."
"A Long Walk," which was on Scott's debut album, was a Top 10 R&B hit in the U.S. and a Top 50 chart single in the U.K. in 2001.
"Right after that, she opened for Sting on his U.S. tour," said Cappy. "That got a lot of press."
Cappy was off to a good start.
Over the last 20 years, his talent has taken him around the world, into network TV studios, concert halls and clubs, performing and recording with musical giants like Michael Jackson, Aretha Franklin and Earth, Wind and Fire.
When he's not on the road, Cappy stays busy with gigs and recording sessions in New York City and Philadelphia, particularly in the "Neo-Soul" R&B scene centered out of Larry Gold's The Studio. His reputation as a soulful trumpet player has led to touring, performing and cutting tracks with Grammy-winning acts such as Scott, the Roots and gospel superstar Kirk Franklin.
Cappy also has an impressive resume of studio work. Some of his other recording credits include work with jazz/R&B greats such as Michael Brecker, Randy Brecker, Arturo Sandoval, Wallace Roney, and Stanley Clarke and Earth, Wind & Fire.
He has recorded on multiple Grammy and Latin Grammy Award-winning albums, including Fred Hammond's "Free to Worship," and Kirk Franklin's "The Fight of My Life," which both won a Grammy Award for Best Contemporary R&B Gospel Album in 2008 and 2009, respectively. He also recorded on the John Legend and The Roots album "Wake Up!" (Grammy Award for Best R&B Album 2011) and Alejandro Sanz's "Sirope" (Latin Grammy Award for Best Contemporary Pop Vocal Album 2015).
"I played on the song 'Butterflies' from Michael Jackson's 'Invincible' album in 2001," said Cappy. "The song was written by Jackson, Andre Harri and Marsha Ambrosius. Four years ago, Marsha sang on a track on my first album."
Cappy's debut album was "Church and State," which was released in June 2017 on Ropeadope Records. It was an impressive debut.
Cappy's strengths include more than just providing melodies. He is a musician with the ability to make his instrument work as a vocal part of the song – similar to British guitar legend Jeff Beck, who can make a guitar sing like no other.
Ironically, both Cappy and Beck have recorded versions of the operatic classic "Nessun Dorma," an aria from the final act of Giacomo Puccini's "Turandot." In both recordings, listeners can hear the instruments "vocalizing" Puccini's lyrics.
"I like to sing through my trumpet," said Cappy – stating the obvious.
Cappy's second album "Tales of the Tape" was released in June 2021. The name of the album is an ode to Cappy's first trumpet mentor, the late great Joe Fallon of Philadelphia's Port Richmond section.
"The new album, which has 10 songs, was recorded at Studio One at Drexel University and Gradwell House Recording in Haddon Heights, New Jersey," said Cappy. "It made the 'add new jazz' list on Spotify when it was released."
Cappy's current band features Dan Rouse on keyboards, Andrew Marsh on drums, Tone Whitfield on bass and Zach Lopresti on guitar.
"I'll be playing two sets at the Flash and my band is cooking with gas," said Cappy.
Video link for Matt Cappy — https://youtu.be/WPBrf6nAuvA.
The show on May 6 will start at 8 p.m. Tickets are $16, $18 and $20.
Other upcoming shows at City Winery are Eddie Griffin on May 6 and 7, Eli Paperboy Reed on May 7, Mister Mann on May 8, Dee Lucas on May 8, GZA on May 9, Grayson Capps on May 10 and Shamarr Allen on May 11.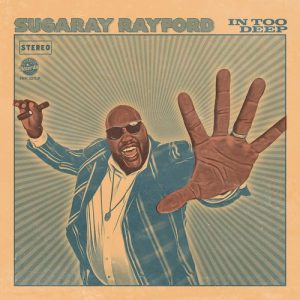 Unlike most blues artists, Sugaray Rayford, who is headlining a show on May 5 at 118 North (118 North Wayne Avenue, Wayne, www.118northwayne.com), did not have experience with performing blues music – or even listening to blues –in his early years.
Rayford was born in Smith County, Texas, United States, and sang at the age of seven in the Bethel Temple Church of God In Christ in Tyler, Texas.  He also played the drums there, but his childhood was poverty stricken with his mother dying from cancer early in Rayford's life.
"I started out musically with gospel in church," said Rayford, during a phone interview Wednesday afternoon after arriving in Philly from New York where he did a show on Channel 74.
"I was playing gospel and singing in the choir. I was also playing drums.
"Then, I stopped with any music and joined the Marine Corps. After being raised by my grandmother, I joined the military to see the world.
"In 1996, my wife Pamela told me I should get serious about music. I started band called Urban Gypsys."
Living in San Diego, he moved to contemporary music at the age of 12, initially singing with the Urban Gypsys. Turning towards the blues, Rayford joined the Temecula, California-based Aunt Kizzy's Boyz as lead vocalist.
"My wife turned me on to blues and I was the singer for Aunt Kizzy's Boyz," said Rayford. "I had always been doing R&B. I had always listened to gospel, but I never really listened to the blues.
"My wife looked up blues jams and got me interested. That was back in 1989. I had a friend who was in the Bayou Brothers and he gave me a book that had 10,000 songs – words and music. That was like my bible."
That was the catalyst that drew Rayford seriously into the blues.
"I started with B.B. King and then got into older blues artists," said Rayford. "I started listening to blues acts like Son House, Bukka White, Blind Lemon Jefferson and Mississippi John Hurt.
"Blues is about three chords and a story. It's an oratory recreation of black history – and it needs to be told."
A chance meeting in Memphis laid the groundwork for a unique musical partnership between Rayford and producer, songwriter Eric Corne. Combining classic soul melodies with funky R & B grooves, raw blues power, and mashed up with modern sensibilities, the pair's first collaboration, "Somebody Save Me," earned Rayford a 2020 Grammy nomination while later that year he took home Blues Music Awards for "Soul Blues Male Artist" and "B.B. King Entertainer of the Year."
Rayford recently released album, "In Too Deep," featured many songs that he wrote during the pandemic.
"'In Too Deep' came out on March 4 and immediately became a Number One album on the Billboard blues charts," said Rayford. "Now it's time to get out and tour the album and have fun.
"I always tour with my full band — sax, trumpet, keyboards, bass, drums and guitar – and me on vocals. We do about five songs from each of the last two albums and a couple songs from each of the older albums."
Video link for Sugaray Rayford – https://youtu.be/ehsjbTnvNb8.
The show on May 5 will start at 8 p.m. Tickets are $20.
On May 6, 118 North will host Valentina Sounds.
Valentina Sounds is the stage name for Italian-born, Philadelphia-based Valentina Raffaelli.
Raffaelli, the former singer in Sunshine Superman and Sparkle Pony, creates music that is a fusion of catchy melodies and pop tunes, perfectly blended with a background in jazz vocals and a love for composition.
"I have been in the United States for 11 years in January," said Raffaelli. "I fell in love with an American – a man from Philadelphia — when I was living in Italy. I was studying film and contemporary art at the Universita di Bologna.
"He waited until I finished college and then encouraged me to apply to Philadelphia's University of the Arts. I came to Philadelphia and studied there. I learned about voice and music—and I studied piano. I started meeting musicians at University of the Arts. Then, I took a songwriting course, and I was hooked.
"Putting a band together was easy. The first band was Sunshine Superman back in 2017. Then, I was in a band called Sparkle Pony with my ex-husband. It was a folk/bluegrass/Americana band that ended in January 2019."
All the while, Raffaelli was writing songs and preparing for what came next.
"I started writing an album without knowing it," said Raffaelli, a native of Forte dei Marni.
Forte dei Marmi is a seaside town in the northern part of Tuscany that is a major vacation destination for Italy's upper class. In Italian, "Forte dei Marmi" means "Fort of the Marbles." The town takes its name from the fortress that rises in the middle of the main square.
"I knew I wanted to make a full album," said Raffaelli, whose father Angelo Raffaelli was a professional soccer player in Italy for A.S. Livorno Calcio (currently in Serie C).
"Then things started deteriorating. I moved out and began living on my own in January 2019. The biggest chunk of songs was written between December 2018 and May 2019 and then I got into the recording studio in June."
Raffaelli had a CD Release show at the Locks in Manayunk in November 2019 and another in her native land over the Christmas holiday.
"I had a very successful album release show at the Locks with my friends and Philadelphia family," said Raffaelli.
"I was surprised at the amount of people who came out to support me. I got emotional when I realized I'd be singing all these personal songs for friends. I also did a release show in Italy in this beautiful place called Villa Bertelli."
Her final pre-shutdown show was a Valentine's Day concert at Johnny Brenda's – right before everything came screeching to a halt.
The pandemic shutdown did not affect Raffaelli as much as it did other area musicians.
"I've been teaching private lessons on Zoom – voice and beginner's piano," said Raffaelli. "I'm also choir director and middle school teacher at Episcopal Academy. I've been teaching there for six years.
"We were in person during the pandemic. It's a private academy so they could do that. For music, we had instructions – but the students weren't allowed to sing. So, we did things like body percussion."
Raffaelli has stayed busy musically.
"I've also been releasing a new single every five or six weeks this year on every online platform," said Raffaelli. "The first four are just piano and voice. They speak to the climate of the pandemic. I booked Retro City Studio in Philly and worked with Matt Muir. I did four songs all in one day.
"In February, I released 'Irresistible,' which is a love song. Then, there was 'Sad Song,' which is pandemic song about being stuck at home. The next was '10 Years of Piano,' which is a little silly. It's about piano playing being replaced by technology.  Another song is 'Story for Me.' It's a little about the pandemic but it can also stand alone."
Valentina Sounds' latest release in an EP titled "The Valentino Sounds Trio Live at the Caplan."
Video link for Valentina Sounds – https://youtu.be/6zKa7tCk38A.
The show on May 6 will be a "dinner sessions" show at 6:30 p.m.
Other upcoming shows at 118 North are Cris Jacobs Band on May 6 and Passafire on May 11.
Janis Ian's' final North American tour began in February in Santa Fe, New Mexico and is scheduled to conclude in November in State College, Pennsylvania.
Ian is an American singer-songwriter who was most commercially successful in the 1960s and 1970s. Her signature songs are the 1966/67 hit "Society's Child (Baby I've Been Thinking)" and the 1975 Top Ten single "At Seventeen" from her album, "Between the Lines," which reached Number One on the Billboard album chart in September 1975.
This weekend, two folk music legends are teaming up with Ian for special shows in New Jersey – Livingston Taylor and Tom Chapin.
They will perform on May 5 at Scottish Rite Auditorium (315 White Horse Pike, Collingswood, New Jersey, scottishriteauditorium.com) and May 6 at Ocean City Music Pier (861 Asbury Avenue, Ocean City, New Jersey, ocnj.us/music-pier).
Taylor is a singer-songwriter who made his first album 52 years ago and has released more than 20 more LPs since then.
Taylor has a long history of touring internationally over the last five decades. Taylor has also been a professor at the prestigious Berklee College of Music in Boston for more than a quarter-century.
You might think that when the pandemic shut everything down last year, Taylor would put a hold on live performances – that he would stay home and work on recording a new album – and that he would resort to Zoom if he opted to continue teaching. That wasn't his M.O.
"During the pandemic, I hunkered down and watched the world go by," said Taylor, during a recent phone interview from his home in Watertown, Massachusetts. "Things slowed mightily.
"Some people were stunningly productive. I'm not one of them. I make music to play for people. I did do some live shows – some in a theater without an audience. It was very hard. It required a certain kind of visualization.
"I did a few Zoom shows. That's truly the definition of 'phoning it in.' I also played some outdoor shows in parking lots. I need to see people. I crave it. When I don't have it, I don't feel good."
When it comes to COVID-19, Taylor had it and it didn't feel good.
"I got COVID a month ago," said Taylor. "I didn't feel well so I took a test. The next morning, I did it again and the positive sign was glowing. I had a couple days of feeling poorly — that's all.
"Now that we're moving to post-Covid, we have to keep going. When you drive a car into a ditch, you've got to get it out and figure out what broke.
"I still think it's going to take four or five years to work through it. It was an unprecedented interruption in the world's functioning. No other event has thoroughly stopped the planet like this."
Taylor is a natural performer, peppering his shows with personal stories, anecdotes and ineffable warmth that connect him to his fans. His relaxed on-stage presence belies the depth of his musical knowledge, and fans might just as often be treated to a classic Gershwin or something from the best of Broadway.
"In my live shows, I do speak about the songs – who wrote them…why they wrote them," said Taylor.
"It's always about the idea of making a song – making an experience. I speak about myself – but only in reference to the music not me. A life well-lived is boring."
Taylor picked up his first guitar at the age of 13, which began a 50-year career that has encompassed performance, songwriting, and teaching. Born in Boston and raised in North Carolina, Livingston is the fourth child in a very musical family that includes Alex, James, Kate, and Hugh. Livingston recorded his first record at the age of 18 and has continued to create well crafted, introspective, and original songs that have earned him listeners worldwide.
"I really like to play and see my music brought to people," said Taylor. "My first show when I knew my music worked was when I was opening for Joni Mitchell at Boston University in 1969. I was third on the bill behind Joni and Jaime Brockett.
"Jaime had played, and the audience was anxious to hear Joni. In my 20 minutes, I was able to win the audience over. The only thing in my mind was that this works. This was before I started recording. I was writing a lot of songs and testing them to see if it works."
A half-century later, it's obvious that it has worked.
From Top 40 hits "I Will Be in Love with You" and "I'll Come Running," to "I Can Dream of You" and "Boatman," the last two recorded by his brother James, Taylor's creative output has continued unabated. His musical knowledge has inspired a varied repertoire, and he is equally at home with a range of musical genres — folk, pop, gospel, jazz — and from upbeat storytelling and touching ballads to full orchestra performances.
Taylor is a full professor at Berklee College of Music, where he has taught a Stage Performance course since 1989. He teaches young artists invaluable lessons learned over the course of an extensive career on the road. His high-selling book, "Stage Performance," which was released in 2011, offers those lessons to anyone who is interested in elevating their presentation standards to professional standards.
Video link for Livingston Taylor – https://youtu.be/HKlam3eXSSY.
The show on May 5 will get underway at 7:30 p.m. Ticket prices start at $39.50.
The show on May 6 will start at 8 p.m. Ticket prices start at $45.
Ian will also share the bill with veteran singer/songwriter Tom Rush for a pair of shows in Ohio – Akron on May 11 and Columbus on May 18.
Rush's fans in this area will have the opportunity to see him perform twice this weekend – May 6 at the World Café Live (3025 Walnut Street, Philadelphia, 215-222-1400,www.worldcafelive.com) and May 7 at Uptown! Knauer Performing Arts Center (226 North High Street, West Chester, www.uptownwestchester.org).
For Tom Rush, one of America's most revered folksingers, it has been either feast or famine regarding his schedule of live shows.
"I've been getting whiplash," said Rush, during a phone interview Tuesday afternoon from his home in southern Maine.
"My agent managed to pack all 18 months of cancelled shows into three months in the fall. It got crazy."
Rush released his first album, "Tom Rush at the Unicorn," in 1962. His most recent album "Voices" will be released in April 2018 via West Chester-based Appleseed Records. His two prior records were also Appleseed releases – "Celebrates 50 Years of Music" in 2013 and "What I Know" in 2009.
Altogether, Rush has put out 26 albums in 56 years – and just eight since the turn of the century.
"I've been writing a lot," said Rush. "I just introduced a brand-new song called 'I Quit.' It's a song about leaving.
"I have enough new songs to make an album, but I'd like to have more. I'd like to go in the studio with 16 and pick 12."
Fortunately, he is much more active when it comes to live performances. Rush is a consummate performer who always delivers an entertaining show when he takes the stage to perform his songs and choice songs by other artists.
Rush stayed active during the pandemic via a project he calls "Rockport Sundays."
"I started 'Rockport Sundays' back in December," said Rush, during a recent phone interview from his home in southern Maine. "It's a subscription through Patreon. I was living in Rockport and posted a new episode every Sunday at midnight."
When he was first starting the series, he posted this message on his website –
"I have something I really want to do, and I'm going to need your help to do it. I'm starting a weekly series of online offerings — old songs, new songs, stories, pages from a book I'm working on. Since they'll be coming out of my studio in Rockport, Mass, I thought I'd call the series "Rockport Sundays."
The project has been well received.
"Basically, it's me at my kitchen table doing a song or a story every Sunday," said Rush. "Then, it stays up for eight weeks. It's been very well-received. It's a way of communicating with my audience.
"I keep it short. If you do an hour, you lose the audience by the end. It's been fun and very casual. I work with Mark Steele and the video is very professional.
"My favorite sideman is Matt Nakoa. I just finished three episodes with Jonathan Edwards who sings a couple songs on his own.
"It goes back to February 2020. I had just started my 'First Annual Farewell Tour' when everything shut down. I started out doing cell phone videos. I was trying to figure out a way to connect with my audience."
The audience in Wilmington will be getting much more than a song or two. Rush will be performing a number of songs from "Voices," an album that has its own special niche in Rush's long discography.
Over the course of his 50-year-plus career, one of Rush's defining gifts has been his ear for the faint voices of significant new songs by little-known writers. The New England-based singer-guitarist was among the very first to record future standards by then-fledgling performers Joni Mitchell, James Taylor and Jackson Browne on his 1968 album "The Circle Game."
Rush brought a later generation of singer-songwriters such as Nanci Griffith and Shawn Colvin to wider audiences as part of his tours. James Taylor and country music superstar Garth Brooks have both named him as a major influence.
Until "Voices," Rush has been heard only sparingly as a songwriter, with only a few tantalizing handfuls of originals – about 20 – spread out over eleven studio albums.
"Voices" is the first album ever of all-Rush originals – 10 relaxed, warmhearted, amused and sometimes thoughtful songs that perfectly reflect his wry persona.
"A bunch of songs all of a sudden came out," said Rush. "Our daughter was going away to college, so we were moving from Vermont but didn't know where. We moved to southern New Hampshire and rented a farmhouse from our friends Bob and Laura a few years ago.
"It was a peaceful countryside exterior, but it was in some ways boring. That's where the songwriting started. I kept getting ideas for songs.
"Sometimes, songs take a long time for me to write. These songs came rapidly because I didn't have anything else to go."
There might have also been another reason and the veteran singer had a theory.
According to Rush, "It might be some musical equivalent of epicormics branching, where a tree that's stressed or elderly starts putting out shoots in great profusion."
Whatever the reasons, the results were enough to bring smiles to fans' faces everywhere.
"I always wrote on guitar," said Rush. "Every song came differently. A lot of times, it's a phrase – just a few words that suggest a melody. Sometimes, it starts with a melody. There is no pattern.
"My pattern is to write too much. Each song tended to end up too long. You find that out when you take them in front of a live audience.
"I was taking audio notes on my cell phone. Once I had enough to go in the studio, I'd set up with a mic going into a computer. Then, I'd send what I had recorded to my producer Jim Rooney.
"I had all the songs written before I went in the studio with Jim — and then I wrote one more in the sessions. We were wrapping up and I only had 11 songs. Jim said we needed a 12th track. He insisted on it.
"So, I had to write another in my hotel room, and I wrote 'If I Never Get Back to Hackensack.' We recorded the album in May 2017 at The Butcher Shop – a studio in Nashville.
"Jim brought in some really great studio musicians to play on the album – players who are known as 'Rooney's Irregulars' including Matt Nakoa on piano, Sam Bush on mandolin and fiddle along with Kathy Mattea and Suzi Ragsdale on background vocals."
It has been more than a half-century since Rush made people take notice with one particular song — "Urge for Going," which was written by Joni Mitchell and recorded by Rush in 1968. It quickly became one of Rush's signature songs.
"The Baby Grand is a nice venue," said Rush. "I've played there several times and they've always been great shows.
Video link for Tom Rush – https://youtu.be/AWSWUD5soGM.
The show at World Café Live will start at 8 p.m. Tickets are $45 and $55.
Other upcoming shows at the venue are The Pineapple Thief on May 7 and Midlake on May 11.
The show at Uptown! Knauer Performing Arts Center will start at 7 p.m. Tickets are $40.
Other upcoming shows at the venue are High Noon on May and Danny Paisley on May 8.
Paisley, an Avon Grove High alumnus who lives in Landenberg, is the leader of a national bluegrass act — Danny Paisley & Southern Comfort.
Danny Paisley and the Southern Grass play powerful, unadorned, and intense traditional bluegrass. Their combination of instrumentation and vocals convey the energy and emotion of classic bluegrass and country music.
Paisley was looking forward to a "hometown" Chester County show to perform his new album, "Bluegrass Troubadour," for area fans. He also had a show booked for January 16 at Jumbo Jimmy's Crab Shack in Port Deposit, Maryland.
A few days prior to the Janaury gigs, Paisley sent me the following message – "Hello Denny. My agent informed me today that this Saturday's gig was postponed to May. Due to Covid concerns."
Fortunately for fans of the bluegrass guitar veteran, Paisley's show at the Uptown! Knauer Performing Arts Center has been rescheduled for May 8.
The show on Sunday night will start at 7 p.m.
Tickets are $25-$40 in advance and $30-$40 at the door.
The Kimmel Cultural Campus (Broad and Spruce streets, Philadelphia, 215-731-3333, www.kimmelculturalcampus.org) will present
Celtic Illusion on May 6 and Stairway to Heaven on May 8.
Jamey's House of Music (32 South Lansdowne Avenue, Lansdowne, 215-477-9985, www.jameyshouseofmusic.com) will host  Billy Bloomer on May 6 and Settlement Music School Jazz Night on May 7.
Other shows at the venue are THURSDAY NIGHT JAZZ JAM featuring the Dave Reiter Trio on May 5 and SUNDAY BLUES BRUNCH & JAM featuring the Philly Blues Kings with Maci Miller on May 8
The Ardmore Music Hall (23 East Lancaster Avenue, Ardmore, 610-649-8389, www.ardmoremusic.com) will present Joy Oladukon on May 6, Bre Kennedy on May 6, Box of Rain on May 7 and Take Me to The River on May 11.
The Keswick Theater (291 N. Keswick Avenue, Glenside, 215-572-7650, www.keswicktheatre.com) will host Nikki Glaser on May 7, Beth Hart on May 8, Symphony X on May 11 and Haken on May 11.
The Sellersville Theater (24 West Temple Avenue, Sellersville, 215-257-5808, www.st94.com) will present Soraia on May 5, Happy Rhodes on May 6, Crack the Sky on May 7, John 5 on May 8, the Iron Maidens on May 10 and Quebe Sisters on May 11.
Brooklyn Bowl (1009 Canal Street, Philadelphia, www.brooklynbowl.com/philadelphia) hosts Badfish on May 6,  Paul Cauthen on May 7, The Warning on May 8 and Hot Chip on May 11.
The Xcite Center at Parx Casino (2999 Street Road, Bensalem, 888-588-7279, https://parxcasino.com) will have Theresa Caputo on May 6 and Justin Moore on May 7.
PhilaMOCA (531 North 12th Street, Philadelphia, 267-519-9651, www.philamoca.org) will present Echo Kidd on May 7 and Jenny Hval on May 11.
Annenberg Center (3680 Walnut Street, Philadelphia, https://annenbergcenter.org/events) presents Mark Morris from May 5-7.
The Queen (500 North Market Street, Wilmington, 202-730-3331, www.thequeenwilmington.com) has Paradise Rose on May 7.
The Met (858 North Broad Street, Philadelphia, http://themetphilly.com) will host Frankie Valli on May 5, Olivia Rodrigo on May 6 and 7, Tori Amos on May 9, Sting on May 10 and 11.
Johnny Brenda's (1201 North Frankford Avenue, Philadelphia, 215-739-9684,
www.johnnybrendas.com) schedule features Grocer on May 5, Sir Chloe on May 7, Michael Seyer on May 8, A Place to Bury Strangers on May 9, The Dead Tongues on May 10 and Barrie on May 11.
Union Transfer (1026 Spring Garden Street, Philadelphia, 215-232-2100, www.utphilly.com) hosts Anthony Green on May 5,
Mariah the Scientist on May 6, Dijon on May 8, Honne on May10 and Built to Spill on May 11.
Franklin Music Hall (421 North Seventh Street, Philadelphia, http://franklin.musichallphiladelphia.org/) will host Pup on May 6.
Kung Fu Necktie (1248 North Front Street, Philadelphia, 215-291-4919, Kung Fu Necktie) presents Moodcure on May 5, The Psalms on May 6, Hodgepodge on May 7, and MÖRK GRYNINGon May 9.
Underground Arts (1200 Callowhill Street, Philadelphia, http://undergroundarts.org) has Destroyer on May 6, MC5 on May 7, Rivers of Nihil on May 8 and Eyehategod on May 10.
Fire (412 West Girard Avenue, Philadelphia, 267-671-9298, thefirephilly.com) will host Cowbell on May 6, Lords of Asgar on May 7, Cellus Hamilton on May 8, Desks on May 8 and Two Good Eyes on May 11.
Punch Line Philly (33 East Laurel Street, Philadelphia, 215-606-6555, http://www.punchlinephilly.com) is presenting Jesus Trejo from May 5-7.
Helium Comedy Club (2031 Sansom Street, Philadelphia, philadelphia.heliumcomedy.com) presents Don Soder from May 5-7, Bubba Dub on May 10 and Randy Feltface on May 11 and 12.
MilkBoy Philly (1100 Chestnut Street, Philadelphia, 215- 925-6455, www.milkboyphilly.com) will present King Hannah on May 5, Caitlyn Smith on May 6, Pound on May 7, Prep on May 8, Stella Ruze on May 10 and Black Tusk on May 11.
The American Music Theatre (2425 Lincoln Highway East, Lancaster, 800-0 648-4102, www.AMTshows.com) schedule features Gary Allan on May 6, Crowder on May 7 and Chicago on May 10.
Tellus 360 (24 East King Street, Lancaster, 717-393-1660, www.tellus360.com) hosts All Them Witches on May 7.
Reverb (1402 North Ninth Street, Reading, 610-743-3069, www.reverbconcerts.com) is presenting The Warning on May 7.