By Denny Dyroff, Entertainment Editor, The Times
Easter weekend has arrived and special Easter activities – big and small — are happening all over.
The Easter Bunny is known for hopping around — but not always.
Why would he spend all that energy hopping when he could be riding in style?
Sometimes, instead of bouncing along the ground, Peter Cottontail opts to ride a train. The holiday bunny has already embarked on his holiday spree of riding trains all around the area.
The West Chester Railroad (610-430-2233, www.westchesterrr.net) is running its Easter Bunny Express on April 16 and 17 with trains at noon and 2 p.m. each day.
On the 90-minute round trip along the beautiful Chester Creek from West Chester to the historic Glen Mills village, the Easter Bunny will be on board handing out treats to all passengers.
During the 20-minute stop at the historic Glen Mills station there will be plenty of opportunities for riders to take photos with the Easter Bunny. Additionally, Greg Wright and Friends will be playing live music and singing favorite Easter songs.
Tickets are $27 for adults, $20 for children (ages 2-12) and $8 for toddlers.
The Easter Bunny will also be down in Delaware for trips on the Wilmington and Western Railroad (Greenbank Station, 2201 Newport-Gap Pike, Wilmington, Delaware, 302-998-1930,www.wwrr.com) on April 15 and 16.
On the special trains, the big bunny with the big ears will visit with all passengers and pose for pictures. Departure times are 12:30 and 2:30 p.m. for a 1½-hour round-trip ride to Ashland, and all kids will get a special treat.
Riders are invited to bring their cameras and have the Easter Bunny pose for a picture with your child.
This event is powered by one of the Wilmington and Western Railroad's historic first-generation diesel locomotives.
Fares are $22 for adults, $21 for seniors (ages 60 and older) and $20 for children (ages 2-12).
The Northern Central Railway (2 West Main Street, New Freedom, www.northerncentralrailway.com) is running its "Eggspecially Fun Bunny Run!" on April 15 and 16.
The special excursion will take passengers to Glen Rock and back – allowing them to take in views of the scenic Heritage Rail Trail County Park. The Easter Bunny's Helper will be on the train for photo ops.
After returning to New Freedom, children can participate in an egg hunt (weather permitting). Each child will receive a free treat bag, including a bunny pretzel donated by Smittie's Soft Pretzels.
Tickets prices are — Adults (13 and older), $25; Children (3-13), $15; Toddler (in lap), $5.
The coaches are pushed and pulled by the rail line's vintage PRR GP9 Diesel Locomotive, built-in 1959.
This is a 1-hour excursion. Tickets will be printed and available for pick up at the ticket booth on the day of the excursion.
The New Hope and Ivyland Railroad (32 West Bridge Street, New Hope, 215-862-2332, www.newhoperailroad.com) is running its annual Easter Bunny Express on April 15 and 16 with departures at starting at 10 a.m.
The Easter Bunny is going to ride onboard the train where he will visit with each child, hand out special treats and pose for pictures. Coach tickets are $77.49 for adults, $74.07 for children (ages 12-plus) and $11.38 for toddlers (under 2).
The train ride departs from and returns to the New Hope Train Station. Riders can take in the sights of early spring as the Easter Bunny visits with all of the children handing out special candy treats and posing for photos taken by the railroad staff.
The Strasburg Rail Road (Route 741, Strasburg, 717-687-7522, www.strasburgrailroad.com) is running its "Easter Bunny Train" now through April 17.
The Strasburg Rail Road, which is America's oldest continuously operating railroad, offers its "Easter Bunny Train" as a memorable way to celebrate the holiday with family and friends.
This train is extra special because the conductor is none other than Peter Cottontail.
As the excursion moves along, the Easter Bunny will hop from car to car spreading Easter happiness to the little ones on board. And while seeing the Easter Bunny always brings a smile, kids really delight in this special Easter surprise with the Easter Bunny running his own train.
Tickets are $23 for adults and $17 for children (ages 2-11).
The Colebrookdale Railroad (South Washington Street, Boyertown, www.colebrookdalerailroad.com) is running its "Easter Bunny Express" on April 16 and 17 – 11 a.m. and 1 p.m. on Saturday and 11 a.m. on Sunday.
A good way for families to make Easter memories that will last a lifetime is to join Peter Cottontail aboard this special ride on the Colebrookdale Railroad!
Kids can visit with the Easter Bunny outside and join other children in the search for Easter eggs. Children will enjoy a complimentary Easter themed coloring book and 10 prefilled Easter eggs.
Tickets are $55 for adults (13-64), $52 for seniors (65 and older), $45 for children (12 and under).
The Middletown & Hummelstown Railroad (136 Brown Street, Middletown, 717-944-4435, www.mhrailroad.com) will be running its "Easter Bunny Express" trains on April 16.
The trains will depart at 11 a.m. and 1:30 p.m.
The Easter Bunny has a special surprise for all kids aged 11 and under – and will also be posing with children for keepsake photos of the event.
The ride is a 1.5-hour round trip.
Ticket prices are: Adults (Ages 12+) – $19; Children (Ages 2-11) – $15; Infant (Under 2 years, lap-held) – $6.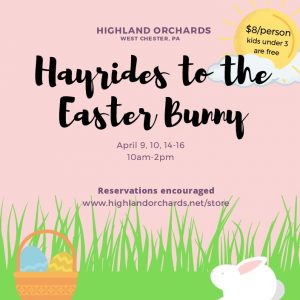 Highland Orchards (1000 Marshallton-Thorndale Road, West Chester, www.highlandorchards.net) is presenting "Hayrides to Easter Bunny" on April 15 and 16.
Participants can enjoy a leisurely hayride to visit the Easter Bunny, hear a story about spring and receive an egg with a coupon for a treat to be redeemed back in the Market.
The event takes about half an hour and wagons leave about every half hour. No reservation is required, and tickets can be purchased in the Farm Market on the day or in advance. The cost is $9 per person.
"Easter Brunch at Elmwood Park Zoo" (1661 Harding Boulevard, Norristown, www.elmwoodparkzoo.org) is running now through April 17.
Participants can enjoy a delicious breakfast, participate in Easter activities, and meet one of the zoo's beloved education animals. They can also take a picture with the Easter Bunny and then enjoy exploring the Zoo.
There are three brunch sessions each day – 10 and 11:15 a.m. and 12:30 p.m. Tickets include admission to the Zoo, brunch, a photo opportunity with the Easter Bunny and more.
The Easter menu features Roast Top Round, Baked Ham, Carved Turkey, Sausage, Turkey Sausage, Red bliss Potatoes, Waffle Bar with Fried Chicken, Pasta Dish, Mac and Cheese Shells, Omelette Bar, Scrambled eggs, Quiche Danish, Cinnamon Buns, Dessert Cart, and various beverages.
Prices start at $94.95 for a table of two.
The Zoo is hosting several of its ultra-popular "Dog Days" over the next week.
The Zoo's "Dog Days" event will be held on April 17 and 20 from noon-4 p.m. each day.
All guests visiting the zoo with a furry friend must complete an online waiver and submit required documents before visiting the zoo. You must upload a copy of your most recent veterinary visit, including proof of vaccine and heartworm test here. All items will be required for you to attend "Dog Days."
Pricing is $10.95 per dog with each additional dog at $9.95. Regular zoo admission is required for all humans.
If you're looking for a fun family activity, Linvilla Orchards (137 West Knowlton Road, Media, 610-876-7116, www.linvilla.com) has something just for you – "Hayrides to Bunnyland."
Kids who have experienced it know that there's no place quite like Bunnyland at Linvilla Orchards.
On April 15 and 16, guests can hop aboard a hayride as it carries them through the woods to visit the Easter Bunny's house. Once there, they will have the opportunity to meet Linvilla's Easter Bunny.
During the visit, one of the Bunny's friends will tell a magical story. And everyone will receive a special treat.
As an added attraction, the Easter Bunny likes to take pictures with all special guests.
This hayride lasts approximately 15-20 minutes.
Easter celebrations are in full swing at Sesame Place (100 Sesame Road, Langhorne, www.sesameplace.com) with "Elmo's Eggstravaganza Easter Celebration." The popular annual event is happening every weekend now through April 18.
Special attractions include "Easter Egg Scavenger Hunt," which is an interactive scavenger hunt for six giant Easter Eggs hidden throughout the park; "Furry Friends Bunny Hop Dance Party," where kids can jump, bounce and hop along with their Sesame Street friends; and "Sesame Street Party Parade," which is an energetic neighborhood block party on iconic Sesame Street with Elmo, Count Von Count, Bert, Ernie, Abby Cadabby, Zoe, Cookie Monster, Rosita, Big Bird, and Telly.
This weekend, a Passover Event will also be part of "Elmo's Eggstravaganza Easter Celebration."
Participants can gather on the Sesame Street Neighborhood with a local cantor and their favorite furry friends for a special Passover presentation and sing-along.
"Elmo's Eggstravaganza Easter Celebration" features the "Easter Bunny Picture Patch" where kids can meet and take photos with the Easter Bunny. Once visitors pass through the Easter Bunny's Art Studio, they'll enter a delightful Carrot Patch where they will be greeted by Peter Cottontail himself.
"Dine with Easter Bunny" is also very popular — a special Easter Dine with Elmo, Abby, and the Easter Bunny. Guests can enjoy a delicious buffet meal, photo opportunities with favorite Sesame Street friends, and a special Easter story time.
Another special attraction is "Magic of Art." Abby Cadabby is preparing for Sesame Street's big Art Show but isn't quite sure what to create. With help from her friends Elmo, Cookie Monster, Grover and Telly she learns that art comes in all shapes and sizes! From paintings to stories and even sculptures, Abby's friends inspire her to use her imagination to create her own magical masterpiece.
The park will be open from 10 a.m.-6 p.m. on Saturdays and Sundays now through April 3 and then daily beginning April 8.
Admission tickets start at $39.99.
Easter is a celebration of Jesus – who died and then rose from the dead a few days later.
In the world of fiction, zombies are creatures who die and then rise from the dead.
Zombies have always held a special place in horror films – as has a small theater in Phoenixville.
In 1958, one of the classic films in the sci-fi genre – "The Blob" – hit the screens. In the film, which has earned cult status, patrons are seen in a mob scene trying to escape from a theater that was overtaken by the Blob.
That theater was the Colonial Theatre (227 Bridge Street, Phoenixville, thecolonialtheatre.com).
On April 20, it will be the Zombies taking over the Colonial Theatre – not zombies but rather The Zombies. They are bringing their "Life Is A Merry-Go-Round Tour" to the comfortable Chester County venue.
The Zombies, a British rock band, have had a career that resembles the fictional characters with whom they share their name.
In the mid-1960s, the London-based band scored a number of hit singles including "Tell Her No" and "She's Not There" and then went four years without a song in the charts. In 1968, the Zombies rose from the dead and had a Top Five hit with "Time of the Season."
In the early 1970s, the group disbanded and headed off to the rock-and-roll graveyard.
Amazingly, the Zombies found new life in the 1990s when founding members Rod Argent and Colin Blunstone reunited for a series of dates in the U.K. The reincarnation felt like a good thing — for the two core members and for the band's many fans.
"With regard to our initial reunion 12 years ago, Rod was doing a charity with his band Argent," said Blunstone, during a phone interview from his home in London.
"I was in the audience, and he called me up to sing a few songs with him. I had some solo dates not long after that, so Rod came and played those dates.
"We only expected to play together for those shows. But it went great, so we decided to keep it going. Halfway through the first show, it felt as though we had never stopped playing. In reality, it was a 30-year gap."
A few years ago, The Zombies were honored as members of the 2019 Class of The Rock & Roll Hall of Fame.  Fittingly, the Induction Ceremony took place exactly 50 years to-the-day after The Zombies' classic "Time of the Season" first hit Number One on the charts in America.
Led by founding members, vocalist Colin Blunstone and keyboardist Rod Argent, The Zombies' 21st-Century line-up features Steve Rodford on drums, renowned session guitarist Tom Toomey, and the newest member, Søren Koch, who joined the band following the untimely passing of their beloved bassist Jim Rodford.
Video link for The Zombies — https://youtu.be/ng_syrDWrqA.
The show at the Colonial Theatre will start at 7:30 p.m. the opening act is Jesse Lynn Madera.
Tickets range from $39.50-$75.
Herpetophobia is the scientific name for "the fear of reptiles" while ophidiophobia means "the fear of snakes." On April 16, the Greater Philadelphia Expo Center (100 Station Road, Oaks, 610-529-3614, phillyexpocenter.com) will host the East Coast Reptile Super Expo featuring hundreds of live snakes and reptiles.
The East Coast Reptile Super Expo, which is always a well-attended event, will run from 9 a.m.-4:30 p.m. this Saturday. Tickets are $10 with children (under five) admitted free.
Many people think snakes and lizards are interesting creatures and maybe even fun pets to own. If you fall into this category, you should check out the show on Saturday. A wide array of reptiles will be on display as part of the popular exhibition, which is an annual event that is closing in on its silver anniversary.
One of the show's main attractions is a sales exhibit area featuring many vendors with live reptiles, amphibians and arachnids as well as food items, supplies, books, cages, and related accessories.
Some of the featured vendors are AZO Reptiles, Rose's Reptiles, Darin's Toybox, Blake's Exotic Reptiles, Dower Reptiles & Rodents, Reptile Kingdom, DHA Pythons, Gecko Haven, Hunger Reptiles, Jungle Emporium, Delaware Turtle, Just Lizards, Outback Reptiles, RKZ Rodents. Monstar Reptiles, Turtle to Turtle, and Delaware Valley Herpetarium.
The Chaddsford Winery (632 Baltimore Pike, Chadds Ford, www.chaddsford.com) will host "Reserve Tastings – Spring Sippers" on Saturdays and Sundays in April.
Visitors can welcome the warm weather and sunshine with an intimate, 60-minute classroom-style tasting in the winery's Barrel Room.
The site's trained staff will guide guests through a pre-selected tasting of five widely diverse and award-winning wines from across its portfolio. The selections will be paired alongside a unique offering from local artisans to enhance your tasting experience.
The staff will also discuss topics such as grape growing conditions at partner vineyards and the onsite winemaking process from production to aging and bottling.
Reserve Tastings are $35/person and offered only on select Saturdays and Sundays. There are three seatings per day – noon, 2 and 4 p.m. Advanced reservations are required and are non-refundable.
Guests under 21 years old are not permitted to attend a Reserve Tasting. Outside food is not permitted during this program.
The "Pairing Line Up" is — Greeting Wine: 2019 Sparkling White; 2021 Vidal Blanc with Birchrun Farm's Fat Cat; 2021 Dry Rosé: Redux with prosciutto; 2020 The Red Standard with Birchrun Farm's Equinox; and 2021 Vignoles with OsoSweet cookie.
Penns Wood Winery (124 Beaver Valley Road, Chadds Ford, http://www.pennswoodsevents.com) will present "Live Music on the Lawn" every weekend in April.
The schedule for this month features Amanda & Teddy on April 16, Jerry Lee Watkins on April 23, Bill Hake on April 24, and Hailey & Nero on April 20.
Hagley Museum and Library (Buck Road East entrance via Route 100, Wilmington, Delaware, 302-658-2400, www.hagley.org) is hosting one of its "Science Saturdays" on April 16.
This month, the theme is "Rocking Roller Coasters."
Participants can "rock and roll" with acceleration, physics, and lots of loops as they create a miniature roller coaster. Visitors of all ages are invited to discover solutions to science and engineering challenges.
This is a drop-in activity, so guests are free to join the fun at any time from 1-4 p.m. Activities are included in admission.
A few miles away from Hagley, another popular Delaware venue is welcoming a new season.
Guided tours are back at Winterthur (5105 Kennett Pike, Wilmington, Delaware, 800-448-3883, www.winterthur.org).
Some of the featured tours on select days in April are "A Closer Look Tour," "An Introduction to Winterthur," "Conservation Tour," "Discover the Winterthur Garden Tram Tour," and "Self Paced Introduction to Winterthur."
There will also be a variety of family events on April 15 including "Spring Fling for Families," "Floral Diplomacy at the White House," "Bringing the White House Style Home Workshop," "Designing a Garden Room of Flowers," and "Shakespeare at Sunset."
In May, the "Introductory Tour" will change to "Walking in the Footsteps of Jacqueline Kennedy" with the opening of the exhibition, "Jacqueline Kennedy and Henry Francis du Pont: From Winterthur to the White House"
The tour is a look at the spaces the First Lady explored during her visit to Winterthur while working on her historic restoration of the White House with H. F. du Pont, chair of her Fine Arts Committee. Self-paced and guided options are available.
Longwood Gardens (Route 1, Kennett Square, www.longwoodgardens.org) is inviting visitors to "step into spring."
From April 2-May 1, guests at the colorful site can take in the sights and scents of spring at Longwood Gardens with fields of tulips, azaleas, wisteria and more during the annual Spring Blooms event.
The season of renewal and growth has started. Millions of tiny geophytes begin the season, blanketing Longwood's vistas with sweeps of spring-has-sprung color.
As the season unfolds, flowering trees delightfully punctuate the landscape, radiant tulips stretch toward the sun, and the delicious fragrance of wisteria floats along the breeze.
Beginning April 23, Longwood Gardens' Open Air Theatre and Italian Water Garden fountains springs to life, as does the Square Fountain, Round Fountain (Flower Garden Walk), Sylvan Fountain (Peirce's Park), and Children's Corner fountains.
Visitors can also enjoy special exhibits at the Orchid House.
After a major restoration project, the Orchid House has reopened at Longwood Gardens.
The Orchid House, which has a history dating back more than a century, has come back to life with a brand-new glass roof and reimagined gallery-inspired space.
If you've been to Longwood Gardens before you've probably seen the historic Orchid House. But if you come to see it once it has reopened on February 26 as the first expression of "Longwood Reimagined," it will be an experience like never before.
The Orchid House has been completely restored in the same way founder Pierre S. du Pont would have done it himself — with excellence.
The original concrete aggregate was matched so well that you'd never even know it wasn't the original. The bronze window framing was cleaned, repaired, and replaced. The tunnels below the space were reworked and a brand-new floor poured.
The historic bronze cases, first added in 1929 and then restored in 1966 to display the orchid collection, have been returned to their original position at the north end of the house. Before they existed, there was a glass wall in their place, which has now been added to the top of the cases to create a vestibule on the north side of the house, creating the perfect transition from the Acacia Passage now, and the Waterlily Court and West Conservatory in the future.
The cases themselves have had all of their original pieces restored and are now double-sided. You're now able to see orchids on both sides of the gates — from the main view inside the Orchid House, and from the vestibule. The same wrought iron gates that have always been there stand in the middle of the cases, yet they've been completely restored, and their intricate details, once hidden under layers of paint, are appreciable once more.
Brand new gravity rings now hold our orchids in place, allowing the plants to be admired as always, but with better functionality and structural integrity.
Admission to Longwood Gardens is $25 for adults, $22 for seniors and college students, $18 for active military and $13 for youth.
There are many other sites where nature's spring glory is on display.
Chanticleer (786 Church Street, Wayne, www.chanticleergarden.org) is also open for its 2022 season.
The Chanticleer estate dates from the early 20th-century, when land along the Main Line of the Pennsylvania Railroad was developed for summer homes to escape the heat of Philadelphia. Adolph Rosengarten, Sr., and his wife Christine chose the Wayne-St. Davids area to build their country retreat. The family's pharmaceutical firm eventually became part of Merck & Company in the 1920s.
The garden has evolved greatly since the death of the owner in 1990. As the home of the Rosengartens, Chanticleer was beautiful and green with impressive trees and lawns. Most of the floral and garden development you see today has occurred since 1990 — designed by Chanticleer staff and consultants.
There are seven horticulturists, each responsible for the design, planting, and maintenance of an area. The areas are continually evolving, each with its own feel, yet joined together as one complete unit.
The Teacup Garden and Chanticleer Terraces feature seasonal plants and bold-textured tropical and subtropical plants.
The Tennis Court, Ruin, Gravel Garden, and Pond Garden focus on hardy perennials, both woody and herbaceous.
Asian Woods and Bell's Woodland are shady areas. The Serpentine celebrates the beauty of agricultural crops.
Admission to Chanticleer is $12 for adults and free for pre-teen children (12 years and under).
Andalusia Historic House, Gardens and Arboretum (1237 State Road, Andalusia, www.andalusia house.org) opened its gates for the 2022 season at the beginning of April.
Located on a wooded promontory overlooking the Delaware River, Andalusia has been a stately presence on this stretch of water, just north of Philadelphia, for more than 200 years. The ancestral home of the Biddle family, Andalusia is also a natural paradise of native woodlands and spectacular gardens that have evolved over time.
Placed on the National Register of Historic Landmarks in 1966, the Big House is one of the finest examples of Greek Revival architecture in the United States.
Its surrounding gardens delight the senses all through the year, from the tumbling, brightly colored leaves of fall to the floral extravaganza of spring and the abundance and scent of summer.
Self-Guided Garden Tours will be available Mondays through Wednesdays from April 4-November 2 (excluding holidays) at 10 a.m. or 1 p.m. Picnics are allowed on the grounds (with have a "carry-in, carry-out" policy).
Access to the Big House is not included with this tour which is $20 per person. There is no charge for children 12 and under.
Big House Tours with Garden Access will be available Mondays through Wednesdays from April 4-November 2 (excluding holidays) at 10 a.m. or 1 p.m. Tickets are $30 per person. There is no charge for children 12 and under.
The Morris Arboretum (100 East Northwestern Avenue, Philadelphia, 215-247-5777,  morrisarboretum.org) is presenting its "Garden Highlights Tour: A Focus on the Environment" throughout the month of April.
Participants can join an experienced guide for Morris Arboretum's featured tours. They will be able to celebrate spring and discover flowering trees and colorful blooms. Tours begin at Widener Visitor Center.
Some of the featured buds and blooms are yoshino cherry (Cherry Allée), Mertensia virginica (Out on a Limb), Camellia japonica "Berenice Boddy" (Visitor Center), Cercis canadensis (Oak Allée), Magnolia 'Sayonara' (English Park) and saucer magnolia (Magnolia Slope).
Nemours Estate (850 Alapocas Drive, Wilmington, Delaware, www.nemoursestate.org) is now open for its 2022 season.
Nemours Estate is a masterpiece of Gilded Age design with a 77-room Mansion, 200 acres of formal French gardens and grounds, and a Chauffeur's Garage housing vintage automobiles.
Originally constructed in 1910, Nemours Mansion is one of Delaware's grandest buildings and includes the largest formal French garden in North America.
Tickets can be purchased at the Estate, but no reservations are needed and there is no timed entry. Last tickets are sold at 4 p.m.
There are many things that make it worthwhile to take a short drive to Delaware – such as the Kalmar Nyckel and the Delaware Art Museum.
"Louis Comfort Tiffany: Treasures from the Driehaus Collection" will be on exhibition at the Delaware Art Museum (2301 Kentmere Parkway, Wilmington, Delaware, delart.org) now through June 5.
A celebration of beauty, "Louis Comfort Tiffany: Treasures from the Driehaus Collection" features more than 60 objects, spanning over 30 years of Tiffany's prolific career. The exhibition showcases Tiffany's innovative work in leaded and blown glass, including stellar examples of his famous windows, lamps, and vases.
His work was enthusiastically collected by art museums and private collectors throughout his lifetime and continues to be highly sought after today. This exhibition revels in the artistry and craftsmanship of the Tiffany artworks from Chicago's distinguished Richard H. Driehaus Collection, highlighting masterworks in a comprehensive exhibition.
One of America's most renowned artists, Louis Comfort Tiffany worked in nearly all of the media available to artists and designers in the late 19th and early 20th centuries — glass, ceramic, metalwork, jewelry, and painting. His love of the natural world inspired floral-themed vases and lamps, delicate vegetal candlesticks, and dramatic landscape windows.
Tiffany earned international acclaim, receiving prestigious awards in exhibitions across Europe and the United States, and his busy studios produced a range of objects, from common household items to one-of-a-kind masterpieces. His work was enthusiastically collected by art museums and private collectors throughout his lifetime and continues to be highly sought after today.
This Saturday and every Saturday during the winter, the Kalmar Nyckel Shipyard (1124 East Seventh Street, Wilmington, Delaware, www.kalmarrnyckel.org) is hosting "Winter Ship Tours" of the Kalmar Nyckel.
Kalmar Nyckel deck tours are open during the winter "maintenance season" on Saturdays from 10 a.m.-4 p.m.
The $10 admission includes a self-guided tour of the Copeland Maritime Center.
Ship tours will cancel for inclement weather and safety issues due to heavy maintenance work.
The ship is a beautiful recreation of the original Kalmar Nyckel, which was built in Holland in the 1620s. Her mainmast is taller than a 10-story building, and she carries 7,600 square feet of sail area and six miles of rigging.
The original Kalmar Nyckel was a Swedish-owned, three-masted armed pinnace that sailed from Goteborg, Sweden in November of 1637 and brought the first permanent European settlers to the Delaware Valley.
In 1986 a group of citizens established the Kalmar Nyckel Foundation to design, build and launch a replica of the Kalmar Nyckel at a shipyard adjacent to the original landing site.
The new Kalmar Nyckel was constructed there and was launched on September 28, 1997. She was commissioned on May 9, 1998, and now serves as Delaware's sea-going Ambassador of Good Will. She is a fully functional sail training vessel and has represented Delaware all over the country.