By Denny Dyroff, Entertainment Editor, The Times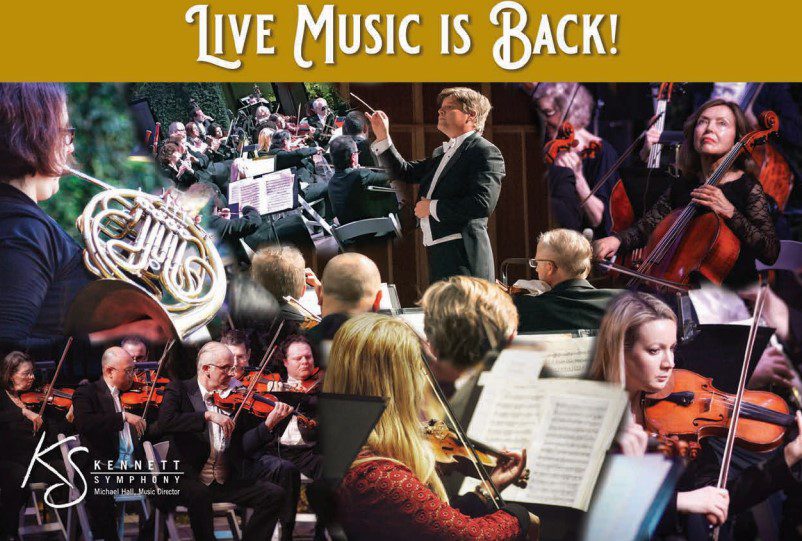 Without question, concerts by the Kennett Symphony are always enjoyable events.
This weekend, the Kennett Symphony (kennettsymphony.org) is performing two concerts, and both will offer more than just well-played classical music.
The first will be "Reimagined Symphony" on March 19 at 1 p.m. at Mendenhall Inn (323 Kennett Pike, Chadds Ford). The second will be "Masterworks 2' on March 20 at 7:30 p.m. in the Exhibition Hall at Longwood Gardens (Route 1, Kennett Square).
At the "Reimagined Symphony" concert, seating around the orchestra will provide the audience with a unique perspective. Food and drink will be available throughout this one-hour long performance in a relaxed atmosphere.
"It makes it fun," said Kennett Symphony Music Director Michael Hall during a phone interview Wednesday evening.
"The whole idea of a concert series is to make it fun. This will be very relaxed – sit, have a drink and enjoy some food. It will be general admission."
The program for Saturday's matinee will feature Giovanni Pergolesi's "Sinfonia from Olimpiade" and Igor Stravinsky's "Pulcinella Suite."
"We'll focus on 'Pulcinella,'" said Hall. "I talk about how the piece is great and what to listen for.
"It's a suite with short pieces that were originally were written for ballet. There are nine pieces – very graceful, quiet and pretty.
"It was composed in 1920 in a time when Stravinsky was looking back. It's based on a piece from the 1700s. It's music of the past with a 20th-century feel.
"'Sinfonia from Olimpiade' is a collection of pieces by Pergolesi. The purpose is to compare two styles. We'll start with the piece by Pergolesi and you can hear the style of the 1700s."
At Sunday's performance, there will be a "Pre-Concert Talk" by Michael Hall from 6:30-7 p.m. followed by the concert at 7:30 p.m.
The program will include Edvard Grieg's "Holberg Suite," Johannes Brahms' "Four Serious Songs (featuring Thomas West, baritone)," Maurice Ravel's "Pavane for a Dead Princess" and Stravinsky's "Pulcinella Suite."
"The Sunday performance is more of a typical concert," said Hall. "The first half will include pieces by Ravel, Grieg and Brahms. The first half is strings only. The second half will also have wind and brass.
"With 'Holberg Suite,' Grieg composed fresh music with an ear to the past. It imitates the music of the baroque era.
"On the Brahms piece, a baritone songs four songs that deal with death and achieving peace with death coming. It's very prophetic – very beautiful and touching."
Video link for Kennett Symphony – https://youtu.be/rWLWE2gWMZU.
Tickets for Saturday are $50 in advance; $55 day of concert for adults and $10 for students (18 and under).
Ticket price includes the concert, your first glass of wine or other beverage, and hors d'oeuvres. Cash bar also available on site. All seating is General Admission (no pre-assigned seats).  Seating at the Mendenhall Inn is first-come, first-served.
Tickets for Saturday are $50 in advance; $55 day of concert for adults and $10 for students (18 and under).
Uptown! Knauer Performing Arts Center (226 North High Street, West Chester, www.uptownwestchester.org) will be "wearing the green" and celebrating St. Patrick's Day on March 17 and 18.
The Whiskey Rovers will be the headline act on March 17 followed by Boston Comedy Festival's Saint Patrick's Comedy Spectacular on March 18.
The Whiskey Rovers' traditional Irish folk songs, stories and shenanigans will have audience members singing along, tapping their feet and clapping their hands.
The local trio, which features Tom Wang (vocals, guitar, percussion) Ben Green (mandolin, vocals, percussion) and Matt Kresge (guitar, vocals), rip into their music with zeal, authenticity and fervor that imbue listeners with the spirit of Ireland.
The show on March 17 will start at 7 p.m. Tickets are $17 for adults and $5 for children (12 and under).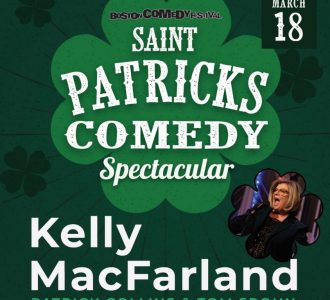 Boston Comedy Festival's Saint Patrick's Comedy Spectacular on March 18 features three of the funniest comedians of Irish descent Boston has to offer – Kelly MacFarland, Patrick Collins and Tom Spohn.
In January, the Uptown hosted a different tour edition of "Best of the Boston Comedy Festival" featuring Jim McCue, the event's founder.
"Every year, the Boston Comedy Festival is one of the most prestigious comedy festivals in the country," said Collins, during a phone interview Wednesday afternoon from his home in Norwood, Massachusetts.
"Around 100 comedians come to Boston and Cambridge. Jim McCue is the pillar of Boston comedy."
Collins is a Boston Comedy Festival favorite. He has also appeared at The Comedy Studio, CBS Comedy Scene, and The Comedy Connection RI. He recently starred in a series of very funny television commercials for NASCAR and New Hampshire Motor Speedway.
MacFarland is a stand-up comedian, writer, and actress. She has an extensive resume including comedy clubs, theaters, colleges, festivals, films, television appearances and entertaining US troops overseas. McFarland has appeared on Comedy Central, NBC's Last Comic Standing, Up Early Tonight on Hulu and Denis Leary's Comics Come Home. She has several comedy albums available on iTunes and can be heard on SiriusXM.
Spohn has performed in The Boston Comedy Festival and at venues all around New England. He's got a sketch and standup show called "With Friends Online" available on Youtube.
"Tom, Kelly and I all are of Irish descent," said Collins. "It's not going to be an all-Irish comedy show. But we all do have a small repertoire of Irish material.
"I was a comedy junkie from when I was little. I remember watching Johnny Carson and Bob Hope on TV. When I was in high school in the 80s, comedy was having a boom.
"I got my start in comedy at Nick's Comedy Stop in Boston. I started doing open mics there in 1992. That same year, I was a freshman at Marist College. I ended up graduating from Curry College with a communication major and theatre minor.
"I got into acting and stand-up comedy went on the back burner. I was doing mostly comedic roles onstage. And I got a lot of work doing commercials."
Eventually, Collins returned to comedy.
"I was an improv coach at Curry," said Collins. "Then, Boston Casting needed someone to teach a stand-up class. The showcase for the class was at Nick's. It was great. I got the bug that night and went back to comedy."
Collins works primarily in Boston and surrounding New England states.
"I've never played Philadelphia before," said Collins. "Actually, I've only ever been to Philly once. I hope I'm able to see some of the city on this trip."
The show on March 18 will start at 8 p.m. Tickets are $25 in advance and $30 at the door.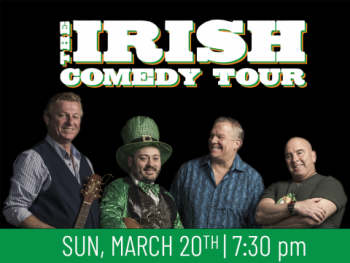 More Irish comedy will be on tap on March 20 when the Colonial Theater (227 Bridge Street, Phoenixville, thecolonialtheatre.com) hosts The Irish Comedy Tour
The Irish Comedy Tour takes the party atmosphere of a Dublin pub and combines it with a boisterous, belly-laugh band of hooligans
The group's comedians and musicians, whose ancestors hail from the Emerald Isle, include Detroit native Derek Richards; Washington D.C. born Patrick Garrity; Ohio's Michael Malone; Nova Scotia's Damon Leibert; and from Inchicore, a suburb of Dublin, Ireland Derrick Keane.
Audiences howl at Richards' tales about his child free existence, living in Las Vegas and his blue collar upbringing. He has appeared on Amazon Prime, The Bob & Tom Show, SiriusXM, and The Weather Channel's Top 10. He just released his fourth album, Double Down, available on iTunes, Spotify and Soundcloud.
Leibert's unique and energetic style of fiddle playing lies somewhere between the driving dance beat of Cape Breton, and the lyrical music of Ireland. His power packed performance adds an incredible dimension to the show.
Keane, originally from Inchicore, Derrick first distinguished himself musically when the duo in which he sang and played swept the All Ireland Talent Competition. His band, Inchicore, sets the gold standard for the Irish music scene in New England and across North America. A brilliant voice and razor-sharp    wit make him a huge hit on the tour.
Garrity is known for his constant road schedule appropriately dubbed, The Never Ending Tour. This 20 year comedy veteran brings his hilarious observations and impressions to the stage. He's a favorite from coast to coast and across the border in Canada.
And finally, Malone, with his blistering humor that focuses on breaking down the idiotic ways we deal with life, death, love, and grief. An absolute hammer of a comedian seen on Fox, Comedy Central, Showtime and HULU.
Video link for The Irish Comedy Tour – https://youtu.be/5aLkuc532dY?list=PLF210BD432AF10C0E.
The show on March 20 will start at 7:30 p.m.
Tickets are $25, $30 and $35.
The Tony Award-winning revival of Rodgers & Hammerstein's "Oklahoma!" is making its Philly premiere at the Forrest Theatre (1114 Walnut Street, Philadelphia, www.kimmelculturalcampus.org) now through March 20.
"Oklahoma!" marks the first production to re-open the Forrest Theatre since the COVID pandemic shut everything down.
The Forrest Theatre, which is owned by The Shubert Organization, is presenting this touring production in partnership with the Kimmel Cultural Campus. "Oklahoma!" first played the Forrest Theatre in 1945 and last played the venue on October 6, 1979.
Rodgers & Hammerstein's "Oklahoma!" is one of the quintessential American musicals. For 15 years (1946-1961), it held the record as the longest running show on Broadway and, at one time, the National Tour of "Oklahoma!" held the record as the longest continual tour.
Even though it has been more than 75 years since the hit musical made its Broadway debut (March 31, 1943, at the St. James Theatre), it is still as popular as ever. The new national tour has been playing to full houses in theaters around the country.
The show is set in the early 1900s on a farm that is about three hours from the closest town. It's right before Oklahoma became a state — a few years after the land rush.
"Oklahoma!" is a story about Laurey, the girl that is in love with Curly. It's a love story between the two — and there's an evil farmhand (Jud) who also is in love with Laurey.
Aunt Eller (Laurey's aunt) has a strong hand in everything. Laurey's two best friends– Ado Annie and Will Parker — add comic relief.
This revival is "Oklahoma!" as it has never been seen before.
The production has been re-imagined for the 21st century. However, not a word of text was changed in the script from the original Rodgers & Hammerstein 1943 musical. Directed by Daniel Fish, this production won the Tony Award for Best Revival of a Musical.
"We've been out on tour since mid-October," said Hennessy Winkler (Will Parker), during a recent phone interview from a tour stop in Buffalo, New York.
"I auditioned during the lockdown period – recorded auditions. It was before everyone knew the pandemic was going to last so long. I got called in for the role of Will Parker. I knew the movie. It was my dad's favorite musical.
"I'm so grateful to have gotten this job. I was a fan of Daniel Fish before I auditioned."
This new revival by Fish includes a small 12-person cast with no chorus or ensemble. Dancing and choreography are limited. A seven-piece bluegrass band performs on stage. The Grammy-nominated score re-orchestrates some of the most classic songs in American theatre history, resulting in a refreshing modern take on the famous score.
Stripped down to reveal the darker psychological truths at its core, this new revival tells the story of a community banding together against an outsider…. the production is also funny, sexy, provocative and probing.
"Oklahoma!" has always been a story about a community coming together, and this production uses scenic and lighting design to evoke a sense of togetherness. There are moments the lights are left up, moments of total darkness, and a visible band center stage.
The show has long been celebrated as an iconic piece of musical theatre, uniting audiences with the idea of a perfect America. But viewed anew in the context of a country still struggling with racial, economic and gender equity, sharply divided by political beliefs, this production pushes back on the notion of a perfect nation — instead suggesting the idea that America is still very much a work in progress.
"With 'Oklahoma!,' there is a darkness I've always been captivated with," said Winkler. "I was obsessed that Daniel has taken 'Oklahoma!' in this direction. He just brought the darkness into the light. He's taken what's already there and turned it a little.
"This is a dream role for me. I'm very much like this character. Daniel is simple. He's slow on the uptake but he gets there. He loves his girl, and he loves dancing."
Some things about "Oklahoma!" never change.
Audiences love the music — classic songs such as "Oh, What A Beautiful Mornin'," "People Will Say We're In Love," "The Surrey With The Fringe On Top" and, of course, the title track "Oklahoma!"
The songs are all the same in this production, but they are presented in a much darker way – as is the whole story.
Video link for "Oklahoma!" – https://youtu.be/A9FXCGRRGRY.
"Oklahoma!" will run now through March 20 at the Forrest Theatre. Ticket prices start at $47.
Dan Navarro is no stranger to area fans. As a solo artist, he has played a number of gigs in the area over the last few years including shows at Kennett Flash and the Living Room at 35 East (35 Ardmore Avenue, Ardmore, https://thelivingroomat35east.com), which is owned by Laura Mann, the show's opening act.
"Laura has done a great job with her club (the Living Room)," said Navarro, during a phone interview Monday from a tour stop in Kansas City, Missouri.
"For this show, she's the opening act. And she'll be joining me onstage. Laura and I have written three songs together, so we'll be playing them."
Navarro has been back in the studio – and he's loving it.
"I started making a new record last summer," said Navarro. "I'm working with a producer who has done six of my last eight albums – Jim Scott.
"He's a great producer and engineer. He's won seven Grammy Awards and has worked with a lot of great acts including Tom Petty and the Tedeschi Trucks Band."
The lists of artists Scott has worked with is like a "Who's Who" of rock music – Will Hoge, Sting, Dweezil Zappa, The Bangles, Crowded House, The Connells, Robbie Robertson, Danzig, Rage Against The Machine, Johnny Cash, Donovan and several hundred more.
"We tracked the album over 12 days last July and August at PLYRZ, Jim's studio in Santa Clarita, California," said Navarro. "Then, I went on the road for a while.
"We spent five days in the studio two weeks ago and three days last week. We'll spend five days mixing in April when I get back from this tour."
Located just 25 minutes north of Hollywood, PLYRZ features a classic Neve 8048 recording console and rooms full of vintage instruments, outboard gear and microphones.
"The vibe at the studio is amazing," said Navarro. "It's an incredible place with wall hangings and instruments everywhere.
"Jim and I have a long history of working together. He's my age and, at this stage of our careers, we're having a ball. It's really exciting.
"The album has 10 tracks. We cut more and decided to save some for later. We did 16 tracks and cut it to 10.
"Most of the songs were written in the last five years. My last album was in 2018 and those songs go back to 2015. The songs on the new album go from 2016 to now. But there is one song – 'Come Around' – that I wrote when I was 21.
"If there is a theme for the new one it is – I'm this age and I'm still doing it. There is a real upbeat song, a spooky song, a couple you-busted-my-heart songs.
"Another project I was involved in was the soundtrack for 'Encanto.' I was one of 12 session singers on 'We Don't Talk About Bruno.'"
"Encanto" is the latest Disney animation blockbuster movie and the track "We Don't Talk About Bruno" has become a viral sensation. There are more than 403,000 videos featuring "We Don't Talk About Bruno," and the hashtag #encanto has 13.8 billion views.
Navarro has also become a road warrior.
"I bought a van 10 months ago," said Navarro. "It already has 42,000 miles. It will be over 50,000 by the time I get home after this tour."
Navarro became familiar to a lot of listeners not so much as a solo artist but more as one-half of the popular duo Lowen & Navarro.
Lowen & Navarro was a songwriting team composed of David Eric Lowen and Dan Navarro, who met in Los Angeles, California, in the 1980s.
They wrote the song "We Belong," which became a major hit for Pat Benatar in 1984.  They became active as a performing group in 1987. In 1990, they began to release a number of records of their own, including "Learning to Fall" and "Purpose."
In March 2004, Lowen was diagnosed with amyotrophic lateral sclerosis (ALS), also known as Lou Gehrig's disease. Because of compromises to his playing and singing, Lowen ceased touring.
The duo played its last shows in June 2009. Lowen died of complications of ALS on March 23, 2012 at the age of 60.
Navarro's career started as a songwriter — most often with Lowen — for artists as diverse as Pat Benatar, The Bangles, Jackson Browne, Dave Edmunds, The Temptations, Dionne Warwick, The Triplets, Marco Borsato, and Rusty Weir.
"I've been in L.A. since high school," said Navarro. "I grew up in Calexico (CA) and went to UCLA to study music. I moved to L.A. in 1969 and I'm still living here.
Navarro has transitioned smoothly into a busy solo career over the past decade, touring nationally almost constantly.
He has a parallel career as a voice actor and singer in films such as "Pirates of the Caribbean 5," "The Book Of Life," "Rio," "Happy Feet," and "The Lorax" and TV work on variety of shows including "Family Guy" and "American Dad."
Video link for Dan Navarro – https://youtu.be/H_uZGnqFlUc.
The show at the Living Room, which also features Laura Mann, will start at 8 p.m. Tickets are $25 and $35.
Jamey's House of Music (32 South Lansdowne Avenue, Lansdowne, 215-477-9985, www.jameyshouseofmusic.com) will host Peter Karp on March 18 and Seamus Kelleher on March 19.
Additionally, every week there is a "THURSDAY NIGHT JAZZ JAM" featuring the Dave Reiter Trio and a "SUNDAY BLUES BRUNCH & JAM" featuring the Philly Blues Kings with Maci Miller.
Kennett Flash (102 Sycamore Alley, Kennett Square, 484-732-8295, http://www.kennettflash.org) is presenting "Suzzy Roche and Lucy Wainwright Roche – A Mother / Daughter Duo" on March 19.
The Sellersville Theater (24 West Temple Avenue, Sellersville, 215-257-5808, www.st94.com) will present Barleyjuice on March 17, Wishbone Ash on March 19, Spyro Gyro on March 20 and Nektar on March 22.