By Denny Dyroff, Entertainment Editor, The Times 
There are three special events happening in West Chester this weekend that are treats for the senses – sight (helicopters), sound (flutes) and taste (restaurants).
On March 5, West Chester University will host the 2022 Philadelphia Flute Day Fair (https://www.philaflutesociety.org/fairevents). The event will be held at Swope Music Building and the Performing Arts Center, which is located at 817 South High Street in West Chester.
The Flute Day Fair will be filled with a variety of events including concerts, flute choirs, master classes, exhibits, workshops and presentations.
The "Headline Guest Artist" will be Olivia Staton.
Some of the music acts that will be performing and/or presenting workshops are Sarah McIver, Cate Hummel, Carla Auld and the Quinception Wind Quintet.
Tickets are $40 for adults, $25 for seniors and youth and 15 for guests.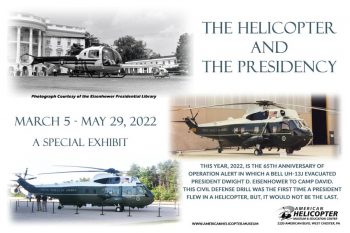 This weekend marks the opening of "The Helicopter and the Presidency" special exhibit at the American Helicopter Museum (1220 American Boulevard, West Chester, americanhelicopter.museum).
2022 is the 65th anniversary of OPERATION ALERT in which a Bell UH-13J evacuated President Dwight D. Eisenhower to Camp David. This Civil Defense drill was the first time a president flew in a helicopter. Obviously, it was not the last.
Today, U.S. presidents routinely travel by helicopter, and the presidential helicopter is often photographed taking off or landing on the White House's South Lawn.
The American Helicopter Museum & Education Center's new exhibit, "The Helicopter and the Presidency," explores the iconic role played by helicopters in the modern American presidency. Exhibit artifacts, photos, scale models of the helicopters, and more tell the stories of the personnel who maintain and fly the world's most famous helicopter.
The exhibit runs March 5 through May 29 during normal operating hours.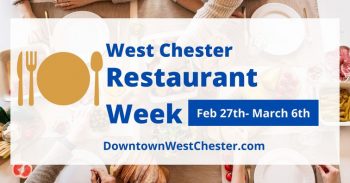 West Chester's "Restaurant Week" for 2022 (www.downtownwestchester.com/event/west-chesters-restaurant-week) is running now through March 6.
This fun filled week is the perfect opportunity for area residents to support your favorite restaurants or explore something new.
West Chester's culinary masters will be creating special multi-course prix fixe menus that we will featured for one week only.  There will be dine-in and takeout options available.
Participating restaurants are Barnaby's of West Chester, Dolce Zola, Iron Hill Brewery & Restaurant, Kildare's Irish Pub, Mae's West Chester, Mas Mexicali Cantina, Meatball U, Pietro's Prime, Rams Head Bar & Grill, Saloon 151 Whiskey Bar & Grill,
Slow Hand Restaurant and Bar, Split Rail Tavern, Sterling Pig Brewery, Stove & Tap, Mediterranean, The Social, Sedona Taphouse, Side Bar & Restaurant, Spence Café, Ryan's Pub & Restaurant, Greystone Oyster Bar, Mercato Ristorante and Bar, Kooma Restaurant, and Opa Taverna.
Visitors to Longwood Gardens (Route 1, Kennett Square, www.longwoodgardens.org) can immerse themselves in a winter wonderland. And they can also enjoy a special celebration this weekend at the Orchid House.
Now through March 27, Longwood Gardens will celebrate a winter wonderland with a special attraction called "Winter Wonder."
In the past, Longwood Gardens was always a great place to go from January to April to escape the harshness of winter. Guests could enjoy an amazing array of flowering plants inside the lush and nicely heated Conservatory.
That has stayed the same this year and "Winter Wonder" adds a new dimension.
Outdoors, winter's subdued beauty illustrates how plants can be used for both aesthetic and habitat benefit. Visitors can stroll among the serene landscape of the Hillside Garden or reflect among a symphony of copper and umber hues in the 86-acre Meadow Garden.
Although subdued colors reign, the occasional burst of bright yellow and orange of blooming witch-hazel dots the landscape, while winter grasses add a textural element.
Even though winter is a time of dormancy for many plants, it is also a time when plants' different characteristics are on display – characteristics such as bark patterns, seed pods and ornamental fruit.
Wintertime allows the clear details of the garden to come forward and highlights the harmony that a garden builds with its surrounding landscape. The clear light of winter enhances the finer details of the outdoor landscape, from deciduous trees holding onto their late winter leaves to the brown-toned structures of summer-flowering perennials set against a blue winter sky.
Indoors, there is always the Conservatory.
This winter, visitors can experience a warm, colorful oasis in Longwood's grand Conservatory. Vibrant Streptocarpus 'Concord Blue' baskets float above, pink and purple Saintpaulia (African-violets) delight, and tall Clerodendrum schmidtii (chains-of-glory) stun.
From beds of coral Cymbidium to a dedicated area showcasing highlights from the site's vast collection, guests will be able to find hundreds of orchids in spectacular bloom.
In early March, Longwood's famed blue poppy (Meconopsis 'Lingholm') returns to the Conservatory. These spectacular flowers—which are native to the high elevations of the Himalayan Mountains— are grown using precise techniques to force the blue-poppies to flower in March. The substantial petals are a mesmerizing sky-blue color.
After a major restoration project, the Orchid House has reopened at Longwood Gardens.
The Orchid House, which has a history dating back more than a century, has come back to life with a brand-new glass roof and reimagined gallery-inspired space.
Admission to Longwood Gardens is $25 for adults, $22 for seniors and college students, $18 for active military and $13 for youth.
Winterthur Museum, Garden & Library (Route 52, Wilmington, Delaware, 800-448-3883, www.winterthur.org) just opened its 2022 season. This weekend, Winterthur is kicking into gear with a special event called "Back to Bend," which will be held on March 5 from 10 a.m.-3:30 p.m.
Visitors are invited to celebrate the early bulb display of the March Bank with a lecture and garden tours – guided sand self-guided.
This year's featured speaker is John Lonsdale of Edgewood Gardens
Lonsdale will give a lecture titled, "Unusual Bulbs for the Garden."
Celebrate the winter garden and early bulb display of the March Bank with a day of events.
Other special activities include a "Plant Sale" featuring rare and unusual plants from Edgewood Gardens and a "Guided Tour of March Bank."
Another one-day event at Winterthur on Saturday will be "Curiosity Carnival."
Participants can enjoy hands-on activities, informal chats, mini-tours, and demonstrations that celebrate the questions and conundrums that make us curious.
Visitors can build furniture using early 20th century instructions and cardboard, get their hands dirty in different types of mulch to learn how trees transition to soil, see how the power of radishes is breaking up unused pavement, and more.
Admission to Winterthur is $22 for adults, $20 for seniors (age 62 and older) and students, and $8 for children (ages 2-11).
This weekend will be a good time to parlay indoor and outdoor activities – to enjoy the unseasonably warm weather outside during the day and then follow it with an evening indoors enjoying a stage production.
Two good options for evening stage entertainment are "Rent: 25th Anniversary Farewell Tour," which is being presented at the Merriam Theater as part of the Kimmel Cultural Campus 2022 Broadway Series (www.kimmelculturalcampus.org) , and the Philadelphia Premiere of "A Golden Girls Murder Mystery: The Curse of Jessica Fletcher" at Craft Hall (Craft Hall, 901 North Delaware Avenue, Philadelphia, www.withoutacue.com/goldengirls).
"Rent", which had record-breaking sales when it played Philadelphia on numerous previous occasions, has established itself as one of America's all-time best Broadway shows. Based on Puccini's opera "La Boheme," it swept all the major theater awards, including the 1996 Tony Award for Best Musical and the Pulitzer Prize for Drama.
The 20th anniversary National Tour of "Rent" came to Philly a few years ago to the Merriam Theater, the six-day run was a complete sellout.
The show's playwright Jonathan Larson passed away the night before the Off-Broadway premiere of "Rent" in January 1996. Most likely, if he were still alive today, he would be astounded by the show's success – more than 20 productions worldwide, including Broadway and London's West End, and numerous awards such as Pulitzer Prize for Drama, three Tony Awards (Best Musical, Best Book of a Musical and Best Original Score) and four Drama Desk Awards (Outstanding Musical, Outstanding Book of a Musical, Outstanding Music and Outstanding Lyrics).
Many of the characters in the play are dropouts from the real world – artists, musicians, writers and their friends who are trying to survive on the outer fringes of society. This tour is also an avenue for young artists trying to survive and succeed in the theater world.
"Rent" has a cast of "outcasts" – Mark, a struggling documentary filmmaker; Roger, a rock singer/guitarist ex-junkie who is HIV-positive; Mimi, a Hispanic-American S&M club dancer and heroin addict; Joanne, a gay Ivy League-educated public interest lawyer; Tom, a professor and anarchist with AIDS; Angel, a drag queen street percussionist with AIDS; and Benny, a former friend/roommate of the group who turned into a "yuppie scum" landlord.
The show looks at all their lives and how they interact with each other and with society.
"Rent" has stayed so popular because it has such a simple and beautiful message. The message is to focus on love and to spread love.
Video link for "Rent" — https://youtu.be/q9hZ092T4fI.
The show will be performed at the Merriam Theater on March 4 at 8 p.m., March 5 at 2 and 8 p.m. and March 6 at 1 and 6:30 p.m.
Ticket prices start at $45.
The Philly production of "A Golden Girls Murder Mystery: The Curse of Jessica Fletcher" is a dream come true that has been two decades in the making for Without a Cue Productions. After 20 years and a global pandemic, one of the most well-known and notable female-owned businesses in Bucks County will expand and pivot into the Philadelphia market with a stage show that has sold out around the country.
Bucks County's Without a Cue Productions will debut the show just in time for Women's History Month with opening night set for March 5. This celebrates Without a Cue Productions as a female-owned/led business and pays homage to "Golden Girls," which ground-breaking at the time for having all four leads be women.
"This is our 20th year in the business and our 12th with 'Golden Girls' productions," said Founder and Executive Director Traci Connaughton during a phone interview Wednesday afternoon. "The first one was in February 2010 at Fisher's Tudor House in Bensalem. We have three different 'Golden Girls' productions.
"'A Golden Girls Murder Mystery: The Curse of Jessica Fletcher' was first produced in 2017. Now, it's been two or three years since we performed it."
In "The Curse of Jessica Fletcher," the Golden Girls will deal with a murder mystery in an immersive theater, food and drink experience that comes complete with whodunnit vibes, comedy, acting, and themed eats and drinks.
"The show is fully scripted," said Connaughton, a Bucks County native and former Coatesville resident who now lives in Honey Brook.
"Our actors are trained to interact with the audience within the script. The characters talk with the audience during a scavenger hunt and the audience can take selfies with each of the characters. We continually improvise – but the ending is always the same."
In this production, the Golden Girls have decided to try their hand at solving a mystery. They've invited a couple of well-known detectives to join the party and discuss their famous capers. But, as always, the ladies are keeping secrets and trouble is afoot.
During this hour and a half performance, audience members will get to play detective as the Without A Cue Golden Girls mingle with the audience.
As guests enjoy a cocktail, the ladies will delight the audience with their iconic banter. At the end of the night, the audience will try to solve the mystery and guess whodunnit. One winner will win a prize.
According to Connaughton, "Dorothy's sarcasm will have your sides splitting, Rose's naivete will have you bent over in laughter, Blanche's sultry antics will have you laughing so hard tears will come to your eyes, and Sophia will just kill.'"
The show was written by John Logue and directed by Philadelphia native David Micun. The rotating cast includes area performers, including David Micun, Monica Fotusky, Kevin Hughes, Will Maloney, Debbie Bello, Dana Corvino, Libby Ross, Carolyn Dixon, and Leta Gilbert. All of the cast members live and work in the Philadelphia region.
In addition to live entertainment, the show also features food and beverage treats.
It begins with "First Course: Italian Treats from Sophia and Dorothy."
Patrons will be invited to enjoy a shot of Limoncello with Sophia. The first plate will be an Italian treat of Antipasto Salad with Focaccia Crisp, Marinated Salami, Mozzarella, Olives and Chickpeas.
Next is "Second Course: A Taste of the South with Blanche."
Guests will enjoy a toast with Blanche with her favorite drink — a delightful combination of rum, Southern Comfort, pineapple juice, orange juice, and a squeeze of lime. The second plate will be a Southern favorite — BBQ Chicken Salad accompanied by Pepper Jam, Dill Pickles and Bacon.
The final offering is "Third Course: Dessert with Rose."
Participants will go then sweet route when they drink with Rose. Fresh lemonade is on the menu, spiked with raspberry vodka and raspberry liqueur. Your final plate will be all of the ladies' favorite treat — Cheesecake Cups with Strawberries and a Graham Cracker Crumble.
During the experience, there will be several opportunities to take selfies with the characters (and a fun race to see who can get them all first), hidden clues, and even an opportunity to get their mug shot. Once the performance begins, guests will become part of the action as they play detective and try to solve the mystery. Flashing lights and gunshot sounds may be used in this production. Proof of vaccination will be required for entry to the theater space.
Tickets are $64 each and include the show, food and three cocktails per person. Additional cocktails and food are pay-as-you-go. The show will run from March to April on select Fridays, Saturdays and Sundays with times on show nights at 6 and 9 p.m.
In honor of Betty White, a portion of ticket sales will be donating a dollar from each ticket sold to the Philadelphia Animal Welfare Society (PAWS).
From March 5-13, the Auto Dealers Association of Greater Philadelphia is presenting the 2022 Philadelphia Auto Show at the Pennsylvania Convention Center (12th and Arch streets, Philadelphia, www.phillyautoshow.com). COVID interrupted the show's annual cycle but now it's back — and it's better than ever.
According to Kevin Mazzucola, executive director of the Auto Dealers Association of Greater Philadelphia, "Philadelphia, it's time to shift from idle to drive. We're refueled, recharged and ready to welcome guests back to one of the City's most beloved events."
Spanning more than a half-million square feet, the 2022 Philadelphia Auto Show display floor will include several new features as well as time-honored fan favorites. This year marks the 120th edition of the event.
One of the 2022 highlights is "The e-Track," the show's first-ever multi-brand electric vehicle test track. At the e-Track, consumers will be able to ride in select manufacturers' electric vehicles through an indoor track.
Guests will again be invited to check out the latest and greatest developments from some of today's leading vehicle manufacturers in "The Showroom," which will be in Halls A, B and C of the PA Convention Center.
"Camp Jeep & Toyota Ride & Drive" gives attendees the ultimate off-road driving experience indoors via a one-of-a-kind 30,000-square-foot track with an exhilarating hill climb. In addition, Toyota will once again offer guests the opportunity to get behind the wheel of several of its latest models via its outdoor Ride and Drive, located at 12th and Arch streets.
On "Back-in-the-Day Way," which is located in the Grand Hall, guests will take a trip down memory lane and view vehicles from yesteryear thanks to the Antique Automobile Club of America and Classic Auto Mall.
Custom Alley will showcase a wide array of tricked-out rides, bikes and the latest in after-market excitement.
Ticket prices range from $10-$16.
The Philadelphia Comic-Con, which is scheduled to run from 10 a.m.-4 p.m. on March 6 at the Clarion Hotel Conference Center (76 Industrial Highway, Essington, 856-217-5737, www.philadelphiacomic-con.com), features comic books, trading cards and other collectibles — both modern and vintage.
The event, which has an admission fee of $4, also features a number of special autograph guests.
The popular collectibles event, which is the area's longest running comic convention, will host dealers from all over the Northeast with sales booths featuring Gold & Silver Age comics, action figures, non-sport cards (including Topps "Journey to Star Wars: The Force Awakens").
Also featured will be Japanese Manga, gaming cards such as Pokemon and Magic the Gathering, original artwork and all the latest issues of today's popular comic book series.
The roster of top-flight vendors includes veteran dealers and relative newcomers.
As an added attraction, there will be hourly door prizes beginning at 11 a.m. with $100 in show cash to be given away.
Some of Philadelphia's baseball's greats such as former Phillies Bob Boone, Steve Carlton, Pete Rose, Mike Schmidt and former Philadelphia Athletics standout Bobby Shantz will be main autograph guests this weekend's Philadelphia Sportscard & Memorabilia Show, which is running from March 4-6 at the Valley Forge Casino Resort (First Avenue, King of Prussia, 610-524-0822, http://www.phillyshow.com).
The show will feature dealers from all over the country who will be selling a wide array of sports-related items such as game-used equipment, autographed balls, posters, magazine, game programs and autographed pictures – and plenty of Philadelphia sports memorabilia. Visitors can also find a huge selection of collectors' supplies including protective sheets, binders, ball protectors and display cases.
Another major focus of the show will be trading cards — especially baseball cards. Show attendees will be able to find everything from ultra-rare vintage Honus Wagner and Babe Ruth cards to the latest releases. All sports will be represented, including football, soccer, ice hockey, basketball, wrestling, Olympics and UFC.
Show hours are 3-8 p.m. on Friday, 9 a.m.-5 p.m. on Saturday and 9 a.m.-3 p.m. on Sunday.
Admission to the show is $10 per day or $25 for a weekend pass.
If you're thinking about getting an RV — or any type from a home-away-from-home on wheels — then you should check out the Greater Philadelphia RV Show & Sale which is running now through March 6 at the Greater Philadelphia Expo Center (100 Station Avenue, Oaks, 800-290-6886, www.phillyrvshow.com).
Visitors to the show will be able to shop at exhibits by many of the top dealers of Southeastern Pennsylvania without having to drive all around the area to do so. The dealers will all be assembled together under one roof allowing comparison shopping to be an easy task.
In addition to exhibits displaying all types of RVs, the show will also feature supplier booths, camping information and dealers specializing in parts and accessories.
The roster of participating dealers includes Stoltzfus RV & Marine (West Chester), RV Value Mart, Shady Maple RV, and Colton RV Pocono.
The line-up also includes Hitch RV, Fretz Enterprises, Indian Valley Camping Center, Family Camping Outlet, Miller Trailer Sales, Campers Inn and RV One Superstores.
Show hours are noon-8:30 p.m. on March 4, 10 a.m.-8:30 p.m. on March 5 and 11 a.m.-5 p.m. on March 6. Tickets are $11 with children (under 12) admitted free with a paying adult.
The Annual Gem, Mineral & Fossil Show will be held March 5 and 6 at Doubletree by Hilton (4727 Concord Pike, Wilmington, Delaware, http://delminsociety.net/marchshow/marchshow.htm).
Activities include interesting and educational exhibits of mineral, lapidary and fossil specimens, a "Fluorescent Mineral Room" with brightly glowing, illuminated specimens, displays of minerals from the Iron Hill Museum, display of regional Native American stone artifacts.
Demonstrations by members of the Delaware Mineral Society and the Tuscarora Lapidary Society may include: Gem Faceting, Cabbing, Wirewrapping, Pearl Knotting, Viking Wire Weaving, Gem Tree Making, Bead-Wire Ringmaking, Fossil Fish Specimen Preparing, and more.
The show will also feature a large roster of outstanding dealers of minerals, fossils, gems, jewelry and lapidary supplies along with the "Club Members Booth" where show attendees can purchase self-collected specimens and self-made jewelry items at low cost and a "Children's Booth" where youngsters of all ages can purchase inexpensive minerals and fossils from $1 and up.
Hours are 10 a.m.-5 p.m. on Saturday and 11 a.m.-5 p.m. on Sunday. Admission is $6 for adults, $5 for seniors, $4 for juniors (12-16) and free for children (under 12). There will also be a large specimen raffle with one free raffle ticket per paid admission.
If one of your hobbies is fishing, you should check out the "Fly Fishing Show" which is being held March 5 and 6 at the Lancaster Convention Center Lancaster Convention Center (3 East Vine Street, Lancaster, 866-481-2393, www.flyfishingshow.com).
The list of special attractions at the 2022 show includes seminars and demonstrations presented by many of Pennsylvania's finest fly-fishing celebrities along with several national celebrities. There also will be a huge vendors' area with an array of fishing-related products on sale.
The International Federation of Fly Fishers will be offering free fly fishing instruction at the FFF Learning Center located at the FFF booth. Basic fly casting, fly tying and knot tying will be taught throughout the day on both Saturday and Sunday.
The International Fly Fishing Film Festival will be held on March 3 starting at 6 p.m. Tickets for the film fest are $15.
There will also be booths featuring fly fishing celebrities with a roster that includes Joe Humphreys, Bob Clouser, Gary Borger, George Daniel, Bob Popovics, Bob Romano, Rabbit Jensen, Jerry Kustich, Ed Engle, Tom Gilmore, Dianne Tidy, Dusty Wissmath, Thomas E. Baltz, John Field, Tim Flagler, Rob Giannino and Enrico Puglisi.
The show will be open from 9 a.m.-5:30 p.m. on Saturday and 9 a.m.-4:30 p.m. on Sunday. Adult tickets are $15 for one day or $25 for a two-day pass. Tickets for children (under 12) are $5.
Another special event in Lancaster this weekend will take place at one of the city's main historical sites.
On March 5, Wheatland (230 North President Avenue, Lancaster, 717- 392-4633, www.LancasterHistory.org) will present a special living history event called "James Buchanan Henry: Private Secretary."
March's Special Subject Tour will focus on the life and experience of James Buchanan "Buck" Henry, nephew and private secretary to James Buchanan. As you tour Wheatland, learn about Buck's childhood, life with Uncle James Buchanan, and how this little boy grew up to be a successful attorney, private secretary to the president, and artist.
James Buchanan Henry: Private Secretary, a special guided tour of Wheatland, will be held on Saturday, March 5. Tours will be available on the half hour, beginning at 10 a.m. and continuing until the last tour at 3 p.m.
These tours are not Wheatland's regular General Admission tours and will not be James Buchanan-focused.
Tickets are $15 for adults, $13 for seniors and $8 for students (ages 11-17).
March is a good month for visiting museums and one of the best is the Franklin Institute.
There was never any doubt that the new exhibit at the Franklin Institute (271 North 21st Street, Philadelphia, 215-448-1200, www.fi.edu) would be a major attraction.
The attraction is "Harry Potter: The Exhibition,'' which opened last weekend. It is the world premiere for the exhibition which will call Philly home until September 18.
You can never underestimate the popularity of the Harry Potter franchise. When almost two-thirds of the country's population have seen at least one Harry Potter movie, it's inconceivable that this exhibition could fail in any way.
This groundbreaking exhibition will celebrate the iconic moments, characters, settings, and beasts as seen in the films and stories of Harry Potter and the Wizarding World using best-in-class immersive design and technology.
From the mysteries of Hogwarts™ castle to the antics of its mischievous yet brilliant students; from daring duels to dragons and Dark Arts; from glittering Gringotts™ to the magnificent Ministry of Magic – the exhibition will bring magic to life, connect visitors with the larger global community of fans of the Wizarding World, and reveal the artistry and craftsmanship behind the blockbuster films.
Visitors will get an up-close look at authentic props and original costumes from the Harry Potter and Fantastic Beasts™ films as they engage with innovative, awe-inspiring, and magical environments and installations in this: the most comprehensive touring exhibition ever presented about the Wizarding World.
"Harry Potter: The Exhibition'' is open daily from 9:30 a.m. to 8 p.m. and requires special timed tickets. Advance reservations are strongly recommended.
Daytime tickets (9:30 a.m. to 5 p.m.) are $43 for adults and $39 for children. Evening tickets (5-8 p.m.) are $30 for adult and children. $30; child $30. All tickets include admission to The Franklin Institute.
Visitors are encouraged to follow "Harry Potter: The Exhibition" on Facebook, Instagram, and Twitter, as well as all social media channels for The Franklin Institute. #HarryPotterExhibition.
Now through April 10, the Brandywine River Museum of Art (Route 1, Chadds Ford, www.brandywine.org) is presenting its latest exhibition, "Wayne Thiebaud 100: Paintings, Prints, and Drawings."
Highlighting the full range of this iconic American artist's work made over 70 years, the exhibition features a spectacular selection of his paintings, watercolors and prints.
Created on the occasion of Thiebaud's 100th birthday, the exhibition now also serves as a fitting tribute to his remarkable career following the artist's recent death on December 25, 2021. Drawn from the collection of the Thiebaud family and foundation, as well as from the Crocker Art Museum's rich holdings, the retrospective includes works from every period of the artist's long career — including many that have never been shown publicly.
The exhibition also includes the artist's newest body of work — circus clowns — revealing his extraordinary and expansive practice over seven decades.
Spanning two floors of galleries in the Museum's historic Mill, this exhibition at the Brandywine will allow visitors to appreciate the totality of Thiebaud's artistic vision and the rich sensations he infused into all his work.
The exhibition is accompanied by a richly illustrated catalogue chronicling the artist's visual journey and artistic influences.
The Brandywine River Museum of Art features an outstanding collection of American art housed in a 19th-century Mill building with a dramatic steel and glass addition overlooking the banks of the Brandywine.
Admission is $18 for adults, $15 for seniors ages 65 and over, $6 for students and children ages 6 and up; free for children 5 and younger.
Now through April 17, the Delaware Museum of Art (2301 Kentmere Parkway, Wilmington, Delaware, delart.org) is presenting "Delaware Women's Hall of Fame: Celebrating 40 Years," an exhibition of portraits of outstanding women from across the state.
To mark the 40th anniversary of the prestigious award, the Office of Women's Advancement and Advocacy commissioned Delaware artist Theresa Walton to create portraits of every woman inducted. The exhibition celebrates the tremendous achievement of women from across the state in a variety of professional fields.
Portraits of Hall of Fame inductees include, former Governor Ruth Ann Minner, U.S. Representative Lisa Blunt-Rochester, Delaware Children's Theatre founder Marie Swajeski, educators Dr. Jill Biden and Dr. Reba Hollingsworth, and community leader Maria Matos, among others.
Admission is $14 for adults, $7 for students, $6 for youth (ages 7-18) and free for children (6 and under).
There are several other good incentives for making the short trip south to Delaware this weekend.
Historic Odessa (Main Street, Odessa, Delaware, 302-378-4119, www.historicodessa.org) is both a scenic and an historic site in Delaware.
This weekend will mark the first full weekend of the 2022 season.
On March 1, Historic Odessa reopened for spring tours.
March 6 is also a special day in Odessa.
Visitors are invited to celebrate Dr. Seuss's birthday with Historic Odessa Foundation.
Guests will have the opportunity to party with a reading of "Cat in Hat" followed by family friendly arts and crafts.
The celebration will run from 2-4 p.m. in the Bank Building (201 Main Street, Odessa).
Reservations are required by calling 302-378-4119. RSVP deadline is 4 p.m. on February 28.
Known in the 18th-century as Cantwell's Bridge, Odessa played a vital role in commercial life along the Delaware River as a busy grain shipping port.
Today, visitors can stroll along tree-lined streets and admire examples of 18th- and 19th-century architecture in one of the best-preserved towns in Delaware. They can also tour a remarkable collection of antiques and Americana preserved in period room settings and quaint exhibits.
Historic Odessa is open to the public from March through December, Tuesday through Saturday from 10 a.m.4:30 p.m. and Sunday from 1-4 p.m.  The site is also open Monday by reservation.
This Saturday and every Saturday during the winter, the Kalmar Nyckel Shipyard (1124 East Seventh Street, Wilmington, Delaware, www.kalmarrnyckel.org) is hosting "Winter Ship Tours" of the Kalmar Nyckel.
Kalmar Nyckel deck tours are open during the winter "maintenance season" on Saturdays from 10 a.m.-4 p.m.
The $10 admission includes a self-guided tour of the Copeland Maritime Center.
Ship tours will cancel for inclement weather and safety issues due to heavy maintenance work.
The ship is a beautiful recreation of the original Kalmar Nyckel, which was built in Holland in the 1620s. Her mainmast is taller than a 10-story building and she carries 7,600 square feet of sail area and six miles of rigging.
The original Kalmar Nyckel was a Swedish-owned, three-masted armed pinnace that sailed from Goteborg, Sweden in November of 1637 and brought the first permanent European settlers to the Delaware Valley.
In 1986 a group of citizens established the Kalmar Nyckel Foundation to design, build and launch a replica of the Kalmar Nyckel at a shipyard adjacent to the original landing site.
The new Kalmar Nyckel was constructed there and was launched on September 28, 1997. She was commissioned on May 9, 1998 and now serves as Delaware's sea-going Ambassador of Good Will. She is a fully functional sail training vessel and has represented Delaware all over the country.
The Chaddsford Winery (632 Baltimore Pike, Chadds Ford, www.chaddsford.com) will host Cheese & Wine Reserve Tastings every Saturday and Sunday in March.
Visitors can enjoy stops at stations featuring locally crafted artisan cheeses from Birchrun Hills Farm carefully paired with the winery's award-winning wines.
The pairing lineup is Greeting Cocktail: Chaddsford White Gin Smash, 2019 Sparkling White with Lil Chardy and Apple Jam, 2019 Traminette with Sea Salt and Honey Spread, 2019 Merlot with Equinox and Niagara with Birchrun Blue.
Sessions will be offered throughout the day at noon, 2 and 4 p.m.  During the session, Chaddsford Winery staff will lead guests through an educational pairing while providing interesting facts about the featured wines andcheese.
Advanced tickets are $35 per person, and space is limited. Advanced reservations are required and are non-refundable.
Guests under 21 years old are not permitted to attend a Reserve Tasting. Outside food is not permitted during this program.
The "Wine and Cupcake Pairings" at Penns Wood Winery (124 Beaver Valley Road, Chadds Ford, http://www.pennswoodsevents.com) will be held every Saturday and Sunday in February.
In addition to its regular tastings, the winery is offering special tastings to celebrate March.
Penns Wood is adding new and exciting items to its wine and chocolate pairings this year featuring its wines carefully paired with local baked treats.
This wine and cupcake pairing will consist of four gourmet mini cupcakes from Dia Doce in West Chester paired with four of Penns Wood's premium wines.
Tickets cost $38 per person in advance and reservations are required.
The Strasburg Rail Road (Route 741, Strasburg, 717-687-7522, www.strasburgrailroad.com) is running a special train on Friday and Saturdays in March – the "Wine & Cheese Train."
Passengers can enjoy the luxurious, climate-controlled first-class accommodations and a tasting of select wine, cheese, and crackers as they travel in style down the tracks from Strasburg to Paradise and back. The train departs at 6 p.m. and the total trip time is 45 minutes.
"Wine & Cheese Train" boarding is 30 minutes before the scheduled departure. Riders must be 21 or older and have their photo ID ready when they board.
Featured wines are carefully selected from Waltz Vineyards, and cheeses are paired accordingly. Beer and select non-alcoholic beverages are also available for purchase upon request. Riders can purchase a souvenir wine glass on board the train if desired. Glasses are $7 each.
In accordance with Pennsylvania law, alcohol is only served during the train ride. We are not permitted to serve alcoholic beverages while the train is berthed in the station.
This popular train is available on select Friday and Saturday evenings throughout the season. Tickets are $50.
If you want to enjoy a session of skating this season at the Blue Cross RiverRink Winterfest (Delaware Avenue at Walnut Street, Philadelphia, 215-925-RINK, http://www.delawareriverwaterfront.com/places/blue-cross-riverrink-winterfest), you better act quickly.
This is the final weekend for the rink's 2021-2022 season. March 6 marks the season finale. When that Sunday's final session concludes, that's it – that's the end until next winter.
Unlike most of the suburban ice rinks, RiverRink features only public skating. Ice skating is the only use of the ice – no hockey leagues, no lessons, just public ice skating.
Guests can bid farewell to an amazing winter at Blue Cross RiverRink Winterfest at "Kick the Keg," which will be held March 5 and 6.
Participants will be able to enjoy draft beers by Love City Brewing, Yards Brewing Co., Brewery Ommegang, Lancaster Brewing, and Blake's Brewing Co.
They can savor these great local sips until each keg is "kicked." Each person who kicks a keg will win fun prizes.
RiverRink has taken the ice-skating experience on the Delaware River waterfront to another level by once again transforming the annual rink into a bona fide winter wonderland.
Open seven days a week, the Blue Cross RiverRink Winterfest is an immersive winter-themed experience with a popular bar and restaurant called The Lodge, winter beer garden-style landscaping, a brand-new light show, and a retail shopping experience from Art Star Gallery & Boutique.
The outdoor rink's hours this season are 1 p.m.-1 a.m. Friday; 11 a.m.-1 a.m. on Saturday and 11 a.m.-11 p.m. on Sunday. Skating admission price is $4 and skate rental is $10.
A good way to get out of the cold weather is to visit Wonderspaces.
Wonderspaces at the Fashion District (27 North 11th Street, Philadelphia, philadelphia.wonderspaces.com) is an experiential, interactive arts venue.
Building on the success of annual pop-up shows in San Diego, and its first permanent location in Scottsdale, Arizona, Wonderspaces opened a 24,000 square foot gallery space in Philly a year ago.
Wonderspaces features 14 art installations that all play with the idea of perspective. The artwork ranges from award-winning virtual reality short film about a dinner party-turned-alien abduction, to a room where visitors digitally paint the walls with the movement of their bodies.
New artworks rotate in every few months, creating an ever-evolving, year-round show.
Tickets are for entry at a specific date and time. Visitors are welcome to stay as long as they please during operating hours. The average time spent experiencing the show is 90 minutes.
A few installations contain flashing lights, images, and patterns that may trigger seizures for people with photosensitive epilepsy. All visitors must sign a waiver prior to being admitted into the space. Adult supervision is required for visitors under 16.
The installation is open from noon-10 p.m. on Thursdays and Fridays, 10 a.m.-10 p.m. on Saturdays and 10 a.m.-8 p.m. on Sundays.
Tickets are $24 for adults, $20 for seniors, teachers, healthcare workers, students and active military, and $15 for children (ages 3-12).
Ghost Tour of Philadelphia (215-413-1997, www.ghosttour.com), Ghost Tour of Lancaster (717-687-6687, www.ghosttour.com) and Ghost Tour of Strasburg (717-687-6687, www.ghosttour.com) operate throughout the winter and offer an eerily entertaining evening of true ghost stories and real haunted houses.
The Ghost Tour of Philadelphia, which is based on the book, "Ghost Stories of Philadelphia, PA.," is a candlelight walking tour along the back streets and secret gardens of Independence Park, Society Hill, and Old City, where ghostly spirits, haunted houses, and eerie graveyards abound.
Participants can discover the ghost lore of America's most historic and most haunted city with stories from the founding of William Penn's colony to present-day hauntings.
The activity is open year-round – weekends, December-February; every night, March-November. Tickets are $24.
The Ghost Tour of Lancaster and the Ghost Tour of Strasburg are based on the book, "Ghost Stories of Lancaster, PA."
Participants in the Ghost Tour of Lancaster explore the long-forgotten mysteries of one of America's oldest cities, with haunting tales of otherworldly vigils, fatal curses, and star-crossed lovers. The tour provides the opportunity to experience 300 years of haunted history from the Red Rose City's thorny past. Tickets are $18.
The Ghost Tour of Strasburg is a candlelight walking tour of the quaint and historic town of Strasburg in the heart of Pennsylvania Dutch Country. Visitors will experience an entertaining evening with a costumed tour guide spinning tales of haunted mansions, eerie graveyards, and spirits that roam the night … in a town lost in time. Tickets are $18.
If you're looking for a fun family activity – an indoor activity unaffected by the weather — Linvilla Orchards (137 West Knowlton Road, Media, 610-876-7116, www.linvilla.com) has something just for you — the miniature golf course "Fore! the Planet."
Linvilla Orchard's "Fore! The Planet" is a highly interactive and playful museum exhibit created by the Academy of Natural Sciences in Philadelphia. This exhibition pairs important environmental issues with the fun of miniature golf.
It features 18 unique educational holes on a variety of topics — butterfly metamorphosis, a tropical rainforest, evolution, dinosaur extinction, food chains and more. Kids of all ages can enjoy playing miniature golf while learning about our environment on every hole.
The first hole is "Butterfly Life Cycle" and players must putt through each stage of the colorful insect's metamorphosis. The next five holes are titled "Seed Dispersal," "Bat Sonar," "Food Chain," "Evolution of a Golfer" and "Backyard Explorer" followed by "Natural Selection" and "Predators and Prey."
On the "Dinosaur Extinction" hole, players get to hit their balls toward the scientific theory of dinosaur extinction they find most plausible. The remainder of the thought-provoking holes are "Recycling," "Water Pollution," "Landfills," "Wild Corridors," "Bird Migration," "Spawning Salmon," "Alien Species," "Population Threats" and "Rainforest Threats."
The mini-course is open daily from 9 a.m. through March 27. Tickets are $7.
"Elmo's Furry Fun Fest" at Sesame Place (100 Sesame Road, Langhorne, www.sesameplace.com) is happening every weekend now through March 20.
Guests are invited to visit the park to enjoy an event series during "Elmo's Furry Fun Fest," a festive, family-friendly celebration with everyone's favorite Sesame Street friends live and in-person at the amusement park in Langhorne.
The current special attraction is "St. Patrick's Day Celebration" on March 5, 6, 12 and 13.
Every weekend through March, visitors can celebrate treat little loves to a fun day during the "My Fuzzy Valentine's Celebration," let the good times roll during the family-friendly "Mardi Gras Celebration," experience the park's "St. Patrick's Day Celebration," and wish Big Bird a Happy Birthday during his Birthday Weekend.
Activities include a riding on the Sunny Day Carousel, dancing and grooving during at the "Furry Friends Dance Party," watching "Elmo the Musical, LIVE!" and having fun at the always popular Mini Parades.
The schedule features "St. Patrick's Day Celebration" on March 5, 6, 12 and 13, and "Big Bird's Birthday Pajama Party" on March 19 and 20.
The park will be open from 10 a.m.-2 p.m. on Saturdays and Sundays now through March 20 along with February 21.