Third time proves a charm for road dedication of Toll Bros. development
By Kelli Siehl, Staff Writer, UnionvilleTimes.com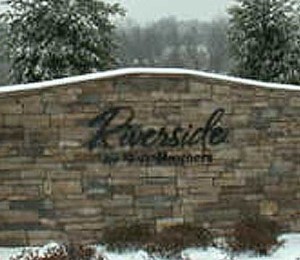 POCOPSON — Third time's a charm for Toll Brothers as Pocopson Township's Board of Supervisors voted to accept the dedication of certain roads serving the subdivision of Riverside at Chadds Ford during Monday night's Board of Supervisors meeting.
First proposed last November, supervisors rejected the road dedication after a report showed various conditions from the original development plan had not been met.
And, this past June, the board of supervisors again voted to disapprove dedication of roads because a number of smaller issues still remained from the 2010 report.
Township Engineer Jim Hatfield, who has been working with Toll Brothers and the Riverside Home Owners Association reported at Monday night's meeting, "All punch list items have been completed except two items that Toll has agreed to provide a cash escrow for." Those two items include repair of a drainage problem at the intersection of Trolley Way and Pocopson Road and a repair for one of the infiltration beds.
Toll Brothers Divisional Vice President, Mike Klein said repair of the drainage problem could be completed within a month. He explained that the repair of the infiltration bed depends on the Pennsylvania Department of Transportation (PennDOT), "Toll would like to have the drainage repair completed before the asphalt plants shut down" for the winter — usually sometime in December.
Board of Supervisors Chair Steve Conary pointed out several newly installed trees are not planted properly and Klein assured he will get the landscaper back to correct any deficiencies.  In addressing concerns expressed by Conary and Riverside Landscape Committee Chair, Mary Hastings, regarding several newly planted trees that have already dropped their leaves, he said Toll will recheck them in the spring and replace any dead trees at that time.
Ideally, by the October 10th Supervisor's Meeting, Hatfield surmised, "if all resetting of recently installed landscaping would be completed and satisfactory, the exhibits in the contract could be released and acceptable and a check could be given to you (referring to Scott Kirkland, Riverside Home Owner's Association Treasurer), and the construction bond could be zeroed out for Toll."