By Denny Dyroff, Entertainment Editor, The Times
With winter weather taking over, now is the time to consider indoor events to fill your free time.
One of the best ways is to attend a live theater performance – musicals, dramas, dance shows or classical concerts.
If you want to catch a live show, now is the time to do it. With COVID rearing its ugly ahead again, the expanded theatrical activity we now enjoy could be shelved again as it was a year ago
If you snooze, you could lose.
Fortunately, the Kimmel Cultural Campus (Broad and Spruce streets, Philadelphia, 215-731-3333, www.kimmelculturalcampus.org) has a lot of venues and a lot to offer.
The Kimmel Cultural Campus is presenting the touring Broadway musical "Pretty Woman" now through January 16 (Academy of Music), Vox Ama Deus on January 7 (Perelman Theater) and Rock the Organ on January 8 (Verizon Hall).
"Pretty Woman," which is based on the iconic movie of the same name that featured Julia Roberts and Richard Gere, is out on its first national tour.
The musical adaptation of the movie flows seamlessly and the show is propelled by a stellar cast featuring mostly young talent along with a few older guys.
One of those older guys is stage veteran Matt Stocke, who plays the role of Phillip Stuckey, the high-powered lawyer of the show's lead, millionaire/corporate raider Edward Lewis.
Except for the two bitchy salesclerks in a Rodeo Drive boutique, Stuckey is the only unlikable character in the cast.
"In my career, I've often played the nice guy," said Stocke, during a phone interview Wednesday afternoon from his room at Philly's Warwick Hotel.
"On Broadway, I understudied the Stuckey role under Jason Danieley, who is an old friend. Getting to do it on tour, I molded it into my own thing.
"Stuckey is a prick, but he does what Edward wants him to do. He does his job."
Stuckey's job is to handle the legal parts of Lewis' corporate reign of terror. Being nice – or even show a trace of human compassion — is not part of the job description. Ironically, Stocke is a follower of Buddhist principles in real life.
"This is a delicious role," said Stocke, a native of Green Tree, a Pittsburgh suburb.
"Everyone else in the show is so likable. It's so much fun to walk in and be a jerk. I get booed during the encores – and that's a compliment.
"Stuckey is always delivering information that affects the plot. His dialogue is incredibly important to moving the story forward."
Stocke is an American stage and television actor. He graduated from the Carnegie Mellon College of Fine Arts in 1995 with a BFA in Acting/Musical Theatre and moved to New York City in 1996 to begin his professional career.
Throughout his career, Stocke has made numerous appearances on the Tony Awards and The Today Show and has made guest appearances on the television shows "30 Rock," "The Sopranos," "Conviction," "Law & Order," "Law & Order: SVU," and "Chappelle's Show." Most recently, Stocke appeared as the Technician in two episodes of The Americans ("The Oath" and "The Colonel") on the FX Network.
"My first theater tour was 'Titanic' in 1999," said Stocke. "We played the Merriam Theater. That was my only other time in Philly.
''That was pre-911 – young and living the life. Now, Adam (Pascal, who plays Edward Lewis) and I are the old guys. A lot of cast members in this show are 22 and 23."
After graduating from Bishop Canevin High is suburban Pittsburgh, Stocke attended Mount St. Mary's University where he was a member of the university's baseball team. He then concluded his college days at Carnegie Mellon in Pittsburgh.
"I didn't audition for 'Pretty Woman,'" said Stocke, who was living in midtown Manhattan. "I've worked with Jerry Daniels (the show's director and choreographer) for 20 years.
"We started doing the first readings of 'Pretty Woman' in 2016. We went through more readings. Then, when they announced the tour, I wasn't real interested at first. Then, I got offered the role of Phillip Stuckey, I got more interested.
"I needed to get out of New York for a while. When people started flocking back last summer, I decided I wanted to get out – decided to get untethered."
That's when he became the villain.
"People really enjoy this show," said Stocke. "It's a fairy tale.
"It's an iconic brand. With 'Pretty Woman,' the movie's brand is bigger than most. It's the biggest Rom-Com ever.
"When we were on Broadway, we knew it would kill on tour. It does give you the movie. We give it to you. It's a 'feel good' show."
Video link for "Pretty Woman" — https://youtu.be/4wV9Lym0n3o.
"Pretty Woman" is running now through January 16 at the Academy of Music.
The Kimmel Cultural Campus is joining performing arts centers across the nation in requiring that all guests over 12 provide proof of full COVID-19 vaccination. Unvaccinated and partially vaccinated guests under 12 will be required to show proof of a negative COVID test. This policy is for all performances and events in all venues––including the Kimmel Center, the Academy of Music, and the Merriam Theater.
In other theatrical action, The Candlelight Dinner Theatre will get the 2022 segment of its 2021-2022 season doing when a five-week run of "Mama Mia!" gets underway on January 23.
The Media Theatre (104 East State Street, Media, www.mediatheatre.org) will start a three-week run of "The Jungle Book" on February 25.
Just remember – with the continuously escalating rate of COVID infections, any event or production could be scuttled at a moment's notice.
The Walnut Street Theatre in Philadelphia has this message posed on its website – "Due to the rise of Covid in our community and to further ensure the safety and health of our guests, artists, and staff, we are postponing the upcoming production of Noël Coward's "Blithe Spirit." Initially scheduled for January 11 – February 13, the run of "Blithe Spirit" will now take place May 31 – July 3, 2022."
On January 13, Coatesville will be the site of a special history-related event — "Meet Rebecca Lukens."
The event will get underway at 6 p.m. at the National Iron and Steel Heritage Museum (50 South First Avenue, Coatesville, 610-384-9282,www.steelmuseum.org).
Visitors will be able to celebrate the anniversary of Rebecca Lukens' birth by meeting the woman herself (as portrayed by Susannah Brody).
Tickets are $5 (members free) and include admission to the museum and light refreshments.
The first Friday of the month is a good time to check out a First Friday event.
This month's edition of First Friday Lancaster (https://visitlancastercity.com/first-friday) will run from 5-9 p.m. on January 7 in downtown Lancaster.
The event will feature attractive exhibitions at art galleries, artisan studios and museums. There will also be live performances presented in a variety of genres — professional theater, symphony orchestra and performing groups.
"Speak the Dark, works by Mairin-Taj Caya" will be presented at curio (106 W Chestnut Street, Lancaster) from 11 a.m.-8 p.m.
"Organic Reflections: Winter Wonders," a First Friday Organ Concert Celebrating the Season of Light, will be held at 8 p.m. at First Reformed United Church of Christ of Lancaster (40 East Orange Street, Lancaster).
The "Wine, Cheese & Honey Pairings at Penns Woods" at Penns Wood Winery (124 Beaver Valley Road, Chadds Ford, 610-459-0808,http://www.pennswoodsevents.com) provide a nice way for visitors to enjoy a winter weekend day.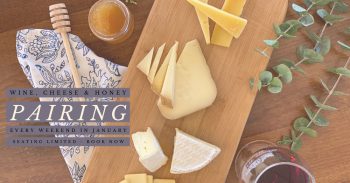 Penns Woods Winery is joining forces with local cheese makers and local honey artisans to present exclusive pairings of wine, cheese and honey. The tastings will feature five premium Penns Woods wines, each paired with various cheeses and honey from local farms.
The mouth-watering tastings will be held every weekend in January from 11 a.m.-6 p.m. on Saturdays and 11 a.m.-5 p.m. on Sundays.
Tickets cost $34 per person in advance and reservations are required. Reservations are made and kept on the hour.
If you're a handyman and are interested in repairing, refurbishing or upgrading your home, then plan a visit to the Greater Philadelphia Spring Home Show this weekend at the Valley Forge Casino Resort (1160 First Avenue, King of Prussia, 888-433-3976, www.acshomeshow.com).
The annual show, which is produced by American Consumer Shows, will open on January 7 and continue through January 9. Hours are from 11 a.m.-8 p.m. on Friday, 10 a.m.-8 p.m. on Saturday and 10 a.m.-5 p.m. on Sunday. The event features free admission and parking.
The event is geared for homeowners in all stages of remodeling, landscaping and decorating their homes. Visitors to the show will be able to check out new products and receive expert advice from professionals. The show's "Kitchen Showcase" features the latest styles and trends installed by knowledgeable, professional, local contractors.
At the popular annual event, homeowners will find a wide array of ideas and inspiration for enhancing their home's functionality, aesthetic appeal, comfort and overall value. The show offers hundreds of exhibits featuring product demonstrations, sample displays of interior and exterior vignettes and a wide variety of related merchandise.
There will be exhibitors representing a huge range of categories, including architects, masonry, lighting, painting, roofing, floors, air conditioning, lighting, home theaters, financing, appliances, plumbing, heating, paving, waterproofing, siding and even spas.
There will be a lot of model trains and a lot of toys on display and for sale when Greenberg's Train & Toy Show visits the area for a two-day stop at the Greater Philadelphia Expo Center (100 Station Avenue, Oaks www.greenbergshows.com).
The show, which is scheduled for January8 and 9 from 10 a.m.-4 p.m. both days, will feature a number of operating train displays, including Allegheny Western Lines HO Scale Layout, Reading Co. Technical & Historical Society HO Scale Layout, Philadelphia N-Trak  N Scale Layout, Royersford Modular Model Railroaders HO Scale Layout, East Penn Traction Club N Scale Layout, Northeast Corridor Historical Society HO Scale Layout and Atlantic Division TCA O Gauge Layout
This weekend's show will also offer free clinics on a wide variety of topics, including track work, using accessories and using a digital command control. There will be a large number of dealers with toys, trains, accessories and hobby publications. Other features include hourly door prizes.
Tickets for adults are $11 for Saturday and $10 for Sunday. Children (12 and under) are admitted free.
Wonderspaces at the Fashion District (27 North 11th Street, Philadelphia, philadelphia.wonderspaces.com) is an experiential, interactive arts venue.
Building on the success of annual pop-up shows in San Diego, and its first permanent location in Scottsdale, Arizona, Wonderspaces opened a 24,000 square foot gallery space in Philly a year ago.
Wonderspaces features 14 art installations that all play with the idea of perspective. The artwork ranges from award-winning virtual reality short film about a dinner party-turned-alien abduction, to a room where visitors digitally paint the walls with the movement of their bodies.
New artworks rotate in every few months, creating an ever-evolving, year-round show.
Tickets are for entry at a specific date and time. Visitors are welcome to stay as long as they please during operating hours. The average time spent experiencing the show is 90 minutes.
A few installations contain flashing lights, images, and patterns that may trigger seizures for people with photosensitive epilepsy. All visitors must sign a waiver prior to being admitted into the space. Adult supervision is required for visitors under 16.
The installation is open from noon-10 p.m. on Thursdays and Fridays, 10 a.m.-10 p.m. on Saturdays and 10 a.m.-8 p.m. on Sundays.
Tickets are $24 for adults, $20 for seniors, teachers, healthcare workers, students and active military, and $15 for children (ages 3-12).
Center City Parks District's Rothman Orthopaedics Institute Ice Rink at Dilworth Park (1 South 15th Street, Philadelphia, http://ccdparks.org/dilworth-park) is open for the season.
Visitors of all ages can enjoy a dramatic seasonal transformation as fountains have been replaced by the Rothman Orthopaedic Institute Ice Rink and reindeer topiaries take up winter residence on the Greenfield Lawn.
In addition, a full lineup of free entertainment is planned, including the Deck the Hall Light Show, the Made in Philadelphia Holiday Market and Rothman Orthopaedic Institute Cabin.
The Rothman Institute Ice Rink at Dilworth Park is an unparalleled entertainment experience on Philadelphia's center stage in a wonderfully urban and unique setting. Open seven days a week, the rink offers wintery fun for all ages, with a full slate of programs.
Dilworth Park's winter season began on November 1 with the opening of the Wintergarden on the Greenfield Lawn presented by TD Bank.
There are some people who hate the let the Christmas holiday season leave – you know, your neighbors that keep their Christmas lights on until February.
Fortunately for them, the Christmas season isn't entirely over. A few attractions remain on the calendar.
The Brandywine River Museum of Art Route 1, Chadds Ford 610-388-2700, www.brandywinemuseum.org) reopened to the public in November with the return of the Brandywine Railroad holiday train display and highlights from the permanent collection. The Brandywine has been temporarily closed to the public since September 1, after the remnants of Hurricane Ida brought historic flooding to Chadds Ford and across the Brandywine's 15-acre campus.
The Museum is now open seven days a week, from 9:30 a.m.-4:30 p.m. with the Brandywine's iconic O-gauge model train display on view through January 9.
A holiday favorite since 1972, the Brandywine Railroad offers something for everyone with its dazzling array of both toy and scale model trains made by Lionel, Williams, Atlas, Mike's Train House, K-line and others.
The display features trains running on 2,000 feet of track with more than 1,000 pieces, including locomotives, passenger and freight trains, and trolleys that pass through a small village, a farm, factories, and even a carnival and a drive-in movie theater. Interactive components are also incorporated into the display, operated by hands-free foot pedals that allow for further engagement.
Longwood Gardens (Route 1, Kennett Square, 610-388-1000, www.longwoodgardens.org) has hosted "A Longwood Gardens Christmas" for more than two months and the end is in sight.
The festive holiday display at Longwood Gardens, which is running now through January 9, features spectacular lights, lavish decorations, holiday music and colorful displays featuring thousands of brilliant poinsettias, brightly decorated trees and fragrant flowers — all inside the heated Conservatory.
There will be towering trees adorned in amber to fiery red tones, flickering flame lanterns, and an inviting mountain retreat, complemented by icy-hued plantings, a "frozen" succulent fountain, and a refreshing alpine waterway that is the ultimate winter wonderland.
The colorful annual event, which appeals to the entire family, also has a lot of outdoor attractions such as fountain shows and nighttime light displays. Longwood's Christmas celebration also includes a wide array of seasonal music — holiday concerts, organ sing-alongs and carillon performances.
When darkness arrives at Longwood, a night-blooming garden of more than a half-million lights strung on close to 100 trees with approximately 40 miles of wire comes to life. A carillon with 62 cast bells plays holiday music every half hour during daylight hours. Longwood's Open Air Theatre fountains dance to holiday music each half hour — temperature permitting.
As always, admission by "Timed Ticket" — tickets issued for specific dates and times. Timed ticketing limits the number of people in the Gardens at any given time and allows guests to enjoy minimal lines and a better viewing experience.
Visitors to "A Longwood Gardens Christmas" can also check out Longwood's Garden Railway — a whimsical display set into motion with G-scale model trains. This is the 17th year that the railway has delighted visitors with special water features and custom trains traveling in and out of bridges and tunnels.
Admission to Longwood Gardens is $25 for adults, $22 for seniors (ages 62 and older) and college students, $18 for active and retired military and $16 for youth (ages 5-18).
Founded more than 50 years ago, Choo Choo Barn — Traintown U.S.A. (Route 741 East, 226 Gap Rd, Strasburg, 717-687-7911, www.choochoobarn.com) presents a 1,700-square-foot train layout featuring over 150 hand-built animated figures and vehicles and 22 operating trains. The majority of trains that are running in the display are "O Gauge" trains but there are also some HO Gauge trains as well as one N Gauge train.
Several of the original pieces and animations are still on the display today, including the ski slope, ski lodge and ice skaters, Dutch Haven, the Willows, the two-lane moving highway (in front of Dutch Haven), the farm with the tobacco barn, the Strasburg Fire House, the church beside Dutch Haven and a few other houses.
The layout features a special Christmas display now through January 17. The homes and businesses along the tracks have been decked out with holiday trim. And there are 55 hidden Santas — one for each year the site has been open — located around the display for visitors to find.
Tickets are $8.50 for adults and $5 for children (ages 3 and under) at Choo Choo Barn — Traintown U.S.A.
Now through January 9, the Philadelphia Zoo (3400 West Girard Avenue, Philadelphia) is hosting LumiNature, a gigantic holiday season light experience that transforms the entire Zoo into a magical journey of lights, music, sounds and surprises.
The giant-sized holiday extravaganza will transform the entire Zoo into a nighttime winter wonderland. Guests will experience a magical journey of lights, music, sounds and surprises. LumiNature has 14 illuminated experience zones that feature lively themed displays, newly-enhanced installations and thousands of twinkling lights.
Highlights for 2021/2022 include: more than one million lights and 10 miles of power cord; more than 500 colorful illuminated flamingos and a 25 feet tall flamingo holiday tree;  200-plus illuminated penguins; 100 ft-long aquarium tunnel with enormous jellyfish; 22-feet-tall new Butterfly Tree; 21-feet tall brilliant colored snake; giant cat eyes glowing in the dark of night; and a new Wilderness Express Train.
Tickets are $25 for adults and $20 for children.
The Glencairn Museum (1001 Cathedral Road, Bryn Athyn, 267-502-2600, www.glencairnmuseum.org) is a Bucks County Museum featuring religious art and area history museum.
The museum, which was formerly the home of the fabled Pitcairn family, is presenting its "Christmas at Glencairn" holiday celebration now through January 9.
Glencairn was built almost a century ago for the family of Raymond and Mildred Pitcairn, members of a congregation of a Christian denomination known as the New Church. Bryn Athyn was founded in the late 19th century as a New Church religious community.
"Christmas at Glencairn" features special exhibitions, a "Christmas in the Castle" tour, a Christmas concert and other holiday activities. The "World Nativities" exhibition is on display in Glencairn's North Porch, Great Hall, Upper Hall and Bird Room.
Peddler's Village (Routes 202 and 263, Lahaska, 215-794-4000, http://peddlersvillage.com) always gets into the holiday vibe.
The 20th Annual Grand Illumination will showcase thousands of tiny white lights outlining the Village's buildings, colorful lights with less-than-common colors (teal, peach, and fuscia) adorning the trees and shrubs and a landscaped backdrop featuring a group of reindeer glowing in white light. Santa will arrive to turn on the lights and officially mark the beginning of the event. After the lights go on, visitors will be treated to free cider and toasted marshmallows.
Peddler's Village "Gingerbread House Competition and Display," which is slated to run through January 8, features more than $2,000 in cash prizes in such categories as Traditional and Authentic Reproduction of a Significant Building.
A popular Bucks County attraction is the "Holiday Light Show" at Shady Brook Farm (931 Stony Hill Road, Yardley, www.shadybrookfarm.com)
The farm features a three–million-light Holiday Light Show with "Dashin' Through the … Lights," a family-friendly two-mile drive-through on Thursday and Friday nights.
The main display allows visitors to drive or (if weather permits) ride in wagons past post-sundown displays including illuminated tunnels.
The "Holiday Light Show" is open now through January 10.
Timed tickets, which start at $40, are required.