By Denny Dyroff, Entertainment Editor, The Times
Jim Brickman's music always has a warm, soothing quality. His current tour might just be his warmest, most familiar ever. It's a holiday tour that includes both Christmas music and songs from his vast catalogue
"The Gift of Christmas" is the name of Brickman's current tour.
Brickman will bring his "The Gift of Christmas" to the area for a show on December 21 at the Keswick Theater (291 N. Keswick Avenue, Glenside, 215-572-7650, www.keswicktheatre.com).
Brickman has taken a holiday show on the road annually for more than two decades — except for 2020 – the year that everything closed down.
"I didn't play live shows pretty much the whole time from March 2020 on," said Brickman, during a phone interview Tuesday from a tour stop in New York City.
"We had a couple dates but, for the most part, it's been dead for being on the road and playing shows. You never know how long it's going to be so that affects the booking.
"I didn't mind being off for that time. I've been working in the studio. I recorded my second Disney tribute album, and it will be out in March. And I recorded a 25th anniversary version of my song, 'Valentine."
Brickman released the album, "Picture This," in 1996. The LP featured a vocal performance of the song, "Valentine," by Martina McBride. The song reached Number Three on the Adult Contemporary chart.
Brickman has recorded more than 50 albums including more than a half-dozen Christmas album. His new release is also a Christmas album – "A Christmas Symphony."
"I had always wanted to record an album with a Symphony Orchestra," said Brickman, who is the best-selling solo pianist of our time with more than 20 Number One albums and more than 30 20 Radio Singles.
"I love the ways strings soar – the beauty and the majesty. On the album, we also have some woodwinds soloists and some guitar solos."
Brickman realized his dream this year.
According to Brickman, "There's no better time than Christmas to celebrate with music, so I felt it was fitting to make my first orchestra album a holiday collection.
"This collection of songs is both traditional and contemporary, and features many of my favorite carols along with original compositions and star-studded vocal performances. This album is truly a labor of love."
The album features versions of such holiday classics as "The First Noel," "Ave  Maria," "Oh Holy Night" and "I'll Be Home for Christmas."
"I picked the songs as I went along," said Brickman, whose catalogue includes LPs with titles such as "Peace," "Hope," "Grace," "Faith," "Joy," "Love" and "Believe."
"I don't usually over-list. I'm not the type of artist who starts with 40 songs and whittles it down. On this tour, I'm playing a combination of Christmas songs and songs from my other albums. People shout out requests and I do my best to play them."
Video link for Jim Brickman — https://youtu.be/M3q1gKgMoiY.
The show at the Keswick Theatre on December 21 at 8 p.m.
Ticket prices start at $38.50.
Other upcoming shows at the Keswick are Darlene Love on December 17, An American Celtic Christmas on December 18 and Top of the World on December 19.
If you like Christmas music but would like to hear something other than the same old traditional songs done the same old traditional way, there is a show for you tonight. If you want to enjoy the traditional songs and rock out at the same time, plan a trip to Lansdowne.
On December 18, Jamey's House of Music (32 South Lansdowne Avenue, Lansdowne, 215-477-9985, www.jameyshouseofmusic.com) is hosting a concert billed as "A Very Cheadle Christmas."
The show features Laura Cheadle and her band. Cheadle has a band that features blues, soul, funk – and a lot of Cheadles.
Her four-piece group features her brother Jim Cheadle on guitar and her father James Cheadle on keyboards along with South Jersey's Dave Ferebee on drums.
James "Papa Cheadle" has played and recorded with Don Cornell, DJ Jazzy Jeff, The Four Aces, Grover Washington Jr., The Soul Survivors, Jaco Pastorius and Peter Erskine.
"I'll be touring with them again next year," said Cheadle, during a phone interview Tuesday afternoon from her home in Philadelphia.
"This weekend's show – 'A Very Cheadle Christmas' – will be my last local show for a while. My next area show will be 'Laura Cheadle Sings The Sexy Blues: Valentine's Show' at The Living Room at 35 East in February.
Christmas has already arrived for Cheadle this year.
"I just signed a deal with Sony Music," said Cheadle. "I just released a Christmas album with Sony on their Orchard label, and I'll have a new album coming out on Sony in early 2022.
"I've been in the studio a lot. I hadn't written in four years. When the COVID shutdown arrived, I started writing and couldn't stop. I just relaxed and enjoyed it."
One of the results of her writing outburst was here recently released holiday album, "Let's Get Together for Christmas."
"It was a family affair," said Cheadle. "I recorded it at my dad's studio with my brothers and him. My dad was the producer.
"There are nine songs on the album with five originals and four standards – 'Sleigh Ride,' 'Here Comes Santa Claus,' 'First Noel,' and 'Blue Christmas.'
"I did a Christmas album before – in 2010. It was more of a jazz album. This one is definitely bluesier.
"It's a Christmas album but it's a real sexy, sultry album – very R&B. I really got a chance to showcase my voice."
Cheadle's most recent studio album is "Chill," which came out in 2017.
"I wrote the songs from 2013 on," said Cheadle. "There were a lot of changes in my life. The songs are about relationships and love – about being true to yourself. It's absolutely introspective. It's about my life.
"Making this album was definitely a cathartic experience. I worked through a lot of emotions on this record. I still feel the emotion when I perform them. I can't let go of these feelings."
Cheadle has played with her family ever since she was a young girl.
"My father has influenced me so much," said Cheadle. "He's a seasoned jazz musician who used to be a music professor at Rowan University. So, I've always been involved with music
"He has his own recording studio in South Jersey called the Swedesboro Music Studio and he records a lot of different people. He and I are both devoted to music. His influence on me is blues and jazz – but I make it modern."
Cheadle's music career began when she was four years old. Her father created the "Appreciation Choir" for the Persian Gulf War troops in the early nineties and created a music video that was aired on VH1 and MTV. Along with her two older twin brothers and various other children, Cheadle toured around the United States singing for audiences.
When she was 11, she enlisted her father to teach her how to play drums. From her "tween" to "mid-teen" years, Cheadle was in a band with her brothers called Sibling – a pop group that played at local restaurants, churches, music venues, private parties and parades.
"I've been in the Philadelphia/New Jersey music scene for quite some time," said Cheadle. "I've been doing acoustic stuff since I was 16 and then put my band together later. Sibling was a blend and I morphed into my music. Songwriting comes very naturally for me. Sometimes, I wake up with a melody in my head. It's just there.
"I've always been a super fan of old soul. My biggest influences are Aretha Franklin, Tower of Power, James Brown and Stevie Wonder. I love real drums and all the organic instruments. Some of my songs are rock. Some of them are blues. It's hard to classify me – maybe pop/rock with soul influence. I just do what I feel."
The Cheadle Family has built a strong reputation nationally.
"We were on an NBC television show called 'The Next Great Family Band' in 2013," said Cheadle. "That got us a lot of interest in being booked for tours. They actually came to our place in Swedesboro. The exposure was great."
Video link for Laura Cheadle – https://youtu.be/Ro-JwppZkJM.
The show at Jamey's on December 18 will start at 8 p.m.
Tickets are $30 advance and $36 at the door.
This weekend, Jamey's will also present the Philly Blues Kings Trio on December 17 – a show that will feature free admission. The band will also play another free show at Jamey's this weekend –a "Blues Jam" on December 19 from noon-3 p.m.
The Crossing has two upcoming area performances of "The Crossing @ Christmas: Carols After a Plague" — December 17 at the Annenberg Center (3680 Walnut Street, Philadelphia) and December 19 at the Presbyterian Church of Chestnut Hill (8855 Germantown Avenue, Philadelphia).
The Crossing (www.crossingchoir.org) is an American professional chamber choir based in Philadelphia. The Crossing is conducted by Donald Nally and dedicated to new music. It is committed to working with creative teams to make and record new, substantial works for choir that explore and expand ways of writing for choir, singing in choir, and listening to music for choir.
Many of its nearly 90 commissioned premieres address social, environmental, and political issues. With a commitment to recording its commissions, The Crossing has issued 19 releases and received two Grammy Awards for Best Choral Performance (2018, 2019), and three Grammy nominations in as many years.
This month's program is the culmination of a year-long focused project. "Carols after a Plague" features an evening of premieres by Leila Adu, Alex Berko, Edith Canat de Chizy, Viet Cuong, Samantha Fernando, Vanessa Lann, Mary Jane Leach, Shara Nova, Joseph C. Phillips Jr., Nina Shekhar, Tyshawn Sorey, and LJ White.
The composers' works all address the topic of plague – be it a pandemic, racism, climate change, gun violence, homelessness, diasporas, isolation, or loneliness – through their own idea of a carol, a brief choral work of joy or lament.
"Earlier in this calendar year, I was thinking that with our singing, we needed a program that would reflect what we went through," said Nally, during a phone interview Monday afternoon. "It looks at the state of the world and how we treat each other."
The Crossing asked 12 composers – 12, representative of the divisions of the hour, the year, and the days of Christmas – to respond to the project title, leaving it to them to address what "Carols after a Plague" meant to them. In return, The Crossing received 12 deeply personal, musical ruminations on our battered, resilient world. Not one of these carols is a carol in the traditional sense, yet all focus both singers and audience on a particular, relevant topic for a moment.
"I invited 12 composers to write pieces that reflected their interpretations of carols and plagues," said Nally. "I have a running list of people I like to work with. I just went to my list.
"They all went and worked over a 5-to-6-month period. Some focused on isolation from the pandemic. Some investigated race issues.
"There were very different styles – jazz, minimalist, pop, modern. These are not carols in the traditional sense by any means."
The following was posted on The Crossing's website –
"A plague can be left behind. A carol is lasting:
a record of the time.
WHAT IS A CAROL?
Brief, singable song, for choirs of varying sizes, often on themes of advent, anticipation, rebirth; a story, recounting an event, that stays with us and becomes a part of our culture.
WHAT IS A PLAGUE?
Can also be brief, or not; it affects great numbers of people, causing physical destruction and emotional distress. Pandemics, racism, climate change, gun violence, homelessness, diasporas – these are Plagues. Isolation and loneliness, too.
Carols after a Plague: a collection from many composers new to The Crossing, all addressing the topic of Plague through their idea of Carol. A concert embracing unprecedented breadth of style and perspective; a history, as we emerge."
Don't expect to hear "The First Noel" or "Oh Holy Night" at these concerts.
"The world is very different than two years ago," said Nally. "Carols are different. I wanted to make a record that reflected this time. The record, which is not a live recording, will be out in March."
Video link for The Crossing – https://youtu.be/RWANOYFSH-w.
The concert at The Annenberg Center on December 17 will start at 7 p.m. Tickets are $35.
The concert at The Presbyterian Church of Chestnut Hill on December 19 will start at 5 p.m. Tickets are $35 general admission, $25 seniors and $20 students.
When Mipso started out almost a decade ago, it was looked at as a rising young string band from the Chapel Hill/Durham area in North Carolina.
Mipso played a lot in the Golden Triangle area, built up a strong fan base and eventually began to spread out to new areas. The band released its debut album "Dark Holler Pop" in 2013.
Fast forward eight years. Mipso released its self-titled Rounder Records album in October 2020 and no longer is viewed as a young band.
After years as a trio, Mipso added fiddler and vocalist Libby Rodenbough to the existing lineup of Jacob Sharp (mandolin), Joseph Terrell (guitar), and Wood Robinson (bass). All were students at the University of North Carolina in Chapel Hill.
Mipso, which will headline shows on December 17 and 18 at Milkboy Philly (1100 Chestnut Street, Philadelphia, 215- 925-6455, www.milkboyphilly.com), is now an established band with five albums in its resume.
"It's different now," said Rodenbough, during a phone interview Tuesday afternoon from a tour stop in Old Saybrook, Connecticut.
"It used to be that when we'd play festivals, we were the new kids – the young band. Now, there is a new wave of young bands and we're at a different level.'
When Mipso started, all four members were students at the University of North Carolina in Chapel Hill. The three guys graduated in 2013 and Rodenbough collected her diploma in 2014.
"Joseph was one of the first people I met in school," said Rodenbaugh. "The only music I had played before that was classical violin.
"He asked me to jam with him. It was terrifying — but I caught the bug. I left school and went to a folk music school in Chicago. I was studying banjo, mandolin and guitar — and I brought my fiddle along to jam.
"While I was gone, the three boys started the band. When I got back, I just played local shows with them as a featured guest. Then, they asked me to join the band on a permanent basis. I was hesitant at first because it was three boys singing love songs.
"There wasn't a particular moment that made me decide to do it. I just started having so much fun playing with them. And it was either join a band or take a lousy entry-level job somewhere. I was also starting to really enjoy playing live and writing songs."
Mipso, influenced by the contradiction of its progressive home and the surrounding rural southern landscapes, is hailed as "hewing surprisingly close to gospel and folk while still sounding modern and secular" and was recognized by Rolling Stone a few years ago as an "Artist You Need to Know Now."
"Mipso" is Mipso's sixth full-length album. The album's 12-songs are a blend of alt-folk, indie, alt-country and rock.
"We never did an album release tour for this album because of the pandemic," said Rodenbough. "It was really frustrating. It's hard to conceive what an album is if you're not playing shows. One good thing is that it gave us a chance to sit back and take stock.
"We started writing songs for the new album in early 2018/late 2018. The first big recording session was in the summer of 2019 at Ethel Mountain Studio in Asheville, North Carolina."
Mipso's members collaborated with producer Sandro Perri (Polmo Polpo, Great Lake Swimmers).
"We had a great producer," said Rodenbough. "All the band members feel a connection to the North Carolina mountains, and we wanted to try a change of scenery. The landscape influenced a lot.
"It was summertime. It was hot and humid during the day and then cooled off at night. In the evenings, we'd sit and drink wine on the porch while listening to a chorus of cicadas.
"The new album has a lot of natural imagery in the songs. We made it much the way made all our other albums – hungry to record because we had written a lot of songs.
"We rarely start with themes, but they do tend to emerge. This time, it was a historical moment in time and where we are with our own lives."
Video link for Mipso – https://youtu.be/8MAFe3TL_Ek.
The show at Milkboy Philly on December 17 will have Alexa Rose as the opener and the show on December 18 will have Johanna Samuels as the opening act. Showtime is 8:30 p.m. both nights.
Tickets are $15.
"Unique" is an often overused and misused descriptive adjective. It means "being the only one of its kind."
No band or artist makes music that is truly unique. But Grex, a band that will be appearing on December 19 as part of "Fire Museum Presents" series at The Rotunda (4014 Walnut St, Philadelphia, firemuseumpresents.com), makes music that is much, much closer to being unique than being common.
Grex is a duo featuring Karl Evangelista (guitar, voice, drums, samples, misc.) and Rei Scampavia (synth, voice, drums, misc.), an Oakland, California-based that has been making unconventional music for more than a decade.
"We've been a band in some official capacity since 2009," said Evangelista, during a phone interview Tuesday afternoon as he and Scampavia were driving through Oklahoma on their way to the tour's opening show in New York. "We've had a drummer – Robert Lopez – in and out over the years.
"Rei and I went when we were students at Mills College in Oakland. I got my master's degree in music performance literature and Rei got hers in biology."
Mills is an undergraduate women's college for women and gender non-binary students with graduate programs for students of all genders. Mills was founded as the Young Ladies Seminary in 1852 in Benicia, California; it was relocated to Oakland in 1871, and became the first women's college west of the Rockies.
"We've been performing as a duo since 2016. The difference between when we started and now is the environment. At the start, I was playing a lot of improvisation and free jazz. Then, I adjusted to include noise and hip hop to collide with the acoustic.
"One of our goals is to integrate – to find the middle ground between experimental music and the traditional songbook."
The Bay Area has always been a fertile breeding ground for experimental, non-mainstream music including the Residents, Sleepytime Gorilla Museum, Naytronix, Cosa Brava, Splatter Trio, tUnE-yArDs and Fred Frith, who was a Professor of Composition in the Music Department at Mills College until his retirement in 2018.
"The Residents informed a lot of music," said Evangelista. "So did Fred Firth. There are a lot of experimental bands in the Bay Area."
Oakland also has been a political hotbed for decades. Oakland has a long history of activism around
issues of justice and equity. Both oppression and this resistance to oppression have shaped the city's past and the lives of its residents to this day.
"I grew up in Los Angeles and the Philippines," said Evangelista. "I've been in Oakland since 2004. "The political culture influenced our early work.
"We have friends who are political activists. It weighs a lot in our mission statement. We play a lot in the Bay Area – frequently in community spaces."
Grex is out in its first tour since the release of its most recent album, "Everything You Said Was Wrong," which was came out on September 5, 2020.
"We recorded the album In Oakland with producer/guitarist Myles Boisen," said Evangelista. "We got some basic tracks done in the studio and then COVID hit, and we had to finish it at home
"We started working on the record in 2019. We were still in the compositional process when it was still pre-pandemic. We actually started working some of the songs into our show in 2019."
A grex is a multicellular aggregate of amoeba of the groups Acrasiomycota or Dictyosteliida that can be formed when the amoeba run out of food. Similarly, Grex is a multicellular aggregate of music cultures.
Video link for Grex — https://youtu.be/i3kzzCAa89A?list=PLZiG1rMROWAlCdjGGeUcmaxnzF4L-QOS6.
The show at the Rotunda on December 19 will start at 8 p.m. with Sirius Juju as the opening act.
Admission is free and donations will be welcomed.
118 North (118 North Wayne Avenue, Wayne, www.118northwayne.com) knows that anytime is a good time for a show by a Grateful Dead tribute band. That's why the club is hosting Jawn of the Dead on December 16.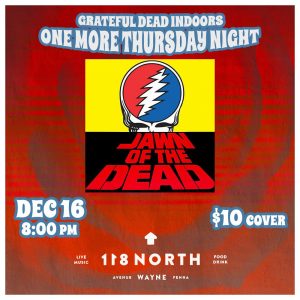 Jawn Of The Dead is a Philly band centered around the nucleus of guitarists/vocalists Rich Hill and Jim Tauscher. The Grateful Dead tribute band just celebrated a milestone event for a young music act – its second anniversary.
"We started on March 20, 2019," said Hill, during a phone interview from his home in nearby Ridley Park.
"It was supposed to be a one-off show at The Fainting Goat in Glenolden. I play there once a month with my bar band so I asked if I could do a (Grateful Dead) show. I invited some musician friends to get together to play Dead stuff. I took people from different bands, and we rehearsed 30-40 songs.
"We showed up at the club with our gear and the place was packed. Deadheads from around the area got the word and showed up.
"After we played the second set, people were coming up to us saying that they loved it. I said to the guys – I think we have a 'thing.' They said — yeah, we do have a 'thing.' We didn't have a name, so we came up with Jawn Of The Dead."
Time out here for a Philadelphia based etymology lesson.
If you live more than 35-40 miles from Philly, you might not have ever heard the word "jawn."
"Jawn" is a slang term local to Philadelphia and its metropolitan area. "Jawn" is a context-dependent substitute noun, meaning it is a noun that substitutes for any other noun – and it can be singular or plural.
"Jawn" is a word loved by Philly residents. Because it has no specific meaning, it can be used to mean all sorts of things. One of the only points on which everyone can agree is that "jawn" is a noun – and that now it is part of the name of a Philly area band.
Lesson over!
"We played a handful of shows from March through August 2019," said Hill, who grew up South Philadelphia and graduated from Neumann High. "Then, we got a call from the World Café Live about its Tuesday Dead Jam. One of the bands canceled and they asked us to play.
"The audience liked it. We kept the band going – playing a few places around Philly. Last February, we played the Boot and Saddle. We figured that if we got 50 people, it would be a good start. We got 170.
"We were just getting started and then we had to shut down because of COVID-19. We played some private events in the summer and then started to play at 118 North in Wayne. We also did a Livestream show from the Kennett Flash."
Billing themselves as "an energetic tribute to the mystique and musical mayhem of The Grateful Dead," Jawn Of The Dead posted this message on its website – "The dedication of the band to both the songs of the Grateful Dead and their spirit of musical exploration sets JOTD apart."
"We're not a tribute band in the sense that we're trying to be the people in the Dead," said Hill, who was a music major at West Chester University.
"Our commitment is to excellence – to playing the music well and to also honor the songwriting. We play a whole catalog of Dead songs along with cover songs the Dead played."
Jawn Of The Dead has already become a favorite of Philly area Deadheads so the band must be doing something right.
Hill and his mates aren't looking to conquer the world. Right now, they're happy just "Playing in the Band."
Video link for Jawn of the Dead – https://youtu.be/p6qxYa6p20o.
The show at 118 north on December 16 will start at 8 p.m.
Tickets are $10.
Other upcoming shows at 118 North are Smash Palace on December 17, The Commission on December 18, Not Tuna on December 19 and Chris Day on December 22.
Now through January 2, People's Light (39 Conestoga Road, Malvern, peopleslight.org) is presenting the world premiere of "A Christmas Carol."
This version of "A Christmas Carol" is adapted from Charles Dickens by Zak Berkman and features original music by Zak Berkman.
Callous Scrooge, shackled Marley, and the haunting spirits of Christmas Past, Present, and Future spring vividly to life in this fresh adaptation of a favorite yuletide ghost story.
Featuring a lively mix of original songs and newly arranged 19th-century English carols, this music-infused retelling captures the magic, joy, and generosity of Dickens' beloved classic.
Each year, the People's Light holiday show is a panto that transforms a beloved children's story into a musical extravaganza filled with outrageous characters, toe-tapping original music, slapstick comedy, and topical humor for both kids and adults.
"A Christmas Carol" is not a panto. But it is music-filled, interactive fun for every age — whether you believe in spirits or not.
Uptown! Knauer Performing Arts Center (226 North High Street, West Chester, uptownwestchester.org)is presenting "The Best Christmas Pageant Ever" on December 16 and 18.
The Steel City Coffee House (203 Bridge Street, Phoenixville, 610-933-4043, www.steelcitycoffeehouse.com) will have an "In the Round" show on December 18 featuring Michael Braunfeld, Lizanne Knott and Kyle Swartzwelder.
The Ardmore Music Hall (23 East Lancaster Avenue, Ardmore, 610-649-8389, www.ardmoremusic.com) will host Donna Buffalo on December 16, Steve Gunn and Jeff Palmer on December 17, Talkbeck Soundsystem on December 18, Piebald on December 19 and KT Tunstall on December 22.
The Living Room (35 East Lancaster Avenue, Ardmore, https://thelivingroomat35east.com) will host a show by Phil Nicolo on December 17.
The Sellersville Theater (24 West Temple Avenue, Sellersville, 215-257-5808, www.st94.com) will present Carsie Blantonon December 16, Pete Correale on December 16, Annie Haslam on December 18, Gunhild Carling on December 19 and KT Tunstall on December 21
The Grand Opera House (818 North Market Street, Wilmington, Delaware, 302-652-5577, www.thegrandwilmington.org) will present the Wizards of Winter on December 17.
The Xcite Center at Parx Casino (2999 Street Road, Bensalem, 888-588-7279, https://parxcasino.com) will have Shaun Cassidy on December 16 and Old Dominion on December 17 and 18.
The Queen (500 North Market Street, Wilmington, 202-730-3331, www.thequeenwilmington.com) will present Mary Friggin Christmas on December 17.