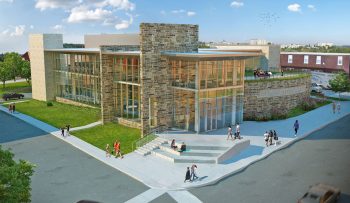 Rep. Craig Williams (R-160), Rep. Christina Sappey (D-158) and Sen. John Kane (D-9) jointly announced the Redevelopment Assistance Capital Program award of $1.9 million in new grant funding for the Kennett Library. The three legislators worked together to secure the awarded funds as part of the 2021 grant cycle.
"This project is part of an initiative to bring additional educational opportunities to southern Chester County," said Williams. "When the library presented its plan for a building that also functions as a community resource center, I was immediately sold on the idea. I am happy that our regional legislative team was able to come together for the greater Kennett area. I was proud to extend my voice for this project, and I look forward to having this much-needed resource in our community."
Matching funds for the project were raised through efforts of the Campaign for the Kennett Library and Resource Center. In addition to nearly $2 million in state funding, the campaign has raised over $11 million. The first round of state funding allowed the Kennett Library to break ground in August, which Williams, Sappey and Kane attended together.
"I am extremely pleased by this grant approval," said Sappey. "The Kennett Library serves numerous townships in the Kennett area and this project gives thoughtful consideration to the collaborative way we work and learn now. The facility will provide a state-of-the-art, energy-efficient building with event space, auditorium, and multipurpose rooms for public gatherings and educational programs. Numerous individuals and groups came together to make this modern library a reality. It's a testament to the people and creativity here, so I am grateful for their efforts and very pleased that this funding will help complete a dream in our community."
"Bringing money back into our communities is one of the most rewarding parts of this job, and I'm thrilled to have worked with Reps. Sappey and Williams to deliver so much funding for critical projects like the new Kennett Library," said Williams[PH1] [JK2] . "This library is more than just a place to check out books — it's going to be a community gathering place for everyone in Kennett Square. I'm so proud to have worked with my colleagues and the township on getting this funding, and I'm looking forward to seeing it come to life."
The new library will serve Kennett Square, Kennett Township and the surrounding community.  In addition to a 36,000-square-foot library, the building will host a children's library, classrooms and a full auditorium.  The building is scheduled to be completed in February 2023.