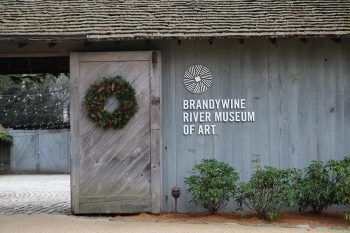 PENNSBURY — The Brandywine River Museum of Art announced Monday it will reopen to the public on Nov. 26, with the return of the Brandywine Railroad holiday train display and highlights from the permanent collection. The Brandywine has been temporarily closed to the public since Sept. 1, after the remnants of Hurricane Ida brought historic flooding to Chadds Ford and across the Brandywine's 15-acre campus. While all of the art in the galleries at the Brandywine River Museum of Art were safe and unharmed by the storm, the Museum's lowest level—containing a lecture room, classroom, offices and more—had significant flood damage, in addition to 10 other buildings on the Brandywine's campus.
Beginning November 26, the Museum will be open seven days a week, from 9:30 a.m. to 4:30 p.m. (closed on Christmas day), with the Brandywine's iconic O-gauge model train display on view through January 9, 2022. A holiday favorite since 1972, the Brandywine Railroad offers something for everyone with its dazzling array of both toy and scale model trains made by Lionel, Williams, Atlas, Mike's Train House, K-line and others. The display features trains running on 2,000 feet of track with more than 1,000 pieces, including locomotives, passenger and freight trains, and trolleys that pass through a small village, a farm, factories, and even a carnival and a drive-in movie theater. Interactive components are also incorporated into the display, operated by hands-free foot pedals that allow for further engagement.
Also returning—albeit in a limited capacity this year—will be the Brandywine's whimsical Critter ornaments decorating the holiday trees in the Museum's atrium and also available to purchase during the annual Holiday Critter Sale. Each year since 1971, these distinctive ornaments have been carefully handcrafted by a dedicated group of volunteers using only natural materials such as teasel, pinecones, acorns, eggshells, flowers and seed pods. All of the ornaments that had been made for this year's upcoming sale—over 8,200 new creations—were destroyed by floodwaters, including many decades of Critter ornaments that have been highlights of the holiday display, some of which date back to the early 1980s. After this devastating loss, the Brandywine's Critter volunteers rolled up their sleeves, fired up their glue guns and got back to work, quickly creating an amazing range of new ornaments in time for the annual holiday sale. Additionally, thanks to the generosity of staff, volunteers and others who donated their own Critter collections back to the Brandywine—including some ornaments that had graced the White House holiday display in 1984—the Museum's holiday trees will still be decorated with Critters for visitors to enjoy.
This year's
Holiday Critter Sale
will be held off site at the Chadds Ford Historical Society on December 4 & 5, from 10 a.m. to 4 p.m. A variety of "classic Critter" favorites along with fanciful new creations will be available during the sale. A smaller selection of Critter ornaments and houses are also available for purchase online and can be shipped across the country by visiting
www.brandywine.org/critters
.
The Brandywine has assembled a team of experts and skilled craftspeople—from structural and electrical engineers to architects, project managers and workers—to help ready the Museum for its holiday reopening, but there are months of work remaining before the Museum is fully restored to its prior functionality. Upon reopening, the Brandywine will continue to follow the CDC and PA Department of Health guidance on COVID-19. Guests are encouraged to visit
www.brandywine.org/now-open
to view the most up-to-date visitation guidelines and to reserve their timed tickets before arrival.