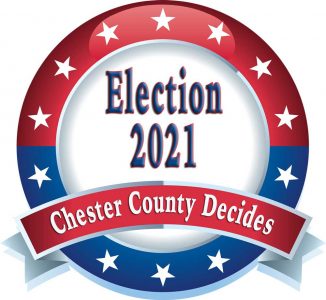 The Chester County Democratic Committee condemned a newspaper and digital sign ad its leadership described as "racist" that ran in a local daily newspaper and on one digital billboard on Sunday.
The full-page ad, which featured an image of a young black child taking up the top half of it, claiming without evidence that their views are being silenced (this and many area publications ran an Op/Ed by GOP Chair Gordon Eck yesterday), falsely claimed critical race theory is being taught in area schools and that parents instead of elected school board should decide how kids are educated.
The ad claims that exercising their First Amendment rights is not terrorism — a reference, apparently, to U.S. Attorney General Merrick Garland writing a memo asking local law enforcement to look into threats of violence and harassment of school officials in the wake of series of violent threats and cases of school board officials being stalked, followed to their homes and threatened. Those activities are not protected speech and in many cases violate federal and local laws. A story yesterday in The Inquirer detailed the threats of death and rape made against the President of the Pennsbury Board of Education is one example of threats against school officials in the region and nationally.
"Those who dedicate their time and energy to to ensuring that our children receive a proper education in a safe environment deserve to be able to their work without fear for their safety," Garland wrote in the memo.
The ad also claimed without example or proof that "sexually explicit" materials are available in schools in the county, although claims elsewhere have been related to sex education materials.
The ad caps a campaign in which the county party has attacked numerous Republican members of school boards around the county — either for voting to comply with the state mask mandate to fight COVID or for supporting Diversity, Equity and Inclusion programs at county schools (falsely equating such programs with Critical Race Theory, a legal concept analyzed in law schools and other graduate collegiate educational environments, not K-12 schools).
Local Democrats condemned the ad — and issued a statement from Party Chair Charlotte Valyo, Monday:
"Yesterday the Chester County Republican party ran a racist ad in The Daily Local News and also on an electronic billboard in the West Chester area. 
"The Chester County Republican party, under the leadership of Dr. Eck, continues to promote fear, anger, and divisiveness by promoting the ideas that Critical Race Theory is being taught in our schools, wearing masks is a matter of freedom rather than a public health issue and, perhaps most egregious of all, the undermining of our faith in the integrity of our elections.
"The racist ad appearing in The Daily Local News is an affront to everyone and an attempt to create fear at the expense of our African American neighbors. The Chester County Democratic Committee believes diversity is our strength.
"The Republican party candidates have yet to offer solutions to their perceived threats nor do they point to any achievements accomplished during the years Republicans were in control of the county. This is because their issues are manufactured problems without basis and their candidates lack experience or vision. Fear and divisiveness are all they can offer."