By Denny Dyroff, Entertainment Editor, The Times
This weekend, there is a wide variety of activities that can keep people of all interests occupied. Not surprisingly, the schedule is top-heavy with Halloween-related attractions and events.
Fortunately, for those who don't care about Halloween – or have already reached a saturation point with the marketing for the holiday — there are also many things to do this weekend that have nothing to do with ghouls, zombies, haunted activities or carved pumpkins.
A popular area autumn event is "Hayrides at Hagley" at Hagley Museum and Library (Buck Road East entrance via Route 100, Wilmington, Delaware, 302-658-2400, www.hagley.org).
This year, the hayrides will take place on October 23 and 24 from 10:30 a.m.-3:30 p.m.
Participants will be able to take a hayride along the Brandywine to experience the beautiful fall foliage in the Powder Yard. Guests can also observe a roll mill in action.
Upon arrival, reserve your hayride at the Visitor Center. Come early to make sure you get a spot because rides are filled on a first-come, first-served basis.
Family-friendly activities include crafts such as needle felting, leaf animals, and corn husk dolls. Kids can explore the Powder Yards with a scavenger hunt during their Hayride. A guide will be on-hand to answer questions during the Hayride.
Another event on October 23 is "Science Saturday – Spooky Circuits," which will starts at noon in the Hagley Library.
Participants can learn how batteries and circuits power our world — and make a buzzing Monster Bot.
Special guest will be "MOE 365 FTC – a FIRST™ Tech Challenge robotics team." Based in Wilmington, it will be at the event with hands-on robotics demonstrations.
Visitors of all ages are invited to discover solutions to science and engineering challenges at Science Saturday. Activities are included in regular admission and free for Hagley members.
This is a drop-in activity so participants can join the fun at any time from noon-4 p.m.
Admission is $8 for adults, $6 for seniors (age 62 and up), and $4 for children (ages 6-14).
"Palette to Palate" (Goshen Hill Farm, Malvern, www.landartevents.com) was originally scheduled to be a three-day event this weekend but has been changed to a one-day event on October 23 from 10 a.m.-5:30 p.m.
It is the culminating event of "Farm to Table Plein Air."
"Farm to Table" artists start painting in late winter and continue to paint until mid-October.
Like many events in these unusual times the format of the event has been adapted to offer a safe environment for guests. The majority of artwork this year will be displayed in a large open-air tent. Each artist's work will be displayed in one area except for competition pieces.
Competing artists choose four paintings to enter into judging for prizes. These paintings will be exhibited in the event barn at Goshen Hill Farm.
John Brandon Sills will be giving a judge's tour, demo and workshop during "Palette to Palate." All ticket holders will have access to join the tour and demonstration however the workshop is a separate fee.
Cathy Heznecker of CH Art Installations will be sharing her tips on choosing the right frame for artwork and displaying artwork to best showcase art collections.
During the event artists will be painting an autumn still life en plein air. These 8" x 10" or under paintings will go on sale at 3 p.m. Each painting is priced at $150
All ticketed guests will have the opportunity to participate in the People's Choice Award by judging paintings exhibited at the event. The People's Choice Awards will be awarded at 3 p.m.
All ticketed guests — $50 apiece –will be leaving with a special treat filled appreciation bag.
Through the generosity of our sponsor Bryn Mawr Trust the art show and sale will be open to the public from 3:30-5:30 p.m.
Longwood Gardens (Route 1, Kennett Square, 610-388-1000, www.longwoodgardens.org) is a great place to visit any time in the year and always has special attractions to add to the experience.
To celebrate the arrival of autumn, Longwood has a new attraction – "Autumn's Colors."
Crisp and refreshing, autumn at Longwood is a season of constant shifts in hue and texture — and ever-present beauty.
Visitors will be struck with Longwood's spectacularly painted vistas as they stroll through picturesque Meadow Garden Special attractions loved by children of all ages are Pumpkin Playground and the whimsical Garden Railway.
Inside, guests can celebrate fall's quintessential flower at Longwood's Chrysanthemum Festival. Beginning October 16, innovative plant-growing techniques and displays take center stage by way of thousands of trained chrysanthemums throughout our Conservatory.
Big, bold colors and thousands of carefully nurtured and trained chrysanthemums abound during this imaginative display serving as the largest and oldest of its kind in North America.
Throughout the Conservatory, specialty chrysanthemum forms from fanciful clouds to sculptural spirals not only showcase our horticultural savvy but help preserve an ancient Asian artform that we are beyond proud to perpetuate.
Admission to Longwood Gardens is $25 for adults, $22 for seniors and college students and $13 for youth (ages 5-18).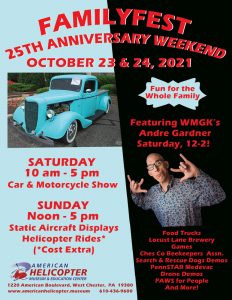 In previous years, the American Helicopter Museum & Education Center (1220 American Blvd., Brandywine Airport, West Chester,www.helicoptermuseum.org) celebrated Fathers' Day in June with its annual event known as "Fatherfest."
The museum posted the following message recently on its website – "Our signature June Father's Day event has a new name, but is the same celebration of family and fun. This year, we've added an extra day and moved the whole event to Saturday, October 23, from 10 am until 5 p.m., and Sunday, October 24, from noon until 5 p.m.
"On Saturday we will host a car and motorcycle show, along with food trucks, beer garden, interesting exhibits, games and more. WMGK's Andre Gardner will broadcast live from noon until 2 p.m.
"On Sunday we will also have helicopter rides and static aircraft. Rides (Sunday only) cost $75 and will be held from 12:30-3:30 p.m. They are first come, first served, and visitors must be here and checked in by 3:15 p.m. to guarantee a flight."
As a special attraction at this weekend's event, Captain Jonathan Theel, Commanding Officer of U.S. Coast Guard Sector Delaware Bay, will be speaking in the theater on Sunday afternoon.
Captain Theel oversees more than 815 active duty, reserve, and civilian personnel; 2,100 Coast Guard Auxilia, and 22 Coast Guard units, including six stations, seven season stations, two aids to navigation teams, five cutters, a Sector Field Officer, and a Marine Safety Detachment. Sector Delaware Bay is responsible for all 11 Coast Guard missions across much of Pennsylvania and New Jersey and all of Delaware out to 200 miles offshore.
Admission to "Family Fest" is $10 per person for one day and $15 per person for both days.
Winterthur Museum, Garden & Library (Route 52, Wilmington, Delaware, 800-448-3883, www.winterthur.org) is hosting "Drive-in Movie Weekend" from October 22-24.
Visitors are invited to pile friends and family in the car and take in a fun film under the night sky. All films are rated PG. Gates open at 5 p.m. and movies start at 7 p m.
The movie which is being screened on October 22 will be "Night at the Museum." On October 23, "Hocus Pocus" will be featured, and the film scheduled for October 24 is "Mary Poppins Returns."
Admission is $40 per car. The event is "BYO food and drink," or patrons can purchase hot dogs, hamburgers, chips, cookies, soda, and popcorn from Winterthur's food tent.
Movies can be viewed from cars or on the grass with BYO blankets and lawn chairs. Admission can be by reservation or at the gate. Visitors should enter at Gate 2 on the Point-to-Point fields on Route 52.
"The Poison Garden," which is billed as an immersive Halloween experience, will be held from October 24-26 at Glen Foerd (5001 Grant Avenue, Philadelphia, www.glenfoerd.org/events).
A mysterious garden with a deadly purpose takes root this Halloween throughout the grounds and halls of Glen Foerd.
Glen Foerd, a public park and nonprofit cultural site in Philadelphia, is hosting "The Poison Garden," a roving, immersive adventure centered around a mysterious garden with an intriguing allure.
Visitors will be able to travel back in time to learn how one family inexplicably vanished nearly a century ago — and uncover the garden's role in this strange tale.
"The Poison Garden," designed and performed by Alterra Productions, will be presented on October 22 (fundraising launch party), 24, 25, and 26, from 7-9 p.m. The production will feature theatrical action and artistic choreography led by a troupe of actors, circus artists, and aerialists. This immersive experience is designed to engage audiences with the Glen Foerd estate's history and landscape in a new and innovative manner.
"The Poison Garden" debuts on Friday, Oct. 22, with a fundraising launch party hosted by Glen Foerd. Tickets for this special premiere event are $75 and include hors d'oeuvres and craft cocktails. With the launch on October 22, Glen Foerd hopes to raise $23,000 to benefit the nonprofit's cultural, educational, and ecological programs and mission.
Glen Foerd is an 18-acre public park and historic site located along the Delaware River in Philadelphia. Built in 1850 and enlarged in 1902-03, the estate—consisting of historic gardens, an Italianate-Classical Revival style mansion, and multiple additional structures—was saved from potential development through the activism of dedicated neighbors in 1983.
Today, Glen Foerd focuses on welcoming a diverse community through a wide array of programs for all ages. As one of the only cultural sites located in Northeast Philadelphia, Glen Foerd aims to connect audiences from different backgrounds by offering unique and affordable experiences to engage with the arts and the environment.
Tickets for "The Poison Garden" experience on Oct. 24, 25 and 26 are $35.
The Penn Township "Fall Festival" will be held October 23 at Penn Township Park (260 Lewis Road., West Grove, penntownship.us).
The event, which is sponsored by Penn Township, will run from 2-6 p.m.
Featured activities include DJ Paul with Halloween & family friendly music, live music by Revolution Heroes, food trucks, vendors, kids' activities, corn maze and axe throwing contest.
After the "Fall Festival," the event will transition into "Halloween Movie Night" featuring back-to-back movies in Penn Township Park. "Monsters Inc." will be followed by "Beetlejuice." Attendees are suggested to bring lawn chairs, blankets and sweatshirts.
Crossan's Kettle Corn will be selling bags of delicious popcorn.
Costumes are not required at this event but will be welcome. Kids will receive trick-or-treat bags when they arrive to help gather their treats from the carnival and all the vendor tables around the park.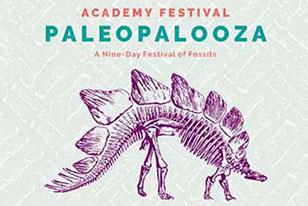 "Paleopalooza," which is billed as a "weekend extravaganza of fossils", is a festival featuring exhibits of fossils, dinosaur drawing lessons, trilobite races and talks by prominent paleontologists.
The 2021 edition of the event is running through October 24 at the Academy of Natural Sciences (1900 Benjamin Franklin Parkway, Philadelphia, 215- 299-1000, www.ansp.org).
The annual event will feature a Mesozoic mix of virtual and in-person programming. From hands-on workshops to digital drawing class to fossil exploration stations, there's something for paleo fans of all ages to enjoy at the museum and online.
This weekend, there will be all-day in-person fun and exploration where visitors will meet Academy paleontologists and examine the interesting specimens they're working on; take a guided tour of Dinosaur Hall and learn its secrets; make-and-take a Cretaceous craft; learn about current research and discover how the ancient world is still all around us.
Dinosaur Hall Tours are scheduled for 10 a.m., noon, 2 p.m. and 4 p.m. each day
Other attractions are "Ask the Scientists! Paleontology Pandemonium;" "First Steps: The Origin of Limbed Animals," Vertebrate Paleontology Presentation; "Bugs on the Big Screen: Paleo Edition;" "Vertebrate Paleontology: From Past to Past;" "Fossil Exploration Station;" "Monster Mash Scavenger Hunt and Prize;" "Cretaceous Crafts;" "Bighorn Basin Paleontology Institute;" and "Paleo Partner Showcase."
Tickets are $22 for adults, $19 for seniors, military and students and $18 for children.
Historic Rock Ford (881 Rockford Road, Lancaster, historicrockford.org) will present "Games of the Past and Present" on October 24 from 2-4 p.m.
"Games of the Past and Present" will feature games the Hand family may have once played and also other fun game stations. The goal of the activity is to welcome families to Rock Ford for an exciting afternoon of play and learning.
Keirstyn Allulis, a Museum Leadership graduate student at Drexel University, is conducting this activity as a project for her children's educational events this term.
The mission of the Rock Ford Foundation is to provide opportunities to connect with and explore the life of Edward Hand, the diverse communities and material culture of early Lancaster County, and the complex issues that shaped our nation in its formative years by preserving and interpreting Historic Rock Ford and its collections.
Historic Rock Ford was the home of Edward Hand and his family as well as enslaved and free servants and laborers. During the American Revolution, Edward Hand was Adjutant General to George Washington. Today, Historic Rock Ford is comprised of 33 acres at the southeastern edge of Lancaster City surrounded by Lancaster County Central Park.
It offers guided tours of the elegantly furnished rooms of the circa 1794 Hand Mansion as well as the opportunity to visit the John J. Snyder, Jr. Gallery of Early Lancaster County Decorative Arts which is housed in a re-constructed 18th century bank barn. Historic Rock Ford offers visitors a peaceful enclave for lovers of history, art and nature just inside the boundaries of Lancaster City.
On weekends now through October 23, the Kalmar Nyckel will be offering public sails from the Kalmar Nyckel Shipyard (1124 East Seventh Street, Wilmington, Delaware, www.kalmarnyckel.org.)
For two decades, the Kalmar Nyckel, which has its home base in Wilmington, has been hosting riders all over the world – especially in Delaware.
A ride on the Kalmar Nyckel is a totally different from most tourist water rides.
The ship is a beautiful recreation of the original Kalmar Nyckel, which was built in Holland in the 1620s. Her mainmast is taller than a 10-story building and she carries 7,600 square feet of sail area and six miles of rigging.
The original Kalmar Nyckel was a Swedish-owned, three-masted armed pinnace that sailed from Goteborg, Sweden in November of 1637 and brought the first permanent European settlers to the Delaware Valley.
Carrying 24 settlers from four countries (Sweden, Finland, Holland, and Germany), she landed on the banks of the Christina River. The site, which became known as "The Rocks", can be visited at Fort Christina Park off Wilmington's East Seventh Street.
The Kalmar Nyckel made four documented round-trip crossings of the Atlantic, more than any other "settlers' ship" of the era. The original ship was lost in the late 1600s.
In 1986 a group of citizens established the Kalmar Nyckel Foundation to design, build and launch a replica of the Kalmar Nyckel at a shipyard adjacent to the original landing site.
The new Kalmar Nyckel was constructed there and was launched on September 28, 1997. She was commissioned on May 9, 1998 and now serves as Delaware's sea-going Ambassador of Good Will. She is a fully functional sail training vessel and has represented Delaware all over the country.
Tickets are $40 for adults and $25 for youth (ages 17 and under).
If you're a fan of top-flight bluegrass music performed in a live setting, you're in luck this weekend.
International bluegrass music and country music superstar Ricky Skaggs will be returning to the area for two shows over the next few days – October 22 at the American Music Theatre (2425 Lincoln Highway East, Lancaster, 800-0 648-4102, www.AMTshows.com) and October 23 for a pair of shows at the Sellersville Theater (24 West Temple Avenue, Sellersville, 215-257-5808, www.st94.com).
Bluegrass musician Skaggs has been making music for more than 50 years. A 15-time Grammy Award winning singer and multi-instrumentalist, Skaggs is a Grand Ole Opry member, CMA and ACM Award winner, and has 12 #1 songs to his credit, including "Heartbroke," "Highway 40 Blues," "Honey, Open That Door," and "Country Boy."
Skaggs played mandolin and sang on stage with bluegrass legend Bill Monroe when he was six years old. One year later, he appeared on television's Martha White country music variety show, playing with Lester Flatt and Earl Scruggs.
His life's path has taken him to various musical genres, from where it all began in bluegrass music, to striking out on new musical journeys, while still leaving his musical roots intact.
The versatile musician started playing mandolin over a half-century ago. Skaggs has had 13 consecutive Grammy-nominated classics — from "Bluegrass Rules!" in 1998 to "Ricky Skaggs Solo: Songs My Dad Loved" in 2010.
Skaggs said that there are plans for a live Kentucky Thunder album to be released om a yet-to-be-determined date.
Skaggs' most recent album in "Hearts Like Ours," which he recorded with his wife Sharon White and released on his Skaggs Family label.
"We recorded that album in 2013 and released it in October 2014," said Skaggs.
"I've had my own studio since 2001 — Skaggs' Place Studio in Hendersonville, Tennessee. We have a lot of analog gear — and ProTools and RADAR, which is still the best for going from analog to digital.
"We've been recording as lot at our studio. We plan is to get a live record out and then get back in the studio to d a new album. I've been writing for a while – quite a few instrumentals."
Skaggs got into bluegrass music early in his career.
By age 21, he was already considered a "recognized master" of one of America's most demanding art forms, but his career took him in other directions — catapulting him to popularity and success in the mainstream of country music.  His life's path has taken him to various musical genres, from where it all began in bluegrass music, to striking out on new musical journeys, while still leaving his musical roots intact.
Skaggs struck his first chords on a mandolin more than 50 years ago and continues to do his part to lead the recent roots revival in music. Skaggs has led a life dedicated to playing music that is both fed by the soul and felt by the heart – and dedicated to Jesus.
"With the pandemic, we went from about 75-80 shows a year to just zero for a year-and-a-half," said Skaggs.
"The Opry kept going. They never shut down. I did a few shows there – live on radio and TV – for the fans. Now, the Opry is back to full capacity.
"The pandemic really did affect us. Every year, Sharon was touring a lot with her band, The Whites, and I was touring a lot with my band, Kentucky Thunder. The good thing about being forced off tour is that we really had time to be together. It was the most we had been together in 40 years.
"Jesus told us to have faith and not fear. It's great that we can now go out and play to bring hope and jo and faith to people. Jesus said – joy kills sorrow."
Unlike many acts out on the road now, Skaggs has no vaccination requirements for his audience members. I don't believe in vaccines. I took budesonide and ivermectin instead. Then, I was hospitalized for nine days with COVID-19 back in May, but I beat the virus."
Now, Skaggs is on a national tour with his latest incarnation of Kentucky Thunder.
"It's pretty much a new band," said Skaggs. "The tenor singer is brand new. The fiddle player is new since July. On the other hand, three or four of the guys have been with me for five years.
"It's an amazing band. It's pretty much like jumping into a Ferrari and just going. It's amazing to play with such professional musicians. The band is right with me and we play old-time, bluegrass, country, gospel and a lot of instrumentals."
Video link for Ricky Skaggs — https://youtu.be/hFXG3yV6Km4.
The show at the American Music Theatre on October 22 will start at 8 p.m. Tickets are $25, $35 and $45.
The shows at the Sellersville Theater are at 3 and 8 p.m. on October 23. Tickets start at $38.50.
Another good choice for live music on October 23 will take place at the World Café Live (3025 Walnut Street, Philadelphia, 215-222-1400,www.worldcafelive.com) when the venue in Philadelphia hosts Mutlu.
Mutlu will bring his "An Evening with Mutlu: The Good Trouble Tour" to the WCL's Lounge Café for a show at 9 p.m,
A Philadelphia native, Mutlu combines his innate Philly-soul style with elements of folk, reggae and rock. This cohesive blend of music creates a rare and retro sound that is entirely timeless.
But Mutlu is more than just a Philly boy.
Mutlu (pronounced moot'-lu) is a first-generation American whose parents moved from Turkey to the United States in the 1970s. He even shares his name with the company Mutlu which is Turkey's best-selling manufacturer of batteries for cars and light commercial vehicles.
"I lived in Turkey when I was in third grade," said Mutlu, during a recent phone interview from his home in the Logan Square section of Philadelphia.
"I used to go to Turkey every summer. Now, it's been 16 years since I've been there. I just haven't had the chance."
Born Mutlu Onaral, he grew up steeped in Philadelphia's deep R&B traditions, eagerly absorbing the fundamentals of old-school soul music and incorporating it into his own musical persona.
He discovered the strength of his voice in high school while singing in a Broadway revue. He liked being on stage but didn't anticipate pursuing it as a career. However, while earning a marketing degree from Drexel University, he spent innumerable hours practicing guitar, writing songs, and playing open mic nights.
Now roughly fifteen years into a career as a professional musician, he believes that his Turkish heritage informs his perspective as an artist.
According to Mutlu, "From a writing standpoint, having that multicultural background from a young age fuels your creativity in a different way. It makes you empathize with things differently than you would have."
His local success led to a recording deal with Manhattan/EMI Records, which released his acclaimed 2008 debut album, "Livin' It," which was produced by the late, great T-Bone Wolk, and featuring guest appearances by Daryl Hall, Amos Lee, G. Love and Raheem DeVaughn.
Mutlu has already made substantial headway with his high-caliber soulful sound. He's collaborated and toured extensively as a support act with legendary duo Daryl Hall & John Oates. He also holds the distinction of having made the most guest appearances on Daryl Hall's acclaimed, award-winning TV show "Live From Daryl's House."
"I toured a lot with Hall & Oates from 2009-2015 as the opening act," said Mutlu. "I was one of the first guests at Daryl's House."
Mutlu has toured as a support act and longtime collaborator with noted singer/songwriter Amos Lee, and has shared stages with Adele, John Hiatt, Leon Russell, the Blind Boys of Alabama, Todd Rundgren, Shuggie Otis and many more. He also was the support act on the North American leg of Joe Jackson's acclaimed "Rain" tour.
Mutlu's latest release is a seven-song collection called "Good Trouble." Mutlu co-produced the record with songwriter/producer Darius Amendolia. Additionally, "Good Trouble" was mixed and mastered by Grammy winning producer/engineer Phil Nicolo at Studio 4 Recording in Conshohocken.
"We released 'Good Trouble,' in 2019 and then it got stopped in its tracks because of the pandemic," said Mutlu. "This was supposed to be the Good Trouble Spring 2020 tour, but it never got started.
"The last 18 months have been tough. I started a podcast with Spike Eskin about a year ago. It's called the 'Carl Landry Record Club.'"
On its website, the 'Carl Landry Music Club' is described as, "Spike Eskin and Mutlu discover great music, discover your great music, and talk to great musicians. A music podcast from The Rights To Ricky Sanchez."
"During the months off, I've just been writing and making videos," said Mutlu. "I'm always writing. Lately, I've been more focused on getting back on the road. I toured with Amos Lee in September and I'm headlining my own tour in October and November.
"I've been writing and stockpiling new material. I'm getting close to a point where I can conceptualize an album. I just wrote one song with my partner Delia Amendolia."
Mutlu has a family vibe going with the Amendolia clan.
"I did my last three records – 'Good Trouble,' 'Hypnotize, and 'Caffeine to Whiskey' – in Florida with Darius Amendolia. We recorded them at his Sweetbriar Studio in Orlando."
Now, Mutlu is in the middle of a coast-to-coast run of the U.S. in October and November. Solo tour began on October 12 in Seattle, Washington at The Rendezvous, with the final show set for November 17 in Decatur, Georgie at Eddie's Attic.
Sandwiched in between is Mutlu's highly anticipated show at the World Café Live this weekend prior to an 11-show run through the Midwest, Texas and the South.
In Turkey, the word, "Mutlu," is an adjective that means happy, delighted, blissful, contented, rejoicing, blithe and elated. It pretty much describes the feelings that his music brings to listeners.
Video link for Mutlu – blob:https://www.facebook.com/dfdfad97-7389-4172-b5d7-a749376f997e.
The show on October 23 at The Lounge at World Cafe Live will start at 9 p.m. Tickets are $15.
The number of non-Halloween events pales in comparison to the multitude of Halloween events around the area
On October 23, the Colonial Pennsylvania Plantation (Ridley Creek State Park, Media, 610-566-1725, www.colonialplantation.org) is presenting "Lantern Ghost Tours."
The Colonial Plantation, one of the most haunted properties in Delaware County, invites you to an evening of strange sounds, squeaky doors, and ghostly stories. Relive 300 years of the area's most mysterious, scary and true tales of terror. Start by following the torch lit path and discover the strange and inexplicable ways that colonists treated their dead.
The stories are researched by Plantation staff, are local on the Delaware County area, and are absolutely spine-chilling! Due to the graphic nature of some stories, we will not allow anyone under the age of ten to participate, and we recommend ages 12 and up.
Space is limited, and tickets must be purchased in advance. Tickets for the ghost tours are $15. The event is recommended for people 10 and older. No pets are allowed.
On October 23, Laurel Hill Cemetery (3822 Ridge Avenue, Philadelphia, 215-228-8200, www.thelaurelhillcemetery.org) will present "Sacred Spaces and Storied Places" at 1 p.m.
The expansion of Fairmount Park in the 1860s prevented further growth of Laurel Hill, and in 1869 West Laurel Hill was established just across the river in Bala Cynwyd. This walking tour provides a wonderful overview of West Laurel Hill's long and colorful history, including its architectural artistry, stunning trees and horticulture, and the stories of residents that encompass diverse and fascinating Philadelphia history.
"Sacred Spaces and Storied Places" is the perfect introductory tour for anyone who wants to learn all that West Laurel Hill Cemetery has to offer. Experienced tour guides offer visitors a unique perspective and every Sacred Spaces tour is different.
The tour guide for this event is Jen Krivinskas.
Ticket pricing is $12/General Admission, $10/Seniors (65 & Up), $10/Students with ID, $6/Youth (6-12), and $0/Child (5 & Under).
"Candlelight Ghost Tours" (Fort Mifflin, Fort Mifflin and Hog Island roads, Philadelphia, 215-685-4167, http://fortmifflin.us) are scheduled for October 22, 29, 30 and 31.
Visitors can tour historic (and haunted) Fort Mifflin by candlelight from 7-10 p.m. each night (6:30-8:30 on October 31) and hear true stories of ghostly encounters. This event is billed as an "authentic experience."
Tickets are $20 for adults and $15 for children (12 and under).
Every weekend in October, The Franklin Institute (222 North 29th Street, Philadelphia, www.fi.edu) is presenting Franklin Fright featuring trick-or-treating through the exhibits, creepy guests from The Insectarium, spooky science experiments, liquid scare shows and other frightfully fun festivities.
Spooky live science shows, Halloween-inspired décor, and the return of the ever-popular museum-wide indoor trick-or-treating adventure takes place every weekend in October during Franklin Fright.
Experience one of the most fun-filled Halloween destinations around with the return of Franklin Fright.
Back by popular demand, young witches and warlocks, ghosts, and goblins are invited to trick-or-treat by knocking on friendly decorated doors in exhibits throughout the museum.
New this year, meet Dr. Franklinstein, joined by her science sidekicks for one of several all-new live science shows. Watch as they perform explosive experiments, dastardly demonstrations, and spooky science with There will be several Halloween-Inspired Live Science Shows incucing "That's Gross!" "Dr. Franklinstein's Pumpkin Lab" and "Pondering Plasma."
Admission is $23 for adults and $19 for children. Wearing costumes is encouraged.
Chaddsford Winery (Route 1, Chadds Ford, 610-388-6221, www.chaddsford.com) is presenting its "Adult Trick or Treat" event every Saturday and Sunday through October 31. Tour Times Available at noon, 1, 2, 3 and 4 p.m.
Visitors will be able to "Trick or Treat" for wine and seasonal snacks at Chaddsford's wildly popular, adults-only Halloween program as they visit a variety of Halloween-themed pairing stations located throughout the Winery grounds.
The "Pairing Menu" features Sleepy Hollow: Chaddsford White with Kernel Clark's Kettle Corn; Hocus Pocus: Witch's Brew Wine Cocktail with Éclat Tahitian Vanilla Truffle; Creature from the Black Lagoon: 2018 Harbinger with Oso Sweet Negative Cookie; Frankenwine: Warm Spiced Apple with Carlino's Mini Pumpkin Cannoli; and The Shrieking Shack: Sangria Slushie.
Advanced tickets purchased online are $35 and include the food and beverage pairings, as well as a Halloween-themed keepsake wine glass.
The Pennsylvania Renaissance Faire (Pennsylvania Renaissance Faire Shire, Mount Hope Estate and Winery grounds, Route 72, Cornwall, 717-665-7021,www.parenfaire.com) is hosting its "Halloween Daze & Spooky Knights II" event on October 23 and 24 and "Halloween Daze & Spooky Knights III" event on October 30 and 31.
From 11 a.m. until 8 p.m. each day, the huge faire will celebrate Halloween.
Three weekends of mystery and mayhem kick off this weekend as spooky creatures of every variety haunt the Shire. Visitors can join the good Shirefolk of Mount Hope for a grand All Hallows Eve celebration, complete with tricks and treats for children of all ages.
Featured events include "Halloween Treasure Hunt," "Nipperkins Costume Exhibition" (ages 11 and under), and "Adult Costume Competition."
Admission is $30.95 for adults and $15.95 for kids ages 5-11.
Each September, "Pumpkinland" returns to Linvilla Orchards (137 West Knowlton Road, Media, 610-876-7116, www.linvilla.com). "Pumpkinland," which runs through November 7, features fairy tale characters from nursery rhymes along with a huge scarecrow and a really tall storybook.
Other activities include train rides, a straw bale maze, hayrides, pick-your-own apples and pony rides.
There will also be "Harvest Hayrides" and "Autumn Moon Hayrides" starting later in September along with "Straw Bale Maze," "Train Rides," "Corn Maze" and "Pony Rides."
Pumpkinland is open from mid-September through early November and takes center stage at Linvilla Orchards. Larger than life figures and scarecrows illustrate the legends and lore of the harvest season, featuring local history and some of the many stories of pumpkins and apples.
Visitors will see Linvilla's piles of pumpkins in all colors, shapes and sizes — more than 100 tons on display.
The popular annual "Flashlight Maze" at Cherry Crest Adventure Farm in Ronks (150 Cherry Hill Road, Ronks, 717-687-6843, will continue every Friday and Saturday night through November 4. Cherry Crest Adventure Farm has reserved several weekends during the autumn months for Flashlight Maze.
This special activity allows visitors to experience the Amazing Maize Maze in total darkness. All you need are flashlights and a few friends.
The Flashlight Maze is a nice, non-scary, Halloween alternative that has appeal for people of all ages. The Flashlight Maze, which has a $12 admission fee, is open from 6:30-10 p.m. with the last entrance into the Maze at 9 p.m.
The main attraction is Cherry Crest's "Amazing Maize Maze," which is billed as "the world's most dynamic and interactive corn maze." It is a five-acre corn maze with over two-and-one-half miles of paths, scenic bridges and clues.
Participants can walk at their own pace as they encounter the "Kernels of Knowledge" along with a variety of clues, tunnel slides, and watering stations. They can also check out a bird's eye view from the two bridges and watch everyone's flags waving high above the corn.
The average time to complete the "Amazing Maize Maze" course is one hour. Ticket prices start at $17.95.
One of the best ways to welcome autumn is by checking out the corn mazes at Ramsey's Farm (Ramsey Road, Wilmington, Delaware, 302-477-1499,www.ramseysfarm.com). The farm's event season just got underway.
Corn mazes, along with hayrides, a pumpkin patch and scarecrows, will be featured at Ramsey's Farm, which is located in northern Delaware on Route 92 just south of the Pennsylvania-Delaware state line. The new season runs on weekends now through October 30.
Ramsey's "Pumpkin Patch" has been in operation since 1995 and the farm's varied mazes have been delighting and baffling visitors who return each year for the popular annual event. The owners of Ramsey's Farm raise pumpkins, gourds, ornamental corn, popcorn, feed corn and hay.
The farm's pumpkin field stretches over 12 acres and yields approximately 20,000 pumpkins each season. Hayrides around the farm will be offered from 11 a.m.-5 p.m. each day. Visitors will be able to shop for pumpkins and other items at the farm store. There will also be hot food and beverages available for purchase.
Tickets are $8 for the corn maze, $4 for hayrides, $4 for Spookley Trail, and $4 for pumpkin painting.
Also in Delaware, "Boo at the Zoo" (Brandywine Zoo, 1001 N. Park Drive, Wilmington, 302-571-7747, www.brandywinezoo.org) will be held on October 23 and 24.
The popular annual non-scary family event features games, animal enrichment programs, live critters and trick-or-treating. Children (and their grown-ups) are encouraged to wear costumes. Tickets are $5.
Celebrate Halloween Brandywine Zoo-style with this merry, not scary, event. Come see all the zoo's spooky decorations, enjoy socially distanced activities, and meet some of the zoo's favorite animals. Kids (and grown-ups, too) are encouraged to come in costume!
There will be a pre-packaged treat bag for all your little trick-or-treaters. This event is free with Zoo admission, but early registration is strongly recommended, as tickets are extremely limited due to Covid-19 restrictions. Pre-packaged treat bags will be given to all registered children as they leave the zoo.
Admission is $7 for adults and $5 for seniors and children (ages 3+). This event is rain or shine. No refunds will be given.
"Boo at the Zoo" (Elmwood Park Zoo, Harding Boulevard, Norristown, www.elmwoodparkzoo.org) will be held October 23, 24, 30 and 31 from noon-3 p.m. each day.
"Boo at the Zoo" features live entertainment, costume contests, costume parades, trick-or-treat stations with candy, prizes, crafts and educational pieces.
Children are encouraged to bring their own treat bags for trick-or-treating. The zoo will not be providing any bags.
"Boo at the Zoo" is free with zoo admission, which starts at $12.95.
On Saturdays and Sundays now through October 31, Morris Arboretum of the University of Pennsylvania (100 E. Northwestern Avenue, Philadelphia, www.morrisarboretum.org) is hosting its annual Scarecrow Walk.
Visitors will be able to make their own scarecrows, paint a pumpkin and sample different varieties of apples. Weaver's Way Coop will be on hand with the season's best local apple varieties.
Morris Arboretum's Scarecrow Walk is back for its 14th year, and in recognition of those who show courage and care when faced with fright, this year's theme is "Heroes!"
Visitors will be able to wander through the Arboretum and see scarecrows in honor of a beloved superhero characters, essential workers, or best friend heroes.
Throughout the month of October, more than 30 scarecrows will be on display throughout the Arboretum. Visitors will vote for their favorite scarecrow online to determine the winners. The top three scarecrows win a cash prize with a top prize of $250.
Admission to Morris Arboretum is $20 for adults, $18 for seniors and $10 for youth (ages 3-17).
The Scarecrow Competition and Display at Peddler's Village (Routes 202 and 263, Lahaska, 215-794-4000, www.peddlersvillage.com) is running through October 30. Hours are 10 a.m.-6 p.m.
Visitors can stroll around the Village to see the Scarecrow Competition and Display, which showcases more than 100 creative and colorful scarecrows. The Scarecrows are on outdoor display.
The public is invited to vote for the winners. Ballots are available in all shops and restaurants. The ballot boxes are located in the Hospitality Center at the Cock 'n Bull, Giggleberry Fair, and Buttonwood Grill.
The Woodlands (4000 Woodland Avenue, Philadelphia, 215-386-2181, http://woodlandsphila.org) is a 54-acre undulating landscape that is a one-of-a-kind 18th-century English pleasure garden and a 19th-century rural cemetery.
On October 24 from noon-3 p.m., the site is hosting its "Halloween Family Fun Day."
This year's HFFD will feature a digital Halloween themed self-guided tour, All Hallow's Read, and performances by Tangle Movement Arts and Karen Smith's "Spiritual Atmospheric Cleansing."
The 30th annual edition of "Haunted Hayride, Bates Motel and Haunted Corn Maze at Arasapha Farm" (1835 N. Middletown Rd., Gradyville, 610-459-0647, www.thebatesmotel.com) will be scaring visitors through October 31.
The haunted hayride through the woods features monsters, special effects and actors. The Bates Motel has haunted rooms with special effects and computerized lighting.
"Psycho Path" is a highlight. With scenes like a 100-foot long, 40-foot tall drive thru insane asylum, a full scale mockup of a New England church and a 200-foot long cave, the Haunted Trail is an amazing example of Hollywood style sets and props.
Another attraction is the "Revenge of the Scarecrow Haunted Trail." A haunted trail is cut through a cornfield inhabited by monsters.
Other popular attractions are "Zombie Hunt Lazer Tag," "Double Edge Axe Throwing" and "Bates Motel Escape Rooms."
Admission prices start at $40.
For years, Eastern State Penitentiary (2124 Fairmount Avenue, Philadelphia, 888-763-NITE, www.easternstate.org) presented one of the premier Halloween attractions in Philadelphia — "Terror Behind the Walls."
This year, the venue is trying something different – a new attraction called "Halloween Nights at Eastern State Penitentiary."
The truly scary attraction, which is running through November 13, takes place at a penitentiary site that was once was an active prison and is now a National Historic Landmark. It is a scream-inducing event featuring laser and special-effect lighting, digital sound, sinister scents, animatronic creatures and 3-D illusions.
There is "Delirium," a 3D Haunted House where visitors take a mind-altering trip into another dimension –a parallel, neon universe where nothing is quite as it seems. Fascinating creatures emerge from seemingly nowhere as the world you thought you knew shrinks away.
Another new attraction is "Take 13," a Haunted House where visitors step back in time and into the golden age of Hollywood glamour. The cameras never stopped rolling on the souls that roam this hall. And now they want you to be part of the show.
"The Crypt" is another Haunted House. The creatures of The Crypt request your presence. Wade through the mist and into the lair of an ancient clan of vampires. They've set the table, but if you're not careful, you might end up on their next menu.
"After Dark CB3 Tour" is a guide-led Walking Tour – a 20-minute, guide-led, flashlight tour of Cellblock 3, the Hospital Block.
Another Haunted House is the "Machine Shop." Hidden away from the world is a long-forgotten machine shop. Evil pervades this space – an evil with one mind but with many bodies. Will visitors survive or will they become just another cog in the machine?
"Tricks and Treats" is a "Halloween Candy-Themed Cocktail Lounge. Visitors enter a fantastical world of sugar-coated trickery where they can sip on a candy-themed cocktail and mingle with the jesters and clowns of this twisted carnival for the senses.
Other attractions are "The Speakeasy at Al Capone's Cell," "The Bloodline Lounge," "Gargoyle Gardens (featuring The Skeleton Crew)," "Junkyard Jams," "The Fair Chance Beer Garden (featuring Triple Bottom Brewing Co.), "The Big Graph & Prisons Today," "The Voices of Eastern State" Highlights Audio Tour, "Kaleidoscope Hall," and "S'mores and Lore."
Admission prices, which vary with the date, start at $34.
Pennhurst Asylum (100 Commonwealth Drive, Spring City, 484-866-8964, www.pennhurstasylum.com), which is open through November 6, is on the site of a former mental asylum which has been shuttered for over a quarter of a century.
It has been transformed into a haunted attraction with huge sets, detailed rooms and live actors. Visitors can also explore the labyrinth of underground tunnels.
Ticket prices start at $45 with a variety of combo packages available.
The "35th Annual Jason's Woods" (99 Stehman Road, Lancaster, 717-872-5768, www.jasonswoods.com), which is running through November 6, is a horror show complex that features a combination of live actors, impressive animation and scary special effects.
Popular attractions include "Horrifying Hayride," "Chamber of Horrors," "Zombie Apocalypse," "Lost in Jason's Woods," and "Carnival of Fear," Admission prices are for combo tickets are $25 for three attractions and $40 for five.
"Valley of Fear" (300 W. Bristol Road, Feasterville, 215-942-9787, www.valleyoffear.com), which is open through November 6, features three "heart pounding attractions" — "Haunted Hayride," "Miles Manor Haunted House," and "Willie's Shipwreck Cove."
There will also be live music every Thursday, Friday, Saturday and Sunday
The attraction is billed as "America's Most Horrifying Woods." Admission prices start at $23.
The "27th Annual Field of Screams" (109 College Avenue, Mountville, 717-285-7748, www.fieldofscreams.com), which is open now through November 13, features four world-class Haunted Experiences and an impressive Midway Area.
Top attractions include "Horrifying Haunted Hayride," "Den Of Darkness," "Nocturnal Wasteland" and "Fightmare Asylum."
Ticket prices start at $16.
22 and 23 are the dates for "Ghosts in the Graveyard" (Old Swedes Historical Site, 606 Church Street, Wilmington, Delaware, 302-652-5629,www.oldswedes.org).
From 6:30-9 p.m. each night, visitors will be able to stroll through the complex, meet some of the ghosts who reside in the site's burial grounds and maybe even solve the mystery of the late-night bell ringing at Old Swedes Church.
Tickets are $15.
Ghost Tour of Philadelphia (215-413-1997, www.ghosttour.com), Ghost Tour of Lancaster (717-687-6687, www.ghosttour.com) and Ghost Tour of Strasburg (717-687-6687,www.ghosttour.com) operate through November and offer an eerily entertaining evening of true ghost stories and real haunted houses.
The Ghost Tour of Philadelphia is a candlelight walking tour along the back streets and secret gardens of Independence Park, Society Hill, and Old City, where ghostly spirits, haunted houses, and eerie graveyards abound. Tickets are $20.
Participants in the Ghost Tour of Lancaster explore the long-forgotten mysteries of one of America's oldest cities, with haunting tales of otherworldly vigils, fatal curses, and star-crossed lovers. The tour provides the opportunity to experience 300 years of haunted history from the Red Rose City's thorny past. Tickets are $18.
The Ghost Tour of Strasburg is a candlelight walking tour of the quaint and historic town of Strasburg in the heart of Pennsylvania Dutch Country. Visitors will experience an entertaining evening with a costumed tour guide spinning tales of haunted mansions, eerie graveyards, and spirits that roam the night … in a town lost in time. Tickets are $18.
On October 22 and 29, visitors will be able to take a "Spooky Twilight Tour" at the Betsy Ross House (239 Arch Street, Philadelphia, http://historicphiladelphia.org/)
The tours will transport participants back to Philadelphia in the 1700s to learn about the city's gruesome history of infection and inoculation – and hear true tales of bloodletting, smallpox, yellow fever and other gross experiences. They will be able to learn what it was like to live in the ghastly 18th century and discover why Philadelphia was an infectious place to be.
After that, participants can head into the House for a spooky, shadowy after-hours tour. Hours are from 6-9 p.m. and the tour is not recommended for small children.
Timed tickets, which must be purchased in advance, are $12.
This is always a busy time of year for the area's tourist railroads.
The West Chester Railroad (Market Street Station, West Chester, 610-430-2233, www.westchesterrr.net) is running its
"Trick or Treat Special" on October 23, 24, 30 and 31 at noon and 2 p.m. each day.
This is billed as a "family friendly 90-minute Halloween train ride."
Passengers are requested to wear their favorite costumes and ride the heated train to enjoy the beautiful Chester Creek Valley in all of its fall splendor.
During a brief stop at the historic Glen Mills station, passengers can disembark and explore the historic station and picnic grove. Passengers can also collect a few treats while at the station.
Ticket prices are Adults – $20, Children (2-12) – $18, Toddlers (9-23 months) – $8.
The historic rail line is also running its special "Fall Foliage Express" trains on November 7. Trains depart at noon and 2 p.m.
The round-trip train ride travels to the village of Glen Mills and back and lasts for 90 minutes. During the brief layover in Glen Mills, riders can explore the historic Pennsylvania Railroad station and have a snack in the railroad's picnic grove along the Chester Creek.
Tickets are $20 for adults, $18 for children ages 2-12 and free for kids under two.
The New Hope & Ivyland Railroad (32 West Bridge St, New Hope, 215- 862-2332, www.newhoperailroad.com) offers a two-hour roundtrip ride on its "Fall Excursion Trains" now through November 7.
Riders can enjoy a "Fall Excursion" experience on a heritage train, departing from the rail line's 1891 Witch's Hat Train Station in the center of New Hope. On this excursion, passengers will enjoy a relaxing ride through scenic Bucks County on the "New Hope Branch" route, which was originally part of the North-East Pennsylvania Railroad and later the Reading Railroad.
Passengers will ride aboard beautifully restored vintage (early 1900's) passenger coaches while a narrator will provide them with interesting historical facts and stories of significant cultural locations along the route.
The train will travel to Buckingham, Pennsylvania where it will then change direction and return to New Hope.
Passengers can enjoy the sights of the beautiful fall scenery while riding aboard the rail line's "First Class Bar Car," "Antique Seat Coach" or "Open Air Car."
Coach tickets are $72.60 for adults, $71.50 for children (ages 2-11) and $10.99 for toddlers.
The Wilmington & Western Railroad (2201 Newport Gap Pike, Wilmington, DE, 302-998-1930, www.wwrr.com) is running its "Autumn Leaf Special" with trains on October 20, 23, 24, 27, and 30 and November 6.
Trips are either a one-and-one-half hour roundtrips to the Mt. Cuba Picnic Grove or two-and-one-half hour roundtrips to Hockessin.
Tickets for the "Autumn Leaf Special" are $20 for adults, $19 for seniors (60 and older) and $12 for children (ages 2-12).
The W&WRR also is running its "Hayride Express" on October 22 at 7 and 8:30 p.m. Visitors can experience a one-hour evening ride through the Red Clay Valley on an original railroad flatcar converted especially for hayrides.
Tickets for the "Hayride Express" are $15 for adults, $13 for seniors (60 and older) and $18 for children (ages 2-12).
Now through November 6, the Strasburg Railroad (Route 741, Strasburg, 717-687-7522, www.strasburgrailroad.com) has a very special event – "Strasburg Rail Road Productions presents…The Legacy of Sleepy Hollow: Not Everything Dies."
Visitors will discover the true Legacy of Sleepy Hollow at the Strasburg Rail Road. The greatest ghost story ever told did not tell us the whole story.
Guests will join Isabel Crane, the great-great-granddaughter of the legendary Ichabod Crane, as she takes them on a frightful journey filled with sword fights, ghosts, and a centuries-old curse surrounding her family.
It seems that not everyone wants the truth to come out and they'll go to any length necessary to keep their haunted past a secret. With grand special effects, live horses, and the scariest train ride of the season, this is an opportunity to learn, hear, and experience the Legacy of Sleepy Hollow aboard the historic Strasburg Rail Road.
A pre-boarding act/performance will commence 15 minutes before departure. Please plan to arrive early for check-in and then enjoy the pre-boarding performance before you embark on a memorable journey.
The Colebrookdale Railroad (South Washington Street, Boyertown, www.dynamicticketsolutions.com)  is running its "Eerie Limited Ghost Train – Dinner" on October 22 and 29.
This evening train explores the stories of local hauntings, historic incidents, and amusing and astounding happenings along the Colebrookdale Railroad.
Passengers can learn the haunted secrets of The Secret Valley on a very special evening run of a two-hour round trip departing and arriving in Boyertown.
Ticket includes stories in all of the cars.
Dinner is served for Dining Car passengers only. Deluxe Coach has beverage service and light snacks available for purchase.
First Class Parlor Car has one complementary beverage and hors d'oeuvre plates included with far
Coach tickets are $49 for adults, $47 for seniors (age 65 and older), $25 for children (ages 2-12) and $6 for toddlers (under 2).
The Northern Central Railway (2 West Main Street, New Freedom, www.northerncentralrailway.com) is running a special excursion this weekend called "Ales on the Rails."
Riders can join the York County Ale Trail crew as they take the "Ultimate Craft Beer Experience" on the Northern Central Railway for a scenic fall trip through Howard Tunnel while sampling cold craft beers from three of York County's independent craft breweries.
The tourist rail line is also running "Fall Foliage Trains" on October 23, 29, 30 and 31. Riders can enjoy the beauty of fall in Southern York County as the train follows the original Northern Central Railroad, a mainline in operation since 1838, through the scenic Heritage Rail Trail County Park.
Motive power will be the William H Simpson No. 17 replica steam locomotive or the 6076 PRR GP9 historic diesel locomotive. The conductor and brakeman will tell riders about the history and growth of the towns and villages they pass along the way.
Tickets are $29 Adult; $20 Child (age 3-12); $10 Toddler (in lap).
Amusement parks are also a good source of Halloween activities.
For "Count's Halloween Spooktacular at Sesame Place" (100 Sesame Place, Langhorne, 215-752-7070, www.sesameplace.com), the popular amusement park has been converted into a Halloween-themed safe venue for kids with trick or treating, pumpkin decorating, hayrides and a hay maze.
Guests will enjoy trick-or-treating around the park, Halloween-themed shows, participating in our interactive Scarecrow Scavenger Hunt, and unique photo opportunities with everyone's favorite furry friends dressed up in costume on their Halloween-themed floats!
Featured attractions, which will continue until November 6, are "Neighborhood Street Party Halloween Parade," "Halloween Light Show," and "The Not-Too-Spooky Howl-O-ween Radio Show ."
Admission to the park starts at $39.99.
Dutch Wonderland Family Amusement Park (2249 Route 30 East, Lancaster, 866-386-2389, www.dutchwonderland.com) is hosting its "Happy Hauntings at Dutch Wonderland" on October 23, 24, 30 and 31.
The attraction will feature "Spook-tastic Rides," "A Kingdom of Happy Haunts," and "Trick-Or-Treat Trail."
This is a fun, fall family event featuring themed rides, special entertainment, tasty treats, and the Trick-or-Treat Trail — a safe, interactive trick-or-treating experience that included in your admission
It features more than 30 themed rides and family-friendly attractions, a trip through the Trick-or-Treat Trail on Exploration Island, and trick-or-treat with 20 lifelike dinosaurs.
The event runs from 2-9 p.m. on Saturday and 2-8 p.m. on Sunday.
Tickets are $39.99.
"Great Pumpkin Fest and Halloween Haunt at Dorney Park" (3830 Dorney Park Road, Allentown, 610-395-3724, www.dorneypark.com) is running now through October 30.
The event features scary creatures roaming the park and scarecrows lining line the walkways while frightening activities take place at the following attractions — "Steamworx," "The Lair," "The Hollow" and "CarnEvil" along with seven mazes and four "Creepy Scare Zones."
The event also features four scary shows – "Ghouling Organs," "IllumiNightmares," "Overlord's Incantation" and "Skeleton Crew."
Admission prices start at $35.
The "29th Annual Fright By Night" (Six Flags Great Adventure, Route 537, Jackson, NJ, 732-928-2000, www.sixflags.com), which is running now through October 31, features family-oriented activities during the day and much scarier attractions after dark for teens and adults.
The attractions include "Scarecrow Street," "Clown Town," "Lady of the Lake Cemetery," "Venom Zone," Big Top Terror: Forgotten Carnival 3-D," "Wicked Woods," "Aftermath," "Blood Shed," "The Manor," "District 6"," and "Reflections of the Dead."
Tickets start at $39.99.
There are many annual Halloween events in the area that are so big and so popular that they remain open for anywhere from six-to-eight weeks. Some of the other ones definitely worth checking out are "Hersheypark in the Dark" (100 Hersheypark Drive, Hershey, www.hersheypark.com) and "Frightland" (309 Port Penn Road, Middletown, Delaware, 302-838-0256, www.frightland.com).