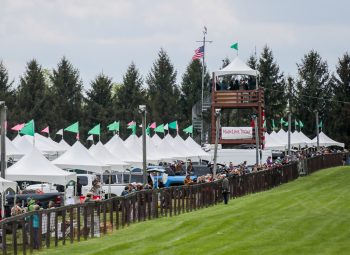 Plans for the 29th running of the Willowdale Steeplechase on Saturday, May 14, 2022 are underway! The races will return to full spectator capacity with some exciting new attendance opportunities.
Spectators at the 2022 races will have the choice of purchasing traditional tailgate parking spots, Hilltop Private Party Paddocks or tables in the new Jockey Club at Willowdale. Corporate Hospitality tents and general admission will be available again and there are increased opportunities for sponsorship.
"We are grateful to the many supporters who have helped us survive the losses brought on by the pandemic – and to be able to welcome back all of our race goers this spring," said Race Chairman Dixon Stroud. "We're anticipating a spectacular race day."
He stressed that the safety and well-being of Willowdale's spectators, horsemen, officials and volunteers is the organization's top priority – and that hasn't changed. All Willowdale Steeplechase planning decisions will continue to be made in accordance with CDC, federal and state government mandates and public health guidelines for outdoor events.
Always hugely popular in the community, these other traditional Willowdale Steeplechase events will return to kick off the fundraising efforts leading up to race day:
| | | |
| --- | --- | --- |
| Dine and Donate | November 18, 2021 | Sovana Bistro, Kennett Sq, PA |
| | | (Reserve your table ASAP) |
| Celebrity Bartender | January 27, 2022 | Sovana Bistro, Kennett Sq, PA |
| JUMP Party | February 26, 2022 | Yellow House at Willowdale |
Proceeds from the races and events benefit the Stroud Water Research Center and Penn Vet's New Bolton Center. For Sponsorship Information, contact Lisa Hatcher at lisa@willowdale.org. Go to Willowdale.org or Willowdale Steeplechase Facebook page for the latest information on all events.