By Denny Dyroff, Entertainment Editor, The Times
When October arrives each year, Halloween events are omnipresent. Some are kid-friendly, some are elaborate, and some are really scary. Some are one- or two-day events and some last as long as six or seven weeks. They come in all shapes and sizes — and they are everywhere.
One of the most popular Halloween events in the area is "The Great Pumpkin Carve" (Chadds Ford Historical Society, Route 100, Chadds Ford, 610-388-7376, www.chaddsfordhistory.org) which is running now through October 16.
The colorful event began with the carving competition on October 14.
Every year at the Great Pumpkin Carve, more than 70 carvers — amateur and professional — gather to sculpt, saw and chisel giant pumpkins in front of crowds of enthusiastic onlookers.
This well-attended Chadds Ford tradition began in the early 1970's when artists Jimmy Lynch, Andrew Wyeth and his son Jamie Wyeth were convinced to carve pumpkins to decorate the inside of the Chadds Ford Inn. Other Chadds Ford artists joined in the carving, and, within a few years, the event spread from the Inn's front porch all the way across the lawn of the Chadds Ford Gallery.
As the Pumpkin Carve grew, it moved to larger venues and in 1992 arrived at its current venue — the meadow behind the Chadds Ford Historical Society. This annual event, still held on the Historical Society's grounds, is a major fundraiser that raises funds to support the CFHS' educational programs, historic preservation of their historic sites and more.
Hours are from 4-9 p.m. on October 14 and 15 and 3-9 p.m. on October 16.
All three nights feature a "Kid Friendly Haunted Trail," raffle prizes and live music. Food, local craft beer and wine are available for purchase.
Each night, "America's Got Talent" contestant, Dylan Zangwill, will be singing on the stage from 5:30-6:30 p.m.
Admission is $15 for adults (18 and older) and $5 for children (ages 7-17).
On October 16, it's time for the "All Hallows Eve Fall Festival at Pennypacker Mills" (5 Haldeman Rd, Schwenksville, 610-287-9349, www.montcopa.org/pennypackermills). The event is free but there is a suggested donation of $2 per person.
The annual event, which is slated to run from 1-4 p.m., features tractor-pulled hayrides, pumpkin painting for kids, fall crafts, an apple cider press, corn shucking, a "Hay Pile Jump" and a bean bag toss.
Masks are required for all craft booths, pumpkin painting and the hayride.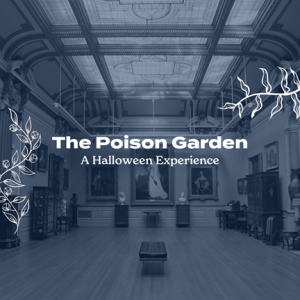 "The Poison Garden," which is billed as an immersive Halloween experience, will be held from October 24-26 at Glen Foerd (5001 Grant Avenue, Philadelphia, www.glenfoerd.org/events).
A mysterious garden with a deadly purpose takes root this Halloween throughout the grounds and halls of Glen Foerd.
Glen Foerd, a public park and nonprofit cultural site in Philadelphia, is hosting "The Poison Garden," a roving, immersive adventure centered around a mysterious garden with an intriguing allure.
Visitors will be able to travel back in time to learn how one family inexplicably vanished nearly a century ago — and uncover the garden's role in this strange tale.
"The Poison Garden," designed and performed by Alterra Productions, will be presented on October 22 (fundraising launch party), 24, 25, and 26, from 7-9 p.m. The production will feature theatrical action and artistic choreography led by a troupe of actors, circus artists, and aerialists. This immersive experience is designed to engage audiences with the Glen Foerd estate's history and landscape in a new and innovative manner.
"The Poison Garden" debuts on Friday, Oct. 22, with a fundraising launch party hosted by Glen Foerd. Tickets for this special premiere event are $75 and include hors d'oeuvres and craft cocktails. With the launch on October 22, Glen Foerd hopes to raise $23,000 to benefit the nonprofit's cultural, educational, and ecological programs and mission.
Glen Foerd is an 18-acre public park and historic site located along the Delaware River in Philadelphia. Built in 1850 and enlarged in 1902-03, the estate—consisting of historic gardens, an Italianate-Classical Revival style mansion, and multiple additional structures—was saved from potential development through the activism of dedicated neighbors in 1983.
Today, Glen Foerd focuses on welcoming a diverse community through a wide array of programs for all ages. As one of the only cultural sites located in Northeast Philadelphia, Glen Foerd aims to connect audiences from different backgrounds by offering unique and affordable experiences to engage with the arts and the environment.
Tickets for "The Poison Garden" experience on Oct. 24, 25 and 26, are $35.
October 22 and 23 are the dates for "Ghosts in the Graveyard" (Old Swedes Historical Site, 606 Church Street, Wilmington, Delaware, 302-652-5629, www.oldswedes.org).
From 6:30-9 p.m. each night, visitors will be able to stroll through the complex, meet some of the ghosts who reside in the site's burial grounds and maybe even solve the mystery of the late-night bell ringing at Old Swedes Church.
Tickets are $15.
"Candlelight Ghost Tours" (Fort Mifflin, Fort Mifflin and Hog Island roads, Philadelphia, 215-685-4167, http://fortmifflin.us) are scheduled for October 15, 16, 22, 29, 30 and 31.
Visitors can tour historic (and haunted) Fort Mifflin by candlelight from 7-10 p.m. each night (6:30-8:30 on October 31) and hear true stories of ghostly encounters. This event is billed as an "authentic experience."
Tickets are $20 for adults and $15 for children (12 and under).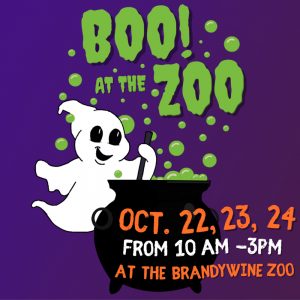 "Boo at the Zoo" (Elmwood Park Zoo, Harding Boulevard, Norristown, www.elmwoodparkzoo.org) will be held October 16, 17, 23, 24, 30 and 31 from noon-3 p.m. each day.
"Boo at the Zoo" features live entertainment, costume contests, costume parades, trick-or-treat stations with candy, prizes, crafts and educational pieces.
Children are encouraged to bring their own treat bags for trick-or-treating. The zoo will not be providing any bags.
"Boo at the Zoo" is free with zoo admission, which starts at $12.95.
"Boo at the Zoo" (Brandywine Zoo, 1001 N. Park Drive, Wilmington, 302-571-7747, www.brandywinezoo.org) will be held on October 23 and 24.
The popular annual non-scary family event features games, animal enrichment programs, live critters and trick-or-treating. Children (and their grown-ups) are encouraged to wear costumes. Tickets are $5.
Celebrate Halloween Brandywine Zoo-style with this merry, not scary, event. Come see all the zoo's spooky decorations, enjoy socially distanced activities, and meet some of the zoo's favorite animals. Kids (and grown-ups, too) are encouraged to come in costume!
There will be a pre-packaged treat bag for all your little trick-or-treaters. This event is free with Zoo admission, but early registration is strongly recommended, as tickets are extremely limited due to Covid-19 restrictions. Pre-packaged treat bags will be given to all registered children as they leave the zoo.
Admission is $7 for adults and $5 for seniors and children (ages 3+). This event is rain or shine. No refunds will be given.
Kalmar Nyckel Shipyard (1124 East Seventh Street, Wilmington, Delaware, www.kalmarnyckel.org) is hosting the "Halloween Ghost Ship" on October 23.
Visitors can choose Halloween-themed crafts, outdoor pumpkin painting, activities, and join the costume parade.
Another option is to tour Kalmar Nyckel, the 141-foot long Tall Ship of Delaware, and explore its history with our crew of costumed volunteers.
Guests can also take a Halloween Tour of our Copeland Maritime Center with spooky fun designed around our in-door ship and latest exhibits.
Halloween costumes welcome.
This event is primarily outdoors and planned around CDC recommended COVID-19 guidelines.
The Woodlands (4000 Woodland Avenue, Philadelphia, 215-386-2181, http://woodlandsphila.org) is a 54-acre undulating landscape that is a one-of-a-kind 18th-century English pleasure garden and a 19th-century rural cemetery.
On October 24 from noon-3 p.m., the site is hosting its "Halloween Family Fun Day."
This year's HFFD will feature a digital Halloween themed self-guided tour, All Hallow's Read, and performances by Tangle Movement Arts and Karen Smith's "Spiritual Atmospheric Cleansing."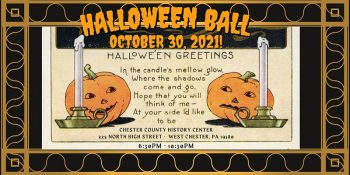 The Chester County History Center (225 North High Street, West Chester, http://www.chestercohistorical.org/) is hosting its annual "Halloween Ball" on October 30.
Guests are invited to join Chester County History Center for a "Spooktacular Evening" featuring live auction, music, costume contest, photo booth, and open bar and food by Perfect Setting Catering.
This event is for patrons 21 and older.
Your ticket purchase and the proceeds of this event benefit the educational mission of the Chester County History Center.
Safety is a priority. This event will be held in strict adherence to PA State COVID-19 Guidelines and follow current CDC recommendations.
The ball will run from 6:30-10:30 p.m. Tickets are $100.
Delaware Art Museum (2301 Kentmere Parkway, Wilmington, Delaware, www.delart.org) is presenting "Dia de los Muertos: Walking Among the Ancestors" on October 30 from 11 a.m.-4 p.m.
Guests will be able to honor ancestors and lives lost due to COVID-19 and gun violence in the City of Wilmington with an indigenous ceremony, labyrinth walk, and Ofrendas. An Ofrenda is a home altar with a collection of objects placed on a ritual display during the annual and traditionally Mexican Día de Muertos celebration.
Hosted by Catrinamia, this peaceful and celebratory afternoon includes performances by "Campantlanezi" Danza Azteca del Anahuac and more.
Food will be available for purchase as well as plenty of traditional arts that honor the culture. Visitors can bring pictures of loved ones to leave at altars.
A popular area holiday event is "Halloween at Hagley" at Hagley Museum and Library (Buck Road East entrance via Route 100, Wilmington, Delaware, 302-658-2400, www.hagley.org).
This year, the celebration will take place on October 30 from noon-4 p.m.
Hagley's Halloween helpers will pass out candy and other goodies through a treat tube to maintain social distancing.
Lots of Halloween-themed activities will be available like our Spider Slingshot and "Bat"ing Practice. Visitors can go ghost hunting in our garden and make a jack-o-lantern pouch to stash some goodies.
Costume parades will happen at 11:30 a.m. and 1:30 p.m.
Trick or treat is included with admission and free for Hagley members.
Admission is $8 for adults, $6 for seniors (age 62 and up), and $4 for children (ages 6-14).
On October 30, Mütter Museum of The College of Physicians of Philadelphia (19 South 22nd Street, Philadelphia, http://muttermuseum.org/) will host its "Sixth Annual Annual Mischief at the Mütter."
This is an event that allows guests to enjoy drinks from an open bar and view the museum's scientific and frequently grotesque collections – including a variety of body parts.
Visitors can enjoy the Halloween beer garden which includes full access to the Mütter Museum.
Wearing of costumes is encouraged. This event is "21+ only." Tickets are $100.
On October 30, Kitchen Kettle Village (3529 Old Philadelphia Pike, Intercourse, www.kitchenkettle.com) will host "Yummie's Halloween Boo Bash" beginning at 10 a.m.
Visitors can safely enjoy a meal, some colorful characters, including Village mascot Yummie, a costume contest, special treats and more.
This family friendly event includes:
Meal vouchers for use at the Harvest Cafe between 11a.m.-5 p.m. for lunch.
Spooky Bakery Box filled with sweet & scary surprises from the Bake Shop.
Costume Contest with cash prizes at the stage area for all children beginning at 11 a.m.
Contactless photo opportunities with Yummie & Friends near Girls Day Out from 11 a.m.-noon.
Special treat bag filled with a "treasure map" featuring locations in the Village for exclusive surprises and treats.
All children under 18 years old attending the event will receive a treat bag and may participate in the Costume Contest.
Ticket prices are Children: $10.95 (ages 3-10); Adults, $15.95; and Toddlers (2 and under), free.
East Passyunk Avenue Business Improvement District (www.visiteastpassyunk.com) presents a double dose of spooktacular fun with free activities for the kids, adults and even dogs. The Ninth Annual East Passyunk "Fall Fest and Spooky Saturday" will be held on October 30.
The free family event will feature a child and dog costume contest, live music, pumpkin painting, free treat bags for the first 400 children, street food and seasonal cocktails, maker and craft fair around the Singing Fountain, trick or treating along East Passyunk and a DJ and dance party.
Most activities will be held at the Singing Fountain (East Passyunk and Tasker), with select activities to be held at Mifflin Triangle (East Passyunk and Mifflin) and a scarecrow scavenger hunt all along the Avenue.
Linvilla Orchards (137 West Knowlton Road, Media, 610-876-7116, www.linvilla.com) is running full speed ahead with its 2021 edition of Pumpkinland.
The family-oriented activity, which is celebrating its 50th anniversary this year, features costumed characters, games and contests and live music.
Another attraction, which runs through October 30, is "Hayride to the Witch's House." Admission is free, and hayrides are $13 per person. There will also be "Harvest Hayrides" and "Autumn Moon Hayrides" throughout October.
This weekend, it's time once again for the Scarecrow Competition and Display at Peddler's Village (Routes 202 and 263, Lahaska, 215-794-4000, www.peddlersvillage.com). Hours are 10 a.m.-6 p.m.
Visitors can stroll around the Village to see the Scarecrow Competition and Display, which showcases more than 100 creative and colorful scarecrows. The Scarecrows are on outdoor display through October 30.
The public is invited to vote for the winners. Ballots are available in all shops and restaurants. The ballot boxes are located in the Hospitality Center at the Cock 'n Bull, Giggleberry Fair, and Buttonwood Grill.
On Saturdays and Sundays now through October 31, Morris Arboretum of the University of Pennsylvania (100 E. Northwestern Avenue, Philadelphia, www.morrisarboretum.org) is hosting its annual Scarecrow Walk.
Visitors will be able to make their own scarecrows, paint a pumpkin and sample different varieties of apples. Weaver's Way Coop will be on hand with the season's best local apple varieties.
Morris Arboretum's Scarecrow Walk is back for its 14th year, and in recognition of those who show courage and care when faced with fright, this year's theme is "Heroes!"
Visitors will be able to wander through the Arboretum and see scarecrows in honor of a beloved superhero characters, essential workers, or best friend heroes.
Throughout the month of October, more than 30 scarecrows will be on display throughout the Arboretum. Visitors will vote for their favorite scarecrow online to determine the winners. The top three scarecrows win a cash prize with a top prize of $250.
Admission to Morris Arboretum is $20 for adults, $18 for seniors and $10 for youth (ages 3-17).
On October 31, Laurel Hill Cemetery (3822 Ridge Avenue, Philadelphia, 215-228-8200, https://thelaurelhillcemetery.org) is hosting "Fall Family Day: Halloween Picnic and Parade" from 11 a.m.-2 p.m.
This Sunday, visitors can spend an autumn afternoon exploring the many wonders and mysteries of Laurel Hill Cemetery while celebrating Halloween. Fall fun for the family at Laurel Hill will thrill and chill both the young and old.
The cemetery's primary location overlooking the Schuylkill River will offer visitors majestic views of the colorful fall foliage and vibrant landscape along Kelly Drive. Activities will include a pumpkin patch, readings from the Storybook Fairy, crafts and hayrides throughout the grounds.
Guests can feast on festive snacks, available for purchase or bring their own picnics. Attendees are advised to wear comfortable clothes and shoes, and children are encouraged to show off their best Halloween costumes. This program is recommended for families with children ages 4-12.
The cost is $5 per person general admission. Tickets can be purchased at the door or in advance online.
Chaddsford Winery (Route 1, Chadds Ford, 610-388-6221, www.chaddsford.com) is presenting its "Adult Trick or Treat" event every Saturday and Sunday through October 31. Tour Times Available at noon, 1, 2, 3 and 4 p.m.
Visitors will be able to "Trick or Treat" for wine and seasonal snacks at Chaddsford's wildly popular, adults-only Halloween program as they visit a variety of Halloween-themed pairing stations located throughout the Winery grounds.
The "Pairing Menu" features Sleepy Hollow: Chaddsford White with Kernel Clark's Kettle Corn; Hocus Pocus: Witch's Brew Wine Cocktail with Éclat Tahitian Vanilla Truffle; Creature from the Black Lagoon: 2018 Harbinger with Oso Sweet Negative Cookie; Frankenwine: Warm Spiced Apple with Carlino's Mini Pumpkin Cannoli; and The Shrieking Shack: Sangria Slushie.
Advanced tickets purchased online are $35 and include the food and beverage pairings, as well as a Halloween-themed keepsake wine glass.
The Pennsylvania Renaissance Faire (Pennsylvania Renaissance Faire Shire, Mount Hope Estate and Winery grounds, Route 72, Cornwall, 717-665-7021, www.parenfaire.com) is hosting its "Halloween Daze & Spooky Knights I" event on October 16 and 17.
There will also be "Halloween Daze & Spooky Knights II" event on October 23 and 24 and "Halloween Daze & Spooky Knights III" event on October 30 and 31.
From 11 a.m. until 8 p.m. each day, the huge faire will celebrate Halloween.
Three weekends of mystery and mayhem kick off this weekend as spooky creatures of every variety haunt the Shire. Visitors can join the good Shirefolk of Mount Hope for a grand All Hallows Eve celebration, complete with tricks and treats for children of all ages.
Featured events include "Halloween Treasure Hunt," "Nipperkins Costume Exhibition" (ages 11 and under), and "Adult Costume Competition."
Admission is $30.95 for adults and $15.95 for kids ages 5-11.
Every weekend in October, The Franklin Institute (222 North 29th Street, Philadelphia, www.fi.edu) is presenting Franklin Fright featuring trick-or-treating through the exhibits, creepy guests from The Insectarium, spooky science experiments, liquid scare shows and other frightfully-fun festivities.
Spooky live science shows, Halloween-inspired décor, and the return of the ever-popular museum-wide indoor trick-or-treating adventure takes place every weekend in October during Franklin Fright.
Experience one of the most fun-filled Halloween destinations around with the return of Franklin Fright.
Back by popular demand, young witches and warlocks, ghosts, and goblins are invited to trick-or-treat by knocking on friendly decorated doors in exhibits throughout the museum.
New this year, meet Dr. Franklinstein, joined by her science sidekicks for one of several all-new live science shows. Watch as they perform explosive experiments, dastardly demonstrations, and spooky science with There will be several Halloween-Inspired Live Science Shows incucing "That's Gross!." "Dr. Franklinstein's Pumpkin Lab" and "Pondering Plasma."
Admission is $23 for adults and $19 for children. Wearing costumes is encouraged.
The 30th annual edition of "Haunted Hayride, Bates Motel and Haunted Corn Maze at Arasapha Farm" (1835 N. Middletown Rd., Gradyville, 610-459-0647, www.thebatesmotel.com) will be scaring visitors through October 31.
The haunted hayride through the woods features monsters, special effects and actors. The Bates Motel has haunted rooms with special effects and computerized lighting.
"Psycho Path" is a highlight. With scenes like a 100-foot long, 40-foot tall drive thru insane asylum, a full scale mockup of a New England church and a 200-foot long cave, the Haunted Trail is an amazing example of Hollywood style sets and props.
Another attraction is the "Revenge of the Scarecrow Haunted Trail." A haunted trail is cut through a cornfield inhabited by monsters.
Other popular attractions are "Zombie Hunt Lazer Tag," "Double Edge Axe Throwing" and "Bates Motel Escape Rooms."
Admission prices start at $40.
For years, Eastern State Penitentiary (2124 Fairmount Avenue, Philadelphia, 888-763-NITE, www.easternstate.org) presented one of the premier Halloween attractions in Philadelphia — "Terror Behind the Walls."
This year, the venue is trying something different – a new attraction called "Halloween Nights at Eastern State Penitentiary."
The truly scary attraction, which is running through November 13, takes place at a penitentiary site that was once was an active prison and is now a National Historic Landmark. It is a scream-inducing event featuring laser and special-effect lighting, digital sound, sinister scents, animatronic creatures and 3-D illusions.
There is "Delirium," a 3D Haunted House where visitors take a mind-altering trip into another dimension –a parallel, neon universe where nothing is quite as it seems. Fascinating creatures emerge from seemingly nowhere as the world you thought you knew shrinks away.
Another new attraction is "Take 13," a Haunted House where visitors step back in time and into the golden age of Hollywood glamour. The cameras never stopped rolling on the souls that roam this hall. And now they want you to be part of the show.
"The Crypt" is another Haunted House. The creatures of The Crypt request your presence. Wade through the mist and into the lair of an ancient clan of vampires. They've set the table, but if you're not careful, you might end up on their next menu.
"After Dark CB3 Tour" is a guide-led Walking Tour – a 20-minute, guide-led, flashlight tour of Cellblock 3, the Hospital Block.
Another Haunted House is the "Machine Shop." Hidden away from the world is a long-forgotten machine shop. Evil pervades this space – an evil with one mind but with many bodies. Will visitors survive or will they become just another cog in the machine?
"Tricks and Treats" is a "Halloween Candy-Themed Cocktail Lounge. Visitors enter a fantastical world of sugar-coated trickery where they can sip on a candy-themed cocktail and mingle with the jesters and clowns of this twisted carnival for the senses.
Other attractions are "The Speakeasy at Al Capone's Cell," "The Bloodline Lounge," "Gargoyle Gardens (featuring The Skeleton Crew)," "Junkyard Jams," "The Fair Chance Beer Garden (featuring Triple Bottom Brewing Co.), "The Big Graph & Prisons Today," "The Voices of Eastern State" Highlights Audio Tour, "Kaleidoscope Hall," and "S'mores and Lore."
Admission prices, which vary with the date, start at $34.
For "Count's Halloween Spooktacular at Sesame Place" (100 Sesame Place, Langhorne, 215-752-7070, www.sesameplace.com), the popular amusement park has been converted into a Halloween-themed safe venue for kids with trick or treating, pumpkin decorating, hayrides and a hay maze.
Guests will enjoy trick-or-treating around the park, Halloween-themed shows, participating in our interactive Scarecrow Scavenger Hunt, and unique photo opportunities with everyone's favorite furry friends dressed up in costume on their Halloween-themed floats!
Featured attractions, which will continue until November 6, are "Neighborhood Street Party Halloween Parade," "Halloween Light Show," and "The Not-Too-Spooky Howl-O-ween Radio Show."
Admission to the park starts at $39.99.
Pennhurst Asylum (100 Commonwealth Drive, Spring City, 484-866-8964, www.pennhurstasylum.com), which is open through November 6, is on the site of a former mental asylum which has been shuttered for over a quarter of a century.
It has been transformed into a haunted attraction with huge sets, detailed rooms and live actors. Visitors can also explore the labyrinth of underground tunnels.
Ticket prices start at $45 with a variety of combo packages available.
"Great Pumpkin Fest and Halloween Haunt at Dorney Park" (3830 Dorney Park Road, Allentown, 610-395-3724, www.dorneypark.com) is running now through October 30.
The event features scary creatures roaming the park and scarecrows lining line the walkways while frightening activities take place at the following attractions — "Steamworx," "The Lair," "The Hollow" and "CarnEvil" along with seven mazes and four "Creepy Scare Zones."
The event also features four scary shows – "Ghouling Organs," "IllumiNightmares," "Overlord's Incantation" and "Skeleton Crew."
Admission prices start at $35.
The "29th Annual Fright By Night" (Six Flags Great Adventure, Route 537, Jackson, NJ, 732-928-2000, www.sixflags.com), which is running now through October 31, features family-oriented activities during the day and much scarier attractions after dark for teens and adults.
The attractions include "Scarecrow Street," "Clown Town," "Lady of the Lake Cemetery," "Venom Zone," Big Top Terror: Forgotten Carnival 3-D," "Wicked Woods," "Aftermath," "Blood Shed," "The Manor," "District 6"," and "Reflections of the Dead."
Tickets start at $39.99.
The "35th Annual Jason's Woods" (99 Stehman Road, Lancaster, 717-872-5768, www.jasonswoods.com), which is running through November 6, is a horror show complex that features a combination of live actors, impressive animation and scary special effects.
Popular attractions include "Horrifying Hayride," "Chamber of Horrors," "Zombie Apocalypse," "Lost in Jason's Woods," and "Carnival of Fear," Admission prices are for combo tickets are $25 for three attractions and $40 for five.
"Valley of Fear" (300 W. Bristol Road, Feasterville, 215-942-9787, www.valleyoffear.com), which is open through November 6, features three "heart pounding attractions" — "Haunted Hayride," "Miles Manor Haunted House," and "Willie's Shipwreck Cove."
There will also be live music every Thursday, Friday, Saturday and Sunday
The attraction is billed as "America's Most Horrifying Woods." Admission prices start at $23.
The "27th Annual Field of Screams" (109 College Avenue, Mountville, 717-285-7748, www.fieldofscreams.com), which is open now through November 13, features four world-class Haunted Experiences and an impressive Midway Area.
Top attractions include "Horrifying Haunted Hayride," "Den Of Darkness," "Nocturnal Wasteland" and "Fightmare Asylum."
Ticket prices start at $16.
Now through November 6, the Strasburg Railroad (Route 741, Strasburg, 717-687-7522, www.strasburgrailroad.com) has a very special event – "Strasburg Rail Road Productions presents…The Legacy of Sleepy Hollow: Not Everything Dies."
Visitors will discover the true Legacy of Sleepy Hollow at the Strasburg Rail Road. The greatest ghost story ever told did not tell us the whole story.
Guests will join Isabel Crane, the great-great-granddaughter of the legendary Ichabod Crane, as she takes them on a frightful journey filled with sword fights, ghosts, and a centuries-old curse surrounding her family.
It seems that not everyone wants the truth to come out and they'll go to any length necessary to keep their haunted past a secret. With grand special effects, live horses, and the scariest train ride of the season, this is an opportunity to learn, hear, and experience the Legacy of Sleepy Hollow aboard the historic Strasburg Rail Road.
A pre-boarding act/performance will commence 15 minutes before departure. Please plan to arrive early for check-in and then enjoy the pre-boarding performance before you embark on a memorable journey.
Please note: Due to the subject matter of this event and its presentation, this event is recommended for ages 8 and older. Parental discretion is advised.
Shocktoberfest (94 Park Avenue, Sinking Spring, 610-375-7273, shocktoberfest.com) features an array of natural and genetically engineered Zombies in a safe and controlled habitat.
"Schockfest Zombie World" is celebrating its 30th Year with five "Killer Experiences" — "Zombie Safari Hayride Tour," "Prison of the Dead," "The Unknown 3.0," "Ground Assault" and "Midway Massacre."
The attraction will close on November 6. Ticket prices start at $20.
"Frightland" (309 Port Penn Road, Middletown, Delaware, 302-838-0256, www.frightland.com) features eight special themed areas — "Zombie Prison," "Ravenwood Cemetery," "Haunted Hayride," "Idalia Manor," "Fear," "Ghost Town," "The Attic" and "Haunted Barn."
Frightland Haunted Attractions has been named a Top 10 Scariest Haunted Attraction in the country by Travel Channel, Forbes and Huffington Post.
The venue includes eight haunted attractions including a two-mile Haunted Hayride, four indoor haunted houses and more. The nationally acclaimed Halloween attraction also features live entertainment, carnival amusements and a daytime fall festival.
The venue will remain open through November 6. Tickets are $40.
Ghost Tour of Philadelphia (215-413-1997, www.ghosttour.com), Ghost Tour of Lancaster (717-687-6687, www.ghosttour.com) and Ghost Tour of Strasburg (717-687-6687,www.ghosttour.com) operate through November and offer an eerily entertaining evening of true ghost stories and real haunted houses.
The Ghost Tour of Philadelphia is a candlelight walking tour along the back streets and secret gardens of Independence Park, Society Hill, and Old City, where ghostly spirits, haunted houses, and eerie graveyards abound. Tickets are $24.
Participants in the Ghost Tour of Lancaster explore the long-forgotten mysteries of one of America's oldest cities, with haunting tales of otherworldly vigils, fatal curses, and star-crossed lovers. The tour provides the opportunity to experience 300 years of haunted history from the Red Rose City's thorny past. Tickets are $20.
The Ghost Tour of Strasburg is a candlelight walking tour of the quaint and historic town of Strasburg in the heart of Pennsylvania Dutch Country. Visitors will experience an entertaining evening with a costumed tour guide spinning tales of haunted mansions, eerie graveyards, and spirits that roam the night … in a town lost in time. Tickets are $20.