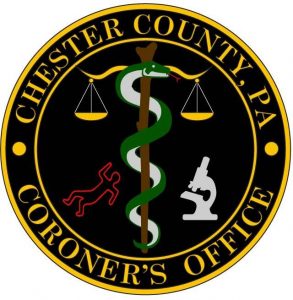 Chester County Coroner Dr. Christina VandePol will be conducting an inquest into the death of Dimitrios Moscharis on October 21, 2021. Moscharis, 34, died in the Chester County Prison on June 18, 2021.
"In-custody deaths demand transparency," said Dr. VandePol. "The inquest is uniquely suited to that purpose. The decedent was only 34 and had no significant past medical history. We found no evidence of any traumatic injury. The inquest will allow us to take a comprehensive look at all the evidence and have a jury weigh in on this case before we conclude our investigation and issue a death certificate."
A Coroner's Inquest in Pennsylvania is a process authorized by Commonwealth law (16 P.S. § 1219-B). An inquest is a fact-finding hearing conducted by the Coroner as part of a death investigation. An inquest is not a trial, and no one is found guilty or not guilty. Representatives of the media have the right to attend inquests unless personally involved with the inquest or part of the inquest. Members of the public may be admitted or excluded at the discretion of the Coroner.
Coroner's Inquests will be posted under Special Events on the Chester County Court of Common Pleas Judicial Schedule.