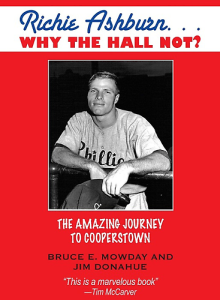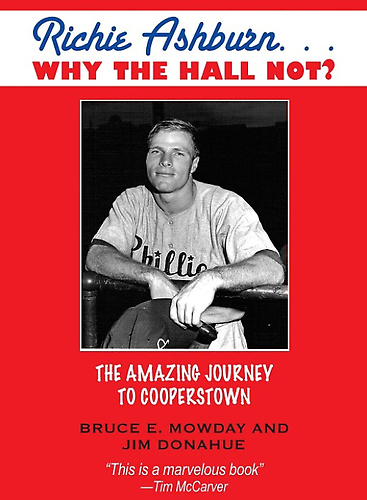 STOTTSVILLE — The historic Stottsville Inn is hosting a book signing with author Bruce Mowday on his latest book "Richie Ashburn … Why The Hall Not? The Amazing Journey To Cooperstown."
The Phillies will be in the playoffs this year attempting to win another World Series and Ashburn was one of the star players of the 1950 Whiz Kids. Ashburn and his teammates played the New York Yankees in the World Series that year.
The free event is open to the public and will take place on Thursday, October 13, 2011, at the Stottsville Inn, 3512 Strasburg road, Pomeroy. Mowday will begin signing books at 6:00 p.m. For more information and dinner reservations, contact Janice Keller-DiGennaro, Manager of the Stottsville Inn, at 610-857-4090.
"I'm looking forward to talking with the Stottsville Inn patrons," Mowday said. "We had a similar event last year for my Jailing The Johnston Gang book and it was a great evening. The inn serves great food and I hope everyone will have a fine meal, drinks and watch the Phillies win a playoff game."
The books cost $20 and will be available for purchase at the Stottsville Inn.
The Ashburn book was released earlier this year. "This is a wonderful true story about a star athlete who takes time to talk to a young fan and sign an autograph and later the fan mounts a grassroots campaign to help the star athlete get into the Hall of Fame," said Barricade Books Publisher Carole Stuart. "You don't find many uplifting stories about athletes these days. This book tells such a story."
Tim McCarver, former professional baseball player and broadcaster on Fox Sports' baseball game of the week, said, "This is a marvelous book about Philadelphia's most beloved athlete Whitey Ashburn." Philadelphia Phillies broadcaster Chris Wheeler said, "And when I think about Whitey, I smile. What a legacy Whitey has left."
Mowday is a former sportswriter and newspaper reporter who has authored a number of books, including Jailing The Johnston Gang, Bringing Serial Murderers To Justice for Barricade Books. Mowday's books can be found at www.mowday.com. He is scheduling local talks and signings on the book. If interested, contact Mowday at 610 873-0727.