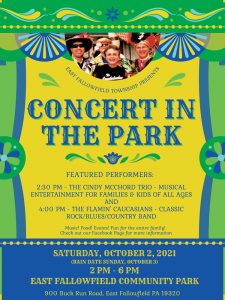 East Fallowfield Township's Park and Recreation Board will hold a family-friendly live "Concert in the Park" event at the East Fallowfield Township Community Park on Saturday, October 2 from 2:00 p.m. – 6:00 p.m.
The event will feature a live musical performance by the Cindy McChord Trio, a fabulous musical entertainer for kids and families of all ages. She will begin at 2:00 p.m. The fabulous children's act will be followed by the sensational rock n' roll/country band, the 'Flamin Caucasians.' The Flamin' Caucasians have been rockin' the Philadelphia area and beyond for 30+ years with classic rock and blues. They will begin their performance at 3:30 p.m.
This year "Concert in the Park" will be held in lieu of "Park Day." '"Park Day," previously held annually in October, was canceled in 2020 because of the Covid-19 pandemic.
Township Manager Scott Swichar stated, "The Park and Recreation Board wanted to do a smaller, more casual fall event this year because it is still unknown what will be required of organizers in terms of Covid-19 restrictions come October. This year's event gives us the ability to test the waters and see if the community responds well to having live music events in the park."
Free admission to the concert.  Food and snacks will be available