By Denny Dyroff, Entertainment Editor, The Times
When autumn arrives, there are fall festivals all around the area and popular annual ethnic food festivals almost every weekend. The schedule for the next week has events featuring Greek, Egyptian and Korean food.
The annual "A Taste of Greece" festival will run now through September 26 at St. George Greek Orthodox Church (30 East Forge Road, Media,http://www.stgeorgegreekfestival.org).
The free festival focuses on food — tasty Greek main dishes such as moussaka (eggplant dish), shish kabob (meat and vegetables on skewers) and placki (fish) and Greek dessert treats including baklava (phyllo, nuts and honey) and kataifi (shredded wheat and nuts).
Other activities at the free popular annual event are midway rides, vendors with crafts and Greek items, live music by Greek-American bands and folk dancing demonstrations. Hours are 11 a.m.-10 p.m. on Friday and Saturday and noon-8 p.m. on Sunday.
St. Mary & St. Kyrillos Coptic Orthodox Church (2500 Unionville Pike, Hatfield, http://www.stmarystkyrillos.org/) is holding its annual Egyptian Festival on September 25 and 26.
The festival will feature such Egyptian delicacies as chicken shawarma, kofta kabob, falafel, lamb shish kabob, kobaeba, stuffed mombar, and baba ghanoush.
There will also be sweet treats such as babousa, zalabria, fatter mishaltet, baklava and konafa with nuts.
Also featured at the festival will be an Egyptian gift shop, kids' games, a custom print shop and face painting.
Hours are 11 a.m.-8 p.m. both days.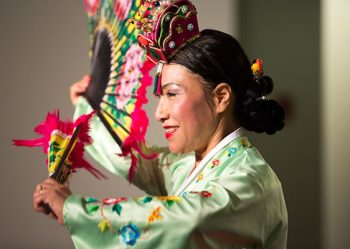 On September 24, the Delaware Art Museum (2301 Kentmere Parkway, Wilmington, Delaware, www.delart.org) is hosting its "Seventh Annual Korean Festival."
Visitors are invited to participate in a cultural exchange exploring both traditional and modern Korean culture.
The festival coincides with the Korean holiday ChuSeok, which is comparable to American Thanksgiving. It celebrates the arrival of a Korean staple, rice, which is harvested in September.
Festival activities include Korean-inspired crafts and a traditional game, jegichagi, which challenges players to keep a shuttlecock-like paper implement in the air with their feet. Guests will be able to pose for selfies with Korean cultural items, learn to write their names in Korean and guess at Korean trivia. Korean food and beverages will be available for sale.
In addition to traditional and modern music and dancers, Tiger Kicks Martial Arts will be on hand to perform Tae Kwan Do and demonstrate moves for guests to try.
Admission is free for this family-friendly event will leave you saying "Sarang-hae-yo Korea," which means "I love Korea."
The Chaddsford Winery (632 Baltimore Pike, Chadds Ford, 610-388-6221, http://www.chaddsford.com) will host a special event on September 25 and 26 – "Dog Days at Chaddsford."
Visitors will be able to spend a day at the winery with their best four-legged friends from noon-7 p.m. on Saturday and noon-6 p.m. on Sunday.
The winery is welcoming dog owners and wine lovers alike to take in a weekend of tail-wagging treats.
They also can find Chaddsford's '20 Sauvignon Blanc, '18 Harbinger and Spiced Apple featured in Puppy Wine Flights ($16 for a 2-ounce pour of each) and Puppy Wine Packs ($52 for all 3 bottles) available for one weekend only.
Ten per cent of all Puppy purchases will be going back to a local SPCA.
The winery is also giving away a free CFW Bandana for your furry friend (available while supplies last).
Pet and food truck vendors are Black Sheep Dog Treats and Common Good Food Truck.
Live music will be provided by The Road Tapes and the Joshua Howard Band on Saturday and Matt Spitko and Legacy Band on Sunday.
On September 26, "Yoga in the Vineyard" will be presented by Penns Woods Winery (124 Beaver Valley Rd, Chadds Ford, 610-459-0808,www.pennswoodswinery.com).
According to Penns Woods people, the aging of wine is a noble process that can serve as a metaphor for healthy aging of a human being.
As a result, they are inviting visitors to enjoy a two-hour gentle yoga class in their vineyard followed by a wine tasting and local light bites farmers' plate.
The cost to attend the class is $24.
Other activities this weekend at the winery are live music sessions with Adam McCue on Saturday and Hanna Paige on Sunday.
The Chester County History Center (225 North High Street, West Chester, http://www.chestercohistorical.org/) debuted its "Chilling West Chester" walking tour in the fall of 2020, and this year it's back with a sequel featuring all new stops.
Beginning at the Chester County History Center on September 29 at 6:30 p.m., the tour is approximately 1.5 miles. Guests will hear macabre stories from West Chester's history while visiting some notable downtown landmarks. These are not ghost stories — these are true tales of terror pulled from our own archives.
Each tour will be held entirely outdoors.
Participants should dress for the weather and wear comfortable shoes.
Tours will take place rain or shine and tickets, which are $16, are nonrefundable.

The Eleventh Annual Downingtown FallFest (Green Street and East Pennsylvania Avenue, downingtownfallfest.com), which is presented by the Downingtown-Thorndale Regional Chamber of Commerce in partnership with Victory Brewing Company and the Borough of Downingtown, will be held September 26th from 11 a.m.- 4 p.m.
FallFest brings thousands of visitors to the borough in search of great food, crafts, music and the Victory Brewing beer garden.
Food vendors will include Downingtown's Victory Brewing along with Southbound BBQ, the Nacho Depot, Foltz's Food Truck, Race to Taste Curbside Grill, Holy Smoked Meats, 22 BBQ, Mid-Atlantic Foods and more.  Desserts will be served by Dia Doce, Kona Ice, Rita's and Nothing Bundt Cakes.
Victory Brewing Company house bands will be playing in the Victory Beer Garden.
Longwood Gardens (Route 1, Kennett Square, 610-388-1000, www.longwoodgardens.org) is always a special place to visit – especially during the run of its annual "Festival of Fountains."
The 2021 "Festival of Fountains" opened in May and is running through September 26.
Fireworks & Fountains shows are back and the next one is scheduled for September 25 at 8:15 p.m.
Daily performances in the Main Fountain Garden will feature more than 1,700 spinning jets that spin dance to various music programs. These are no little jets as some shoot up as high as 175 feet in the air.
The 30-minute show is slated for Thursdays, Fridays and Saturdays at 9:15 p.m.
The Main Fountain Garden Show's "Fountains Then and Now" show is a 12-minute fountain performance that begins with a touch of narrated history and concludes with dynamic choreography marrying music and the site's newest fountain features.
These displays will be presented daily at 1:15 a.m. and 3:15 p.m. There will also be performances on Thursdays, Fridays and Saturdays at 7:15 p.m.
Another daily show in the Main Garden is "Classical, Jazz, and Hits of Today," another 12-minute show but with a different musical style. These will be presented daily at 1:15 and 5:15 p.m.
The third show on the roster is "Fountain Refresher," which is billed as "a five-minute mix of music genres that teases the theme of that evening's Illuminated Fountain Performance."
These are scheduled for Thursday through Saturday now through August 28 at 6:15 and 8:15 p.m. and September 2 through October 30 at 6:15 p.m.
There will also be daily shows in the Open Air Theatre and the Italian Water Garden.
Featuring 750 jets in changing patterns, the Open Air Theatre comes alive with fountains set to music.
Since its 1914 Garden Party debut, this Italian-style outdoor theatre has expanded from its simple original fountains to the 750 jets that create the rainbowed curtain of water you see today, while playing host to more than 1,500 performances throughout the years.
To limit the spread of COVID-19, Longwood has made the difficult decision to temporarily suspend all ticketed concerts, fireworks shows and in-person continuing education classes. But live music can be heard in the Beer Garden, where live instrumental music from traditional Celtic tunes to Caribbean steel pan grooves sets the tone Thursday through Saturday evenings.
Beer Garden performances are scheduled through August from 6-9 p.m. from Thursday to Saturday evenings. They will also be held in September from 5-8 p.m. on Thursdays, Fridays and Saturdays.
As always, admission by "Timed Ticket" — tickets issued for specific dates and times. Timed ticketing limits the number of people in the Gardens at any given time and allows guests to enjoy minimal lines and a better viewing experience.
You may enter the Gardens up to 30 minutes prior and 30 minutes after your designated time. Make every effort to arrive at your designated reservation time. Earlier or later arrivals may not be accommodated.
Admission to Longwood Gardens is $25 for adults, $22 for seniors (ages 62 and older) and college students, $18 for active military and veterans and $13 for youth (ages 5-18).
The annual Dressage at Devon (Devon Horse Show grounds, Lancaster Avenue, Devon, 484-358-5510, http://dressageatdevon.org), is running from September 28 through October 3.
The popular annual event combines world class dressage competition and the world's largest open breed show. The six-day event attracts hundreds of horses from around the world and thousands of spectators.
The event also includes the Fall Festival at Dressage at Devon, which features a large selection of vendors and an equally large number of specialty boutiques where visitors can shop for arts and crafts, clothing, horse-related items and gourmet food.
Tickets are $10 for adults and $5 for children (ages 3-12).
One of the best ways for everyone involved to appreciate the beauty of autumn's annual color explosion is to ride a special excursion on an area tourist railroad.
The West Chester Railroad (Market Street Station, West Chester, 610-430-2233, www.westchesterrr.net) is running its special "Fall Foliage Express" trains on September 26, October 3, 10 and 17 and November 7. Trains depart at noon and 2 p.m.
The round-trip train ride travels to the village of Glen Mills and back and lasts for 90 minutes. During the brief layover in Glen Mills, riders can explore the historic Pennsylvania Railroad station and have a snack in the railroad's picnic grove along the Chester Creek.
Tickets are $20 for adults, $18 for children ages 2-12 and free for kids under two.
This weekend, the Strasburg Railroad (Route 741, Strasburg, 717-687-7522, www.strasburgrailroad.com) is celebrating one of its locomotives with a series called "611 at Strasburg: The Return of an American Icon."
The Norfolk & Western Class J 611, a National Historic Engineering Landmark by the American Society of Mechanical Engineers, is known as an engineering powerhouse of steam, technology, and near mechanical perfection.
The N&W Class J 611 is the sole survivor of 14 Class J steam locomotives designed and built by the Norfolk & Western Railway. The locomotive rolled out of Roanoke's East End Shops in 1950. Its mission was to pull the Powhatan Arrow, a 15-car passenger train, from Norfolk, Virginia, to Cincinnati, Ohio.
Now, the powerful and sleek locomotive is running the rails at the historic Strasburg Railroad in Lancaster County's scenic Amish Country.
Offered as part of the tourist railroad's regular daily steam train service, N&W No. 611 J will be the motive power for the day's main train on select days. She will pull 45-minute excursion rides to Paradise, Pennsylvania from September 24-26 and on October 2 and 3.
Ticket prices range from $9.50-$45.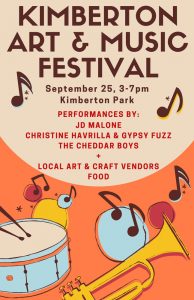 The Kimberton Arts & Music Festival (Kimberton Park, 2202 Kimberton Road, Kimberton, https://www.facebook.com/kimbertonamf/?modal=admin_todo_tour) is scheduled for September 25.
The free community event will feature live music in a variety of genres, more than 30 local art, craft, & business vendors, kids' activities, and food vendors.
Live music will be provided by Christine Havrilla and Gypsy Fuzz, The Cheddar Boys, and JD Malone.
There is a very good reason why collectors of antiques from all around the country will be heading to Pennsylvania's Amish region this weekend.
Renningers "Antiques & Collectors Extravaganza" (740 Noble Street, Kutztown, 570-385-0104,www.renningers.net) is slated for September 24 and 25 and "Special Sunday at Renninger's Adamstown" (Route 272, Adamstown) is scheduled for September 26.
The Extravaganza features hundreds of antiques dealers from up and down the East Coast. Since 1975, Renningers Antiques & Collectors Extravaganzas have been a meeting place for dealers and collectors from a variety of locales. The dealers buy and sell among themselves and offer vintage items for sale to the general public.
Many exhibitors set up shop outdoors — under tents and in the two large pavilions (each of which cover over 2,000 square feet). Also open is the Indoor Antiques Market and the Indoor Farmers Market.
Renninger's Antiques Market in Adamstown is the final shopping mecca for antiques during the Famous Extravaganza weekends. Many dealers save special merchandise which they display during these special weekends.
Also, many dealers make a special trip to set up in the special outdoor market only these three times a year. The outdoor market opens at 5 am. The indoor market opens at 7:30 am.
The 31st Annual Harriton Farmstead Fair is scheduled for September 25 from 10 a.m.-4 p.m. — rain or shine – at the Harriton House (500 Harriton Road, Bryn Mawr, www.harritonhouse.org)
The popular annual event in Lower Merion Township features crafts, antiques, pony rides, historic house tours, children's games, muskets and soldiers, blacksmiths, stone carvers, cabinetmakers, spinners, skep weavers, bluegrass music, and falconry (and other birds of prey).
The Fair, which is free and open to the public, also features the Harriton Attic Treasures Booth, which is one of the best flea markets on the Main Line, and the Harriton Farm stand featuring flowers and organic produce (some of which is from the Harriton garden).
As an added attraction, the historic 1704 house will be open for tours during the day.
The 36th annual Fall for the Arts Festival (Germantown Avenue, Philadelphia, https://chestnuthillpa.com/events/fall-for-the-arts-festival) is coming to Chestnut Hill this weekend. The popular annual event will feature art, live demonstrations, children's activities, music and shopping.
The outdoor, arts-and-crafts marketplace will be held on September 26, from 11 a.m.-5 p.m. on Germantown Avenue between Willow Grove and Rex avenues.
Watercolors, sculptures, pottery, wood crafts, photographs and jewelry, produced by more than 100 artists from the Mid-Atlantic region, will be on display and for sale.
There will be a Makers Village set up from Abington Avenue to Hartwell Lane, featuring live demonstrations and a Children's Amusement Zone.
Dining options include Bahia Bowls, Bredenbeck's Bakery and Ice Cream Parlor, Campbell's Place, Chestnut Grill, Chestnut Hill Brewing Co., El Poquito, Iron Hill Brewery, Market at the Fareway, McNally's Tavern and Mimi's Café & Market.
Live music will be performed by the Dukes of Destiny, the Classic Rockers, the City Rhythm and Arlene Hilton.
The Ninth Annual Upper Perkiomen Bird & Wildlife Festival is scheduled to run from 11 a.m.-3 p.m. on September 25 at Green Lane Park (2298 Green Lane Road, Green Lane, 215-234-4528).
Families are invited to enjoy a day of fun and learning at the park. The event will feature environmental exhibits, free hayrides, live animal presentations, live music, food and merchandise vendors, and kids' games and activities.
This is the time of the year when farms in the area become a bustle activity — a time for harvest. But, it is not harvest matters that are causing a bustle of activity at Cherry Crest Adventure Farm in Ronks (150 Cherry Hill Road, Ronks, 717-687-6843, www.cherrycrestfarm.com).
The farm's popular annual "Flashlight Maze" is now underway and will continue every Friday and Saturday night through November 4. Cherry Crest Adventure Farm has reserved several weekends during the autumn months for Flashlight Maze.
This special activity allows visitors to experience the Amazing Maize Maze in total darkness. All you need are flashlights and a few friends.
The Flashlight Maze is a nice, non-scary, Halloween alternative that has appeal for people of all ages. The Flashlight Maze, which has a $12 admission fee, is open from 6:30-10 p.m. with the last entrance into the Maze at 9 p.m.
The main attraction is Cherry Crest's "Amazing Maize Maze," which is billed as "the world's most dynamic and interactive corn maze." It is a five-acre corn maze with over two-and-one-half miles of paths, scenic bridges, and clues.
Participants can walk at their own pace as they encounter the "Kernels of Knowledge" along with a variety of clues, tunnel slides, and watering stations. They can also check out a bird's eye view from the two bridges and watch everyone's flags waving high above the corn.
The average time to complete the "Amazing Maize Maze" course is one hour. Ticket prices start at $17.95.
It's time to welcome autumn and one of the best ways to do this is by checking out the corn mazes at Ramsey's Farm (Ramsey Road, Wilmington, Delaware, 302-477-1499, www.ramseysfarm.com). The farm's event season just got underway.
Corn mazes, along with hayrides, a pumpkin patch and scarecrows, will be featured at Ramsey's Farm, which is located in northern Delaware on Route 92 just south of the Pennsylvania-Delaware state line. The new season runs on weekends now through October 30.
Ramsey's "Pumpkin Patch" has been in operation since 1995 and the farm's varied mazes have been delighting and baffling visitors who return each year for the popular annual event. The owners of Ramsey's Farm raise pumpkins, gourds, ornamental corn, popcorn, feed corn and hay.
The farm's pumpkin field stretches over 12 acres and yields approximately 20,000 pumpkins each season. Hayrides around the farm will be offered from 11 a.m.-5 p.m. each day. Visitors will be able to shop for pumpkins and other items at the farm store. There will also be hot food and beverages available for purchase.
Tickets are $8 for the corn maze, $4 for hay rides, $4 for Spookley Trail, and $4 for pumpkin painting.
This weekend, it's time once again for the Scarecrow Competition and Display at Peddler's Village (Routes 202 and 263, Lahaska, 215-794-4000, www.peddlersvillage.com). Hours are 10 a.m.-6 p.m.
Visitors can stroll around the Village to see the Scarecrow Competition and Display, which showcases more than 100 creative and colorful scarecrows. The Scarecrows are on outdoor display through October 30.
The public is invited to vote for the winners. Ballots are available in all shops and restaurants. The ballot boxes are located in the Hospitality Center at the Cock 'n Bull, Giggleberry Fair, and Buttonwood Grill.
Each September, "Pumpkinland" returns to Linvilla Orchards (137 West Knowlton Road, Media, 610-876-7116, www.linvilla.com). "Pumpkinland," which runs through November 7, features fairy tale characters from nursery rhymes along with a huge scarecrow and a really tall storybook.
Other activities include train rides, a straw bale maze, hayrides, pick-your-own apples and pony rides.
There will also be "Harvest Hayrides" and "Autumn Moon Hayrides" starting later in September along with "Straw Bale Maze," "Train Rides," "Corn Maze" and "Pony Rides."
Pumpkinland is open from mid-September through early November and takes center stage at Linvilla Orchards. Larger than life figures and scarecrows illustrate the legends and lore of the harvest season, featuring local history and some of the many stories of pumpkins and apples.
See our piles of pumpkins in all colors, shapes and sizes – more than 100 tons on display.
Linvilla will also host its "Apple Festival" this weekend on Saturday from 10 a.m.-5 p.m.
This year's 41st annual staging of the Pennsylvania Renaissance Faire (Mount Hope Estate and Winery grounds, Route 72, Cornwall, 717-665-7021, www.parenfaire.com), an event that bills itself as "the most wondrous event in all the Knowne World", is running now through October 31.
The festive annual event features authentic Elizabethan food and drink, traditional crafts from the guildsmen of yore and old-time games of skill — and a cast of hundreds of colorfully costumed re-enactors.
Each weekend, the Faire gas a themed weekend. This week, it is "Autumn Harvest."
Visitors will be able to celebrate the time-honored tradition of the harvest, commemorating vine to bottle and tree to glass with the fall libations.
The featured event will be "Confections with the Queen" (Ages 11 and under)..
Every summer, the Faire, which takes place at Mount Hope Estate and Winery's authentic 35-acre recreation of a 16th-century village in Olde England, features a new story from a different year of England's past.
The following is the description of the 2021 scenario — England has finally established a colony in the New World. Sir Walter Raleigh, one of Elizabeth's favorite privateers and newly appointed Governor of Virginia has made Mount Hope a key trade port, and the Shire has never been so prosperous.
Of course, where there's money to be made, there will be people who want that money. The Earl whose lands Mount Hope sits upon has suddenly taken interest in the shire which he once left alone.
Now he's come to collect his share of the bounty and perhaps set up a more permanent residence with little care if he displaces some peasants along the way.
Will Her Majesty intervene? Will the Shire ever be the same? People will become heroes, heroes will be made legends, and legends will be proven real.
More than 70 shows are scheduled throughout each day on the Faire's numerous stages.
Without a doubt, the most popular attraction is the Jousting Arena. Visitors to the Faire flock to Bosworth Field whenever it's time for the Ultimate Joust. Peasants lead cheers for their favorite knights while musicians pound out a heart-thumping beat. The Master of the List announces the combatants and soon an encounter of royal proportions ensues.
The Faire offers a wide variety of activities for visitors, including listening to bagpipe music, checking out handsome Lords in their colorful silks, watching a jester's acrobatics, learning how to juggle, being the recipient of a gypsy woman's flirtations and watching the march of Beefeater Guards.
Guildsmen's Way is the area that features a large variety of merchants and artisans, including jewelers, candle makers, potters, herbalists, leather smiths, clothiers, and pewter makers — all offering for sale and demonstrating their ancient wares.
And there are more than 20 Royal Kitchens located around the faire with menus featuring a wide variety of food and beverage.
Single-day tickets are available at the gate for $30.95. For children (age 5-11) single-day tickets are available at the gate and online for $15.95.
On September 25, the Greater Philadelphia Expo Center (100 Station Avenue, Oaks, 484-754-EXPO, http://www.phillyexpocenter.com) is hosting the East Coast Reptile Super Expo featuring hundreds of live snakes and reptiles.
The East Coast Reptile Super Expo, which is always a well-attended event, will run from 9 a.m.-4:30 p.m. this Saturday. Tickets are $10 with children (under five) admitted free.
Many people think snakes and lizards are interesting creatures and maybe even fun pets to own. If you fall into this category, you should check out the show on Saturday. A wide array of reptiles will be on display as part of the popular exhibition.
One of the show's main attractions is a sales exhibit area featuring a large number of vendors with live reptiles, amphibians and arachnids as well as food items, supplies, books, cages, and related accessories.
The roster of very diverse vendors includes AZO Reptiles, Rose's Reptiles, Livecargo Pets & Supplies, Dale's Bearded Dragons, Blake's Exotic Reptiles, Dower Reptiles & Rodents, Reptile Kingdom, DHA Pythons, Gecko Haven, Skins and Scales, Hunger Reptiles, Jungle Emporium, The Snake Pit, Delaware Turtle, Harris in Wonderland, Just Lizards and Outback Reptiles.
Another event at the Expo Center this weekend will be the Retro Con: Retro Toy & Gaming Show on September25 and 26.
"Retro Con: Retro Toy & Gaming Show" is a toy show that's dedicated to all things retro. The event's spotlight will shine on the toys from the 60's, 70's, 80's and 90's – and more.
Retro Con is pop culture and memorabilia show catering to anything considered "retro" — especially the 80's – things like Transformers, Star Wars, GI Joe, Ghostbusters, He-man, and classic video games.
There will be more than 200 tables of collectibles and art for sale, as well as special guests, video games, a costume contest, raffles, a trivia contest, panels, replica props, and much more.
The event will also have gaming systems set up – systems such as the classic NES & Saga — for fans to play.
The show will run from 10 a.m.-5:30 p.m. on Saturday and 9 a.m.-4 p.m. on Sunday. Tickets are $20 on Saturday and $15 on Sunday
The latest edition of the "History at Work" series at Newlin Grist Mill (219 South Cheyney Road, Glen Mills, newlingristmill.org) is scheduled for September 25.
Visitors can get a closer look at trades of the 18th century in Newlin's "History at Work" series.
Members of Newlin Grist Mill's staff, volunteers, and outside artisans will demonstrate their crafts and talk with visitors about how different trades and skills were integral to life in colonial Pennsylvania and to the operation of Newlin Grist Mill.
In 2021, the program will take place on the last Saturday of the month now through October from 10 a.m.-3 p.m. each day. Planned demonstrations include blacksmithing in September and food preservation in October.
"History at Work" is free and open to the public of all ages.