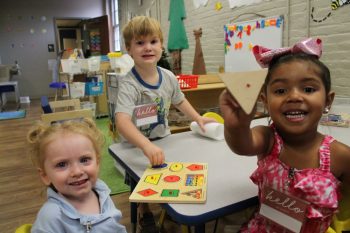 WEST GROVE — Research shows that children who do not attend a pre-kindergarten program often struggle and fall behind in school. As the largest provider of licensed childcare in Chester County, the YMCA of Greater Brandywine (YGBW) recognizes the importance of a quality pre-kindergarten experience and is excited to offer the West Grove community a Pre-K Counts program at the Jennersville YMCA.
The curriculum used by the Pre-K Counts program provide a hands-on learning environment, with children participating in developmentally appropriate activities that foster social, emotional, physical and cognitive development while ensuring school readiness. Participants will engage in age-appropriate reading, writing and math, plus develop important social skills such as: sharing, paying attention and following directions.
Kirstan Dolinger, Senior Childcare Director at the Jennersville and Octorara YMCAs said, "Pre-K gives children a chance to learn, become excited about school and be better students – all of which will prove to be invaluable over their lifetimes."
Enrollment is now open for all YGBW's early learning programs including Pennsylvania's Pre-K Counts program at the Jennersville YMCA in West Grove, PA. Established by the Pennsylvania Department of Education, PA Pre-K counts is designed for children who are between ages 3 and 4 and live in families earning up to 300 percent of the poverty level.
What to expect from a PA Pre-K Counts Classroom 
Teachers with the education and expertise to teach young children.
A curriculum that will help children grow academically and socially.
Regular review of a child's progress to choose the best teaching strategies as well as prepare them for a smooth transition to kindergarten.
PA Pre-K Counts is free to families and runs from 8:00 am to 1:30 pm, Monday – Friday. Wrap around care is an additional charge with financial assistance available. Students who qualify for Early Learning Resource Centers (ELRCs) are automatically eligible for the program.
Financial assistance is available for all of the Y's early learning programs including sibling discounts and acceptance of Pennsylvania's subsidized program, Childcare Works.
Learn more about Pre-K counts or all of the early learning programs offered as well as the updated policies and safety procedures that have been implemented in light of COVID-19.