By Denny Dyroff, Entertainment Editor, The Times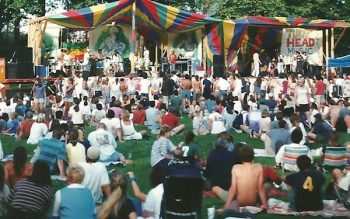 The Turk's Head Music Festival in West Chester (Everhart Park, Bradford Avenue and Everhart Street, West Chester, 610-436-9010, http://www.turksheadfestival.com) just keeps rocking on year-after-year — and just keeps getting better.
This year, the annual Turks Head Music Festival will be held on September 19 from noon-8 p.m. in the park at the west end of West Chester.
The all-day festival, which is one of the most popular and longest-running annual mid-summer events in Chester County, has a diverse line-up of eight musical acts.
The annual music-oriented party is presented by West Chester Recreation. It is a free event that appeals to the entire family with a wide range of live music as well as a variety of other activities geared to all ages.
Supreem & the New Experience will be the opening act at noon. New Moon Acoustic Blues is scheduled to take the stage at 1 p.m. followed by Wake Up John at 2 p.m. Aqua Cherry will play at 3 p.m. followed by Offline at 4 p.m. and The Jess Zimmerman Band at 5 p.m.
Visitors to Everhart Park this Sunday are welcome to bring picnic lunches and are advised to bring lawn blankets or folding chairs. The festival will also feature a wide array of food concessions with hot food and cool beverages.
Other popular annual features at the Turk's Head Music Festival include kids' play area and an arts-and-crafts show featuring over 70 talented artisans who will be demonstrating and selling their crafts.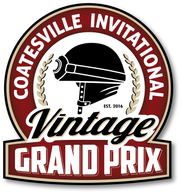 The Coatesville Invitational Vintage Grand Prix (www.coatesvillegrandprix.com) returns for its fifth year on September 18, from 8:30 a.m.3 p.m. The event is free and open to the public.
Spectators will get the unique chance to experience the roar of more than 70 rare vintage cars and motorcycles, dating from 1900 to 1975, winding through the streets of Coatesville. Drivers will compete in individually timed heats over a challenging 2.2-mile road course on the historic streets of Coatesville, complete with old-style straw bales.
Last held in 2019, the event draws thousands of spectators from the tri-state area and beyond, and attracts some of the most exclusive cars, including Ferrari, Porsche, Lotus, Auburn, and other rare vintage cars and motorcycles.
Trophies will be awarded in each of five divisions, and the coveted Brian Hoskins' Trophy will be awarded to the top competitor who best exemplifies sportsmanship, skill, and safety on the course.
New this year is a Friday Cruise-in event featuring vintage cars, trucks and special interest vehicles on September 17 from 6-9 p.m. The public is invited to cruise-in and park their hot rods, classic and restored cars on Lincoln Highway between 1st and 5th streets where spectators can get an up-close look.
In addition to a full day of competition, spectators can enjoy music, vendors, and food trucks.
General admission is free and net proceeds raised through sponsorship, entry fees and event swag sales benefit the City of Coatesville Community Projects and Parks & Recreation activities.
On September 18, the Marcus Hook Preservation Society is presenting its 14th Annual Pirate Festival from 11 a.m.-6 p.m. at 4 East Delaware Street in Marcus Hook (http://www.marcushookps.org/piratefestival.php).
The "Pirate Festival in the Park" on Friday evening will feature a special "A Pirates Life Food & Drink Event" (for people 21 and over) featuring wine, beer and rum tasting. There will be live music with full access to the Pirate Festival in the Park.
This main festival on Saturday includes a full pirate encampment with period tents, demonstrations and showcases their wares, firearms, cannons and beer making.
The park area will feature games, food, live pirate music, face painting, pony rides, petting zoo, crafters, beer garden and more. All funds raised during this event go towards the ongoing restoration project of the historic Plank House, aka "Blackbeard's Mistress' House."
The Marcus Hook Preservation Society are the owners and caretakers of this one-of-a-kind plank log house.
Each September, "Pumpkinland" returns to Linvilla Orchards (137 West Knowlton Road, Media, 610-876-7116, www.linvilla.com). "Pumpkinland," which runs through November 7, features fairy tale characters from nursery rhymes along with a huge scarecrow and a really tall storybook.
Other activities include train rides, a straw bale maze, hayrides, pick-your-own apples and pony rides.
There will also be "Harvest Hayrides" and "Autumn Moon Hayrides" starting later in September along with "Straw Bale Maze," "Train Rides," "Corn Maze" and "Pony Rides."
Pumpkinland is open from mid-September through early November and takes center stage at Linvilla Orchards. Larger than life figures and scarecrows illustrate the legends and lore of the harvest season, featuring local history and some of the many stories of pumpkins and apples.
See our piles of pumpkins in all colors, shapes and sizes – more than 100 tons on display.
Linvilla will also host its "Arts & Crafts Festival" this weekend.
At the annual "Arts & Crafts Festival," which will be held on September 18 and 19, select local artists and crafts persons to gather and sell their wares.  Not only does this spectacular event offer live musical performances it also provides the opportunity to shop for a special find by browsing a variety of handmade wood crafts, jewelry, photography, candles and more.
The 29th Annual Radnor Fall Festival (www.radnorfallfestival.com) is scheduled for September 19.
The event will be held from noon-5 p.m. on North Wayne Avenue and West Avenue in the center of Wayne between Lancaster Avenue and the Wayne train station.
It will feature participation by local merchants, service providers and restaurants. Activities include street performances by local bands, dancers from local dances studios, amusement booths, face painting and carnival rides.
One of the most popular annual events at the Hagley Museum and Library (Route 141, Wilmington, 302-658-2400, www.hagley.org) is the Hagley Car Show.
The historic site, which is located in Delaware just a few miles south of Kennett Square, will host its 2021 Car Show on September 19 from 10 a.m.-4 p.m.
Visitors to the show will be able to browse the site and check out more than 500 antique and restored cars that date from the early 1900s-1980s.
This year's theme is "Dream Rides and Sports Cars."
The show features vehicle parades, motoring music, video and pedal car racing, and a food court.
Tickets for the Car Show are $10 for adults and $5 for children (ages 6-14). Admission is free for Hagley members and children five and under. The event will be held rain or shine. Visitors are instructed to use Hagley's main entrance off Route 141.
On September 14, Winterthur Museum, Garden & Library (Route 52, Wilmington, Delaware, 800-448-3883, www.winterthur.org) is hosting a special event called "Wine Through Winterthur: Harvest Tasting."
Visitors will be able to sip wines from around the world and enjoy bites that highlight each region's harvest season. Each wine highlights a unique region, including some of H. F. du Pont's favorites.
Live music will be performed by jazz duo Sharon & Shawn at the Reflecting Pool.
The list of pairings features: Germany — Riesling with Smoked trout with horseradish chive crema on a bed of polenta; New Zealand — Sauvignon Blanc with New Zealand lollipop lamb chop with mint crème fraiche; France — Rosé with Beets and whipped honey, citrus brie on crostini; Italy – Chianti with Caprese skewer with balsamic glaze; Argentina — Malbec with Carne asada steak skewer with gulf salsa and paprika dust; and United States of America–Cabernet Sauvignon with Pomegranate braised short rib tartelette with silky cauliflower puree.
This is an outdoor walking event in the garden with uneven terrain and stairs, weather permitting. Rain date is September 19.
Reservations are required. Admission is $90 and $35 for designated driver (includes bites and non-alcoholic beverages).
On weekends now through October 23, the Kalmar Nyckel will be offering public sails from two locations in Wilmington, Delaware.
the sailings will leave from the Kalmar Nyckel Shipyard.
For two decades, the Kalmar Nyckel, which has its home base in Wilmington, has been hosting riders all over the world – especially in Delaware.
A ride on the Kalmar Nyckel is a totally different from most tourist water rides.
The ship is a beautiful recreation of the original Kalmar Nyckel, which was built in Holland in the 1620s. Her mainmast is taller than a 10-story building and she carries 7,600 square feet of sail area and six miles of rigging.
The original Kalmar Nyckel was a Swedish-owned, three-masted armed pinnace that sailed from Goteborg, Sweden in November of 1637 and brought the first permanent European settlers to the Delaware Valley.
Carrying 24 settlers from four countries (Sweden, Finland, Holland, and Germany), she landed on the banks of the Christina River. The site, which became known as "The Rocks", can be visited at Fort Christina Park off Wilmington's East Seventh Street.
The Kalmar Nyckel made four documented round-trip crossings of the Atlantic, more than any other "settlers' ship" of the era. The original ship was lost in the late 1600s.
In 1986 a group of citizens established the Kalmar Nyckel Foundation to design, build and launch a replica of the Kalmar Nyckel at a shipyard adjacent to the original landing site.
The new Kalmar Nyckel was constructed there and was launched on September 28, 1997. She was commissioned on May 9, 1998 and now serves as Delaware's sea-going Ambassador of Good Will. She is a fully functional sail training vessel and has represented Delaware all over the country.
Tickets are $40 for adults and $25 for youth (ages 17 and under).
The Delaware Saengerbund's Oktoberfest (Saengerbund festival grounds, 49 Salem Church Road, Newark, Delaware, 302-366-9454, www.delawaresaengerbund.org) is running from September17-19.
The Delaware Saengerbund's festival is a traditional Munich-style Oktoberfest featuring a wide array of tasty German food delicacies, including Bratwurst, Weisswuurst, soft pretzels, Rollmops (marinated herring served with rye bread), Kartoffelsalad (potato salad), sauerkraut as well as dessert items such as Torten and traditional plum cake.
On September 17, the opening parade will be held at 7 p.m. The lid-lifting event features the "Muenchner Kindl" (Munich Child — the symbol of the city of Munich) who is dressed in brown monk's garb with golden stripes, similar to that of the Benedictine order (founders of the City of Munich).
The "Enzian Volkstanzgruppe", the Bavarian dance group of the Delaware Saengerbund, will entertain throughout the three days of the festival.
When the EVTG is not dancing, German music will be performed. The Saengerbund's Haus Band, the Enzian Musikanten, will open the festival each day with its performance.
There will also be concessions with an array of imported German gifts and souvenirs, as well as Oktoberfest souvenirs and Bavarian specialty clothes. Included in the admission price of $10 are unlimited free amusement rides.
Hours are 5-11 p.m. on Friday, noon-11 p.m. on Saturdays and noon-6 p.m. on Sunday.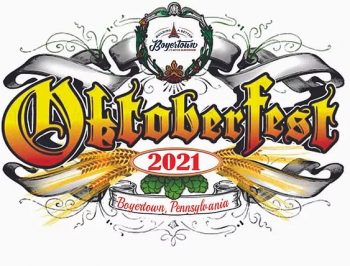 The 14th Annual Boyertown Oktoberfest (Municipal Parking Lot, Reading Avenue, Boyertown. 610-369-3054, www.boyertownoktoberfest.com) is scheduled for September 18 and 19.
Activities on September 18 include the tapping of the ceremonial keg, German music and entertainment, food, and wine and beer.
Live entertainment at the festival will be provided by Emil Schanta Band, GTV Edelweiss Dancers, Auerhahn Schuhplatter Verein Dancers,
Kermit, and Happy Dutchman German Band.
The beer list includes Angry Orchard Crisp Apple, Free Will Brewing Company's Scarecrow, Hofbrau Dunkel, Hofbrau Original, J.J. Ratigan Brewing Company Gooder Wooder, Saucony Creek Brewing Company's Oktoberfest, Sam Adams Oktoberfest, Sly Fox Brewing Company's Helles Lager, and Stable 12 Brewing Company's Oktoberfest.
Hours are 5-9 p.m. on Friday, 11 a.m.-9 p.m. on Saturday. Wristbands are $5 per day.
The 41st Annual Greek Affair at St. Luke's Greek Orthodox Church (35 North Malin Road, Broomall, 610-353-1592, www.st-luke.org) is running now through September 19 – 1 a.m.10 p.m. on Friday and Saturday and noon-8 p.m. on Sunday.
The free festival focuses on food — tasty Greek main dishes such as moussaka (eggplant dish), shish-ka-bob (meat and vegetables on skewers) and placki (fish) and Greek dessert treats including baklava (phyllo, nuts and honey) and kataifi (shredded wheat and nuts).
Other activities at the free popular annual event are midway rides, vendors with crafts and Greek items, live music by Greek-American bands and folk dancing demonstrations. Additionally, the Taverna will be open from 9 p.m.-midnight on Friday and Saturday.
The Lancaster Balloon Festival (Bird-in-Hand Events Field, Old Philadelphia Pike, Bird-in-Hand, https://lancasterballoonfest.com/) will be held now through September 19.
It will feature a variety of activities in the air and on the ground including balloon fly-ins, tethered balloon rides, and balloon glows.
Friday's schedule features Mass Balloon Ascension, a reptile show, live music, a juggler and a Balloon Glow.
Featured events on Saturday will be Tethered Hot Air Balloon Rides, live music, Corn Maze, a juggler, Mass Hot Air Balloon Ascension, Balloon Glow and Fireworks Display.
Activities on Sunday will be Hot Air Balloon Rides, Mass Hot Air Balloon Ascension, a juggler, Corn Maze and live music.
Tickets for the festival are $20 for adults and $10 for children (ages 5-17).
The Kitchen Kettle Village's "Tailgating Festival" is scheduled for September 17 and 18 from 9 a.m.-6 p.m. each day at Kitchen Kettle Village (3529 Old Philadelphia Pike, Intercourse, 800-732-3538, http://www.kitchenkettle.com).
Visitors are invited to celebrate the autumn tailgating and harvest season with a two-day food festival full of food, music, sports and fun.
Every year Kitchen Kettle Village pays tribute to tailgating season with a two-day food festival filled with delicious and fun events.
There are plenty of activities for young and old, families and couples alike. This year see Olympic Games themed scarecrows throughout the village and vote for your favorite. Savor a tasty sample of homemade tailgate foods at one of our grills or restaurants. Tap your toes to a Dixieland Band or other live music.
Special activities include "Whoopie Pie Filling Contest," balloon twisting for the kids with the "Balunguy," sampling locally-made apple cider from Kauffman's Fruit Farm, touring a sports-themed scarecrow display and watching a "Tailgate Parade" through the Village.
This year's 41st annual staging of the Pennsylvania Renaissance Faire (Mount Hope Estate and Winery grounds, Route 72, Cornwall, 717-665-7021, www.parenfaire.com), an event that bills itself as "the most wondrous event in all the Knowne World", is running now through October 31.
The festive annual event features authentic Elizabethan food and drink, traditional crafts from the guildsmen of yore and old-time games of skill — and a cast of hundreds of colorfully costumed re-enactors.
Each weekend, the Faire gas a themed weekend. This week, it is "Fantasy Weekend."
The creations of imagination and inspiration converge on the Shire as the denizens celebrate the adventurous storytellers who dare to dream.
Featured events are Nipperkins Costume Exhibition and Adult Costume Competition.
Every summer, the Faire, which takes place at Mount Hope Estate and Winery's authentic 35-acre recreation of a 16th-century village in Olde England, features a new story from a different year of England's past.
The following is the description of the 2021 scenario — England has finally established a colony in the New World. Sir Walter Raleigh, one of Elizabeth's favorite privateers and newly appointed Governor of Virginia has made Mount Hope a key trade port, and the Shire has never been so prosperous.
Of course, where there's money to be made, there will be people who want that money. The Earl whose lands Mount Hope sits upon has suddenly taken interest in the shire which he once left alone.
Now he's come to collect his share of the bounty and perhaps set up a more permanent residence with little care if he displaces some peasants along the way.
Will Her Majesty intervene? Will the Shire ever be the same? People will become heroes, heroes will be made legends, and legends will be proven real.
More than 70 shows are scheduled throughout each day on the Faire's numerous stages.
Without a doubt, the most popular attraction is the Jousting Arena. Visitors to the Faire flock to Bosworth Field whenever it's time for the Ultimate Joust. Peasants lead cheers for their favorite knights while musicians pound out a heart-thumping beat. The Master of the List announces the combatants and soon an encounter of royal proportions ensues.
The Faire offers a wide variety of activities for visitors, including listening to bagpipe music, checking out handsome Lords in their colorful silks, watching a jester's acrobatics, learning how to juggle, being the recipient of a gypsy woman's flirtations and watching the march of Beefeater Guards.
Guildsmen's Way is the area that features a large variety of merchants and artisans, including jewelers, candle makers, potters, herbalists, leather smiths, clothiers, and pewter makers — all offering for sale and demonstrating their ancient wares.
And there are more than 20 Royal Kitchens located around the faire with menus featuring a wide variety of food and beverage.
Single-day tickets are available at the gate for $30.95. For children (age 5-11) single-day tickets are available at the gate and online for $15.95.
If you find yourself being affected by a full moon, you should consider attending a "Full Moon Tour" at the Wolf Sanctuary of Pennsylvania (465 Speedwell Forge Road, Lititz, 717-626-4617, http://wolfsanctuarypa.org).
The Sanctuary offers this tour once a month on the closest Saturday to the full moon. This month, the date is September 18, and the full moon is known as the Corn Moon.
Your guide will lead you and whoever you choose to bring with you around the entire sanctuary to view all of the wolves. They will stop for a few moments at each pack to introduce them and provide information on conservation and biology.
During Full Moon Fundraisers, you may bring chairs, blankets, non-alcoholic refreshments and snacks. Bring a flashlight as the tour will take place in the evening with limited light availability and you will be walking on uneven ground. Please avoid shining lights directly towards the wolves.
For teens and young adults visiting for the Full Moon Event, please bring proof of age – guests must be 16 or older for admission.
Face masks are encouraged, but visitors who have been vaccinated are not required to wear a mask for the outdoor portion of the tour. Face masks are still required by all visitors when inside the gift shop per COVID19 guidelines
The tour starts at 7:30 p.m. Tickets are $35.
The next "Full Moon Tour" this year will be Hunter's Moon on October 23 followed by Beaver Moon on November 20 and Cold Moon on December 18.
The West Chester Railroad (610-430-2233, www.westchesterrr.net) is running its "Summer Picnic Specials" every Sunday now through Sept 19. There will be one excursion each day at noon.
Passengers can enjoy a 90-minute round trip train ride from West Chester to Glen Mills and return on a warm summer afternoon. Riders are invited to pack a lunch to have during excursion's stop at the Glen Mills train station picnic grove.
Tickets are $17 for adults, $15 for children (2-12) and free for children (under two).
Wilmington and Western Railroad (Greenbank Station, 2201 Newport-Gap Pike, Wilmington, Delaware, www.wwrr.com) is running its Mt. Cuba Meteor excursion on September 18.
Passengers can take a leisurely 1.5-hour round-trip ride up the Red Clay Valley to the rail line's Mt. Cuba Picnic Grove, which includes a half-hour layover to have a picnic or simply admire the natural surroundings. The Mt. Cuba Meteor excursion is a relaxing way to spend an afternoon outside with family or friends.
If you don't want to get off the train at Mt. Cuba, you can remain onboard and travel further up the line through the communities of Ashland and Yorklyn. On the return trip, there will be a brief stop at Mt. Cuba to pick up the picnic passengers.
This event is powered by either our historic first-generation diesel locomotive, by our 1929 Pennsylvania Railroad Doodlebug railcar, or by one of the railroad's antique steam locomotives.
The excursion will also run on September 25 and 26 and October 2.
Tickets are $17 for adults, $15 for children (ages 2-12) and $16 for seniors.
The Strasburg Railroad (Route 741, Strasburg, 717-687-7522, www.strasburgrailroad.com) is always one of the most popular spots around when it hosts "Day Out With Thomas."
There is a mutual love affair between kids and Thomas the Tank Engine and it's especially evident when Thomas gets up-close and personal with his fans during his visits to the Strasburg Railroad.
Every year, the steam locomotive named Thomas makes several visits to Lancaster County where he entertains enthusiastic children and their parents. The locomotive, which has its own PBS television series, will return to Strasburg for "Day Out With Thomas" now through September 20.
For more than 50 years, Thomas the Tank Engine and his Island of Sodor friends have been favorites of preschoolers and their parents. Based on "The Railway Series" (classic stories authored by a father who loved trains and wanted a shared experience with his son), "Thomas & Friends" has evolved into a rite of passage that inspires imagination.
Fans will be able to get personal with Thomas the Tank Engine, a full-sized operating steam locomotive who will be talking for the first time ever. And they will also be able to ride a train pulled by Thomas and meet the locomotive's buddy Percy.
Tickets for "Day Out With Thomas," which are $23, include the train ride with Thomas the Tank Engine, as well as a variety of Thomas & Friends themed entertainment such as storytelling, video viewing, temporary tattoos of Island of Sodor friends and an Imagination Station.
All tickets must be pre-purchased online. There will be no onsite sales. The Thomas ticket does not include admission to the Railroad Museum of Pennsylvania nor does it include a ride aboard the regular steam train.
Morris Arboretum (100 East Northwestern Avenue, Philadelphia, www.morrisarboretum.org) has a model railroad version of Thomas the Tank Engine as part of its Garden Railway.
On September 18 and 19, he will be the headliner.
Thomas the Tank Engine can always be found chugging along in his own section of our Garden Railway, but a few weekends a year Thomas and his friends run free on all the tracks, turning the entire Railway into the Island of Sodor.
Morris Arboretum will also host Springfield Mill Days on September 19 from 1-4 p.m.
Morris Arboretum's oldest architectural feature is the historic grist mill, dating back to 1761 and situated along the picturesque Wissahickon Creek. On a guided tour, visitors can watch one-ton millstones grind corn kernels and observe 160-year-old machinery transport and sift the ground corn to produce meal.
Both special activities are included with garden admission — Adults: $20; Seniors (65+ years): $18; Youth (3-17 years): $10.
The Rittenhouse Square Fine Arts Show, one of the city's top craft fairs, is scheduled for this weekend. Now through September 19, the Fine Arts Show will have with top-caliber vendors lining the streets all around Rittenhouse Square (18th and Walnut streets, Philadelphia, http://www.rittenhousesquareart.com/).]
Founded by artists in 1928, and run by a board of artists today, the Rittenhouse Square Fine Art Show is the oldest outdoor art show in the country.  Steeped in rich history and tradition, there is absolutely no other show like it.
Twice a year, professional artists from across the nation — and occasionally from other countries — convene in the scenic park in Center City to share their art with Philadelphia right here in Rittenhouse Square.
The Fine Arts Show, which is free and open to the public, will focus on hand-crafted jewelry, contemporary furniture, functional and decorative pottery, designer clothing, fine porcelain, blown glass, limited edition photography, sculpture, paintings, watercolors, oils, graphite and pastels.
Fair hours are 11 a.m.-7 p.m. on Friday, 11 a.m.-6 p.m. on Saturday and 11 a.m.-5 p.m. on Sunday. Admission is free. Street and garage parking is readily available.
Feria del Barrio (http://feria.tallerpr.org), which is one of Philadelphia's largest celebrations of Latino arts and culture, will take place on September 19 from noon-3 p.m.
The free, all-ages event, which is celebrating its 37th anniversary this year, features top-flight Latin acts. Visitors can enjoy Latin music and dancing, Latin American food treats and vendors with handmade arts and crafts for sale.
The headline act this year will be Wiso Exclusivo Bachata-Merengue Band.
The popular annual festival will be held along the sidewalks of the historic Centro de Oro neighborhood on North Fifth Street between Huntingdon and Somerset streets.
On September 19, Laurel Hill Cemetery (3822 Ridge Avenue, Philadelphia, 215-228-8200, www.thelaurelhillcemetery.org) will host "Auld Lang Syne: Scottish Residents at Laurel Hill
The walking tour at Laurel Hill Cemetery will start on Sunday at 11 a.m.
In the 19th Century, Scottish citizens made a significant contribution to our country, city, and even Laurel Hill Cemetery.
At 26 years old, Scottish immigrant John Notman, rose above more established architects, like Thomas Ustick Walter, and won the design commission of the cemetery and some of its monuments. Notman now rests a stone's throw away from the Gatehouse he designed.
This tour will acquaint visitors with Notman and other famous and infamous Scots of days gone by like the cantankerous signer of the Declaration of Independence, Bonny Prince Charlie's surgeon who became the hero of the Battle of Princeton, the craftsman responsible for George Washington's tomb at Mt. Vernon, and many more.
Tickets must be purchased in advance. Ticket pricing is $15/General Admission, $13/Seniors (65 & Up), $13/Students with ID, $10/Members, $7.50/Youth (6-12), and $0/Child (5 & Under). Free parking will be available in the lot across the street from the Gatehouse.
The Greater Philadelphia Expo Center (100 Station Avenue, Oaks, 484-754-EXPO, http://www.phillyexpocenter.com) is hosting the Pennsylvania National Quilt Extravaganza now through September 19.
The Pennsylvania National Quilt Show is the largest and most prominent quilting arts event in the Northeast all under one roof. The quilt competition features wonderful entries from throughout the nation. Entries to the competition include traditional and innovative quilts.
On exhibit at the Extravaganza will be more than 600 quilts and garments presented in gallery style. There will also be more than 200 vendor booths with items including completed quilts and garments as well as the supplies and equipment used in making them.
The Pennsylvania National Quilt Extravaganza will also offer a wide array of lectures and workshops presented by some of the top professionals in the field of quilting and the textile arts.
Show hours are 10 a.m.-6 p.m. on Friday and Saturday and 10 a.m.-4 p.m. on Sunday. Tickets for adults are $15 on Friday and Saturday and $13 on Sunday. Children under the age 16 are admitted free.
The Expo Center is also hosting the "International Gem & Jewelry Show" now through September 19.
The show, which is a sales and exhibition event that features gems, jewelry, fossils and stones of all sorts, is running from March 8-10 and is billed as the "world's largest jewelry bazaar".
The "International Gem & Jewelry Show" features an amazing exhibition of gems, minerals and jewelry. Dealers will be displaying and selling every type of gemstone, as well as one-of-a-kind jewelry creations, estate jewelry, special celebrity exhibits and accessories.
The show will have more than 150 dealer booths where show attendees can select items from a wide range of categories, including beads, rings, settings, watches, necklaces, diamonds, opals, earrings, silver, gold, crystals and pearls.
Admission to the public show is $8 for adults while children (ages 9-16) are free with a paid adult ticket. The show's policy states that children ages eight and under are not permitted to attend the show.
This weekend, it's time once again for the Annual Scarecrow Festival at Peddler's Village (Routes 202 and 263, Lahaska, 215-794-4000, www.peddlersvillage.com). The festival, which is celebrating its 42nd anniversary this year, will run now through October 30.
It is the perfect time to visit and take in the bright, brilliant hues of fall and admire the more than 100 spectacular scarecrows on display. These larger-than-life, colorful, creative scarecrows will line the red brick paths throughout the village's 42 picturesque acres.
Visitors can vote for their favorites in eight categories: Traditional, Quite the Character, Thrills with Chills, Myth & Lore, Upcycled Crow, Pink Out!, Kids Only!, and Village Shops. Ballots can be cast through our Peddler's Village Mobile app.
Peddler's Village's Scarecrow Making Workshops on the Street Road Green have been a family favorite for decades. The workshop fee of $35 (maximum group of 4 people) includes step-by-step instructions and building materials.
This year's dates are September 18 and 25.
Participants can choose from a variety of clothing decorations and use plenty of straw to construct their very own life-size scarecrow to take home. On September 17, Elmwood Park Zoo (Elmwood Park Zoo, 1661 Harding Boulevard, Norristown, www.elmwoodparkzoo.org) will be presenting "Night Adventure."
Visitors will be able to zip the zoo in the dark with Treetop Adventures' "Night Adventure!"
At the event, which runs from 7:30-11 p.m., participants can experience all the thrills of the zip line and ropes courses with the added challenge of darkness.
Adventurers will navigate through a section of the Treetop Zoofari course equipped with a headlamp. Young adventurers can also experience the nighttime fun on our Cub Climb course.
The "Night Adventure" ticket includes access to an all-you-can-eat buffet, which features Norristown specialties such as zeps, "Friday" zeps, soft pretzels, tomato pie, local beer and one drink ticket.
Non-adventurers can still be a part of the fun with the "Fan Pass," which includes one drink ticket and access to the all-you-can-eat buffet.