By Denny Dyroff, Entertainment Editor, The Times
Back in the beginning of May, Dan May experienced a situation of "being close yet so far away."
When the COVID-19 pandemic hit, some people virtually became hermits. Singer/songwriter Dan May literally became a hermit.
"I stopped going out for any reason," said May, during a phone interview from his home in Drexel Hill in May. "I was really sequestered. I had everything delivered.
"The only times I went out were for a Soundbooth Session at the Sellersville Theater and two Livestream performances from Morningstar Studio. Now, I've gotten both vaccine shots. In another week, I'll be able to go out and about."
May was scheduled to headline a show on May 7 at the Sellersville Theater (24 West Temple Avenue, Sellersville, 215-257-5808, www.st94.com).
It never happened. The show got postponed to August 26 — and its cancellation had nothing to do with COVID-19.
"I got a virus that went straight to my voice," said May, during a phone interview Tuesday afternoon.
"I don't know how I got it. I have no idea what its name is. I just know that it paralyzed my vocal cords.
"I had to cancel the May 7 show. The band was geared up. We had rehearsals and we were ready to go. Then, the virus made it impossible for me to sing."
Hopes for a return to stage were quickly deflated.
"That show would have been the first show with a live audience in the same room for more than a year," said May.
May took a circuitous route to his current place as a singer/songwriter.
He has worked as a gravedigger, television cameraman, short order cook, nuclear missile security guard, gas station attendant, ice cream truck driver, delivery man, amusement park worker and greenhouse laborer.
While studying music composition in college, he inadvertently stumbled upon an international opera career that forced him to leave a promising future as a songwriter behind.
"I grew up in Sandusky, Ohio," said May. "I went to Bowling Green University and studied journalism. Then, I was writing for a daily newspaper.
"My wife wanted to go to Ohio State University, so we moved to Columbus. I went to Ohio State as a composition major. Somebody said I should sing opera, so I decided to try it.
"I studied opera at the Academy of Vocals Arts for four years. That's what brought us to this area, and we've been here ever since. I was a bass/baritone and sang professionally for 12 years."
Then, his path took another unexpected turn.
"I had surgery on my vocal cords," said May. "They had become paralyzed. In the surgery, they injected fat into my vocal cords. I can sing with a full range, but my voice can't meet the demands of singing opera – especially the volume needed.
"I switched to being a singer/songwriter in 2005 and I've released six records since then. I also did two CDs with Elise Dadourian."
May's sextet of LPs includes "Once Was Red," "Fate Said Nevermind," "The Long Road Home," "Heartland," "Dying Breed" and "Beacon." The albums with Dadourian are "Gold Brick Road" and "Simple Truth."
"When the pandemic hit, I was into song six on my new record," said May. "We put it on hold for six months. The songs are written but not recorded. I've been recording at Morningstar and hope to have the new record out by the end of the year.
"I've used the time to do more writing. I write on a daily basis. Then, I go over 100 ideas and come up with 15 songs for an album. After that, I try to come up with a cohesive theme.
"Even though these days, people just buy songs not albums on the internet, I still think in album mode – keep things in order."
On July 29, May posted this message on his Facebook page:
"BREAKING THE STREAK AND BABY WHALES – Four weeks from today is my first show in front of a live audience in five hundred eighty-seven days. It was originally scheduled for May 7, but we had to reschedule that show because of illness. I'm feeling much better now and excited to get back to business!
Five hundred-eighty-seven days.
That's a long time."
May's show this weekend will also be available via Livestream.
"I've greatly enjoyed my virtual concerts over the past year," said May. "The audience came out in record numbers and the response overwhelmed me. And the good news is, you folks outside the range of Sellersville and from across the country can join us too. Streaming tickets will also be available. And that's pretty cool. The best of both worlds."
May said, "At first, I was skeptical about Livestream. But it's been a good thing for me. I've established a 16-year fan base across the country, and this gives them a chance to see a live show. It's expanded the opportunities.
"People can buy a Livestream ticket and see it live wherever they are. When I'm doing a Livestream show, I can feel a connection to the audience. I feel an energy."
More importantly, this weekend May will feel the energy of a live audience.
"May 7 was a disappointment but I was unable to sing," said May. "My feeling is, if it's compromising your performance, you shouldn't do it. My voice is back and now the band and I are ready to go."
Video link for Dan May — https://youtu.be/nkeTZzjzEGM.
The show at the Sellersville Theater on August 26 will start at 8 p.m. Tickets are $25.
On August 28, Sellersville Theater will host bluegrass legends Doyle Lawson & Quicksilver.
The band currently has two recent albums that are selling well — "Roundtable," which was released earlier this year, and "Live in Prague, Czech Republic," which was released last year.
"The new album – "Roundtable" – was officially released in July and it seems to be doing pretty good out of the chute," said Lawson, during a phone interview Tuesday afternoon from his home in Bristol, Tennessee.
"The live album did quite well. It was nominated for a Grammy for Bluegrass Album of the Year."
Lawson has been recording albums for more than four decades. He has released more than 40 LPs since 1979. "Roundtable" continues his reputation for making great bluegrass music.
"We started recording 'Roundtable' in January this year at Sound Biscuit, a studio in Sevierville, Tennessee," said Lawson. "We had it ready for quite some time.
"The record has some originals – songs written by members of the band. It also has some by favorite writers that I call on.
"I think it's important to introduce new songs to the genre. Some bluegrass acts keep playing the same songs over and over again. It's the same with other genres like Dixieland. There are very few new songs. It's our desire to keep introducing new bluegrass songs into our repertoire."
The band's "Live in Prague, Czech Republic" actually came as a surprise to Lawson.
"We play American bluegrass and there are a lot of bluegrass fans in Europe," said Lawson. "We've gone to Prague three or four times in the last five years and filled up the auditorium every time. We do enjoy quite a following over there. They love the music. Our last big tour there was 2017."
"Live in Prague, Czech Republic" was recorded live at the beautiful Dlabacov Hall Pyramida Theater in downtown Prague on January 26, 2019. This sold-out crowd can be heard approving the high energy show captured on the new album.
"We went there specifically for one show," said Lawson. "It was a quick visit – fly over, do the concert and come right back. The album was an afterthought.
"When we got there, the promoter asked if we wanted to do a live album. I was very apprehensive about what sound we'd get. They had a professional recording company, and I said the recordings had to meet with my approval.
"It was a long show – an hour-and-a-half – so we had a lot of material to pick from.
"I brought the files back with me. Live recordings are hard. You've got to get the right overtones. We needed to get it so that it would sound good on radio.
"We used our engineer, Josh Swift. He's an excellent engineer and he did a really good job."
Doyle Lawson & Quicksilver have had approximately 50 different band members over the years including the current line-up — Doyle Lawson-mandolin, vocal; Eli Johnston-banjo, vocal; Stephen Burwell-fiddle; Jerry Cole-bass, guitar, vocal; Matt Flake-fiddle, bass, vocal ; and Ben James-guitar, vocal.
The original line-up in 1979 featured Doyle Lawson-mandolin, vocal; Jimmy Haley-guitar, vocal; Lou Reid-bass, vocal; and Terry Baucom-banjo, vocal.
"Fortunately, all four of the original members are still alive," said Lawson.
Fortunately, so is the bluegrass music played by Doyle Lawson & Quicksilver.
Video link for Doyle Lawson & Quicksilver – https://youtu.be/Z7Us6B_8kVI.
The show on August 28, which features The Cheddar Boys as the opening act, will start at 8 p.m. Tickets are $29.50.

AM Radio Tribute Band, which is the brainchild of Su Teears and Kevin Burk is exactly what its name implies.
"We play songs mostly from the '60's, some from the '70's, some older stuff like the Ronettes," said Teears, during a phone interview from her home in King of Prussia. "We also do some stuff from the '50's like Bill Haley & the Comets and Elvis."
AM Radio also has another format – the AM Radio Acoustic Trio.
On August 29, AM Radio Acoustic Trio share the bill with Peter Noone (Herman's Hermits) at a pair of shows at the Sellersville Theater.
AM Radio Acoustic Trio will open the show with 1960's acoustic music, complimented by intricate 3-part vocal harmonies. This is a bit different from the band's norm.
Burk, who is a native of King of Prussia and an Upper Merion High grad, said, "We're normally a six-piece band and sometimes for bigger shows we're a seven-piece with an added guitar. There are also times when we add a horn section and play as a 10-piece."
AM Radio Tribute Band got its start exactly six years ago.
"Kevin and I were on a road trip to upstate New York," said Teears. "As we travelled north, we listened to the radio until we lost our favorite station."
Losing reception of AM radio stations is a common thing.
AM broadcasting is a radio broadcasting technology which employs amplitude modulation (AM) transmissions – unlike FM which uses frequency modulation.
AM radio, which is also known as medium wave, covers frequencies from 525-1704 kHz (kilohertz). In the United States, there are clear channel stations which can operate at 50,000 watts 24 hours a day, regional stations which have restrictions on their broadcasting power and local daytime stations with low wattage allowance and limited range.
If you're driving in Pennsylvania or New York, you can hear powerful clear channel stations from all over the eastern part of the country – stations such as WSM in Nashville, WABC in New York, WCKY in Cincinnati, WGN in Chicago, WSB in Atlanta, WBZ in Boston and WOWO in Fort Wayne.
Listening to regional stations is more difficult. These stations are limited in power and often have directional broadcasting. So, if you exceed your favorite station's range as you travel, the station fades out and is often replaced by a different regional station.
"When we lost the station we were listening to, we found a station playing all the hits we grew up with," said Teears. "We toyed with the idea of playing these songs. We started playing them while trying to do things a little left of center."
Soon, Teears and Burk were assembling a band – a band that became AM Tribute Radio.
The lineup of AM Tribute Radio's full band features drummer Jimmy Cavanaugh from Norristown, guitarist Danny Eyer (Absecon, N.J.), Bill Sharrow (Collingdale/Spring Mount) vocalist/guitarist Joe Triglia (Lansdale), keyboardist Steve Sauer (Lancaster), Teears (Northeast Philadelphia) and Burk.
"Our first gig was December 2014 at the Bridgeport Ribhouse and we've had a stable lineup since then," said Burk. "Our repertoire now is well over 500 tunes. There is so much to pick from."
Teears said, "This is the music we grew up with. We're purists. We try to keep it as close as possible to the original."
Video link for AM Radio Tribute Band — https://youtu.be/an3eLlSQmIw.
The shows at Sellersville Theater on August 28 will start at 3 and 9 p.m. Tickets are $59.50.
Other upcoming shows at the Sellersville Theater are Resurrection on August 27, Omar's Hat on August 31, John Mayall on September 1, Get the Led Out from September 2-5.
Bluegrass music fans are in for a double treat this weekend. In addition to Doyle Lawson & Quicksilver's show at Sellersville, there will be a show by Bella White on August 26 at MilkBoy Philly (1100 Chestnut Street, Philadelphia, 215- 925-6455, www.milkboyphilly.com).
The two artists are at opposite ends of the time spectrum.
Lawson released his first album more than 40 years before White's debut album. Lawson's next birthday will behis 75th while White just celebrated her 21st birthday last month.
Despite the vast difference in experience, both acts make top-flight bluegrass music – and both honor the genre's traditional roots.
White is a Nashville-based singer/songwriter and instrumentalist who avoids modern and fussy arrangements, and instead brings a traditional style of music into the contemporary moment by personalizing it to her own experiences.
With an original new voice in songwriting, White creates fresh magic by mining the rare duality at the heart of her artistry. Although she hails from the Canadian city of Calgary, Alberta, the young singer/multi-instrumentalist grew up on the classic country and old-time music she first discovered thanks to her father.
"I was born and raised in Calgary," said White, during a phone interview Tuesday afternoon on her way to a show at Tellus 360 in Lancaster.
"I was first exposed to bluegrass music by my dad, who was born in Lynchburg, Virginia.
"He was in bluegrass bands all his life and he was always playing bluegrass.
"I always wanted to get in on the fun, so I decided I'd play bluegrass music too. My first instrument was guitar. My main instrument is still guitar and I also play some banjo.
"When I was young, I was listening to a lot of bluegrass. Some of my main influences are the Stanley Brothers, Flatt & Scruggs and Bill Monroe. I also listen to some good younger bands.
"I started playing my first gigs when I was 11. I was always jamming with other people at open mics. When I was 13 or 14, I started doing my own shows – mostly solo shows on my own,
"Nowadays, I've got a band – a trio with me, bass and fiddle or a quartet with me, bass, fiddle and mandolin. Right now, it's a trio with Patrick M'Gonigle on fiddle and Alan Mackie on bass."
On her debut album, "Just Like Leaving," White balances her old-soul musicality with a lyrical perspective that's entirely of-the-moment, embracing an intense self-awareness as she documents her coming-of-age in real-time.
According to White, "I'm still quite young, but I was very young when I wrote this album. All of these songs came from processing my feelings right as I was experiencing certain things for the first time in my life."
Produced by Patrick M'Gonigle of The Lonely Heartstring Band and mixed by Grammy Award-winning engineer Dave Sinko at Gilford Sound Studios in Vermont, "Just Like Leaving" bears a powerful authenticity that prompted Rolling Stone to praise White's songwriting as "sublime Appalachian heartbreak."
"Patrick is from Boston," said White. "I met him at the IBMA (International Bluegrass Music Awards) in Raleigh. We've played together a lot since then. He and Alan played on my album. I met Alan, who is from Toronto, at a bluegrass festival.
"We recorded the album in March 2020 at Gilford Sound in Burlington, Vermont. Patrick produced the record and this is the studio he uses with his own band.
"I initially released the record independently in September 2020. Then, Rounder picked it up and released it in February 2021.
"I wrote all the songs in 2017. I was going through some stuff and watching other people going through some stuff.
"I'm continually writing. I'm at a point right now where I'm writing differently. I'm excited to move on. My live set is mostly the album with four or five new songs."
Video link for Bella White — https://youtu.be/ulM_EPzPZB4.
The show at Milkboy Philly on August 26 will start at 8 p.m. Tickets are $10.
Other upcoming acts at Milkboy are Funklogic on August 27, Rebirth Brass band on August 29 and Cimafunk on September 1.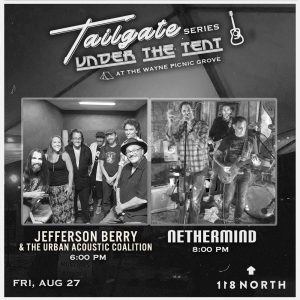 On August 27, 118 North (118 North Wayne Avenue, Wayne, www.118northwayne.com) will present Jefferson Berry & the Urban Acoustic Coalition and Nethermind as part of its "Tailgate Under The Tent Series" — free live pop-up concerts from under the Wayne Picnic Grove.
Jefferson Berry & the UAC released its fourth studio album, "Soon!" on April 16, 2021. The LP's first single, "We'll Soon Be Together" recently premiered via Americana Highways.
The band's previous albums were "Guitar on the River" (2016), "The Habit" (2018) and "Double Deadbolt Logic" (2020).
"It's been tough even keeping a band together," said Berry, during a recent phone interview. "We used remote software to rehearse. But a certain magic is missing when it's not face-to-face.
"I've done Livestream shows every week. It's been fun but it's not like playing live for an audience."
Berry's other career is as a high school economics and government teacher at the Philadelphia School District's Excel South Academy in Northeast Philly.
"On the song 'Shattered Glass' on my last album 'Double Deadbolt Logic,' I got a lot of info from my class – like how to boost and strip a car," said Berry.
"The new album was all pretty much written during the pandemic. There are nine songs on the album. We went into production with 14 songs – some pre-pandemic but most during the pandemic.
"I put it into internet software called Soundtrap and then I'd put it out to the band. Then, we'd go into the studio with bass, drums and me.
"A lot of the stuff really came together when I had them in individually. We recorded the album at Kawari Studio in Wyncote with Matt Muir, who is a great engineer.
"We started last summer and wrapped up in November. Then, we got it mastered and set a release date.
"In January, when we were planning the release, I picked May – Memorial Day. I figured the pandemic should be under control by then."
Berry grew up in Southern California and is a graduate of University of California Santa Cruz, a school whose sports teams are nicknamed, "Banana Slugs." He eventually landed in the Philadelphia area where he became part of Philly's folk/rock/Americana scene.
Berry's website presented the history behind UAC:
"In 2006, at around 3 a.m. at the Falcon Ridge Festival, Jefferson and his banjo playing brother Hank were playing a Hillbilly version of "White Room" by Cream. In fest-jam fashion, each vocal verse was separated by an instrumental-lead verse. Out and of the shadows and into the light of the campfire came this guy with a mandolin and long red hair, playing the song's iconic Clapton lead pretty much verbatim.
"As the sun was coming up, Jefferson asked Bud Burroughs if he wanted to start a band and Hippies and Hillbillies was born. The album Drumless America was recorded in Bud's living room: a quirky mix of covers ranging from Robert Earl Keen and Townes Van Zandt to Neil Young and U2, the show and CD was fun for some, but considered blasphemous at the bluegrass festivals the band played.
"Bud and Jefferson's next venture involved Jefferson's daughter.  Briana Berry and her sister were raised at the summer festivals—Kerrville, Falcon Ridge, XFS and Philly. The Berry's 2009 album, Fairmount Station featured songs written by Briana and her Dad. It was promoted nationally to radio by Powderfinger Promotions and charted fairly high for an independent release on the folk charts. The band played X-Fest and the Philadelphia Folk Festival that year.
"The Urban Acoustic Coalition came to be in 2014 with the release of Guitar on the River. Again, Bud Burroughs served as the music director for a collection of Jefferson's city-themed songs. Recorded at MelodyVision by Rodney Whittenberg, the album's sessions grew the band. Jefferson Berry and the Urban Acoustic Coalition (a mouthful) played the Camp Stage at the Philadelphia Folk Festival that year with a Coalition of players from Boris Garcia, Bad Sister and Beaufort.
"This was an example of the "coalition" aspect of the band, an ethic that allowed players to keep their other projects alive while clearing dates with the UAC periodically. While bass players (Billy Hyatt, Dean McNulty) and female vocalists (Irene Lambrou, Emily Drinker) have cycled in and out of the band to pursue their own projects, the core of the coalition for the past six years has been Jefferson, Bud, Marky B! Berkowitz (on harmonica), Dave Brown (on banjo, guitar, keys and anything else needed), David Rapoport (on drums).
"Bud and Jefferson's next venture involved Jefferson's daughter.  Briana Berry and her sister were raised at the summer festivals—Kerrville, Falcon Ridge, XFS and Philly. The Berry's 2009 album, Fairmount Station featured songs written by Briana and her Dad. It was promoted nationally to radio by Powderfinger Promotions and charted fairly high for an independent release on the folk charts. The band played X-Fest and the Philadelphia Folk Festival that year."
"The band's current line-up has Budd Burroughs on mandolin and keyboards, Mark Berkowitz on blues and chromatic harmonicas, Mike Damora on bass, Caleb Estey on drums and Dave Brown on everything — banjo, lap steel, guitars and fretless bass," said Berry.
"We also had Meaghan Kyle sing with us. She's worked so well that she's now joined the band."
Kyle is one of a trio of singers along with Jess McDowell and Maren Sharrow in the Philly band No Good Sister.
Berry offered this description of Jefferson Berry & The UAC's music style.
"It's Americana," said Berry. "It's acoustic rock. Basically, I'm an urban storyteller. It's folk music for the city."
Video link for Jefferson Berry & The UAC — https://youtu.be/bgdqMYg9WGw.
Underground Arts (1200 Callowhill Street, Philadelphia, http://undergroundarts.org) is a club known mostly for presenting concerts by goth and hard rock bands. Occasionally, the venue hosts a comedy act.
One of those occasions will be August 28 when Underground Arts hosts comedian Todd Barry.
Barry, a stand-up comedian, actor and voice actor who is known for his deadpan delivery, has been working in the comedy field for more than three decades.
"I've been doing stand-up for a long time," said Barry, during a phone interview Monday afternoon for his home in New York. "It will be 34 years in November."
Barry was born in The Bronx, New York, and grew up in Broward County in South Florida. He graduated from the University of Florida with a degree in English in 1986. Prior to becoming a comedian, he was a drummer for the indie rock band The Chant from 1984-1985.
"I started doing stand-up in Florida after college," said Barry. "People always told me I was funny, but I never got into doing comedy until after I graduated.
"There was a comedy boom in the 1980s. It was really popular and there were a lot of comedy clubs all over. There was a lot of opportunity to do open mics which are usually five minutes or less.
"My first open mic was a Coconuts Comedy Club in North Miami Beach. There were three different places around the area – in West Palm Beach, Fort Lauderdale and North Miami Beach. I did all three in my first week.
"My jokes are pretty generic. At my first open mic, I did McDonald's jokes and circumcision jokes."
There are several performance levels in stand-up. After the open mic phase, successful comics move up to the "M.C." stage followed by the "feature" level and finally the "headliner" pinnacle.
"I didn't go on the road as an M.C.," said Barry. "I initially went out as a feature. There was a lot of work available. After a year, I moved back to New York.
"As a headliner, I do about a 30-minute set. My jokes are not real long. Any development of my persona has been pretty organic.
"I've done a lot of food jokes. A lot of it is little incidents that happen to me and then become a joke. Ideally, I'm always adding new stuff."
In 1999, his "Comedy Central Presents" aired. He wrote, directed and starred in the short film "Borrowing Saffron" in 2002. He also voices a recurring character on "Squidbillies." In 2004, Barry was featured in an animated series called "Shorties Watchin' Shorties."
He made 16 appearances on "Dr. Katz", appearing as himself in the first two appearances. He then played the recurring character "Todd the video store clerk" and appeared in most episodes in the show's final year.
Barry's film resume includes "The Wrestler," "Road Trip," "Pootie Tang," "Tomorrow Night," "Los Enchiladas" and "Borrowing Saffron."
"The most recent film I did was 'The Climb,' which was released in late 2020," said Barry, who had a recurring role as a fictionalized version of himself in the second season of the live-action Adult Swim series "Delocated." "I'm currently working on creating enough material for a TV special.
"I didn't do many live shows during the pandemic. I did do some outdoor shows and some rooftop shows. It's starting to come back. I'm doing some one-offs in June and then I'll be touring a lot from July until next year.
"I've mainly done shows in NYC. I had a run booked for Alabama, Mississippi, and Louisiana, but I postponed them until next year. But the touring will ramp up in September."
Barry spoke about doing pandemic material in this post-pandemic/pre-pandemic time.
"I have a few minutes on the pandemic," said Barry. "I haven't noticed a major difference in post-pandemic audiences, but they're definitely excited.
"I've stayed busy. I'm always working on new material. Hopefully I can do another special at some point.
"I've played Underground Arts several times – at least two. It's a great venue."
Video link for Todd Barry – https://youtu.be/abgVk7zYl5g.
The show at Underground Arts will start at 9 p.m. Tickets are $25.
Another show this weekend at Underground Arts will feature Cloud Nothings and Manas on August 27.
Citadel Country Spirit USA (Ludwig's Corner Horse Show Grounds. 5 Nantmeal Road, Glenmoore, countryspiritusa.com) will run from August 27-29 with 20 country music acts performing live music on two stages.
The GMC Sierra Stage will feature 14 nationally recognized acts while the Citadel Rising Star Stage will focus on new up-and-coming artists.
On August 27, Brantley Gilbert will be the headliner. The line-up also features Justin Moore, Rodney Atkins, RaeLynn, and Muscadine Bloodline.
Miranda Lambert will headline on August 28 with Brett Young, Carly Pearce, Jon Langston, and Niko Moon as the support acts.
On August 29, Chris Young will fill the role of headliner. The bill also features Josh Turner, Scotty McCreery, and Lindsay Ell.
Video link for Miranda Lambert — https://youtu.be/nUB8ogvze_8.
Ticket prices start at $99.
People's Light (39 Conestoga Road, Malvern, peopleslight.org) is hosting its "People's Light Drive-In Concert Series" with Sunny War and David Sickmen on September 10.
The concert will get underway at 6:30 p.m.
A $75 ticket applies per car, not per person. Up to five passengers can attend under a single reservation as long as they arrive in the same vehicle.
On September 11, People's Light will present "Concert for the Family! Reggie Harris & Alastair Moock."
The show will start at 10 a.m. in The Glen.
Tickets are $35. Each ticket includes a socially distanced Family Circle on the lawn, with space for up to four adults/children and one infant.
Chester County Parks and Recreation will present a free concert on August 26 at Warwick County Park (191 County Park Rd, Pottstown, Warwick Park | Chester County, PA – Official Website (chesco.org) featuring Chestnut Grove.
The concert is scheduled to run from 6-8 p.m. Live modern rock will be performed by Chestnut Grove, a quintet from Perkiomenville.
An Evening of Music by Women presented by The Ladybug Music Festival (theladybugfestival.com/eveningofmusicbywomen) is scheduled for August 31 from 5-10 p.m.
It will feature 25 acts performing at 11 locations along Market Street in downtown Wilmington.
One of the featured acts will be West Chester native Nicole Zell.
Zell's songwriting achievements are equally as impressive as her extensive track record as a live performer. She has honed her craft by writing hundreds of songs, co-writing and collaborating globally, and working in numerous genres spanning from pop, indie, alt rock, country, folk, soul, funk, spoken word, to rap. She continues to make music in a band format, as a duo and as a solo artist.
In 2014, Zell released the EP, "Take Heart," followed by 2016 single, "Heart Open Wide," which premiered on Fuse TV.  Zell also has experience as a radio host personality. She has been the host of local music radio show, SoundStage, on WCHE 1520 since 2013.
The roster of female talent at An Evening of Music by Women also includes acts such as Soraia, Sirsy, Sug Daniels, Minerva, Wicked Sycamore, Pristine Reaign, and Zookie.
The Candlelight Theatre (2208 Millers Road, Arden, Delaware, www.candlelighttheatredelaware.org) will be hosting the final weekend of  performances of the hit musical "Ain't Misbehavin' – The Fats Waller Musical Show." The production us running through August 22.
"Ain't Misbehavin'" is a musical revue with a book by Murray Horwitz and Richard Maltby Jr., and music by various composers and lyricists as arranged and orchestrated by Luther Henderson. It is named after the song by Fats Waller (with Harry Brooks and Andy Razaf),
"Ain't Misbehavin'" is a tribute to the music of Thomas "Fats" Waller. It is set in the Golden Age of swing — a time when Manhattan nightclubs like the Cotton Club and the Savoy Ballroom were the playgrounds of high society and Lenox Avenue dives were filled with piano players banging out the new beat.
Thomas Wright "Fats" Waller (May 21, 1904 – December 15, 1943) was an American jazz pianist, organist, composer, violinist, singer, and comedic entertainer. His innovations in the Harlem stride style laid the groundwork for modern jazz piano.
His best-known compositions — "Ain't Misbehavin'" and "Honeysuckle Rose" — were inducted into the Grammy Hall of Fame in 1984 and 1999. Waller copyrighted more than 400 songs, many of them co-written with his closest collaborator, Andy Razaf.
"Ain't Misbehavin' – The Fats Waller Musical Show" is running now through August 29 with shows on August 26, 27, 28 and 29. Tickets are $65.50 for adults and $33 for children (ages 4-12). All seats are reserved.
The Ardmore Music Hall (23 East Lancaster Avenue, Ardmore, 610-649-8389, www.ardmoremusic.com) is presenting Big Something on August 26, Nikki Lane and Brent Cobb on August 27 and Splintered Sunlight on August  28.
Jamey's House of Music (32 South Lansdowne Avenue, Lansdowne, 215-477-9985, www.jameyshouseofmusic.com) will host Kipani on August 27 and the Jill Salkin Quartet on August 28.