By Denny Dyroff, Entertainment Editor, The Times
The spotlight will be on rockabilly and honky-tonk music this weekend in Kennett Square.
Kennett Flash (102 Sycamore Alley, Kennett Square, 484-732-8295, http://www.kennettflash.org) has two events scheduled this weekend as part of its Rooftop Series – Sin City Band on August 21 and Linda Gail Lewis on August 22.
If Jerry Lee Lewis is "The Killer," then Linda Gail Lewis is his accomplice – his partner in crime.
Their "crime" is making roof-raising music – top-caliber, rockabilly, country, rock-and-roll, boogie-woogie music.
Linda Gail is Jerry Lee's sister, and both are rockabilly royalty. Additionally, country star Mickey Gilley and gospel artist Jimmy Swaggart are her cousins.
"My brother's name is so big, and I have a reputation of doing his kind of music," said Linda Gail Lewis, during a phone interview Tuesday afternoon from a tour stop in Union, Maine.
"I do his kind of music and some Elvis and some Texas rockabilly. I've been working really hard on it for the last 34 years.
"I started my solo career when I was 40 when I left my brother's band. I'm 74 now. The Lord has blessed me with good health and the ability to keep playing my music."
Lewis is an American singer, songwriter and pianist. She has recorded with Stephen Ackles, Van Morrison, Robbie Fulks, and, of course, her brother, Jerry Lee Lewis. She also has recorded with her two daughters, MaryJean Ferguson and Annie Marie Dolan, in a group called the Lewis 3.
Like her brother Jerry Lee, Rockabilly Hall of Fame member Linda Gail Lewis soaked up the sounds of hillbilly music and rhythm and blues in the rural areas of Louisiana. The siblings grew up in Ferriday, Louisiana.
"I was always singing at home when I was young," said Lewis. "I firs came onstage with my brother when I was 10 years old in a concert he played with Johnny Cash in Monroe, Louisiana.
"We lived in Ferriday and music was always in our family. From age 14 on, I was always on the road with Jerry Lee."
In addition to having her brother as an influence, Lewis also drew inspiration in the early days from Brenda Lee, Patsy Cline, and Lavern Baker. Her official recording debut came when she performed as Jerry Lee's duet partner for Sun Records in 1963 on a song called, "Teenage Letter."
Recording with her brother, she scored a Top 10 country hit in 1969 with a version of Carl and Pearl Butler's "Don't Let Me Cross Over." A rousing duet remake of Chuck Berry's "Roll Over Beethoven," a staple of her act, followed it onto the charts the same year.
The Lewis duo's 1969 Smash LP "Together", featured their rowdy duet style on a variety of country standards and rockers. This led to Lewis's debut solo album for the label, "The Two Sides of Linda Gail Lewis" in 1969. Lewis also won an ASCAP award for her song "Smile, Somebody Loves You," a Top 40 country hit in 1972.
"I stopped touring with my brother's band in 1977," said Lewis. "I wanted to take time off to have a family. I came back in 1987 and then started on my own in 1997."
Lewis is a popular touring act in the states and an extremely popular touring act in Europe – especially Scandinavia. Top-flight rockabilly acts always draw well across the European continent.
"I always try to tour Norway and Sweden in the summer," said Lewis. "I also play a lot in Denmark and Finland – and quite a bit in Germany and Austria. And I do festivals in France."
England also figures in the picture.
Lewis met Van Morrison at a Jerry Lee Lewis convention in England. After a sound-check jam session, Morrison proposed the collaboration, which resulted in the Pointblank/Virgin duet album, "You Win Again," which was released in 2000.
In 2014, Lewis met rockabilly guitarist Danny B Harvey (Headcat, Rockats) who introduced her to Lanark Records. During four extremely creative days at Lanark Studios in Lancaster (PA), Lewis, Harvey, and her daughter Annie Marie Lewis, along with producer/bassist Quentin Jones and drummer Blair King cut 12 tracks for an album called "Hard Rocking Woman," which was in 2015 by Lanark Records.
In 2018, Lewis recorded a duo album with Grammy nominated singer/guitarist Robbie Fulks. It was recorded and produced by Robbie Fulks who wrote most of the songs.
"Robbie is a great songwriter and a really great producer," said Lewis. "And he's a great entertainer.
"I do some writing. I just wrote my new single – a pandemic song called, 'Oh Pandemic.' I usually have one or two originals on each album."
Lewis also spoke about her brother Jerry Lee, who is recovering from medical problems.
"He's doing really well and almost completely recovered from the major hemorrhagic stroke he had," said Lewis. "He's living in Southaven, Mississippi, which is just outside Memphis.
"I just saw Jerry Lee a week ago Monday. He's doing so well. I think he'll go back onstage – but not with the heavy schedule he used to have.
"Myself, I am touring a lot. Sometimes, I do have a set list. Most of the time, I just go on and play. I choose the songs by the reaction I'm getting from the songs I've played."
That can be a challenge for her backing band. But the band accompanying her in Kennett Square should be equal to the task. The group features her old friend Quentin Jones (Guitar) along with Kenny Aaronson (Bass) and David Uosikkinen (Drums). On their own, they have a band called QDK.
Jones, Uosikkinen and Aaronson started working together in 2014, backing up legendary rockabilly artist Robert Gordon in support of his 2014 release "I'm Coming Home," which Jones co-produced and played guitar on, and Uosikkinen played drums on.  Since then, the trio has worked with Johnny Neel of the Allman Brothers and Billy Burnett, who is known for his work with Fleetwood Mac and his Columbia Records solo projects.
Individually, Jones, Uosikkinen and Aaronson have literally played for a "Who's Who" of rock and roll.
Jones, who is endorsed by Gretsch Guitars, has lent his guitar talents to, Peter Noone and Herman's Hermits, Billy Burnett, Charlie Gracie, Robert Gordon, Linda Gail Lewis, the Rockats, and the Reach Around Rodeo Clowns. He co-produced Charlie Gracie's 2011 ABKCO Records release "For the Love of Charlie" with Al Kooper; and has written for Lee Rocker of the Stray Cats. Jones was a 2016 inductee into the Rockabilly Hall of Fame in Nashville.
Uosikkinen is a founding member of The Hooters, and has been behind the drum kit for Cyndi Lauper, Rod Stewart, Alice Cooper, Patty Smyth, Robert Gordon, Charlie Gracie, Dar Williams, and his own band, David Uosikkinen's In The Pocket. He also played at historical musical events, Live Aid and Roger Waters' The Wall in Berlin.
Aaronson is a world-renowned bass player, who was 1988 Rolling Stone's Bassist of the Year. He is known for his work with The Yardbirds, Bob Dylan, Brian Setzer, Mick Taylor, Hall and Oates, Dave Edmunds, Joan Jett, and Billy Idol.
Video link for Linda Gail Lewis — https://youtu.be/rka6Up7mre4.
The Rooftop show will start at 7 p.m. Tickets are $25.
The Flash's Rooftop Series was scheduled to present the Sin City Band on July 17, but the weather forced postponement of the show. Now, the local country rockers are slated to perform on August 21.
The Sin City Band was started in 1974 in New Hampshire. The band is now based in Delaware and was inducted into the Delaware Rock & Roll Hall of Fame in 2018.
Sin City Band features Scott Birney (vocals, acoustic guitar), Jim Ficca (drums), David Berry (piano, organ), Steve Hobson (vocals, electric guitar), and Bob Bloomingdale (vocals, bass).
"We're not working as much as we used to do," said Birney, during a recent phone interview from his Chester County home in New London.
"We still play every Monday night from 6-9 p.m. at a brew pub just outside of Newark — Argilla's in Meadowood. We've been playing there for six or seven years.
"Before that, we had a regular gig in Newark at East End Café, which later became Mojo and now is Grain. We'd been doing that since the late 80s.
"We celebrated our 45th anniversary at the Kennett Flash two years ago. I started the band in 1974 in New Hampshire when I was attending New England College. We played tons of college and junior college shows all around New England. We had a circuit – and we also played VFW halls.
"I moved down here in August 1975. We had a connection at the Stone Balloon in Newark and played a lot of shows there. We also spent a season playing ski resorts in Colorado in 1975-1976."
The Sin City Band has roots in rock, country and country-rock. The group took its name from a Flying Burrito Brothers' song penned the late, great Gram Parsons.
"We can't resist playing some Flying Burrito Brothers' songs in our shows," said Birney. "We're an Americana/roots band.
"We've had a lot of different musicians in the band over the years, but this current line-up has been around for a while. We'll be a five-piece band on Saturday – two guitars, piano, bass and drums. We'll be playing honky-tonk music – originals and covers.
"We know so many songs and we've been at it so long, people know our originals."
Sin City Band has a long history in this area and another link to the Chester County/Northern Delaware music scene.
The Spinto Band was born out of Sin City. Of the six Spinto members, only one doesn't have a father, stepfather or uncle who is or was part of Delaware honky-tonk institution the Sin City Band.
Video link for Sin City Band – https://youtu.be/TYA4FgHXlR4
The Rooftop show will start at 7 p.m. Tickets are $20.
The Candlelight Theatre (2208 Millers Road, Arden, Delaware, www.candlelighttheatredelaware.org) will be a bustle of activity this weekend with the latest installment of its Comedy Club on August 19 and performances of the hit musical "Ain't Misbehavin' – The Fats Waller Musical Show" from August 20-22.
There's an old saying – "You Can't Go Home Again" – which was taken from the title of Thomas Wolfe's 1940 novel, "You Can't Go Home Again."
Don't tell veteran comedian Frank Vignola that "You Can't Go Home Again."
At the Candlelight Theatre 's Comedy Club on August 19. Vignola is the show's headline act with Sharon Simon as the feature and Dave Evans as the MC.
"Candlelight gave me my first paid professional acting work a long time ago," said Vignola, during a phone interview Monday afternoon from his home in New York City.
"That's what's so cool about this show. Now, after all these years, I'm getting to go back to the same theater doing a show. It's a different kind of cool. It's literally the first place after I graduated from high school where I did acting and got paid."
Vignola is a Delaware native who got his start in the entertainment business at Candlelight Dinner Theatre doing productions of "Camelot" and "Fiddler on the Roof." under the direction of the late great Julian Borris.
"I graduated from Christiana High School and was heading to the University of Delaware," said Vignola. "The summer before I started was when I got involved with the Candlelight Theatre. I did two productions there that summer. The late, great Julian Borris was the director.
"As I remember, we got $5 a show for being in the chorus but the big money was in waiting tables in costume."
From Arden, Vignola took his talents west to Newark to spend four years studying theater at UD.
"I didn't start out as a comedian," said Vignola. "I started out as an actor. I was a theater major at the University of Delaware. "I got an internship at the Delaware Theater Company in 1990. I figured it would be a good way to get Equity points."
It was during this period that the seeds of doing stand-up were planted.
"That summer, I hung out with friends who were doing bar comedy shows," said Vignola. "Slowly, I got to the point where I wanted to give it a try. I think when I was younger, I was a bit of a class clown. And I always loved cartoons.
"After I was almost done my internship, I did my first stand-up at an open mic at the old Comedy Cabaret in Wilmington. That was July 1990.
"I moved to New York at the end of summer 1990 and was still moving toward being an actor. I thought I'd do a little comedy on the side. In November, I was in a contest at a comedy club in New York and came in second.
"It just clicked. I realized that I should be a stand-up comedian. So, I shifted all my focus to comedy. I always did enjoy doing comedy and musical theater."
It certainly appears that Vignola made the correct career choice.
In addition to appearances on Comedy Central, Amazon Prime and SiriusXM radio, Vignola also has performed at Montreal's prestigious "Just for Laughs" Comedy Festival and toured the Middle East with Armed Forces Entertainment.
His acting credits include the film roles of "Eddie" in "Tilting at Windmills" (International Film Festival Manhattan), "Mr. Leibowitz" in "Game Night" (Amazon Prime) and voicing the character of "Dr. Robert" in the animated television pilot "Ben v World".
As a teacher he has taught stand-up at some of Manhattan's finest comedy clubs — including StandUpNY, The Laugh Lounge and Broadway Comedy Club — in addition to mentoring and private coaching the next wave of New York City's up and coming comedians.
When Vignola was starting out in stand-up, it didn't take long for him to move up the tradition stages of performing as a live comic.
"I think everybody goes through the MC, feature, headliner progression," said Vignola. "Now, if somebody books me, they know I have a lot of time in."
For a stand-up, timing is a crucial asset.
"You start to develop your sense of timing right away for the first two years," said Vignola. "But to really know what you're doing takes 5-7 years.
"I think every comic does observational comedy. I'm more autobiographical. I can go all over the board but I'm not an insult comedian. And I don't work blue. I'm clean – PG13."
If you do a Google search for Frank Vignola, the first few pages will be all stories and pictures of a bespectacled dude holding a guitar.
That's a different Frank Vignola – a jazz guitarist from West Islip, New York. Delaware's Frank doesn't play guitar and Long Island's Frank doesn't do comedy routines.
"My comedian friend "Jackie the Jokeman" Martling told me that I should hook up with him and we could do a tour together," said Vignola.
Don't expect to see a "Frank Vignola² Tour" anytime soon but do expect to laugh a lot if you check out Delaware Frank's homecoming at the Candlelight Theatre.
Video link for Frank Vignola — https://youtu.be/_mtZvPZ7aWk.
Doors open at 6:30 p.m. and the show starts at 7:30 p.m.
A cash bar is open and table snacks are provided. Tickets are $30 and onsite parking is free.
The venue's current theatrical production also features a performer who graduated from high school in Delaware and has a history at the Candlelight Theatre.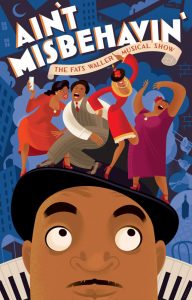 One of the featured performers in "Ain't Misbehavin'," which is running through August 29, is Tiffany Dawn Christopher.
"I went to Mount Pleasant High for two years and then spent junior and senior year at Cab Calloway School of the Arts in Wilmington," said Christopher, during a phone interview Wednesday afternoon from her home in northern Delaware. "I was in the second graduating class at Cab Callloway.
"The first Candlelight show I did was 'Jesus Christ Superstar' in 2006. Over the last 15 years, I've done 10-plus shows at the Candlelight."
Like Vignola, Christopher studied acting in college – but not as a major.
"I went to Howard University where I majored in mass communications and had a minor in theatre," said Christopher, who works in the Wilmington Mayor's office focusing on marketing, special projects and cultural affairs.
"As a child, I was always singing. I was singing in church and dancing when I was three. We had a singing family. My mom, my grandmother and my aunt all sang. My first professional job was my junior year in high school at the Three Little Bakers Dinner Theater in Pike Creek (Delaware)."
Three Little Bakers Dinner Theater was a much-loved dinner theater owned and operated by Kennett Square brothers Hugo, Al and Nicholas Immediato. They were known for their famous catchphrase, "That's-a-nice." Sadly, the theater closed in 2007.
"My first show at Three Little Bakers was 'West Side Story,'" said Christopher. "I've been doing professional theater ever since. Other shows I did there were 'The King & I' and 'South Pacific.'
"Prior to doing 'Jesus Christ Superstar' at Candlelight, I wasn't really familiar with the theater. A friend was working the show and they needed some featured dancers. He asked if I was interested, and I ended up in the show.
"My first lead acting role at Candlelight was as Lady of the Lake in 'Spamalot.' I also played the title role here in 'The Drowsy Chaperone.'"
Christopher's most recent appearance at Candlelight prior to "Ain't Misbehavin'" was in earlier this year in "Beehive:
The 60's Musical."
"Ain't Misbehavin'" is a musical revue with a book by Murray Horwitz and Richard Maltby Jr., and music by various composers and lyricists as arranged and orchestrated by Luther Henderson. It is named after the song by Fats Waller (with Harry Brooks and Andy Razaf),
"Ain't Misbehavin'" is a tribute to the music of Thomas "Fats" Waller. It is set in the Golden Age of swing — a time when Manhattan nightclubs like the Cotton Club and the Savoy Ballroom were the playgrounds of high society and Lenox Avenue dives were filled with piano players banging out the new beat.
Thomas Wright "Fats" Waller (May 21, 1904 – December 15, 1943) was an American jazz pianist, organist, composer, violinist, singer, and comedic entertainer. His innovations in the Harlem stride style laid the groundwork for modern jazz piano.
His best-known compositions — "Ain't Misbehavin'" and "Honeysuckle Rose" — were inducted into the Grammy Hall of Fame in 1984 and 1999. Waller copyrighted more than 400 songs, many of them co-written with his closest collaborator, Andy Razaf.
Christopher has some history with "Ain't Misbehavin'".
"I was very familiar with the show," said Christopher. "I had never done it, but I had seen my mom do it.
"My mom, Dawn Christopher, used to perform also. She did 'Ain't Misbehavin' at Three Little Bakers. That must have been in 2005 or 2006.
"Some people don't understand "Ain't Misbehavin'" because it's not a book show. But audiences really like it. They can relate to the music."
The cast also features Gabrielle Hines, a Coatesville native and graduate of Muhlenberg College with degrees in theatre and music. Hines has studied theatre and music at Goldsmiths University in London, England.
Her past credits include Grace in "Annie," Danielle in "Bring it On: The Musical," Lady in Brown in "For Colored Girls Who Have Considered Suicide/When the Rainbow is Enuf," and Yvonne in "Sunday in the Park with George."
Hines is the cheerleading coach for North Brandywine Middle School and director of Coatesville High School's Musical Theatre Collective.
"Ain't Misbehavin' – The Fats Waller Musical Show" is running now through August 29 with shows on August 20, 21, 22, 26, 27, 28 and 29. Tickets are $65.50 for adults and $33 for children (ages 4-12). All seats are reserved.
The Ardmore Music Hall (23 East Lancaster Avenue, Ardmore, 610-649-8389, www.ardmoremusic.com) is hosting Breakwater and UGO on August 20 and Tauk on August 21.
The venue is also teaming up with Narberth Ambulance and Suburban Square to present the "Ardmore Rock N'Ride – Main Line Bicycle Race and Music Festival" on August 21. The music will be featured on two stages — Suburban Square and Schauffele Plaza — from noon-8 p.m. on Saturday.
The line-up features Mondo Cozmo, George Porter Jr., The Skatalites, Nik Greeley & the Operators, Sixteen Jackies, Splintered Sunlight, Mutlu, Laura Lizcano, the 29ers, DJ Bohfunk and the Snacktime Brass Band.
City Winery (990 Filbert Street, Philadelphia, citywinery.com/philadelphia) will host Teddy Thompson and Jenni Muldaur on August 19, Lyfe Jennings on August 20, and Frank Solivan & Dirty Kitchen on August 21.
The Queen (500 North Market Street, Wilmington, 202-730-3331, www.thequeenwilmington.com) will present Trombone Shorty and Orleans Avenue on August 19.
Upcoming acts at Sellersville Theater (24 West Temple Avenue, Sellersville, 215-257-5808, www.st94.com) are Brian Dunne on August 19, Yellow Brick Road on August 21, and Ronstadt Revue on August 22.
Jamey's House of Music (32 South Lansdowne Avenue, Lansdowne, 215-477-9985, www.jameyshouseofmusic.com) will host Hannah Stone and the Mean Wendy Band on August 20 and the Jeff Fetterman Band on August 21.
Citizens Bank Park (Broad Street and Pattison Avenue, Philadelphia) will be rocking this weekend — and not with the sound of Philllies' fans cheering for their team.
On August 20, the ballpark will host the Hella Mega Tour with a 5:30 p.m. starting time.
The Hella Mega Tour is an ongoing tour by American rock bands Green Day, Fall Out Boy, and Weezer that was announced on September 10, 2019, and originally included dates from March to August 2020. Due to the COVID-19 pandemic, the Oceania and Asian legs of the tour were canceled, as well as some European dates and the sole Canadian date. The rest of the tour was rescheduled to 2021 and 2022.
On August 21, Dead & Company are coming to Philadelphia — a city the Grateful Dead often referred to as their "second home."
The Grateful Dead, who first appeared in Philadelphia on April 26, 1968, would eventually make Philadelphia a second home, with a record-setting 53 appearances at the Spectrum (plus four more after the death of Jerry Garcia in 1995). No other artist comes close to the number of performances by the Grateful Dead at the Spectrum.