By Denny Dyroff, Entertainment Editor, The Times
This is the time of the year for outdoors festivals such as country fairs, festivals honoring a particular fruit or vegetable and outdoor concerts.
One of the best — and longest-running — is the annual Goshen Country Fair (Goshen Fairgrounds, Park Avenue, East Goshen, 610- 430-1554, www.goshencountryfair.org). The fair, which is celebrating its 72nd anniversary this season, will run from August 2-7 at the Goshen Fairgrounds, which are located just off West Chester Pike three miles east of West Chester.
The free family-oriented event is held each year as a benefit for the Goshen Fire Company. It will open at 6 p.m. from Monday through Friday and at 5 p.m. on Saturday.
This is an authentic down-home country fair with all the agricultural events found at most traditional country fairs, including competitions each night at 6 p.m. –dog show on August 2, dairy cattle on August 3, dairy goats on August 4, dairy cows on August 6, and sheep on August 7.
The fair will also feature competitions for pies, vegetables, jams and jellies, specimen flowers, bread, cookies, flowering houseplants, cakes, flower arrangements, and candy. Nightly attractions include live music performances, tug-of-war competitions and pie-eating contests.
The schedule for live music includes Cherry Crush Band on August 2, Johnny "Cash" Barnett Band on August 3, West Chester Swing Kings on August 4, Charlie Gracie on August 5, Chester County Lawmen Band on August 6 and Southern Edge Band on August 7.
If you enjoy country fairs, you should check out the Annual Kimberton Community Fair (Kimberton Fairgrounds, Route 113, Kimberton, 610-933-4566, http://kimbertonfair.org) which is running from July 26-31.
The Kimberton Community Fair, which was first staged in 1929, is one of the oldest community fairs in the state — and one of the last "free admission" fairs operating in the Pennsylvania State Association of County Fairs. The Kimberton Fair is a "free admission fair with parking by donation."
Last year, the fair was cancelled because of the COVID-19 pandemic. This year, the Fair posted the following message on its website:
The Kimberton Community Fair Board is pleased to announce that there will be a Fair this year. It may look a little different than other years, but we are continuing to plan with the community's interests – and safety – in mind. We are continuing to monitor the mandatory requirements from local, county and state agencies, and will be implementing the necessary safety protocols to allow us to re-open our agricultural fair. Family, Farms, Food and Friends…it's time to get back together again! The Fair will do everything it can to create a successful and safe fair for our community. We ask that all volunteers, exhibitors and patrons do their part in respecting our rules and requirements. It's been a long time – now let's go to the Fair!
As always, the fair offers a huge array of free attractions — a festive midway with amusement rides, live entertainment shows, nightly contests, exhibit buildings and livestock displays.
The fair will be held at the Kimberton Fairgrounds on Route 113 approximately one mile south of Phoenixville. The non-profit event, which lists the volunteer Kimberton Fire Company as its beneficiary, attracts over 60,000 people each year.
There will also be open class and 4-H competitions along with a full midway of rides by Reithoffer Shows.
The Kimberton Fair is a "rain-or-shine" event – more or less.
According to the event's website, they never officially "close" the fair as a result of rain because they must remain "open" to adhere to Pennsylvania Department of Agriculture operating guidelines.
The indoor attractions stay open even in inclement weather, but the festival may shut down any amusement ride if the weather causes safety issues.
The Pennsylvania Guild of Craftsmen is staging one of its biggest and oldest annual craft fairs this weekend — but, ironically, not in Pennsylvania.
The Guild presents several craft fairs throughout the Keystone State each year, including the Annual State Craft Fair — an event that had its origin almost 70 years ago. A few years ago, the Guild's popular mid-summer fair moved from Lancaster to Wilmington's Riverfront. It's still the biggest and oldest but it now is known as the Pennsylvania Guild Fine Craft Fair.
The 2021 Pennsylvania Guild Fine Craft Fair (717-431-8706, www.pacrafts.org) features more than 200 top-flight crafters from all over the Mid-Atlantic region. It will be held on July 31 and August 1 at the Chase Center on the Riverfront, which is located on Justison Street in Wilmington, Delaware.
This indoor shopping experience boasts a unique array of beautiful items that are all handmade in America, ranging from one-of-a-kind clothing, jewelry, ceramics, glass, sculpture, artisan furniture and more.
As an added attraction, there will be a full schedule of demonstrations presented by a diverse group of featured artists both days. Show hours are 10 a.m.-5 p.m. on July 31 and 10 a.m.-4 p.m. on August 1. Tickets are $5 for adults. Children (17 and under) will be admitted free. There will also be free parking.
The Lititz Outdoor Fine Art Show celebrated its golden anniversary and few years ago and is still going strong, well into its second half-century.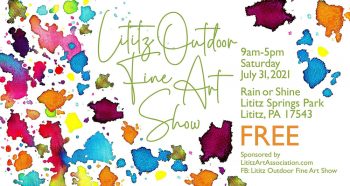 On July 31, the Lititz Art Association will present the 55th Annual Lititz Outdoor Fine Art Show at Lititz Springs Park (Route 501, Lititz, http://www.lititzartassociation.com).
The free event, which is always held the last Saturday in July — and always held rain or shine — will run from 9 a.m-5 p.m. at the park, which is located between the Square and the railroad track next to Wilbur's Chocolate Factory.
It is a juried art show presented by the Lititz Art Association that is open to all fine artists over the age of 17. The show's organizers stress that this is an art show and not a craft show and that there will be no jewelry, photographs, Christmas decorations, needlework, or other non-art items featured in the exhibition/sale.
The 17th Annual Downtown Newark Food and Brew Festival (Academy & Main streets, www.newarkfoodandbrewfest.com), will be held on July 31 and feature craft beers, creative cuisine, live music, and more.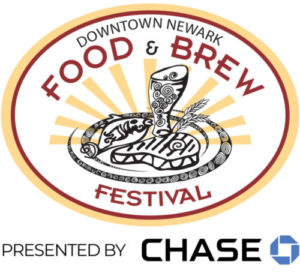 The Newark Food & Brew Fest is all about celebrating the unique relationship between the culinary arts and the brewing sciences.
The event, which will run from noon-7 p.m., showcases more than 50 beers paired with creative food offerings from more than a dozen Newark restaurants.
Unlike most beer festivals, this event takes place in the restaurants. You travel from restaurant to restaurant to sample the featured brews and tasty dishes designed to spotlight those brews at that particular establishment.
Tickets are not required. This is a pay-as-you-go event. All you need is your wallet and your state issued ID because you must be at least 21 years of age to sample the beers.
Venues will be offering four-ounce tastings of their featured crafts as well as full pours, small plates and full entrees.
The Rose Tree Summer Festival (Rose Tree Park, Route 252, Media, www.delcopa.gov/departments/parks) returns with a summer-long series of free outdoor shows at the scenic park just north of Media.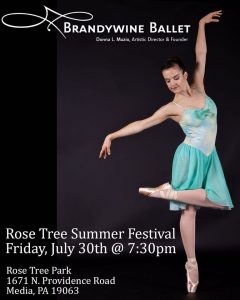 On July 30, the series will showcase a "Brandywine Ballet Repertoire," which has been choreographed by Nancy Page, Tim Early, and Meredith Rainey.
The schedule of upcoming shows in the next week includes James Day and The Fish Fry on July 31 and the Fabulous Greaseband on August 5.
On August 1, Laurel Hill Cemetery (3822 Ridge Avenue, Philadelphia, 215-228-8200, www.thelaurelhillcemetery.org) will host its 13th Annual Car & Hearse Show.
The show, which is being presented by a professional car club from Berks County, will run from 10 a.m.-4 p.m.
Mohnton Professional Car Club (MPCC) welcomes owners of any hearses, ambulances, flower cars, limousines, and other service vehicles to participate in the 13th Annual Service Car and Hearse Show, which appropriately taking place on the grounds of a cemetery.
The show will take place on Sunday — rain or shine. Vehicles will be on display until 4 p.m. with festivities happening throughout the day. Highlights will be the Casket O' Cheer and a scavenger hunt
Visitors can enter through Laurel Hill's Gatehouse at 3822 Ridge Avenue, Philadelphia.
Admission to the event is free and open to the public.
On July 31, the Tuner Evolution Car Show will be held at the Greater Philadelphia Expo Center (100 Station Avenue, Oaks, http://www.tuner-evolution.com) from noon-8 p.m.
This show is a full automotive lifestyle event that showcases many aspects of the aftermarket automotive industry. It features some of the hottest customized vehicles in the country, vendors showing off their latest and greatest products, graffiti artists, eating contests, bikini contest, celebrity appearances, models and entertainment acts including bands, hip hop artists, skating and BMX demos.
However, the main attraction at Tuner Evolution is the vehicles with many of the country's top builders competing for the elusive Best of Show award. It allows visitors to see more of the elite cars and amazing custom builds that they won't usually see on the streets or at meets.
Video link for Tuner Evolution — https://youtu.be/2DT7GXU_pdU.
Admission is $25 online and $30 at the door.
The 27th annual Moonlight Memories Car Show (http://www.hatborocarshow.com), which is sponsored by the Greater Hatboro Chamber of Commerce, will take place July 31 on York Road between Summit Avenue and Horsham Road from 5-10 p.m.
Downtown Hatboro will be the center of attention when more than 500 cars roll into town for the annual Moonlight Memories Car Show.
The free car show, which historically draws more than 75,000 visitors, will have a wide array of cars lining both sides of York Road in downtown Hatboro. The event will feature antique cars, classic cars, modified cars, "muscle" and specialty vehicles and more.
Hagley Museum and Library (Buck Road East entrance via Route 100, Wilmington, Delaware, 302-658-2400, www.hagley.org) is presenting a special event on August 1 called — "What's for Dinner? A Tale of Two Gardens" walking tour.
The walk features two very different gardens — one fed the du Pont family and the other DuPont Company workers in the 19th century. This tour explores the socioeconomic factors influencing the architecture, produce, and the philosophies of each garden.
The tour involves walking on uneven ground. This event is weather-dependent.
Admission fees for Hagley Museum are $9 for adults and $5 for children (ages 6-14).
The Brandywine River Museum (1 Hoffman's Mill Road, Chadds Ford, www.brandywine.org) is now open Wednesdays through Mondays from 10 a.m.-4 p.m. and closed Tuesdays.
To ensure the safety, security and quality of the visitor experience, the Brandywine has implemented a variety of procedures, including timed ticketing and capacity limits. While not required, advance purchasing of timed tickets is highly recommended. Click below to reserve your timed tickets.
During its closure, the Museum underwent several facility renovations to its second and third floors. Upgrades included a complete refurbishment of the restrooms on the second floor, making them fully ADA accessible, as well as switching their current location with the Strawbridge Family Gallery (which will open later this summer), plus new HVAC and fire suppression systems.
Opening into the Museum's central atrium, the reimagined Gallery — complete with new state-of-the-art lighting — will improve circulation within the Museum building, enhancing the visitor experience.
The special exhibition currently on view is "Ralston Crawford: Air & Space & War," which will be running now through September 19.
Admission is $18 for adults, $15 for seniors (65+), $6 for students with ID and children (ages 6-18) and free for children (ages five and under).
The Chaddsford Winery (Route 1, Chadds Ford, 610-388-6221, www.chaddsford.com) is presenting "Reserve Tastings – Summer Sips" on select Saturdays and Sundays in July and August.
Visitors are invited to join the winery's staff for an intimate and educational 60-minute experience in the newly renovated Barrel Room tasting some of Chaddsford's latest wine releases.
The trained staff will guide you through a pre-selected tasting of five widely diverse wines from across the portfolio.  The selections will be paired alongside local cheeses and other accoutrements to enhance your tasting experience.
The staff will also discuss topics such as grape growing conditions at partner vineyards and the onsite winemaking process from production to aging and bottling.
Reserve Tastings are $35 per person. There are three seatings each day – noon, 2 and 4 p.m. Advanced reservations are required and are non-refundable.
The "pairing lineup" is Greeting Wine: 2019 The White Standard wine spritzer with peach and fresh herbs; 2020 Sauvignon Blanc with Yellow Springs Farm Black Diamond; 2020 Dry Rosé with Birchrun Hills Farm Little Chardy and sour cherry pomegranate preserve; and 2020 Niagara Demi Sec with Gemelli's Pear Sorbetto.
Longwood Gardens (Route 1, Kennett Square, 610-388-1000, www.longwoodgardens.org) is always a special place to visit – especially during the run of its annual "Festival of Fountains."
The 2021 "Festival of Fountains" opened in May and is running through September 26.
Daily performances in the Main Fountain Garden will feature more than 1,700 spinning jets that spin dance to various music programs. These are no little jets as some shoot up as high as 175 feet in the air.
The 30-minute show is slated for Thursdays, Fridays and Saturdays at 9:15 p.m.
The Main Fountain Garden Show's "Fountains Then and Now" show is a 12-minute fountain performance that begins with a touch of narrated history and concludes with dynamic choreography marrying music and the site's newest fountain features.
These displays will be presented daily at 1:15 a.m. and 3:15 p.m. There will also be performances on Thursdays, Fridays and Saturdays at 7:15 p.m.
Another daily show in the Main Garden is "Classical, Jazz, and Hits of Today," another 12-minue show but with a different musical style. These will be presented daily at 1:15 and 5:15 p.m.
The third show on the roster is "Fountain Refresher," which is billed as "a five-minute mix of music genres that teases the theme of that evening's Illuminated Fountain Performance."
These are scheduled for Thursday through Saturday now through August 28 at 6:15 and 8:15 p.m. and September 2 through October 30 at 6:15 p.m.
There will also be daily shows in the Open Air Theatre and the Italian Water Garden.
Featuring 750 jets in changing patterns, the Open Air Theatre comes alive with fountains set to music.
Since its 1914 Garden Party debut, this Italian-style outdoor theatre has expanded from its simple original fountains to the 750 jets that create the rainbowed curtain of water you see today, while playing host to more than 1,500 performances throughout the years.
To limit the spread of COVID-19, Longwood has made the difficult decision to temporarily suspend all ticketed concerts, fireworks shows and in-person continuing education classes. But live music can be heard in the Beer Garden, where live instrumental music from traditional Celtic tunes to Caribbean steel pan grooves sets the tone Thursday through Saturday evenings.
Beer Garden performances are scheduled through August from 6-9 p.m. from Thursday to Saturday evenings. They will also be held in September from 5-8 p.m. on Thursdays, Fridays and Saturdays.
As always, admission by "Timed Ticket" — tickets issued for specific dates and times. Timed ticketing limits the number of people in the Gardens at any given time and allows guests to enjoy minimal lines and a better viewing experience.
You may enter the Gardens up to 30 minutes prior and 30 minutes after your designated time. Make every effort to arrive at your designated reservation time. Earlier or later arrivals may not be accommodated.
Video link for "Festival of Fountains" — https://youtu.be/AHsC2YuFerY.
Admission to Longwood Gardens is $25 for adults, $22 for seniors (ages 62 and older) and college students, $18 for active military and veterans and $13 for youth (ages 5-18).
This is the time of year to enjoy nature at its best and there are plenty of locations around the area where the focus is on flowers, plants and the beauty of nature.
The Morris Arboretum (100 Northwestern Avenue, Chestnut Hill, www.morrisarboretum.org). is offering its "Garden Highlights Tour" this month.
Experienced guides will share both the history and current highlights of the Arboretum during a one-hour walking tour.
Tours depart from the Visitor Center at 1 p.m. each Saturday and Sunday. These tours are small groups and space is very limited.
This reservation is good for admission to the Arboretum as well as for the tour itself. The tour is weather permitting. If the tour is cancelled, your ticket is still good for admission. Another attraction at Morris Arboretum is the ultra-popular Garden Railway Display, which has become a major summer attraction at the site. The annual edition of the display will remain open until October 11.
The railway has a quarter mile of track featuring seven loops and tunnels with 15 different rail lines and two cable cars, nine bridges (including a trestle bridge you can walk under) and bustling model trains.
The buildings and the display are all made of natural materials – bark, leaves, twigs, hollow logs, mosses, acorns, dried flowers, seeds and stones – to form a perfectly proportioned miniature landscape complete with miniature rivers.
Philadelphia-area landmarks are all meticulously decorated for the holidays with lights that twinkle. There is even a masterpiece replica of Independence Hall are made using pinecone seeds for shingles, acorns as finials and twigs as downspouts.
This year the tracks are surrounded by miniature replicas of "Wonders of the World." Visitors will be able to see the Eiffel Tower, Hagia Sophia, the Egyptian Pyramids, the Wall of China and more.
Admission is $20 for adults; $18 for seniors (65 and older); $10 for students (ages 13-17 or with ID), active military and retired military; and free for children (under 3).
The John Heinz National Wildlife Refuge at Tinicum (8601 Lindbergh Boulevard, Philadelphia, www.fws.gov/refuge/John_Heinz) has several attractive events scheduled for this weekend.
"Birds Walk with Chuck and Emily" will take place on July 31 from 8-10 a.m.
Visitors can take an educational walk with one of the Refuge's knowledgeable volunteers and discover the 300-plus species of birds that use the Refuge during their migration routes. Each week guarantee different species.
Participants will meet by visitor center. The walk will be at a relaxed paced on flat surfaces. There are restrooms and a water fountain near the trailhead.
On August 1, Heinz will host a "Wildlife Walk."
The activity, which will get underway at 10 a.m., will begin with a 15-minute stretch with Health Partners Plans. Then, Ranger Wingyi will guide a leisurely stroll across the boardwalk.
The event is free, and no registration needed. Participants will meet Ranger Wingyi under the pavilion by the Visitor Center parking lot. Restrooms and water are available near the trailhead.
Another venue where you can get close to nature is Tyler Arboretum (515 Painter Road, Media, 610-566-9134, tylerarboretum.org)
The arboretum's schedule for this weekend features the "Saturday Evening Wildflower Walk" on July 31.
"Saturday Evening Wildflower Walk," which runs from 6-8 p.m., features wildflower expert Dick Cloud on an informative two-hour hike that will take guests through meadows, woods, and occasionally streamside. These walks are for those who have a love of plants, their role in ecology, or for those who want to learn more.
Although the focus is on plants, Cloud will also talk about whatever else is seen on the tour. Walkers should wear comfortable hiking shoes and bring a camera and/or a wildflower guide, for this botanical-filled walk.
Admission to Tyler Arboretum is $15 for adults (ages 18-64), $13 for Seniors (65+) and $9 for children (ages 3-17) and Military with valid ID.
The Kalmar Nyckel (www.kalmarnyckel.org) offers river cruises, day and evening sails, and appearances from April through October each sailing season.
This weekend, there will five "Christina River Cruises" leaving from the Kalmar Nyckel Shipyard in Wilmington, Delaware – three on July 31 two on August 1.
The 1.5-hour cruises will depart at 10 a.m., 1:30 and 4 p.m. on Saturday and 1:30 and 4 p.m. on Sunday.
There will also be a "Pirate Sail" on August 1 at 10 a.m.
The ship's schedule is subject to change without notice due to the nature of the weather and conditions beyond control.
For two decades, the Kalmar Nyckel, which has its home base in Wilmington, has been hosting riders all over the world – especially in Delaware.
A ride on the Kalmar Nyckel is a totally different from most tourist water rides. The ship is a beautiful recreation of the original Kalmar Nyckel, which was built in Holland in the 1620s. Her mainmast is taller than a 10-story building and she carries 7,600 square feet of sail area and six miles of rigging.
The original Kalmar Nyckel was a Swedish-owned, three-masted armed pinnace that sailed from Goteborg, Sweden in November of 1637 and brought the first permanent European settlers to the Delaware Valley.
In 1986 a group of citizens established the Kalmar Nyckel Foundation to design, build and launch a replica of the Kalmar Nyckel at a shipyard adjacent to the original landing site.
The new Kalmar Nyckel was constructed there and was launched on September 28, 1997. She was commissioned on May 9, 1998, and now serves as Delaware's sea-going Ambassador of Good Will. She is a fully functional sail training vessel and has represented Delaware all over the country.
Prices range from $25-$40.
A fun summertime family activity is taking a trip to the past by riding behind a vintage locomotive on a tourist rail line.
The West Chester Railroad (610-430-2233, www.westchesterrr.net) is running its "Summer Picnic Specials" every Sunday now through Sept 19. There will be one excursion each day at noon.
Passengers can enjoy a 90-minute round trip train ride from West Chester to Glen Mills and return on a warm summer afternoon. Riders are invited to pack a lunch to have during excursion's stop at the Glen Mills train station picnic grove.
Tickets are $17 for adults, $15 for children (2-12) and free for children (under two).
The New Hope Railroad (32 Bridge Street, New Hope, 215-862-2332, www.newhoperailroad.com) is running its "Grapevine Express," which features "Wine & Cheese Tasting," on August 1 at 5 p.m.
Riders are invited to take part in a romantic "Wine and Cheese Excursion" and enjoy fine gourmet cheese, artisan crackers, meats, fruit, and our featured local wines. Additional Alcoholic and Non-Alcoholic beverages are also available onboard.
Wine and cheese will be served to passengers as they travel along the same railroad line passengers did when it was built in 1891 connecting New Hope with Philadelphia. The journey travels through the beautiful hills and valleys of Bucks County, along once vital waterways and streams and across numerous trestle bridges.
The excursions will take place aboard one of the railroads lavishly appointed early 1900's first-class parlor cars.
Tickets are $79.99 (Ages 21 and older only).
This weekend, the Strasburg Railroad (Route 741, Strasburg, 717-687-7522, www.strasburgrailroad.com) is celebrating one of its locomotives with a series called "611 at Strasburg: The Return of an American Icon."
The Norfolk & Western Class J 611, a National Historic Engineering Landmark by the American Society of Mechanical Engineers, is known as an engineering powerhouse of steam, technology, and near mechanical perfection.
The N&W Class J 611 is the sole survivor of 14 Class J steam locomotives designed and built by the Norfolk & Western Railway. The locomotive rolled out of Roanoke's East End Shops in 1950. Its mission was to pull the Powhatan Arrow, a 15-car passenger train, from Norfolk, Virginia, to Cincinnati, Ohio.
Now, the powerful and sleek locomotive is running the rails at the historic Strasburg Railroad in Lancaster County's scenic Amish Country.
Offered as part of the tourist railroad's regular daily steam train service, N&W No. 611 J will be the motive power for the day's main train on select days. She will pull 45-minute excursion rides to Paradise, Pennsylvania on the following days: August 27-29; September 4-6; September 24-26; and October 2 and 3.
Ticket prices range from $9.50-$45.
The Northern Central Railway (2 West Main Street, New Freedom, www.northerncentralrailway.com) is running several special excursions this weekend.
There will be two departures for the "Wizard's Train" on July 31 – 10 and 11:30 a.m.
The rail line has offered this invitation – "Witches and warlocks grab your wands and robes to join us for a fun-filled day of spellbinding amusement. After your train ride, take part in crafts, activities, and Quidditch!"
The "Glen Rock Express with No. 17" is scheduled for July 31 at 1 and 2:30 p.m. It will also run on August 1 at 11:30 a.m.
Riders will take the train to Glen Rock with the William H. Simpson No. 17 (the rail line's authentic replica steam locomotive) on a former Pennsylvania Railroad mainline that has been in operation since 1838. The ride follows the route of the original Northern Central Railroad through the scenic Heritage Rail Trail County Park.
Tickets are $25 Adult; $15 Child (age 3-12); $5 Toddler (in lap).
The Colebrookdale Railroad (South Washington Street, Boyertown, www.colebrookdalerailroad.com) is running its "Sundae Sundays — Doodlebug Adventure" at 4 p.m.
The tourist rail line's two-hour expedition into the Secret Valley features rides on meticulously restored century-old rail cars and visits one of the most scenic and historic regions in the northeast.
Deluxe coach fares are $36 for adults (13-64), $29 for children (2-12), $31 for seniors (65 and older) and $6 for toddlers.
A popular event in Delaware this weekend is "Steamin' Days" at Auburn Heights Preserve (3000 Creek Road, Yorklyn, Delaware, 302-239-2385, http://auburnheights.org) on August 1.
Visitors are encouraged to climb into an antique automobile or board one of the trains and experience what it was like to travel at the turn of the 20th century. They can also tour the magnificent 1897 mansion that was home to three generations of the Marshall family.
Also included is entry to the Marshall Steam Museum, which features the world's largest operating collection of Stanley steam cars along with a 1930s working Lionel electric train display, a hands-on engine display, kids' activities and exhibits and the Museum Gift Shop. Self-guided experiences will be available along a designated route to ensure one-way paths and proper spacing.
Activities run from 12:30-4:30 p.m.
The Elmwood Park Zoo (1661 Harding Boulevard, Norristown, www.elmwoodparkzoo.org) has a variety of special activities coming up.
The zoo's "Yappy Hours" event is scheduled for August 2 from 5:30-7:30 p.m.
"Yappy Hours" are like Happy Hours except they cater to canines as well as their owners. Guests and their furry friends will enjoy drink and food specials at our Zoo Brew Beer Garden. Each dog that is registered will receive one free puppy whipped cream treat cup.
On July 24 and 25, the Zoo is hosting "Breakfast with the Giraffes."
Guests can enjoy a delicious, socially distanced outdoor breakfast buffet, right next to the zoo's three towering giraffes. After participants have cleared their plates, they will be invited to an exclusive giraffe feeding.
The breakfast will get underway at 8:30 a.m.
The Zoo will have another animal-themed special activity on July 30 and August 4 called "Dog Days."
All guests visiting the zoo with a furry friend must complete an online waiver and submit required documents before visiting the zoo. You must upload a copy of your most recent veterinary visit, including proof of vaccine and heartworm test here. All items will be required for you to attend "Dog Days."
The "Dog Days" event is slated to run from 1-5 p.m. It will also be held on selected dates throughout June.
Pricing is $10.95 per dog with each additional dog at $9.95. Regular zoo admission is required for all humans.
"Zoo Revue" will be held every weekend throughout the summer with live entertainment by a variety of talented performers including musicians, young actors, magicians and more.
All performances will take place on Saturdays and Sundays from 11 a.m-3 p.m. on the stage located next to the bison feeding deck and across from Zoo Brew Beer Garden.
Performances are free to attend with regular zoo admission – Adult, $17.95; children (ages 3-12), $13.95; and Students and Seniors, $15.95.
This Saturday is a special day at the Academy of Natural Sciences of Drexel University (1900 Benjamin Franklin Parkway, Philadelphia, www.ansp.org).
"Hungry Pop-Up at the Academy" is scheduled to get underway at 11:30 a.m. on July 31.
Every Saturday in July, local chefs will be serving up delicious and sustainable lunches.
The Academy is partnering with Hungry, a national platform for top local checks and food delivery services. Hungry is committed to environmental sustainability and uses materials that are either fully compostable or recyclable.
Hungry is also committed to the fight against hunger, and for every two meals purchased at the Academy, the organization will donate one meal through food bank partnerships.
Visitors to the museum can also check out the Academy's latest exhibit, "Permian Monsters: Life Before the Dinosaurs," which shows the species that predated dinosaurs.
Visitors to the museum can step back in time 290 million years to when bizarre-looking creatures dominated life on land and sea, and dinosaurs had not yet evolved. They can also learn about the most devastating mass extinction the world has ever seen when "Permian Monsters: Life Before the Dinosaurs" takes up a year-long residence at the Academy.
The exhibit blends vivid artwork, amazing fossils and full-size scientifically accurate models of moving beasts to recreate this relatively unknown period that ended with the most devastating extinction of life. Visitors will explore odd-looking sharks, strange reptilelike precursors of mammals, a vicious giant saber-toothed gorgonopsid, and other extinct creatures that ruled the world millions of years before the dinosaurs.
"Permian Monsters: Life Before the Dinosaurs" will be on view through January 17, 2022.  "Wildlife Photographer of the Year," which is located in the museum's new natural-light-filled gallery, will be on view through February 15.
Admission is $22 for adults, $19 for seniors and $18 for children (ages 2-12).
From one of the oldest, most iconic museums in Philadelphia to one of the newest, a new "Art & America" discounted joint ticket will provide access to two world-class institutions this summer.
The Philadelphia Museum of Art (2600 Benjamin Franklin Parkway, Philadelphia, www.philamuseum.org) and the Museum of the American Revolution (101 South Third Street, Philadelphia,www.amrevmuseum.org) have joined forces to offer visitors a convenient joint ticket that includes access to both museums for a discounted price.
The adult joint ticket, which is $35 (savings of $11), will be available for purchase from now through September 6.at www.philamuseum.org, by calling (215) 763-8100, or at the Philadelphia Museum of Art's front desk. Tickets will be redeemable through September 20 at both museums.
This summer at the Philadelphia Museum of Art, visitors can explore Philadelphia's extraordinary creativity in the brand new Early American Art galleries. They feature an unparalleled collection of paintings, sculpture, ceramics, furniture, glass, silver and more from the early 17th century until 1850.
More than 10,000-square-feet of new gallery space has been installed to tell new and inclusive stories of how Philadelphia became the young nation's cultural capital, and how Black, Indigenous, and Latin American artists contributed to the development of American art.
Hope Lodge (553 South Bethlehem Pike, Fort Washington, 215-343-0965, http://www.ushistory.org/hope/) will be presenting a "Self-Guided Mansion Tour" on August 1.
Hope Lodge was built between 1743 and 1748 by Samuel Morris, a prosperous Quaker entrepreneur. Morris acted as a farmer, shipowner, miller, iron master, shop owner, and owner of the mill now known as Mather Mill. Hope Lodge is an excellent example of early Georgian architecture, and it is possible that Edmund Woolley, architect of Independence Hall, offered advice in building. Samuel Morris owned the estate until his death in 1770.
The site opens at 12:30 p.m. with self-guided tours starting at 1 p.m. The site closes at 4 p.m.
Because of COVID-19 restrictions, guests will be able to tour the main floor of the mansion and summer kitchen areas only. Interpretive signage will be available including photos and text describing the other closed areas.
Tour admission is $8 for adults, $5 for seniors (age 65+) and for youth ages 6-17, and fee for children under 5. Hope Lodge is a Blue Star Museum which means that active-duty military personnel, including National Guard and Reserve and their families, are admitted free for regular tours from Memorial Day through Labor Day.
At Peddler's Village (Routes 202 and 263, Lahaska, 215-794-4000, www.peddlersvillage.com), this will be the final weekend for "Bluegrass & Blueberries" — a month-long celebration of bluegrass and blueberries that will conclude on July 31
July has been Blueberry Month at Peddler's Village.
Every day, the site has been offering special blueberry-themed food and drinks at its restaurants and eateries.
It also has been presenting live bluegrass and country entertainment on weekends. The lineup of live entertainment for July 31 includes
Birdhouse Center for the Arts, Noggin Hill, and The Back Porch Jugband.
Many of the village's shops have been hosting sidewalk sales and special offers throughout the month.