By Denny Dyroff, Entertainment Editor, The Times
On July 23, the City Winery (990 Filbert Street, Philadelphia, citywinery.com/philadelphia) will host one of the most important artists of our time – musician, philanthropist, musicologist and humanitarian activist Sharon Katz.
On this special summer night, Sharon Katz & The Peace Train will roll into Philadelphia.
"I'm having rehearsals with my band all week," said Katz, during a phone interview from Philadelphia on Wednesday night. "Tickets are moving well. It's exciting. It's the first indoor post-pandemic show I've done.
"I haven't done an in-person show since December and that was a drive-in concert in Mexico. This time last year, we did an outdoor concert with the same band with a restricted audience at a garden venue in Philadelphia."
The Peace Train band features Katz on guitar and vocals, Monnette Sudler on bass, Suzzette Ortiz on keyboards, Mark Beecher on drums, Jan Jeffries on percussion, and Wendy Quick, vocalist and dancer.
Sudler is a jazz guitarist from Philadelphia. Early in her career she worked with vibraphonist Khan Jamal in the Sounds of Liberation. In the 1970s she studied at Berklee School of Music in Boston and in the 1980s at Temple University.
During her career, she has worked with Kenny Barron, Sonny Fortune, Dave Holland, Freddie Hubbard, Hugh Masekela, Cecil McBee, Trudy Pitts, Odean Pope, Shirley Scott, Archie Shepp, Leon Thomas, Cedar Walton, Grover Washington Jr., and Reggie Workman.
Ortiz, a passionate pianist, composer, choral conductor and educator, has been serving her communities with the gift of music form her humble beginnings in Bayamon, Puerto Rico, to her many recent successes as a Pennsauken, New Jersey native.
Beecher has more than 30 years experience at playing and teaching worldwide. He studied with Latin percussion masters Frankie Malabe and Jose Luis "Changuito" Quintana, African drumming master Oscar Sulley, Eastern Indian drumming master T.N. Bala, and Frank Zappa drummers, Chad Wackerman and Chester Thompson.
Beecher has recorded more than 30 albums with a variety of artists, is a voting member of the GRAMMYs (Recording Academy) and has authored a number of published works.
Jeffries calls herself a "woman of rhythm." She is the lead player of the Music Over Matter percussion group.
"This is a great band," said Katz. "Everyone is a virtuoso. Monnette is a guitarist usually, but she is playing bass with us. We've been friends for 15 years.
"I have two bands on the West Coast – one in Mexico and one in San Diego. The one in Mexico features Cuban and Mexican musicians.
"I have a Peace Train Mexico Tour 2021 starting in October. It will be a big production."
Katz has been living in Tijuana, Mexico during the pandemic.
"I live on a hilltop near Tijuana," said Katz. "It's a few miles from the U.S. border. I can look down at Tijuana and see the soccer stadium where the Xolos (Tijuana's Liga MX football team Xoloitzcuintles de Caliente) play their games."
Katz has lived an interesting and influential life.
She was born in Port Elizabeth, South Africa. As a young teenager during the terrible apartheid era, she used to sneak out to the "Blacks Only" townships by hiding under blankets in the back seat of her friend's car. There, she met with the now-famous actors in Athol Fugard's group, including John Kani of "Black Panther" fame, and began her lifelong mission of using music to help break down the country's artificially imposed racial barriers.
"I'm very happy to be back in Philadelphia because I have a relationship with the city that goes back to 1981," said Katz. "I studied music therapy at Temple University."
There is much more to Katz' CV than just music ventures.
After getting professional training and a master's degree in music therapy in the states, Katz returned home to South Africa and used her skills as a guitarist, singer, band leader, composer, producer, and music therapist. As soon as Nelson Mandela was released from his 27 years of imprisonment by the Apartheid government, she went to work trying to help her country heal from the wounds of Apartheid.
Together with her Zulu singing partner, Nonhlanhla Wanda, they formed South Africa's first, 500-voice multiracial and multicultural youth choir in 1992, traveling out to all the still-separated communities to rehearse and start building trust across the Apartheid-imposed barriers.
As the election date came closer and the ethnic battles intensified, they hired a train, The Peace Train, and toured the country with their band and choir. Living together in mixed-race compartments and performing together at each stop along their route, they became a moving billboard for Mandela's message of peaceful coexistence and the transition to a nonracial democracy.
"It was about bringing communities – black, white, brown – together," said Katz. "It was a real train with 14 cars, a 12-pice band and 100 singers. There were 150 players, and we went all over South Africa."
After Mandela's election, Sharon Katz & The Peace Train performed at all his special events and became the country's first musical ambassadors of the new democracy.  During their initial five-week tour in the USA, they showcased South African music and unity across the country including at the New Orleans Jazz & Heritage Festival, Harlem, Duke Ellington Center for the Performing Arts, Disney World, and many universities.
Since the original ride of The Peace Train, Katz has continued to spread a message of peace, social justice, and reconciliation around the world through performances, seminars, workshops, residencies, and cultural collaborations.
In 2015, "When Voices Meet," a documentary film about Katz's music and humanitarian work with The Peace Train project, was released.
Katz continues to perform worldwide as Sharon Katz & The Peace Train and has formed bands in South Africa, Ghana, USA, Cuba and Mexico. After a 2019 cultural collaboration with Promotora de las Bellas Artes and its Cuban artistic director, Katz established a base in Tijuana where she is currently working on an international collaboration that will tour in Mexico, Cuba, and South Africa.
Sharon Katz & The Peace Train use proceeds from their appearances and music sales for their humanitarian work in underdeveloped areas of South Africa, the border region,  and around the world including music therapy with orphans and communities affected by HIV/AIDS, poverty and violence; food security programs in impoverished areas; conflict resolution in violence-torn regions; schools and community arts programs; and in programs for asylum seekers, migrants, survivors of torture, and youth rescued from trafficking rings.
As South Africa's "Cultural Ambassadors," Sharon Katz & The Peace Train took flight in 1995 to spread their music and message to the US. With sponsorship from the government and private sector in both South Africa and America, Katz responded to the U.S. invitations by taking her 45-member performing group on a five-week, eight-city US tour.
After that, Katz and her crew began touring the world, treating presidents, kings and millions of fans on three continents to the unstoppable beat of their music. Back home in South Africa, Katz was using her music therapy techniques to help heal the nation from the wounds of apartheid. She's also been working in other trouble spots around the world, earning her a reputation for converting "gang members into band members."
With violence, intolerance and problems in schools becoming a daily concern in America too, Katz has established a base in the U.S. She's doing workshops and concerts in schools, universities and community centers across the country. She's also forming Peace Train projects in many cities.
Several of Katz's albums have featured on the Grammy ballot for Best World Music including "Imbizo," "Side-By-Side" and "We Can Be The Change."
"My most recent album is 'We Can Be The Change,'" said Katz. "We'll be singing songs from that album at this Friday's show.
"It was recorded in Santiago, Cuba and produced and mixed by Malcolm Nhleko, who is the sound engineer for Ladysmith Black Mambazo. It's a beautiful album – South African music with Cuban rhythms. Some songs are Afro-Cuban. It's a real fusion."
Video link for Sharon Katz & The Peace Train — https://youtu.be/-kHtTNSSCyo.
The show at The Loft at City Winery on July 23 will start at 8 p.m. Tickets are $18.
Other upcoming shows at City Winery are Rhett Miller on July 23 and Mister Mann's Jam Sessions on July 25.
Another show on July 23 featuring an all-star band will take place in Kennett Square when the latest installment of the Kennett Flash's Rooftop Series (Kennett Square Parking Garage, 100 East Linden Street, Kennett Square, www.kennettflash.org) presents PAKT.
PAKT, which will also be headlining a show at the Sellersville Theater on July 25, is a supergroup made up of guitarists Alex Skolnick and Tim Motzer, fretless bass guitar icon Percy Jones and drummer Kenny Grohowski.
They are all very experienced players.
Skolnick is best known as the lead guitarist in the thrash metal band Testament. He has played with several other bands, including The Alex Skolnick Trio, Trans-Siberian Orchestra, Savatage and the heavy metal supergroup Metal Allegiance.
Jones, who was born near Llandrindod Wells in Wales, is known for his tenure in the jazz fusion group Brand X, as well as extensive studio work with Brian Eno, Kate Bush, Suzanne Vega, David Sylvian.
Grohowski is one of the busiest drummers in business, and his recent associations include John Zorn, Brand X, Imperial Triumphant, Kilter, Felix Pastorius & Hipster Assassins, John Medeski, Lonny Plaxico, and Tony Levin.
Motzer has a long background in free improvisation as well, including the bands Bandit65 (with fellow guitarist Kurt Rosenwinkel) and Orion Tango, plus many other recorded collaborations for his 1k Recordings label.
PAKT. had its origin in August 2020.
"In 2019, I played a gig in New York with Markus Reuter and Kenny Grohowski," said Motzer, during a phone interview Monday afternoon from his home in the Fishtown section of Philadelphia.
"Last year, I got a call from Leonardo Pavkovic. He already had lined up Percy Jones and Kenny Grohowski. He idea was to do a Livestream concert from Brooklyn's ShapeShifter Lab during the pandemic in August 2020.
"I had never played with Alex before. I had never played with Percy before, but I was a fan of his since his work with Brand X and Brian Eno.
"We did a soundcheck and it immediately became music. There was no messing around. We just played."
The four musicians played as if it were their destiny to share a stage.
"Percy is shaping it from his bass chair," said Motzer. "And Kenny is a master of rhythm. It's a collective based on deep listening.
"A lot of what this band is about is soundscape, atmosphere and what comes out of it. It is a totally improvisational band. That's what this band does. We find the music as we play."
The music made that night at ShapeShifter became the band's debut album which was released in June on MoonJune Records.
"This album came out of that Livestream in New York," said Motzer. "It was recorded on a multi-track and sent over to Berlin for Markus (Reuter) to do the mixing.
"There is an amazing cheistgry in this quartet. The fact that there are two guitarists – on left hand/right hand side. I'm older so we're distinctly different guitarists. I'm into color and texture. I've always been prog rock/jazz/ECM.
"With the combination of the four of us, the chemistry is insane. We're not going to rehearse for any show. We just go out and throw color on the canvas."
Video link for PAKT – https://youtu.be/Fs4Lohri4Eo.
The show at Kennett Flash's Rooftop Series (Kennett Square Parking Garage, 100 East Linden Street, Kennett Square) on July 23 will start at 7 p.m. Tickets are $30.
The show at Sellersville Theater on July 25 will start at 8 p.m. Tickets are $35.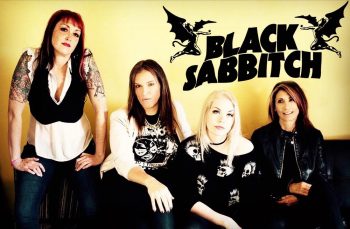 Another headline act at the Sellersville Theater (24 West Temple Avenue, Sellersville, 215-257-5808, www.st94.com) will be an all-female Black Sabbath tribute band on July 26.
What's the best name for an all-female Black Sabbath tribute band? Black Sabbitch – of course!
Since 2011, Los Angeles-based Black Sabbitch has been selling out shows and building as devoted fan base. The group features Alice Austin (vocals), Emily Burton (guitar), Melanie Makaiwi (bass), and Angie Scarpa (drums).
"I started the band 10 years ago," said Scarpa, during a phone interview Monday from a tour stop in New York. "We were all musicians who played in other bands.
"Melanie and I were in a post-punk band called The Art of Safecracking. Emily was in a band called Fireball Ministry and Alice was a solo artist in Austin. No-one expected this type of band."
No-one except Scarpa.
"I grew up a huge Black Sabbath fan," said Scarpa. "They're the reason I learned drums. With this band, I got together with some other musicians, and it sounded great.
"I started auditioning people to get the three best people. We played a show in L.A., and it was packed. People loved it. That first show was in 2012 at El Cid in Silver Lake. Not long after that, Black Sabbitch was up and running.
"It's taken off and we've toured a lot. We still do our separate projects but definitely play more in Black Sabbitch."
Black Sabbath was a band with a sound that evolved.
"We want to stay true to Black Sabbath live in the 1970s," said Scarpa. "We grew up listening to Black Sabbath. A lot of people think of Black Sabbath in the 1980s when they were more a metal band.
"I think of early Black Sabbath – acid rock, post-punk, hippie and aggressive jam…like Blue Cheer. Black Sabbath had a swing element and there was prog rock influence.
"When we play the songs, we stretch them out a bit. Right now, we're touring two records – 'Masters of Reality' and 'Vol. 4.' And we play songs from 'Black Sabbath' and 'Paranoid.'
"We want to replicate what's on the record and, at the same time, not sound stale. It's a challenge. We want to stay as true to the music as we can. Our repertoire is the first eight Black Sabbath records with the original members."
Video link for Black Sabbitch — https://youtu.be/361zPMo7Rx4.
The show at Sellersville Theater on July 26 will start at 8 p.m. Tickets are $21.50
Other upcoming shows at the Sellersville Theater are Antsy McClain on July 23, Candice Guardino on July 24, and Hawktail on July 27.
The suffix "-phile" comes from the Greek "philos," which means "to love." Words that end with (-phile) refer to someone or something that loves or has a fondness of, attraction to, or affection for something.
There are audiophile, who are people who are enthusiastic about high-fidelity sound reproduction. There are bibliophiles, who are people who love and frequently read books.
There are Monkeephiles, who are people who love the music of the Monkees.
There also is another kind of Monkeephiles – musicians who have joined together in a band that pays tribute to the music of the Monkees.
On July 24, the Kennett Flash will host the Monkeephiles as part of its summer 2021 Rooftop Series.
The Monkeephiles are John Roginski – vocals, guitar, keyboards; Paul Venturi – vocals, keyboards, percussion; Michael Kropp – bass, vocals; and Ryan Fenton – drums, vocals.
The band is based in the Scranton area – except for Kropp, who is from nearby Limerick. Roginski is from Duryea, Venturi is from Scranton and Fenton is from Clark's Summit. Kropp is from nearby Limerick in western Montgomery County.
"The four of us have been together as a performing unit since 2013," said Kropp, during a phone interview Monday from his home in Limerick.
"John and Paul were in a Monkeesphile duo five years before that. They found Ryan in 2013 and Ryan suggested me."
The original Monkees foursome released nine albums starting with "The Monkees" in 1966 through "Changes" in 1970.
"Their swansong album was 'Changes,'" said Kropp. "In 2016, they reconvened for an album called, 'Good Times!'"
Good Times! is the 12th studio album by the Monkees. It was recorded to commemorate the band's 50th anniversary. The album features the three surviving Monkees, as well as a posthumous contribution from Jones. The album received generally positive reviews from music critics and reached number 14 on the Billboard 200, becoming the band's highest-charting album in 48 years.
"In our show, we can play 32-34 Monkees songs," said Kropp. "We play all the major hits, and we play some deep album cuts.  We try to hit all the albums. Our favorite is the 'Pisces' album. We do a good hunk of songs from that album. The last song in our show is 'Daydream Believer.' It's a crowd favorite that gets a lot of audience participation.
"A lot of the shows we're playing this summer are rescheduled shows from last summer. It's not back to where it was before the pandemic. But it's a 'foot in the water' thing."
Video link for the Monkeephiles – Facebook.
The Kennett Flash Rooftop Series show will start at 7 p.m. Tickets are $15 in advance and $20 at the door.
On July 23, Jamey's House of Music (32 South Lansdowne Avenue, Lansdowne, 215-477-9985, jameyshouseofmusic.com) will host the "Historic Lansdowne Theater Gala Benefit Show" featuring Kricket Comedy – Jake Mattera, Cassandra Dee, and Eddie Gallagher.
This gala evening begins with seating for optional dinner at 6 p.m. followed at 7 p.m. by a concert by the Philly Blues Kings with guest musical artist Bob Beach. Then, there will be two hours of stand-up comedy. The kitchen will be open for optional dinner all evening with a full menu of Asian inflected American fare, and a full bar with a dozen fine ales and ciders on tap, wines and spirits.
Back in April, Mattera headlined a show at Helium Comedy Club in Philadelphia.
"I usually feature there because I'm a local comic," said Mattera, during a phone interview from his home in Prospect Park.
"In a comedy show, there are usually three comics – the MC, the feature and the headliner. I'm one of the features they use regularly. I'm headlining Sunday because they're recording the show for a record on Helium Records.
"It will be available digitally and there will be some hard copies – CD and also a video. Different components will be released later down the line.
"I've also played Punch Line Philly. I just headlined a showcase there a few weeks ago. This will be my first headlining gig at Helium."
Mattera, who grew up in Chichester and graduated from Cardinal O'Hara High School, explained how he was drawn to the life of a standup comedian.
"I was playing in a band that played a lot of local shows," said Mattera. "The band broke up and I was looking for another way to get attention for myself."
It was a smart choice.
Mattera studied comedy writing at Temple University and then landed an internship with one of television's top comedians.
"I moved to L.A. and was an intern for Conan O'Brien," said Mattera, reflecting on his career break in 2012.
"I worked in the monologue department. I wrote the set-up for the jokes. It was like a master class in learning how to write a joke. I spent six months in L.A. Then, they hired me back for a month of shows in Atlanta."
Mattera came back to Philly and worked on WMMR's "Preston and Steve Show." After that, he embarked on a standup comedy career.
The Delco comic has been invited to perform at many prestigious festivals all over the country, including Big Sky Comedy Festival, Laughing Skull Comedy Festival, Limestone Comedy Festival, San Francisco Sketchfest, and HBO's "Women In Comedy Festival."
"When I was young, I was the kid who would do anything to make people laugh," said Mattera. "I always thought I was funny. People told me I was funny.
"I started out in comedy doing open mics – 5-to-10-minute open mics. I learned the ropes. I learned which bars to play. I learned stage presence in Delco. Then, I went to Philly to learn joke efficiency – learn how to just get to the point
"My comedy has been described as wholesome – funny things that mothers would like. It's self-deprecating and anecdotal. I married with a kid, so I talk about family life. I have my routines and I stick to my material."
Cassandra Dee is a stand-up comedian and writer from the suburbs of Philadelphia. She's a regular at Punch Line Philly and Helium Comedy Club, where she won the title of Philly's Phunniest Person in 2018. Eddie Gallagher is a father of four, husband of one & owner of Kricket Comedy which was voted Best of Delco 2019 and 2020.
Video link for Jake Mattera – https://youtu.be/gCK_tF6i89U.
The show at the Jamey's on July 23 will start at 8 p.m. Tickets are $40.
On July 24, Jamey's will host the Sean Britt Jazz Trio.
On July 25, there will be a free Chesco Pops Concert at Freedoms Foundation at Valley Forge (1601 Valley Forge Road, Valley Forge, chescopops.org).
Guests are invited to bring a blanket or lawn chair and enjoy the Chesco Pops Orchestra as it performs an exciting program of music for the whole family.
The program will include the Armed Forces Salute, music from the movies "The Cowboys," "1941," and "Saving Private Ryan" along with the music of George Gershwin and others.
The show, which is open to the public, will start at 4 p.m. Suggested donation is $15 per person.