By Denny Dyroff, Entertainment Editor, The Times
This is the time of year to enjoy outdoor activities and there are plenty of special events this weekend that fill the bill – including several that combine nature and live music.
Stoneleigh: A Natural Garden (1829 East County Line Road, Villanova, stoneleighgarden.org/garden/home/) will present a "Summer Garden Tour" on July 10 from 10-11:30 a.m.
Formerly a Main Line country estate, Stoneleigh: A Natural Garden opened to the public in 2018. This tour will highlight the transition from beloved family home to public garden through a guided exploration of breathtaking historical landscapes, majestic trees, and the more than 2,000 varieties of native plants.
Gusts can learn how the staff created gardens that are beautiful, biodiverse, and beneficial to wildlife.
Tickets for the tour are $15.
On July 11, Stoneleigh: A Natural Garden will host a concert by the Chamber Orchestra of Philadelphia.
The concert, which is slated to start at 6:30 p.m., will present Mozart's Symphony No. 29. The featured soloists are Luigi Mazzocchi on violin and Mary Yong on viola.
Written when the composer was just 18, the symphony was designed to entertain and delight. Mozart chose to score the work modestly – muted slow movement of reticent courtly style, a crisply energetic minuet, a dashing hunting finale.
The program will also include Mozart's Sinfonia Concertante in E-flat.
Tickets are $95, $55 and $30.
Winterthur Museum, Garden & Library (5105 Kennett Pike, Wilmington, Delaware, 800-448-3883, www.winterthur.org) is presenting "Music Along the Bank" on July 15 from 5:30-8 p.m.
Visitors will have a chance to spend a summer evening enjoying live music along the bank of Clenny Run stream and are invited to bring a blanket, chairs, kids, and dogs.
The concert on July 15 will feature The Quixote Project. This is a roots music band that features Jeff Selby, Josh Barra, and Brett Riley.
Other "Music Along the Bank" events this month will feature John Gilbride and Friends on July 22 and Dan and Dan Band on July 29.
The Rose Tree Summer Festival (Rose Tree Park, Route 252, Media, www.delcopa.gov/departments/parks) returns with a summer-long series of free outdoor shows at the scenic park just north of Media.
The schedule of upcoming shoes in the next week includes The Ebonys on July 9 and Eric Roberts' Tribute to the Piano Man on July 10.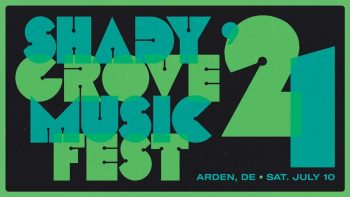 The 2021 edition of the Shady Grove Music Fest (2126 The Highway, Arden, Delaware, www.shadygrovemusicfest.com) is scheduled for July 10. Gates open at 11 a.m. with the music slated to start at noon.
This year's schedule is: noon, Bad Smidgen; 12:45 p.m., The Luscious's; 1:30 p.m., The Knotty Gs; 2:30 p.m., Grant Claytor; 3:30 p.m., Dominy; 4:30 p.m., Buddie; 5:30 p.m., Ellen Siberian Tiger; 6:30 p.m., Catbite; and 7:30 p.m., Grace Vonderkuhn.
Tickets are $25 in advance.
There will be food trucks as well as beer and wine available for purchase. You can bring blankets and chairs, and outside food if you wish – but no dogs.
This weekend, the Mount Hope Estate & Winery (Route 72, Cornwall, 717-665-7021, www.PaRenFaire.com) will host the "12th Annual Blues & Brews at Mount Hope."
Guests can savor the taste of a summertime Maryland feast without the drive – hard shell crabs, steamed shrimp, BBQ pork, potato salad, coleslaw, garden pasta salad, hush puppies, fresh fruit, and dessert. Beer from the Swashbuckler Brewing Company will round out this summertime feast.
Guests can enjoy all the amazing food they can eat, unlimited drinks, and live music with one admission ticket. Non-seafood options also available.
Admission is $59.95 for adults and $19.95 for children (ages 5-11).
The Elmwood Park Zoo (1661 Harding Boulevard, Norristown, www.elmwoodparkzoo.org) has a variety of special activities coming up.
On July 10 and 11, the Zoo is hosting "Breakfast with the Giraffes."
Guests can enjoy a delicious, socially distanced outdoor breakfast buffet, right next to the zoo's three towering giraffes. After participants have cleared their plates, they will be invited to an exclusive giraffe feeding.
The breakfast will get underway at 8:30 a.m.
The Zoo will have another animal-themed special activity on July 9 and 14 called "Dog Days."
All guests visiting the zoo with a furry friend must complete an online waiver and submit required documents before visiting the zoo. You must upload a copy of your most recent veterinary visit, including proof of vaccine and heartworm test here. All items will be required for you to attend "Dog Days."
The "Dog Days" event is slated to run from 1-5 p.m. It will also be held on selected dates throughout June.
Pricing is $10.95 per dog with each additional dog at $9.95. Regular zoo admission is required for all humans.
A "Zoo Snooze" overnight campout will start at 6 p.m. on July 9 and run until 9:30 a.m. on July 10.
The "Campout" includes — Dinner (includes pizza, salad, and potato chips), Breakfast (includes pastries and fresh fruit), Flashlight tour of the zoo, Campfire & activities, educational show the next morning and Zoo admission the next day.
Tickets are $54.95.
"Night Adventures" is scheduled for July 9.
Adventurous visitors can zip the zoo in the dark with Treetop Adventures' "Night Adventure." They will be able to experience all the thrills of the zip line and ropes courses with the added challenge of darkness.
Adventurers will navigate through the trees, equipped with a headlamp. Young adventures can also experience the nighttime fun on the Zoo's Cub Climb course.
The "Night Adventure" ticket includes access to an all-you-can-eat buffet (full of Norristown specialties like zeps, veggie zeps, pretzels, tomato pie and local beer) and one drink ticket. Tickets are $55.
"Zoo Revue" will be held every weekend throughout the summer with live entertainment by a variety of talented performers including musicians, young actors, magicians and more.
All performances will take place on Saturdays and Sundays from 11 a.m-3 p.m. on the stage located next to the bison feeding deck and across from Zoo Brew Beer Garden.
Performances are free to attend with regular zoo admission – Adult, $17.95; children (ages 3-12), $13.95; and Students and Seniors, $15.95.
Chaddsford Winery (Route 1, Chadds Ford, 610-388-6221, www.chaddsford.com) will be presenting "Reserve Tastings – Summer Sips" on select Saturdays and Sundays in July and August.
Visitors are invited to join the winery's staff for an intimate and educational 60-minute experience in the newly renovated Barrel Room tasting some of Chaddsford's latest wine releases.
The trained staff will guide you through a pre-selected tasting of five widely diverse wines from across the portfolio.  The selections will be paired alongside local cheeses and other accoutrements to enhance your tasting experience.
The staff will also discuss topics such as grape growing conditions at partner vineyards and the onsite winemaking process from production to aging and bottling.
Reserve Tastings are $35 per person. There are three seatings each day – noon, 2 and 4 p.m. Advanced reservations are required and are non-refundable. The "pairing lineup" is Greeting Wine: 2019 The White Standard wine spritzer with peach and fresh herbs; 2020 Sauvignon Blanc with Yellow Springs Farm Black Diamond; 2020 Dry Rosé with Birchrun Hills Farm Little Chardy and sour cherry pomegranate preserve; and 2020 Niagara Demi Sec with Gemelli's Pear Sorbetto .
Longwood Gardens (Route 1, Kennett Square, 610-388-1000, www.longwoodgardens.org) is always a special place to visit – especially during the run of its annual "Festival of Fountains."
The 2021 "Festival of Fountains" opened in May and is running through September 26.
Daily performances in the Main Fountain Garden will feature more than 1,700 spinning jets that spin dance to various music programs. These are no little jets as some shoot up as high as 175 feet in the air.
The 30-minute show is slated for Thursdays, Fridays and Saturdays at 9:15 p.m.
The Main Fountain Garden Show's "Fountains Then and Now" show is a 12-minute fountain performance that begins with a touch of narrated history and concludes with dynamic choreography marrying music and the site's newest fountain features.
These displays will be presented daily at 1:15 a.m. and 3:15 p.m. There will also be performances on Thursdays, Fridays and Saturdays at 7:15 p.m.
Another daily show in the Main Garden is "Classical, Jazz, and Hits of Today," another 12-minue show but with a different musical style. These will be presented daily at 1:15 and 5:15 p.m.
The third show on the roster is "Fountain Refresher," which is billed as "a five-minute mix of music genres that teases the theme of that evening's Illuminated Fountain Performance."
These are scheduled for Thursday through Saturday from May 6-August 28 at 6:15 and 8:15 p.m. and September 2 through October 30 at 6:15 p.m.
There will also be daily shows in the Open Air Theatre and the Italian Water Garden.
Featuring 750 jets in changing patterns, the Open Air Theatre comes alive with fountains set to music.
Since its 1914 Garden Party debut, this Italian-style outdoor theatre has expanded from its simple original fountains to the 750 jets that create the rainbowed curtain of water you see today, while playing host to more than 1,500 performances throughout the years.
To limit the spread of COVID-19, Longwood has made the difficult decision to temporarily suspend all ticketed concerts, fireworks shows and in-person continuing education classes. But live music can be heard in the Beer Garden, where live instrumental music from traditional Celtic tunes to Caribbean steel pan grooves sets the tone Thursday through Saturday evenings.
Beer Garden performances are scheduled through August from 6-9 p.m. from Thursday to Saturday evenings. They will also be held in September from 5-8 p.m. on Thursdays, Fridays and Saturdays.
As always, admission by "Timed Ticket" — tickets issued for specific dates and times. Timed ticketing limits the number of people in the Gardens at any given time and allows guests to enjoy minimal lines and a better viewing experience.
You may enter the Gardens up to 30 minutes prior and 30 minutes after your designated time. Make every effort to arrive at your designated reservation time. Earlier or later arrivals may not be accommodated.
Video link for "Festival of Fountains" — https://youtu.be/AHsC2YuFerY.
Admission to Longwood Gardens is $25 for adults, $22 for seniors (ages 62 and older) and college students, $18 for active military and veterans and $13 for youth (ages 5-18).
The John Heinz National Wildlife Refuge at Tinicum (8601 Lindbergh Boulevard, Philadelphia, www.fws.gov/refuge/John_Heinz) has several attractive events this weekend.
"Birds and Plastics Walk with Friends of Heinz Refuge" will take place on July 10 from 8-10 a.m.
This is a two-hour/three-mile birding walk that will feature the impacts of litter and plastic on the wildlife and habitat at John Heinz National Wildlife Refuge.
The walk will feature history of local and national initiatives to help reduce plastic pollution.  Led by local volunteer birders and Refuge staff, participants will walk sections of the wetland loop trail and explore some of the dynamic habits along the Darby Creek Tinicum tidal marsh.
Participants are encouraged to bring a reusable water bottle which you can fill at the new outdoor bottle filling station.  Loaner binoculars will be available. The walk will take place rain or shine.
The "Bird & Dragonfly Walk with Cliff and Nancy Hence" is scheduled for July 10 from 9-11 a.m.
Visitors will be able to discover the dragonflies and birds of the Refuge. The walk will meet at parking lot of the Rt. 420 entrance and be at a relaxed paced on flat surfaces. It is recommended to wear comfortable shoes and dress in layers. No registration required.
On July 11 from 8-10 a.m., there will be a "Bird Walk with Edie Parnum."
Participants will take an educational walk with one of the park's knowledgeable volunteers and discover the 300+ species of birds that use the Refuge during their migration routes.
The walk will meet by visitor center and be at a relaxed paced on flat surfaces. There are restrooms and a water fountain near the trailhead. No registration required.
Another prime location to check out flowers in bloom is Tyler Arboretum (515 Painter Road, Media, 610-566-9134, www.tylerarboretum.org).
The arboretum's schedule for this weekend features the "Blue Trail Tour" and "Saturday Evening Wildflower Walk" on July 10 and the "Bluebird Nesting Box Tour" on July 11.
On the "Blue Trail Tour," which runs from 10-11 a.m., guests might see totally white plants shaped like a smoker's pipe, strange spider webs resembling slender tubes as they reach underground, and lengthy berms of soil purposely built generations ago near Rocky Run stream. Participants will pass fallen trees supporting an eco-community of life as they decay, and an open meadow full of summer wildflowers and insects.
"Saturday Evening Wildflower Walk," which runs from 6-8 p.m., features wildflower expert Dick Cloud on an informative two-hour hike that will take guests through meadows, woods, and occasionally streamside. These walks are for those who have a love of plants, their role in ecology, or for those who want to learn more.
Although the focus is on plants, Cloud will also talk about whatever else is seen on the tour. Walkers should wear comfortable hiking shoes and bring a camera and/or a wildflower guide, for this botanical-filled walk.
The "Bluebird Nesting Box Tour," which is slated for 1-2 p.m. on Sunday, the focus will be on bluebirds.
For the past 50 years, volunteers at Tyler Arboretum have been monitoring the nesting activities of the Eastern Bluebird. Tour participants can join in this "Bluebird Nesting Box Tour" to share this tradition.
The staff and guests will walk the succession field and check on quite a few bluebird boxes where they expect to see bluebirds, active nests of bluebirds and other cavity-nesting birds, eggs, and young nestlings. This family-friendly program ends by providing you with a chance to catch up on the progress of our new nest box live camera program.
Admission to Tyler Arboretum is $15 for adults (ages 18-64), $13 for Seniors (65+) and $9 for children (ages 3-17) and Military with valid ID.
The Morris Arboretum (100 Northwestern Avenue, Chestnut Hill, www.morrisarboretum.org). is offering its "Garden Highlights Tour" this month.
Experienced guides will share both the history and current highlights of the Arboretum during a one-hour walking tour.
Tours depart from the Visitor Center at 1 p.m. each Saturday and Sunday. These tours are small groups and space is very limited.
This reservation is good for admission to the Arboretum as well as for the tour itself. The tour is weather permitting. If the tour is cancelled, your ticket is still good for admission. Another attraction at Morris Arboretum is the ultra-popular Garden Railway Display, which has become a major summer attraction at the site. The annual edition of the display will remain open until October 11.
The railway has a quarter mile of track featuring seven loops and tunnels with 15 different rail lines and two cable cars, nine bridges (including a trestle bridge you can walk under) and bustling model trains.
The buildings and the display are all made of natural materials – bark, leaves, twigs, hollow logs, mosses, acorns, dried flowers, seeds and stones – to form a perfectly proportioned miniature landscape complete with miniature rivers.
Philadelphia-area landmarks are all meticulously decorated for the holidays with lights that twinkle. There is even a masterpiece replica of Independence Hall are made using pinecone seeds for shingles, acorns as finials and twigs as downspouts.
This year the tracks are surrounded by miniature replicas of "Wonders of the World." Visitors will be able to see the Eiffel Tower, Hagia Sophia, the Egyptian Pyramids, the Wall of China and more.
Admission is $20 for adults; $18 for seniors (65 and older); $10 for students (ages 13-17 or with ID), active military and retired military; and free for children (under 3).
The Colonial Pennsylvania Plantation at Ridley Creek State Park (3900 North Sandy Flash Drive, Newtown Square, http://www.colonialplantation.org/) will be a bustle of activity on July 10 and 11 with a weekend filled with history, nature and colonial skills demonstrations.
Visitors can take a farm or house tour, visit with the Plantation's rare heritage breed animals and learn what life was like on a farm in the late 1700's. Tickets may be purchased onsite.
A special event on July 11 will be "Nature Time — Bees & Insects."
Visitors can learn about bees and insects on Sunday from noon-2 p.m.
Staff members will discuss what an insect is and why they are so important. They will also discuss the difference between beneficial and non-beneficial insects as well as native and non-native insects.
There will be hands-on activities and a visit to the Plantation's beehives with master beekeeper Warren Graham. Ongoing activities will be insect bingo, stream exploration for bugs (wear shoes that can get wet), bark rubbing, create your own bug poems and candle making.
From July 13-17, the Malvern Fire Company Fair (Monument Grounds, Monument Avenue, Malvern, 610-647-0693, http://www.pa-carnivals.com) will be held from 6-10 p.m. each night.
The free event features rides, games and fun for the entire family and discount ride coupons will be available at local merchants.
Guests can ride an unlimited number of rides at the 2021 Malvern Fire Company Carnival for just $20 per person per day when purchased online.
Treetop Quest Philly (51 Chamounix Drive, Philadelphia, www.treetopquest.com) is an aerial adventure park that will challenge you physically and mentally as you maneuver from tree to tree through obstacles and zip-lines. Once you're equipped, they will teach you how to operate your equipment and you'll be able to swing through each course as many times as you want for 2.5 hours.
Each participant is outfitted with a harness and gloves. Each course has a continuous belay system — a lifeline that is impossible to detach without a staff member. The activity is self-guided, and the staff is ready to assist when needed.
Gloves are required for our activity. During this time, we encourage participants to bring their own gloves to use while up in the trees, gardening gloves are perfect for this activity.
Ticket prices are $52, adults; $45, ages 12-17; $35, ages 7-11; and $20; ages 4-6.
On July 10, Laurel Hill Cemetery (3822 Ridge Avenue, Philadelphia, 215-228-8200, www.thelaurelhillcemetery.org) will present "Hot Spots and Storied Plots" walking tour at 10 a.m.
In life and in death, we all have stories to tell, and what better place to hear tales of wonder than Philadelphia's most famous home of the dead?
This tour provides an informative overview of Laurel Hill's long history, which includes many of the marble masterpieces, stunning views, and legendary stories about Laurel Hill.
"Hot Spots and Storied Plots" is the perfect introduction for anyone who enjoys beautiful art, scenic nature, and fascinating history. An experienced graveyard guide will offer a unique perspective. No two "Hot Spots and Storied Plots" are alike.
The tour will take place on July 10 at 10 a.m. — departing from Laurel Hill Cemetery's Gatehouse entrance at 3822 Ridge Avenue, Philadelphia. The tour Guide will be Linda Blowney.
Tickets, which must be purchased in advance, are: $12/General Admission, $10/Seniors (65 & Up), $10/Students with ID, $7/Members, $6/Youth (6-12), and $0/Child (5 & Under). Youth and children must be accompanied by an adult.
This month, the Chestnut Hill Business District (https://chestnuthillpa.com/events/second-saturdays/) is hosting the third chapter of its new monthly series, "Second Saturday."
This month's "Second Saturday" celebration, which is an event highlighting Chestnut Hill's vibrant arts scene, will be held on July 10.
With live music, retail and restaurant specials, and family-friendly activities, "Second Saturday" offers art enthusiasts, collectors, and casual spectators plenty of reasons to visit Chestnut Hill.
During each "Second Saturday," which is free and open to the public, visitors can stroll the Avenue and explore the works of dozens of visiting regional artists. The event will feature highly sought-after professionals and new emerging talents.
"Second Saturday" events are a great time to explore and shop in one of the many art galleries and art supply stores in Chestnut Hill, as well as take a self-guided tour of the multiple outdoor and indoor exhibits at the Woodmere Art Museum.
Each month, a rotating selection of guest artists will set up outdoor pop-up shops on the sidewalks of Germantown Avenue where guests can meet artists, shop works, and watch artists painting live. "Second Saturday" will also host various opportunities for children to delve into their creative side.
"Second Saturday" will run from 2-6 p.m. along the 7600 to 8600 blocks of Germantown Avenue. Additional "Second Saturday" events are scheduled for August 14, September 11, October 9, and November 13.
This weekend, it's time for the annual Blueberry Festival at Linvilla Orchards (137 West Knowlton Road, Media, 610-876-7116, www.linvilla.com). The free festival will be held July 10 from 9 a.m.-5 p.m. on Linvilla's grounds in Media.
The festive event will feature children's entertainment, costumed characters, live music, ice cream sundaes, and blueberry treats.
The host for the Blueberry Festival will be Silly Joe, who will offer music, fun and games for kids of all ages.
Activities will start at 11 a.m. with music by The Knotty G's, a band from Ashville, North Carolina that has played at Bonnaroo Music and Arts Festival, Wormtown Music Festival and The Blue Ridge Pride Festival.
At 12:30 and 2 p.m., soulful indie blues band Hoochie Coochie will perform.
Officer Offbeat will be bringing joy and laughter throughout the day as he wanders the farm grounds. There will also be a "Parents' Pie Eating Contest."
Peddler's Village (Routes 202 and 263, Lahaska, 215-794-4000, www.peddlersvillage.com) is presenting "Bluegrass & Blueberries" in July — a month-long celebration of bluegrass and blueberries.
July will be Blueberry Month at Peddler's Village.
Every day, the site will offer special blueberry-themed food and drinks at its restaurants and eateries, and also present live bluegrass and country entertainment on weekends. On Saturdays and Sundays, you can also enjoy made-to-order sandwiches and burgers at the Water Wheel Food Tent.
Many shops will be hosting sidewalk sales and special offers throughout the month.
The Kalmar Nyckel (www.kalmarnyckel.org) offers river cruises, day and evening sails, and appearances from April through October each sailing season.
This weekend, there will "Christina River Cruises" leaving from the Kalmar Nyckel Shipyard in Wilmington, Delaware – three on July 10, three on July 11 and one on July 15.
The 1.5-hour cruises will depart at 10 a.m., 1:30 and 4 p.m. on both Saturday and Sunday and at 3:30 p.m. on July 15.
The ship's schedule is subject to change without notice due to the nature of the weather and conditions beyond control.
For two decades, the Kalmar Nyckel, which has its home base in Wilmington, has been hosting riders all over the world – especially in Delaware.
A ride on the Kalmar Nyckel is a totally different from most tourist water rides. The ship is a beautiful recreation of the original Kalmar Nyckel, which was built in Holland in the 1620s. Her mainmast is taller than a 10-story building and she carries 7,600 square feet of sail area and six miles of rigging.
The original Kalmar Nyckel was a Swedish-owned, three-masted armed pinnace that sailed from Goteborg, Sweden in November of 1637 and brought the first permanent European settlers to the Delaware Valley.
In 1986 a group of citizens established the Kalmar Nyckel Foundation to design, build and launch a replica of the Kalmar Nyckel at a shipyard adjacent to the original landing site.
The new Kalmar Nyckel was constructed there and was launched on September 28, 1997. She was commissioned on May 9, 1998, and now serves as Delaware's sea-going Ambassador of Good Will. She is a fully functional sail training vessel and has represented Delaware all over the country.
Prices range from $25-$40.
Auburn Heights Preserve (3000 Creek Road, Yorklyn, Delaware, 302-239-2385, http://auburnheights.org) will host "Auburn Heights After Hours" on July 14 and again on August 18 from 5-8 p.m. each day.
Visitors can dine at the featured food truck and purchase wine and craft beer from Dew Point Brewing Co.
They can wander the grounds to view a selection of classic cars brought by local clubs and collectors, check out the newly renovated museum and try their hand at outdoor games.
Some seating will be available, but guests are invited to bring blankets and chairs. Friendly, leashed dogs are welcome at this
General admission is $6 (ages 13 and older), $3 (ages 6–12), and free for children (ages five and under).
Hagley Museum and Library (Buck Road East entrance via Route 100, Wilmington, Delaware, 302-658-2400, www.hagley.org) is presenting an educational event geared for children this weekend.
The special event this Saturday at Hagley is "Kitchen Chemistry."
At the family event, which runs from 1-4 p.m. on July 10 at the Visitor Center, participants can learn about the wonderful, worm-filled world of soil.
Participants will be able to spend a tasty afternoon learning about the chemical properties of the items found in the kitchen. They will also be able to make tie-dye milk art and ice cream in a bag.
Visitors of all ages are invited to discover solutions to science and engineering challenges at Science Saturday. Activities are included in regular admission and free for Hagley members.
Museum admission is: Adults: $15; Seniors (age 62 and up): $11; Students $11; Children 6-14: $6.
The Brandywine River Museum (1 Hoffman's Mill Road, Chadds Ford, www.brandywine.org) is saying, "Welcome Back."
The Museum is now open Wednesdays through Mondays from 10 a.m.-4 p.m. and closed Tuesdays.
To ensure the safety, security and quality of the visitor experience, the Brandywine has implemented a variety of procedures, including timed ticketing and capacity limits. While not required, advance purchasing of timed tickets is highly recommended. Click below to reserve your timed tickets.
During its closure, the Museum underwent several facility renovations to its second and third floors. Upgrades included a complete refurbishment of the restrooms on the second floor, making them fully ADA accessible, as well as switching their current location with the Strawbridge Family Gallery (which will open later this summer), plus new HVAC and fire suppression systems.
Opening into the Museum's central atrium, the reimagined Gallery — complete with new state-of-the-art lighting — will improve circulation within the Museum building, enhancing the visitor experience.
The special exhibition currently on view is "Ralston Crawford: Air & Space & War," which will be running now through September 19.
Admission is $18 for adults, $15 for seniors (65+), $6 for students with ID and children (ages 6-18) and free for children (ages five and under).
The Delaware Art Museum (2301 Kentmere Parkway, Wilmington, Delaware, www.delart.org) has both outdoor and indoor special events this weekend.
The Dara Meredith Dance Premiere of "The Bridge of Our Roots" will run now through July 10 – on-site and virtual.
Recorded in front of "Southern Souvenir No. II," the dance responds to this powerful painting by Eldzier Cortor.
There will also be another edition of "Free Movies in the Sculpture Garden" on July 9 at 8:30 p.m. The featured film will be "The Color Purple."
Alice Walker's Pulitzer Prize Winning story is about life and about love. It's about us.
An epic tale spanning 40 years in the life of Celie, an African-American woman living in the South who survives incredible abuse and bigotry.
After Celie's abusive father marries her off to the equally debasing "Mister" Albert Johnson (Danny Glover), things go from bad to worse, leaving Celie to find companionship anywhere she can. She perseveres, holding on to her dream of one day being reunited with her sister in Africa.
Last month, The Delaware Art Museum unveiled its reimagined American art galleries, kicking off a series of gallery reopenings throughout the summer.
Shaped by feedback from more than 100 Delawareans, "Picturing America" expands the American stories told with art. Developed largely through gifts from local donors, the Museum's collection reflects art produced and collected in Delaware and the Brandywine Valley.
A highlight of the new American galleries is a large salon-style display, wrapping walls from floor to ceiling with Gilded Age artworks. Recent acquisitions on view include a bust of Frederick Douglass by Isaac Scott Hathaway, landscapes by 19th-century African American artists Robert Duncanson and Edward Mitchell Bannister, and a new painting by Mary Macomber.
Reimagined main floor galleries will continue to open throughout the summer, and public tours are available at delart.org.
Admission to the Delaware Art Museum is $14 for adults, $7 for students, and $6 for youth (ages 7-18).
Nemours Estate (850 Alapocas Drive, Wilmington, Delaware, www.nemoursmansion.org) has now re-opened after a pandemic safety closure.
Hours are Tuesday to Sunday from 10 a.m.-5 p.m. Reservations are not required and there is no timed entry.
Nemours Estate comprises an exquisite, 77-room Mansion, the largest formal French gardens in North America, a Chauffeur's Garage housing a collection of vintage automobiles, and 200 acres of scenic woodlands, meadows and lawns.
Nemours was the estate of Alfred I, duPont.
One year after the sudden death of his second wife, Alicia, Alfred married Jessie Dew Ball in a quiet ceremony. Jessie, 20 years his junior, had been a teenager when Alfred had first become acquainted with the Ball family more than two decades earlier. He and the Balls remained close over the years, and Alfred and Jessie corresponded sporadically. The Balls had moved to California, but in 1920 Jessie, now in her mid-30's, returned East for an extended period and her relationship with Alfred grew stronger.
After their marriage, Alfred and Jessie traveled to Florida several times and in 1925 decided to settle in Jacksonville. They built a mansion, Epping Forest, and Alfred became involved in a number of successful enterprises. His goal was more than making money; he was also deeply committed to helping Florida and its residents establish sound financial institutions and a modern industrial base.
Alfred married Alicia, his second wife, in 1907 and loved showering her with gifts. By far the grandest of these was the spectacular new house that he built for her on a 3,000-acre plot of land in Wilmington. He hired Carrere and Hastings, a prestigious New York architectural firm, to design the mansion in the late-18th-century French style that Alicia adored.
Alfred named the estate Nemours, after the French town that his great-great-grandfather represented in the French Estates General. While looking to the past and his ancestors for inspiration, Alfred also ensured that his new home was thoroughly modern by incorporating the latest technology and many of his own inventions.
The Gardens is one of the estate's prime attractions.
The two elk at the top of the Vista are the work of French sculptor Prosper Lecourtier (1855–1924), a specialist in animal figures. Lined with Japanese cryptomeria, pink flowering horse chestnuts and pin oaks, the Long Walk extends from the Mansion to the Reflecting Pool.
The 157 jets at the center of the one-acre pool shoot water 12 feet into the air; when they are turned off, the entire "Long Walk" is reflected in the pool. The pool, five and a half feet deep in its deepest section, holds 800,000 gallons of water and takes three days to fill. The Art Nouveau-style, classical mythology-based "Four Seasons" around the pool are by French-born American sculptor Henri Crenier (1873–1948)
Admission to Nemours is $18 for adults, $16 for seniors and $8 for children.
The West Chester Railroad (610-430-2233, www.westchesterrr.net) is running its "Summer Picnic Specials" every Sunday now through Sept 19. There will be one excursion each day at noon.
Passengers can enjoy a 90-minute round trip train ride from West Chester to Glen Mills and return on a warm summer afternoon. Riders are invited to pack a lunch to have during excursion's stop at the Glen Mills train station picnic grove.
Tickets are $17 for adults, $15 for children (2-12) and free for children (under two).
The New Hope Railroad (32 Bridge Street, New Hope, 215-862-2332, www.newhoperailroad.com) is running its "Grapevine Express," which features "Wine & Cheese Tasting," on July 11.
Riders are invited to take part in a romantic "Wine and Cheese Excursion" and enjoy fine gourmet cheese, artisan crackers, meats, fruit, and our featured local wines. Additional Alcoholic and Non-Alcoholic beverages are also available onboard.
Wine and cheese will be served to passengers as they travel along the same railroad line passengers did when it was built in 1891 connecting New Hope with Philadelphia. The journey travels through the beautiful hills and valleys of Bucks County, along once vital waterways and streams and across numerous trestle bridges.
The excursions will take place aboard one of the railroads lavishly appointed early 1900's first-class parlor cars.
Tickets are $79.99 (Ages 21 and older only).
This weekend, the Strasburg Railroad (Route 741, Strasburg, 717-687-7522, www.strasburgrailroad.com) is celebrating one of its locomotives with a series called "611 at Strasburg: The Return of an American Icon."
The Norfolk & Western Class J 611, a National Historic Engineering Landmark by the American Society of Mechanical Engineers, is known as an engineering powerhouse of steam, technology, and near mechanical perfection.
The N&W Class J 611 is the sole survivor of 14 Class J steam locomotives designed and built by the Norfolk & Western Railway. The locomotive rolled out of Roanoke's East End Shops in 1950. Its mission was to pull the Powhatan Arrow, a 15-car passenger train, from Norfolk, Virginia, to Cincinnati, Ohio.
Now, the powerful and sleek locomotive is running the rails at the historic Strasburg Railroad in Lancaster County's scenic Amish Country.
Offered as part of the tourist railroad's regular daily steam train service, N&W No. 611 J will be the motive power for the day's main train on select days. She will pull 45-minute excursion rides to Paradise, Pennsylvania on the following days: July 17 and 18: July 24 and 25; August 20-22; August 27-29; September 4-6; September 24-26; and October 2 and 3.
Ticket prices range from $9.50-$45.
This Saturday is a special day at the Academy of Natural Sciences of Drexel University (1900 Benjamin Franklin Parkway, Philadelphia, www.ansp.org).
"Hungry Pop-Up at the Academy" is scheduled to get underway at 11:30 a.m.
Every Saturday in July, local chefs will be serving up delicious and sustainable lunches.
The Academy is partnering with Hungry, a national platform for top local checks and food delivery services. Hungry is committed to environmental sustainability and uses materials that are either fully compostable or recyclable.
Hungry is also committed to the fight against hunger, and for every two meals purchased at the Academy, the organization will donate one meal through food bank partnerships.
Visitors to the museum can also check out the Academy's latest exhibit, "Permian Monsters: Life Before the Dinosaurs," which shows the species that predated dinosaurs.
Visitors to the museum can step back in time 290 million years to when bizarre-looking creatures dominated life on land and sea, and dinosaurs had not yet evolved. They can also learn about the most devastating mass extinction the world has ever seen when "Permian Monsters: Life Before the Dinosaurs" takes up a year-long residence at the Academy.
The exhibit blends vivid artwork, amazing fossils and full-size scientifically accurate models of moving beasts to recreate this relatively unknown period that ended with the most devastating extinction of life. Visitors will explore odd-looking sharks, strange reptilelike precursors of mammals, a vicious giant saber-toothed gorgonopsid, and other extinct creatures that ruled the world millions of years before the dinosaurs.
"Permian Monsters: Life Before the Dinosaurs" will be on view through January 17, 2022.  "Wildlife Photographer of the Year," which is located in the museum's new natural-light-filled gallery, will be on view through February 15.
Admission is $22 for adults, $19 for seniors and $18 for children (ages 2-12).
The Museum of the American Revolution (101 South Third Street, Philadelphia, www.amrevmuseum.org) is presenting a special event on July 14 at 6 p.m. – "Founding Documents: Curating Constitutions with James F. Hrdlicka and Matthew Skic."
Guests can take a closer look at how states have defined constitutional rights for nearly 250 years in connection with the Museum's special exhibition "Flags and Founding Documents, 1776-Today."
On Wednesday evening, Dr. James F. Hrdlicka, lecturer at Arizona State University and author of "Colonists, Citizens, Constitutions: Creating the American Republic" will have a conversation with Matthew Skic, the Museum's Curator of Exhibitions, about the remarkable documents on loan from the Dorothy Tapper Goldman Foundation, including a copy of the first printing of the proposed United States Constitution from 1787.
This lively discussion will explore the questions Americans tried to resolve while writing constitutions during the Revolutionary, Civil War, and Progressive eras and uncover key differences in government on the state level that have influenced the United States Constitution.
The Museum's current special exhibition, "Flags and Founding Documents, 1776-Today," showcases dozens of rare American flags alongside historic early state constitutions and the first printing of the proposed U.S. Constitution of 1787 to shed light on the triumphs and tensions that the United States faced as new states joined the Union.
In the Museum's core galleries, visitors can view a rare 1777 broadside of the Declaration of Independence printed by Maryland postmaster and printer Mary Katharine Goddard. Goddard's printing was the first to include the names of the signers of the document. Her own name, as printer, also appears at the bottom of the page.
In a pocket theater that evokes the interior of Independence Hall, visitors can watch a film about the tumultuous weeks leading up to the adoption of the Declaration. Through a touchscreen installation, visitors learn about the 88 local declarations of support for independence that preceded the one issued by the Continental Congress. Galleries also explore what "the promise of equality" meant for all people, including women, native people, and enslaved people.
Admission to the museum is $21 for adults, $18 for seniors and $13 for youth (ages 6-17).
From one of the oldest, most iconic museums in Philadelphia to one of the newest, a new "Art & America" discounted joint ticket will provide access to two world-class institutions this summer.
The Philadelphia Museum of Art (2600 Benjamin Franklin Parkway, Philadelphia, www.philamuseum.org) and the Museum of the American Revolution have joined forces to offer visitors a convenient joint ticket that includes access to both museums for a discounted price.
The adult joint ticket, which is $35 (savings of $11), will be available for purchase from now through September 6 at www.philamuseum.org, by calling (215) 763-8100, or at the Philadelphia Museum of Art's front desk. Tickets will be redeemable through September 20 at both museums.
This summer at the Philadelphia Museum of Art, visitors can explore Philadelphia's extraordinary creativity in the brand new Early American Art galleries. They feature an unparalleled collection of paintings, sculpture, ceramics, furniture, glass, silver and more from the early 17th century until 1850.
More than 10,000-square-feet of new gallery space has been installed to tell new and inclusive stories of how Philadelphia became the young nation's cultural capital, and how Black, Indigenous, and Latin American artists contributed to the development of American art.
Hope Lodge (553 South Bethlehem Pike, Fort Washington, 215-343-0965, http://www.ushistory.org/hope/) will be presenting a "Self-Guided Mansion Tour" on July 11.
Hope Lodge was built between 1743 and 1748 by Samuel Morris, a prosperous Quaker entrepreneur. Morris acted as a farmer, shipowner, miller, iron master, shop owner, and owner of the mill now known as Mather Mill. Hope Lodge is an excellent example of early Georgian architecture, and it is possible that Edmund Woolley, architect of Independence Hall, offered advice in building. Samuel Morris owned the estate until his death in 1770.
The site opens at 12:30 p.m. with self-guided tours starting at 1 p.m. The site closes at 4 p.m.
Because of COVID-19 restrictions, guests will be able to tour the main floor of the mansion and summer kitchen areas only. Interpretive signage will be available including photos and text describing the other closed areas.
Tour admission is $8 for adults, $5 for seniors (age 65+) and for youth ages 6-17, and fee for children under 5. Hope Lodge is a Blue Star Museum which means that active-duty military personnel, including National Guard and Reserve and their families, are admitted free for regular tours from Memorial Day through Labor Day.