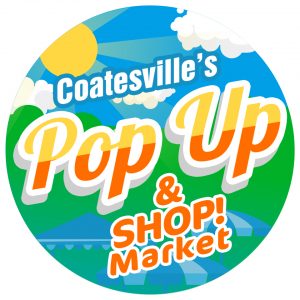 Coatesville's Pop Up & Shop outdoor markets return to the City on Saturday, July 10, at 3rd Avenue and Lincoln Highway (near Rite Aid) from 11 a.m. to 5 p.m.
Launched in September 2020 to provide entrepreneurs the opportunity to take their new and emerging small businesses to the next level, Coatesville's Pop Up & Shop markets are free and open to the public and will feature custom clothing and jewelry, handmade gifts, delicious cuisine, haircare, organic beauty products and more. To learn more about being a vendor, contact jlogan@coatesville.org or call 610-384-0300.
Last year, then twelve-year-old Reece Turner, President and CEO of Reecies Soaps, was among those showcasing her products. Turner was the winner of a Shark Tank-like competition during Coatesville's 2020 Business Skills for Success for the Entrepreneur program where she pitched her product virtually to a panel of judges and won $250. This year, members of the 2021 Entrepreneurial series will showcase their products and services in addition to other small businesses.
"The entrepreneurial spirit in Coatesville is alive and well," says James Logan, Coatesville City Manager, "and nurturing that spirit and supporting our small businesses is critical to the City's continued economic development. Our Pop Up & Shop markets are not only excellent exposure for business owners, they also strengthen our connections and sense of community."
Coatesville's Pop Up & Shop 2021 Market Dates and Locations:
Sat.        7/10      3rd Avenue and Lincoln Highway (near Rite Aid)
Sat.        7/24      Abdala Park (851 Olive St)
Sat.        8/7        Ash Park (between 3rd & 4th Avenues and Kersey & Walnut Streets)
Sat.        8/21      Ash Park (between 3rd & 4th Avenues and Kersey & Walnut Streets)
Sat.        9/11      3rd Avenue and Lincoln Highway (near Rite Aid)
Sat.        9/25      3rd Avenue and Lincoln Highway (near Rite Aid)