By Denny Dyroff, Entertainment Editor, The Times
Jim Brickman's music always has a warm, soothing quality – a sound that has endeared him to fans for nearly three decades.
This weekend will be a busy weekend for Brickman, who is one of the best-selling solo pianists of our time with more than 20 Number One albums and more than 40 Top 20 radio singles in Billboard Magazine.
First up this weekend will be the Brick Lounge Cocktail Party on April 30 which features music, cocktails, games, conversations and guest stars — all on Zoom.
On May 1 and 2, Brickman will be performing three live shows at the Sellersville Theater (24 West Temple Avenue, Sellersville, 215-257-5808, www.st94.com) – 3 and 8 p.m. on Saturday and 3 p.m. on Sunday.
"I have a new album that just came out," said Brickman, during a phone interview Monday afternoon from his home in Cleveland, Ohio.
"It's a solo piano album called '88.' It is all original piano solos. I hadn't done one of these in a long time. It was a labor of love after all these years of doing concept albums with original songs specific to a genre, style or category. It's the difference between having a guide and just playing."
One concept series is already five albums deep starting with "Soothe Vol. 1: Music to Quiet Your Mind and Soothe Your World" in 2015 with and the latest being "Soothe Vol. 5: Lullaby Dreams – Music for a Peaceful Escape," which was released in 2019.
Brickman's catalogue includes LPs with titles such as "Peace," "Hope," "Grace," "Faith," "Joy," "Love" and "Believe." He has released seven Christmas albums as well as tribute albums to cinema music and the music of The Carpenters and Disney.
"I'm working on a new album now called 'Prayer'," said Brickman, who earned two Grammy nominations for his albums "Peace" and "Faith."
"It is an album of originals that sound like hymns and prayers. I've always been very good with high concept ideas – an umbrella concept that helps me home in on an approach. '88' is more free form – more open.
"I'm actually more a proponent of concepting an album. It gives people a better sense of how to use it. People will see 'Prayer' and they'll know exactly what it is.
"I just felt it was time to do something that wasn't high concept. Some songs were around for a while. I put them into my iPhone and then went back to them later. Some have been pure improvisation. Actually, everything is improv. It comes effortlessly."
Brickman hopes to be touring a lot later this year.
"I'm looking to Christmas," said Brickman. "I have 22 dates booked already. My attitude is to go forward – look to Christmas and that it will be good. If not, we'll go back and do livestream.
"At Sellersville, I think people will be in a really good mood. I'm a little nervous – not scared –because I haven't performed live in a theater for quite a while.
"My live set – at this point coming back – it will be hits and favorites…and a couple new things. I'm more a proponent of doing what I feel the audience wants.
Video link for Jim Brickman — https://youtu.be/_BwMmgOP44g.
The shows at the Sellersville Theater this weekend will start at 3 and 8 p.m. on Saturday and 3 p.m. on Sunday. Ticket prices range from $50-$75. Livestream tickets for each show are $29.50.
Other upcoming shows at the Sellersville Theater are Michelle Foster on April 30 and George Winston on May 5
Maci Miller, who will headline a show on May 1 at Jamey's House of Music (32 South Lansdowne Avenue, Lansdowne, jameyshouseofmusic.com), is an expressive jazz singer and talented songwriter.
Because of her varied musical background, she is equally comfortable singing an Ella Fitzgerald classic like "Lullaby of Birdland," "Moje Zlato" (a Croatian wedding song) or one of her many melodic original compositions.
"I was singing into a hairbrush ever since I was able to talk," said Miller, during a phone interview Monday from her home in Bucks County.
As a young girl, Maci discovered her grandparent's vast collection of vinyl, and after studying every great artist from Ella to Ellington, she honed her vocal skills and made her debut in local clubs and at special events.
"There were a lot of musicians on my mother's side," said Miller. "I had a lot of talented uncles who were writers, producers and sound guys. On my dad's side, there was the Croatian influence. There was always Croatian music being played.
"When I was growing up, I was always singing in choirs and performing at local shows. When I was 20, I got into dinner theater in Harrisburg. Then I joined a funk band named Smooth – a pop/funk band."
Miller grew up in the Harrisburg area in a small town called Enhaut and then graduated from Central Dauphin East High School.
As of the 2010 census the population in Enhaut was 1,007. Enhaut is in Swatara Township — four miles southeast of Harrisburg.
"I was in a lot of bands that did wedding gigs," said Miller. "Then, I did a lot of modeling and acting when I moved to Philadelphia. I also worked in New York. After a while, I stopped all the other things and focused on music. It was later that I got into jazz.
Based in Philadelphia, Miller worked regularly at the casinos in Atlantic City.
"I worked at several casinos," said Miller. "I performed a lot at the Claridge. I'd listen to jazz a lot on the way home and think – why aren't I singing this. I really liked old music. I got into Ella Fitzgerald and then dug deeper."
Miller released her debut album, "A Very Good Night," in 2001.
"My first album was a big band album," said Miller. "It was all originals written in '40s style. My second album, which came out in 2004 was 'Take A Closer Look.' It was a pop/jazz fusion album."
Miller's third album was written for a very specific audience.
"The third album was 'Butterfly Moon'," said Miller. "It was a lullaby album for my baby girl, Ruby. We adopted her from Thailand. I made the album so she could get used to my voice before we went to Thailand to get her."
Miller's other creative endeavors as an actor, model, and spokesperson have afforded her numerous appearances on film (The Sixth Sense), print (Modern Bride, Women's World Magazine), and television (Law and Order). Her charitable contributions include a lullaby entitled "Butterfly Moon", originally composed for her daughter, which she contributed to a CD for The Mercy Center in Bangkok, which gives aid to orphans and children living with HIV.
Miller has worked with several music greats including trumpeter Steve Jankowski (Nile Rodgers, Chicago), saxophonist Larry McKenna (Woody Herman, Buddy DeFranco), Dean Schneider (music director for Diahann Carroll), Demitrious Pappas (Smokey Robinson's music director), and the late George Mesterhazy (Shirley Horn).
She has sung in legendary rooms such as the The Jazz Standard and Danny's Skylight Room in New York City, Ortliebs and Chris's Jazz Cafe in Philadelphia, Caesar's Palace in Las Vegas, and Bally's, Harrah's and the Claridge in Atlantic City. Her travels have also taken her to the iconic Bamboo Bar in Bangkok, Thailand for several extended runs.
The arrival of Ruby marked a career shift for Miller.
"I didn't sing for about eight years so I could focus on being a mom," said Miller. "Two years ago, my friend David O'Rourke said – you should sing again.
"Two years ago, I decided to dip my toe back in and an album came out of it – 'Round Midnight.'"
On "Round Midnight," Miller sings 15 favorite standards in an intimate duet format with guitarist David O'Rourke.
"I recorded 'Round Midnight' and released it just before the pandemic," said Miller. "I was four gigs into my comeback and the world shut down.
"So, I got equipment and did my own gigs. I had livestream shows in my backyard throughout the pandemic. I've been fortunate to be able to do live shows at different places including here at the farmhouse. Now, I'm working on a new album."
Video link for Maci Miller — https://youtu.be/D3ktSJTVxDs.
The show at Jamey's House of Music on May 1 will start at 8 p.m. Tickets are $15 in advance and $18 at the door. The show will also be available via Livestream for $15.
On April 30, Jamey's will host the area debut of young guitar ace Jack West.
West can play at bars and clubs all over the country, but he can't buy a drink at any of them – because he is only 16.
The precocious guitarist may be short on years lived but he is tall with experience.
"When I was little, I always had drums and guitars," said West, during a phone interview Tuesday afternoon from his home in Rochester, New York.
"My dad bought me a guitar at a garage sale when I was eight – a Tyko guitar. My second guitar was my first real guitar – a Fender acoustic. Now, I have a couple Martins.
"I started taking guitar lessons when I was eight.  I had my first real paid gig when I was 10 in Rochester. I played around Rochester for three years – clubs and bars and local festivals."
In middle school, West moved away from traditional in-house education.
"I'm home schooled," said West. "I've been home schooled since seventh grade."
Part of that home schooling has been travelling with is family to music events throughout America.
"In 2017, I was at the Pilgrimage Festival in Nashville with my family," said West, referring to the Pilgrimage Music & Cultural Festival in Franklin, Tennessee.
"I was 12 and I ran into Eddie Vedder in the lobby of the hotel. I asked if I could sing with him that night and he said O.K. I practiced the song with him that afternoon and then we sang 'Society' together onstage at the festival.
"After the show with Eddie Vedder, a lot of Pearl Jam fans clung on to me. Social media grew fast. I flew to Seattle for Pearl Jam's holiday party that year."
West has found a home-away-from-home in the west – Seattle specifically.
"I flew out to Seattle to record my first album at the Laundry Room," said West.
Laundry Room Studio is the music recording studio owned and operated by Producer/Engineer Barrett Jones, who is known for his work with Foo Fighters and Nirvana.
"The album is called 'For the Record.' I spent a month there working with Barrett Jones. I've also released five singles and one EP."
West's most recent effort, "Live at Easy Street Records," a six-song EP recorded at the famed Seattle indie retailer featuring a cover of Audioslave's "Like a Stone," shows off his six-piece band in front of a packed room.
"I've only played two live shows in the last 14 months, and they were last week in Berlin, Maryland and Easton, Maryland. This week, I'm playing the Bowery Electric in New York on Thursday and then Jamey's House of Music in Pennsylvania on Friday.
"This will be my first time to play Philly. I spend most of my time writing and 75 per cent of the show at Jamey's will be originals. I won't have my band with me. It will just be an acoustic show with my friend from Rochester — Brody Schenk."
Video link for Jack West — https://youtu.be/AkeKuduEEBU.
The show at Jamey's House of Music on April 30 will start at 8 p.m. Tickets are $15 in advance and $18 at the door. The show will also be available via Livestream for $15.
Other upcoming shows at Jamey's House of Music are Tom Craig Band on May 7, Roger Girke on May 8, James Dalton on May 14, Lisa Chavous and the Philadelphia Blues Messengers on May 15, Bobby Messano on May 21 and Jefferson Berry on May 22.
Theater fans who have been waiting to attend a live performance of a play can find what they've been looking for — in Delaware.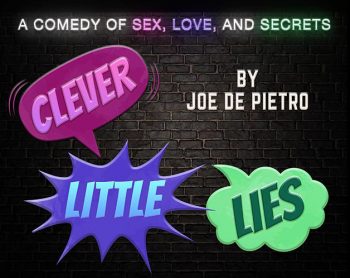 A new season has started at the Candlelight Theatre (2208 Millers Road, Arden, Delaware, www.candlelighttheatredelaware.org). The Candlelight's production of "Clever Little Lies" will be presented every Friday, Saturday and Sunday through May 23 with an added matinee on May 19.
An expertly crafted situation comedy about marriage, infidelity, and the deceptions necessary to cover one's tracks…until one by one they begin to unravel. Written by Joe DiPietro (winner of two Tony Awards for "Memphis"), "Clever Little Lies" is a hilarious exposé of the relationship between husbands and wives, parents and children and unintended consequences.
The play is a four-character show featuring Tom Hornung as Bill, Sue Hornung (his wife in real life) as Alice, Hallie Hargus as Jane and Max Redman as Billy.
Hargus is a Candlelight veteran. She was the ingenue in "Lend Me A Tenor," played opposite Anthony Connell in "Brigadoon" as Bonnie Jean and has done some Christmas Shows at the dinner theater in Arden. Hargus also has played major roles in productions at the Walnut Theatre in Philadelphia.
"We started rehearsals for 'Clever Little Lies' a couple months ago," said Hargus, a native of Lexington, Kentucky. "It's a true production of the original script. I saw highlights and read reviews.
"One of the most attractive things about this play is that there are no good guys and no bad guys. Everyone is a fully human person. You see their good sides and you see their flaws. It's a comedy but it can be heavy at the flip of a switch. It deals with some heavy topics – love, fidelity, relationships."
The show starts with the revelation that Billy is having with a hot, sexy affair with a 23-year-old personal trainer at his gym – a beautiful upbeat girl named Jasmine. It then gets more complicated and involves his dad and his mom as well as his wife.
"The younger couple is in their twenties and the parents are in their sixties," said Hargus, a graduate of Northern Kentucky University. "The other woman is in her twenties. Billy's infidelity is a real active relationship.
"It's set in the modern day – right here and right now. There are four scenes that take course in one day. It starts in a locker room after a tennis match. The other scenes are in the parents' living room. The last scene is the bulk of the play taking place in the parents' living room."
Moving forward during the pandemic has forced the Candlelight to make many changes.
Masks covering the nose and mouth must be worn at all times except when you are eating or drinking, and everyone's temperature will be taken with a contactless thermometer when they enter the building.
There are fewer tables than pre-pandemic and more widely spaced tables. Servers and staff will all wear a mask and gloves.
There will no longer be a buffet meal. Instead, servers will bring patrons dinner to their tables.
The theater has been treated from top to bottom with a long-term antimicrobial treatment which eliminates 99.99% of germs, bacteria, and viruses including COVID-19. This powerful treatment protects treated surfaces between monthly cleanings. There will be enhanced cleanings between performances.
Additionally, the theater is using Aerus ActivePure Purifiers. The entire ventilation system now employs advanced air purification, using HEPA, ionizers, and ultraviolet technology to renew the air 24/7. The combined system is so effective that the theater's air is completely renewed every 30 minutes.
If you want to see a funny play presented well by a professional cast in an ultra-safe environment, consider a trip to the comfortable theater in Arden.
"Clever Little Lies" will run now through May 23. Tickets are $65.50 for adults and $33 for children (ages 4-12). All seats are reserved.