By Denny Dyroff,  Entertainment Editor, The Times
This is the time of year to get out and appreciate one of nature's most brilliant displays – cherry blossoms in bloom.
A great place to observe cherry blossoms and see a lot of other spring flowers in bloom is the Morris Arboretum (100 East Northwestern Avenue, Philadelphia, 215-247-5777, www.morrisarboretum.org).
One of the featured cherry blossoms is yoshino cherry (Prunus x yedoensis). It is one of many varieties of cherry blossoms that usher in spring in the Arboretum.
The Arboretum also is showcasing several other colorful spring flowers currently.
Another eye-catcher is Camellia japonica "Berenice Boddy" (Berenice Boddy Japanese camellia). This bright-flowered plant is a member of the Theaceae, the tea family.
Magnolia x soulangeana (saucer magnolia) provides vivid colors. The flowers of this common hybrid magnolia add a bright pop of color to the Magnolia Slope.
Other popular spring blooms in April are Cercis canadensis (eastern red bud), which has a brilliant pink bloom in April, and Magnolia "Sayonara" (sayonara magnolia). The giant flowers of the magnolia bloom before its leaves emerge.
Morris Arboretum is also offering its annual "Garden Highlights Tour" this month.
Experienced guides will share both the history and current highlights of the Arboretum during a one-hour walking tour.
Tours depart from the Visitor Center at 1 p.m. each Saturday and Sunday in April.
Admission to the Morris Arboretum is $20 for adults, $18 for seniors (65 and older) and $10 for youth (ages 3-17).
There are many interesting places around Philadelphia to enjoy cherry blossoms including the Fairmount Park Horticulture Center (100 N. Horticultural Drive), which features more than one thousand cherry trees on its 27-acre grounds.
Other key locations to check out cherry blossoms in bloom are Kelly Drive between Boathouse Row and Girard Avenue, Belmont Plateau at Belmont Mansion Drive in Fairmount Park, Columbus Boulevard near the Delaware River waterfront, Please Touch Museum (4231 Avenue of the Republic) and West Fairmount Park, Philadelphia Museum of Art's West Entrance near the Fairmount Water Works, and the Navy Yard Gree,
Shofuso Japanese Cultural Center (Horticultural and Lansdowne drives, Philadelphia, japanphilly.org) is one of the best places to enjoy this visual spectacle.
Shofuso Japanese Cultural Center is a traditional Japanese house and garden located in West Fairmount Park.
A hidden gem in Philly's sprawling Fairmount Park, Shofuso is ready to receive visitors safely, all while enjoying the beauty of the blooms to come. The site will be open for visitation Wednesday through Sunday, 11 a.m.-5 p.m. through December 12.
A new attraction this year is the just-completed Pebble Beach alongside the central pond. Based on newly discovered 1957 drawings made by Shofuso's original garden designer Tansai Sano, Shofuso brought to life a traditional Su-hama Pebble Beach on the garden's boat-landing shoreline.
This archetypal Japanese Garden motif invokes the spirit of the pebble strewn shorelines of Kyoto's Kamo River and the rocky coasts of Japan by incorporating elegantly designed stretches of pebbled beach along a garden pond's lowest contours.
Adult admission is $12; senior citizens, students with ID and children ages 5-17 admission is $8; ACCESS card holders' admission is $2; and JASGP members, active-duty military with ID and children under 5 are admitted free.
One of the best ways to celebrate the arrival of spring is a visit to Longwood Gardens (Route 1, Kennett Square, 610-388-1000, www.longwoodgardens.org) to check out "Spring Blooms," which is running now through May 2.
Thousands of blooming spring bulbs create a lush tapestry of color, fragrance, and warmth across the Gardens' 1,100 acres throughout April.
Indoors, Longwood's Main Conservatory is bursting with spectacular color as jasmine, anemones, lilies, and hydrangeas take center stage.
During peak bloom, expected in mid-April, weather permitting, Longwood's historic 600-foot-long Flower Garden Walk boasts more than 200,000 tulips and other seasonal blooms in a patchwork of color.
In the Idea Garden, a combination of pink, peach, and yellow tulips are complimented by a ribbon of blue flowering bulbs providing a harmonious vista.
In the Ornamental Kitchen Garden, frost-tolerant spring vegetables—peas, broccoli, kale, arugula, cabbage, spinach, carrots, radishes, scallions, cilantro, and lettuce—begin to take form.
Guests will also want to soak in Longwood's inviting and expansive Meadow Garden as Carolina silverbells, Eastern redbuds, flowering dogwoods, and sweet azaleas spring into beauty. Grand treehouses, whimsical topiaries, and tranquil forests add to the beauty of spring.
In addition to the glorious spring color, Longwood fountains also begin to jet back to life.
In mid-April, the Italian Water Garden and Open Air Theatre fountains delight guests, while Main Fountain Garden daytime and evening performances return May 6.
As always, admission by "Timed Ticket" — tickets issued for specific dates and times. Timed ticketing limits the number of people in the Gardens at any given time and allows guests to enjoy minimal lines and a better viewing experience.
You may enter the Gardens up to 30 minutes prior and 30 minutes after your designated time. Make every effort to arrive at your designated reservation time. Earlier or later arrivals may not be accommodated.
Admission to Longwood Gardens is $25 for adults, $22 for seniors (ages 62 and older) and college students, $18 for active military and veterans and $13 for youth (ages 5-18).
At Winterthur Museum, Garden & Library (Route 52, Wilmington, Delaware, www.winterthur.org), which has 25 miles of walking trails, visitors will be able to enjoy the tapestry of color in the garden at a variety of locations.
Guests can follow the white arrows to discover the "must see" areas in April and May. The path changes weekly, along with the blooms.
On April 17, Winterthur will celebrate "Daffodil Day" from 11 a.m.-3 p.m.
Visitors can celebrate the beauty of the daffodil and enjoy Winterthur's amazing daffodil display in cloudlike drifts throughout the garden and estate.
The day's events include a plant sale of propagated Anemone appenina, the Italian windflower that flowers in the March Bank and Azalea Woods. This plant is very rare and not generally available at nurseries.  In addition, Linda Eirhart, curator of the landscape, will sign copies of her book, "The Winterthur Garden Guide: Color for Every Season."
Visitors to the site will be able to see the flowering quince and crabapples in the Pinetum and Sundial Garden along with dazzling spireas, early lilacs, and shrub cherries.
Italian windflowers carpet the March Bank and Azalea Woods. Wildflowers are also on view throughout the garden with spring beauties, Virginia bluebells, trilliums, and merrybells.
Almost 60 years ago, collector and horticulturist Henry Francis du Pont (1880–1969) opened his childhood home, Winterthur, to the public. Today, Winterthur is the premier museum of American decorative arts, with an unparalleled collection of nearly 90,000 objects made or used in America between about 1640 and 1860.
The collection is displayed in the magnificent 175-room house, much as it was when the du Pont family lived here, as well as in permanent and changing exhibition galleries.
Winterthur is set amidst a 1,000-acre preserve of rolling meadows and woodlands. Designed by du Pont, its 60-acre naturalistic garden is among America's best, with magnificent specimen plantings and massed displays of color.
Admission to Winterthur is $20 for adults. $18 for seniors and students (with valid ID), $6 for children (ages 2-11) and free for infants (under 2).
A wonderful place for enjoying flowers in bloom is Tyler Arboretum (515 Painter Road, Media, 610-566-9134, www.tylerarboretum.org).
"Weekday Bird Walks: Limited Edition" are scheduled for every Wednesday in April from 8-10 a.m. Participants can join Sue Lucas and Sara Boucas-Neto on morning bird walks at Tyler.
With acres of unbroken forest interior and extensive meadows, Tyler is recognized by the Pennsylvania Audubon Society as an Important Bird Area. Participants are asked to bring their own binoculars and be prepared to walk on all types of surfaces. Walks are rain or shine. Tickets are $15 and include admission to Tyler for the day.
"Weekday Wildflower Walks, Limited Edition" are also scheduled for every Wednesday in April from 11:15 a.m.-1:15 p.m. each day.
Participants will join wildflower experts Dick Cloud and Richard Brenner and discover the multitude of wildflowers that are in flower, fruit and perhaps a stage in-between. These walks are for those who have a love of plants, their role in ecology, or for those who want to learn more.
Instructions are to wear comfortable hiking shoes, bring a camera and/or a wildflower guide and enjoy a botanical-filled walk.
Tickets are $15 and include admission to Tyler for the day.

April 18 is "Reopen House Day" in Philadelphia.
Global Philadelphia is celebrating the International Day for Monuments and Sites on Saturday by welcoming visitors back to the region's National Historic Landmarks. More than 20 participating historic sites will offer tours for visitors, virtual programs, and special events.
Reopen House Day participating sites are offering a mix of in-person and virtual programming on April 18. Not all sites are open for in-person visitation. Check each site listing for details.
The most up-to-date list of participants includes Stenton, The Woodlands, Eastern State Penitentiary Historic Site, Mother Bethel AME Church, Carpenters' Hall, Arch Street Meeting House, The Athenaeum of Philadelphia, Founder's Hall at Girard  College, Wagner Free Institute of Science, Beth Sholom Synagogue, and Pennsylvania Academy of the Fine Arts.
The list also features Hill-Physick House, Academy of Music, Colonial Germantown Historic District, Cliveden, Fort Mifflin, Christ Church Burial Ground, Historic Rittenhouse Town, Woodford Mansion, Johnson House Historic Site, Second Bank of the United States (Independence NHP), and Elfreth's Alley.
Stenton (4601 N. 18th Street, Philadelphia) opens to visitors on April 18 from noon-4 p.m. Tickets are free for all visitors. The garden and grounds are open to all, but reservations are required for house tours.
At the Arch Street Meeting House (320 Arch Street, Philadelphia), Jocko MacNelly will play live music on the grounds from 11 a.m.-3 p.m. Inside the Building, the site's "Ask a Quaker" program will be available to visitors interested in learning more about the continued relevance of Quakers and Quaker history.
The Athenaeum of Philadelphia (219 S. Sixth Street, Philadelphia) will be open from noon-4 p.m. Timed tickets will include staff-led tours of the building and time to explore the exhibition gallery, Joseph Bonaparte Collection, Reading Room, and architectural and museum collections.
Johnson House Historic Site (6306 Germantown Avenue) will be open from 1-3 p.m. with a re-enactment at 2 p.m.
The Museum of the American Revolution (101 South Third Street, Philadelphia, www.amrevmuseum.org) is turning four.
The public is invited to join the museum staff as they celebrate the Museum's birthday with newly installed artifacts, pop-up talks, a virtual kids club meet-up, and giveaways from April 16-19.
The Museum, which opened to the public on April 19, 2017 – the anniversary of the "shot heard 'round the world" that ignited the Revolutionary War in 1775 – has welcomed nearly a million visitors from across the nation and around the world. Throughout the weekend, visitors can explore the story of those first battles of the Revolutionary War at Lexington and Concord through pop-up talks and newly installed artifacts that were used by Continental soldiers who fought and died on that day.
On April 19 from 10 a.m.-5 p.m., each visitor to the Museum will receive a free lapel pin inspired by George Washington's Standard, the flag that marked his presence on the battlefield during the Revolutionary War.
The Museum is now open to the public Fridays through Mondays from 10 a.m.-5 p.m. with enhanced health and safety protocols. Advanced online ticket purchasing is recommended to guarantee availability.
Tickets are $21 for adults, $18 for seniors, military and students, and $13 for youth (ages 6-17).
The Philadelphia Comic-Con, which is scheduled for April 18 at the Clarion Hotel Conference Center (76 Industrial Highway, Essington, 856-217-5737, www.philadelphiacomic-con.com), features comic books, trading cards and other collectibles — both modern and vintage.
The popular collectibles event, which is the area's longest running comic convention, will host dealers from all over the Northeast with sales booths featuring Gold & Silver Age comics, action figures, and non-sport cards.
Also featured will be Japanese Manga, gaming cards such as Pokemon and Magic the Gathering, original artwork and all the latest issues of today's popular comic book series.
The roster of top-flight vendors includes veteran dealers and relative newcomers — 15 dealers coming from far and wide who will set up their goods on 37 tables.
The event, which has free admission and free parking, is scheduled to run from 10 a.m.-4 p.m. on April 18 with a "Senior Hour" from 9-10 a.m. for guests 55 and older.
If you thought Easter 2021 was over – think again.
Most religions follow the Gregorian calendar and that meant that Easter 2021 was on Sunday, April 4.
The Eastern Orthodox Church follows the Julian calendar and that means parishioners of Orthodox churches such as those found in Serbia, Russia, Ukraine, Albania and other eastern European countries will celebrate Easter on Sunday May 2.
The Eastern Orthodox Church, officially the Orthodox Catholic Church, is the second-largest Christian church.
There is also one remaining commercial celebration of Easter 2021 — "Elmo's Eggstravaganza Easter Celebration" at Sesame Place (100 Sesame Road, Langhorne, www.sesameplace.com).
The amusement park's "Easter Celebration" opened on March 27 and is running through April 18.
Guests can safely visit Sesame Place for a good time with rides, shows, surprise mini parades and special Easter fun with everyone's favorite furry friends.
Visitors to the park can get physically distant photos with the Easter Bunny in his Bunny Picture Patch, take a spin on their favorite rides, and participate in an interactive Easter Egg Scavenger hunt
They can also dance, sing, and hop along with their Sesame Street friends at the "Furry Friends Bunny Hop Dance Party." A physically distanced, interactive dance party located near Oscar's Wacky Taxi.
Ticket prices start at $49.99.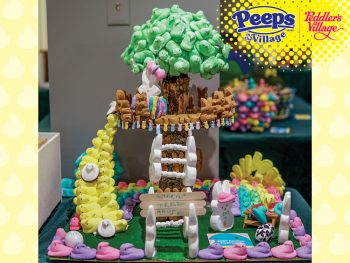 April 17 will be the final day to check out the "Second Annual PEEPS® in the Village" display at Peddler's Village (Routes 202 and 263, Lahaska, peddlersvillage.com).
Housed in an indoor area in the Village Courtyard, this colorful display includes more than 90 creations of wall art, dioramas, and sculpture, all prominently featuring PEEPS® — the popular Pennsylvania-made bunnies, chicks, and other candies.
The event will also feature PEEP-themed food and drink specials in the site's various restaurants.
Safety measures are in place. A limit of 10 guests is admitted into the space for 10 minutes to view the display. Guests must wear masks covering mouths and noses and are asked to adhere to social distancing guidelines.
Admission to the display is free.
Elmwood Park Zoo (1661 Harding Boulevard, Norristown, www.elmwoodparkzoo.org) is putting out the welcome mat for its canine friends and hosting "Dog Days" on April 21 and 23 from 1-5 p.m.
The Zoo posted this message:
Families often consider their pets as members, and many enjoy sharing adventures with their dogs! As animal lovers, we acknowledge that a love of wildlife often goes hand-in-hand with pet ownership. We are excited to encourage a deeper appreciation for all animals by inviting owners to bring their dogs to visit the zoo on select days.
All guests visiting the zoo with a furry friend must complete an online waiver and submit required documents before visiting the zoo. You must upload a copy of your most recent veterinary visit, including proof of vaccine and heartworm test here. All items will be required for you to attend Dog Days.
Pricing is $10.95 per dog with each additional dog at $9.95. Regular zoo admission is required for all humans.
The Battleship New Jersey Museum and Memorial (62 Battleship Place, Camden, New Jersey, www.battleshipnewjersey.org) is presenting a special attraction over the next two weekends.
"Little Lights! How the Navy Communicates!" will be featured from noon-3 p.m. on April 17, 18, 24 and 25.
The "Little Lights" program, which is being presented by the Charles Edison Fund, looks at how ships and sailors communicate with each other when they're out at sea.
If you've ever wondered how someone on one ship sends a message to someone on another ship if neither can hear each other, you'll find the answer at this event.
The Navy uses a series of codes and flags to send messages to one another and you'll be able to learn all about the process.
If you attend the "Little Lights" program, you can send a message yourself through semaphore or other flag languages and color in your own signal flag message.
Another activity for participants is helping the museum's educators as they repair signal flags — just as was done on board the ship while it was in service.
This attraction is included with the purchase of a Fire Power Tour.
Tour tickets are $24.95 for adults and $19.95 for children (ages 5-11), veterans and seniors (62 and older) and $5 for children under five.
Every Saturday and Sunday through May 23, the Chaddsford Winery (632 Baltimore Pike, Chadds Ford, 610-388-6221, http://www.chaddsford.com) will present "Taste of Spring — Reserve Tastings."
Visitors are invited to join the winery staff for an intimate and educational 60-minute experience in the newly renovated Barrel Room – and be one of the first to taste the highly-anticipated '20 Sparkling Rosé before it is released to the public.
Chaddsford's trained staff will guide guests through a pre-selected tasting of five diverse and award-winning wines from across the winery's portfolio. The selections will be paired with seasonal local cheeses and other accoutrements.
Also featured will be discussions about topics such as grape growing conditions at the winery's partner vineyards and the onsite winemaking process from production to aging and bottling.
"Reserve Tastings" are $35 per person. There will be three seatings per day – noon, 2 and 4 p.m. Advanced reservations are required and are non-refundable.
If you like the wine produced by Black Walnut Winery (3000 Lincoln Highway, Sadsburyville, 610-857-5566, www.blackwalnutwinery.com), you better act soon to procure some bottles.
The winery's website posted the following message:
Thank you for everything!
It is with heavy hearts that we announce the closure of the Black Walnut Winery in Sadsburyville effective March 29, 2021. Please note that we will continue to sell wine by the bottle and the glass and offer wine tastings (by reservation) in the cellar of the building on Saturdays and Sundays from noon-6 p.m. now through June 2021, so please join us for "Weekends in the Wine Cellar" on Saturdays and Sundays in April, May and June.
Access to Black Walnut Winery after March 28 will be via the access drive/through the double barn doors into the cellar. We will have yard signs posted to help guide you to the cellar.
The Delaware Art Museum (2301 Kentmere Parkway, Wilmington, Delaware, www.delart.org) is welcoming back its DelArt Cinema Drive-in Series.
Participants can enjoy a classic film from the comfort of their own car. Concessions will be available to purchase on site. Rain dates will be scheduled as needed. Parking begins at 7:15 p.m. and the movie starts at dusk.
The just-announced schedule is:
Friday, Apr 16 – The Birdcage
Friday, Apr 23 – All About Eve
Friday, May 7 – The Cotton Club
Friday, May 21 – Ed Wood
Friday, May 28 – Weekend at Bernie's
Friday, June 4 – The Color Purple
Tickets, which include popcorn and soda, are $19 per person.
The Colebrookdale Railroad (South Washington Street, Boyertown, www.colebrookdalerailroad.com) is running its "Secret Valley Expedition" excursion on April 17.
The tourist rail line's two-hour expedition into the Secret Valley features rides on meticulously restored century-old rail cars and visits one of the most scenic and historic regions in the northeast.
The railroad will be offering a lunch aboard the Secret Valley Expedition to all dining class passengers. Riders can enjoy a choice of Chicken Parmigiana or lasagna while journeying through the verdant land lost in time. Children on board will be served chicken fingers with macaroni-and-
First Class Parlor and Lounge Car fares include one complementary beverage served in a commemorative glass, an hors d'oeuvre plate that includes a fine selection of cheeses, meats, cranberries, and mixed nuts, and a cheesecake dessert as part of the ticket price.
Our a la carte menu is available in all cars and all passengers have access to our open car for near 360-degree views of the Secret Valley.
Deluxe coach fares are $36 for adults (13-64), $29 for children (2-12), $31 for seniors (65 and older) and $6 for toddlers.