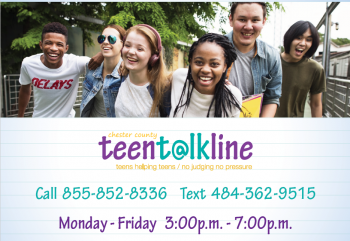 WEST CHESTER — Chester County teens now have a new tool for mental health and wellness. A Teen Talk Line, targeting 12 to 18 year-olds, is now taking calls and texts to support young people who are feeling overwhelmed, stressed, sad, isolated, or confused.
The National Institute of Mental Health notes that young people may be more vulnerable to stress and developing mental health conditions, such as anxiety or depression. Teen Talk and Text lines are effective tools in supporting youth across the country.
Chester County's Teen Talk Line is contracted through the county's office of Mental Health and will be provided by Access Services, a non-profit organization that runs other mental health programs, including a Teen Talk Line in Montgomery County. The line will operate after school and in the early evening hours, which are the peak hours for family and other conflicts. Individuals who call after hours will receive an automated message and will be directed to the Valley Creek Crisis Intervention Center in Exton for immediate support when needed.
"We're very pleased to offer a service that provides a safe space for kids to reach out and connect with others in a supportive, confidential way; to share their concerns and receive peer and professional support.  As we expand resources for early intervention, this program fosters an opportunity for positive experiences, promotes growth, self-awareness, and reduces stigma," said Candy Craig, Chester County Deputy Administrator for Mental Health.
Connecting with teens around concerns and stressors while they are still manageable can support skill building, resilience and an understanding of community resources. Supervised call-takers are trained to apply active listening skills via phone and text, to recognize risks, coping strategies and problem solving, among other engagement techniques and competencies.
Chester County's Teen Talk Line will work with Valley Creek Crisis Intervention Center to ensure seamless referral to Mobile Crisis for youth in need of immediate or higher-level support. In addition, the program will reach out to schools and community organizations to support virtual host events and to support the Teen Talk Line. The call center, which is live from 3:00 – 7:00 PM, will use two numbers:
The call line is 855-852-TEEN (8336) and the text line is 484-362-9515.
For more information, please visit the Access Services website at accesservices.org or contact Kerri Hoogenhuis the Assistant Director of Peer Support and Teen Talk Lines at Access Services at KHoogenhuis@accessservcies.org.