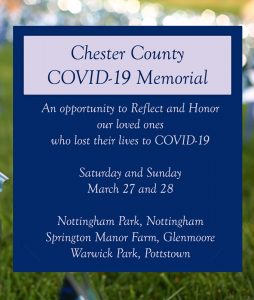 WEST CHESTER — In observance of the one-year anniversary of the first recorded COVID-19 death in Chester County, the County Commissioners announce plans for memorial displays that will be located at three places in the north, central and south parts Chester County.
Special memorials will be featured in Warwick Park in Pottstown, Springton Manor Farm in Glenmoore, and Nottingham Park in Nottingham over the weekend of March 27 and 28, giving county residents and visitors the chance to remember and reflect upon the lives of those who succumbed to the coronavirus.
The memorial display will include pinwheels, placed in a prominent area of each park, to represent the number of Chester County residents whose deaths have been caused by COVID-19 (currently 739).  The County will also create a web page dedicated to honoring the memory of those who died, encouraging residents to leave messages, memories and names of family members, friends or colleagues who they have lost.
"We want this memorial to be a place where anyone can come and spend time remembering those who they have personally lost, and those who Chester County collectively has lost during this pandemic," said Chester County Commissioners' Chair Marian Moskowitz. "And the memorial web page will give people the chance to share memories and document the names of the people that they loved."
The memorial display has been created for all to visit at any time during each park's opening hours.  This format, rather than that of a formal in-person memorial service, allows for many people to come, remember, pay their respects and enjoy the features of the park, without encouraging large gatherings of people.
County Commissioner Josh Maxwell said, "We chose our County parks for these memorials because thousands of people have come to love and treasure them even more during the pandemic. The open space, the trails and the beauty of the parks have helped everyone who needed an 'escape' at one time or another."
The memorial display at each of the three parks will be fully accessible, and will be open during park hours of 8:00 a.m. to sunset.  At Warwick Park, the memorial will be near the park office.  The Great Oak Tree will serve as the memorial backdrop at Springton Manor Farm, and at Nottingham Park, the memorial will be by the entrance to the fitness trail.
"These three locations will be temporary memorials, chosen to be offered now to mark one full year since our first death," said County Commissioner Michelle Kichline.  "It is our intention to create a permanent memorial in Chester County when the pandemic has ended that will provide a focus for future generations to visit and remember."