By Mike McGann, Editor, The Times @mikemcgannpa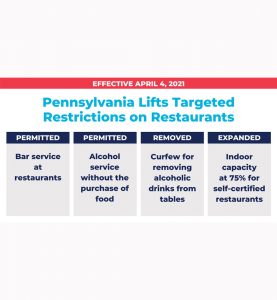 April showers may well bring May flowers, but April 4 will bring — potentially — a half full Citizens Bank Park for the Phillies just a couple of days into the Major League Baseball season — as well as the reopening of bars across the commonwealth, under new orders released by Gov. Tom Wolf, Monday.
Wolf, citing both declining COVID-19 rates and increased numbers of vaccinations, said the time has come to reduce restrictions intended to stop the spread of the virus. Virtually every type of venue will see an increase in allowed attendance across the commonwealth.
"Pennsylvanians have stepped up and done their part of help curb the spread of COVID-19," Gov. Wolf said in his statement. "Our case counts continue to go down, hospitalizations are declining, and the percent positivity rate gets lower every week – all very positive signs. The number of people getting vaccinated increases daily and we are seeing light at the end of the tunnel. It's time to allow our restaurants, bars and other service businesses to get back to more normal operations."
Positive cases continue to trend down in Pennsylvania (down to 5.7%) and in Chester County (4.3%). Although there continues to be frustration in vaccine distribution, the daily number of shots in arms in the commonwealth continues to grow — more than 1.2 million Pennsylvanians have been fully vaccinated, while more than 3.6 million have had at least their first shot. To date, the commonwealth has allocated some 4.7 million shots.
Indoor event venues can boost to 25%, while gyms, theaters and various other venues will able to increase to 75% and sports stadiums can go to 50%. One caveat: six-foot spacing will still need to be maintained, which could prove a challenge for the Phillies in terms of reaching the 21,000-plus that could theoretically be in the ballpark as of April 4, but still a likely significant boost from the 25% — about 10,000 — that will be allowed for Opening Day, April 1. The Sixers and Flyers will now be allowed to host about 5,000 fans at Wells Fargo Center — spacing should be less of an issue at the arena.
But even if you can't make it to the ballpark that day, you'll now be able to belly up to the bar in your favorite watering hole to watch the game with friends — spacing and mask wearing will still apply.
According to the governor's order: as of April 4, restaurants may resume bar service; alcohol service will be allowed without the purchase of food; the curfew for removing alcoholic drinks from tables will be lifted; and indoor dining capacity will be raised to 75 percent for those restaurants that are currently self-certified and those that undergo the self-certification process, which involves agreeing to strictly comply to all public health safety guidelines and orders, including the cleaning and mitigation protocols and other operational requirements contained in the Governor and Secretary of Health's mitigation and enforcement orders issued on November 23, 2020, as amended. Those restaurants that do not self-certify may raise capacity to 50 percent. Outdoor dining, curbside pick-up and takeout are still encouraged.
While this will be seen as a major step forward both for businesses and consumers, if case numbers go back up, the old restrictions may need to come back. Wolf is reminding people to be smart about COVID-19.
"We've come so far and now is not the time to stop the safety measures we have in place to protect ourselves, our families and our communities," Gov. Wolf said. "Keep wearing a mask, social distancing, and, please, get vaccinated when it's your turn."