By Denny Dyroff, Entertainment Editor, The Times
Amazingly, it was a year ago when COVID-19's destructive path began to evidence itself all across the United States.
On Friday the 13th in 2020, things started to shut down in response to the newly arrived pandemic.
Because of Coronavirus, doors were beginning to close. But the doors were not being slammed shut and locked tight. That would come a little later.
Events, meetings, sports games, family activities, concerts and school programs were erased from schedules at a head-spinning rate.
Some of the popular annual events usually held this weekend were cancelled. Restrictions led to the cancellation of all the various St. Patrick's Day parades in the area – Philadelphia, Wilmington, Springfield, Conshohocken — all of them wiped out more quickly than you can say "Slainte."
Some of the area's attractions remained open – but with caveats.
The message on Longwood Gardens' website was –
Longwood Gardens is committed to remaining a safe place of beauty and respite for our community. 
Our Gardens are open. However, all assembled group activities are canceled.
Out of an abundance of concern for the wellbeing of our guests and community, and in keeping with the CDC's guidance to practice social distancing, all concerts, tours, onsite classes, Member events, family and student programming, and lectures are canceled. 
According to the Brandywine River Museum Museum's website:
The Brandywine is dedicated to remaining a safe and welcoming place for our visitors and staff during the heightened vigilance associated with the spread of the infectious disease COVID-19.
The Brandywine is open during regular hours, and all programs are taking place as scheduled, unless otherwise noted. 
We are closely monitoring the evolving situation and following the Centers for Disease Control (CDC) guidelines to proactively protect the health and well-being of our visitors and staff. 
This was the message on the Hagley Museum website:
For the health and well-being of our community, Hagley is taking measures to support efforts in response to COVID-19. These are in keeping with the CDC's guidance to practice social distancing. 
Hagley Museum is open for public visitation for walking. Most buildings will be closed. Buses will not be running, and the "upper property" will be closed. Additionally, the Hagley Library will be closed. 
Winterthur's response to the Coronavirus invasion was:
We are postponing all public events, programs, and tours and closing our galleries, retail stores and café through April 30. We are working to reschedule events and we will reach out to you with the new dates. 
Winterthur gardens and trails remain open for those looking for peace and beauty in these difficult times. This year, March 13 arrives this weekend.
The Brandywine River Museum and Hagley Museum are closed. Longwood Gardens and Winterthur are open.
The Brandywine River Museum isn't open – but for non-COVID reasons.
The museum is currently closed to the public to undergo facility renovations to its second and third floors. The Museum will be reopening in June with its new special exhibition, "Ralston Crawford: Air & Space & War."
Hagley Museum is scheduled to re-open on May 1 and things are going smoothly at Longwood Gardens.
"Winter Wonder," which is running now through March 21 at Longwood Gardens (Route 1, Kennett Square, 610-388-1000, www.longwoodgardens.org), celebrates the beauty of winter. The celebration is all about outdoor spacious, indoor oasis, and the power of story.
Outside, visitors can find a sense of peace and tranquility as they walk past textural grasses, seed heads and the dramatic silhouettes of trees that stretch up into the sky.
Inside, they can bask in a world of warmth that features an overhead garden of hanging baskets adorned with such vibrant beauties as jasmine, cape-primrose, and lipstick-plant.
Visitors will be able to enjoy a paradise of flowers and foliage, bursting with color — all in a beautiful indoor winter wonderland with a tropical twist.
"Winter Wonder" exists on two levels.
Both outdoors and in, they can embark on a poignant journey with "Voices in the Landscape," a series of 10 stops throughout the Gardens which can also be accessed virtually from home. In this sensory experience, participants will follow along as storyteller Charlotte Blake Alston honors and celebrates the strength, resilience, and contributions of the African American community through the lens of horticulture and the power of story.
Those taking the tour can hear an ancient Zulu creation myth paired with the oldest plant on Earth in the Conservatory; make their way to the Lookout Loft Treehouse and learn the story of the significance and symbolism of woods and meadows; and call out the name of an ancestor in remembrance at the Large Lake while a traditional spiritual soothes your soul.
Voices in the Landscape is an Accessible Experience.
The exhibition features a total of 10 audio experiences associated with specific locations throughout the Gardens, including seven outdoor stops and three stops in the Conservatory. The entire route is accessible without stairs and the length of the route, including the stops in the Conservatory, is about 1.5 miles.
"Voices in the Landscape" signage is at each stop. Each audio recording ranges between three and eight minutes in length. The estimated time to experience the entire Voices in the Landscape exhibit is approximately one-and-one-half hours.
As always, admission by "Timed Ticket" — tickets issued for specific dates and times. Timed ticketing limits the number of people in the Gardens at any given time and allows guests to enjoy minimal lines and a better viewing experience.
You may enter the Gardens up to 30 minutes prior and 30 minutes after your designated time. Make every effort to arrive at your designated reservation time. Earlier or later arrivals may not be accommodated.
Admission to Longwood Gardens is $25 for adults, $22 for seniors (ages 62 and older) and college students, $18 for active military and veterans and $13 for youth (ages 5-18).
Winterthur Museum, Garden & Library (Route 52, Wilmington, Delaware, www.winterthur.org) has now opened its 2021 season with access to the Museum, Galleries, Garden, and 25 miles of walking trails.
On March 13, Winterthur will present a special event titled "Bank to Bend."
Visitors are invited to celebrate the winter garden and early spring bulb displays of the March Bank with educational videos as well as self-guided and guided tours.
Participants will be greeted by thousands of white snowdrops and yellow aconite and Adonis amurensis – all signaling the return of spring.
Reservations required for the guided tours which will be offered from 10 a.m.-3 p.m.
Almost 60 years ago, collector and horticulturist Henry Francis du Pont (1880–1969) opened his childhood home, Winterthur, to the public. Today, Winterthur is the premier museum of American decorative arts, with an unparalleled collection of nearly 90,000 objects made or used in America between about 1640 and 1860. The collection is displayed in the magnificent 175-room house, much as it was when the du Pont family lived here, as well as in permanent and changing exhibition galleries.
Winterthur is set amidst a 1,000-acre preserve of rolling meadows and woodlands. Designed by du Pont, its 60-acre naturalistic garden is among America's best, with magnificent specimen plantings and massed displays of color. Graduate programs and a preeminent research library make Winterthur an important center for the study of American art and culture.
Winterthur's 1,000 acres encompass rolling hills, streams, meadows, and forests. Founder Henry Francis du Pont (1880-1969) developed an appreciation of nature as a boy that served as the basis for his life's work in the garden.
He selected the choicest plants from around the world to enhance the natural setting, arranging them in lyrical color combinations and carefully orchestrating a succession of bloom from late January to November. Du Pont translated his love of the land into a unified work of art that embodies a romantic vision of nature's beauty.
Admission to Winterthur is $20 for adults. $18 for seniors and students (with valid ID), $6 for children (ages 2-11) and free for infants (under 2).
Another attractive Delaware destination is the scenic town of Odessa.
Historic Odessa (Main Street, Odessa, Delaware, 302-378-4119, www.historicodessa.org) is a Delaware attraction known for being both a scenic and an historic site. On March 2, Historic Odessa celebrated the beginning of its 2021 season.
Known in the 18th-century as Cantwell's Bridge, Odessa played a vital role in commercial life along the Delaware River as a busy grain shipping port.
Today, visitors can stroll along tree-lined streets and admire examples of 18th- and 19th-century architecture in one of the best-preserved towns in Delaware.
They can also tour a remarkable collection of antiques and Americana preserved in period room settings and quaint exhibits.
Historic Odessa is open to the public from March through December, Tuesday through Saturday from 10 a.m.-4:30 p.m. and Sunday from 1-4 p.m.  The site is also open Monday by reservation.
Historic Odessa is closed January and February, Easter, Independence Day, Thanksgiving Day, Christmas Eve and Christmas Day.
The Historic Odessa Foundation's first art exhibit of the year, "Our Delaware: Local Art Collected by HOF Staff," is running now through March 28.
The assorted artworks from the personal collections of several Historic Odessa Foundation staff members were either created by a Delaware artist or illustrate subject matter in Delaware or both.
The diverse collection includes watercolors, oil paintings, and a few limited-edition prints. The title of the art exhibit comes from the official Delaware state song, "Our Delaware," which was written as a poem by George B. Hynson and adapted to music by Will M.S. Brown. It was adopted as the state's official song on April 7, 1925.
Every Saturday and Sunday through March 21, the Chaddsford Winery (632 Baltimore Pike, Chadds Ford, 610-388-6221, http://www.chaddsford.com) will present "Reserve Tastings in the Barrel Room."
Guests are invited to join the winery staff for an in-depth, intimate, and educational 90-minute experience in the newly renovated Barrel Room.
The trained staff will guide visitors through a pre-selected tasting of five diverse and award-winning wines from across the winery's portfolio.  The selections will be paired alongside local cheeses and other accoutrements to enhance the tasting experience.
The staff will also discuss topics such as grape growing conditions at our partner vineyards and the onsite winemaking process from production to aging and bottling.
The March "Pairing Line Up" is 2018 Sauvignon Blanc with Yellow Springs Farm Cloud Nine Goat Cheese, 2019 Dry Rosé: Redux with Yellow Springs Farm Goat Feta; grapefruit marmalade and dried hibiscus petals, 2018 Harbinger with Éclat Chocolate, 2019 Vignoles with homemade chips and pico de gallo from Flavors of Jalisco, and 2019 Sparkling White.
Reserve Tastings are $35 per person and offered only on Saturdays and Sundays.  There are three seatings each day – noon, 2 and 4 p.m.
Advanced reservations are required and are non-refundable. Children and guests under 21 years old are not permitted to attend a Reserve Tasting.
Tyler Arboretum (515 Painter Road, Media, 610-566-9134, www.tylerarboretum.org) has some fun activities scheduled for March.
"Weekday Bird Walks: Limited Edition" are scheduled for every Wednesday in March from 8-10 a.m. Participants can join Sue Lucas and Sara Boucas-Neto on morning bird walks at Tyler.
With acres of unbroken forest interior and extensive meadows, Tyler is recognized by the Pennsylvania Audubon Society as an Important Bird Area. Participants are asked to bring their own binoculars and be prepared to walk on all types of surfaces. Walks are rain or shine. Tickets are $15 and include admission to Tyler for the day.
"Weekday Wildflower Walks, Limited Edition" are also scheduled for every Wednesday in March from 11:15 a.m.-1:15 p.m. each day.
Participants will join wildflower experts Dick Cloud and Richard Brenner and discover the multitude of wildflowers that are in flower, fruit and perhaps a stage in-between. These walks are for those who have a love of plants, their role in ecology, or for those who want to learn more.
Instructions are to wear comfortable hiking shoes, bring a camera and/or a wildflower guide and enjoy a botanical-filled walk.
Tickets are $15 and include admission to Tyler for the day.
Linvilla Orchards (137 West Knowlton Road, Media, 610-876-7116,www.linvilla.com) has partnered with Ship Bottom Brewery to bring beers in the barn for patrons to enjoy on crisp late-winter evenings. Some of the ales will even be crafted with Linvilla's own farm grown products.
Daytime fun includes Corn Hole and Giant Jenga along with other favorite annual Linvilla activities. In the evening, patrons can enjoy a pint under the stars and, weather permitting, sit around a toasty bonfire.
The Beer Garden is open Saturdays and Sundays from noon-5 p.m. each day. There will be fire pits and patio heaters. As an added attraction, a food truck will be onsite each day.
Linvilla Orchard's "Fore! The Planet," which opened for the year on January 16, is a highly interactive and playful museum exhibit created by the Academy of Natural Sciences in Philadelphia. This exhibition pairs important environmental issues with the fun of miniature golf.
It features 18 unique educational holes on a variety of topics — butterfly metamorphosis, a tropical rainforest, evolution, dinosaur extinction, food chains and more. Kids of all ages can enjoy playing miniature golf while learning about our environment on every hole.
The mini-course is open daily from 9 a.m. -5 p.m. Tickets are $9 (ages 11 and over) and $10 (ages 10 and under).
A trip to Linvilla would not be complete without a visit to Linvilla Orchards Farm Market. It features fresh produce (with 50 per cent off all vegetables), baked goods and gourmet specialties — including seasonally homegrown and locally sourced fruits and vegetables.
The bakery opened in the 1960s with the farm market's famous freshly baked pies. Over the years, the menu has been expanded to include breads, cakes, hors d'oeuvres, apple cider doughnuts and more.
Charter Day, which is "officially" celebrated on March 11, recognizes the day William Penn received his land grant for Pennsylvania from King Charles II of England in 1681.
In observance of Pennsylvania's founding, some of the region's historic sites host special activities — all of which are free and open to the public.
To celebrate the granting of the charter to William Penn more than 300 years ago, the Pennsylvania Historical & Museum Commission invites you to Charter Day.

The Pennsylvania Historical & Museum Commission (PHMC) is wrapping up a week-long celebration of the commonwealth's 340th birthday with a virtual display of William Penn's original 1681 charter and other programming from the Pennsylvania State Archives, State Museum of Pennsylvania and the Pennsylvania Trails of History.
Now through March 12, virtual visitors to the Charter Day 2021 landing page will be able to view the charter and find out more about how the Charter ended up at PHMC and how we care for it.
In addition, they can "tour" the Violet Oakley murals of William Penn, Pennsylvania's founder, featured in the Governor's Reception Room at the Capitol, explore colonial-era documents or "virtually" page through more than 45 years of Pennsylvania Heritage magazine for articles exploring all aspects of Pennsylvania's centuries old history and much more.
The Betsy Ross House (239 Arch Street, Philadelphia, http://historicphiladelphia.org/betsy-ross-house/what-to-see/) is set to celebrate Women's History Month with special events throughout the month of March.
The iconic site is the only place in Philadelphia dedicated solely to telling the stories of Colonial women and their contributions to our nation and embraces the month as a way to highlight even more women throughout history and to share some of the lesser-known details of Betsy Ross' story.
"Storytelling Sundays" will be held on March 14, 21, and 28.
On March 14 from 11 a.m.-4 p.m., Once Upon A Nation Storytellers will share short stories of women's struggle to gain the vote and other stories of women throughout history who made often unsung contributions to society.
The last two weekends in March take visitors into the trenches of the fight for women's suffrage.
On March 21 from 10 a.m.-4 p.m., visitors will be able to meet Alice Paul American Quaker, suffragist, feminist, and women's rights activist and one of the leaders of the campaign for the 19th Amendment.
On March 28, visitors will have the opportunity to meet Frances Harper, an abolitionist, suffragist, poet, teacher and public speaker, who was one of the first African American women to be published in the United States.
Storytelling is included with admission to the Betsy Ross House.
Another special event will be the program, "Tipsy History: The Little Rebel," which will be held March 25-27 at 5, 6, and 7 p.m.
During "Tipsy History: The Little Rebel Thursday," visitors will hear from Betsy, herself, how she earned her "Little Rebel" nickname.
Then, they will head into the House for a special women's history-themed tour. The final segment will be a walk around the corner to Art in the Age to enjoy a delicious, handcrafted cocktail and raise a glass to the ladies, past and present.
Tours, which run about 90 minutes, will be timed and tickets limited to allow for proper social distancing.  Masks are required. Tickets are $25 per person and must be purchased in advance.
Philadelphia is known as one of America's most historic cities. So, it is no surprise that there are always history-related events on the city's activities schedule.
Grim Philly's "Dark Philly History Tour" (www.grimphilly.com) will be held every Friday and Saturday night in March at 8 p.m. each evening. Beginning in April, the tour will be presented every evening.
Participants can walk with tour guides from the grounds of America's first White House, Congress, and Liberty Bell to homes and sites of Hamilton, Washington, Franklin, Adams, Jefferson, Madison, Monroe, and more than 10 other Founding-Fathers. The surprising dirt of espionage, murder, sexual license and blackmail highlight the secrets of 1776 with a ghost story or two along the way. This tour is highly researched. And your guide is a historian.
Grim Philly will also be presenting "Serial Killers & Cemetery Tour" every Saturday at 2 p.m.
Participants will have the opportunity to experience unconventional sightseeing off the beaten path. They can enjoy Betsy Ross House, Christ Church, Elfreth's Alley, and Benjamin Franklin's Grave, together with tales of serial slayings and psychopathic killers like the Corpse Collector, Frankfort Slasher, and H.H. Holmes.
Ghost Tour of Philadelphia (215-413-1997, www.ghosttour.com), Ghost Tour of Lancaster (717-687-6687, www.ghosttour.com) and Ghost Tour of Strasburg (717-687-6687, www.ghosttour.com) operate throughout the winter and offer an eerily entertaining evening of true ghost stories and real haunted houses.
The Ghost Tour of Philadelphia, which is based on the book, "Ghost Stories of Philadelphia, PA.," is a candlelight walking tour along the back streets and secret gardens of Independence Park, Society Hill, and Old City, where ghostly spirits, haunted houses, and eerie graveyards abound.
Participants can discover the ghost lore of America's most historic and most haunted city with stories from the founding of William Penn's colony to present-day hauntings.
The activity is open year-round – weekends, December-February; every night, March-November. Tickets are $24.
The Ghost Tour of Lancaster and the Ghost Tour of Strasburg are based on the book, "Ghost Stories of Lancaster, PA."
Participants in the Ghost Tour of Lancaster explore the long-forgotten mysteries of one of America's oldest cities, with haunting tales of otherworldly vigils, fatal curses, and star-crossed lovers. The tour provides the opportunity to experience 300 years of haunted history from the Red Rose City's thorny past. Tickets are $18.
The Ghost Tour of Strasburg is a candlelight walking tour of the quaint and historic town of Strasburg in the heart of Pennsylvania Dutch Country. Visitors will experience an entertaining evening with a costumed tour guide spinning tales of haunted mansions, eerie graveyards, and spirits that roam the night … in a town lost in time. Tickets are $18.
Philly's reputation as a hotbed of history is reinforced by its assortment of great museums – many of which are back in full operation after a pandemic shutdown.
The Franklin Institute (222 North 20th Street, Philadelphia, www.fi.edu) is up and running again.
The museum's posted this message on its website:
Our world has changed, but our mission and purpose have not. We've reopened with a modified museum experience designed to celebrate science in a safe and welcoming environment—and we're excited to see you!
Advance tickets are required for all guests with no online fees.
Face coverings and no-touch temperature checks required for everyone age three and older.
Enhanced daily cleaning protocols, lots of hand sanitization stations, reduced capacity, and streamlined spaces for ease of movement.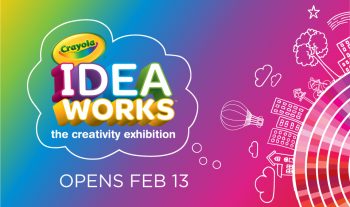 A few weeks ago, the Franklin Institute celebrated the debut of "Crayola IDEAworks: The Creativity Exhibition."
Featuring a fusion of cutting-edge technology with state-of-the-art exhibits, Crayola IDEAworks sets the new standard for an interactive educational entertainment.
For more than a century, Crayola has sparked imagination and ignited creativity all over the world. Best known for their iconic box of crayons, the spectrum of Crayola products is rooted in innovation and invention.
In its exclusive, limited run in Philadelphia, the exhibition will inspire visitors of all ages to develop and expand their creative skills through a multitude of activities that will stimulate the senses while empowering creativity and imagination.
Crayola IDEAworks showcases the ways that anyone can be creative. Featuring a fusion of cutting-edge technology with state-of-the-art exhibits, Crayola IDEAworks sets the new standard for an interactive educational entertainment.
"Crayola IDEAworks: The Creativity Exhibition" will close on July 18, 2021.
Admission to the Franklin Institute is $23 for adults, $21 for seniors and $19 for children.
The American Swedish Historical Museum (1900 Pattison Avenue, Philadelphia, 215-389-1776, http://www.americanswedish.org) will celebrate Easter Family Fun Day on March 14.
Parents can introduce their kids to Swedish Easter traditions and visit the exhibition "From Fairy Tale to Fantasy: The Art of Gustaf Tenggren."
The afternoon drop-in program will feature grab-and-go craft kits, a family photo-op station, and an egg hunt. This program will take place outside rain or shine. All attendees are required to wear masks.
Egg Hunt Sign-Up will open at 2 p.m. and will take place at the following times — 2:45 p.m. – Children aged 5 and under; 2:55 p.m. – Children aged 6-12.
The "Easter Craft Bag" includes two Craft Easter Eggs, one Birch Branch with Feathers, one Hanging Cat Craft, one Easter Egg Card Craft, one Egg & Chick Fence Craft, and one Easter Witch Craft.
Admission, which includes museum admission, is $25 for families up to four persons and $5 for each additional family member.
The Philadelphia Museum of Art (2600 Benjamin Franklin Parkway, Philadelphia, www.philamuseum.org) came back to life in January.
The museum is open Friday through Monday. Advance reservations are strongly recommended. Tickets are available for each half-hour time slot, up to two weeks in advance of today's date, with new tickets released every Tuesday."
The museum now will be open from 10 a.m.-8:45 p.m. on Fridays and from 10 a.m.-5 p.m. on Saturdays, Sundays and Mondays. It will be closed from Tuesday-Thursday each week.
Some of the featured exhibits are "Expanded Painting in the 1960s and 1970s," "Art of Care," "Fault Lines: Contemporary Abstraction by Artists from South Asia," "Horace Pippin: From War to Peace," "The Gross Clinic" by Thomas Eakins," "Kōgei: Art Craft Japan," "Baroque: The Art of Drama" and "Ghosts and Fragments."
Admission is $25 for adults, $23 for seniors, $14 for students and free for Youths (18 and under).
The Barnes Museum (2025 Benjamin Franklin Parkway, Philadelphia, www.barnesfoundation.org) is another Philly museum that had its resurrection at the start of the new year. It opened with "Elijah Pierce's America" as the featured exhibition.
"Elijah Pierce's America" presents the exceptional work of self-taught woodcarver Elijah Pierce (1892–1984), known best for a tour-de-force volume of biblical scenes. His carvings depict remarkable narratives — religious parables, autobiographical scenes, episodes from American politics — and sometimes include figures from popular culture and sports.
Admission is $25 for adults, $23 for seniors and $5 for youth.
The Penn Museum (3260 South Street, Philadelphia, www.penn.museum) is presenting exhibitions for live visitors and in virtual format for those who prefer to stay home.
Some of the museum's featured exhibits are "Living with the Sea – Charting the Pacific," "The Artifact Lab," "Community Spotlight," "Invisible Beauty – The Art of Archaeological Science," and "Ancient Egypt."
There are also a variety of specialized galleries devoted to Egypt, Greece, Africa, Mexico & Central America, Sphinx, Native America Voices, Asia, Rome, Canaan & Ancient Israel, Middle East and Etruscan.
Admission is $18 for adults, $16 for seniors and $13 for children (ages 6-12).
The Museum of the American Revolution (101 South Third Street, Philadelphia, www.amrevmuseum.org) reopened last month after a long closure because of the COVID-19 shutdown in Philly.
Visitors can take a deeper dive into untold stories of the Revolution with the Museum's new Finding Freedom digital interactive, which explores the stories of enslaved people of African descent who followed different paths to freedom during the Revolutionary War.
Admission to the Museum is Adults, $21; Youth (6-17), $13; Children (5 and under), free; Seniors (65 and up), Students & Teachers, and Military, $18.
The Academy of Natural Sciences of Drexel University (1900 Benjamin Franklin Parkway, Philadelphia, www.ansp.org) reopened with a new exhibition and the continuation of a wildlife photography exhibit.
The Academy's new exhibit – "Permian Monsters: Life Before the Dinosaurs" – shows the species that predated dinosaurs.
Visitors to the museum can step back in time 290 million years to when bizarre-looking creatures dominated life on land and sea, and dinosaurs had not yet evolved. They can also learn about the most devastating mass extinction the world has ever seen when "Permian Monsters: Life Before the Dinosaurs" takes up a year-long residence at the Academy.
The exhibit blends vivid artwork, amazing fossils and full-size scientifically accurate models of moving beasts to recreate this relatively unknown period that ended with the most devastating extinction of life. Visitors will explore odd-looking sharks, strange reptilelike precursors of mammals, a vicious giant saber-toothed gorgonopsid, and other extinct creatures that ruled the world millions of years before the dinosaurs.
"Permian Monsters: Life Before the Dinosaurs" will be on view through January 17, 2022.  "Wildlife Photographer of the Year," which is located in the museum's new natural-light-filled gallery, will be on view through February 15.
Admission is $22 for adults, $19 for seniors and $18 for children (ages 2-12).
Wonderspaces at the Fashion District (27 North 11th Street, Philadelphia, philadelphia.wonderspaces.com) is an experiential, interactive arts venue.
Building on the success of annual pop-up shows in San Diego, and its first permanent location in Scottsdale, Arizona, Wonderspaces opened a 24,000 square foot gallery space in Philly a year ago.
Wonderspaces features 14 art installations that all play with the idea of perspective.  The artwork ranges from award-winning virtual reality short film about a dinner party-turned-alien abduction, to a room where visitors digitally paint the walls with the movement of their bodies.
New artworks rotate in every few months, creating an ever-evolving, year-round show.
Tickets are for entry at a specific date and time. Visitors are welcome to stay as long as they please during operating hours. The average time spent experiencing the show is 90 minutes.
A few installations contain flashing lights, images, and patterns that may trigger seizures for people with photosensitive epilepsy. All visitors must sign a waiver prior to being admitted into the space. Adult supervision is required for visitors under 16.
A fun destination for families can be found in nearby Lower Bucks County.
Sesame Place (100 Sesame Road, Langhorne, www.sesameplace.com) is a festive, family-friendly celebration with everyone's favorite Sesame Street friends live and in-person at the amusement park in Langhorne.
"Elmo's Furry Fun Fest" is running through March 21.
This new event series will offer guests brand new, limited capacity special events where they can celebrate everyone's favorite red monster during Elmo's Rockin' Birthday Bash, treat little loves to a fun day during the My Fuzzy Valentine's Celebration, let the good times roll during the park's family-friendly Mardi Gras Celebration, grab cozy jammies to celebrate our favorite feathered friend's birthday at Big Bird's Pajama Party
Guests can enjoy these fun-filled, safe, and family-friendly events with everyone's favorite Sesame Street® friends. Guests can ride the Count's Fly By, Count's Cruisers, and the Sunny Day Carousel during the event plus enjoy fun activities including Elmo's Balloon Scavenger Hunt, a Furry Friends Dance Party, and a different themed character dining experience each weekend (additional charge and reservations are required).
Additionally, everyone's favorite Neighborhood Birthday Party Parade will have everyone dancing and singing along with Elmo, Cookie Monster, Abby Cadabby, Count von Count, Bert, Ernie, Zoe, Rosita and Big Bird!
The event schedule features "Big Bird's Pajama Party" on March 20 and 21.
Home or away, don't forget to celebrate "Pi Day" on March 14.
Pi (often represented by the lower-case Greek letter π), one of the most well-known mathematical constants, is the ratio of a circle's circumference to its diameter.  For any circle, the distance around the edge is a little more than three times the distance across.
Typing π into a calculator and pressing "enter" will yield the result 3.141592654 — not because this value is exact, but because a calculator's display is often limited to 10 digits.
Pi is actually an irrational number (a decimal with no end and no repeating pattern) that is most often approximated with the decimal 3.14 or the fraction 227.
The North American record for digits of Pi recited belongs to Upper Darby's Marc Umile who recited more than 15,000 digits from memory in 2007. The official world record is held by Lu Chao of China who recited more than 67,000 digits in 2015.
If you visit a bakery this weekend, you might want to purchase a freshly baked pie to enjoy on "Pi Day" (even though "Pie Day" was already celebrated this year on January 23). While you are there, you could also get some Irish soda bread to get ready for St. Patrick's Day on Wednesday.