By Denny Dyroff, Entertainment Editor, The Times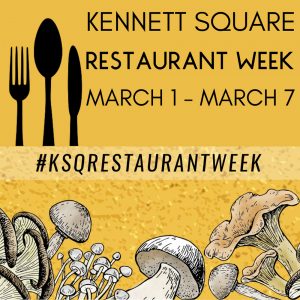 With the arrival of spring just two weeks away – the Spring Equinox arrives Saturday, March 20 at 5:37 a.m. EDT – celebration time is just around the corner.
Kennett Square is already in a celebratory mood – albeit not for spring. Now through March 7, Kennett Square is in good time mode with Kennett Square Restaurant Week (https://historickennettsquare.com).
More than a dozen participating restaurants are offering a variety of prix-fixe menus, new dishes, and special offers. For art lovers, the Square Pear Gallery will be exhibiting "Food, Wine and Good Times" throughout Restaurant Week.
The roster of participating establishments includes, La Verona, Portabellos, Kennett Brewing Company, The Market at Liberty Place, Kaboburritos, Rump Roasters, Talulas Table, Braeloch Brewing, State Street Pizza & Grill, Byrsa Bistro, Cafe de Thai and Verbena BYOB.
Grain Craft Bar + Kitchen is offering three courses for $35 with three first course choices (KSQ mushroom soup, house salad, Caesar salad), three main course choices (venison meatloaf, lobster ravioli, citrus avocado salad) and two dessert choices (Girl Scout Tagalong cookie peanut butter cake, dessert of the day).
Kaboburritos has a special deal of three courses for $15 with first course (hummus and pita or guac and chips), second course (gyro or burrito) and third course (churro or baklava).
Talulas Table is serving three-course, to-go-only dinners for $35 with Starter (Southern Spiced Cornbread or Stacked Salad), Entrée (Shrimp & Grits – Tender Shrimp, Buttery Georgia Grits, Brandy Scented Seafood Sauce, and Spring Peas) and Dessert (Bourbon Banana Pudding – Smooth Vanilla Bourbon Custard, 'Nill Wafers, Whipped Cream).
A wide array of tasty dishes can be found at the various eateries including Hickory Wood Smoked Salmon Rillettes at Braeloch Brewing, "Cheesy Empanadas" at Kennett Brewing Company, Italiano Pork Grinder at Rump Roasters and Mushroom Panini at The Market at Liberty Place.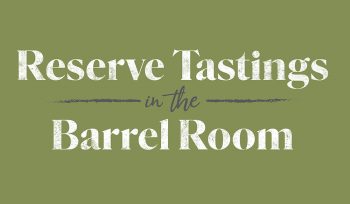 Every Saturday and Sunday through March 21, the Chaddsford Winery (632 Baltimore Pike, Chadds Ford, 610-388-6221, http://www.chaddsford.com) will present "Reserve Tastings in the Barrel Room."
Guests are invited to join the winery staff for an in-depth, intimate, and educational 90-minute experience in the newly renovated Barrel Room.
The trained staff will guide visitors through a pre-selected tasting of five diverse and award-winning wines from across the winery's portfolio.  The selections will be paired alongside local cheeses and other accoutrements to enhance the tasting experience.
The staff will also discuss topics such as grape growing conditions at our partner vineyards and the onsite winemaking process from production to aging and bottling.
The March "Pairing Line Up" is 2018 Sauvignon Blanc with Yellow Springs Farm Cloud Nine Goat Cheese, 2019 Dry Rosé: Redux with Yellow Springs Farm Goat Feta; grapefruit marmalade and dried hibiscus petals, 2018 Harbinger with Éclat Chocolate, 2019 Vignoles with homemade chips and pico de gallo from Flavors of Jalisco, and 2019 Sparkling White.
Reserve Tastings are $35 per person and offered only on Saturdays and Sundays.  There are three seatings each day – noon, 2 and 4 p.m. 
Advanced reservations are required and are non-refundable. Children and guests under 21 years old are not permitted to attend a Reserve Tasting.
This weekend's calendar features a wide array of Charter Day activities.

Charter Day, which is "officially" celebrated on March 11, recognizes the day William Penn received his land grant for Pennsylvania from King Charles II of England in 1681.
In observance of Pennsylvania's founding, some of the region's historic sites host special activities — all of which are free and open to the public.
To celebrate the granting of the charter to William Penn more than 300 years ago, the Pennsylvania Historical & Museum Commission invites you to Charter Day.
The Pennsylvania Historical & Museum Commission (PHMC) will celebrate the commonwealth's 340th birthday on Charter Day, Sunday, March 7, with a virtual display of William Penn's original 1681 charter and other programming from the Pennsylvania State Archives, State Museum of Pennsylvania and the Pennsylvania Trails of History.
Pennsylvania was created when England's King Charles II granted a charter to William Penn in 1681. Once each year, the Pennsylvania State Archives exhibits the original document for a limited time. The 340-year-old Charter is written on parchment using iron gall ink. The State Archives preserves the document in a high-security vault, shielding it from strong light and environmental fluctuations.
Beginning Sunday, March 7 and continuing through March 12, virtual visitors to the Charter Day 2021 landing page will be able to view the charter and find out more about how the Charter ended up at PHMC and how we care for it.
In addition, they can "tour" the Violet Oakley murals of William Penn, Pennsylvania's founder, featured in the Governor's Reception Room at the Capitol, explore colonial-era documents or "virtually" page through more than 45 years of Pennsylvania Heritage magazine for articles exploring all aspects of Pennsylvania's 340-year history and much more.
Sites and museums along Pennsylvania's Trails of History will offer online programs throughout the week.  Several sites will come together on March 9 at 7 p.m. for a special Zoom webinar as they present and discuss objects from their collections that relate to the aptly chosen theme of "birthdays and other celebrations."
Participating sites include Cornwall Iron Furnace, Eckley Miners Village, Ephrata Cloister, Erie Maritime Museum, Hope Lodge, Joseph Priestley House, Landis Valley Village and Farm Museum, Pennsbury Manor, Pennsylvania Anthracite Heritage Museum, Pennsylvania Lumber Museum, Pennsylvania Military Museum and The Railroad Museum of Pennsylvania.
The Pennsylvania Historical & Museum Commission is the official history agency of the Commonwealth of Pennsylvania.

Brandywine Battlefield Park, Chadds Ford (Route 1, Chadds Ford, http://brandywinebattlefield.org) will have a special event on March 11 – an evening webinar based on local history.
On March 11 at 7 p.m., Brandywine Battlefield Park Associates will present "Destruction & Wanton Waste: The Impact of War in a Peaceful Valley." 
After a month-long voyage from New York at the outset of the Philadelphia Campaign of 1777, Sir William Howe's army found itself in desperate need of provisions for their large army. On September 11, 1777, several weeks after disembarking in Maryland, Howe's army descended upon Chester County, Pennsylvania and engaged Washington at the Battle of Brandywine.
Their battlefield, one of the richest agricultural and milling regions in the mid-Atlantic colonies, was dominated by a large and peaceful Quaker population. Of this dominant Quaker population, some chose sides, but the majority were neutral, trying to ignore the armed conflict raging around them. Following the defeat and retreat of Washington at Brandywine, the Crown Forces occupied the region for five days and launched a substantial "foraging" effort to replenish their depleted supplies and provisions.
What resulted was what one inhabitant called "Destruction and Wanton Waste." Quakers who tried to remain neutral, suddenly chose sides and abandoned their Testimonies of Peace. One wealthy Quaker who had chosen a side before the battle, died poor and penniless decades later. Furthermore, one had such a traumatic experience that he sold the family farm and moved to Baltimore where he attempted to live the rest of his life in peace.
Today, many are well versed in Washington's struggle at Valley Forge following the fall campaign, but in most cases, they are uninformed of the desperation and conflict endured by the population of Chester County those same months.
Through a study of various primary source material including damage claims and personal accounts, these peaceful inhabitants and their struggles have been brought to the forefront of interpretive efforts surrounding the Battle of Brandywine. This new interpretive process fosters a new outlook and a better understanding of the social impact that the largest single-day land battle of the American Revolution had on the residents of Chester County. 
The Betsy Ross House (239 Arch Street, Philadelphia, http://historicphiladelphia.org/betsy-ross-house/what-to-see/) is set to celebrate Women's History Month with special events throughout the month of March.
The iconic site is the only place in Philadelphia dedicated solely to telling the stories of Colonial women and their contributions to our nation and embraces the month as a way to highlight even more women throughout history and to share some of the lesser-known details of Betsy Ross' story.
"Storytelling Sundays" will be held on March 7, 14, 21, and 28.
On March 7 and 14 from 11 a.m.-4 p.m., Once Upon A Nation Storytellers will share short stories of women's struggle to gain the vote and other stories of women throughout history who made often unsung contributions to society.
The last two weekends in March take visitors into the trenches of the fight for women's suffrage.
On March 21 from 10 a.m.-4 p.m., visitors will be able to meet Alice Paul American Quaker, suffragist, feminist, and women's rights activist and one of the leaders of the campaign for the 19th Amendment.
On March 28, visitors will have the opportunity to meet Frances Harper, an abolitionist, suffragist, poet, teacher and public speaker, who was one of the first African American women to be published in the United States.
Storytelling is included with admission to the Betsy Ross House.
Another special event will be the program, "Tipsy History: The Little Rebel," which will be held March 25-27 at 5, 6, and 7 p.m.
During "Tipsy History: The Little Rebel Thursday," visitors will hear from Betsy, herself, how she earned her "Little Rebel" nickname.
Then, they will head into the House for a special women's history-themed tour. The final segment will be a walk around the corner to Art in the Age to enjoy a delicious, handcrafted cocktail and raise a glass to the ladies, past and present.
Tours, which run about 90 minutes, will be timed and tickets limited to allow for proper social distancing.  Masks are required. Tickets are $25 per person and must be purchased in advance.
Fort Mifflin (Fort Mifflin and Hog Island roads, Philadelphia, 215-685-4167, www.fortmifflin.us) is hosting an event called "Wooly Wonders" on March 6 at 1 p.m.
Wool mittens became part of a very popular meme based on Bernie Sanders and his wool mittens at the Inauguration.
Visitors to Fort Mifflin this Saturday can learn all about the way mittens are made – including the steps of processing wool. Participants will even be able to spin pieces of wool into yarn on their own laps.,
They can also experience what happens when you wash wool in hot water then up-cycle an old sweater to make a beautiful and useful potholder to take home.
Tickets, which are $25, include all materials as well as general admission to the Fort for the day.
The Philadelphia Comic-Con, which is scheduled for March 7 at the Clarion Hotel Conference Center (76 Industrial Highway, Essington, 856-217-5737, www.philadelphiacomic-con.com), features comic books, trading cards and other collectibles — both modern and vintage.
The popular collectibles event, which is the area's longest running comic convention, will host dealers from all over the Northeast with sales booths featuring Gold & Silver Age comics, action figures, and non-sport cards.
Also featured will be Japanese Manga, gaming cards such as Pokemon and Magic the Gathering, original artwork and all the latest issues of today's popular comic book series.
The roster of top-flight vendors includes veteran dealers and relative newcomers — 15 dealers coming from far and wide who will set up their goods on 37 tables.
The event, which has free admission and free parking, is scheduled to run from 10 a.m.-4 p.m. on March 7 with a "Senior Hour" from 9-10 a.m. for guests 55 and older.
This is usually the time each year when a welcome break from winter is provided by the Philadelphia Flower Show when it takes up residence at the Pennsylvania Convention Center.
The PHS (Philadelphia Horticultural Society) Philadelphia Flower Show is the nation's largest and longest-running horticultural event and features stunning displays by the world's premier floral and landscape designers. Started in 1829, the Show introduces diverse plant varieties and sustainable garden and design concepts.
The region's most looked-to gardening attraction will move outdoors for the first time, making this a history-making, once-in-a-lifetime experience that will incorporate the beautiful, unique landscape of FDR Park in Philadelphia. The 2021 Flower Show invites visitors to a spectacular presentation of all-new displays, plus activities for gardeners, plant enthusiasts, and design aficionados.
The Show's theme, "HABITAT: Nature's Masterpiece," will explore the beauty of life through nature's kaleidoscopic lens. Visitors should be ready to see exceptional beauty, learn from a diverse line-up of designers and leading horticulturalists, and enter a new gardener-centric experience that invites everyone at all skill levels to nurture a lifelong connection to plants and gardening.
The 2021 Philadelphia Flower Show will run from June 5-13 at FDR Park, which is located on Pattison Avenue a few blocks west of Lincoln Financial Field and Citizens Bank Park.
There will be two sessions each day — morning session (10 a.m.-2 p.m.) and afternoon session (2-7 p.m.). Tickets, which are on sale now, are $45 for adults, $30 for young friends (ages 18-29) and $20 for children (ages 5-17) and can be purchased at https://www.showclix.com/event/philadelphia-flower-show-2021.
There are also plenty of flowers already on display right here in Chester County.
A visit to Longwood Gardens (Route 1, Kennett Square, 610-388-1000, www.longwoodgardens.org) always offers welcome respite to the grey brutality of the winter season. This year's special event is called "Winter Wonder."
"Winter Wonder," which is running now through March 21, celebrates the beauty of winter. It's all about outdoor spacious, indoor oasis, and the power of story.
Outside, visitors can find a sense of peace and tranquility as they walk past textural grasses, seed heads and the dramatic silhouettes of trees that stretch up into the sky.
Inside, they can bask in a world of warmth that features an overhead garden of hanging baskets adorned with such vibrant beauties as jasmine, cape-primrose, and lipstick-plant.
Visitors will be able to enjoy a paradise of flowers and foliage, bursting with color — all in a beautiful indoor winter wonderland with a tropical twist.
"Winter Wonder" exists on two levels.
Both outdoors and in, they can embark on a poignant journey with "Voices in the Landscape," a series of 10 stops throughout the Gardens which can also be accessed virtually from home. In this sensory experience, participants will follow along as storyteller Charlotte Blake Alston honors and celebrates the strength, resilience, and contributions of the African American community through the lens of horticulture and the power of story.
Those taking the tour can hear an ancient Zulu creation myth paired with the oldest plant on Earth in the Conservatory; make their way to the Lookout Loft Treehouse and learn the story of the significance and symbolism of woods and meadows; and call out the name of an ancestor in remembrance at the Large Lake while a traditional spiritual soothes your soul.
Voices in the Landscape is an Accessible Experience.
The exhibition features a total of 10 audio experiences associated with specific locations throughout the Gardens, including seven outdoor stops and three stops in the Conservatory. The entire route is accessible without stairs and the length of the route, including the stops in the Conservatory, is about 1.5 miles.
"Voices in the Landscape" signage is at each stop. Each audio recording ranges between three and eight minutes in length. The estimated time to experience the entire Voices in the Landscape exhibit is approximately 1.5 to 2 hours.
As always, admission by "Timed Ticket" — tickets issued for specific dates and times. Timed ticketing limits the number of people in the Gardens at any given time and allows guests to enjoy minimal lines and a better viewing experience.
You may enter the Gardens up to 30 minutes prior and 30 minutes after your designated time. Make every effort to arrive at your designated reservation time. Earlier or later arrivals may not be accommodated.
Admission to Longwood Gardens is $25 for adults, $22 for seniors (ages 62 and older) and college students, $18 for active military and veterans and $13 for youth (ages 5-18).
A sure sign that spring is on its way is when Winterthur Museum, Garden & Library (Route 52, Wilmington, Delaware, www.winterthur.org) re-opens after its winter break.
Winterthur has now opened its 2021 season with access to the Museum, Galleries, Garden, and 25 miles of walking trails.
Almost 60 years ago, collector and horticulturist Henry Francis du Pont (1880–1969) opened his childhood home, Winterthur, to the public. Today, Winterthur is the premier museum of American decorative arts, with an unparalleled collection of nearly 90,000 objects made or used in America between about 1640 and 1860. The collection is displayed in the magnificent 175-room house, much as it was when the du Pont family lived here, as well as in permanent and changing exhibition galleries.
Winterthur is set amidst a 1,000-acre preserve of rolling meadows and woodlands. Designed by du Pont, its 60-acre naturalistic garden is among America's best, with magnificent specimen plantings and massed displays of color. Graduate programs and a preeminent research library make Winterthur an important center for the study of American art and culture.
Winterthur's 1,000 acres encompass rolling hills, streams, meadows, and forests. Founder Henry Francis du Pont (1880-1969) developed an appreciation of nature as a boy that served as the basis for his life's work in the garden. He selected the choicest plants from around the world to enhance the natural setting, arranging them in lyrical color combinations and carefully orchestrating a succession of bloom from late January to November. Du Pont translated his love of the land into a unified work of art that embodies a romantic vision of nature's beauty.
This message was posted on Winterthur's website:
The well-being of our valued visitors and our staff remains our highest priority, so various safety measures remain in place. All events comply with the most recent state regulations and are subject to cancellation. 
Capacity in all areas is limited, so reservations are required. When you visit, please bring a face mask. They are required in all indoors areas at all times. Outdoors, they are required when it isdifficult to maintain a safe social distance of six feet from people who are not from your household. 
Wearing of face masks is also required on trams tours and guided walks. If you have a medical condition that prevents you from wearing a face mask, we ask that you do not visit at this time. Also, please follow one-directional pathways, and take other precautions as posted on-site. 
The Pavilion Café is open with limited capacity Friday-Sunday 11 a.m.-2 p.m. 
Admission to Winterthur is $20 for adults. $18 for seniors and students (with valid ID), $6 for children (ages 2-11) and free for infants (under 2).
Historic Odessa (Main Street, Odessa, Delaware, 302-378-4119, www.historicodessa.org) is a Delaware attraction known for being both a scenic and an historic site. On March 2, Historic Odessa celebrated the beginning of its 2021 season.
Known in the 18th-century as Cantwell's Bridge, Odessa played a vital role in commercial life along the Delaware River as a busy grain shipping port.
Today, visitors can stroll along tree-lined streets and admire examples of 18th- and 19th-century architecture in one of the best-preserved towns in Delaware.
They can also tour a remarkable collection of antiques and Americana preserved in period room settings and quaint exhibits.
Historic Odessa is open to the public from March through December, Tuesday through Saturday from 10 a.m.-4:30 p.m. and Sunday from 1-4 p.m.  The site is also open Monday by reservation.
Historic Odessa is closed January and February, Easter, Independence Day, Thanksgiving Day, Christmas Eve and Christmas Day.
The Historic Odessa Foundation's first art exhibit of the year, "Our Delaware: Local Art Collected by HOF Staff," is running now through March 28.
The assorted artworks from the personal collections of several Historic Odessa Foundation staff members were either created by a Delaware artist or illustrate subject matter in Delaware or both.
The diverse collection includes watercolors, oil paintings, and a few limited-edition prints. The title of the art exhibit comes from the official Delaware state song, "Our Delaware," which was written as a poem by George B. Hynson and adapted to music by Will M.S. Brown. It was adopted as the state's official song on April 7, 1925.
Tyler Arboretum (515 Painter Road, Media, 610-566-9134, www.tylerarboretum.org) has some fun activities scheduled for March.
"Weekday Bird Walks: Limited Edition" are scheduled for every Wednesday in March from 8-10 a.m. Participants can join Sue Lucas and Sara Boucas-Neto on morning bird walks at Tyler.
With acres of unbroken forest interior and extensive meadows, Tyler is recognized by the Pennsylvania Audubon Society as an Important Bird Area. Participants are asked to bring their own binoculars and be prepared to walk on all types of surfaces. Walks are rain or shine. Tickets are $15 and include admission to Tyler for the day.
"Weekday Wildflower Walks, Limited Edition" are also scheduled for every Wednesday in March from 11:15 a.m.-1:15 p.m. each day.
Participants will join wildflower experts Dick Cloud and Richard Brenner and discover the multitude of wildflowers that are in flower, fruit and perhaps a stage in-between. These walks are for those who have a love of plants, their role in ecology, or for those who want to learn more.
Instructions are to wear comfortable hiking shoes, bring a camera and/or a wildflower guide and enjoy a botanical-filled walk.
Tickets are $15 and include admission to Tyler for the day. 
A refreshingly different way to start your day can be found at the Norristown Farm Park (2500 Upper Farm Road, Norristown, www.montcopa.org) this week.
On March 9, the scenic park will host a "Morning Bird Walk" – an all-ages event that is free and open to the public.
The northern migration of waterfowl begins in March. The park's wetland areas, creeks, and the pond will be the focus of this morning bird walk.
The park rangers offer some helpful information for potential participants — Some uphill walking is required. Bring binoculars. Wear sturdy shoes for hiking.
The "Morning Bird Walk" will run from 8:30-10 a.m. Participants are instructed to meet in Norristown Farm Park Parking Lot #3.
On March 7, the Lancaster County Park Environmental Center (1 Nature's Way, Lancaster, https://apm.activecommunities.com/LancasterCountyParks) will present a special program titled "Maple Sugaring."
Visitors can join County Park Naturalists for ongoing maple sugaring demonstrations in the sugar bush of Lancaster County Central Park. They will be able to see trees tapped, sap boiled to syrup, and candy made from the syrup. Maple products will be on sale. Guests can drop in anytime during the program hours for an educational tour of the maple syrup making process.
On Saturday, there will be 45-minute slots starting at 10, 10:45 and 11:30 a.m. and 12:15 and 1 p.m. On Sunday, there will be 45-minute slots starting at 1, 1:45, 2:30 and 3:15 p.m.
There will be First Friday happenings in Lancaster and York tonight.
Lancaster's popular First Friday (http://www.visitlancastercity.com/first-friday/) is an arts extravaganza that runs from 5-9 p.m. on March 5. Visitors to downtown Lancaster will have the opportunity to discover innovative exhibitions, performances and perhaps a few surprises as they walk the streets lined with trees and distinctive architecture.
Unique boutiques and excellent restaurants complement the art galleries, artisan studios, museums, performing groups, professional theater, symphony orchestra and art college that form Lancaster's arts community.
There will also be special activities at the Lancaster Science Factory featuring more than 70 interactive exhibits for kids in grades K – 8 and their families.
First Friday York (www.downtownyorkpa.com) is a celebration of Downtown shops, restaurants, cultural venues and nightlife hot spots. From 5-9 p.m. on March 5 downtown shops and restaurants host special events, offer refreshments and promotions, and sponsor live entertainment.
For the safety of the community, Downtown Inc will be promoting safely modified in-person events as well as virtual events and takeout/delivery options. 
It has posted this advisory — If you are coming downtown, don't forget, face masks are required, so please enjoy all that Downtown York has to offer responsibly and safely. All in attendance are expected to follow CDC guidelines.
Another First Friday event this weekend will take place in Old City Philadelphia (230 Vine Street and locations throughout Old City Philadelphia, 215- 625-9200, www.oldcitydistrict.org).
On the first Friday of each month — year-round — Old City's galleries, studios, shops and restaurants open their doors for First Friday, in an epic exhibition of the neighborhood's vibrant arts scene.
Old City Arts Association launched First Friday in 1991 to introduce Philadelphia to the improving neighborhood and the artists and designers who were bringing it back to life. Two decades later, Old City is a nationally recognized arts destination, named in 2013 as one of the country's top ArtPlaces by the ArtPlace Foundation.
On the first Friday evening of every month, the streets of Old City fill with art lovers of all kinds who wander among the neighborhood's 40-plus galleries, most of which are open from 5-9 p.m.
If you want to enjoy a session of skating this season at the Blue Cross RiverRink Winterfest (Delaware Avenue at Walnut Street, Philadelphia, 215-925-RINK,http://www.delawareriverwaterfront.com), you better act quickly.
This is the penultimate weekend for the rink's 2020-2021 season. March 7 marks the season finale. When that Sunday's final session concludes, that's it – that's the end until next winter.
Unlike most of the suburban ice rinks, RiverRink features only public skating. Ice skating is the only use of the ice – no hockey leagues, no lessons, just public ice skating.
RiverRink has taken the ice-skating experience on the Delaware River waterfront to another level by once again transforming the annual rink into a bona fide winter wonderland.
The Blue Cross RiverRink Winterfest is an immersive winter-themed experience with a popular bar and restaurant called The Lodge, winter beer garden-style landscaping, and a brand-new light show.
The outdoor rink's hours are 1 p.m.-1 a.m. Friday; 11 a.m.-1 a.m. on Saturday and 11 a.m.-11 p.m. on Sunday. Skating admission price is $5 and skate rental is $10.
Linvilla Orchards (137 West Knowlton Road, Media, 610-876-7116,www.linvilla.com) has partnered with Ship Bottom Brewery to bring beers in the barn for patrons to enjoy on chilly winter evenings. Some of the ales will even be crafted with Linvilla's own farm grown products.
Daytime fun includes Corn Hole and Giant Jenga along with other favorite annual Linvilla activities. In the evening, patrons can enjoy a pint under the stars and, weather permitting, sit around a toasty bonfire.
The Beer Garden is open Saturdays and Sundays from noon-5 p.m. each day. There will be fire pits and patio heaters. As an added attraction, a food truck will be onsite each day.
Linvilla Orchard's "Fore! The Planet," which opened for the year on January 16, is a highly interactive and playful museum exhibit created by the Academy of Natural Sciences in Philadelphia. This exhibition pairs important environmental issues with the fun of miniature golf.
It features 18 unique educational holes on a variety of topics — butterfly metamorphosis, a tropical rainforest, evolution, dinosaur extinction, food chains and more. Kids of all ages can enjoy playing miniature golf while learning about our environment on every hole.
The mini-course is open daily from 9 a.m. -5 p.m. Tickets are $9 (ages 11 and over) and $10 (ages 10 and under).
A trip to Linvilla would not be complete without a visit to Linvilla Orchards Farm Market. It features fresh produce (with 50 per cent off all vegetables), baked goods and gourmet specialties — including seasonally homegrown and locally sourced fruits and vegetables.
The bakery opened in the 1960s with the farm market's famous freshly baked pies. Over the years, the menu has been expanded to include breads, cakes, hors d'oeuvres, apple cider doughnuts and more.
Grim Philly's "Dark Philly History Tour" (www.grimphilly.com) will be held every Friday and Saturday night in February and March at 8 p.m. each evening. Beginning in April, the tour will be presented every evening.
Participants can walk with tour guides from the grounds of America's first White House, Congress, and Liberty Bell to homes and sites of Hamilton, Washington, Franklin, Adams, Jefferson, Madison, Monroe, and more than 10 other Founding-Fathers. The surprising dirt of espionage, murder, sexual license and blackmail highlight the secrets of 1776 with a ghost story or two along the way. This tour is highly researched. And your guide is a historian.
Grim Philly will also be presenting "Serial Killers & Cemetery Tour" every Saturday at 2 p.m.
Participants will have the opportunity to experience unconventional sightseeing off the beaten path. They can enjoy Betsy Ross House, Christ Church, Elfreth's Alley, and Benjamin Franklin's Grave, together with tales of serial slayings and psychopathic killers like the Corpse Collector, Frankfort Slasher, and H.H. Holmes.
Ghost Tour of Philadelphia (215-413-1997, www.ghosttour.com), Ghost Tour of Lancaster (717-687-6687, www.ghosttour.com) and Ghost Tour of Strasburg (717-687-6687, www.ghosttour.com) operate throughout the winter and offer an eerily entertaining evening of true ghost stories and real haunted houses.
The Ghost Tour of Philadelphia, which is based on the book, "Ghost Stories of Philadelphia, PA.," is a candlelight walking tour along the back streets and secret gardens of Independence Park, Society Hill, and Old City, where ghostly spirits, haunted houses, and eerie graveyards abound.
Participants can discover the ghost lore of America's most historic and most haunted city with stories from the founding of William Penn's colony to present-day hauntings.
The activity is open year-round – weekends, December-February; every night, March-November. Tickets are $24.
The Ghost Tour of Lancaster and the Ghost Tour of Strasburg are based on the book, "Ghost Stories of Lancaster, PA."
Participants in the Ghost Tour of Lancaster explore the long-forgotten mysteries of one of America's oldest cities, with haunting tales of otherworldly vigils, fatal curses, and star-crossed lovers. The tour provides the opportunity to experience 300 years of haunted history from the Red Rose City's thorny past. Tickets are $18.
The Ghost Tour of Strasburg is a candlelight walking tour of the quaint and historic town of Strasburg in the heart of Pennsylvania Dutch Country. Visitors will experience an entertaining evening with a costumed tour guide spinning tales of haunted mansions, eerie graveyards, and spirits that roam the night … in a town lost in time. Tickets are $18.
Sesame Place (100 Sesame Road, Langhorne, www.sesameplace.com) is a festive, family-friendly celebration with everyone's favorite Sesame Street friends live and in-person at the amusement park in Langhorne.
"Elmo's Furry Fun Fest" is running through March 21.
This new event series will offer guests brand new, limited capacity special events where they can celebrate everyone's favorite red monster during Elmo's Rockin' Birthday Bash, treat little loves to a fun day during the My Fuzzy Valentine's Celebration, let the good times roll during the park's family-friendly Mardi Gras Celebration, grab cozy jammies to celebrate our favorite feathered friend's birthday at Big Bird's Pajama Party
Guests can enjoy these fun-filled, safe, and family-friendly events with everyone's favorite Sesame Street® friends. Guests can ride the Count's Fly By, Count's Cruisers, and the Sunny Day Carousel during the event plus enjoy fun activities including Elmo's Balloon Scavenger Hunt, a Furry Friends Dance Party, and a different themed character dining experience each weekend (additional charge and reservations are required).
Additionally, everyone's favorite Neighborhood Birthday Party Parade will have everyone dancing and singing along with Elmo, Cookie Monster, Abby Cadabby, Count von Count, Bert, Ernie, Zoe, Rosita and Big Bird!
The event schedule features "Big Bird's Pajama Party" on March 20 and 21.