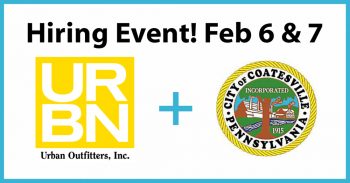 COATESVILLE – The City of Coatesville has been selected to fill up to 200 open positions at the Urban Outfitters, Inc. fulfillment and distribution centers in Gap.
Job seekers can attend an Urban Outfitters, Inc. Hiring Event, held at The Benner Building, 2nd floor (CASD) at 545 Lincoln Highway East in Coatesville on Saturday, February 6 and Sunday, February 7, from 10:00 a.m. to 1:00 p.m. Various shifts for full-time and part-time positions are available with exceptional benefits for jobseekers, and many positions will be filled on the spot.
"We are very excited to work with TMACC and PennDOT and successfully collaborate with the City of Coatesville to expand the transportation and career opportunities to the city," says Melinda McClure, Executive Director of Logistics at Urban Outfitters, Inc. "At URBN we strive for a culture of creativity and innovation and—more importantly—we are passionate about our employees."
Employees of Urban are eligible for free, direct round-trip shuttle transportation between Coatesville and Urban Outfitters Fulfillment Center in Gap, PA, located on Brackbill Road, off Lincoln Highway (approx. 15 miles west of Coatesville).
Marian Moskowitz, Chair, Chester County Board of Commissioners, said, "News of the opportunity to fulfill the job needs of Urban Outfitters by reaching out to the Coatesville community is very welcome. We applaud the commitment of Urban Outfitters and PennDOT to establish and fund the Coatesville-to-Gap transportation option, and we also thank the City of Coatesville and the Transportation Management Association of Chester County for bringing 'The Outfitter' shuttle service together. It's yet another example of how our Chester County community forges a path in workforce development." 
Individuals ages 16 and up seeking a range of full- and part-time positions to support Urban Outfitters fulfillment and distribution center activities are invited to participate. English and non-English speaking candidates are welcome. Participants may register in advancehere. Walk-in interviews are also available. All candidates should bring a valid photo ID. Resumes are welcomed, but not necessary. Masks must be worn, and social distancing will be observed. For questions or more information, contact urbnjobs@urbn.com.
"This is an exceptional opportunity for Coatesville residents who seek employment, and the free transportation component is a wonderful benefit to ease the burden of getting to and from work," says Arvilla Hunt, Coatesville Councilwoman, Third Ward. "I hope residents will take advantage of the Hiring Event and join me in applauding the hard work and collaboration between our City Manager, the County, TMACC and Urban Outfitters."
"The Urban Outfitters Hiring Event is a great opportunity for jobseekers living in the City of Coatesville to apply for entry-level positions and possibly acquire skills and experience for future growth," says Coatesville City Manager James Logan. "We hope this partnership with Urban Outfitters and TMACC, that will provide free daily shuttle service for employees, will enable individuals, especially those who have lost jobs during the COVID pandemic, to get back into the workforce. I would love to see at least 100 Coatesville residents come out each day this weekend to apply."
The Outfitter Shuttle: Employees of Urban Outfitters, Inc. are eligible for free, round-trip shuttle service. Running daily and timed with the start and finish of each work shift, The Outfitter is an employee shuttle and public bus route that provides limited stop service, connecting the City of Coatesville directly to the Urban Outfitters Gap Fulfillment Center. Funding for The Outfitter is provided in part by the Commonwealth of Pennsylvania and URBN. The Outfitter is managed by the Transportation Management Association of Chester County (TMACC). The shuttle will have stops along Lincoln Highway including:
South 13th Avenue
North 8th Avenue
North 4th Avenue
Strode Avenue