By Denny Dyroff, Entertainment Editor, The Times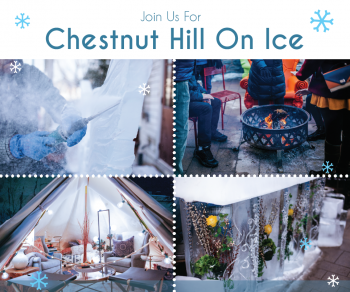 One way to deal with winter is to get outside and celebrate it rather than staying inside and hiding from it.
This weekend, there is a great way to be out in the open air enjoying a winter event — "Chestnut Hill on Ice."
"Chestnut Hill on Ice" (Germantown Avenue, Chestnut Hill, chestnuthillpa.com) is scheduled for January 29 from 5-9 p.m. and January 30 from noon-6 p.m. Rain Dates are February 5 and 6. 
The two-day event is free to attend, with pay-as-you-go activities for all ages. It will take place along Germantown Avenue between Rex Avenue and Willow Grove Avenue with socially distanced ice skating, a yurt village, live ice-carving shows, a bonfire and appearances by both the Snow Queen and the Ice Princess.
The popular annual event will feature a variety of ice-themed attractions, including the return of world-renowned ice sculptor Peter Slavin and Ice Sculpture Philly, cold weather activities, live music and cozy indoor comforts including restaurant and retail specials.
Visitors of all ages will enjoy gliding across an iceless rink, socially distanced from other skaters, in this all-weather activity. Skates in varying sizes and walkers for non-skaters will be available on site. Admission is $10 per person. Due to COVID-19 restrictions, only 19 skaters will be allowed in the rink at one time. The rink will be located at 150 East Evergreen Avenue and will be open Saturday, January 30 from noon-5 p.m.
The Ice Bonfire will be the showcase finale of the winter event. "Chestnut Hill on Ice" will conclude with an impressive eight-foot bonfire encased in a pillar of ice on Saturday at 5:30 p.m. at 150 East Evergreen Avenue.
Another ice festival this weekend will be the "Mount Holly Fire and Ice Festival" (Mount Holly, N.J., fireandicefestival.com). The annual event will be staged on January 30 from 10 a.m.-4 p.m. in downtown Mount Holly.
The Mount Holly Fire & Ice Committee announced that for this 28th year of the event, it will be hosting a COVID-19 friendly ice exhibit on the traditional Fire & Ice date on the last weekend of January 30. Due to State restrictions and Township regulations, there will not be any of the normal event activities such as the dog sleds, vendors, chili contest, etc.
Instead, there will be ice carvings spread throughout town allowing for plenty of social distancing to keep everyone safe. Visitors can enjoy the art of the ice carvings, get outdoors, spend some time in Mount Holly's shops and restaurants, wear masks and stay safe.
The Ice Carving Festival takes place outdoors, in the Business District on High Street and in the Mill Race Village on White Street, where visitors can watch as professional ice carvers transform 300-pound blocks of ice into beautiful crystalline works of art.
Mount Holly is also a South Jersey hotbed of top-rated pizzerias. A visit to Mount Holly wouldn't be complete without grabbing a pie at one of the town's standout pizzerias such as Old Village Pizza (897 Rancocas Road, Mount Holly) or La Vita Pizzeria (12 High Street, Mount Holly).
You can also treat your tastebuds well this weekend if you celebrate some of the "National Days" coming up this weekend.
Today (January 29) is "National Corn Chip Day," while Saturday is "National Croissant Day" (you don't have to be able to spell it or pronounce it to celebrate) and Sunday is "National Hot Chocolate Day" (great for a day with sub-freezing temperatures in the weather forecast).
The Colebrookdale Railroad (South Washington Street, Boyertown, www.colebrookdalerailroad.com)  is running its "Snowflake Specials" excursions on January 30 and 31.
The Edwardian splendor of the Secret Valley Express will surely impress as the excursion train travels into the valley of our forgotten land. Passengers can observe winter (and maybe even snowflakes on a cold, clear winter's afternoon) in the warmth of the rail line's coaches as the train winds its way through the Secret Valley.
The two-hour round trip departing and arriving in Boyertown, Pennsylvania includes a la carte menu items for purchase. All excursions depart at noon.
Tickets are $55 for adults, $52 for seniors, $45 for children (ages 2-12) and 15 for toddlers (under 2). First Class tickets are also available for adults and seniors at $65 and include complimentary adult beverage, light hors d'oeuvres and dessert.
The tourist rail line will also be running "Valentine's Trains" from February 12-14.
Groundhog Day is a popular tradition celebrated in Canada and the United States on February 2. It derives from the Pennsylvania Dutch superstition that if a groundhog emerging from its burrow on this day sees its shadow due to clear weather, it will retreat to its den and winter will persist for six more weeks, and if it does not see its shadow because of cloudiness, spring will arrive early.
While the tradition remains popular in modern times, studies have found no consistent correlation between a groundhog seeing its shadow or not and the subsequent arrival time of spring-like weather.
The Groundhog Day ceremony held at Punxsutawney in western Pennsylvania, centering around a semi-mythical groundhog named Punxsutawney Phil, has become the most attended. Other cities in the United States and Canada have also adopted the event.
This year, the Punxsutawney Groundhog Club announced that Phil will be making his live annual Prognostication from Gobbler's Knob this coming Groundhog Day (February 2, 2021), but it has been determined that there will not be any in person attendance or guests on the grounds as the potential COVID-19 risks to overcome are too great.
Numerous live internet, website and virtual events and interactions will take the place of the traditional in person events.  Information regarding these virtual events will be listed and on our website:  www.groundhog.org.
There will be a special "Groundhog Day Festival" on January 30 at the John Heinz National Wildlife Refuge (8601 Lindbergh Blvd., Philadelphia, https://www.fws.gov/refuge/John_Heinz/).
This free festival features family-friendly activities that include refreshments, games, crafts, and activities from 10 a.m.-noon.
A visit to Longwood Gardens (Route 1, Kennett Square, 610-388-1000, www.longwoodgardens.org) always offers welcome respite to the grey brutality of the winter season. This year's special event is called "Winter Wonder."
"Winter Wonder," which runs from January 23-March 21, celebrates the beauty of winter. It's all about outdoor spacious, indoor oasis, and the power of story.
Outside, visitors can find a sense of peace and tranquility as they walk past textural grasses, seed heads and the dramatic silhouettes of trees that stretch up into the sky.
Inside, they can bask in a world of warmth that features an overhead garden of hanging baskets adorned with such vibrant beauties as jasmine, cape-primrose, and lipstick-plant.
Visitors will be able to enjoy a paradise of flowers and foliage, bursting with color — all in a beautiful indoor winter wonderland with a tropical twist.
"Winter Wonder" exists on two levels.
Both outdoors and in, they can embark on a poignant journey with "Voices in the Landscape," a series of 10 stops throughout the Gardens which can also be accessed virtually from home. In this sensory experience, participants will follow along as storyteller Charlotte Blake Alston honors and celebrates the strength, resilience, and contributions of the African American community through the lens of horticulture and the power of story.
Those taking the tour can hear an ancient Zulu creation myth paired with the oldest plant on Earth in the Conservatory; make their way to the Lookout Loft Treehouse and learn the story of the significance and symbolism of woods and meadows; and call out the name of an ancestor in remembrance at the Large Lake while a traditional spiritual soothes your soul.
Voices in the Landscape is an Accessible Experience.
The exhibition features a total of 10 audio experiences associated with specific locations throughout the Gardens, including seven outdoor stops and three stops in the Conservatory. The entire route is accessible without stairs and the length of the route, including the stops in the Conservatory, is about 1.5 miles.
"Voices in the Landscape" signage is at each stop. Each audio recording ranges between three and eight minutes in length. The estimated time to experience the entire Voices in the Landscape exhibit is approximately 1.5 to 2 hours.
As always, admission by "Timed Ticket" — tickets issued for specific dates and times. Timed ticketing limits the number of people in the Gardens at any given time and allows guests to enjoy minimal lines and a better viewing experience.
You may enter the Gardens up to 30 minutes prior and 30 minutes after your designated time. Make every effort to arrive at your designated reservation time. Earlier or later arrivals may not be accommodated.
Admission to Longwood Gardens is $25 for adults, $22 for seniors (ages 62 and older) and college students, $18 for active military and veterans and $13 for youth (ages 5-18).
Sweden is definitely a cold-climate country with more than its share of bitter winter weather. As a result, the Swedish people are well aware of the nutritional and therapeutic benefits of hot soup.
In recognition of this, the American Swedish Historical Museum (1900 Pattison Avenue, Philadelphia, 215-389-1776, http://www.americanswedish.org) holds annual Pea Soup and Punsch Supper. 
In normal times, visitors to the museum in South Philadelphia are invited to shake off the chill and warm up Swedish style with an evening of steamy soup and strong drink at the midwinter event, which is also known as "Ärtsoppa och Punschin Sweden." 
In previous years, participants broke bread together over a quintessential Swedish meal of pea soup and punsch, which is a sweet and strong Arrack liquor-based drink. This hearty meal, which also includes sharp cheese, bread and dessert, is inspired by a tradition that dates back to medieval times.
For 2021, ASHM is presenting a "Virtual Pea Soup Dinner."
This year, the Museum is offering a to-go Pea Soup dinner you can enjoy from your own home with an added virtual component to experience the camaraderie of an evening with new friends. The to-go dinner will be available for pick up from the Museum and participants will receive a link to join a communal Zoom dinner online.
The dinner package includes one quart of Pea Soup, a wedge of Prästost XO Swedish cheese, a package of WASA Crispbread, spicy Swedish mustard, Swedish pancakes and lingonberry sauce. To-go dinner packages will be for two people and available for $35 for members and $40 for nonmembers. Additional quarts of soup may be purchased for $10.
Pre-registration is required. The to-go meal will be available for pick-up January 29 from 10 a.m.-4 p.m. and January 30 from noon-4 p.m.
Every Friday and Saturday through February 5, the Chaddsford Winery (632 Baltimore Pike, Chadds Ford, 610-388-6221, http://www.chaddsford.com) will present "Murder Mystery Nights."
Because of COVID-19, the Chaddsford's "Murder Mystery Nights" are going virtual in 2021.
Here's what the winery posted on its website:
This interactive event is part virtual wine tasting and part murder mystery.  Purchase an event pass online for $79/household (multiple people can participate per household) and we'll ship you a package with program information, clues, Zoom login credentials, and a Wine 3-Pack that includes a bottle of '18 Sauvignon Blanc, '19 Dry Rosé:Redux, and '17 Harbinger.
Sales close 10 days prior to the event and are limited to 40 households/session. We encourage you have fun and get silly with this.  Get dressed up and make it a family event or invite your quarantine pod over to join in the adventure.
You will need high-speed internet access as well as an operable microphone to participate.
Login to Zoom 10 minutes prior to start time to avoid technical difficulties. Be sure to have your wine, program, and clues handy!
Participants will be greeted with more details about Doc Vignoles and his time machine, while hearing from a number of characters and suspects.  As you receive more clues throughout the evening, there will be opportunities to taste and learn a bit more about each of the featured wines.
Participants will be able to interrogate the suspects and interact with one another during the program.  After all clues have been given, each household will submit their guesses on the murderer, the motive, and the time period via private chat.  Three correct answers will result in prizes. 

Sesame Place (100 Sesame Road, Langhorne, www.sesameplace.com) is a festive, family-friendly celebration with everyone's favorite Sesame Street friends live and in-person at the amusement park in Langhorne.
Now through February 24, Sesame Place is presenting its all-new 40th Birthday Drive-Thru.
Visitors will feel like the guest of honor as they make their way through the bright and colorful birthday scenes, listen to energetic tracks from the popular Neighborhood Birthday Party Parade, and wave to Sesame Street friends dressed in their birthday best.
Anticipation builds as visitors make their way through a maze of whimsical birthday lights and venture through an illuminated cake of frosted fun. As guests make their way into the park, they will be greeted by even more Sesame Street friends in festive attire atop their birthday-themed floats.
Tickets for Sesame Place's "40th Birthday Drive-Thru" are $35 per carload.
Elmo's Furry Fun Fest will kick off on January 30 and run through March 21.
This new event series will offer guests brand new, limited capacity special events where they can celebrate everyone's favorite red monster during Elmo's Rockin' Birthday Bash, treat little loves to a fun day during the My Fuzzy Valentine's Celebration, let the good times roll during the park's family-friendly Mardi Gras Celebration, grab cozy jammies to celebrate our favorite feathered friend's birthday at Big Bird's Pajama Party
Guests can enjoy these fun-filled, safe, and family-friendly events with everyone's favorite Sesame Street® friends. Guests can ride the Count's Fly By, Count's Cruisers, and the Sunny Day Carousel during the event plus enjoy fun activities including Elmo's Balloon Scavenger Hunt, a Furry Friends Dance Party, and a different themed character dining experience each weekend (additional charge and reservations are required). Plus, everyone's favorite Neighborhood Birthday Party Parade will have everyone dancing and singing along with Elmo, Cookie Monster, Abby Cadabby, Count von Count, Bert, Ernie, Zoe, Rosita and Big Bird!
The event schedule is:
Elmo's Rockin' Birthday Bash on Jan. 30 & 31, Feb. 6 & 7
My Fuzzy Valentine's Celebration on Feb. 13 – 15
Mardi Gras Celebration on Feb. 20 & 21, 27 & 28
Big Bird's Pajama Party on March 6 & 7, 13 & 14, 20 & 21.
Linvilla Orchards (137 West Knowlton Road, Media, 610-876-7116,www.linvilla.com) always joins in when it is time to rebel against winter.
Right now, Linvilla has restocked the shelves of its popular farm market, re-opened its miniature golf course "Fore! the Planet" and is welcoming adults to enjoy its Ship Bottom Brewery Beer Garden.
Linvilla Orchards has partnered with Ship Bottom Brewery to bring beers in the barn for patrons to enjoy on chilly winter evenings.
At Ship Bottom Brewery, every batch of beer is handcrafted. The brewery uses only the freshest ingredients — all of which are hand selected by the head brewer.
Ship Bottom Brewery's handcrafted ale and lager recipes were created to maximize the complex flavors of malts and hops. Some of the ales will even be crafted with Linvilla's own farm grown products.
Daytime fun includes Corn Hole and Giant Jenga along with other favorite annual Linvilla activities. In the evening, patrons can enjoy a pint under the stars and, weather permitting, sit around a toasty bonfire.
The Beer Garden is open Saturdays and Sundays from noon-5 p.m. each day. There will be fire pits and patio heaters. As an added attraction, a food truck will be onsite each day.
Linvilla Orchard's "Fore! The Planet," which opened for the year on January 16, is a highly interactive and playful museum exhibit created by the Academy of Natural Sciences in Philadelphia. This exhibition pairs important environmental issues with the fun of miniature golf.
It features 18 unique educational holes on a variety of topics — butterfly metamorphosis, a tropical rainforest, evolution, dinosaur extinction, food chains and more. Kids of all ages can enjoy playing miniature golf while learning about our environment on every hole.
The mini-course is open daily from 9 a.m. -5 p.m. Tickets are $9 (ages 11 and over) and $10 (ages 10 and under).
January 16 also marked the opening of Linvilla Orchards Farm Market. It features fresh produce (with 50 per cent off all vegetables), baked goods and gourmet specialties — including seasonally homegrown and locally sourced fruits and vegetables.
The bakery opened in the 1960s with the farm market's famous freshly baked pies. Over the years, the menu has been expanded to include breads, cakes, hors d'oeuvres, apple cider doughnuts and more.
Surprisingly, there is also another option for playing a round of miniature golf – at Franklin Square in Center City Philadelphia.
The Electrical Spectacle Holiday Light Show at Franklin Square (Sixth and Race streets, Philadelphia, http://www.historicphiladelphia.org/) has concluded for the 2020-2021 season. Fortunately, the show's 100,000 lights will remain lit through the end of February during the extended "Winter in Franklin Square."
Franklin Square's 180-year-old, historic centerpiece has been renovated and updated into a dynamic state-of-the-art Fountain Show featuring spectacular dancing water effects and colored lights choreographed to music. Visitors can enjoy free Fountain Show performances every 30 minutes on the hour and half hour from noon-9 p.m.
Additionally, playing outdoor mini-golf on the Chilly Philly Mini Golf course and taking rides on the Parx Liberty Carousel will also be available through February 28.
Admission to the light show is free. The cost to play Mini-golf is $10 for adults and $8 for children (ages 3-12) while carousel rides are $3 for children 3 and older and free for children 2 and under.
Another attraction in the "Historic Philadelphia" area is welcoming visitors.
The Betsy Ross House (239 Arch Street, Philadelphia, http://historicphiladelphia.org/betsy-ross-house/what-to-see/) has reopened to the public.
The well-known and loved story of Betsy Ross sewing the first "Stars & Stripes" is tightly woven into the colorful fabric of America's rich history. The Betsy Ross House, the birthplace of the American flag, is alive with the sights and sounds of the 18th century.
Visitors can tour the house and then stay a while longer to learn more about Betsy and her exciting life and times through the site's interactive, historical programming.
The Betsy Ross House is located in Philadelphia's Old City neighborhood in the heart of the Historic District and steps away from Independence National Park.
Hours are 10 a.m.-4 p.m., Tuesday through Sunday. 
The nearly 300-year-old narrow, winding stairs of the Betsy Ross House are not accessible to strollers, wheelchairs, walkers, or motorized scooters. For guests with mobility issues, the Museum offers a "first-floor tour", which includes some walking and two steps up/down. The courtyard, including Betsy Ross's grave and a seasonal medicinal herb garden, the museum store, and exhibition gallery are all accessible.
Admission for the self-guided tours is $5 for adults and $4 for children, seniors, military and students. 
Each week, more of Philly's historical sites and museums are re-opening.
The Museum of the American Revolution (101 South Third Street, Philadelphia, www.amrevmuseum.org) reopened in mid-January after a long closure because of the COVID-19 shutdown in Philly.
Visitors can take a deeper dive into untold stories of the Revolution with the Museum's new Finding Freedom digital interactive, which explores the stories of enslaved people of African descent who followed different paths to freedom during the Revolutionary War.
Admission to the Museum is Adults, $21; Youth (6-17), $13; Children (5 and under), free; Seniors (65 and up), Students & Teachers, and Military, $18.
The Academy of Natural Sciences of Drexel University (1900 Benjamin Franklin Parkway, Philadelphia, www.ansp.org) reopened on January 8 with a new exhibition and the continuation of a wildlife photography exhibit.
The Academy's new exhibit – "Permian Monsters: Life Before the Dinosaurs" – shows the species that predated dinosaurs. 
Visitors to the museum can step back in time 290 million years to when bizarre-looking creatures dominated life on land and sea, and dinosaurs had not yet evolved. They can also learn about the most devastating mass extinction the world has ever seen when "Permian Monsters: Life Before the Dinosaurs" takes up a year-long residence at the Academy. 
The exhibit blends vivid artwork, amazing fossils and full-size scientifically accurate models of moving beasts to recreate this relatively unknown period that ended with the most devastating extinction of life. Visitors will explore odd-looking sharks, strange reptilelike precursors of mammals, a vicious giant saber-toothed gorgonopsid, and other extinct creatures that ruled the world millions of years before the dinosaurs.
"Permian Monsters: Life Before the Dinosaurs" will be on view through January 17, 2022.  "Wildlife Photographer of the Year," which is located in the museum's new natural-light-filled gallery, will be on view through February 15.
Admission is $22 for adults, $19 for seniors and $18 for children (ages 2-12).
The Philadelphia Museum of Art (2600 Benjamin Franklin Parkway, Philadelphia, www.philamuseum.org) also reopened in early January 8.
The museum will be open Friday through Monday. Advance reservations are strongly recommended. Tickets are available for each half-hour time slot, up to two weeks in advance of today's date, with new tickets released every Tuesday."
The museum now will be open from 10 a.m.-8:45 p.m. on Fridays and from 10 a.m.-5 p.m. on Saturdays, Sundays and Mondays. It will be closed from Tuesday-Thursday each week.
Some of the featured exhibits are "Expanded Painting in the 1960s and 1970s," "Art of Care," "Fault Lines: Contemporary Abstraction by Artists from South Asia," "Horace Pippin: From War to Peace," "The Gross Clinic" by Thomas Eakins," "Kōgei: Art Craft Japan," "Baroque: The Art of Drama" and "Ghosts and Fragments."
Admission is $25 for adults, $23 for seniors, $14 for students and free for Youths (18 and under).
The Barnes Museum (2025 Benjamin Franklin Parkway, Philadelphia, www.barnesfoundation.org) is another Philly museum that had its resurrection on January 8 with "Elijah Pierce's America" as the featured exhibition.
"Elijah Pierce's America" presents the exceptional work of self-taught woodcarver Elijah Pierce (1892–1984), known best for a tour-de-force volume of biblical scenes. His carvings depict remarkable narratives — religious parables, autobiographical scenes, episodes from American politics — and sometimes include figures from popular culture and sports.
Admission is $25 for adults, $23 for seniors and $5 for youth.
The Penn Museum (3260 South Street, Philadelphia, www.penn.museum) is presenting exhibitions for live visitors and in virtual format for those who prefer to stay home.
Some of the museum's featured exhibits are "Living with the Sea – Charting the Pacific," "The Artifact Lab," "Community Spotlight," "Invisible Beauty – The Art of Archaeological Science," and "Ancient Egypt."
There are also a variety of specialized galleries devoted to Egypt, Greece, Africa, Mexico & Central America, Sphinx, Native America Voices, Asia, Rome, Canaan & Ancient Israel, Middle East and Etruscan.
Admission is $18 for adults, $16 for seniors and $13 for children (ages 6-12).
A year ago almost to the day, Wonderspaces, an experiential, interactive arts venue, celebrated the grand opening of its largest location to date this weekend in Philadelphia at the Fashion District (27 North 11th Street, Philadelphia, philadelphia.wonderspaces.com).
Building on the success of annual pop-up shows in San Diego, and its first permanent location in Scottsdale, Arizona, Wonderspaces opened a 24,000 square foot gallery space.
Wonderspaces featured 14 art installations that all play with the idea of perspective.  The artwork ranges from award-winning virtual reality short film about a dinner party-turned-alien abduction, to a room where visitors digitally paint the walls with the movement of their bodies.
When the pandemic hit, Philadelphia clamped down and forced all museums to close. Restrictions have been eased for now and museums have been re-opening throughout the month. Wonderspaces is throwing its doors open on January 22.
New artworks rotate in every few months, creating an ever-evolving, year-round show.
Tickets are for entry at a specific date and time. Visitors are welcome to stay as long as they please during operating hours. The average time spent experiencing the show is 90 minutes.
A few installations contain flashing lights, images, and patterns that may trigger seizures for people with photosensitive epilepsy. All visitors must sign a waiver prior to being admitted into the space. Adult supervision is required for visitors under 16.
"Grim Philly's Nightmare Before Christmas Tavern Tour" (www.grimphilly.com) will be held on January 29.
Participants will have the opportunity to toast with the ghosts of Christmas past while drinking in the yuletide spirits of grog and nog on this entertaining fact-filled tour.
The evening's activities include trivia and drinking games for chances to win free beer, drink and/or food samples for all at each stop and a variety of drink specials.
Participants can relax in warmth enjoying authentic handmade Christmas beverages, snacks and prizes (included) as they learn a full range of the surprising histories of Yule, and Viking lore and Saturnalia — all which have worked their way in to our modern Christian celebrations including ideas of magick, gift giving…and origins in even infanticide and human sacrifice.
Guests will be able to revel in little known facts of our holiday past including the season's pagan roots in Roman, Celtic & German traditions, while learning of medieval, and New World additions in mumming and mistletoe.
Grim Philly will also be presenting an array of tours regularly through the winter months including "Dark Philly Adult Night Tour," "Serial Killers & Cemetery Tour," "Witches and Ghosts Tour," and "Voodoo Magick Valentine."
Ghost Tour of Philadelphia (215-413-1997, www.ghosttour.com), Ghost Tour of Lancaster (717-687-6687, www.ghosttour.com) and Ghost Tour of Strasburg (717-687-6687, www.ghosttour.com) operate throughout the winter and offer an eerily entertaining evening of true ghost stories and real haunted houses.
The Ghost Tour of Philadelphia, which is based on the book, "Ghost Stories of Philadelphia, PA.," is a candlelight walking tour along the back streets and secret gardens of Independence Park, Society Hill, and Old City, where ghostly spirits, haunted houses, and eerie graveyards abound.
Participants can discover the ghost lore of America's most historic and most haunted city with stories from the founding of William Penn's colony to present-day hauntings.
The activity is open year-round – weekends, December-February; every night, March-November. Tickets are $24.
The Ghost Tour of Lancaster and the Ghost Tour of Strasburg are based on the book, "Ghost Stories of Lancaster, PA."
Participants in the Ghost Tour of Lancaster explore the long-forgotten mysteries of one of America's oldest cities, with haunting tales of otherworldly vigils, fatal curses, and star-crossed lovers. The tour provides the opportunity to experience 300 years of haunted history from the Red Rose City's thorny past. Tickets are $18.
The Ghost Tour of Strasburg is a candlelight walking tour of the quaint and historic town of Strasburg in the heart of Pennsylvania Dutch Country. Visitors will experience an entertaining evening with a costumed tour guide spinning tales of haunted mansions, eerie graveyards, and spirits that roam the night … in a town lost in time. Tickets are $18.
It's hard to imagine anyone still clinging to a Christmas 2020 vibe — but there are some. It's even harder to envision a holiday event still going on – but there are some.
"Holiday Magic at Brandywine" has been extended through January 31 at the Brandywine River Museum (Route 1, Chadds Ford 610-388-2700, www.brandywinemuseum.org). It is an annual event that is fun for the entire family.
"Holiday Magic at Brandywine" also features an extensive O-gauge model. Five moving trains operate at all times and include a 60-car freight train winding past a village, stone quarry, oil refinery, mountains, Herr Foods plant, running waterfall and animated skating scene.
In addition to the Brandywine Railroad, this year's holiday offerings include the return of artist and composer Ann Wyeth McCoy's dollhouse, which features six rooms filled with three-dozen dolls and hundreds of miniature objects that will delight visitors of all ages.
Additionally, the exhibition, "Betsy James Wyeth: A Tribute," will be on display through January 31.
The Brandywine River Museum of Art pays tribute to Betsy James Wyeth (1921-2020) with a display of drawings and paintings of and about her in the Andrew Wyeth Gallery, and with a biography of her remarkable life presented in the first-floor lobby of the Museum.
Betsy Wyeth was her husband Andrew Wyeth's business manager and curator, with great precision recording the details of every work completed by the artist and encouraging and propelling him to achieve throughout his career. The artist painted his wife many times over the course of their almost seven-decade marriage. The selection of 20 works shown here are both intimate and enigmatic, capturing her elegance while also communicating a sense of elusiveness that the artist was so adept at conveying.
Admission is $18 for adults, $15 for seniors (65 and older) and $6 for children.
There is also a holiday event still lingering on in Bucks County — the "Holiday Light Show" at Shady Brook Farm (931 Stony Hill Road, Yardley, www.shadybrookfarm.com)
The farm features a three–million-light Holiday Light Show with "Dashin' Through the … Lights," a family-friendly two-mile drive-through on Thursday and Friday nights.
The main display allows visitors to drive or (if weather permits) ride in wagons past post-sundown displays including illuminated tunnels.
The "Holiday Light Show" is open now through January 30. Timed tickets, which start at $25, are required.