By Denny Dyroff, Entertainment Editor, The Times
Like tulips in the spring, museums are springing back to life around the Delaware Valley.
The Museum of the American Revolution (101 South Third Street, Philadelphia, www.amrevmuseum.org) reopened last weekend after a long closure because of the COVID-19 shutdown in Philly.
This weekend, the Museum kicks into high gear with its annual "Martin Luther King Jr. Weekend" from January 15-18.
The Museum will honor the life, service, and legacy of Rev. Dr. Martin Luther King Jr. over MLK Weekend.  Participants are invited to join in-person and online to discover the ongoing legacy of the American Revolution and learn what it takes to change the world, highlighted by a performance by the Philadelphia Jazz Project.
The line-up of special activities includes:
"Ona Judge: A Virtual Walking Tour" – Online on Saturday, Jan. 16
Join a Museum educator for a virtual walking tour to explore the story of Ona Judge, a woman who was enslaved in George and Martha Washington's household in Philadelphia and later escaped.
"Ona Judge Discovery Cart" — In-Person on Saturday, Jan. 16, 2021 from 11 a.m.-3 p.m.
At a contactless Discovery Cart, learn the story of Ona Judge. Explore objects related to Judge's story, including the original door handle from the Presidents' House in Philadelphia as well as replica objects such as a comb and brush that Judge would have used in her role as a ladies' maid.
"We Shall: A Lyrical MLK Celebration" – Online on Monday, Jan. 18, 2021
Join vocalists and musicians from the Philadelphia Jazz Project on the Museum's YouTube channel for a free virtual concert, featuring highlights from their previous performances at the Museum and interviews with special guests. The performance, inspired by excerpts from King's speeches and sermons, will intermingle spoken word, gospel, jazz, and blues to pay tribute to his life's work to advance civil rights for all.
"Finding Freedom Interactive Feature" — Online Anytime
Take a deeper dive into untold stories of the Revolution with the Museum's new Finding Freedom digital interactive, which explores the stories of enslaved people of African descent who followed different paths to freedom during the Revolutionary War.
Admission to the Museum is Adults, $21; Youth (6-17), $13; Children (5 and under), free; Seniors (65 and up), Students & Teachers, and Military, $18.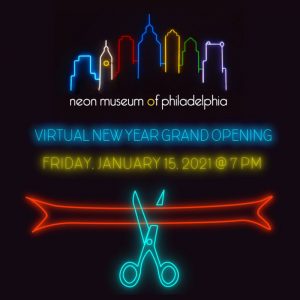 Neon Museum of Philadelphia (800 North American Street, Philadelphia, neonmuseumofphiladelphia.com) will celebrate its "Virtual Grand Opening" on January 15 from 7-8:30 p.m.
The Neon Museum of Philadelphia is dedicated to preserving historic signage as an important element of community heritage in Philadelphia and America. The Museum also promotes neon art and appreciation of the 20th century American roadside.
The Museum's signs are a window into pre-Internet America — communities built on mom-and-pop businesses, blue collar skills, kids playing in streets, and face-to-face interaction.
The Museum invites you to join in its "Virtual New Year Grand Opening" –-
https://us02web.zoom.us/j/84106625550?pwd=TFFkK0xjc0JleEZUMkFxOVFQK2h0dz09
Meeting ID: 841 0662 5550     Passcode: 504774     Find your local number: https://us02web.zoom.us/u/kdYgUXZztk
The venue's physical grand opening will follow later in 2021. In between, the Museum is launching virtual programs — demonstrations, conversations, art, and performances.
When the Museum physically opens to the public, there will be an array of changing art exhibits and events: presentations on Philly commercial and neighborhood history, a daily video program, a library, lounge, and museum shop.
Center City Philadelphia also has a few other activities that look at the area's history – from a slightly different angle.
"Grim Philly's Nightmare Before Christmas Tavern Tour (www.grimphilly.com) will be held January 15, 22 and 29.
Participants will have the opportunity to toast with the ghosts of Christmas past while drinking in the yuletide spirits of grog and nog on this entertaining fact-filled tour.
The evening's activities include trivia and drinking games for chances to win free beer, drink and/or food samples for all at each stop and a variety of drink specials.
Participants can relax in warmth enjoying authentic handmade Christmas beverages, snacks and prizes (included) as they learn a full range of the surprising histories of Yule, and Viking lore and Saturnalia — all which have worked their way in to our modern Christian celebrations including ideas of magick, gift giving…and origins in even infanticide and human sacrifice.
Guests will be able to revel in little known facts of our holiday past including the season's pagan roots in Roman, Celtic & German traditions, while learning of medieval, and New World additions in mumming and mistletoe.
Grim Philly will also be presenting an array of tours regularly through the winter months including "Dark Philly Adult Night Tour," "Serial Killers & Cemetery Tour," "Witches and Ghosts Tour," and "Voodoo Magick Valentine."
Ghost Tour of Philadelphia (215-413-1997, www.ghosttour.com), Ghost Tour of Lancaster (717-687-6687, www.ghosttour.com) and Ghost Tour of Strasburg (717-687-6687, www.ghosttour.com) operate throughout the winter and offer an eerily entertaining evening of true ghost stories and real haunted houses.
The Ghost Tour of Philadelphia, which is based on the book, "Ghost Stories of Philadelphia, PA.," is a candlelight walking tour along the back streets and secret gardens of Independence Park, Society Hill, and Old City, where ghostly spirits, haunted houses, and eerie graveyards abound.
Participants can discover the ghost lore of America's most historic and most haunted city with stories from the founding of William Penn's colony to present-day hauntings.
The activity is open year-round – weekends, December-February; every night, March-November. Tickets are $24.
The Ghost Tour of Lancaster and the Ghost Tour of Strasburg are based on the book, "Ghost Stories of Lancaster, PA."
Participants in the Ghost Tour of Lancaster explore the long-forgotten mysteries of one of America's oldest cities, with haunting tales of otherworldly vigils, fatal curses, and star-crossed lovers. The tour provides the opportunity to experience 300 years of haunted history from the Red Rose City's thorny past. Tickets are $18.
The Ghost Tour of Strasburg is a candlelight walking tour of the quaint and historic town of Strasburg in the heart of Pennsylvania Dutch Country. Visitors will experience an entertaining evening with a costumed tour guide spinning tales of haunted mansions, eerie graveyards, and spirits that roam the night … in a town lost in time. Tickets are $18.
There is more mystery to be found in Chadds Ford.
Every Friday and Saturday through February 5, the Chaddsford Winery (632 Baltimore Pike, Chadds Ford, 610-388-6221, http://www.chaddsford.com) will present "Murder Mystery Nights."

Because of COVID-19, the Chaddsford's "Murder Mystery Nights" are going virtual in 2021.
Here's what the winery posted on its website:
In an effort to get far, far away from life in 2020, we're embarking on a wine-filled, time travel journey and hope you'll join us.
HOW IT WORKS
This interactive event is part virtual wine tasting and part murder mystery.  Purchase an event pass online for $79/household (multiple people can participate per household) and we'll ship you a package with program information, clues, Zoom login credentials, and a Wine 3-Pack that includes a bottle of '18 Sauvignon Blanc, '19 Dry Rosé:Redux, and '17 Harbinger. (If you need more wine, add additional bottles to your cart and we'll ship everything out together!)
Note: Delaware residents will need to pick up their event package at the Winery due to shipping restrictions. 
Sales close 10 days prior to the event and are limited to 40 households/session. Buy your event pass today to guarantee your spot!
We encourage you have fun and get silly with this!  Get dressed up and make it a family event or invite your quarantine pod over to join in the adventure.
For more details about this time-traveling mystery, click here to read a synopsis.
NIGHT OF THE EVENT
You will need high-speed internet access as well as an operable microphone to participate.
Login to Zoom 10 minutes prior to start time to avoid technical difficulties. Be sure to have your wine, program, and clues handy!
Participants will be greeted with more details about Doc Vignoles and his time machine, while hearing from a number of characters and suspects.  As you receive more clues throughout the evening, there will be opportunities to taste and learn a bit more about each of the featured wines!
Participants will be able to interrogate the suspects and interact with one another during the program.  After all clues have been given, each household will submit their guesses on 1) the murderer, 2) the motive, and 3) the time period via private chat.  Three correct answers will result in prizes!
If you're looking for a fun family activity – an indoor activity unaffected by the weather — Linvilla Orchards (137 West Knowlton Road, Media, 610-876-7116,www.linvilla.com) has something just for you — the miniature golf course "Fore! the Planet."
Linvilla Orchard's "Fore! The Planet," which opens for the year on January 16, is a highly interactive and playful museum exhibit created by the Academy of Natural Sciences in Philadelphia. This exhibition pairs important environmental issues with the fun of miniature golf.
It features 18 unique educational holes on a variety of topics — butterfly metamorphosis, a tropical rainforest, evolution, dinosaur extinction, food chains and more. Kids of all ages can enjoy playing miniature golf while learning about our environment on every hole.
The first hole is "Butterfly Life Cycle," and players must putt through each stage of the colorful insect's metamorphosis. The next five holes are titled "Seed Dispersal," "Bat Sonar," "Food Chain," "Evolution of a Golfer" and "Backyard Explorer" followed by "Natural Selection" and "Predators and Prey."
On the "Dinosaur Extinction" hole, players get to hit their balls toward the scientific theory of dinosaur extinction they find most plausible. The remainder of the thought-provoking holes are "Recycling," "Water Pollution," "Landfills," "Wild Corridors," "Bird Migration," "Spawning Salmon," "Alien Species," "Population Threats" and "Rainforest Threats."
The mini-course is open daily from 9 a.m. -5 p.m. Tickets are $9 (ages 11 and over) and $10 (ages 10 and under).
January 16 also marks the opening of Linvilla Orchards Farm Market. It features fresh produce, baked goods and gourmet specialties throughout the year — including seasonally homegrown and locally sourced fruits and vegetables.
The bakery opened in the 1960s with the farm market's famous freshly baked pies. Over the years, the menu has been expanded to include breads, cakes, hors d'oeuvres, apple cider doughnuts and more.
If you're looking for something entirely different to do this weekend, head to central Delaware County this Saturday morning.
Your mission – should you decide to accept it – will be to participate in a Spotted Lantern Fly Egg Mass Removal.
The event, which is good for the environment and good for your spiritual well-being, will take place at The Haverford Reserve CREC (Parkview Drive, Haverford, http://havtwp.org/Parks_and_Recreation) from 10 a.m.-12:15 p.m.
Participants can Join Joy Baxter, Spotted Lanternfly enthusiast, as park organization attempts to mitigate the spread of the Spotted Lanternfly in the area.
Baxter will lead a group at the Reserve to identify and remove SLF egg masses. These egg masses can contain 30-50 nymphs and removing them is one of the best ways to mitigate this pest.
The event is free and open to all.
There are some people out there who like to hold on to things a little longer than normal – people who are still in Christmas 2020 mode and don't want to let it go (even though we're halfway through January) and a soon-to-be ex-president who refuses to admit he lost the election (even though he received more than seven million votes less than his opponent).
While there is no good news for the former, there is good news for the lovers of the Yuletide season. Two Christmas activities will run through this weekend and a third will remain open until the end of the month.
Longwood Gardens (Route 1, Kennett Square, 610-388-1000, www.longwoodgardens.org) is coming down the home stretch of its 2020/2021 edition of "A Longwood Christmas."
The festive holiday display at Longwood Gardens, which is running now through January 17, features spectacular lights, lavish decorations, holiday music and colorful displays featuring thousands of brilliant poinsettias, brightly decorated trees and fragrant flowers — all inside the heated Conservatory.
Inside, you have an opportunity to stroll among beautifully adorned trees and plant palettes of delicate winter whites to rich reds and the greenest of evergreens as you wrap yourself in a nostalgic Christmas morning scene. You can engage your senses with fragrant lilies and paperwhites, and relish in the timeless beauty of Christmas favorites like poinsettias and kalanchoe woven throughout the Conservatory.
Outdoors, you can watch your family's eyes sparkle at all the wondrous sights and feel like a kid again with Longwood's whimsical Garden Railway. Celebrating its 20th anniversary, the Garden Railway is a fanciful blend of horticulture, engineering, and lighthearted fun in a special display located outdoors near the Terrace Restaurant. The Garden Railway operates during regular Gardens hours, weather permitting.
Each fall, members of our Horticulture, Facilities, and Guest Services departments team up to achieve the not-so-small feat of creating this multi-level world in miniature. Longwood Gardens showcases its collection of 31 locomotives, steam engines, diesel engines, and specialty engines – including the ever-popular Thomas the Tank Engine and many of his friends — as they rumble along nearly 500 feet of track amid textural foliage, flowering plants, and woody plants.
When darkness arrives at Longwood, a night-blooming garden of more than a half-million lights strung on close to 100 trees with approximately 40 miles of wire comes to life. A carillon with 62 cast bells plays holiday music every half hour during daylight hours. Longwood's Open Air Theatre fountains dance to holiday music each half hour — temperature permitting.
As always, admission by "Timed Ticket" — tickets issued for specific dates and times. Timed ticketing limits the number of people in the Gardens at any given time and allows guests to enjoy minimal lines and a better viewing experience.
You may enter the Gardens up to 30 minutes prior and 30 minutes after your designated time. Make every effort to arrive at your designated reservation time. Earlier or later arrivals may not be accommodated.
Admission to Longwood Gardens is $30 for adults, $27 for seniors (ages 62 and older) and college students, $23 for active military and veterans and $16 for students (ages 5-18).
"Holiday Magic at Brandywine" has been extended through January 31 at the Brandywine River Museum (Route 1, Chadds Ford 610-388-2700, www.brandywinemuseum.org). It is an annual event that is fun for the entire family.
"Holiday Magic at Brandywine" also features an extensive O-gauge model. Five moving trains operate at all times and include a 60-car freight train winding past a village, stone quarry, oil refinery, mountains, Herr Foods plant, running waterfall and animated skating scene.
Slightly modified this year to provide a safe and socially distant experience, the Brandywine Railroad will still feature plenty of trains, miniature details and the engaging elements that everyone loves—including interactive components operated by hands-free foot pedals.
The Brandywine's famous O-gauge display will feature model trains running on a thousand feet of track through a small village, a drive-in movie theater and even a carnival. This year the Brandywine also welcomes the exciting new additions of two model train sets with layouts once owned by Nicky and Jamie Wyeth—sons of the renowned American artist, Andrew Wyeth.
Nicky Wyeth's standard gauge train display features historic "tinplate" Lionel trains from the 1920s and 30s traveling around colorful buildings and scenery, including a large bridge modeled after New York's Hell Gate Bridge. The 8 x 12-foot display was also recently enhanced with modern reproductions of a 1940s monorail.
Artist Jamie Wyeth's N-gauge train display was originally co-owned by Jamie and his friend and fellow toy collector, artist Andy Warhol. Included in the 4 x 6-foot landscape are foothills of a mountain, train tunnels with a bridge crossing a lake, and even a diminutive industrial town with a main street packed with businesses and rowhouses, a steel mill, and a large metal warehouse featuring an oversized reproduction of Wyeth's own iconic painting, "Portrait of Pig."
In addition to the Brandywine Railroad, this year's holiday offerings include the return of artist and composer Ann Wyeth McCoy's dollhouse, which features six rooms filled with three-dozen dolls and hundreds of miniature objects that will delight visitors of all ages.
Additionally, the exhibition, "Betsy James Wyeth: A Tribute," will be on display through January 31.
The Brandywine River Museum of Art pays tribute to Betsy James Wyeth (1921-2020) with a display of drawings and paintings of and about her in the Andrew Wyeth Gallery, and with a biography of her remarkable life presented in the first-floor lobby of the Museum.
Betsy Wyeth was her husband Andrew Wyeth's business manager and curator, with great precision recording the details of every work completed by the artist and encouraging and propelling him to achieve throughout his career. The artist painted his wife many times over the course of their almost seven-decade marriage. The selection of 20 works shown here are both intimate and enigmatic, capturing her elegance while also communicating a sense of elusiveness that the artist was so adept at conveying.
Admission is $18 for adults, $15 for seniors (65 and older) and $6 for children.
"A Very Furry Christmas at Sesame Place" (100 Sesame Road, Langhorne, www.sesameplace.com) is a festive, family-friendly celebration with everyone's favorite Sesame Street friends live and in-person at the amusement park in Langhorne.
The annual event, which runs through January 17, offers a wide array of family holiday activities.
Visitors to the park can sing along at three special Christmas shows and a spectacular music and light show at our giant 1-2-3 Christmas Tree, take a train ride tour through the Twiddlebugs' Gingerbread Cookie Factory on the Sesame Place Furry Express, take part in the Neighborhood Street Party sing-alongs.
As an added attraction this year, Rudolph the Red-Nosed Reindeer is spending the holiday season at Sesame Place. The lovable reindeer along with his friends Clarice and Bumble, will be available for photos with guests.
Tickets for "A Very Furry Christmas" are $35.99.