By Denny Dyroff, Entertainment Editor, The Times
Up until about a week ago, the Sellersville Theater (24 West Temple Avenue, Sellersville, 215-257-5808, www.st94.com) was holding down the fort in the battle to keep indoor performances with live audiences featuring national acts on the local schedule
The venue was able to present live music and comedy at 10% occupancy to live performances with ticketed livestreams as well.
Then, the latest round of COVID-19 restrictions was posted for Pennsylvania.
Gov. Tom Wolf announced a series of new restrictions on December 10 for the three weeks starting at midnight December 11 including a ban on indoor dining at restaurants, closure of gyms, music venues, museums, halting of extra-curricular activities and sports in schools and limiting indoor gatherings through January 4, 2021.
Kasim Sulton's show, which was scheduled for December 12 at Sellersville, was eliminated completely.
Other shows scheduled for now through January will be presented as "Livestream only" events including two choice offerings this weekend — Natalie MacMaster & Donnell Leahy on December 18 and Deb Callahan Band on December 19.
"This morning, Bruce Ranes from the Sellersville Theater called me this morning and said they'd still do the show," said Callahan, during a phone interview last Friday from her home in Philadelphia's Mount Airy section.
"They're still having me come there and perform a show. But it will be Livestream only with no live audience. I've done Livestream before but just from home.
"Originally, there was supposed to be a live audience but with a 10 per cent capacity, that meant only 33 people. Health safety is a bigger issue. It wasn't going to be a huge crowd – but an audience of 33 enthusiastic people can be fun."
Like just about every other band or solo act out there, Callahan's music career has been affected by the pandemic.
"It's a tough time for touring bands," said Callahan. "It's definitely been weird. I've been rescheduled three times for City Winery – May, August and October. Now, the show has been rescheduled for March 2021.
"I'm from the Boston area and I've been in Philly for a little over 20 years," said Callahan. "I moved here to go to grad school at Penn."
After graduation from the University of Pennsylvania's School of Social Work, Callahan stayed in the area and still works as a social worker in the city."
"I got a master's degree in social work," said Callahan. "I do youth counseling. My music is definitely influenced by my work as a social worker."
Callahan, who has been a fixture in the Delaware Valley blues/rock scene for almost two decades will be performing with her longtime band which features Tom Walling on drums, Garry Lee on bass and Allen James on guitar.
"Allen and I have been together 18 years," said Callahan. "Tom has been with us 13 or 14 years and I've been playing with Gary for about 10 years.
"I have five CDs and a lot of DVDs from World Café Live. My first album was in 2002."
Callahan's debut LP was "If Blues Had Wings" and she followed with "The Blue Pearl" in 2005, "Grace and Grit" in 2008 and "Tell It Like It Is' in 2010. Her most recent CD is "Sweet Soul," which was released in September 2015 on Blue Pearl Records.
"I recorded 'Sweet Soul' in Los Angeles," said Callahan. "Tony and I went to L.A. to work with renowned producer and drummer Tony Braunagel. We recorded the album at a studio owned by Johnny Lee Schell in Studio City."
The sessions at Ultratone Studios in Studio City featured Callahan and James playing with an all-star studio line-up including Mike Finnigan (keyboards), Reggie McBride (bass), Schell (engineering and slide guitar) and Braunagel (drums). This group of LA musicians has recorded and toured with performers such as Etta James, Bonnie Raitt and Taj Mahal.
"It's been a while since that record," said Callahan. "I feel really due.
"I've done no recording lately. I wish I could say I was a little more active with that. I've been using the break to have a lot more quiet time – a lot of reading, a lot of reflecting on things. I have been doing a little writing. I have a lot of ideas."
So, Callahan's Livestream audience this weekend won't be treated to any new originals – but they still will get a treat from the Quaker City blueswoman.
"I'll be playing some songs from each of my five albums," said Callahan. "I'll also be doing some covers and playing some holiday songs."
Video link for Deb Callahan — https://youtu.be/G8yCZBc5lIM.
The show at the Sellersville Theater on December 19 will start at 8 p.m. Tickets for the Livestream concert are $10.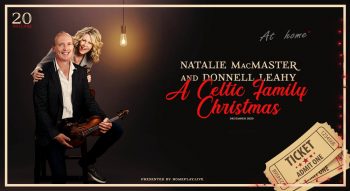 The Sellersville show on December 18 is officially billed as "Natalie MacMaster & Donnell Leahy Present: A Celtic Family Christmas At Home."
Unlike the Callahan show, this concert will not take place in the theater. Instead, it will be performed at MacMaster & Leahy's home in Nova Scotia.
On their website, the musical couple posted this message:
"Welcome to our home!! I'm Natalie MacMaster and together with my husband Donnell Leahy and our seven children, we will be celebrating Christmas virtually this year!! For decades, we have toured extensively at Christmas, but this year marks our most unique one, taking the stage to our home! We will spend just over an hour sharing with you much of our music and culture, Christmas traditions and general real life family dynamic in the comfort of our own home!! We are quite excited to play our music for you (which includes the children as well for many of the tunes), do some dancing, some singing, some baking, talk about Christmas memories past and even have our band join us for a couple virtual performances! Given our children's ages and personalities, there will be many candid moments along the way. I've heard it said that every disadvantage creates an opportunity. Well we have embraced this chance to perform for a crowd in such a unique way and are eagerly awaiting the moment you all show up at our front door, ready to welcome you home!" 
The Sellersville Theater and many other venues around the United States and Canada will be taking part in the family's Livestream presentation.
And even though the date for Sellersville is December 18 at 8 p.m., those who purchase a ticket for the Livestream are not limited to just viewing it on that date and time. This show can be watched anytime, multiple times until New Year's Day.
Ironically, it was almost a year to the day the Canadian duo visited the theater in upper Bucks County for a live performance.
The show "Natalie MacMaster & Donnell Leahy: A Celtic Family Christmas" was presented by the Sellersville Theater on December 15, 2019.
When Natalie MacMaster first started performing in this area, she was a versatile musician in her early 20s from Nova Scotia – a talented fiddler, vocalist and step dancer with several impressive albums on Rounder Records.
That era in her career was more than a 25 years ago. Fortunately, MacMaster is still fiddling, dancing, singing and making music. She also has been making babies over the last two decades.
Even more fortunate for her fans, MacMaster has found a way to combine music and motherhood.
"I have been making music and making babies," said MacMaster, during a prior phone interview.
"I have seven children. All of them except the last two were 18 months apart. The five oldest are in the show with me and my husband Donnell."
"Our five children in the show song, fiddle, dance and play piano," said MacMaster. "They all do everything. I taught them dancing and fiddle when they were about four. They do all take to it naturally. It's organic. It's in their genes. They love being onstage."
For Leahy, playing onstage with family members is nothing new – especially with his history in Leahy.
Leahy is a Canadian folk music group. The eight band members, all from the Leahy family of 11 siblings, are from Lakefield, Ontario and have been touring Canada and internationally since the early 1980s, when they were known as The Leahy Family.
"I've been together with my husband for 18 years," said MacMaster. "He heard my music with my 'Four in the Floor' album. He was 24 and I was 20."
Back then, MacMaster was like a one-woman "Riverdance" — playing fiddle feverishly and performing intense step dancing throughout almost every song.
"My step dancing has slowed down a little after seven pregnancies," said MacMaster, whose resume includes a GRAMMY Award win and nomination, a JUNO Award win and seven nominations, 19 East Coast Music Association awards, and five Canadian Country Music Association's "Fiddler of the Year" nods — as well as three honorary doctorates, an induction into the Casino Nova Scotia Hall of Fame, and a member of the Order of Canada.
"I did dance through all my pregnancies, but I had to keep the cardio down. I could do the steps, but I had to cut back on the hopping."
MacMaster didn't cut back on her recording. She has released six albums since her first child was born. The most recent LP is "Sketches," which was released last November via Linus Records.
According to MacMaster, 'Sketches" is "a moment during my 47th year of life, my 37th year of fiddling, my 16th year of marriage, and my 13th year of parenting. It'll be a moment of joyous appreciation inspired by years of parenting, marriage, friendships, music, and life."
This is a professional life that includes performances with Béla Fleck, Faith Hill, Carlos Santana, The Chieftains, Sharon, Lois & Bram, Buddy MacMaster and Jesse Cook, as well as award-winning collaborations with Yo-Yo Ma, and a blended line with award-winning collaborations with Leahy and their children.
"With this show, we have our band – bass, guitar, piano and myself and Donnell — and our kids contribute quite a lot," said MacMaster.
Video link for Natalie MacMaster — Family Number Medley // NATALIE MACMASTER, DONNELL LEAHY & FAMILY – YouTube.
The show at the Sellersville Theater will start at 8 p.m. Fee for Livestream show is $25.
Other upcoming shows at the Sellersville Theater are The Launch (A Tribute to The Music Of Styx & Queen) on December 26 and 27.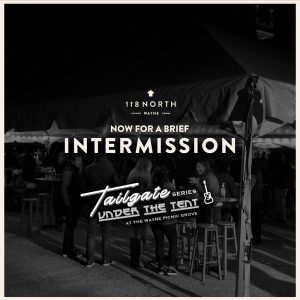 Live original music was also being presented at 118 North (118 North Wayne Avenue, Wayne, www.118northwayne.com) as part of its "118 North presents the Tailgate Under The Tent Series."
Scheduled to run through the winter, "118 North presents the Tailgate Under The Tent Series" featured live pop-up concerts from under the Wayne Picnic Grove.
More than two dozen shows were on December's schedule, but the slate was wiped clean last week by the state's pandemic restrictions.
118 North just posted this message on its Facebook page:
"Live music under the Wayne Picnic Tent will shut down for the remainder of 2020, in compliance with new PA Covid restrictions. We hope to resume our Tailgate Takeout concert series as soon as restrictions are lifted. 
The 118 North Team is thankful for all of your support and understanding during this tumultuous time. Our kitchen will continue to fulfill takeout and delivery orders Thursday-Saturday during operating hours. Thank you, and please continue to show love to all of our fellow Wayne small businesses this holiday season." 
"Yuletide Jazz & Wine at Winterthur" will be presented every Wednesday evening at Winterthur Museum, Garden & Library (Route 52, Wilmington, Delaware,800-448-3883,www.winterthur.org).
The events, which will run from 5:30-7:30 p.m. each night, feature an evening of live jazz, food, and wine among the twinkling lights of the Visitor Center. Visitors can enjoy concerts by some of the area's best musicians playing holiday music.
Winterthur's Pavilion Restaurant is open for dinner with cash wine and beer bar. Reservations required as capacity is limited.
The schedule for this year's "Yuletide Jazz & Wine at Winterthur" is Aniyajazz on December 23 and The Greg Farnese Quartet on December 30.
The shows are Included with general admission ticket. For those not purchasing a Yuletide general admission ticket, tickets are $10.
There will also be live music at Longwood Gardens (Route 1, Kennett Square, www.longwoodgardens.org)
The "Outdoor Christmas Musicians Holiday Series" is running now January 3 in Pierce-du Pont House Plaza.
Longwood visitors can revel in the delightful instrumental sounds of Rob Dickenson and the Brandywine Christmas Minstrels as they celebrate "A Longwood Christmas." Performances will be held nightly Fridays through Sundays from 5-8 p.m. — weather permitting.
Some of the local venues presenting live music shows throughout December are Tuned Up Brewing Co. (135 North Main Street, Spring City, www.tunedupbrew.com), which will present Alyssa Dodge on December 17 and Mr. Mody on December 25, and Brickside Grille (540 Wellington Square, Exton, bricksidegrille.com), which is hosting Samantha Seider on December 19, Dave Saunders on December 20, Dan Graber on December 27 and Madeline Knight on December 27.