By Denny Dyroff, Entertainment Editor, The Times 
Philadelphia basically shuttered its doors to live entertainment again last week and the rest of the state doesn't seem far behind.
Some bars, restaurants and wineries have kept live music going but in a very small and low-key fashion.
There are a few venues in Chester County that are hanging on — Cedar Hollow Inn Restaurant and Bar in Malvern, The Bordley House in West Chester, Brickside Grille in Exton and Tuned Up Brewing Co. in Spring City.
"Some are outdoor venues with heaters, and some are indoor," said local favorite singer/songwriter Kendal Conrad, during a phone call Wednesday afternoon. "They all have social distancing.
"Lately, most of my shows have been in the Lehigh Valley. But I also still do shows in Chester County. I perform at Cedar Hollow once a month and play regularly at J.J. Ratigan's in Pottstown."
The slowdown hasn't slowed Conrad down.
"It hasn't gotten harder to get gigs – not yet" said Conrad. "I've been pretty busy with gigs – and posting content on social media.
"I did have a show canceled tonight (Thanksgiving Eve) because the state has closed liquor sales after 6 p.m. And I have two gigs canceled that were scheduled for the Lehigh Valley this weekend."
Video link for Kendal Conrad — https://youtu.be/PR27VBS3mWk?list=PLDDA593CD479EC60C.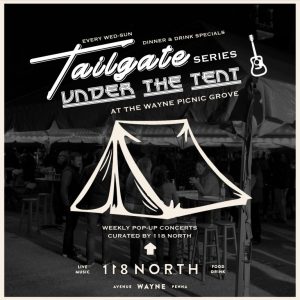 Live original music is also being presented at 118 North (118 North Wayne Avenue, Wayne, www.118northwayne.com) as part of its "118 North presents the Tailgate Under The Tent Series."
Scheduled to run through the winter, "118 North presents the Tailgate Under The Tent Series" features live pop-up concerts from under the Wayne Picnic Grove. Every Wednesday-Sunday night, the venue will feature favorite local musicians with food and cocktails to-go available to order.
The venue posted this safety message:
To ensure the safety of concert-viewers, dining patrons, performers and staff members, 118 North is working closely with the township on developing guidelines and measures to follow during these experiences.
118 North encourages everyone to be responsible, wear safety masks, maintain appropriate social distancing and to continue to support Wayne businesses during this challenging time.
Concerts scheduled for this weekend are Gabrielle Chapman & The Vortex on November 27 at 6 p.m., Josh Libero on November 27 at 8:15 p.m., Rad and Kell on November 28 at 6 p.m., Melt With You on November 28 at 8:15 p.m., Tim Williams Band on November 29 at 6 p.m.
Gabrielle Chapman & The Vortex is an area band featuring Philly based vocalist Gabrielle Chapman.
The group is known for its ability to blend sultry vocals and haunting beats. It describes its music as "Melancholy bops to smoke weed to."
Video link for Gabrielle Chapman & The Vortex — https://youtu.be/v4XkpV4u18o.
Rad and Kell began as a college experiment at La Salle University in 2011 with Kelly McGlynn and Matt Radomile.
In May of 2012, they released their first EP, "Cruise Control," which was influenced by the beachy sounds of the Jersey Shore. Their first full-length album, "Give Me Gravity," was released in 2016. In early 2018, Rad and Kell worked with Grammy Winning producer Glenn
As their careers grew, the duo's natural chemistry blossomed into romance, and they recently wed in late 2019. Rad and Kell married their musical inspirations to create a soul-pop duo that is reminiscent of male/female duos of the 60s and 70s but with a fresh twist.
Video link for Rad and Kel — https://youtu.be/0ZB7lNe-5Vg.
Melt With You is billed as an "'80s Alternative tribute" band.
The message on the band's website is:
"Calling all Xers…..this is your party band….your dorm room in 1986!….Blondie, The Clash, Joy Division, Violent Femmes, Echo and the Bunnymen, The Cure, Souxie and the Banshees, INX, The B52s, The Pretenders…..Yeah, you're fifty now, but let's ROCK!"
Video link for Melt With You — blob:https://www.meltwithyouband.com/42e5b8f5-bc63-4854-b1ac-c13af8e65556.
Tim Williams Band features Philadelphia-based singer/songwriter Tim Williams.
Williams has earned the reputation of being one of the hardest working acts around — playing more than 300 live shows annually (in normal times). His music and vocal style have been compared to Matt Nathanson, Rob Thomas and Glen Phillips of Toad the Wet Sprocket.
Williams has also worked as the producer and house musician for the multimedia talk show MyFixitUpLife and has been featured in many television, film, and theater productions. He was also cast in a regional production of "Rent."
Video link for Tim Williams Band — https://youtu.be/LfOnbLgyH5U.
Announced shows for next month are The Quixote Project on December 4 at 6 p.m., Newspapers Taxi Duo (Beatles Tribute) on December 4 at 8:15 p.m., Vilebreed on December 5 at 8:15 p.m., Pawnshop Roses on December 6 at 6 p.m., Jawn of the Dead (Grateful Dead Tribute) on December 10 at 6 p.m., Kenn Kweder on December 11 at 6 p.m., Brown Sugar (Rolling Stones Tribute) on December 11 at 8:15 p.m. and oe Kenney on December 12 at 6 p.m.
In the event of inclement weather, or if you are unable to attend, all performances will also be streamed on 118 North's Facebook Live.
"Yuletide Jazz & Wine at Winterthur" will be presented every Wednesday evening at Winterthur Museum, Garden & Library (Route 52, Wilmington, Delaware,800-448-3883,www.winterthur.org).
The events, which will run from 5:30-7:30 p.m. each night, feature an evening of live jazz, food, and wine among the twinkling lights of the Visitor Center. Visitors can enjoy concerts by some of the area's best musicians playing holiday music.
Winterthur's Pavilion Restaurant is open for dinner with cash wine and beer bar. Reservations required as capacity is limited.
The schedule for this year's "Yuletide Jazz & Wine at Winterthur" is:
December 2: Cartoon Christmas Trio
December 9: Tony Smith Trio
December 16: Sharon and Shawn Trio
December 23: Aniyajazz
December 30: The Greg Farnese Quartet
The shows are Included with general admission ticket. For those not purchasing a Yuletide general admission ticket, tickets are $10.
There will also be live music at Longwood Gardens (Route 1, Kennett Square, www.longwoodgardens.org)
The "Outdoor Christmas Musicians Holiday Series" is running now January 3 in the Peirce-du Pont House Plaza.
Longwood visitors can revel in the delightful instrumental sounds of Rob Dickenson and the Brandywine Christmas Minstrels as they celebrate "A Longwood Christmas." Performances will be held nightly Fridays through Sundays from 5-8 p.m. — weather permitting.
Some of the local venues presenting live music shows throughout November and December are:
Brickside Grille (540 Wellington Square, Exton, bricksidegrille.com) is hosting Nicole Zell on November 28, Steve Rhodes on November 29, David Pickett on December 5, KP? on December 6, Chris Lebresco on December 12, Clay MacElwee on December 13, Samantha Seider on December 19, Dave Saunders on December 20, Dan Graber on December 27 and Madeline Knight on December 27.
Cedar Hollow Inn Restaurant and Bar (2455 Yellow Springs Road, Malvern, www.cedarhollowinn.com) will present Sam Seider on December 3 and Sunshine Jones on December 12.
Tuned Up Brewing Co. (135 North Main Street, Spring City, www.tunedupbrew.com) will present Mr. Mody on November 27 and December 25, Mike Kropp on December 5, and Bill Ferreri on December 11.
Creekside Sports Bar & Grille (765 N Lewis Road, Royersford, http://www.creeksidesportsbar.com/) will host Uptown Band on November 27 and Buzzer Band on November 28.
Finally, you can get into a good holiday vibe – musically and spiritually – with this tune by Brian Seymour called "Xmas at Fergie's."
Located on Sansom Street in Center City Philadelphia, Fergie's Pub, which was established more than a quarter-century ago, serves traditional Irish pub fare and a solid mix of craft beers and classic cocktails. Fergie's upstairs hosts private events and features live band karaoke on Friday nights, Quizo on Tuesdays and Thursdays, poetry and comedy on Wednesdays, and live music wherever and whenever Fergie can fit it in.
Fergie's Pub just posted this message on its website:
2020, Year of the dumpster fire. 
The City of Philadelphia has decided to stop all indoor dining and limit outdoor dining as well.
With Winter coming and for the health and safety of the public, our employees and families, we have decided to shut down for a while.
Our last day open will be Sunday November 22. This isn't goodbye, we are just hitting the pause button, but we will be back. 
In a phone call Wednesday, Jesse Lundy, the booking agent and publicist for Point Productions, said, "Brian is using this song to benefit the employees of Fergie's. All the money is going directly to those employees."
Link for "Xmas at Fergie's" — Brian Seymour – Xmas at Fergies (disco.ac)